October, 15, 2013
10/15/13
10:32
PM ET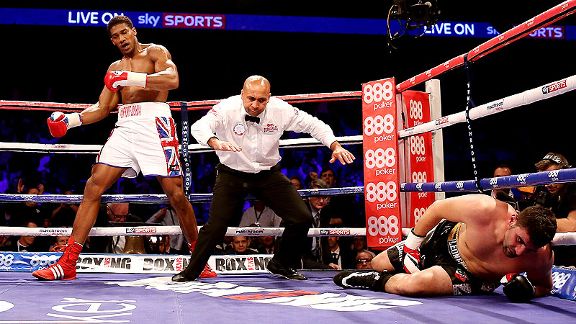 Scott Heavey/Getty ImagesOlympic star Anthony Joshua, who scored a first-round KO in his pro debut, will return on Oct. 5.
Anthony Joshua, the 2012 Olympic super heavyweight gold medalist, is set for his second professional fight. He'll face Paul Butlin on Oct. 26 at the Motorpoint Arena in Sheffield, England, on the Kell Brook-Vyacheslav Senchenko undercard. Joshua turned pro Oct. 5 at The O2 Arena in London, scoring a first-round knockout of Italy's Emanuele Leo.
"I was happy with my performance at the O2, but I put that behind me now and move on to Sheffield," Joshua said. "You only have one pro debut, and I ended it in spectacular fashion. Every time I step into the ring it is like an Olympic final. I prefer the pro game a bit more than the amateurs. Not neglecting the amateurs, but this feels like the real deal. When I was getting my hands wrapped it took about 30 minutes to get them properly wrapped and to fit my hands into the tight, small gloves. It is two guys coming out with their heart on their sleeve trading, and I really enjoyed it.
"To have another fight just three weeks after my debut is brilliant, exactly what I need for my progression -- keep fighting and keep learning."
November, 7, 2012
11/07/12
4:43
PM ET
The U.S. men's boxing team came up empty at the London Olympics this past summer. No medals. Nothing. It's the first time that has ever happened. But now it's on to the pro game, where there is no headgear, smaller gloves, longer fights and where knockdowns mean something.
Five members of the team -- who are all represented by manager Al Haymon and working with Golden Boy Promotions -- make their professional debuts on the "Night Of The Olympians" card on Friday night (Showtime, 10 p.m. ET/PT) at the Fantasy Springs Resort Casino in Indio, Calif.
Heavyweight Dominic Breazeale, light heavyweight Marcus Browne, super middleweight Terrell Gausha, junior middleweight Errol Spence and bantamweight Rau'Shee Warren all will be aiming to make a bigger impact in the pro game than they did in the Olympics. Some of these fighters are likely to be among the top prospects in boxing as they develop over the next few years. Some might make it big and win titles and make fans. Some might fade away quickly. But the journey starts Friday.
Breazeale faces Curtis Tate (4-3, 4 KOs), Browne faces Codale Ford (2-0, 0 KOs), Gausha meets Dustin Caplinger (2-3, 1 KO), Spence fights Jonathan Garcia (3-3, 1 KO) and Warren boxes Luis Rivera (1-2). The fights are unlikely to be competitive, because that's usually the deal with pro debuts of Olympians.
In the main event, 2008 U.S. Olympian and 2011 ESPN.com prospect of the year Gary Russell Jr. (20-0, 12 KOs) faces Roberto Castaneda (20-2-1, 15 KOs) in a scheduled 10-round featherweight fight. Although Russell is the headliner, fighting for just the second time in what has been a lost year because of injuries and fights falling out, the debuts of the Olympians are the story of the show.
Since you are likely to see the Olympians on televised undercards as they develop, might as well get to know them sooner than later.
Courtesy of Swanson Communications, which is handling PR for the show, here is what I would call a "fun fact" about each of the pro debuters:
•
Breazeale:
As a college quarterback at the University of Northern Colorado, he could throw a 72-yard pass. Also likes working with troubled youths.
•
Browne
He's secure enough in his manhood to admit he loves getting manicures and pedicures. He also did a Sesame Street webisode scene with Elmo.
•
Gausha
During the Olympics there was a billboard of him in downtown Cleveland, his hometown.
•
Spence
He was featured in US Weekly's "Hot Bodies" issue.
•
Warren
The only American three-time Olympic boxer owns more than 300 pairs of shoes and wears size 4½.
Each Olympian also answered a few questions:
What do you think will be your greatest strengths as a pro?
•
Breazeale:
"My strengths as a professional will be my presence in the ring. I'll be the bigger, stronger, faster boxer. I also have developed a strong controlling jab."
•
Browne:
"My greatest strength will be my power and professional style of boxing."
•
Gausha:
"I think my greatest attributes as a pro will be my ability to think and keep a level head in pressure situations."
•
Spence:
"My combination punches, defense, my composure and ability to adjust in the ring."
•
Warren:
"My hand speed and my footwork because speed equals power."
Since starting to train for your pro debut, what has been the biggest surprise or adjustment you've had to make?
•
Breazeale:
"There hasn't really been much of a surprise or adjustment. The only thing that changed is that training got that much harder."
•
Browne:
"The biggest adjustment is just sticking to the game plan and executing no matter what happens during the course of a match."
•
Gausha:
"Nothing has really surprised me because I have been working with pros for a while now, but I think an adjustment that I definitely have to make is the pace."
•
Spence:
"I think I had a pro style in the amateurs, so really just picking my shots better and taking off the headgear."
•
Warren:
"The biggest adjustments will be just staying patient, calming down, taking my time and picking my shots."
Is there more pressure on you on the eve of your pro debut than when you were fighting as an amateur?
[+] Enlarge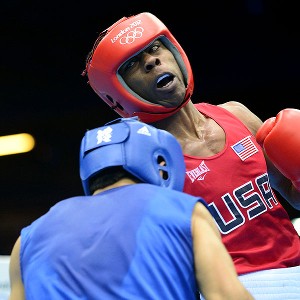 Chuck Myers/MCT via Getty ImagesBantamweight Rau'Shee Warren is one of five U.S. Olympians set to make their pro debut on Friday.
•
Breazeale:
"Of course, there is more pressure on the eve of my professional debut, but I think it will help me more then it could harm me. The pressure will keep me on my toes, aware and alert."
•
Browne:
"No not at all. I've been on the world stage at the Olympic Games so that experience was very helpful. I'm just going to have fun and not worry about what others think."
•
Gausha:
"I really don't think it's more pressure. This is what we have been working our whole careers for, to reach this point. I'm doing what I love to do and having fun doing it. No pressure."
•
Spence:
"There's a bit more pressure, it being my pro debut and all, but it's nothing I can't handle. The goal has always been to win."
•
Warren:
"No, not at all. I feel more relaxed and more confident this time around. I feel like I should have done this a while ago, but I always had a dream of going to the Olympics and winning a medal. Now I have to focus on a new dream of becoming a world champion."
Have you ever had a fight without headgear? What do you think it will feel like when you don't wear it as a pro?
•
Breazeale:
"No, this is my first fight without headgear. I think the feeling will be great. I never really liked wearing headgear."
•
Browne:
"No, I haven't had a fight without headgear and that just means I have to work on my defense and not get hit, but in boxing when will you not get hit?"
•
Gausha:
"I've had seven fights without headgear while competing in the World Series of Boxing and I honestly feel that it better suits me. I can see better and move more freely."
•
Spence:
"I've never fought without headgear. That and the smaller gloves will be the only adjustment that I will have to make. I'll probably feel the punches more and be more vulnerable to cuts and head butts."
•
Warren:
"I had eight fights in the World Series of Boxing so fighting without headgear won't be new. In the WSB, there were a lot of things that were different: no shirt, a bigger cup and no headgear. It was really different at first, but now I feel like it's going to be easier because I know what to expect. I know how to go in the ring and be comfortable. All those little things count.
Can you tell us something about yourself that no one really knows -- habits, hobbies, superstitions, etc.?
•
Breazeale:
"I love the look and sound of a saxophone and one day I'm going to teach myself how to play it like a pro. It's always been a passion of mine and I just don't understand why."
•
Browne:
"I love shopping, buying and listening to music."
•
Gausha:
"I always watch Sugar Ray Leonard and Andre Ward before my fights. I take bits and pieces of their style and add it to my own. They are two of my favorite fighters."
•
Spence:
"I'm a laid-back conservative guy, but I do like to dance and play video games."
•
Warren:
"Sometimes I like to dance a little to warm up, especially if [good pal and former junior lightweight titlist] Adrien Broner is with me so you might see a few dance moves before I walk to the ring."
What will you do with your first professional boxing paycheck?
•
Breazeale:
"My first paycheck will go straight to bills and whatever is left will go in savings. Remember, I'm a family man. I have big responsibilities. Family first."
•
Browne:
"Of course, I have to pay rent to my mom and I'll put some money into my 401K, as well as my life insurance policy. I'm not planning in leaving anytime soon, though."
•
Gausha:
"The first thing I want to do with the money I receive from my first pro fight is put some aside for my daughter's college fund."
•
Spence:
"It's going straight to the bank! I'm the cheap one on the team."
•
Warren:
"I haven't decided, but I know Christmas is coming up. I have two little boys and a daughter coming, so I have to get ready for that. I have kids to feed."
If there is one special material possession you could get from your success, what would it be?
•
Breazeale:
"I would love to be debt free for my wife, my kids, their kids and myself. As far as a special material possession, it would be the belt, or should I say belts."
•
Browne:
"It would be a great fan base and a great way of living -- meaning wealth, health and happiness."
•
Gausha:
"I honestly want to own a house."
•
Spence:
"My boxing shoes and ring attire from the Olympics. It was a once-in-a-lifetime experience in my life fighting in front of the world and representing my country with the world's best athletes."
•
Warren:
"Material possessions aren't important to me, but I would like a Lamborghini -- a red one."
October, 22, 2012
10/22/12
4:13
PM ET
Oscar Molina, the 2012 Mexican Olympic team welterweight, has signed a five-year promotional contract with Dan Goossen and is expected to make his professional debut on Nov. 24 in Mexico.

Molina, 22, of Norwalk, Calif., who is managed by Arnulfo Bravo, came up through the American amateur system but qualified for the Olympics for Mexico, where his parents are from.

Molina comes from a boxing family. He is the identical twin brother of 2008 U.S. Olympian Javier Molina (11-1, 5 KOs), whose professional career has been sidetracked by multiple right hand injuries, which required surgery last year.
Molina's older brother, 26-year-old lightweight Carlos Molina (17-0-1, 7 KOs), is a rising contender who is moving up in weight to face former junior welterweight titlist Amir Khan on Dec. 15 in Los Angeles.

"We've known Oscar through the years because we promote Javier," Goossen said. "I've had the unfortunate circumstances where I've called Javier 'Oscar' and Oscar 'Javier.' One of the things I liked about Javier when we signed him was that he had all of the tools, including a punch. But when you break your hand three times, that can be problem with your power and your confidence in letting your hands go.

"With Oscar, he has power in his right hand and, like Javier, he was also brought up to be a tremendous boxer. He has a lot of talent and he is obviously a big signing for us. We expect big things from him. Maybe someday he and his brother will become world champions. Twin brothers as world champions? That's what we are aiming for."

Javier elected to turn pro after the 2008 Olympics, but Goossen said Oscar "wanted to give the Olympics another try after not making it last time."

Oscar Molina, who went 142-26 as an amateur, got to London but was eliminated in his opening round bout, dropping a 12-8 decision to Custio Clayton of Canada.
August, 5, 2012
8/05/12
2:18
PM ET
With the Olympics in full swing in London, the memories of past Olympians have come flooding back. I checked in with a few boxing Olympians to see what sorts of memories they had from their experience at the Games.

Sugar Ray Leonard (1976 Montreal, gold medalist)

"What was really memorable was, of course, winning the gold medal, but really it was the overall experience of making the team, having that group of guys -- Leon and Michael [Spinks], Howard Davis -- and the transition from being from the ghetto and now I am in this huge arena and behind these majestic gates [at the opening ceremonies]. Once those gates open up, there are thousands of fans and tourists and you are somebody. I cherish that.

"I was 20 years old, so just the experience of being on the team in the Olympics and fighting for the gold medal, it just took my breath away. Looking at the Games now on television, I relate to the nerves, the anticipation, the butterflies that these young men and women have. There is nothing like it. People can say, 'I was world champion' as a professional, but very few people on this planet can say, 'I was on the Olympic team.'

"I have my Olympic gold medal downstairs in my trophy case. Every Olympics, I clean it up and think about the wonderful memories of being at the Olympics. I had some tough fights at the Olympics, but they were precious, priceless memories. I've been a gold medalist and a [professional] world champion. They each hold their own significance, but I have to look at where it all started -- the Olympics. That's No. 1 for me."

Wladimir Klitschko (1996 Atlanta, gold medalist)

"There are two things I can mention. I was fighting from almost the first day of the Games, and I finished on the last day, so it was the longest tournament in my amateur career. So in between the fights to relax, I went to the disco [in the Olympic] park where some of the bands played. My teammates and I left before midnight, due to my sleeping schedule. The next morning, we got the news of bombing in the same place where we were. We were lucky that we didn't stay longer. The other thing was, the night before the finals I had a dream that I lost the fight for gold. In the morning, I couldn't believe that I had such a bad dream, but luckily things turned differently, as you know!"

Brian Viloria (2000 Sydney)

"Walking in the stadium for the opening ceremony with the rest of the U.S. Olympians [was most memorable]. I stopped and did a 360 to take in the whole experience. There were so many flashes from the cameras from the press and spectators, it seemed so surreal. And when we were lining up for the parade of nations, I chatted with [basketball player] Gary Payton, and he called Kevin Garnett over and introduced me to him, saying, 'This is the Hawaiian Punch. He'll knock you out KG!' Garnett looked at me and said, 'Who, this little guy?' We all laughed and took pictures together."

Andre Ward (2004 Athens, gold medalist)

"Outside of winning the gold medal, I think the thing that really jumps out to me in my memories was the opening ceremonies. I was told I wouldn't be able to walk with the team because I was supposed to fight the following night and I needed to get my rest. Long story short, the coaches came back to me later and told me I had gotten a bye, so I was able to walk in with the American team. In that stadium, on that stage, goose bumps and chills. I had all these memories of my father [Frank, who died in 2002] and all the work he put in to getting me ready for this moment and him not being there and the reality of the stage I was on -- it all just hit me. I was infused with energy.

"I had a good time at the Olympics and really enjoyed it even though I was totally focused on winning the gold medal. I was the last gold medal that the United States won [during the 2004 Games], so I couldn't go to the closing ceremonies. I couldn't get there in time. But during the Olympics, it was very mundane. They were exciting, but I had a job to do. My life consisted of resting, training and taking a short ride to the cafeteria and people-watching. A good way to describe my Olympic experience is that it was a blur. I was just so focused on winning that I didn't do much besides my routine. I didn't want to have an excuse for not winning. I really wanted to win a gold medal, and we accomplished that. I'd like to go back to the Olympics [as a spectator] because I didn't get a chance to do that in Athens."