Dan Rafael:

Omar Figueroa
February, 13, 2014
Feb 13
5:36
PM ET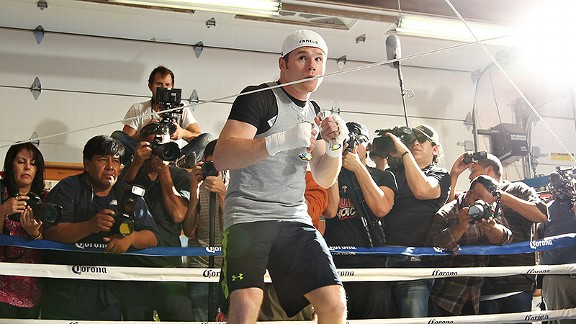 Alexis Cuarezma/Getty ImagesCanelo Alvarez and others competing on his March 8 card shared their thoughts on Valentine's Day.
Friday is Valentine's Day so even some rough and tough fighters are showing their softer side.
The PR folks working on the Canelo Alvarez-Alfredo Angulo Showtime PPV card, which takes place March 8 at the MGM Grand in Las Vegas, talked to the eight fighters who will be on the pay-per-view broadcast -- Alvarez, Angulo, Leo Santa Cruz, Cristian Mijares, Omar Figueroa, Ricardo Alvarez (Canelo's brother), Carlos Molina and Jermall Charlo -- to get their thoughts on the year's most romantic day.
The fighters were asked a few questions and here are their answers:
What is the first thing that comes to mind when you think of Valentine's Day?
C. Alvarez: I think of joy.
Angulo: I just think about training.
Cruz: Love, friendship and family.
Mijares: I think of the love I have with my wife and children.
Figueroa: The colors red and pink.
R. Alvarez: Love.
Molina: Relationships.
Charlo: Hearts, flowers, mushy feelings and growing up.
What is the best Valentine's Day gift you've ever given or received?
C. Alvarez: The best gift I received is love.
Angulo: My favorite cologne that I can't find anywhere anymore.
Cruz: The best Valentine's gift I ever gave was a pink heart ring.
Mijares: Only my wife could tell you what the best gift that I've given her is. The best gift I've received is the love of my family.
Figueroa: The jewelry I've given to my mom or my sister. The best gift I have ever been given is the birth of my daughter. She is the best Valentine's Day gift from now until the day I die.
R. Alvarez: My best gift was a big teddy bear and a romantic dinner.
Molina: A picture my girl gave me of us back in the day.
Charlo: I have never received a Valentine's Day gift. I have always given. The best gift I ever gave was to my mom. It was a vacation to the Grand Canyon.
What is your favorite romantic movie or love song?
C. Alvarez: My favorite romantic movie is "Diario de una Pasion" ("The Notebook").
Angulo: My favorite romantic movie is "Titanic."
Cruz: My favorite romantic movie is "The Notebook."
Mijares: I really like the song "She's The One" by Robbie Williams. As for romantic movies I like "City of Angels."
Figueroa: I don't really watch those types of movies, but I liked the last one that I saw. It was "P.S. I Love You."
R. Alvarez: "Diario de una Pasion" ("The Notebook")
Molina: "Forrest Gump."
Charlo: "Pretty Woman."
Even though you're in training camp this Valentine's Day, will you be sending anything to anyone?
C. Alvarez: I don't look at Valentine's Day as the only day I make that person feel special.
Alfredo Angulo: No I will not.
Santa Cruz: I will be sending a very special gift to my love this Valentine's Day even though I'm in training camp.
Mijares: No, my mind is on my next fight so I haven't even thought about it.
Figueroa: Yes, I'm going to send an Edible Arrangement to my (16-month-old) daughter.
R. Alvarez: Yes, I will send a bouquet of roses to my wife.
Molina: Well, I will be going out for a light dinner in Chicago.
Charlo: Yes, I will be sending a Valentine's Day gift to someone special in my life.
Describe your perfect Valentine's Day date.
C. Alvarez: If I'm with the person I love, any place is perfect.
Angulo: A romantic dinner.
Cruz: My perfect Valentine's Day date is a romantic dinner followed by a bonfire on the beach.
Mijares: A perfect day would be one where I'm surrounded by my family.
Figueroa: The perfect Valentine's Day would be to spend time with the women in my life that I love the most: my mom, my sister and my daughter. I would take them out to dinner and pamper them.
R. Alvarez: My perfect date is in a restaurant with a romantic dinner.
Molina: Dinner and drinks on a warm day.
Charlo: A comedy show and relaxing.
On the card, Canelo Alvarez fights Angulo in the junior middleweight main event, Santa Cruz defends his junior featherweight title against Mijares, Figueroa defends his lightweight belt against Ricardo Alvarez and Molina defends his junior middleweight title against Charlo.
November, 6, 2013
11/06/13
1:42
PM ET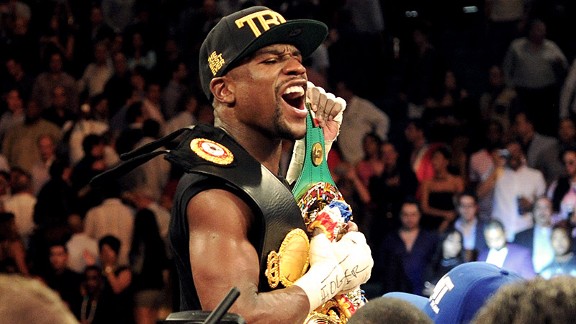 Jayne Kamin-Oncea/USA TODAY SportsFloyd Mayweather has to decide soon on an opponent for his next fight.
As much as I rail against the WBC's rule-breaking and divisional rankings, those rankings affect the mandatory fights that are made for the organization's belt. So that makes its annual convention notable in that many of those mandatory situations are clarified.
This year's convention is going on this week in Bangkok, where organization officials, promoters and managers gathered to argue and debate the rankings and mandatory fights that are not yet set.
Here's a look at some of the key rulings related to mandatory fights made Wednesday:
•
Heavyweight:
The situation with titleholder Vitali Klitschko is up in the air. He is running for president of Ukraine in 2015 and has made no decision about his boxing career, even though his mandatory defense against Bermane Stiverne is way overdue. Klitschko addressed the crowd at its opening, but not about his boxing plans. Stiverne, however, was still traveling to Thailand on Wednesday, so the debate was put off until at least Thursday.
•
Super middleweight:
Titleholder Sakio Bika must make two mandatory defenses. The first is against Anthony Dirrell on Dec. 7. The winner of the fight was approved for one optional defense. Marco Antonio Periban and James DeGale were ordered to meet in a semifinal eliminator with the winner ordered to meet Julio Cesar Chavez Jr. to determine the second mandatory challenger. Keep in mind that these orders are the WBC's wishes and that often what it lays out does not wind up happening because either a fighter decides to go in another direction or, as often happens, the WBC ignores its own ruling.
•
Middleweight:
If champion Sergio Martinez, sidelined with a knee injury, can't make his mandatory defense against Marco Antonio Rubio, Rubio will be ordered to face Domenico Spada for the interim belt. This will be interesting because Martinez has no interest in Rubio and instead hopes for a June pay-per-view megafight with Miguel Cotto. It seems that Martinez, who has been very loyal to the WBC, will be allowed to face Cotto upon his return from injury with Rubio settling for the interim title bout for the time being.
•
Junior middleweight and welterweight:
Floyd Mayweather Jr. holds the WBC title in both divisions, as well as another alphabet junior middleweight title. Holding titles in multiple weight classes is against sanctioning organization rules, but that hasn't stopped the WBC from allowing Mayweather to get away with it for 1½ years. Finally, the WBC ruled that Mayweather must decide which division title he wants to keep by Dec. 15. If Mayweather doesn't notify the WBC, however, I won't believe it would strip him of the title until I see it happen. He is one of the WBC's favorite sons in that he fills the coffers with enormous sanctioning fees.
•
Junior welterweight:
Danny Garcia's last fight in September was his mandatory against Lucas Matthysse, but a final eliminator to determine the next mandatory was approved between Viktor Postal and Selcuk Aydin.
•
Lightweight:
Adrien Broner has the title, but he also won another organization's belt this year -- in the welterweight division -- and has been allowed to keep both since the summer, which is against the rules. Broner is never going to see 135 pounds again -- did you see how he looked on Showtime on Oct. 26? -- but his request to wait to make a decision until after his Dec. 14 welterweight defense was approved. Daniel Estrada is the mandatory challenger. What should have happened is that Broner should have been forced to pick, and if he picked the welterweight belt (which he obviously would do), interim titlist Omar Figueroa should have immediately been elevated. But that would be too easy.
•
Junior featherweight:
A final eliminator between Hugo Cazares and Andres Gutierrez was approved to determine Leo Santa Cruz's mandatory.
•
Bantamweight:
An eliminator was approved for Stephane Jamoye to face Julio Ceja, with the winner to fight Suriyan Sor Rungvisai in a final eliminator to determine Shinsuke Yamanaka's mandatory.
•
Junior flyweight:
Adrian Hernandez's mandatory will be the winner of an eliminator between Javier Mendoza and Yodmongkil Wor Saengthep.
•
Strawweight:
A final eliminator was approved between Wanheng Menayothin and Osvaldo Novoa to determine Xiong Zhao Zhong's mandatory challenger.
July, 26, 2013
7/26/13
11:57
AM ET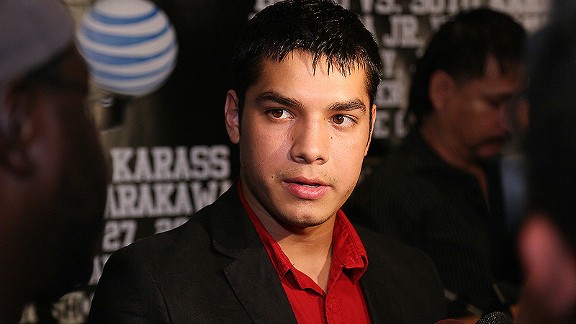 Soobum Im/Hoganphotos/Golden Boy PromotionsOmar Figueroa has become a big draw in his native Texas, where he'll get a title shot Saturday.
Lightweight Omar Figueroa could be on the precipice of stardom. The 23-year-old is a talented, pure action fighter with a growing fan base and a ton of potential.
He scored his biggest win in his most recent fight by blowing out undefeated Abner Cotto -- a cousin of Miguel Cotto's -- in the first round in a surprisingly easy fight. He dropped Cotto twice and stopped him, to the approving roars of a crowd of nearly 40,000 at the Alamodome in San Antonio on April 20, when Figueroa was on the undercard of the Canelo Alvarez-Austin Trout fight.
"Omar Figueroa is a guy who, every fight, every opponent we put him in against, he's getting better and better," Golden Boy promoter Oscar De La Hoya said. "He's passing the test with flying colors, and now it's time to step it up and step it up big time. These are difficult fights, but we feel comfortable that he will continue to pass these tests with flying colors. I don't think there's a limit to where he can go. This is a kid that we feel is going to go very, very far."
Figueroa, who lives in Weslaco, Texas, had a lot of fans on hand cheering him on against Cotto. Many of them figure to be back to see his next fight, this time at the AT&T Center in San Antonio for the "Knockout Kings II" card Saturday night (Showtime, 9 ET/PT; preliminary bouts on Showtime Extreme at 7 ET/PT).
Figueroa (21-0-1, 17 KOs) will be shooting for his first title -- a vacant interim belt -- on the undercard against 31-year-old southpaw Nihito Arakawa (24-2-1, 16 KOs) of Japan. The winner will likely become the full titleholder, assuming that Adrien Broner vacates and remains at welterweight, where he won a belt in June.
Interim belt or full belt, the fight is the culmination of a long rise for Figueroa, who has been boxing since he was a small child.
"This is it. This is 17 years of work," he said. "This is why every boxer starts, what every boxer dreams of. This is it. This is a great opportunity. This is what we have been working so hard for.
"We don't take anybody lightly. We are ready, we know that a fight can take many directions with every step you take in the ring, so we are ready."
Arakawa will be fighting outside of Japan for the second time. Two fights ago, in his only fight away from home, he lost a 10th-round technical decision to Daniel Estrada in Mexico in November when Estrada couldn't continue after suffering a swollen right eye caused by an accidental elbow. "I'm happy to have this chance at my first world title," Arakawa said through a translator. "That gives me extra motivation to win this fight. I don't think I can win by points. I have to knock him out. I think that's my only chance to walk out of here with a world title.
"I've prepared for this world title chance for my entire life, and I know Omar has prepared for this as well. We're both going to fight as hard as we can to get that first world title. I know I want it and I know he wants it, so it's going to be an exciting fight."
Although former two-time welterweight titlist Andre Berto headlines the card against Jesus Soto Karass, one of the reasons Golden Boy put the card in San Antonio was to take advantage of Figueroa's drawing power.
"I live only four hours away, so this totally feels like home," Figueroa said of fighting again in San Antonio. "Texas has the best fans in the world, and I'm glad to be a Texan. My plan is to go in there and give a great fight. [Arakawa is] a great guy and he's ranked No. 1 for a reason. I've prepared really hard for this fight and I'm ready to go 12 hard rounds.
"This is what it comes down to. It's the bottom of the ninth, two outs, full count. There's no room for butterflies. This is what we've been working for 17 years for, and it's finally here. I'm not going to let it slip."
February, 19, 2013
2/19/13
1:25
AM ET
Junior welterweight prospect Omar Figueroa and former junior middleweight titlist Sergio Mora both will be in action on a couple of recently announced fight cards:

• The all-action Figueroa (19-0-1, 15 KOs), of Weslaco, Texas, will headline a March 2 card (Fox Sports Net/Fox Deportes) at Our Lady of the Lake University Wellness & Activities Center in San Antonio. Figueroa will face Henry Aurad (14-6-1, 11 KOs) of Colombia in a scheduled eight-rounder. Also on the card will be Houston junior middleweight prospect Jermall Charlo (11-0, 7 KOs), the twin brother of fellow prospect Jermell Charlo, in an eight-rounder; and Dallas welterweight prospect Errol Spence Jr. (3-0, 3 KOs), a 2012 U.S. Olympian, in a four-rounder. Their opponents are not set.

• Mora (23-3-2, 7 KOs), a former winner of "The Contender" reality series who later won a 154-pound world title, will travel to the Phoenix area (venue to be announced) to face hometown fighter Jesus Gonzalez in a middleweight bout on April 19. Mora will be looking to rebound from his majority decision loss to Brian Vera in their rematch last August. Gonzalez (27-2, 14 KOs) will be fighting for the first time since last February, when Adonis Stevenson knocked him out cold in the first round of a super middleweight title eliminator in Montreal.

"Jesus had a rough night against Stevenson in Canada, but he has been preparing for this return and is ready to make an impact at middleweight," said Ralph Velez Jr. of FanBase Promotions. "The power he brings to the middleweight division makes him an instant title contender."

The fight could wind up on ESPN2, which is considering picking up the card for that date.
June, 21, 2012
6/21/12
7:01
PM ET
Welterweights Victor Ortiz and Josesito Lopez will square off in the main event, with junior welterweights Humberto Soto and Lucas Matthysse going at it in the co-feature, on Saturday night (Showtime, 9 ET/PT) at the Staples Center in Los Angeles. But additionally, at least two preliminary bouts will air on Showtime Extreme, beginning at 7 p.m. ET/PT.

Junior middleweight prospects Jermell Charlo (17-0, 8 KOs) of Houston and Denis Douglin (14-1, 8 KOs) of Marlboro, N.J., will meet in a scheduled 10-round fight, while junior welterweight prospect Omar Figueroa (17-0-1, 14 KOs) of Weslaco, Texas will face Mexico's Alain Hernandez (18-10-2, 10 KOs) in an eight-rounder.

Charlo, just 22, looked very impressive in his most recent fight. He knocked out Chris Chatman in the third round in an explosive performance on the Danny Garcia-Erik Morales undercard on March 24 in Houston.

Douglin, 24 -- known as "Momma's Boy" because his mother, Saphya, is his trainer -- is 2-0 since an upset loss to Doel Carrasquillo in February 2011.

Figueroa, 22, is an exciting, offensive-minded fighter who needs to polish his defense. He has been awfully busy, though. This will be his fifth fight in 2012.

On paper, Hernandez, 33, looks like an easy mark. He has lost three fights in a row, all by knockout, including to lightweight prospect Darley Perez and former lightweight titlist Paul Spadafora (whose power has always been very limited).

Time permitting, Showtime Extreme will also air a four-round featherweight bout between Los Angeles' Julian Ramirez (2-0, 2 KOs), the nephew of the late former junior lightweight champion Genaro Hernandez, against Israel Navarrete (6-4, 1 KO) of Santa Ana, Calif.