September, 25, 2014
9/25/14
2:25
PM ET
A few notes from around the boxing world:

• Super middleweight Andre Dirrell (22-1, 15 KOs), the 2004 U.S. Olympic bronze medalist and former world title challenger, is getting busy again. He is due to face Nick Brinson (16-2-2, 6 KOs) on Oct. 8 (ESPN2) in the 10-round co-feature of the Sam Soliman-Jermain Taylor middleweight title bout at the Beau Rivage Resort & Casino in Biloxi, Mississippi. It will be the second fight in three months for Dirrell, 31, of Flint, Michigan, who had fought only twice between his 11th-round disqualification win against Arthur Abraham in the Super Six World Boxing Classic in March 2010 and his fifth-round knockout of Vladine Biosse on Aug. 1 on ESPN2.

• Welterweight Thomas Dulorme (21-1, 14 KOs), a 24-year-old Puerto Rican prospect, who has won five fights in a row since his upset loss to Luis Carlos Abregu in 2012, has signed with manager Cameron Dunkin. The pairing is interesting because it means Dunkin, whose deep stable also includes Nonito Donaire and Brandon Rios, and Dulorme promoter Gary Shaw, who have had major issues over the years, leading to a falling out, will have to deal with each other.

"I apologized to Gary. I'm sure Gary doesn't like me but I love Gary so it will work out," said Dunkin, adding that Dulorme does not have his next fight set. Dulorme's last fight, which was on HBO, was a unanimous decision against then-undefeated Karim Mayfield.

• Hot super middleweight prospect Gilberto Ramirez (29-0, 23 KOs) of Mexico will be back in action in November, according to Top Rank. He could fight Nov. 15 in San Antonio on an HBO Latino-televised card or serve as the co-feature for the Nov. 29 HBO telecast topped by lightweight titlist Terence Crawford defending against Raymundo Beltran in Crawford's hometown of Omaha, Nebraska.

• The all-German showdown between former two-time super middleweight titlist Robert Stieglitz (47-4, 27 KOs) and former four-time middleweight beltholder Felix Sturm (39-4-2, 18 KOs) will be contested at a catch weight of 166 pounds to accommodate the smaller Sturm, who has fought his entire career at middleweight. They meet Nov. 8 at the Porsche Arena in Stuttgart, Germany.

• Featherweight Orlando Cruz (20-4-1, 10 KOs), 33, of Puerto Rico, will look to shake off a two-fight losing streak when he meets Ruben Tamayo (25-4-4, 17 KOs) of Mexico on Oct. 24 (Telemundo) at the Kissimmee Civic Center in Kissimmee, Florida. Cruz, the first openly gay boxer, challenged Orlando Salido for a vacant world title last October and lost by seventh-round knockout and then lost a 10-round decision to Gamalier Rodriguez in April.

March, 31, 2014
3/31/14
6:27
PM ET
Featherweight Orlando Cruz got a tremendous amount of attention before his last fight but probably won't get nearly as much in his next one.

Back in October, Cruz, 32, of Puerto Rico, challenged Orlando Salido for a vacant featherweight world title on the Timothy Bradley Jr.-Juan Manuel Marquez pay-per-view undercard. In addition to the fight being a title bout, Cruz also got a lot of attention because he had come out as boxing's first openly gay fighter.

It made him a hero to many and it took a lot of courage for him to come out. Although Salido knocked Cruz out in the seventh round of a one-sided fight, Cruz had made history, even if it wasn't the kind that got him a title belt.

Now Cruz (20-3-1, 10 KOs) is set for his ring return. He will face Gamalier Rodriguez (23-2-3, 16 KOs), 27, of Puerto Rico, in a much lower profile 10-rounder on April 19 (UniMas) at the Bahia Shriners Event Center in Orlando, Fla., Top Rank and All-Star Boxing announced on Monday.

"I want to thank Top Rank and All-Star Boxing for this opportunity to redeem myself by getting me this [regional] title fight with Rodriguez," Cruz said. "By winning this fight, I will be right back on the verge of another world title opportunity and conquer my dream of being a world champion."

The co-feature will showcase 20-year-old blue chip lightweight prospect and 2012 Puerto Rican Olympian Felix Verdejo (11-0, 8 KOs) in a scheduled six-round bout.
September, 4, 2013
9/04/13
1:03
PM ET
Two-time Ukrainian Olympic gold medalist Vasyl Lomachenko is serious about moving quickly in his pro career, so quickly that if he wins his professional debut, he likely will challenge for a world title in his second fight.

You read that correctly.

The 25-year-old will make his pro debut in a real fight, taking on seasoned veteran Jose Ramirez (25-3, 15 KOs) of Mexico in a 10-round featherweight bout Oct. 12 (HBO PPV) at the Thomas & Mack Center in Las Vegas on the Timothy Bradley Jr.-Juan Manuel Marquez card.

Lomachenko was originally scheduled to face Jonathan Oquendo (23-3, 16 KOs) of Puerto Rico, but Oquendo withdrew, claiming a hand injury.

"Well, he couldn't have done it signing the contract," Top Rank vice president Carl Moretti said jokingly. "Ramirez is maybe a better fight."

Ramirez is coming off a strong 12-round split decision against longtime contender Rey Bautista in Bautista's native Philippines in April in a fight in which they were both knocked down.

If a 10-rounder against a real opponent in Lomachenko's pro debut isn't audacious enough, how about the game plan if he wins?

Should Lomachenko -- the 2008 Olympic featherweight gold medalist, 2012 lightweight gold-medal winner, and a two-time world amateur champion -- win, he likely will challenge for a featherweight world title in early 2014.

The target date is on a Jan. 25 HBO card at the Theater at Madison Square Garden in New York against the winner between former titleholder Orlando Salido (39-12-2, 27 KOs) of Mexico and Puerto Rico's Orlando Cruz (20-2-1, 10 KOs), who meet for a vacant featherweight world title on the same Oct. 12 card as Lomachenko-Ramirez.

The possible headliner of the Jan. 25 card could be lightweight contender Terence Crawford in a mandatory challenge of the winner of Saturday's fight between titleholder Ricky Burns and Raymundo Beltran.

One of the reasons Lomachenko signed with promoter Top Rank was because it promised it would meet his condition to be in a world title fight almost immediately, and also because Top Rank could deliver such a fight.

Top Rank chairman Bob Arum told ESPN.com that he already has talked about the title fight against Lomachenko with the camps of both Salido and Cruz, and both are excited about the prospect.

"They know that if they win the title, they can get their biggest payday with Lomachenko," Arum said. "Why wouldn't they want that? They'd be fighting a guy who has never been in a 12-round fight and who knows how this guy does? Lomachenko is extremely talented but he's the kind of kid who is very full of himself and has a tremendous degree of confidence in himself. This guy is special. How special remains to be seen."

Arum also signed Japan's Ryota Murat, the 2012 Olympic middleweight gold medalist, and attended his pro debut last month in Tokyo. Murata, who beat No. 1 pro Japanese middleweight Akio Shibata by second-round knockout, also wants to move quickly.

"For me, what Lomachenko and Murata are doing is contrary completely to the normal way we build fighters at Top Rank," said Arum, whose matchmakers are known as the best in the business for the way they methodically build champions and stars. "But maybe these aren't normal times and these are not normal athletes.

"It's one thing if we made the suggestion or we persuaded them into being moved fast. Maybe then I'd say did we do the right thing. But this is what they wanted. This is what Lomachenko wants. He wanted to fight for a world title in his first fight, but we told him that couldn't be done. So we'll do it in the second fight."

One hurdle to Lomachenko fighting for a world title in his second fight was cleared at the recently concluded WBO annual convention, where Lomachenko was approved to fight for one of the organization's regional belts in his debut, meaning Lomachenko would qualify to fight for a world title if he wins.

If the January title shot doesn't come off, Arum said an alternative plan could be for him to stage a show in Macau in February called "Night of Gold," on which he would feature three of the 2012 Olympic gold medalists he signed: Chinese flyweight Zou Shiming in a 10-rounder, Lomachenko in a world title fight, and Murata in a 10-rounder.
July, 10, 2013
7/10/13
12:16
PM ET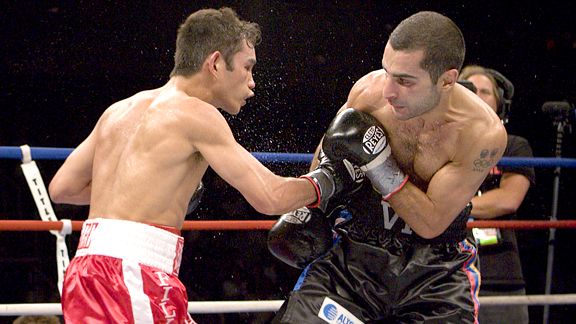 Courtesy Marty Rosengarten for Ringsidephotos.com Nonito Donaire could be headed toward a rematch of his 2007 knockout win against Vic Darchinyan.
After talking with Top Rank chairman Bob Arum on Tuesday about the
Orlando Salido-Orlando Cruz vacant featherweight title bout
that will be on the Timothy Bradley Jr.-Juan Manuel Marquez HBO PPV undercard Oct. 12, we discussed several other fights he has in the works. Here's an update:
• Former junior featherweight titlist Nonito Donaire (31-2, 20 KOs), who lost his belt by decision to Guillermo Rigondeaux in an April 13 unification bout, will be back in November.
"HBO is giving him a date in November and we're talking about a rematch with [Vic] Darchinyan," Arum said. "That's the fight Darchinyan wants and that's the fight that [Donaire manager] Cameron [Dunkin] wants."
Arum said the bout would be at junior featherweight, even though Donaire talked about moving up to featherweight after the April loss. In 2007, Darchinyan (39-5-1, 28 KOs) was a big favorite when he faced Donaire in defense of his flyweight title, but Donaire scored a ferocious fifth-round knockout to win the title and there has been on and off talk about a rematch since.
• Although Rigondeaux (12-0, 8 KOs) defeated Donaire, Arum said HBO has shown no interest in his next fight. "Every time I mention him, they throw up," Arum said. Rigondeaux, while immensely talented does not make for exciting fights.
"So I have to figure out who I could put him in with," said Arum, adding that he didn't think it was right that HBO pushed for him to match Donaire with Rigondeaux and now has turned its back on the winner.
• The date for interim junior welterweight titlist Mike Alvarado's return is Oct. 19 (HBO) in a fight that would take place in his hometown of Denver. Arum said he's close to finalizing a deal with Artie Pelullo of Banner Promotions for Alvarado (34-1, 23 KOs) to face Ruslan Provodnikov (22-2, 15 KOs), who gave Bradley such a tough fight in March only to lose a close decision, despite nearly knocking Bradley out at least three different times in the action-packed fight.
• Arum said that even though HBO said it isn't interested in the vacant junior middleweight title bout between Vanes Martirosyan, who is with Arum, and Demetrius Andrade, who is co-promoted by Pelullo and Joe DeGuardia, he's talking to Pelullo about a deal. "If I have to do it myself without HBO, so be it. The fight will happen before the end of the year," Arum said. "I owe it to Vanes." The fight is a match of undefeated former American Olympians. Martirosyan (33-0-1, 21 KOs) was on the 2004 team and Andrade (19-0, 13 KOs) was on the 2008 squad.
• If two-time Chinese Olympic gold medalist Zou Shiming wins his second pro fight against Jesus Ortega, a six-round flyweight bout July 27 (HBO2) in Macau, China, Arum said Zou would advance to an eight-rounder for his third pro bout, which would take place on the Manny Pacquiao-Brandon Rios HBO PPV card in Macau on Nov. 23.
• With Top Rank having reunited with Miguel Cotto for his Oct. 5 bout -- opponent not set, but likely to be Delvin Rodriguez -- Arum plans to put rising lightweight contender Terence Crawford (21-0, 16 KOs) on in the HBO co-feature. There is no opponent yet, but Arum said, "I'd like to make him with [interim titlist Yuriorkis] Gamboa." He said he is talking to Gamboa promoter Curtis "50 Cent" Jackson about the fight. Arum said Jackson is interested, but it remains to be seen if Gamboa is.
• Arum said he has met with super middleweight contender James DeGale (16-1, 11 KOs), a 2008 British Olympic gold medalist, and is interested in signing him. "He's a very nice guy and he wants to sign with us," Arum said. "I'm interested but I'm not interested in buying a lawsuit." Arum said he is still doing his due diligence to see if DeGale is still under contract to British promoter Mick Hennessy but that if he is a free agent, he'd like to sign him. "He's a very good fighter, but I know he's not the most exciting guy in the world. He'd certainly be a good opponent for [champion] Andre Ward. There's a lot you can do with him."
• Former featherweight titlist Mikey Garcia (32-0, 27 KOs) could return on the same November HBO card with Donaire, Arum said. Garcia, who knocked out Juan Manuel Lopez on June 15 but was stripped of his featherweight belt for not making weight, likely would move up to challenge junior lightweight titlist Rocky Martinez, Arum said. However, Arum said he's hopeful he can work something out with HBO to have Donaire and Garcia each headline their own show. If that happens, Arum said he would use the televised undercard slots to feature featherweight titlist Evgeny Gradovich and heavyweight prospect Andy Ruiz if they both look good in their bouts in Macau on July 27 (HBO2).
June, 25, 2013
6/25/13
12:33
PM ET
A few notes from around the world of boxing:

• Welterweight titlist Devon Alexander was in Brooklyn, N.Y., over the weekend for the Adrien Broner-Paulie Malignaggi fight and I had a chance to talk to him at the fight hotel. He's still sporting the soft cast on the left hand he broke in his knockout win against Lee Purdy on May 18. Alexander said he'll be in the cast for a few more weeks and is still on track for a probable Dec. 7 defense against Amir Khan. However, Alexander said he did not want to fight in Dubai, one of the places where Golden Boy promoter Richard Schaefer has said was a possibility venue because of the interest there in Khan.

• Newly crowned light heavyweight champion Adonis "Superman" Stevenson, who blasted Chad Dawson to win the title on June 8, was also Brooklyn for the fight and I had a chance to meet him for the first time at the fight hotel. He said that while he was in New York he met with HBO executives, to talk about a plan for his future fights. One possibility is a match with former titlist Tavoris Cloud, who lost his belt to Bernard Hopkins in March. Stevenson, however, said he is more interested in fighting Hopkins, although he has a mandatory due against the reinstated Karo Murat.

• Sauerland Event promoter Chris Meyer said that Murat, who was dropped from a July 13 mandatory shot against Hopkins because he could not obtain a visa to enter the United States, has worked out the paperwork issues. However, when it looked like it might take six months to clear up his problem, Hopkins promoter Golden Boy and Showtime canceled the card. With Murat's paperwork cleared up, he is the mandatory again, but Showtime has no plans to reschedule the card given its busy -- and expensive -- slate of upcoming shows, according to what Showtime boxing chief Stephen Espinoza told me on Saturday night at the Broner-Malignaggi fight. That would leave the fighters, Golden Boy and Sauerland Event in a tough spot, because HBO has no interest in the fight, either.

• Mexico's Sergio Thompson (27-2, 25 KOs) has been on a roll since a 2010 split-decision loss to Alisher Rahimov. Thompson has won 13 in a row and made a name for himself with an upset second-round knockout of Jorge Linares in March 2012. The streak has landed Thompson a shot at junior lightweight titlist Takashi Miura (25-2-2, 19 KOs). Golden Boy matchmaker Eric Gomez told ESPN.com the contracts are signed for the fight, which will take place Aug. 17 (Fox Deportes) in Thompson's hometown of Cancun, Mexico. Miura, who stopped Gamaliel Diaz in the ninth round to win the title in April, will be making his first defense.

• Although neither side is talking publicly, super middleweight champion Andre Ward and promoter Dan Goossen are headed to an arbitration hearing on Tuesday in Los Angeles. Ward, for reasons that have not been disclosed, is seeking to break his promotional contract with Goossen, who has promoted Ward for his entire career, including negotiating for him to have his world title shot against Mikkel Kessler during the Super Six in Ward's hometown of Oakland, Calif.

• Puerto Rican featherweight contender Orlando Cruz (20-2-1, 10 KOs), who made headlines last year as the first active boxer to announce he was gay, was supposed to fight Friday night on promoter Tutico Zabala's Telemundo-televised card. However, Zabala told ESPN.com on Monday that he pulled Cruz from the show. The reason, Zabala said, was because after Mikey Garcia was stripped of his featherweight title for not making weight for his June 15 defense against Juan Manuel Lopez, the WBO ordered Cruz to face the former titlist for the vacant belt and Zabala and Cruz didn't want to risk the surefire title shot.

• Top Rank announced two UniMas cards: July 13 at the Hollywood Park Casino in Inglewood, Calif., headlined by junior lightweight Alejandro Perez (17-1-1, 11 KOs) against Edgar Riovalle (35-14-2, 25 KOs) with light heavyweight prospect Trevor McCumby (11-0, 9 KOs) on the undercard, and Aug. 10 at the Sands Casino in Bethlehem, Pa., headlined by featherweight Gamalier Rodriguez (21-2-3, 15 KOs) facing Jorge Pazos (19-5-1, 13 KOs).

• Top Rank also finalized one of the undercard bouts for the Timothy Bradley Jr.-Juan Manuel Marquez HBO PPV undercard on Oct. 12: light heavyweight Seanie Monaghan (18-0, 11 KOs) against Anthony Caputo Smith (14-1, 10 KOs).

April, 25, 2013
4/25/13
1:52
PM ET
A few fight and fighter updates:

• Former middleweight titlist Julio Cesar Chavez Jr., whose first fight since losing his belt to Sergio Martinez and subsequent suspension for testing positive for marijuana after the fight was being planned for either June 15 or 22, will be delayed a few weeks. Top Rank promoter Bob Arum told ESPN.com that Chavez, who is likely to fight at about 164 pounds, will instead fight July 13 (HBO). Arum said the likely opponent is Brian Vera and that the fight would be in Texas or Mexico.

• With Chavez moving into July, Arum said featherweight titlist Miguel Angel "Mikey" Garcia would tentatively take the June 15 HBO date for his first defense. The two opponents under discussion remain former titlist Juan Manuel Lopez and Orlando Cruz. Prospect Terrence Crawford, who easily outpointed perennial junior welterweight contender Breidis Prescott on March 30 as a late substitute on the Mike Alvarado-Brandon Rios II undercard, is being penciled in for the opening television bout. Crawford fought Prescott at junior welterweight but he is likely to go down to lightweight, where he has fought most of his career.

• Junior featherweight champion Guillermo Rigondeaux, who unified titles on April 13 with a decision victory against Nonito Donaire, has nothing specific planned yet for an encore, but Arum said he would meet with HBO in the coming weeks to talk about his next bout.

• Junior middleweight titlist Ishe Smith's first defense (and a mandatory) against Carlos Molina will take place July 19 in Las Vegas, Warriors Boxing promoter Leon Margules told ESPN.com. Margules, who promotes Molina, made a deal for the fight with Mayweather Promotions CEO Leonard Ellerbe to promote the bout a few weeks ago, but now the date is locked in. Smith, the first native of Las Vegas to win a world title, will get to make his first defense in his hometown. TV arrangements are pending.

February, 4, 2013
2/04/13
5:28
PM ET

Other than a little facial bruising following surgery to repair his busted nose, newly crowned featherweight titlist Miguel Angel "Mikey" Garcia is feeling and sounding good.

Garcia suffered the broken nose just before the end of the eighth round against Orlando Salido on Jan. 19 at the Madison Square Garden Theater in New York when Salido rammed him in the face with an accidental head-butt.

The ringside doctor determined that Garcia could not continue, so the fight was stopped and sent to the scorecards for a technical decision. Garcia, who had dropped Salido four times in a thoroughly dominant performance, won the lopsided decision and a slice of the 126-pound title.

Garcia, 25, of Oxnard, Calif., had surgery Friday to repair his nose.

"I look more beat up after surgery than I did after the fight," Garcia joked when we spoke on Monday. "I'm a little beat up around the nose, and my eyes are a little black after the surgery. But it went as planned and shouldn't be too long of a recovery time."

Garcia (31-0, 26 KOs) said he went home from the hospital just an hour or so after the procedure and feels fine now.

"My nose is a little stuffy and it's a little hard to breathe, but I'm fine," he said. "I have a post-op visit on Tuesday. I'm going back to the doctor and he will check me out and see how the healing process is going and tell me know long until I get to train and spar again."

Cameron Dunkin, Garcia's manager, said the hope is to schedule Garcia's first title defense in May, but that it more likely will be in June.

"The surgery went fine and he will be ready in May, and when I mentioned that to [Top Rank executives] Todd [duBoef] and Carl [Moretti], they said he probably wouldn't be scheduled until June," Dunkin said.

One potential opponent Dunkin mentioned is Orlando Cruz (19-2-1, 9 KOs) of Puerto Rico, the WBO's leading available contender. Cruz, of course, made international headlines last fall when he became the first active boxer in history to announce that he is gay.

October, 15, 2012
10/15/12
4:37
PM ET
When featherweight Orlando Cruz of Puerto Rico announced earlier this month that he was gay -- boxing's first male fighter to come out of the closet -- it was a surprise to many that he would do it. Many also wondered how he would be treated in such a hyper-masculine sport.

From what I can tell, nobody really cares all that much. I know I don't care. If Cruz can fight, he can fight. If he can't, he can't. His sexual orientation is of no matter to me and doesn't seem to make a difference to the vast majority of boxing people and fight fans.

One such person who couldn't care less about Cruz's announcement is Jorge Pazos (20-4, 13 KOs), a heretofore unknown fighter from Mexico.

He also happens to be Cruz's first opponent since he made his announcement. The fighters meet on Friday night (Telemundo, 11:30 ET) in a scheduled 12-round bout at the Kissimmee Civic Center in Kissimmee, Fla., an Orlando suburb.

Asked about fighting Cruz, a 2000 Puerto Rican Olympian, Pazos said through a translator upon his arrival in Florida: "I come very well prepared. I have trained for eight weeks and we are ready and waiting for fight night. The simple fact that he declared himself a homosexual does not take anything away from the fact that he is a great boxer. He has two hands and two legs to move around, and it's going to be a great fight."

Cruz (18-2-1, 9 KOs) surprised many with his declaration in a press release in early October in which he made a lengthy statement about his personal life.

"I don't want to hide any of my identities," he said in part of his statement. "I want people to look at me for the human being that I am. I am a professional sportsman that always brings his best to the ring. I want for people to continue to see me for my boxing skills, my character, my sportsmanship. But I also want kids who suffer from bullying to know that you can be whoever you want to be in life, including a professional boxer, that anything is possible and that who you are or whom you love should not be an impediment to achieving anything in life.

"I've been fighting for more than 24 years and as I continue my ascendant career, I want to be true to myself," he said. "I have always been and always will be a proud gay man."
June, 15, 2012
6/15/12
7:57
PM ET
Former junior bantamweight titlist Marvin Sonsona, a 21-year-old from the Philippines who is now fighting as a featherweight, was due to headline the July 6 edition of ESPN2/ESPN3's "Friday Night Fights" against Orlando Cruz in Las Vegas. However, Sonsona withdrew because of a thigh injury and a blood infection, resulting in a new main event, which was put together Thursday: Dynamic prospect Javier Fortuna will face former featherweight titlist Cristobal Cruz in a 10-rounder at 128 pounds. Heavyweight prospect Magomed Abdusalamov will face Maurice Byarm in the co-feature.

Fortuna (19-0, 14 KOs) is coming off a sensational first-round knockout of previously undefeated Yuandale Evans on April 27 on FNF. The 35-year-old Cruz (39-13-3, 23 KOs) has seen better days and is 0-2-2 in his past four fights. Still, he is Fortuna's most experienced opponent so far.