Dan Rafael:

Osumanu Adama
February, 19, 2014
Feb 19
6:41
AM ET
The finishing touches are being put on a deal for middleweight titlist Gennady Golovkin to defend his belt against former title challenger Andy Lee on April 26 in an HBO main event at the Theater at Madison Square Garden in New York.

However, finalizing the deal and announcing it this week took a backseat to some sad news. Golovkin learned that his father, Gennady Ivanovich Golovkin, died at age 68 on Tuesday in their native Kazakhstan after having a heart attack.

Golovkin immediately headed home for the funeral, which is Friday. K2 Promotions managing director Tom Loeffler said he and Abel Sanchez, Golovkin's trainer, are leaving Wednesday and will also attend.

The deal is expected to get done and the fight will go on, but the delay is understandable.

Golovkin (29-0, 26 KOs), who crushed Osumanu Adama in a seventh-round knockout victory on Feb. 1 in Monte Carlo, will be making his 11th title defense when he faces Ireland's Lee (31-2, 22 KOs). Golovkin is riding a streak of 16 consecutive knockouts.

James Kirkland (32-1, 28 KOs), the vicious junior middleweight puncher, is expected to open the telecast against an opponent to be determined. Victories by Golovkin and Kirkland could pave the way for them to face each other this summer.
February, 5, 2014
Feb 5
2:34
PM ET
You can cross former middleweight titlist Daniel Geale off the list of potential opponents for Gennady Golovkin's April 26 HBO fight at the Theater at Madison Square Garden in New York.
You can also cross off James Kirkland, another of the three leading candidates.
You know what that means? That means GGG likely will face former title challenger Andy Lee.
"We're close. We're talking, and Andy wants the fight," Lou DiBella, Lee's promoter, told ESPN.com on Wednesday. "Andy believes he can win, and this is a fight that he wants."
Geale (29-2, 15 KOs) is scheduled to face Australian countryman Garth Wood on Feb. 19 in Geale's first bout since losing his belt to Darren Barker in a great fight in August in Atlantic City, N.J., but he was viewed as the leading candidate to try to slow down the Golovkin train.
But he's now out of the picture. Geale and promoter Gary Shaw both said that the reason is because if he fights Golovkin on April 26 -- the firm date for Golovkin's next fight, mainly because that is when the MSG Theater is available -- the bout would not be televised in Australia, where most fights of consequence are on Main Event PPV. On April 26, Main Event PPV is already slated to air a UFC pay-per-view.
With no Australian television revenue, that would leave Geale without an important piece of his overall revenue for a fight with Golovkin (29-0, 26 KOs), who is coming off last week's bruising seventh-round knockout of Osumanu Adama in Monte Carlo.
"We weren't ducking him," Geale told Fox Sports Australia. "If they had given us a week later or a week before, it would have been perfect. But they wouldn't budge on the date and I want the people of Australia to be able to see a fight like that. Golovkin has built his name up so well; he's stopped pretty much everybody he's been in there with. I don't want to go over there [to the U.S.] and do something great and nobody see it."
Shaw told ESPN.com, "I agree with Geale. He wants his fights to be shown in Australia. Hope he gets the next fight with enough time to secure a TV network. Geale has never been afraid to fight GGG and continues to believe that he has a chance."
[+] Enlarge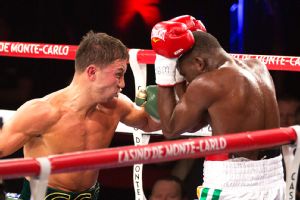 Didier Baverel/Getty ImagesAfter stopping Osumanu Adama on Saturday, Gennady Golovkin, left, is ready to get back in the ring as soon as April.
Kirkland (32-1, 28 KOs), the vicious junior middleweight puncher who would have to move up in weight for the fight, was also in the running. In fact, some at HBO preferred him over Geale as GGG's opponent.
But according to sources involved in the talks, Kirkland's camp has rejected the fight. Instead, there's a good chance that Kirkland, of Austin, Texas, will wind up on the April 26 HBO undercard with the understanding that if Kirkland and Golovkin both win they would meet in the summer.
That left Ireland's Lee (31-2, 22 KOs), HBO's third choice but the one guy willing to take the fight and the guy who probably can significantly boost ticket sales. New York's Irish fight fans are very loyal to their fighters.
Lee has won three low-level fights in a row since being destroyed in a seventh-round knockout loss to then-middleweight titlist Julio Cesar Chavez Jr. in June 2012.
I don't think Lee stands much of a chance against Golovkin, but I didn't think Geale or Kirkland did either.
February, 1, 2014
Feb 1
11:23
PM ET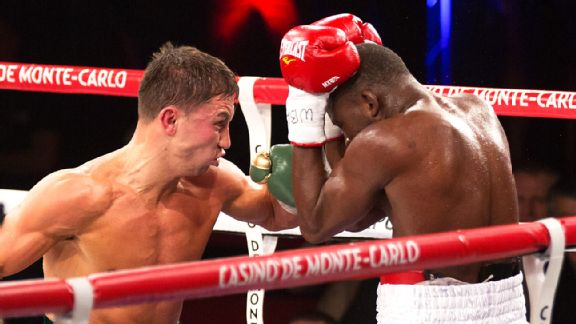 Didier Baverel/Getty ImagesGennady Golovkin scored his 16th consecutive knockout Saturday by stopping Osumanu Adama.
Middleweight titleholder Gennady Golovkin went to work on Saturday and boxing's most exciting fighter did what he usually does -- he knocked off a bit early.
That's because "GGG" scored his 16th consecutive knockout in destroying tough guy Osumanu Adama in the seventh round on Saturday at the Salle des Etoiles in Monte Carlo.
Adama had previously fought well in a world-title fight -- a competitive decision loss to then-titlist Daniel Geale of Australia in 2012 -- and had never been stopped. Yet Golovkin looked sharp in smashing him up and dropping him three times in the one-sided fight.
What else is new for Golovkin?
Dominating his opponents has become the norm for Golovkin (29-0, 26 KOs), who raised his boxing-best knockout percentage among active titleholders to 89.66 percent.
Golovkin hasn't heard the final bell since an eight-round decision win over Amar Amari in 2008. That means he has knocked out all 10 challengers he has faced in his title defenses.
There's a reason he is must-see TV, even if HBO blew it on this fight and did not work out a deal to show the fighter who is under contract to the network and has become one of it's cornerstone fighters (and best ratings draws).
Alas, the fight went on anyway with 100-plus other countries televising it, and Golovkin did what he always does. He stalked and punched and took little in return from a game Adama (22-4, 16 KOs), the 32-year-old from Ghana who lives in Chicago.
Golovkin dropped Adama three times -- late in the first round with a right hand, in the sixth round with a left hook and with a jab (a jab!) in the seventh. When he rocked Adama with yet another powerful left hook in the seventh round, referee Luis Pabon called it off at 1 minute, 20 seconds.
It was an appropriate and merciful stoppage.
"I feel terrific. I'm very happy with my performance," a smiling (what else is new?) Golovkin said. "From the opening round I was comfortable with the fight and felt good about my power and the pace of the fight. He was a tough opponent but I was never hurt during the fight."
Now, I know that Adama was not an elite opponent, but so what? Golovkin is one of the busiest stars in the sport. He fought four times last year and plans on four more fights this year. And since none of the other big names in the middleweight division -- or even in the super middleweight or junior middleweight divisions -- have showed any real zest to face him, I applaud Golovkin and K2 promoter Tom Loeffler for doing what they are doing. They have Golovkin staying busy, fighting solid available opponents and then knocking them out in fan-friendly performances.
[+] Enlarge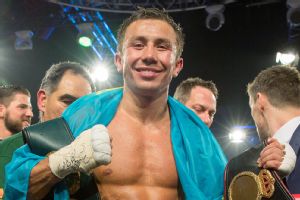 Didier Baverel/WireImageIf Gennady Golovkin gets his way, a showdown with middleweight champion Sergio Martinez will be in order for 2014.
When Mike Tyson was blazing through the heavyweight division like a meteor in the 1980s, there were many mismatches. Nobody cared, though, that he was drilling guys with ease, because you just wanted to see him in action.
Golovkin has reached that point.
When he's fighting, no matter who is across the ring from him, I'm watching any way I can find the fight. A lot of boxing fans feel that way, too, because it seemed like I heard from thousands of them on social media in the days leading up to Saturday's fight as they crushed HBO for its decision to not take the world feed of the fight like more than 100 other countries did.
At least with this fight out of the way, Golovkin will return stateside on April 26 and headline an HBO card at the Theater at Madison Square Garden in New York.
He has no opponent yet, and I don't really care. I cannot wait to see him back in action.
The opponents Loeffler has mentioned as possibilities are Geale, longtime middleweight contender Andy Lee and junior middleweight contender James Kirkland, the ultra-aggressive puncher. If it's Golovkin-Kirkland, prepare for carnage.
Golovkin is OK fighting any of those guys or anyone else put in front of him, for that matter. Golovkin and Loeffler have made it very clear that Golovkin will fight literally anybody HBO wants him to fight from 154 to 168 pounds.
The 31-year-old from Kazakhstan, however, has one wish: He wants the recognized 160-pound champion.
"I want to fight Sergio Martinez to prove who's the best middleweight," Golovkin said.
Martinez, out with a knee injury since last April, is in the final stages of negotiating his return fight, a June 7 title defense against Puerto Rican star Miguel Cotto. That's a big HBO PPV fight.
However, should Martinez prevail, there is no reason Martinez-Golovkin can't happen in the fall. There are no network issues, no promotional issues and big paydays for both guys, not to mention certain fan interest.
For now, however, it's one fight at a time for GGG.
The top of the mountain might be a fight with Martinez, or even a showdown with super middleweight champ Andre Ward, but I, for one, am thoroughly enjoying Golovkin's journey.
January, 21, 2014
Jan 21
4:58
PM ET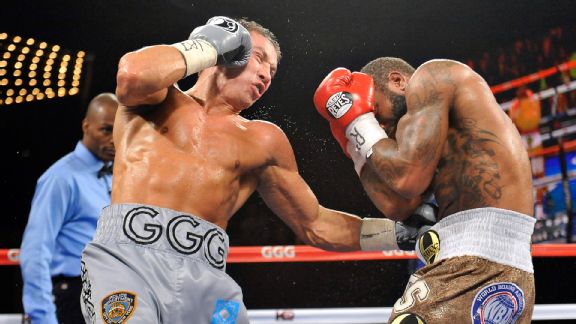 Joe Camporeale/USA TODAY SportsWith Gennady Golovkin not fighting April 26 following the death of his father, the card was canceled.
Middleweight titlist Gennady Golovkin was boxing's breakout star of 2013.
The new darling of HBO's boxing franchise drew 1.41 million viewers for his Nov. 2 destruction of Curtis Stevens. That was the third-most viewed fight on HBO -- and on all of premium cable -- for the year, trailing only HBO fights involving established stars Miguel Cotto and Julio Cesar Chavez Jr., and represented yet another increase in Golovkin's viewership numbers.
But with Golovkin (28-0, 25 KOs) wanting to maintain a busy schedule -- he fought four times last year and hoped to do the same again this year -- K2 promoter Tom Loeffler made a deal for him to fight Osumanu Adama on a Feb. 1 card being put on by South African promoter Rodney Berman in Monte Carlo without HBO's involvement. It was a similar deal to what Golovkin did last year, when one of his fights was on a Berman card at the same Monte Carlo casino against Nobuhiro Ishida. That fight was on a small American pay-per-view.
But HBO now holds exclusive North American television rights to Golovkin's fights and initially could not accommodate him in its Feb. 1 schedule, not to mention the network was not too thrilled with Adama (22-3, 16 KOs) as the opponent, even though Adama is a noted tough guy who has never been stopped and gave then-titleholder Daniel Geale a very good fight in 2012.
HBO eventually made the right decision -- perhaps it heard the outcry from fans and media -- and changed its mind, deciding to try to work things out to televise the fight. It made sense since GGG is one of the most exciting fighters in boxing and as hot with the public as they come.
So the plan for the lower-budget fight was for HBO to televise it in the afternoon on its HBO2 channel. The network even planned to send its crew and announcers ringside to Monte Carlo. For weeks, they worked on the logistics. But on Tuesday everyone involved finally realized it was not going to work and pulled the plug.
As ridiculous as it sounds, Golovkin's fight will not have American television coverage unless something changes drastically in the next two weeks.
"After extensive collective efforts, logistics to produce the fight from Monte Carlo could not be resolved," HBO said in a statement given to ESPN.com. "We have tried for the past month to find a way to televise Gennady Golovkin vs. Osumanu Adama on Feb. 1 from Monte Carlo.
"Unfortunately, the venue could not accommodate our production needs. We spent weeks looking at creative ways to produce a telecast for the HBO2 service from Monte Carlo and it simply could not get resolved. We are grateful for all the assistance from Tom Loeffler and K2 in trying to get us accommodated."
The casino seats only 900 and its small size could not handle another broadcast position inside the room and that was a huge issue, according to HBO. The casino could not even accommodate an HBO production truck in order to do the transmission of the event.
If Golovkin wins, he is due back on HBO on April 26 from the Theater at Madison Square Garden in New York, where he fought two of his fights last year. But if you want to watch the Feb. 1 fight you'll unfortunately have to hunt for a stream on the Internet.
December, 18, 2013
12/18/13
1:06
PM ET
The absurdity of the WBA knows no bounds. I've harped on the organizations and their sheer madness and audacity for years -- not to mention putrid rankings, multiple titles and not following their own rules -- but things are just way out of hand now with this particular alphabet soup body.

It's bad enough that the WBA will sanction as many as four titleholders in the same weight class (for a small sanctioning fee, of course). It has super, regular, unified and interim titleholders. Take your pick. It is just pathetic.

But where it really is ridiculous is when two of its so-called titleholders perform on the same night rather than fighting each other.

On Saturday, light heavyweight titlist Beibut Shumenov, inactive for 18 months (yet allowed to keep his belt) was "elevated" to "super" titleholder and defended the belt against Tamas Kovacs on the big card in San Antonio.

On the very same day in Germany, Juergen Braehmer outpointed Marcus Oliveira -- a massive joke to be fighting for a world title given his woeful résumé -- to win the vacant "regular" title.

Here you had Shumenov and Braehmer, both quality top-10 175-pounders, fighting for belts in the same organization on the same day rather than facing each other.

As bad as that was, it gets even worse on Feb. 1 in Monte Carlo. That is where Gennady Golovkin, also recently "elevated" (which really means another title that the greedy organization can charge another sanctioning fee for) to "super" titleholder, will defend against Osumanu Adama.

On the very same card, England's Martin Murray (26-1-1, 11 KOs), the interim titlist, will face Australia's Jarrod Fletcher (17-1, 10 KOs) for the now-vacant "regular" title when Murray really should be facing Golovkin, for whom he was the mandatory. But the WBA didn't order the fight. Instead, it is content to collect another fee and pass off this fight as a title bout.

It's insanity, yet the Murray camp made Wednesday's announcement of the fight with Fletcher -- knocked out in the second round the only time he ever faced a decent opponent in Billy Joe Saunders last year -- out to be some huge deal.

"Martin Murray will look to fulfill his dream of becoming St Helens' first-ever world champion in Monte Carlo on February 1," the Hatton Promotions press release read.

The winner of that fight won't be a real world champion. He'll have a gaudy belt but no credibility as a serious champion. How can the winner be a real world champion when Golovkin (28-0, 25 KOs), in the main event, is active and already holds a title in the same organization?

I can't blame Murray. Is he supposed to turn down the opportunity? Of course not. He's already had two other title shots, a draw with Felix Sturm and a tight loss to Sergio Martinez (the real, honest-to-goodness middleweight champ of the world). So from Murray's point of view, the fight with Fletcher is meaningful, even if to most others it is pointless as far as being a title fight.

"Jarrod Fletcher is a good kid. I've not seen too much of him, but we'll be working on that now we've got a date," Murray said. "He's got a good pedigree, and he beat [2008 British Olympic gold medalist] James DeGale in the amateurs, which isn't easy and proves he's a good fighter.

"He's going to be well up for this, but I think I'll be the favorite and rightly so, given who I've fought before and how I've done against them. It's going to be interesting for both of us, but I want everyone to know that there's no way I'm coming home to St Helens without that world title."

Indeed, Murray said "that" world title. Just not a legitimate one, thanks to the WBA's continuing joke of having multiple belts in the same division.