Dan Rafael:

Pablo Cesar Cano
September, 5, 2013
9/05/13
1:16
PM ET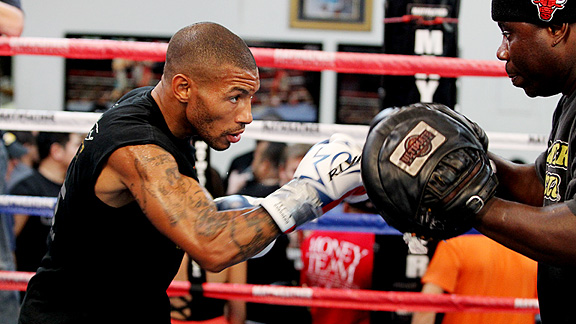 Tom Hogan/Hoganphotos/Golden Boy PromotionsWelterweight Ashley Theophane looks to make a big impression on Sept. 14 against Pablo Cesar Cano.
Floyd Mayweather Jr. liked what he saw in British welterweight Ashley Theophane, and that meant a lot -- enough to land him a coveted slot on the undercard of the year's biggest fight, Mayweather's junior middleweight unification match with Canelo Alvarez.
The world will be paying attention to the main event Sept. 14 (Showtime PPV) at the MGM Grand, not to mention the A+ co-feature -- junior welterweight titlist Danny Garcia against Lucas Matthysse -- giving Theophane a big opportunity to also make an impression before a worldwide audience against Mexico's experienced Pablo Cesar Cano (26-3-1, 20 KOs) in the pay-per-view opener.
Only a week after signing with Mayweather Promotions this summer, Theophane was rewarded with the fight. How the former British junior welterweight champion wound up so tight with Mayweather was the product of hard work in his gym.
"Ashley's a gentleman that I'm very familiar with," said Leonard Ellerbe, CEO of Mayweather Promotions. "I've been watching him work for the last couple months."
Ellerbe said he was also familiar with Theophane from his hard-fought 2010 split decision loss to Garcia.
"It was a fight that I personally thought that he got the bad end of the stick," Ellerbe said. "And he's a gentleman that has tremendous character. I think that he's had a tough road, with going in other fighters' backyards and getting it done the hard way. So now with us, with him being part of Mayweather Promotions, I think that we're going to go out and create these opportunities, and he just has to go out and win. And I think that he will be a guy that the world will get a chance to see on Sept. 14. He'll put on a tremendous fight, and he's going to make a lot of noise."
Theophane (33-5-1, 10 KOs), 33, has won some and lost some against better opponents (and never been stopped). He lost to Garcia and Ali Oubaali. He has defeated junior welterweight titlist DeMarcus "Chop Chop" Corley and former two-time title challenger Delvin Rodriguez.
"

He's fought Erik Morales. He's fought Paulie Malignaggi. He's fought Johan Perez, Shane Mosley. He is a very tough operator, and I'm going to be in great shape.

"

--Ashley Theophane on Pablo Cesar Cano, his opponent on Sept. 14.
The road to this opportunity began when Theophane met Mayweather last year during his training camp for Miguel Cotto. Theophane, training in New York, decided to go to Las Vegas for two weeks and was allowed to work at Mayweather's gym.
"Leonard and Floyd were very nice to me. The sparring there, it was great," Theophane said. "When I left back [to New York], I wished Floyd well in his fight with Miguel Cotto, and then the next time came the Robert Guerrero fight [that Mayweather had in May], and I said I'll go out to Vegas again. Went out to Vegas for four weeks for this time. I was sparring with great guys, and I just liked the vibe at the gym."
Theophane said that it was such a good experience that he stayed for Mayweather's whole camp and that Mayweather and Ellerbe were impressed by his work ethic.
"I think Leonard and Floyd just heard about the work that I was putting in the gym, and then I got to spar with Floyd and it was just step-by-step, bit-by-bit, just keep working, the way I've done my whole career," Theophane said. "Floyd and Leonard listened to what others were saying, that I was a good boxer and they got my record, and then the rest is history. I signed up with Mayweather Promotions to take it to the next level."
Theophane is pumped to be part of such a big show in his first fight with Mayweather Promotions.
"It's the biggest boxing event in the world. It's going to be one of the biggest ever and it's a big achievement on that," he said. "Leonard and Floyd have put me on the card and I'm looking forward to it. And for me, obviously, I've got Pablo Cano. He's fought Erik Morales. He's fought Paulie Malignaggi. He's fought Johan Perez, Shane Mosley. He is a very tough operator, and I'm going to be in great shape. I'm training with the best in the world. I've got a great training team, and we're going to be ready for 'The One' and it's an honor to be on the show."
Ultimately, Theophane hopes connecting with Mayweather will lead him to an elusive world title.
"I still feel good. I haven't been in many hard fights because I'm a smart boxer and I have a good defense," Theophane said. "The age, it doesn't play a role. I eat well. I don't smoke. I don't drink. You don't see me out in the clubs, so the age is not an issue."
August, 15, 2013
8/15/13
10:33
AM ET
Dan Rafael joined ESPN's "Friday Night Fights" to talk about changes made to Manny Pacquiao's training for his fight with Brandon Rios, which fights were added to the Floyd Mayweather Jr.-Canelo Alvarez undercard and more. Click on the video icon in the picture above.
June, 11, 2013
6/11/13
4:26
PM ET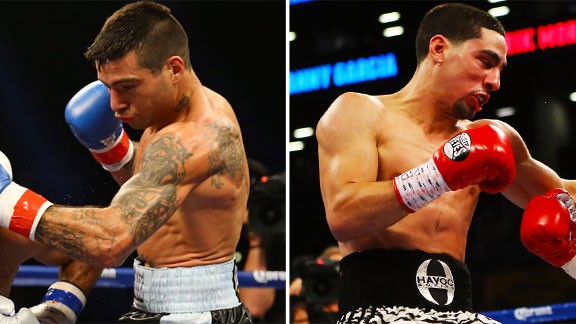 Getty ImagesLucas Matthysse and Danny Garcia have a new date for their promotional tour in the U.S.
Golden Boy chief executive Richard Schaefer is awfully busy juggling a bunch of fights that are coming up, including the big one, Floyd Mayweather-Canelo Alvarez on Sept. 14. But there are a lot of other fights to get done also, undercards to load up and Showtime dates to fill.
Schaefer, who has been in Mexico on business, told ESPN.com that he and Al Haymon, Mayweather's adviser and manager to many of Golden Boy's fighters, plan to sit down in the coming days when they are both back in Los Angeles to go over a host of issues. Among them: ironing out the Mayweather-Alvarez Showtime PPV undercard and trying to finalize a Sept. 7 fight between Danny Garcia and Lucas Matthysse (both Haymon clients) for junior welterweight supremacy.
Here's an update from Schaefer on a variety of things he's working on:
• Schaefer said his main focus is getting Garcia-Matthysse done.
"That's what I'm working on this week," he said. "I'd like to have the August and September schedules all done by the end of the week. I need to sit down with Al though and figure everything out."
Schaefer said while some have been skeptical that Haymon would go through with Garcia-Matthysse, he is not.
"Al realizes that having all these fighters means they will sometimes have to fight each other," Schaefer said. "Danny Garcia has never turned down anybody. And Matthysse? This is the fight he's been waiting for. The fighters want it and the adviser is on board. I just have to finalize the money and the site. But I think we will get this done."
• Former welterweight titlist Victor Ortiz, healed from his broken jaw after a knockout loss to Josesito Lopez last June, is expected back in action either late this summer or in the fall. Schaefer said one fight he is considering trying to make is Ortiz against Shane Mosley, who is coming off a desperately needed win against Pablo Cesar Cano on May 18 after exiting retirement.
This is not a fight I am a fan of, especially considering all of the top guys Schaefer could match Ortiz with. For example, I love the idea of an Ortiz fight against Robert Guerrero, a fight Guerrero also wants. Ortiz (two losses in a row) and Guerrero are both coming off defeats, but it would definitely be a fan-friendly fight with the winner putting himself back on track.
With regard to an Ortiz-Mosley fight, Schaefer said, "I would like to see it. Both guys have a lot to prove if they want to fight for a title again. I ask people, 'Who do you think wins?' And the response is split. That makes it an interesting fight to me."
• Golden Boy recently won the purse bid for the mandatory fight between junior featherweight titlist Victor Terrazas and Leo Santa Cruz and needs to schedule the bout. Schaefer said it could wind up on the Mayweather-Alvarez pay-per-view. But so, too, could featherweight titlist Abner Mares' next fight.
"It could be Mares against [former titlist] Jhonny Gonzalez," Schaefer said. "Gonzalez would love to fight for the title and you know how Abner is. He's never worried about fighting anybody."
There is also the possibility, Schaefer said, of Mares and Santa Cruz not appearing on the PPV undercard and instead having their next fights in Mexico, possibly on the same card. It is also possible that one will be on the PPV and one will fight in Mexico.
• With Marcos Maidana defeating Josesito Lopez last Saturday in a barnburner, Schaefer said Maidana is in line for two potential fights. One would be a match with Andre Berto should Berto defeat Jesus Soto Karass on July 27 in San Antonio in the main event of a Showtime tripleheader. The other could be a shot at the winner of the June 22 fight between welterweight titlist Paulie Malignaggi and Adrien Broner. Maidana could shadowbox and I'll be watching, so either fight sounds good to me, but I love Maidana-Berto. Can you say fight of the year?
"Maidana-Berto, Maidana with the Paulie-Broner winner, both are great fights," Schaefer said. "We have so many guys at 140 and 147 you can mix and match any of these guys. It's insane."
• Schaefer said in addition to the Sept. 7 and Sept. 14 cards, he will also have a major card on either Aug. 24 or Aug. 31.
March, 14, 2013
3/14/13
3:50
PM ET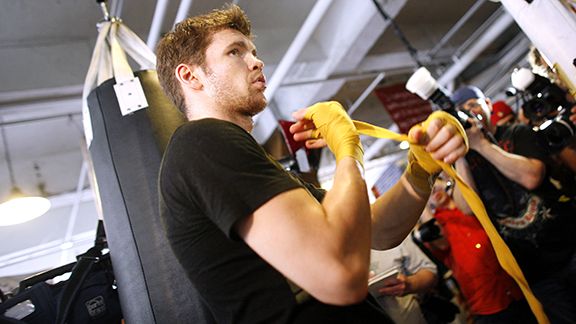 AP Photo/Jason DeCrowFormer junior middleweight titlist Yuri Foreman continues his comeback with a fight in New York.
Notes and nuggets from the boxing world:
• The proposed middleweight bout between Detroit's J'Leon Love (15-0, 8 KOs), one of Floyd Mayweather's fighters, and Philadelphia's Gabriel Rosado (21-6, 13 KOs), who is coming off a game performance in a TKO loss to Gennady Golovkin in a January world title fight, is closer to being finalized. The sides are working through the paperwork for the bout, which, if finalized, will be part of the Mayweather-Robert Guerrero Showtime PPV card on May 4 at the MGM Grand in Las Vegas. The fight is a big step up for Love.
• Welterweights Jesus Soto Karass (27-8-3, 17 KOs) of Mexico and Yoshihiro Kamegai (22-0-1, 19 KOs) of Japan will meet June 8 at the Home Depot Center in Carson, Calif., according to Golden Boy matchmaker Eric Gomez. The fight will be on the undercard of the Marcos Maidana-Josesito Lopez welterweight fight, which headlines a Showtime-televised tripleheader. The third fight isn't set yet, but the two fights that are set both figure to produce excellent action.
• Nice looking card Saturday night (Fox Deportes, 10 ET) in Cancun, Mexico as exciting welterweight Pablo Cesar Cano (25-2-1, 19 KOs) of Mexico returns to action for his first bout since dropping Paulie Malignaggi in the 11th round but losing a debatable split decision in a world title bout in October on the debut card at the Barclays Center in Brooklyn, N.Y. Cano will face Manuel Perez (19-8-1, 4 KOs) of Denver in a scheduled 10-rounder. In the 10-round super middleweight co-feature, Mexico's Marco Antonio Periban (19-0, 12 KOs) faces Samuel Miller (25-6, 22 KOs) of Colombia.
Also on the card is former lightweight titlist Jorge Linares (32-3, 20 KOs), who is looking for a second win in a row after back-to-back knockout losses. Linares, of Venezuela, faces David Rodela (16-7-3, 7 KOs) of Oxnard, Calif., although their bout is not scheduled for the broadcast. Junior featherweight Joseph Diaz Jr. (2-0, 1 KO), a 2012 U.S. Olympian; featherweight Julian Ramirez (7-0, 5 KOs), the nephew of late junior lightweight champion Genaro Hernandez; and Alberto Guevara (16-1, 16 KOs), who gave Leo Santa Cruz a good go in a decision loss in a December bantamweight world title fight, are also in action.
• Promoter Lou DiBella has loaded his April 4 "Broadway Boxing" card at the Roseland Ballroom in New York with A-sides, although their opponents are not all set yet. Former junior middleweight titlist Yuri Foreman (29-2, 8 KOs) will have the second fight of his comeback after a nearly two-year layoff against Gundrick King (18-9, 11 KOs) in a six-rounder. Also on the card against an opponent to be determined is junior featherweight prospect Luis "Orlandito" Del Valle (16-1, 11 KOs) in his first fight since a decision loss to former junior bantamweight champ Vic Darchinyan in September. Longtime welterweight contender Jo Jo Dan (30-2, 17KOs) and popular New York junior welterweight Gabriel Bracero (21-1, 4 KOs) are also on the show. DiBella is once again working with promoter/entertainer Curtis "50 Cent" Jackson, who will have two of his fighters on the card, junior welterweights Luis Olivares (1-0, 1 KO) and Donte Strayhorn, who is first scheduled to make his pro debut on Saturday's Timothy Bradley Jr.-Ruslan Provodnikov undercard.
• Just for the record, the scoring of the Feb. 23 junior middleweight title bout between Cornelius "K9" Bundrage and Ishe Smith was incorrect when originally announced. Ring announcer Jimmy Lennon was given the wrong scores when he announced that Smith had won a title via split decision with scores of 116-111, 116-111 for Smith and 114-113 for Bundrage. However, upon recalculating the scorecards, judge Dave Hess' score for Bundrage had been inaccurately tabulated. In fact, Hess had the fight 114-114, making Smith a majority decision winner.
January, 25, 2013
1/25/13
1:21
PM ET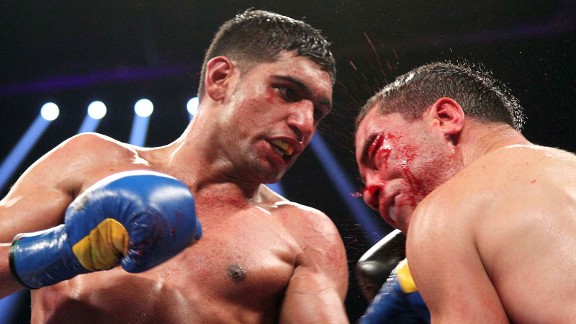 Tom Casino/ShowtimeAmir Khan battered Carlos Molina in December to rebound from dispiriting back-to-back losses.
Former junior welterweight titlist Amir Khan of England is ticketed to return to action April 20 on Showtime, Golden Boy promoter Richard Schaefer told me on Thursday.
Who will Khan fight and where will it take place? Schaefer said those questions haven't been answered yet.
"We have earmarked April 20 for Amir, but I can't say whether it will be from the U.S. or the U.K.," Schaefer said. "If it's up to Amir, he wouldn't mind doing a fight from the U.K. It's important to keep the U.K. tie. As for the opponent, I have been on the phone with [Showtime Sports boss] Stephen [Espinoza] and we're talking about it."
Khan has a multi-fight contract with Showtime, which will have substantial influence in the fight location and opponent.
"Showtime is open to doing a fight from England, but the question then will be the license fee and the opponent," Schaefer said. "When Amir entered into the multi-fight deal, it was tied to some pretty big names. But if you are fighting in the U.K., it doesn't make sense for the big names because of the time difference [meaning an afternoon fight in the U.S., which means less money from the network]. The license fee for an overseas fight will be less, so we are talking about it."
Khan (27-3, 19 KOs) lost two title fights in a row -- a controversial split decision loss to Lamont Peterson in December 2011 followed by a fourth-round knockout against Danny Garcia in July -- but returned with a win in December in a lopsided 10th-round knockout of Carlos Molina.
Schaefer said that if Khan fights in America, Josesito Lopez -- who stopped Victor Ortiz and then was wiped out by junior middleweight titlist Canelo Alvarez -- is a potential opponent.
Schaefer said he would like to make a Garcia-Khan rematch later in the year because the timing doesn't work for that match to be their next fight. Garcia fights Zab Judah on Feb. 9 and Khan is fighting in April -- too soon to make a Garcia rematch if Garcia beats Judah.
Khan is tied to April because he wants to fight before his wedding in May. And then comes the Muslim holiday of Ramadan, which means Khan won't be back until the fall.
Three names are being discussed, from what I'm told, if Khan fights in England -- although Schaefer didn't want to discuss the list. Nonetheless, those potential opponents are former lightweight titlist Humberto Soto, former interim junior welterweight titlist Pablo Cesar Cano (who lost a debatable decision in October versus welterweight titlist Paulie Malignaggi) and former welterweight titlist Vyacheslav Senchenko, who knocked out Ricky Hatton in the ninth round in November in Hatton's comeback bout.
Schaefer did say that if Khan fights in England, British middleweight Anthony Ogogo, the 2012 Olympic bronze medalist who recently signed with Golden Boy, would make his pro debut on the undercard.
December, 12, 2012
12/12/12
5:00
PM ET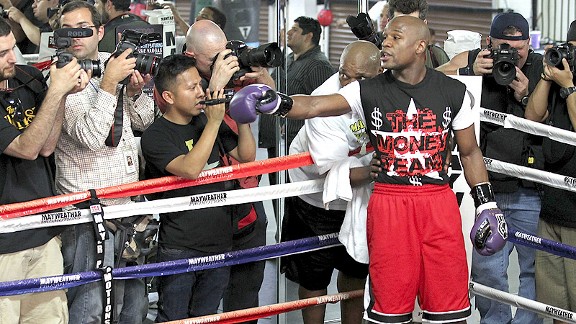 Jeff Bottari/Getty ImagesGolden Boy will co-promote Floyd Mayweather Jr's return to the ring in the spring.
Golden Boy Promotions chief executive Richard Schaefer has been working on the schedule for the company's major cards in the first half of 2013 and walked me through it this week. Here's what Golden Boy is working on:
• On Jan. 19 on Showtime, Devon Alexander is supposed to defend his welterweight belt against Kell Brook at the Nokia Theater in Los Angeles with interim junior welterweight titlist Lucas Matthysse facing Hank Lundy on the undercard. A third fight for the telecast is in the works: welterweight contender Selcuk Aydin against Jesus Soto Karass.
However, there is a chance the show could be postponed -- or at least the main event -- because Brook is dealing with an ankle problem that might force a short delay in the fight. Schaefer said if the main event has to be postponed, he would try to convince Showtime to do a doubleheader with the other two bouts and move Alexander-Brook into late February.
• Golden Boy will be back for the second show at the Barclays Center in Brooklyn, N.Y., on Feb. 9 (Showtime) with junior welterweight titlist Danny Garcia defending against former titleholder Zab Judah of Brooklyn in the main event. Middleweight titlist "Kid Chocolate" Peter Quillin, who calls Brooklyn a second home, will make his first defense on the undercard, possibly against former middleweight champion Jermain Taylor. (That is a very, very poor fight and hopefully will not happen.) Middleweight prospect Daniel Jacobs of Brooklyn will also see action in his third fight since returning to boxing after nearly dying from cancer.
Another fight on the card that Schaefer said could happen, although it would probably go on Showtime Extreme coverage of the undercard, would pit welterweights Dmitriy Salita of Brooklyn against Hector Camacho Jr., the son of the late Hector Camacho Sr., who had a big fan base in New York. Salita-Camacho might sell some tickets as a local attraction because Salita has fans in the Jewish community and Camacho would attract Puerto Rican fans.
• Golden Boy will have an HBO card on Feb. 16 at a site to be determined. Lightweight titlist Adrien Broner will headline. Schaefer hopes to make a unification with Ricky Burns, whose fight on Saturday fell apart when opponent Jose Ocampo dropped out this week. The undercard is expected to feature a heavyweight rematch between Johnathon Banks and Seth Mitchell, whom Banks knocked out in the second round of an upset on Nov. 17.
• Schaefer said Feb. 23 is the date for another Showtime card. It could include Alexander-Brook if the fight is postponed with the location to be determined. But if Brook-Alexander stays in January, Schaefer said he would put the Feb. 23 card in Detroit, the hometown of junior middleweight titlist Cornelius "K9" Bundrage, who would defend his belt against Ishe Smith. For the undercard of that fight, Schaefer said he hopes to make a match between Khabib Allakhverdiev, who recently won a vacant junior welterweight belt by handing Joan Guzman is first defeat, and former lightweight titleholder Humberto Soto.
"I have to see what happens with Alexander and Brook and then adjust," Schaefer said.
• Former light heavyweight champ Bernard Hopkins returns on March 9, when he will be 48, at the Barclays Center on Showtime. Schaefer hopes to give Hopkins a shot at one of the world titleholders and has mentioned Tavoris Cloud, Beibut Shumenov and Nathan Cleverly, but so far, there is no opponent set. On the undercard, Schaefer said he has finalized a fight between featherweight titlist Daniel Ponce De Leon, who will be making his first defense, against Jayson Velez, a prospect co-promoted by Golden Boy and Miguel Cotto.
"Velez is an exciting fighter and he feels he's ready," Schaefer said of Velez, who is close to Cotto (and won on his Dec. 1 undercard) because he was discovered and brought along in the pros by Cotto's late father. "For Miguel to be able to have Jayson fight for a world title against Ponce De Leon is very special for him. I'm excited for Jayson and happy for Cotto, but also happy for Ponce De Leon to get the fight. The fight is done. It's Mexico versus Puerto Rico. Stylistically, it's an exciting fight."
[+] Enlarge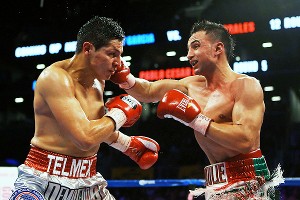 Al Bello/Getty ImagesPaulie Malignaggi could be back in Brooklyn April 27 to defend his welterweight title.
• Schaefer said he has April 27 at the Barclays Center on hold for a likely Showtime card to be headlined by welterweight titleholder Paulie Malignaggi of Brooklyn. No opponent yet. Malignaggi scraped by in a split decision to retain his title against Pablo Cesar Cano in the Barclays Center's first card on Oct. 20.
• Also in April -- date not set -- Schaefer is working on a tripleheader with HBO. One of the bouts they are discussing is a featherweight match between former titlist Jhonny Gonzalez and 2011 ESPN.com prospect of the year Gary Russell Jr. Another is welterweight slugger (and former junior welterweight titlist) Marcos Maidana against prospect Keith Thurman. Former welterweight titlist Andre Berto could also be on the card.
• May 4 is the target date for the return of Floyd Mayweather Jr. on pay-per-view. No TV company yet has the rights to the fight, which Golden Boy will promote with Mayweather, as it has for his last several bouts. Schaefer wouldn't divulge Mayweather's opponent, but all signs point to Robert Guerrero.
• June 8 is another date Schaefer said he has on hold at the Barclays Center for a card on the weekend of the annual Puerto Rican Day parade in New York.
• On June 15 at the MGM Grand, Schaefer said he would present "Knockout Kings II." In September, he put on a card there called "Knockout Kings," in which three of the four televised bouts ended in a KO. The idea is to make matches that likely will end with a knockout, Schaefer said. "I want to do a card like that, a 'Knockout Kings' card, once a year at the MGM."
June, 29, 2012
6/29/12
12:10
PM ET
Sometimes when you hear about a fight, you just know it's going to be an action-packed battle. And I think we've got one of those fights on our hands here: interim junior welterweight titlist Johan Perez against Pablo Cesar Cano.

According to Golden Boy matchmaker Robert Diaz, the fighters are set to meet July 21 in Cancun, Mexico, and, thankfully, the bout will air live in the United States on Fox Deportes.

Perez (15-0-1, 12 KOs), 29, of Venezuela, is a rough, rugged fighter who loves to mix it up. He looked as strong as a bull when he stopped Fernando Castaneda in the fourth round in Mexico to claim an interim 140-pound belt in December. He's got a little Edwin Valero in him (in a good way).

The 22-year-old Cano (24-1-1, 19 KOs) is still very young, but has experience. He's as tough as nails and showed his heart in a tremendous brawl with Mexican countryman and future Hall of Famer Erik Morales for a vacant belt in September.

Morales cut him badly and stopped him in the 10th round on the undercard of Floyd Mayweather Jr.'s fight with Victor Ortiz. Morales-Cano was the fight of the night and Cano, who has won two in a row since, showed that, win or lose, he'll give fans a show.

Perez, who signed with Golden Boy not too long ago, was originally being slotted to fight on July 28 in San Jose, Calif., on the undercard of Robert Guerrero's welterweight debut against Selcuk Aydin. But Diaz said when the fight with Cano came up, the plan changed.

I don't see how Perez-Cano can not be an action fight, and Diaz agreed with my assessment.

"I believe it starts out very tactical, but a fight will break out, as the characteristics of both support that," Diaz said. "Cano has the experience of the big fight and also fighting in Mexico, but Perez is undefeated and very hungry, so it should turn out to be a memorable one. Can't wait. Someone is coming out and ready to play with the big boys on July 21."
May, 16, 2012
5/16/12
3:39
PM ET
On March 31, unheralded lightweight Sergio Thompson of Mexico scored a big upset when he knocked out former two-division titlist Jorge Linares in the second round of a dominant performance. Thompson was supposed to be a tuneup opponent on Linares' way to a July 7 rematch with lightweight titlist Antonio DeMarco, who had rallied to stop Linares in the 11th round of an October fight he had been losing badly to claim a vacant belt.

In the process of ruining Linares' plans, Thompson (21-2, 19 KOs) launched himself into the top 10 of the lightweight rankings. He will be back in action on May 26 in Cancun in his first fight since the knockout of Linares. Thompson will face Juan Roman Solis (16-5-1, 5 KOs) of Argentina in a scheduled 10-rounder that will be televised in the United States on Fox Deportes.

In the main event, Mexico's Pablo Cesar Cano (23-1-1, 18 KOs) will face Fidel Monterrosa (29-5, 23 KOs) of Colombia in a 10-round lightweight fight. The fight will be Cano's second since he gave Erik Morales a spirited challenge in a 10th-round knockout loss when they fought for a vacant junior welterweight belt in September on the Floyd Mayweather Jr.-Victor Ortiz undercard. Monterrosa lost a decision to Humberto Soto in a 2010 lightweight title bout.

Heavyweight prospect Deontay Wilder (21-0, 21 KOs), who claimed a bronze medal at the 2008 Olympics (the only boxing medal for the United States that year) is also on the card. He's scheduled to face Chad Van Sickle (23-9-3, 12 KOs) in an eight-rounder. Lightweight prospect Jamie Kavanagh (9-0-1, 4 KOs) also is on the card, in a six-rounder against an opponent to be determined, while flyweight contender Wilbert Uicab (33-7-1, 18 KOs) of Mexico will fight in a 10-rounder.