Dan Rafael:

Pacquiao-Bradley
June, 14, 2012
6/14/12
12:01
PM ET
June, 8, 2012
6/08/12
4:09
PM ET
LAS VEGAS -- With the Miami Heat forcing Saturday night's deciding Game 7 against the Boston Celtics in the NBA's Eastern Conference Finals, an overlap of the game and the Manny Pacquiao-Timothy Bradley Jr. fight might have occured.

But while the HBO PPV card still will begin at 9 p.m. ET, Top Rank promoter Bob Arum announced Friday that the Pacquiao-Bradley main event would not begin until after the conclusion of the NBA game, meaning sports fans won't have to decide which to watch if they're interested in both.

Most likely, there wouldn't have been a conflict with a pay-per-view main event that figures to begin between 11:15 p.m. and midnight ET.

"I'm not waiting for Manny's request on this one," Arum said, referring to the fact that Pacquiao is a die-hard Celtics fan. "We will not begin the Pacquiao-Bradley main event fight until the Celtics and the Heat finish their playoff game. Now Manny, the Heat, the Celtics and sports fans watching the basketball game won't have to make a choice between events. They will be able to watch both."

Well, only if they pony up the $54.95 for the pay-per-view (more in HD).

So what if there's overtime? Arum said the main event would still wait.
June, 7, 2012
6/07/12
9:36
PM ET
LAS VEGAS -- Time after time, Alex Ariza, Manny Pacquiao's strength and conditioning coach, usually manages to find himself embroiled in some sort of controversy before one of Pacquiao's fights -- or the fights of others he works with, including Amir Khan and Julio Cesar Chavez Jr.
So with all three fighters training for high-profile upcoming bouts, Ariza found trouble again when he surprisingly left Pacquiao's training camp in the Philippines with two weeks to go in that portion of the camp. Ariza left to work with Chavez in Mexico and Las Vegas, then rejoined Pacquiao's group at head trainer Freddie Roach's Wild Card Boxing Club in Hollywood, Calif., for the final stage of camp.
[+] Enlarge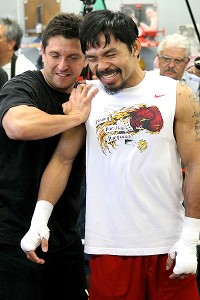 Stephen Dunn/Getty ImagesStrength and conditioning coach Alex Ariza is trying to avoid any further controversy before his client, Manny Pacquiao, faces Timothy Bradley Jr. on Saturday.
Pacquiao was training for Saturday's fight at the MGM Grand Garden Arena (HBO PPV, 9 ET, $54.95). Khan, who was with Pacquiao's group in the Philippines and is also trained by Roach, was training for a May 19 rematch with Lamont Peterson (which ultimately was canceled because of Peterson's failed drug test). Chavez, another Roach client, won't travel to the Philippines and had made plans to have Roach with him only for the final two weeks.
Ariza, who has openly feuded with Top Rank's Bob Arum -- who promotes Pacquiao and Chavez -- has been hired, fired and rehired by Khan. And then fired again, over the latest flap.
Khan was so ticked off that Ariza left the Philippines that he fired Ariza and hired a new strength coach in preparation for his July 14 fight with Danny Garcia. And now Ariza has been banned by those around Chavez, which Ariza blames on Arum.
But Pacquiao, who personally gave Ariza permission to leave the Philippines, swears by the coach's conditioning methods and has stuck by the embattled Ariza, who rejoined his camp when Pacquiao arrived stateside.
Even the mild-mannered Roach, so upset that Ariza had left the Philippines, called him out on HBO's "Pacquiao/Bradley 24/7' reality series, saying that he would be barred from working Pacquiao's corner on Saturday night. Ariza responded by wearing a shirt from "Fight Camp 360" -- the reality series from rival Showtime, which covered Pacquiao's fight against Shane Mosley.
All of that is even more drama than usual when it comes to Pacquiao's corner.
So Pacquiao, Roach, Ariza and the two others who work in Pacquiao's corner -- assistant trainer Buyboy Fernandez and cutman Miguel Diaz -- were called to a team meeting on Monday night to get on the same page.
Pacquiao, the captain of his own ship, laid down the law: Ariza will be in the corner on fight night.
"I already talked to Freddie and Alex Ariza," Pacquiao said Wednesday. "Everything is OK, it's fine."
Roach deferred to Pacquiao's desire to shape the corner how he wants it.
"Manny will call the shots," Roach said. "Alex is good at his job. I talk to him. I made my statements on HBO. The only problem was, I felt he made a bad decision by leaving camp."
Roach said if Pacquiao wants Ariza in the corner, it's OK with him.
"I asked Manny, 'What's the story with the corner, what do you want?'" Roach said. "He told me, 'Let Alex work the corner.' Everyone will just do their job."
Roach said nothing will change on fight night. He will still do the talking between rounds, and during the rounds he will continue to have the more boisterous Ariza shout his instructions to Pacquiao.
"There's no rift," Roach insisted. "I just said on HBO that I disagreed with his choice to leave training camp. He went to Mexico to train Chavez and then he wasn't allowed in that camp.
"Amir Khan was right in the middle of getting ready for Peterson, which wound up getting canceled. Manny was getting ready for his fight, so I felt it was bad timing to leave a fighter for two weeks without replacing him. I thought it was a bad choice."
Said Pacquiao: "I'm happy Freddie and Alex are talking to each other. And they are OK now."
Ariza isn't talking about the topic and has been low-key during fight week.
Pacquiao, with a renewed devotion to religion, seems to have figured out a way to corral the outspoken Ariza.
"I got Alex to read the Bible," Pacquiao said. "He's reading the Bible every day and his patience is good and improving. God is working in him."
So is Pacquiao saying that the Bible has been responsible for keeping Ariza quiet?
Pacquiao laughed and answered, "Yes."
June, 7, 2012
6/07/12
2:42
PM ET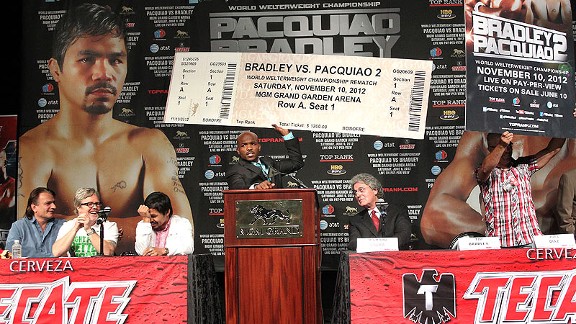 Chris Farina/Top RankThat's the ticket: Confident of a win, Timothy Bradley Jr. is already plotting a Manny Pacquiao rematch.
LAS VEGAS -- Junior welterweight titlist Timothy Bradley Jr. has sounded awfully confident in the lead-up to his challenge of welterweight titleholder Manny Pacquiao on Saturday night at the MGM Grand Garden Arena. So confident of victory is Bradley that he has even had a mock poster and oversized ticket made up for a rematch with Pacquiao, which he displayed at Wednesday's final news conference.
Bradley's poster comes complete with a supposed on-sale date for tickets -- June 10, the day after Bradley expects to defeat Pacquiao, necessitating a sequel -- and a date for the fight, Nov. 10.
All promotional games aside, if Bradley indeed pulls off the upset -- he is roughly a 5-to-1 underdog at the MGM sports book -- Pacquiao has a contractual option to make an immediate rematch if he wants it, Cameron Dunkin, Bradley's manager, told ESPN.com.
"There's an immediate rematch," Dunkin said, "and [Top Rank promoter] Bob [Arum] has already pulled the date, as you know: Nov. 10."
Dunkin said the contract sets forth the financial terms for Bradley in the potential rematch.
"There are minimums in there, and they are extremely good for Tim," Dunkin said.
Bradley said he expects to win and to face Pacquiao -- who has won 15 consecutive fights since his last loss, a decision to Erik Morales in 2005 -- again in November.
"I would love to do a rematch with Pacquiao after winning this fight," he said. "Let's do it. Nov. 10.
"Because there is a rematch clause in our fight contract, I will have to beat Manny Pacquiao again in November."
June, 7, 2012
6/07/12
1:06
AM ET
LAS VEGAS -- This weekend is a huge one for trainer Freddie Roach. On Saturday night, of course, he will man Manny Pacquiao's corner when the fighter defends his welterweight title against Timothy Bradley Jr. at the MGM Grand Garden Arena.

But additionally, at 2:30 p.m. ET on Sunday, Roach will be inducted into the International Boxing Hall of Fame on the other side of the country, in Canastota, N.Y., and he has no intention of missing such a great honor.

Those events do, however, make for some tricky logistics. In order to be able to work the fight and also reach the Hall of Fame in time, Roach rented a plane.

Roach is going to give fellow inductee and famed ring announcer Michael Buffer, who is also working the Pacquiao-Bradley fight, a lift.

"This is a once-in-a-lifetime deal," Roach said Wednesday. "So my plane leaves at midnight and it will wait for me until 2 in the morning if I'm late."

The plane will fly to Syracuse, and then Roach and his traveling companions will drive to Canastota, which is about a half-hour away.

"I'll get the award and then I'm flying back [Sunday] night to Vegas, and then Monday I'm going to Texas with [Julio Cesar] Chavez [Jr.]

Roach, who also trains Chavez, will work out with him on Monday before they head to El Paso, Texas, where Chavez will defend his middleweight title next Saturday against Andy Lee at the Sun Bowl.

Despite the hectic schedule, Roach said he is "very excited" about his Hall of Fame induction. In addition to Roach and Buffer, the 2012 class includes Thomas Hearns, Mark "Too Sharp" Johnson, broadcaster Al Bernstein and writer Michael Katz.

Roach said his 11-person jet will be full. Among his guests: his mother, brother Al, girlfriend, longtime assistant Marie, his two agents, Buffer and his guest. Roach said he wasn't sure yet if another brother, Pepper, who is recovering from a stroke, would be able to make it.

Roach said the plane will cost him $26,000 to rent.
"I'm not happy about that," he joked.

Somebody suggested that he make Buffer kick in a few bucks toward the rental.

"We will," Roach said.
June, 6, 2012
6/06/12
10:20
PM ET

LAS VEGAS -- When junior welterweight titleholder Timothy Bradley Jr. gets ready for a fight, he does something quite unusual for a fighter: He goes vegan.

Instead of eating healthy portions of chicken, steak, turkey or fish, Bradley cuts out all animal products leading up to his fights.

That means no meat or dairy products whatsoever. Bradley (28-0, 12 KOs) eats those foods, but not when training for a fight, such as the one he's readying for against welterweight titlist Manny Pacquiao (54-3-2, 38 KOs) on Saturday night at the MGM Grand Garden Arena.

"I'm three months into being a vegan for this fight," Bradley said while meeting with a handful of reporters on Wednesday, shortly before the final news conference for the card.

"It's been four years since I've been doing it this way. Every fight I get prepared for, I go vegan for about 3½ months."

Bradley said he likes how it makes him feel.

"I just feel so much better. Cleaner, mental clarity," he said. "You see the physique. I don't lose any muscle. I'm a lean, mean, fighting machine."

Bradley first began following a vegan diet in training when he challenged Junior Witter for a junior welterweight title in England in 2008. Bradley scored a knockdown in the sixth round and went on to win a split decision and his first world title.

"I did it for the Witter fight and I felt phenomenal," Bradley said. "Witter declined during the second half of the fight, and I took it to him the second half. It works."

So how did Bradley get turned on to the whole vegan thing, anyway?

"I met some doctors through a friend, Sam Jackson, that turned me on to it," he said. "They were vegetarians. They said something along these lines -- they said, 'You see those 350-pound gorillas? Do they eat meat?' I was like, 'Do they?' They said they don't eat meat, and I was like, 'Wow, they don't?' They don't eat any meat. They eat fruits, plants, natural vegetation. So I was like, 'Wow.' They said, 'You see how big they are? You see how aggressive they are? You see how strong they are? Our genetic makeup is similar, right? Isn't that was the scientists say, that our genetic makeup is similar to apes and gorillas?'

"That's all I needed to know. That's what I'm gonna do -- I'm gonna go vegan. I'm gonna eat trees and plants and fruits, grass. I'm gonna eat all of these things."

At home in Palm Springs, Calif., Bradley maintains his vegan diet with regular visits to his favorite restaurant, Palm Greens Cafe, where he has become such a regular (and a bit of a celebrity) that the owners named his favorite smoothie after him -- the Bradley Ultra Greens, which includes kale, spinach, apple, ginger, mint and banana, among other ingredients.
June, 6, 2012
6/06/12
8:19
PM ET
LAS VEGAS -- As always, Keith Kizer, the executive director of the Nevada State Athletic Commission, was carrying around a slip of paper at Wednesday's final news conference that listed all of the purses -- which are public record -- for the upcoming fight card.

In this case, it was the rundown of the official contract figures for the Manny Pacquiao-Timothy Bradley Jr. HBO PPV card on Saturday night at the MGM Grand Garden Arena.

Pacquiao's fight night check will be for $6 million, although he is guaranteed $26 million by Top Rank promoter Bob Arum, and can make even more depending on how well the pay-per-view sells.

The reason for the disparity is because the $6 million will be available to Pacquiao immediately, while the remaining $20 million will be paid over an undisclosed number or days or weeks (that he and Arum agreed upon) as the revenue from the fight comes in.

Bradley's purse will be a career-high $5 million and he, too, can make more depending on how well the pay-per-view sells.

Purses for the rest of the fighters on the televised portion of the card: Jorge Arce will make $300,000, Jesus Rojas $25,000, Mike Jones $105,000, Randall Bailey $100,000, Guillermo Rigondeaux $103,000 and Teon Kennedy $70,000.

The other fighters on the card: Mikael Zewski ($8,500), Ryan Grimaldo ($4,500), Ernie Sanchez (TBD; his contract wasn't filed yet), Wilton Hilario ($6,000), Andy Ruiz ($2,500), Tyler Larson ($1,200), Jesse Hart ($4,000) and Manuel Eastman ($1,200).
June, 5, 2012
6/05/12
5:52
PM ET
The fight everybody wants to see -- Manny Pacquiao versus Floyd Mayweather Jr. -- hasn't happened as the sides have battled for years over various aspects of a deal, most notably drug testing and the money split.

Pacquiao has said he is now willing to submit to random blood testing leading up to the bout, but he also understandably wants a 50-50 financial split, which Mayweather has balked at, believing that he deserves the lion's share of the money. In one proposed deal made to Pacquiao, Mayweather offered him $40 million but with no participation in the profits, which was a non-starter for Pacquiao.

But Mayweather could soon have more ammunition for his argument. Mayweather's May 5 pay-per-view fight against Miguel Cotto generated 1.5 million buys (the second-most ever for a non-heavyweight PPV fight) and $94 million in domestic television revenue.

Pacquiao will defend his welterweight belt against junior welterweight titlist Timothy Bradley Jr. on Saturday (9 p.m. ET, HBO PPV, $54.95) and will be hard pressed to do that kind of business. The reason is simple: Cotto is a major star and has been in several notable pay-per-view fights. Behind Mayweather and Pacquiao, he is the third biggest pay-per-view star in the United States.

Bradley? Not so much. As talented as he is, he remains largely unknown to the general public and has never headlined a pay-per-view. His lone pay-per-view experience was fighting on Pacquiao's most recent undercard, which will make it hard for Pacquiao-Bradley to approach the numbers done by Mayweather-Cotto. Count on Mayweather's crowing about that if it comes to pass.

So does Pacquiao need to come close to Mayweather's 1.5 million buys to continue the argument for parity?

"We aim to get the biggest possible numbers that we can get," said Top Rank's Bob Arum, who promotes Pacquiao and Bradley. "We operate a completely different model from Floyd's model, and whatever numbers he allegedly reached or didn't reach is really not relevant to us. It varies from fight to fight. The [Juan Manuel] Marquez numbers from the Manny fight in November are certainly much greater than Mayweather's numbers [in his previous fight] with [Victor] Ortiz.

"You also have to realize that Mayweather was fighting one of our great [former] fighters, Miguel Cotto, who is the No. 3 pay-per-view attraction, who has gotten great numbers on his own. So you have to factor all of that in."

The last time Pacquiao fought an opponent with as little name recognition as Bradley was when he faced Joshua Clottey in March 2010, in a promotion driven largely by the fact it was the first fight to be held at Cowboys Stadium in Arlington, Texas. The fight did 700,000 buys, a strong number -- for anyone not named Pacquiao or Mayweather.

Arum reiterated that he isn't concerned about keeping up with Mayweather.

"We are just going to do the best number that we can," Arum said. "We are going to do a really good number. That's silly to say that we are going to get more or less than Mayweather-Cotto. You've got to realize, you've got to give Cotto a lot of credit for the good number that they did. Cotto is the No. 3 box office attraction. We did 600,000 when Cotto fought [Antonio] Margarito [in the fighters' December rematch].

"So Cotto has been used to putting up big pay-per-view numbers and, combined with Mayweather, they put up a really big number. We have put up terrific numbers with Manny against [Shane] Mosley and Marquez, and that's what we're shooting for -- a good number -- for the Pacquiao-Bradley fight."
June, 5, 2012
6/05/12
3:51
PM ET
So how will "America Idol" Season 11 runner-up Jessica Sanchez of San Diego prepare for the summer "American Idols Live! Tour" that kicks off July 6 in Detroit? By singing the "Star Spangled Banner" at a fight, of course.

Top Rank announced Tuesday that Sanchez, 16, will sing the national anthem before the Manny Pacquiao-Timothy Bradley Jr. fight on Saturday night (9 ET, HBO PPV, $54.95) at the MGM Grand Garden Arena in Las Vegas.
May, 22, 2012
5/22/12
7:05
PM ET
At its regular meeting on Monday, the Nevada State Athletic Commission appointed officials for the Top Rank-promoted Manny Pacquiao-Timothy Bradley Jr. card, which takes place June 9 (HBO PPV) at the MGM Grand Garden Arena in Las Vegas:

Pacquiao-Bradley (welterweight title bout): referee Robert Byrd and judges Duane Ford, C.J. Ross and Jerry Roth.

Jorge Arce-Jesus Rojas (junior featherweight bout): referee Kenny Bayless and judges Adalaide Byrd, Dick Houck and Patricia Morse Jarman.

Mike Jones-Randall Bailey (vacant welterweight title bout): referee Tony Weeks and judges Dave Moretti, Ricardo Ocasio and Jack Ries.

Guillermo Rigondeaux-Teon Kennedy (junior featherweight title bout): referee Russell Mora and judges Lisa Giampa, Glenn Trowbridge and Pat Russell.
May, 10, 2012
5/10/12
10:54
AM ET
Can't get enough boxing programming around the big fights? If that's the case, HBO and Showtime have the latest installments of their reality shows to go along with the promotion of major fights.

HBO kicks off the promotion for Manny Pacquiao's welterweight title defense against Timothy Bradley Jr., which takes place June 9 (HBO PPV) at the MGM Grand in Las Vegas, with the debut of "Face Off With Max Kellerman: Pacquiao/Bradley" on Saturday night -- well, really Sunday morning -- at 12:30 a.m. ET/PT.

Kellerman is the moderator for the interview session with both fighters, who sit face to face while answering his questions. They also have a chance to address each other. There are a slew of replays of the 15-minute program available on HBO and the HBO2 service, as well as availability on HBO On Demand.

Over on Showtime, the network is gearing up for the rescheduled welterweight rematch between former titleholders Victor Ortiz and Andre Berto, with a three-part "Fight Camp 360º: Ortiz vs. Berto II" reality series.

Ortiz and Berto first squared off in April 2011 in one of the best fights of the year, which Ortiz won by decision to claim a world title. The rematch is scheduled for June 23 at the Staples Center in Los Angeles. It was originally scheduled for Feb. 11 in Las Vegas but was postponed when Berto suffered a torn biceps.

"Fight Camp" debuts June 13 on Showtime (10 p.m. ET/PT). Episode 2 premiers June 10 at 10 p.m. ET/PT. The first two episodes are 30-minute shows, with the third episode being a 15-minute show that will wrap up the fight on June 30 (9 p.m. ET/PT).

Besides replays being available on the Showtime Extreme platform and Showtime On Demand, episodes will also be replayed on Showtime sister network CBS Sports Network.