October, 22, 2013
10/22/13
1:03
PM ET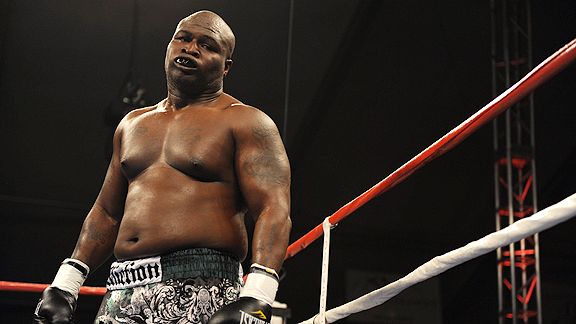 Jacob De Golish/ Icon SMIAt age 45, James Toney will continue on as part of the eight-man "Prizefighter" series in England.
Former three-division champion James Toney, several years past his best days, is continuing to fight at age 45 and after 88 professional fights, not to mention thousands of rounds of sparring.
Unfortunately, Toney, who has been in financial difficulties, will be part of the 32nd edition of the popular "Prizefighter" series in England. It's an eight-man, one-night tournament of three-round bouts.
Matchroom Sport promoter Eddie Hearn announced the newest all-heavyweight edition on Monday, which will take place Nov. 7 at Bethnal Green in London. Of the eight slots, Hearn announced four (with the other four to be filled): Toney, Sherman Williams, Sam Sexton (a previous "Prizefighter" winner) and Larry Olubamiwo.
The card will be topped by 2012 British Olympic super heavyweight gold medalist Anthony Joshua (1-0, 1 KO), who fights his second pro fight on Saturday in Sheffield, England and scheduled for his third bout on the Nov. 7 card.
"Word got out [Monday] that James Toney was in the line-up and it has already caused some reaction," Hearn said. "Heavyweight 'Prizefighter' is always the most exciting edition of the tournament and we are looking forward to selecting the final four participants."
Former middleweight, super middleweight and cruiserweight titlist Toney (75-8-3, 2 no decisions), who has been busted twice for failed steroid tests and noticeably slurs his words, took a vicious beating in his last world title bout, when he dropped down from heavyweight to cruiserweight and lost a shutout to Denis Lebedev in a 2011 interim title bout. Since then, Toney is 2-1 against low-level opposition.
January, 17, 2013
1/17/13
6:25
PM ET
Promoter Matchroom Sport's "Prizefighter" series has become popular in Great Britain and now it will be televised in the United States.

WealthTV, which has picked up several good overseas shows since it seriously entered boxing last year, will carry Saturday's "Prizefighter" welterweight card from Wolverhampton, England, beginning at 3 p.m. ET.

The "Prizefighter" concept is simple. It's a one-day single-elimination tournament (the fights are matched in a blind draw a few days before the show) in which eight fighters vie for the grand prize.

Each bout is scheduled for three rounds and the eventual winner would win three bouts -- a quarterfinal, semifinal and the final -- in the span of a few hours. The bouts are all official fights and count on the fighters' records.

Saturday's tournament includes six undefeated, albeit relatively inexperienced, fighters: Calum Cooper, Sam Eggington, Dale Evens, Glenn Foot, Chad Gaynor and Steven Pearce along with Rob Hunt and Mark Thompson. None of them are names to American fans, but the tournaments usually produce some solid action.

In the quarterfinals, Eggington (3-0, 0 KOs) faces Evans (4-0-1, 3 KOs), Gaynor (9-0, 4 KOs) meets Cooper (4-0, 0 KOs), Pearce (6-0, 1 KO) fights Foot (7-0, 4 KOs) and Thompson (24-2, 14 KOs) faces Hunt (16-1-2, 1 KO).

"This fast-paced format is great for boxing fans. It's action-packed and an all-out war in the ring," said Tommy Morris, WealthTV's director of live events. "Previous 'Prizefighter' events have helped discover some of the world's best fighters."

There have been a smattering of name fighters in previous tournaments, which began in 2008, along with up-and-comers. Past tournament winners include heavyweight Audley Harrison and former junior welterweight titleholder Gavin Rees (who will challenge Adrien Broner for a lightweight title on Feb. 16).

This weekend's show will be the 28th tournament covering 14 different weight classes. This will be third one in the welterweight division.

May, 17, 2012
5/17/12
2:12
PM ET
Matchroom Sport's "Prizefighter" series has become a popular attraction on Sky Sports in England. The concept is interesting: Take eight fighters and match them via blind draw in a one-night tournament of three-round fights. The winner gets the biggest purse of the night.
Since gambling is legal in England, the tournaments provide fun fodder for the wagering crowd, plus good action for fight fans. The 25th edition of the series will take place June 20 in London, but this one has more notable names than usual.
The latest edition will take place in the heavyweight division and include a trio of former world title challengers -- American Kevin Johnson, Albert Sosnowski of Poland (who is now based in England) and Australia's Kali Meehan -- all hoping to get their careers back on track with a notable victory. Also announced for the field was England's Tom Dallas (15-2, 11 KOs), who is trying to bounce back from back-to-back knockout losses to former title challenger Matt Skelton and
rising British prospect David Price
.
Johnson (26-1-1, 12 KOs) and Sosnowski (46-4-2, 28 KOs) have both challenged Vitali Klitschko for his version of the heavyweight championship. In December 2009, Johnson was outclassed as he spent most of the fight running and refusing to throw punches in a horrible performance that he has yet to live down. Sosnowski was game in his May 2010 challenge before being knocked out in the 10th round. Meehan (38-5, 31 KOs) lost a controversial split decision to Lamon Brewster in a 2004 world title fight.
Johnson, whose mouth has always been bigger than his punching, is already talking smack ahead of the tournament.
"I'm ready to put the American heavyweight boxing scene back on the map, starting with the Betfair 'Prizefighter' tournament on June 20," he said. "Like I tell everybody, I am the best American heavyweight, bar none. If people see me, they will know it. Don't worry about Seth Mitchell, Chris Arreola or any of those other clowns. Just focus on me and watch me deliver. I'm the best heavyweight in the world that's not named Klitschko, and after 'Prizefighter,' I'll take care of that, too."
The rest of the field has not yet been announced.