Dan Rafael:

Raymundo Beltran
December, 1, 2014
12/01/14
1:04
PM ET

It came as little surprise that lightweight titlist Terence Crawford, the best 135-pounder in the world, announced following his near-shutout decision against top contender Raymundo Beltran on Saturday night that he is moving up to junior welterweight.

Crawford (25-0, 17 KOs) has been fighting as a lightweight for his entire career with the exception of a few fights at junior welterweight, and it's time to move up. There is no big fight awaiting him at lightweight, not even an interesting unification fight to pursue. One lightweight belt is vacant, and there is nobody, and I mean nobody, banging down any doors to see Crawford fight titleholders Mickey Bey and Richar Abril. If anything, they might be banging down doors not to see those terrible matchups.

Top Rank and HBO hope to have Crawford back in the ring in March or April, but whom will Omaha's favorite son fight in his 140 debut? Top Rank envisions him as a future opponent for Manny Pacquiao, a small welterweight titleholder who very well could be returning to junior welterweight if a fight with Floyd Mayweather Jr. continues to go unmade. But even if Pacquiao does drop down in weight, a Crawford fight won't be next.

While there is a lot of talent in the 140-pound division, there are also some fights that are unlikely because of the political climate. Crawford is unlikely to face anyone in adviser Al Haymon's stable, so as interesting as the fights would be, you can probably cross champion Danny Garcia, titlist Lamont Peterson, Adrien Broner and Lucas Matthysse off the list.

You can probably also cross off Viktor Postol, as he is in a mandatory position for one of the belts and unlikely to give that up, especially since Postol is not a big name and, therefore, unlikely to be worth huge money to fight Crawford.

So who's left? Here are a few fights I think are possible, in no particular order:

• Jessie Vargas: Vargas owns a secondary world title, shares promoter Top Rank with Crawford and looked good in an exciting win against Antonio DeMarco on Nov. 22 on the Pacquiao-Chris Algieri HBO PPV undercard. Vargas and Crawford share manager Cameron Dunkin, so that might be an issue given his reluctance to match his fighters. But for the right deal, I'd guess it's possible. It would probably also be an entertaining fight.

• Mauricio Herrera-Jose Benavidez Jr. winner: Herrera will defend his interim belt against Benavidez on Dec. 13 on HBO, and the winner would be a logical opponent. Benavidez is also with Top Rank, and although Herrera is with Golden Boy, the two companies are at peace now and were easily able to make the fight with Benavidez. A lot will depend on how the fight goes Dec. 13. I think a Crawford fight would be more likely if the veteran Herrera wins rather than the younger, less experienced Benavidez.

• Algieri: He got schooled by Pacquiao on Nov. 22, but his promoter, Joe DeGuardia, is appealing to the WBO for stripping him of his junior welterweight belt before he challenged for Pacquiao's welterweight title. While I don't think the WBO is going to reinstate Algieri as its 140 titleholder, it could make him the mandatory for the vacant belt. Crawford, as the WBO's 135 titlist, is entitled to challenge for the organization's vacant 140 title if he seeks the mandatory position. I could see this fight as a good first step for Crawford to be uncaged at junior welterweight and a fight Algieri, knowing his competitive spirit, accepting.

• Ruslan Provodnikov: He lost his title to Algieri in a controversial split decision in June and returned Friday to smash the corpse of Jose Luis Castillo in Moscow. Provodnikov's next fight will be in the United States, and one with Crawford would be a big HBO fight and potentially could be for the vacant belt, given Provodnikov's WBO ranking (No. 2 as of Nov. 15).

• Matthysse: I know I said forget about Crawford fighting a Haymon boxer, but this one might be possible even if I view it as a huge long shot. Matthysse is No. 1 in the WBO rankings. If Algieri is not reinstated as titlist and not made No. 1 contender, it seems the fight the WBO would order for the vacant title is Matthysse-Crawford. Under a purse bid scenario, it would not be entirely out of the question they could fight as other Haymon fighters and Top Rank fighters have done in the recent past under similar circumstances, such as Vasyl Lomachenko-Gary Russell Jr. and Erislandy Lara-Vanes Martirosyan.
November, 28, 2014
11/28/14
3:25
PM ET

Lightweight titlist Terence Crawford is set to face Raymundo Beltran, the deserving mandatory challenger, on Saturday night (HBO, 10 ET/PT) at the CenturyLink Center in Crawford's hometown of Omaha, Nebraska. It will probably be his final fight at 135 pounds.

Crawford, 27, has fought primarily as a lightweight for his entire seven-year career, although he has had a few fights at junior welterweight. The time for the full-time move up is seemingly at hand.

"My thought about that is I have been at this weight for a long time, and I feel like it's best that I move up," Crawford told ESPN.com. "Me and my team talked about it and said, 'Let's go for it.' There are a lot of great fights at 140 and names to choose from. It's a stacked weight class, all the way to 147, so it shouldn't be a problem getting fights with bigger names at 140 and eventually at 147. I want to make a run toward that greatness and the pound-for-pound list."

Crawford (24-0, 17 KOs) said that while he wants to move up after Saturday's fight, it's not set in stone.

"You never know," he said. "It's all about what my team wants for me, my managers, my coaches, my promoter. Everything goes good Saturday and they say, 'Let's move up,' that's the decision. As far as me wanting to move up, I do. But it's not only my decision. It's a team effort."

Top Rank, Crawford's promoter, envisions him as an eventual opponent for Manny Pacquiao, who defended his welterweight title last week against Chris Algieri at a catchweight of 144 pounds. Pacquiao and trainer Freddie Roach have said they are interested in Pacquiao moving back down to junior welterweight unless a fight with Floyd Mayweather Jr. can be made next.

Crawford has heard his name mentioned in the Pacquiao sweepstakes but has tried to ignore it.

"It's just talk right now, but I'm up for whatever," Crawford said. "Give me a date and a time and we can make any fight happen. It's just talk right now, so I don't feed too much into it, and I got other things to worry about, like Beltran on Saturday. If they're serious, though, we'll go from there."

Crawford said it is a great compliment to be mentioned for a fight with Pacquiao.

"It makes me feel good," Crawford said. "I wasn't talked about for a long time, and now that I'm getting some kind of recognition I think my hard work is paying off."

Top Rank vice president Carl Moretti said it makes a lot of sense for Crawford to move up after the fight with Beltran (29-6-1, 17 KOs).

"You move up for two reasons," Moretti said. "One, you can't make the weight and, two, marketability. Crawford isn't going to get a unification fight. Fights with Richar Abril and Mickey Bey are nonstarters for many reasons. And we'd get arrested if we put him in with [former titlist] Omar Figueroa.

"So you'd like to move him to 140 and eventually to 147. He wants big fights and bigger names, and they reside at 140 and 147. As for fighting Pacquiao down the road? Crawford is reaching his prime and won't be intimidated. It's an interesting fight."

October, 3, 2014
10/03/14
10:31
PM ET
A few notes from around the boxing world:

• Well that was quick. The rematch between cruiserweights Nathan Cleverly and Tony Bellew sold out in less than 48 hours, Matchroom Boxing promoter Eddie Hearn announced. The fight takes place Nov. 22 at the Echo Arena in Liverpool, England, Bellew's hometown. "Cleverly versus Bellew is 48-hour box office sell out, making it the fastest selling sporting event in the Echo Arena's history," Hearn said. "We had a little taste of the action this week and with same major announcements coming next week, those lucky enough to have grabbed a ticket and those watching at home are in for a wonderful night of British boxing. The atmosphere in the Echo Arena on Nov. 22 will be breathtaking."

• While Cleverly-Bellew II sold out in two days, tickets for lightweight titleholder Terence Crawford's defense against Raymundo Beltran on Nov. 29 (HBO) at the CenturyLink Center in Crawford's hometown of Omaha, Nebraska are also hot. "In just the four hours of being on sale, we are close to selling out the ringside seats and the next highest priced tier tickets sales are not too far behind that," Top Rank promoter Bob Arum said of the tickets, which went on sale Friday morning. "Terence's fans are taking no chances on missing the opportunity of seeing their world champion defend his title live. The atmosphere on fight night is going to be even more electric than his last fight."

• Representatives for Manny Pacquiao-promoted Michael Farenas (39-4-4, 31 KOs) of the Philippines and Puerto Rico's Jose Pedraza (18-0, 12 KOs), who is promoted by Gary Shaw, Lou DiBella and Javier Bustillo, have made a deal for the junior lightweight title eliminator and avoided a purse bid. The fight will take place Nov. 14 in San Juan, they announced. Contracts are due back to the IBF offices by Oct. 17.

• Dynasty Boxing promoter Dino Duva announced the signing of Fanlong Meng, a Chinese light heavyweight amateur standout, who was a Chinese national champion from 2008 to 2013 and idolized Roy Jones Jr. growing up. "Fanlong is one of the best boxers in China," Duva said. "I've had the honor and pleasure of knowing him for five years. He is a terrific boxer-puncher and will fight professionally in a very hot weight class. I believe he has as much pro potential as any boxer in China and I'm extremely excited about his signing." Dynasty Boxing also promotes Chinese heavyweight Zhang Zhilei, a 2008 Olympic silver medalist, who turned pro in August.

• Welterweight prospect Dusty Hernandez-Harrison (23-0, 12 KOs), who was scheduled to fight Hector Munoz (23-13-1, 15 KOs) on Sept. 27 in his hometown of Washington, D.C., but had to postpone the fight because of an ankle injury, has a new date: Nov. 1. The card will still take place at Constitution Hall in Washington although he likely will face a new opponent.

July, 29, 2014
7/29/14
7:38
PM ET
Caught up with Top Rank promoter Bob Arum on Tuesday and here a couple of interesting tidbits:
[+] Enlarge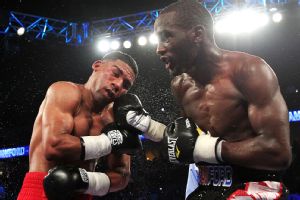 Chris Farina/Top Rank Lightweight titleholder Terence Crawford's second title defense is set for Nov. 29 in his hometown of Omaha, Nebraska.
• Lightweight titleholder Terence Crawford's second defense is penciled in for Nov. 29 (HBO) at the CenturyLink Center in his hometown of Omaha, Nebraska, likely against top contender Raymundo Beltran (29-6-1, 17 KOs) of Mexico. That is the same arena where Crawford (24-0, 17 KOs) put on a dazzling performance in his first defense on June 28 by knocking out previously unbeaten Yuriorkis Gamboa.
"It's Thanksgiving weekend and we have the building on hold," Arum said. "HBO loves the fight."
Crawford won the title by unanimous decision from Scotland's Ricky Burns, beating him on his home turf on March 1.
In his previous fight, Burns was the recipient of a gift draw against Beltran, who also traveled to Scotland, dropped Burns, broke his jaw and pounded on him only to be robbed of the decision. Beltran is a very deserving challenger.
• Arum also said Chinese flyweight star Zou Shiming's fight on the Manny Pacquiao-Chris Algieri undercard on Nov. 22 (HBO PPV) in Macau, China, will be his first scheduled 12-round bout, perhaps a title eliminator. With a victory, Arum said they would pursue a title shot for Zou (5-0, 1 KO), the two-time Chinese Olympic gold medalist, in the fight after that against the winner of the Sept. 14 fight between Thai titleholder Amnat Ruenroeng (13-0, 5 KOs) and Puerto Rican mandatory challenger McWilliams Arroyo (15-1, 13 KOs).
Ruenroeng, a 2008 Olympian, who faced Zou multiple times in the amateurs, was ringside for Zou's fight in February in anticipation of a possible showdown.
The Pacquiao-Algieri televised undercard is also likely to include a bout involving welterweight contender Luis Carlos Abregu (36-1, 29 KOs) of Argentina.
• Arum said the media tour to promote the Pacquiao-Algieri fight will begin Aug. 25 in Macau with two stops in Asia -- Shanghai, China and Taipei, Taiwan -- before they come to the United States for stops in Los Angeles, San Francisco (big Filipino population) and New York, with a stop in Las Vegas also possible.
May, 12, 2014
5/12/14
5:21
PM ET
A proposed fight between lightweight contender Raymundo Beltran and former unified titleholder Juan Diaz has been scrapped, Top Rank vice president Carl Moretti told ESPN.com.

The bout was supposed to serve as the opener of the HBO-televised fight between lightweight titleholder Terence Crawford (23-0, 16 KOs) and former featherweight titleholder Yuriorkis Gamboa (23-0, 16 KOs) on June 28 at the CenturyLink Center in Omaha, Neb., Crawford's hometown.

In addition to being a probable action fight, the winner of the fight would have put himself in prime position to challenge the winner of the main event.

However, Moretti said that Beltran dropped out of the fight, saying he would not be ready in time. One of the reasons, perhaps, is because Beltran (29-6-1, 17 KOs) recently parted ways with manager Steve Fedor and is now working with attorney David Garcia, Moretti said.

Moretti said that Diaz (39-4, 19 KOs) likely would remain on the card in an untelevised bout.

Top Rank and HBO are talking about various fights to take the place of Beltran-Diaz as the co-feature.
April, 10, 2014
4/10/14
6:07
PM ET
Chris Farina/Top RankRay Beltran is hoping a victory over Arash Usmanee on Saturday can lift him to another title shot.
LAS VEGAS -- On Thursday afternoon inside the Manny Pacquiao-Timothy Bradley II media center at the MGM Grand, there was a ceremony for newly crowned lightweight titlist Terence Crawford, who received the world title belt he won March 1 against Ricky Burns by unanimous decision on Burns' home turf in Scotland.
Lightweight contender Raymundo Beltran was in the building but not in the media center and was happy he missed the ceremony. It's not that Beltran has anything against Crawford; it's just that Beltran, along with many others, believes that Crawford's belt should be his.
In the fight before Burns lost to Crawford, Burns defended the title against Beltran in Scotland in September. Beltran broke Burns' jaw in the second round, dropped him in the eighth round and basically ran over him for most of the fight. But when the scores were announced, Burns retained the title on a hometown draw.
Beltran was crushed, and rightfully so. He hoped for an immediate rematch, but Crawford was waiting as the mandatory challenger, got the next shot and dethroned Burns.
Beltran (28-6-1, 17 KOs), known to many for his work as one of Pacquiao's top sparring partners in recent years, will fight for the first time since the draw when he faces late substitute Arash Usmanee (20-1-1, 10 KOs) in the co-feature on the Pacquiao-Bradley II card Saturday night. Usmanee accepted the fight last weekend when former junior lightweight titlist Rocky Martinez dropped out due to illness.
"I should be defending my title," Beltran said of Saturday's fight. "But only God knows why it happened. I just focus and try to stay positive. I've been through a lot in boxing. I think me and my team got here from our hard work. Nobody put us here."
Beltran said he heard from many fight fans after the robbery against Burns and it made him feel good, even if it didn't make up for not having the title.
"I focus on the positive, and it made me feel good because if the fans know who you are that really gives you the strength," said Beltran, who is from Mexico and lives in Los Angeles. "Without the fans you are nothing. The fans saw what happened and they want to see me victorious."
Beltran has not even been able to watch a video of the entire fight with Burns.
"It still hurts. It pisses me off," he said. "It puts me in a bad mood, so I just leave it alone."
With a victory against Usmanee, Beltran likely will get another shot at the title in Crawford's first defense.
"I think Beltran got screwed when he fought Burns in Scotland and easily won that fight and came away with a draw, and I feel really bad on that," Top Rank promoter Bob Arum said. "He wanted to get an immediate rematch with Burns but Crawford was waiting as the mandatory, so I see no reason why that wouldn't be a terrific fight with Crawford and Beltran."
Arum's plan is to put the fight on HBO June 28 or July 12 and do it in Council Bluffs, Iowa, right over the border from Omaha, Neb., which is Crawford's hometown.
"Three minutes from Omaha over the bridge is Council Bluffs, where they have all the casinos and more hotels, and we'd do it," Arum said. "I'd insist on a judging panel that has to be approved by both fighters."
It sounds like a good plan to Beltran.
"Once I beat Usmanee, I should be fighting for a title [against] Crawford or anybody," he said. "Even without Usmanee, I should be fighting for a title. But hopefully we beat Usmanee and then, no question, I should fight for a title. I'll fight Crawford. I would like to fight Crawford. He's a champion. I just want to fight the best."
September, 7, 2013
9/07/13
7:49
PM ET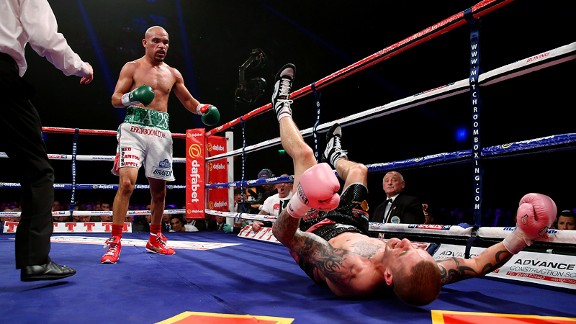 Scott Heavey/Getty ImagesRaymundo Beltran seemed to win most rounds on Saturday, and he dropped Ricky Burns in the eighth.
Raymundo Beltran has had a hard career. Nobody has done him any favors. He has earned everything that he has achieved.
That should have included a lightweight world title on Saturday, but he was jobbed and robbed in an awful decision. Instead of hoisting a hard-earned belt high above his head on what should have been the happiest day of his professional life, Beltran was ripped off in a draw against Ricky Burns, who ought to kneel in the middle of the ring and kiss the mat to show his thanks for receiving the epitome of a hometown gift.
Beltran has always been the "opponent." He has often traveled to his foe's hometown, as he did for the fight with Burns, in Glasgow, Scotland, where Burns is the star and supposed to win.
Beltran, born in Mexico and living in Los Angeles, had made more of a name for himself by serving as sparring partner for Manny Pacquiao than as the lightweight contender he has emerged as in the past 16 months. But that should have changed after he turned in the finest performance of his career.
He beat Burns. Clearly.
He dislocated Burns' jaw in the second round. Dropped him cleanly in the eighth and dominated most of the action. And then the judges struck.
Judge Andre Van Grootenbruel of Belgium had it 115-113 for Beltran, a solid card in what I thought was a very easy fight to score. I had it 115-112 for Beltran, with almost no debatable rounds.
And then came the unforgivable cards from British judge Richie Davis, who had it a 114-114 draw, and American judge Carlos Ortiz Jr., whose 115-112 card for Burns defied logic. It was a fantasy card. Just ridiculous.
The look on Beltran's face in the dressing room after the fight, where he was interviewed by U.K. broadcaster Sky Sports, was one of pure dejection. Listening to him talk of being robbed was heartbreaking.
Asked if he felt he should have won the title, he answered, "Yes, I do. Absolutely. ... I think I did everything I had to do to win the fight."
Asked what he thought the reason was that two of the judges would deny him, Beltran was calm but answered in a brutally honest manner.
"Politics. Always the same thing in boxing," he said. "I think it's disrespectful for the fighter and the fans. They [the powers that be] play the business because they have the power. If I got beat, I got beat. But I didn't. It's so frustrating. So much hard work, sacrifice. We put our life on the line. They don't care. It's not Ricky's fault. It's business."
Sometimes a dirty one, unfortunately.
"Everything was against me," Beltran said. "To me, I'm a world champion. It's bull----. That belt is mine."
It certainly should be. Although Burns, making his fourth defense, got off to a good start, Beltran obviously hurt Burns' jaw early in the fight.
By the third round, Beltran was in control. He was walking Burns down, lashing him with left hooks to the body and head. The left hook was a dominant weapon that did most of the damage for him, and he used it to perfection.
He rocked Burns with the hook in a big fourth round and had him backing up and holding on, round after round. Burns admitted afterward that he was protecting his injured jaw.
In the eighth round, Beltran (28-6-1, 17 KOs) fired one of his meanest left hooks, catching Burns bang on the chin and dropping him. Burns (36-2-1, 11 KOs) won maybe two of the late rounds in the fight, but even his own corner was clearly concerned, given the way they were talking to him between rounds. The concern began early -- after the fifth round.
Burns, trainer Billy Nelson and promoter Eddie Hearn sounded like the losers in their postfight interviews. And none of them, thankfully, had the audacity to claim victory.
"I take my hat off to him," said Burns, who could barely talk because of the jaw injury. "It was a tough fight. I don't know how I got through that. Hopefully, it's not too much damage [to the jaw]. I knew it was close. I'm disappointed, obviously, in a draw.
"After the fourth round, I was more concentrated on not getting my jaw hurt. The knockdown, I take my hat off to him. It was a good shot."
Hearn talked about a possible rematch, although that doesn't make up for the rip job.
All Nelson could muster was, "I thought it was a really close fight."
But it really wasn't very close. The rounds were easy to score, and even Sky announcer Jim Watt -- who has a reputation for being a U.K. homer -- had Beltran winning 115-113. Johnny Nelson, the excellent Sky commentator and highly respected former cruiserweight titleholder, also had Beltran the clear winner. Even an arena full of Burns fans didn't do much cheering for their man after he had retained the title. They are very passionate fans, but they're not stupid. They know who won the fight.
The TV announcers know who won the fight. I know who won the fight. Beltran sure knows who won the fight, and even Burns and his team sounded as if they knew who really won the fight.
Two judges didn't, and that is a crying shame.
September, 6, 2013
9/06/13
1:40
PM ET
Lightweight titlist Ricky Burns of Scotland said he has even more reason than usual to be motivated for his fourth title defense, which comes against Mexico's Raymundo Beltran on Saturday (AWE, formerly WealthTV, 3 p.m. ET) at the Scottish Exhibition and Conference Centre in Glasgow.

That is because Burns' wife, Amanda, gave birth to their first child, a boy, last Thursday.

"I've always been hungry for my fights, but now I have even more to fight for with my little boy," Burns said. "I'm fighting to give him a great start in life, and it's definitely something that will drive me on to win not just (Saturday), but in all my future fights."

Burns, however, does admit the timing could have been better, given that Amanda was close to giving birth during the late stages of his training camp. Staying focused on the fight surely was difficult at times.

"The timing could've been better, but that's life," Burns said. "I'd rather the baby come a week before the fight than just after, as I would've had the phone on all the time and waiting for the call while I'm close to making weight or ready to step into the ring. Now he's here, I can relax knowing that after I win, I'll be going home to my new family. It's a great thought and something totally new of course. It's easy to say it now, but the buildup hasn't been affected by the baby, really. Yes, I wanted to make sure Amanda and the baby were OK but she was in great hands, and I would probably have got on her nerves if I'd been around. It was a really long labor -- two days basically -- so she was really tired of course but I'm sure she'd agree that it's worth it and we've got a beautiful little boy now."

The baby does not yet have a name.

"We haven't decided on names yet," he said. "Amanda thought it was going to be a girl so it's going to be baby Burns until we get a name sorted."
August, 7, 2013
8/07/13
2:59
PM ET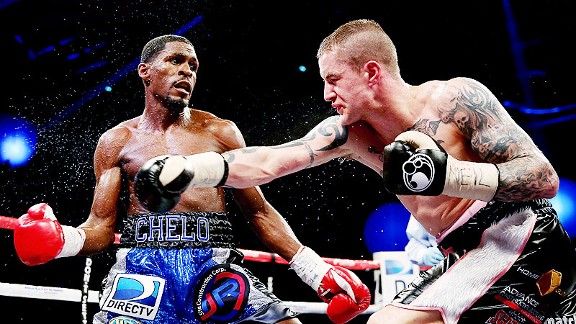 Scott Heavey/Getty ImagesRicky Burns, right, is looking for a more balanced performance than the one against Jose Gonzalez.
Lightweight titlist Ricky Burns of Scotland knows he didn't look good in his May defense against Jose Gonzalez, the little-known mandatory challenger from Puerto Rico.
Gonzalez gave Burns all kinds of problems before quitting on his stool after the ninth round, claiming an injury, although he was ahead on all three scorecards.
Burns (36-2, 11 KOs) is returning to make his fourth title defense against Mexico's Raymundo Beltran (28-6, 17 KOs) on Sept. 7 at the Scottish Exhibition and Conference Centre in Glasgow, Scotland, and vowed to be better prepared than he was against Gonzalez.
"I've watched the fight back a few times," Burns said. "I saw that I was trying to force the pace and I was getting caught with stupid punches that I shouldn't have been taking. For this training camp we've gone back to basics and although I'm prepared to get into a brawl against Beltran if I need to, I'm going to try to stick to my boxing skills. Preparation has been going great."
Beltran, who has served as one of Manny Pacquiao's top sparring partners, has won three consecutive fights to push himself into the lightweight top 10, including an upset decision win against Hank Lundy 13 months ago. Beltran is nothing if not tough.
"I am expecting a very tough fight," Burns said. "He's got a few losses, but they are against top level opponents so we know what to expect, and he has not been a sparring partner to Manny Pacquiao for all these years for nothing. I've seen him fight before but since the fight was announced I haven't watched anything of him. I'm just going to go out and stick to what I do best to get the win and then look at the big unification fights out there.
"I still have to go out and put in a good performance against Beltran to make them happen. I keep telling everybody that even though it's been mentioned that I might fight in America at the start of next year, I am not looking at that. I know I have to take it one fight at a time. Raymundo is a great fighter. Boxing fans know that and it's going to be a great fight and the fans in the SECC in Glasgow are going to have a great night, and I'll be putting in the type of performance that I should've done last time."
The card will also include lightweight Luke Campbell, the 2012 British Olympic bantamweight gold medalist, in his second professional fight, a scheduled six-rounder against an opponent to be named. Campbell turned pro on July 13 and blitzed Andre Harris in an 88-second knockout win.
October, 17, 2012
10/17/12
1:05
PM ET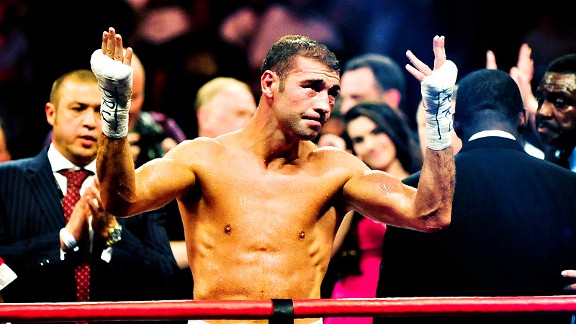 AP PhotoLucian Bute returns to the ring after a disappointing defeat against Carl Froch in May.
A few fights here and there have been added to the upcoming TV schedule. Here's a look:
• WealthTV announced that it has picked up the American rights to a pair of interesting fights. On Nov. 3, it will air live coverage of former super middleweight titlist Lucian Bute's comeback bout in Montreal against Denis Grachev. Bute will be fighting for the first time since Carl Froch knocked him out and took his title in May.
WealthTV also has the U.S. rights to the Nov. 17 flyweight unification fight between Brian Viloria and Hernan "Tyson" Marquez, which will take place at the Los Angeles Sports Arena. This is a fantastic matchup, a fight that deserved interest from premium cable networks HBO and Showtime.
It looks like WealthTV is diving into boxing in a big way. It has output deals with Canadian promoter Yvon Michel and British promoter Mick Hennessy but hasn't limited itself to their fights. Last weekend WealthTV provided live coverage to U.S. viewers of three international fights: Adonis Stevenson's 12th-round knockout of Donovan George in a super middleweight eliminator in Montreal (a Michel fight); heavyweight prospect David Price's first-round destruction of Audley Harrison in Liverpool, England (a Frank Maloney fight); and James DeGale's European super middleweight title defense against Hadilla Mohoumadi on another card in England (a Hennessy fight).
• In addition to live coverage of heavyweight champ Wladimir Klitschko's Nov. 10 defense against Mariusz Wach from Hamburg, Epix's show will be a split-site doubleheader. In addition to the Klitschko fight, there will also be coverage of the return from injury of heavyweight contender Robert Helenius (17-0, 11 KOs). He will fight at home in Helsinki, Finland, likely against Finnish southpaw Jarno Rosberg (14-0, 4 KOs).
• "Friday Night Fights" doesn't return to ESPN2 (and ESPN3) until January, but there will be a Thursday night boxing special from the Mirage in Las Vegas on Dec. 6 as part of the festivities surrounding Manny Pacquiao-Juan Manuel Marquez IV fight week. The card isn't set, but lightweight Raymundo Beltran (26-6, 17 KOs) is due to headline against an opponent to be determined. Beltran, who is one of Pacquiao's sparring partners, is coming off a July upset of Hank Lundy on FNF.
• It's not a fight, but HBO announced its next installment of the "2 Days" documentary series. The 15-minute show will focus on heavyweight prospect Seth Mitchell and debut Oct. 27 at 10 pm ET/PT. The show follows Mitchell in the 48 hours before his most recent fight, against Chazz Witherspoon. Mitchell will return to the ring on an HBO undercard on Nov. 17 against Johnathon Banks. The "2 Days" show precedes a live tripleheader from Turning Stone Casino in Verona, N.Y., featuring welterweight prospect Thomas Dulorme against Luis Carlos Abregu, junior welterweight Karim Mayfield against Mauricio Herrera and lightweight titlist Miguel Vazquez in a mandatory defense against Marvin Quintero.
July, 26, 2012
7/26/12
11:21
AM ET

Lightweight contender Hammerin' Hank Lundy is knocking on the door of a world title opportunity and is anxious to get his chance.

Lundy (22-1-1, 11 KOs) hasn't been able to land a shot yet -- even though he deserves it -- but he can continue to make his case against Raymundo Beltran (25-6, 17 KOs) in the scheduled 10-round main event on this week's "Friday Night Fights" (10 ET, ESPN2, ESPN3, ESPN Deportes) at Resorts Hotel Casino in Atlantic City, N.J.

"I know what I'm fighting for," Lundy said. "I've got this fire burning inside me. I'm going to be great. I'm destined to be great. No one is going to put that fire out. I'm ready to win this fight."

Lundy, a 28-year-old from Philadelphia, has rebounded very well from his lone loss, which came in July 2010. It was an 11th-round knockout to John Molina, who is fighting for a world title against Antonio DeMarco on Sept. 8. Since the loss, Lundy has won four fights in a row as a staple on FNF. That includes impressive showings in his previous two bouts -- a sixth-round knockout that sent former lightweight titlist David Diaz into retirement and a clear unanimous decision against dangerous Dannie Williams in March.

Next up is Beltran.

"I think Hank Lundy is a real good fighter," Beltran said. "I think it's going to be the biggest fight of my career. I've seen him; he gets knocked down, the guy comes back to win. He's a true fighter. I believe I have to win by knockout if I'm going to win. For a guy like me, there's no decision."

Lundy is ranked high in the alphabet rankings and might have been able to sit by and wait for a title opportunity, but that's not him.

"Once again, I'm going to show everybody that I don't run or duck from anybody," Lundy said. "The guy I'm fighting is solid. He's coming to fight and he's coming to win. He's got a family to feed just like I have a family to feed. The difference between me and these other guys is -- a lot of other guys say it, but I'm a true throwback because I'll fight anybody. I'm No. 1 right now, but you could sit on that lead and fall asleep, and then when you get your shot at a world title, you might not be ready. I want to stay busy and keep working.

Most of his recent work has come on "Friday Night Fights."

"I've got a lot of love for ESPN," said Lundy, who has been on FNF six times since 2010 and seven times overall. "After this fight, they should rename it the 'Hammerin' Hank network.'"

Wherever Lundy fights, he's keeping an eye on the rest of the lightweight division.

He had some choice words for former junior lightweight titlist Adrien Broner, who was stripped of his title after he failed to make weight for a defense against Vicente Escobedo last week, and who is now moving up to 135 pounds.

Lundy called Broner "unprofessional" and added, "I run this weight class. If you think you can just move up and jump over me, it ain't happening. Don't run. You could've mentioned my name on HBO [in the postfight interview]. Instead, you took the easy way out. Just go on and keep fighting who you're fighting. If he fought half the competition I've faced, he'd be dead in his tracks."

Lundy also has an interest in Molina's title fight with DeMarco, which will take place on the Andre Ward-Chad Dawson HBO undercard.

"[DeMarco's team feels] as though since John beat me, they'll fight [Molina] to get ready for Hammerin' Hank," Lundy said. "But like I tell everybody, John was taking a beating in that fight. That's why he's scared to fight me. John is old news. They know he's done. Everybody talks about Molina in a rematch with me. I'd love to avenge that loss, but at the end of the day, he wouldn't get back in the ring with me. [DeMarco] knows John is shot, so that ain't going to happen."