January, 21, 2015
Jan 21
11:13
AM ET
England's Anthony Crolla had finally gotten the opportunity he had wanted for his entire career: a shot at a world title, and on home turf in Manchester, no less.

The 28-year-old Crolla (29-4-2, 11 KOs), a pro since 2006, was due to challenge lightweight world titleholder Richar Abril on Jan. 23 but then suddenly the fight was off after Crolla suffered a fractured skull and broken ankle when he chased two burglars who had broken into a neighbor's house.

Crolla spent time in the hospital and is now home resting and hoping still to fight again in the first half of the year.

"At first we were aiming for July, then we cut it back to June -- I honestly think I can be ready for May, late May," Crolla said. "We'll see. I really believe that. Because I've gone through this and suffered this bit of heartache, I'll be even more focused than before."

Crolla isn't training yet but that did not stop him from paying a visit to trainer Joe Gallagher's gym. Being around other boxers training got him excited about his return.

"The gym is like a family and we're all there for each other," Crolla said. "The boys rallied around me when they heard and that support is massive. Without doubt I will be back in the ring and I will be gunning for another world title shot and looking to win it for all the people that have helped me since the attack."

Said stablemate Stephen Smith: "It takes a special person to do what he did. A lot of people would have hid behind the curtains and called the police, but that's not the kind of guy Anthony is. I want to see him boxing again and having him back in the gym was a great sight for all the boys."

Crolla is unbeaten since 2012 and riding an eight-fight unbeaten streak (8-0-2), including a decision win against former junior welterweight titlist Gavin Rees and a 10th-round knockout of John Murray. One of the draws Crolla had was a three-round technical draw against former world titleholder Gamaliel Diaz.
June, 26, 2014
6/26/14
2:07
PM ET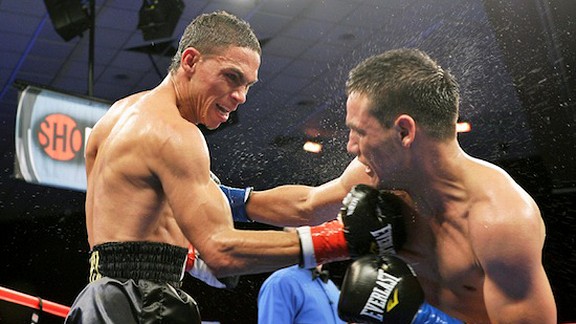 Carlos Baeza/Thompson BoxingDarleys Perez, left, is confident entering his vacant interim title shot against Argenis Lopez.
Colombian lightweight Darleys Perez was an undefeated fighter, although largely untested, when he stepped up to face Yuriorkis Gamboa for a vacant interim lightweight belt last June.
Perez lost a unanimous decision to the quicker Gamboa, but returned in December to score a near-shutout eight-round decision against journeyman Dunis Linan in December.
Now the 30-year-old Perez (29-1, 19 KOs) finds himself in another fight of note, taking on Argenis Lopez (19-0, 7 KOs), 24, of the Dominican Republic, for the same now-vacant interim lightweight belt on Saturday night at the Sheraton Hotel in Santo Domingo, Dominican Republic.
"I've had plenty of time to reflect on my defeat to Gamboa," Perez said. "I've came back with a win against Linan and my confidence is where it needs to be moving forward. Lopez is coming to fight as am I, so I'm expecting to face a fighter who is determined to take food off my table. I'm not going to let it happen. I've worked too hard get back in this position and Lopez better be ready to die in the ring because I am.
"I've only fought once in the last 12 months but I've been training hard while I was on down time. I'm healthy, in great shape, and I'm ready to go the distance if need be. I'm going to Lopez's hometown so I'll be gunning for the knockout as I don't want to leave any doubt in the judges' minds."
The winner will be in position to challenge Richar Abril for the full title, although he has not fought since March 2013, in part because fights have been canceled.
Gary Shaw, Perez's promoter, said he would try to set up an Abril-Perez fight if Perez wins on Saturday.
"If he comes out victorious, which I believe he will, then I'll be working to get him a title shot against the champion, Richar Abril," Shaw said. "Right now he must focus on Lopez and bring home the victory."