Dan Rafael:

Robert Garcia
February, 21, 2014
Feb 21
5:14
PM ET
Top Rank continued its 2012 Olympic signing binge this week when Bob Arum announced he had signed two-time Olympian Egidijus Kavaliauskas of Lithuania to his stable.

Kavaliauskas (4-0, 3 KOs), a 25-year-old welterweight, has fought three of his four professional fights on Top Rank cards. Now he and the company have a formal relationship.

His first bout under the deal is a scheduled six-rounder on March 29 at the Texas Station Gambling Hall in Las Vegas.

Kavaliauskas, who is trained by Robert Garcia, boxed for Lithuania in the 2008 and 2012 Olympics. He was a bronze medalist at the 2011 world championships.

Kavaliauskas is managed by Egis Klimas, who also manages featherweight super prospect Vasyl Lomachenko, the two-time Olympic medalist.

"Kavaliauskas will put his mark on the welterweight division and will bring Lithuania onto the pro boxing map," Klimas said.

If you are keeping track at home, it brings the number of 2012 Olympians that Top Rank has signed has to 10, including gold medalists Lomachenko (Ukraine), Zou Shiming (China), Ryota Murata (Japan), Egor Mekhontcev (Russia), silver medalist Esquiva Falcao (Brazil), bronze medalist Alexander Gvozdyk (Ukraine), Jose Ramirez (United States), Felix Verdejo (Puerto Rico) and Oscar Valdez (Mexico).
February, 7, 2014
Feb 7
9:32
PM ET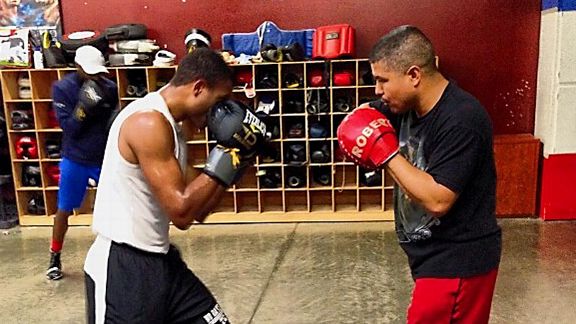 Courtesy Team DulormeRobert Garcia, right, who trains several top fighters, is regarded as one of the best in the business.
Welterweight prospect Thomas Dulorme of Puerto Rico has made a big change to his team, leaving longtime trainer Jose Bonilla to train with Robert Garcia at his gym in Oxnard, Calif.
Dulorme (20-1, 14 KOs), 24, was as hot as any prospect in boxing until he ran into Luis Carlos Abregu and got knocked out in the seventh round in October 2012. Dulorme was simply not ready for that level of fight yet.
Since then, Dulorme has been moved slowly but won four fights in a row and now has made the trainer change.
"I needed to see a change in my workouts, learn new things, but I want to make clear that my former trainer, Jose Bonilla, will always be a part of my team because I am very grateful for what he has done for me in my career, as a trainer and currently as a manager," Dulorme said.
Bonilla co-manages Dulorme along with Enrique Roman. "Garcia has an extensive world-class experience. I'll be grabbing like a sponge all of his knowledge. And let me not forget about the great quality sparring partners that are here [in Oxnard]."
Garcia trains several top fighters, including welterweight titlist Marcos Maidana, junior lightweight titlist (and his brother) Mikey Garcia, 2012 fighter of the year Nonito Donaire, featherweight titlist Evgeny Gradovich and former lightweight titlist Brandon Rios.
Dulorme, who last fought Nov. 30, said co-promoter Gary Shaw told him he would probably next fight in April.
"I just want the bell to ring so I can bring another victory to my people of Puerto Rico that are in my heart, even though I'm here in California," Dulorme said.
November, 19, 2013
11/19/13
10:11
AM ET
Manny Pacquiao and Brandon Rios have shown a lot of respect for each other throughout the promotion for their fight. Sure, they both predict victories, but they haven't gotten on each other too much.
Their trainers? No so much.

There is no doubt that a fierce competition has brewed between Hall of Famer Freddie Roach, Pacquiao's trainer and a five-time trainer of the year, and Robert Garcia, Rios' head cornerman and the reigning trainer of the year.

Both are heavily invested in their fighter winning by knockout on Saturday night (HBO PPV, 9 ET) at CotaiArena at the Venetian Macao in Macau.

Roach has predicted that Pacquiao would stop Rios inside six rounds, but changed his tune the other day. Now he's saying Pacquiao will have an easier time with Rios.

"Manny's last training session was nothing short of amazing," Roach said. "We were supposed to do six rounds on the mitts and I cut it off after four rounds. They were the best four rounds of mitts I have ever done with Manny. He was blazing. He was throwing the heat.

"This was the happiest and most productive camp I have had with Manny in years. I know I predicted that Manny would knock Rios out inside six rounds, but based on our last workout, I don't see how Rios makes it past the fourth round."

Garcia is also talking a big game.

"Twice during the [first] two episodes of '24/7' I've heard Freddie Roach say he will ask Manny Pacquiao to retire if he loses to Brandon Rios," Garcia said. "Well, Freddie had better buy that gold watch for Manny, because the retirement party begins on Saturday night. I guarantee you this will be the last time you ever see Manny Pacquiao on an HBO Pay-Per-View."
November, 13, 2013
11/13/13
11:14
AM ET

Former lightweight titlist Brandon Rios, trainer Robert Garcia and the rest of their team arrived Wednesday in Macau, China, ahead of Rios' showdown with Manny Pacquiao in a 12-round welterweight fight on Nov. 23 (HBO PPV) at the Venetian Macao's Cotai Arena

As always, Rios was enthusiastic.

"I'm in China, baby," Rios exclaimed when he arrived. "I worked hard in camp, have a great team, Robert Garcia will be in my corner on the night of my fight. I'm totally prepared, and I will win."

Rios (31-1-1, 22 KOs) will continue to train at the Venetian Macao's gym beginning Thursday morning.

"I also know China fans will be rooting for me," said Rios, who got a good reception from fans throughout the country when he and Pacquiao were there for their summer media tour. "They told me that the last time I was here for our media tour, when Pacquiao and I raced up the stairs of the Great Wall. I beat him then, and I will beat him on Nov. 23. It's great to be back here. I am ready to retire Manny Pacquiao. Victory will be mine."

Pacquiao (54-5-2, 38 KOs), the former eight-division titleholder, will arrive in Macau on Monday night from the typhoon-ravaged Philippines.
July, 25, 2013
7/25/13
11:47
AM ET
When Russia's Evgeny Gradovich accepted a featherweight world title shot against Billy Dib, he took it on less than a month's notice and pulled off the upset.

Dib had been scheduled for a March 1 defense against Luis Franco, but Franco abruptly retired in February (although that ended quickly and he returns Aug. 2). So Gradovich had a brief training camp with trainer Robert Garcia in Oxnard, Calif.

Despite the short prep time, Gradovich, a nearly obscure fighter before facing Dib, was in excellent condition and outfought Dib to win the title via well-deserved split decision.

If Gradovich, nicknamed "The Mexican Russian" because of his aggressive style, was able to claim the belt in such a tough fight despite such a short training camp, doesn't that bode well for his first defense?

Gradovich (16-0, 8 KOs) said he has trained for nine weeks to prepare for his mandatory defense against Argentina's Mauricio Munoz (26-3, 12 KOs), which takes place on Saturday (HBO2, same-day tape, 5:30 p.m. ET/PT) at the CotaiArena at the Venetian Macao-Resort-Hotel on the card headlined by flyweight Zou Shiming, the two-time Chinese Olympic gold medalist and star of the show. Shiming (1-0, 0 KOs) faces Mexico's Jesus Ortega (3-1, 2 KOs) in the six-round main event.

Shiming is the star attraction to the Chinese, but Gradovich-Munoz and the fight between unified flyweight titlist Juan Francisco Estrada (23-2, 17 KOs) and Milan Melindo (28-0, 11 KOs) are the attractions for the rest of the world. There is also the interesting fight between heavyweight prospects Andy Ruiz (18-0, 12 KOs) and Joe Hanks (21-0, 14 KOs), which will air on tape delay Saturday night (midnight ET/PT) on Spanish-language network UniMas.

"I feel good. My training was good, my weight is good," said Gradovich, 26, whose English is excellent. "We are just waiting to fight. We have good preparation this time [in Oxnard], nine weeks. This time was better preparation [than for the Dib fight]."

Munoz, 27, is experienced. He won a controversial split decision in Argentina against Franco in an elimination bout last October. He also had a previous world title fight, but he was knocked out in the ninth round challenging then-junior featherweight titlist Toshiaki Nishioka in Japan in 2011.

"I know [Munoz] is a good fighter. He has good experience," Gradovich said. "I hope it will be a good fight. I saw a couple of his fights, his last fight [against Franco] and his fight against Nishioka. I'm prepared for this fight."

Winning the title has not done much to change Gradovich's life, but he believes a win over Munoz just might.

"Everything will change next if I defend my title," Gradovich said. "I'm going to have big fights in the future. So, right now, nothing change, not too much."

Because Gradovich is with Top Rank, there are possible fights with opponents such as Nonito Donaire, junior featherweight champ Guillermo Rigondeaux and Vic Darchinyan.

However, if Gradovich wins, he also will owe Dib a contractual rematch. After their fight, Dib took an interim bout and outpointed Mike Oliver on July 5. Gradovich has his mandatory, and then they are supposed to fight again.

But Gradovich didn't want to talk about Dib or any of the potentially bigger fights in his future.

"I don't think about Billy Dib right now," he said. "I focus on [Saturday] against Mauricio Munoz. I have to defend my title, so I am only thinking about this fight."

May, 7, 2013
5/07/13
12:25
AM ET
When Manny Pacquiao picked Brandon Rios to fight for his comeback bout after the knockout loss he suffered against Juan Manuel Marquez in December, he did so with the blessing of Hall of Fame trainer Freddie Roach.

Roach said he liked the fight for Pacquiao -- who will fight Rios in a welterweight bout on Nov. 23 (HBO PPV) at the CotaiArena at the Venetian Macao Resort Hotel in Macau, China -- because he believes Rios' brawling style is made to order for Pacquiao.

But Roach said it wouldn't be honest if he didn't say that he also liked the match because he believes it's time for a little payback.

Flash back to November 2010, when Pacquiao (54-5-2, 38 KOs) beat down Antonio Margarito in a one-sided decision at Cowboys Stadium in Arlington, Texas, to win a junior middleweight title, Pacquiao's record-setting title in an unprecedented eighth weight class.

A few days before the fight, Rios (31-1-1, 23 KOs), who was on the undercard, and Margarito, who shared Robert Garcia as a trainer, were seen in an internet video cruelly mocking and laughing about Roach's Parkinson's disease symptoms, which sometimes include uncontrollable shaking.

First Margarito mocked Roach's tremors and sometimes-difficult-to-understand speech, and then Rios imitated him as well, all while Garcia stood by their side laughing.

Although they later apologized for the video, the incident understandably bothered Roach. Now Roach will go up against Rios and Garcia, and he hasn't forgotten about it.

"[Garcia] was trainer of the year [in 2012], and this year we will prove otherwise with this fight," Roach, a five-time trainer of the year, told ESPN.com on Monday, which is when the fight was agreed to.

As for having Pacquiao get a chance to knock out Rios, Roach said he was looking forward to it.

"They were trying to get under my skin [with the video], and they can do what they want. They can do all the shaking they want, but they are an embarrassment to themselves, and what they did bothered a lot of people around the world," Roach said. "[Rios'] coach [Garcia] was right there with him helping him with that video. So this fight is going to be great payback for me. I can't wait for this fight. It's the fight I wanted for Manny. We're going to teach them a lesson."
January, 2, 2013
1/02/13
3:41
PM ET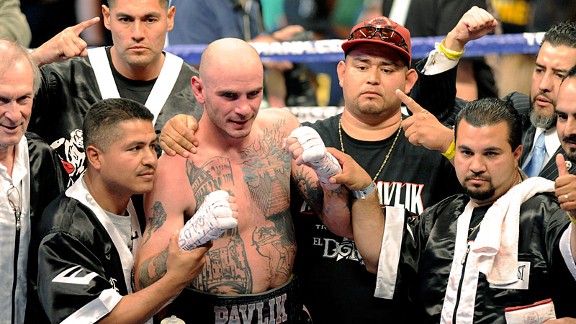 AP Photo/Cal Sport MediaFormer middleweight champ Kelly Pavlik is one of trainer Robert Garcia's latest reclamation projects.
Yes, 2012 is in the books, but beyond last week's daily annual awards for fighter, knockout, round, prospect and fight of the year, here is part 1 of some additional awards:
Trainer of the year:
This was a slam dunk: Robert Garcia had a huge year as head trainer for fighter of the year Nonito Donaire, who moved up in weight, won two junior featherweight belts and went 4-0 against four quality opponents. But Garcia had more going for him than just Donaire. He also trains Brandon Rios, who was in tremendous shape for his ultra-exciting knockout win against Mike Alvarado in the fight of the year runner-up (after being massively weight drained for a gift decision against Richard Abril in April), and younger brother Mikey Garcia, who stayed undefeated and will challenge for a featherweight world title against Orlando Salido on HBO on Jan. 19. Garcia also took over as trainer for former junior welterweight titlist Marcos Maidana, who is 2-0 with Garcia after a switching to him after a loss, and continues to work with former middleweight champ Kelly Pavlik, who won his three 2012 fights, albeit against lesser opposition.
Manager of the year:
I'm calling a tie between Cameron Dunkin and Frank Espinoza, who compete for talent and even used to work closely with each other. Both did extremely well in 2012, moving their fighters and generating career paydays for them without the benefits the networks give Al Haymon because of his relationship with Floyd Mayweather Jr.
Dunkin is a candidate year in and year out, but had a particularly strong 2012. He was a major factor in getting fighter of the year Donaire on HBO four times for the biggest purses of his career. Although Timothy Bradley Jr. fought only once, Dunkin was a big part of getting him a fight with Manny Pacquiao for a career-high payday of $5 million. Dunkin also guides the careers of Rios, Garcia and Pavlik, among others. One thing about Dunkin: He'll fight for his clients with the same passion that they do in the ring.
Espinoza guided Abner Mares to a junior featherweight world title (after he moved up from bantamweight) and Daniel Ponce De Leon to a featherweight title. He also got Carlos Molina, a decent lightweight prospect, a career payday against Amir Khan and signed talented two-time Mexican Olympian Oscar Valdez to a stable that also includes other prospects.
Upset of the year:
There were several surprising results but I thought Sonny Boy Jaro's sixth-round destruction of future Hall of Famer Pongsaklek Wonjongkam on the road in Thailand to win a flyweight title was as shocking as any outcome in recent years. Wonjongkam was not what he was at his best during his first reign (2001 to 2007, with a division-record 17 defenses) but he had reclaimed the title and had made four defenses before meeting Jaro, a journeyman from the Philippines. Jaro dropped him in the first and fourth rounds and twice more in the sixth to take the title and hand Wonjongkam only his second loss since 1996.
[+] Enlarge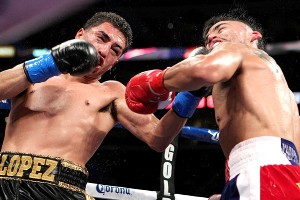 Tom Casino/ShowtimeJosesito Lopez broke Victor Ortiz's jaw in a great and surprising fight this past year.
There were a slew of other upsets too, including: Josesito Lopez, in his "Rocky moment," breaking Victor Ortiz's jaw and stopping him after nine rounds; Mario Rodriguez's knockout of Nkosinathi Joyi in the seventh round to claim a strawweight title; Austin Trout outpointing Miguel Cotto in his house at Madison Square Garden to retain a junior middleweight belt; heavyweight Johnathon Banks drilling Seth Mitchell in the second round; journeyman Gamaliel Diaz outpointing Takahiro Ao in Japan to win a junior lightweight belt; Danny Garcia rallying for a fourth-round knockout of Amir Khan to unify junior welterweight belts; Carl Froch's fifth-round knockout of then undefeated Lucian Bute to win a super middleweight title; Paulie Malignaggi going to Ukraine and not only handing Vyacheslav Senchenko his first loss, but doing so by TKO to win a welterweight belt; light heavyweight Denis Grachev's stunning eighth-round rally to knock out heavily touted Ismayl Sillakh.
Worst stoppage of the year:
If you follow boxing you know that former cruiserweight titlist Enzo Maccarinelli has a glass chin. But his second-round stoppage loss to Ovill McKenzie in a Commonwealth light heavyweight title bout in November had nothing to do with his chin and everything to do with incompetent referee Ian John-Lewis, who stopped the fight because of, well, absolutely nothing.
Robbery of the year:
Hands down, Pacquiao-Bradley. Judges Duane Ford and C.J. Ross were on another planet with their scores that gave Bradley a spit decision. Then Ford made himself look even more foolish when he told HBO's Jim Lampley that Bradley had given Pacquiao a "boxing lesson." Somebody should give him a judging lesson.
Worst fights of the year:
1. As I fully expected, lightweight titlist Miguel Vazquez's defense against Mercito Gesta was putrid and stunk up the Marquez-Pacquiao undercard. 2. Devon Alexander's welterweight title win against Randall Bailey also stunk out loud. How bad? CompuBox has tracked punch statistics for 27 years covering thousands of fights. Bailey landed just 45 of 198 punches, the fewest ever landed in a 12-round fight that CompuBox has tracked. 3. The fight between Sergiy Dzinziruk and Jonathan Gonzalez (who showed up nine pounds overweight for what was supposed to be a junior middleweight fight) was agony. It was ruled a draw. Nobody won, not either fighter and certainly not the HBO viewers.
[+] Enlarge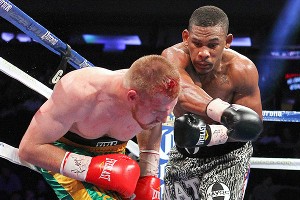 Ed Mulholland/US PresswireReturning to boxing after beating cancer was a great accomplishment for middleweight contender Daniel Jacobs.
Comeback of the year I:
Middleweight Daniel Jacobs, the 2009 ESPN.com prospect of the year, made a triumphant return in October after being idle for 19 months because of a battle with cancer that nearly killed him. Forget about boxing, Jacobs was lucky to be alive, so when he fought in his hometown of Brooklyn, N.Y., and knocked out Josh Luteran in the first round it was quite emotional.
Comeback of the year II:
Yeah, Ricky Hatton got knocked out by Senchenko but how can you not be impressed by what Hatton did? The former junior welterweight champ came back 3½ years after being severely knocked out by Pacquiao and a descent into depression, drug and alcohol abuse, significant weight gain and multiple suicide attempts. But he got his life together, got in great shape mentally and physically and was winning before getting caught by a ninth-round body shot. Hatton retired again, but fought well and looked like he could still contend if he wanted to fight on.
December, 28, 2012
12/28/12
10:25
AM ET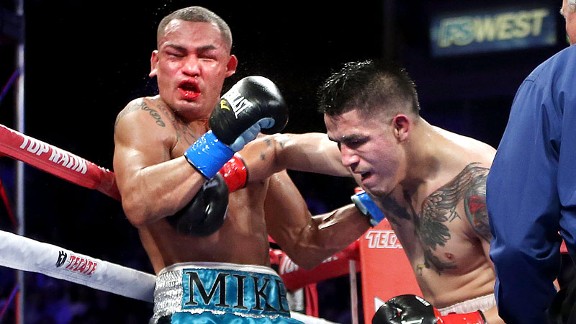 Chris Farina/Top RankMike Alvarado and Brandon Rios went toe-to-toe in an all-action fight last October.
Over the course of two meetings, one on Dec. 1 in New York on the day the Austin Trout-Miguel Cotto fight and one on Dec. 8 in Las Vegas on the day of the Juan Manuel Marquez-Manny Pacquiao IV, members of the Boxing Writers Association of America met to finalize the ballot for the organization's annual awards.
Over the next week or so, members will begin to receive their ballots, which are due back by Jan. 19. The winners will be honored at the annual BWAA awards dinner (public can purchase tickets). The date and location is not set, but it likely will take place around a major fight in the spring.
Here's a look at who is on the ballot in each category:
•
Fighter of the year:
Nonito Donaire, Danny Garcia, Robert Guerrero, Juan Manuel Marquez and Brian Viloria.
•
Fight of the year:
Brandon Rios-Mike Alvarado, Roman Gonzalez-Juan Francisco Estrada, Guerrero-Andre Berto, Orlando Salido-Juan Manuel Lopez II, Viloria-Hernan Marquez and Marquez-Manny Pacquiao IV.
•
Trainer of the year:
Nacho Beristain, Eric Brown, Robert Garcia, Ruben Guerrero, Virgil Hunter.
•
Manager of the year:
Luis DeCubas Jr., Cameron Dunkin, Frank Espinoza, Gary Gittelsohn, Al Haymon.
•
Long and meritorious service to boxing:
Bob Canobbio (CompuBox), promoter Lou DiBella, promoter Kathy Duva, referee Steve Smoger, Top Rank matchmaker Bruce Trampler.
•
Excellent in broadcast journalism:
Bruce Beck (my broadcast partner at Epix), Max Kellerman (HBO), Tony Paige (WFAN radio), Bob Papa (HBO), Travis Pomposello (Epix executive producer), Dan Rafael (ESPN and Epix -- and honored to be nominated). Nominees in this category can only win once and it's open to broadcasters, TV executives and production people.
•
Good guy:
Don Chargin (Hall of Fame promoter), Steve Farhood (Showtime), Norm Frauenheim (writer), Scott Ghertner (MGM and Mandalay Bay media relations), Wladimir Klitschko (heavyweight champ).
•
Courage in overcoming adversity:
Alfredo Angulo, Johnathon Banks, Danny Jacobs, Peter Quillin, Paul Williams.
April, 4, 2012
4/04/12
6:28
PM ET
Junior welterweight titlist Marcos Maidana is one of boxing's most consistently exciting fighters, so most fans probably don't care that he is just 2-2 in his past four fights. No matter who he fights, he'll be interesting to watch because of his aggressive style and powerful punching.

But Maidana made a big change -- and a needed one -- on Wednesday, announcing that he is going to begin working with trainer Robert Garcia, who has become one of the hottest trainers in the sport.

Garcia, based out of Oxnard, Calif., is assembling quite the stable. He trains Brandon Rios and Nonito Donaire, two of boxing's best fighters and rising stars, and he recently took over training former middleweight champion Kelly Pavlik, who won his comeback fight last week in his first fight working with his new trainer. Garcia also trains his younger brother, top featherweight contender Miguel Angel "Mikey" Garcia, and Antonio Margarito.

Now Garcia has added Maidana to the fold.

"It's a honor for me to know that Maidana is interested in training with me," Garcia said. "He has given the fans great fights so far. We are gonna work with him in my gym now, and I expect good things for him."

Maidana needed to make some sort of change after he was utterly outclassed by Devon Alexander in a welterweight bout on Feb. 25. Maidana was unable to adjust to anything Alexander was doing and lost a lopsided decision.

After the loss, Maidana said he would return to junior welterweight to continue defending his belt. Now he has made the change in his corner, with Garcia replacing Rudy Perez, a well-respected Mexican trainer best known for his work with all-time great Marco Antonio Barrera. Cristian Rodriguez, a longtime assistant trainer to Maidana and Perez, was in the corner for the Alexander fight in place of Perez, who could not make it because of illness.

"This is a great move for my career, so I'm excited about it," Maidana said. "By joining a trainer like Robert and his team, I'll be able to make all the necessary adjustments that are required for me to take me to the next level.

"We have nothing set yet, but I want to go back to 140 pounds for my next fight, as I didn't feel comfortable against Alexander. I am still a world champion and want to defend my belt. But especially, I want to redeem myself after such a lackluster performance."

Sebastian Contursi, Maidana's adviser, said he has been talking to promoter Golden Boy about Maidana's next fight. Ideally, he would like to have Golden Boy put Maidana on a card in September, perhaps on a pay-per-view show it is planning for junior middleweight titlist Saul "Canelo" Alvarez, assuming Alvarez beats Shane Mosley on May 5.

"I had a phone conversation with [matchmaker] Eric Gomez of Golden Boy Promotions," Contursi said, "and we'll talk again with him and [CEO] Richard Schaefer in the next few days in order to see what the possibilities for Marcos are. There are a few great fights out there in the [junior welterweight] division."

Contursi mentioned potential opponents such as newly crowned titleholder Danny Garcia, all-action brawler Michael Katsidis and the winner of the June 23 bout between top contenders Humberto Soto and Lucas Matthysse (Maidana's countryman from Argentina, who is also a tremendous puncher).

"All of them would be great matchups for Marcos," Contursi said.

Now it falls to Robert Garcia to make sure Maidana is ready for any of them, and to have a Plan B if necessary.