Dan Rafael:

Robin Krasniqi
April, 22, 2013
4/22/13
5:19
PM ET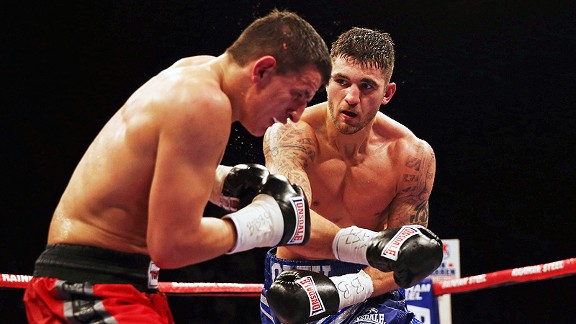 Scott Heavey/Getty ImagesNathan Cleverly, right, now hopes to test himself against an all-time great in Bernard Hopkins.
After light heavyweight titlist Nathan Cleverly of Wales rolled to a near-shutout decision win against mandatory challenger Robin Krasniqi of Germany on Saturday in London, he beat the drum yet again for a showdown with fellow titleholder Bernard Hopkins.
Cleverly did it in a respectful manner, too. He lauded Hopkins for being an all-time great and said he wanted to fight him to prove to himself that he was an elite champion and not just an ordinary titleholder.
"Hopkins is a great, great fighter, and against him I'll have to take my game to another level," Cleverly said. "His experience is unmatchable and technically he's superb, but I think my youth, pace and aggression will be too much for him. I'd force him to fight every second of every round and not give him an inch or second to think."
Cleverly looked good against Krasniqi and turned in an exceptional work rate (1,047 punches thrown). Cleverly doesn't have much pop, but that activity would be sure to give a slower, methodical fighter such as Hopkins some problems.
"I showed another side to my game against Krasniqi," Cleverly said. "I showed that I could box intelligently, not get reckless against a dangerous challenger and made it look easy. He was very tough, and maybe I would have liked to have knocked him out, but it was a great workout and I showed the pace I can set for 12 rounds at the highest level."
Hopkins (53-6-2, 32 KOs) has said he would like to face Cleverly (26-0, 12 KOs) and that he would be willing to go to the United Kingdom for the fight. But first Hopkins has a mandatory defense to make this summer against Karo Murat, whose only loss is a 10th-round knockout to Cleverly in a 2010 title eliminator.
On March 9, the 48-year-old Hopkins broke his own record of becoming the oldest fighter in boxing history to win a world title when he outpointed Tavoris Cloud.
Cleverly's promoter, Frank Warren, and Hopkins' promoter, Richard Schaefer, have done business before and get along just fine, so if the sides really want to make the fight, it shouldn't be too difficult. Warren would like to have Cleverly fight in the co-feature when Hopkins faces Murat and then have them square off if they both win.
April, 19, 2013
4/19/13
7:04
PM ET
Light heavyweight titlist Nathan Cleverly waited through a five-week delay to face mandatory challenger Robin Krasniqi and is ready to go.

The fight was originally scheduled for March 16, but the entire card was postponed because promoter Frank Warren had issues with several of the bouts on the show, including the fact that Cleverly got ill.

So now Cleverly, making his fifth title defense, and Krasniqi will meet on Saturday (Epix and EpixHD.com, 5 p.m. ET) at Wembley Arena in London.

"Prep has gone OK. Delays are a part of boxing," Cleverly said. "When the news of the delay broke, I just eased off the gas for a week or two and enjoyed a welcome bit of junk food. I do like my curries, pizzas and Chinese plus a Magners [Irish cider] with ice. When the time came to step back on it, I was refreshed.

"The only thing I've really changed has been my environment. Earlier in the year, not really as part of the camp for this fight, I went to a mate's gym in Alicante in Spain for a bit of warm weather training, mixed in with a bit of a holiday. Recently, for a change of scenery, I've been training at [trainer] Don Charles' gym in London. It's taken me away from my home comforts, which helps keep the mind fresh."

Former heavyweight title challenger Dereck Chisora (15-4, 9 KOs), 29, of England, seeking to end a three-fight losing streak (which includes a robbery against Robert Helenius, the championship loss to Vitali Klitschko and the knockout loss to David Haye), opens the telecast in a scheduled 10-rounder against Argentina's Hector Alfredo Avila (20-12-1, 13 KOs).

Although Cleverly (25-0, 12 KOs), 26, of Wales, owns a 10th-round knockout win against top-10 contender Karo Murat (who is set to challenge titleholder Bernard Hopkins this summer), he said he views Krasniqi (39-2, 15 KOs), 26, of Germany, as his best opponent.

"Krasniqi is a dangerous challenger, the best I've faced yet and I've trained as if I'm the challenger in this fight," Cleverly said. "In my eyes he's unbeaten. The two losses were on points and were at the beginning of his career and he's worked his way to the No. 1 spot. He'll be hungry to take the title from me."

Krasniqi began his pro career 1-2 with a pair of four-round decision losses in late 2005 and early 2006, but he is unbeaten since.

"I'm ready for a war against Krasniqi," Cleverly said. "Whatever he brings to the fight I'll have an answer for. If he wants it toe-to-toe I'll come out on top or if he doesn't want to mix it I'll out-box and outsmart him."
April, 11, 2013
4/11/13
1:46
PM ET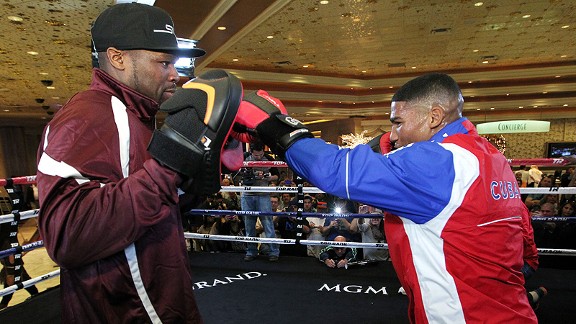 Chris Farina/Top RankPromoter 50 Cent, left, hasn't been able to secure an interim title fight for Yuriorkis Gamboa.
Three notes from the fistic world:
• Interim junior lightweight titlist Yuriorkis Gamboa is supposed to fight June 8, but it has not been easy for promoter Curtis "50 Cent" Jackson and HBO to finalize the opponent. Gamboa is supposed to fight at lightweight and an agreement was made for him to face Juan Carlos Burgos, who was on the bad end of a draw with junior lightweight titleholder Rocky Martinez in January. However, according to Artie Pelullo, Burgos' co-promoter with Thompson Boxing, after accepting an offer from Jackson for the fight about a month ago, Jackson came back to them recently apologizing for being unable to pay the dollars they had agreed to.
"So the fight is off," Pelullo told ESPN.com. "I made a deal with 50 Cent for a certain number but a month later he was unable to deliver the number he was supposed to pay me and then he wanted us to take seriously less money and I said we couldn't do that."
Pelullo said he has talked to Top Rank's Carl Moretti about the possibility of a Martinez-Burgos rematch.
Meantime, the search continues for a Gamboa opponent. At one point the fight was going to take place at its own site and be part of an HBO split-site card topped by the Chad Dawson-Adonis Stevenson light heavyweight championship fight at the Bell Centre in Montreal. But now, according to the network, if Gamboa fights June 8 the bout will be in Montreal on the Dawson-Stevenson undercard.
• Junior middleweight Demetrius Andrade (19-0, 13 KOs) of Providence, R.I., is on the cusp of getting a world title shot. The 25-year-old former world amateur champion and 2008 U.S. Olympian has great talent but faced pretty soft opposition so far as a pro but is now the mandatory challenger for titleholder Zaurbek Baysangurov (28-1, 20 KOs), 28, of Russia. A purse bid is scheduled for Friday morning at WBO headquarters in Puerto Rico.
Pelullo and Joe DeGuardia, Andrade's co-promoters, told ESPN.com that they are in talks with K2 Promotions Ukraine promoter Alexander Krassyuk but that they are prepared to go to the purse bid.
"We are trying to make a deal, trying to work it out," Pelullo said.
The minimum purse offer is $200,000. HBO has shown interest in Andrade but for some reason has not committed to this fight, which is easily the most interesting of Andrade's career. Baysangurov, who will be making his third defense, is a good fighter but not nearly as quick as Andrade. Still, it's a very solid fight on paper. Pelullo and DeGuardia said they and Andrade are willing to fight Baysangurov in Russia or Ukraine but, obviously, would like to win the bid and hold the bout in the United States. Their chances of winning a purse bid would be greatly enhanced if they knew HBO would buy the fight so they could know what kind of money they have available to make a more intelligent bid.
• Former heavyweight title challenger Dereck Chisora (15-4, 9 KOs) of England has a new opponent for his fight on April 20 in London, Argentina's Hector Alfredo Avila, promoter Frank Warren announced. The fight is on the undercard of light heavyweight titlist Nathan Cleverly's mandatory defense against Robin Krasniqi and will be part of the Epix telecast in the United States. Chisora is seeking to end a three-fight losing streak -- his rip-off split-decision loss to Robert Helenius, a decision loss to heavyweight titlist Vitali Klitschko and a fifth-round knockout loss to former titleholder David Haye last July. As usual, Chisora is talking a big game. "I'm back in business and I'm on the road back to the world title," Chisora said. "I'm looking to destroy Avila first at Wembley Arena and then face one of the other so-called rivals next. If it's David Price then great. I know he wouldn't be able to stand up to my power and he'd be a good step in the right direction for me."
March, 21, 2013
3/21/13
7:01
PM ET
Former heavyweight title challenger and Cuban 2004 Olympic gold medalist Odlanier Solis (18-1, 12 KOs), welterweight contender Selcuk Aydin (23-2, 17 KOs) and former heavyweight titlist Ruslan Chagaev will all be featured on a card in Berlin, Germany on Friday. The card will be televised on Eurosport throughout Europe.
Solis will face Leif Larsen (17-0, 14 KOs) of Norway, Turkey's Aydin will meet Giuseppe Lauri (53-11, 31 KOs) of Italy, and Chagaev (30-2-1, 19 KOs), of Uzbekistan, will take on American Mike Sheppard (20-14-1, 9 KOs).
"It feels good to be back in Germany," said Solis, who defected there. "I started my pro career over here and still have lots of friends in Berlin. In my last fight in Germany [in March 2011], I suffered a bad [knee] injury when challenging [heavyweight titlist] Vitali Klitschko. But now my knee is well again. I am ready to go and want to prove that I am the best heavyweight fighter in the world."
Aydin is trying to get back on track after back-to-back decision losses to Robert Guerrero and Jesus Soto Karass. Chagaev is looking for his fourth consecutive victory since a decision loss to Alexander Povetkin for a vacant belt in August 2011.
• Ukraine junior middleweight Taras Shelestyuk, a 2012 Olympic bronze medalist, has signed with Banner Promotions, the company announced.
Shelestyuk was a three-time Ukrainian national champion, a 2010 bronze medalist in the European championships and a 2011 world amateur champion in the 152-pound weight division. As an amateur, Shelestyuk, 27, went 195-15. He is scheduled to make his pro debut March 29 in Verona, N.Y., on the ESPN/WatchESPN "Friday Night Fights" card headlined by middleweight Brian Vera against Donatas Bondoravas.
"We are very excited to add Taras to our roster," Banner Promotions chief Artie Pelullo said. "We have big plans for Taras and we feel he will become a world champion."
• According to the New York State Athletic Commission, the March 9 card at the Barclays Center in Brooklyn, which was headlined by Bernard Hopkins' win against Tavoris Cloud to break his own record for becoming the oldest fighter (48) to ever win a world title, generated a gate of $611,974 from 9,377 tickets sold. There were 826 complimentary tickets given away.
• Epix officially added two more fights to its schedule this week. It will air light heavyweight titlist Nathan Cleverly's mandatory defense against Robin Krasniqi from London on April 20 and heavyweight champion Wladimir Klitschko's defense against Francesco Pianeta from Mannheim, Germany on May 4. Cleverly-Krasniqi was originally supposed to be part of the March 16 card headlined by the lightweight unification match between Ricky Burns and Miguel Vazquez. But Burns-Vazquez was canceled and the rest of the card postponed. Besides the cable channel, the fights will also stream live and free on EpixHD.com and on the Epix app on Xbox consoles and Roku players.
• Last Saturday's epic battle between welterweight titlist Timothy Bradley Jr. and Ruslan Provodnikov was so good that HBO made the unprecedented move of scheduling a primetime replay on the main network. There will be an encore presentation Sunday night (10:35 ET/PT). It will be immediately followed by a replay of "Road to Rios-Alvarado II," which previews the much-anticipated March 30 rematch between Brandon Rios and Mike Alvarado.
According to HBO, the live broadcast of Bradley-Provodnikov -- a riveting fight of the year candidate in which Bradley won a tight decision after surviving nearly being knocked out in the first and second rounds and a knockdown in the final 15 seconds of the bout -- drew 1.2 million viewers (the same number that tuned in the previous week for Hopkins-Cloud). Bradley-Provodnikov peaked at 1.4 million viewers, HBO said. And then there were another 274,000 viewers who tuned into the Sunday morning replay, a 57 percent improvement over the comparable replay of Hopkins-Cloud. HBO said that its four boxing telecasts this year rank as the top four performing televised boxing events on cable for the year.
February, 22, 2013
2/22/13
12:54
PM ET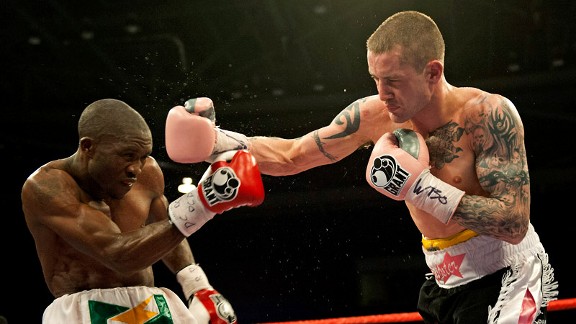 Rob Casey/Getty ImagesJunior welterweight titlist Ricky Burns, right, headlines a March 16 card on against Miguel Vazquez.
Promoter Frank Warren's big "Rule Britannia" card on March 16 at Wembley Arena in London -- headlined by the Ricky Burns-Miguel Vazquez lightweight title unification fight (which ideally will produce a future opponent for Adrien Broner) -- will be on American television, along with three other notable undercard bouts.
Epix, kicking off its 2013 boxing coverage, announced Friday that in addition to televising Scotland's Burns (35-2, 10 KOs) against Mexico's Vazquez (33-3, 13 KOs), it will also have live coverage of light heavyweight titlist Nathan Cleverly (25-0, 12 KOs) of Wales defending against mandatory challenger Robin Krasniqi (39-2, 15 KOs) of Germany; super middleweight George Groves (16-0, 12 KOs) of England facing Mouhamed Ali Ndiaye (22-1, 13 KOs), a native of Senegal living in Italy, for the vacant European title; and former heavyweight title challenger Dereck Chisora (15-4, 9 KOs) of England against an opponent to be determined.
The card will also be streamed live at EpixHD.com (4:30 p.m. ET). In the interest of full disclosure, in addition to my work at ESPN, I also serve as a commentator on the broadcast. One thing different about this broadcast than all but one other Epix telecast is that the crew will be at ringside to call the fights rather than doing it from a New York studio. It will be Epix's second show from ringside. The first was last May's Carl Froch-Lucian Bute super middleweight title fight.
February, 21, 2013
2/21/13
12:10
PM ET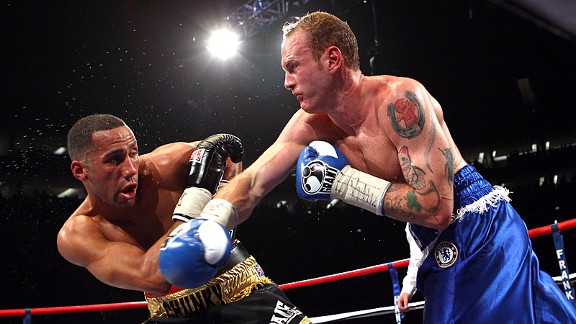 Julian Finney/Getty ImagesGeorge Groves, right, has moved up quickly in the rankings since turning pro in 2008.
Super middleweight contender George Groves of England will next fight for the vacant European title, but what he really wants is a world title fight against the winner of the rematch between titleholder Arthur Abraham and former titlist Robert Stieglitz.
Groves faces Mouhamed Ali Ndiaye (22-1, 13 KOs) for the European title on March 16 (Epix and EpixHD.com in the U.S., BoxNation in the U.K.) at Wembley Arena in London while Abraham and Stieglitz meet in a rematch March 23 in Germany.
Last March, Groves (16-0, 12 KOs) was supposed to challenge then-titleholder Stieglitz – who lost the belt to Abraham in their first meeting – but withdrew because of an injury.
"

I was gutted when I couldn't take on Stieglitz. I'm confident I would have beaten him as Abraham went on to do and I'd be the world champion now, but my time will come.

"

-- George Groves on having to withdraw from the fight with Robert Stieglitz last year.
"With me being No. 1 the WBO that is the direction that I'm going in and I've got to keep an eye on these guys as I'll be looking to fight the winner next," Groves said. "I'm focused on the fight in hand first though, against Ndiaye and winning the European title. But once I come through that I want to be in Germany to see Abraham against Stieglitz up close. It was a close fight last time and Abraham won on strength. I think maybe he'll win on endurance this time. It's always tough to beat a fighter in a return once you've beaten him, but I'll go with the pedigree and that's Abraham, although Stieglitz will have hometown advantage this time, which may help him."
Groves is still disappointed he had to withdraw from the fight with Stieglitz last year.
"I was gutted when I couldn't take on Stieglitz," he said. "I'm confident I would have beaten him as Abraham went on to do and I'd be the world champion now, but my time will come. Last year was a tough one with injuries, although I got in two valuable learning fights, a good win in America that enhanced my reputation and fan base and then probably the best win of my career over the experienced Glen Johnson in December. This is a great start to the year for me with a European title fight and then a potential world title fight next. The super middleweight division is stacked with talent and I'm eager to get in the mix."
In the main event of the March 16 card, lightweight titleholder Ricky Burns (35-2, 10 KOs) and Miguel Vazquez (33-3, 13 KOs) meet in a title unification bout. Also on the card, light heavyweight titlist Nathan Cleverly (25-0, 12 KOs) will make a mandatory defense against Robin Krasniqi (39-2, 15 KOs) and heavyweight Dereck Chisora (15-4, 9 KOs) will be in action.
December, 27, 2012
12/27/12
11:40
AM ET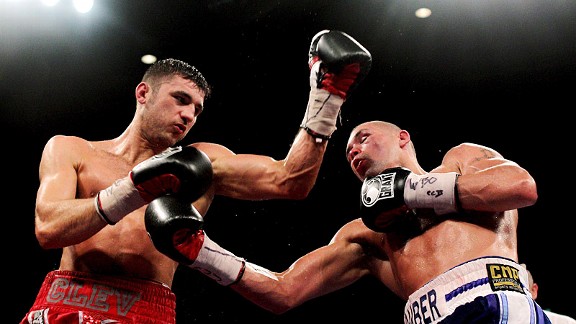 Dean Mouhtaropoulos/Getty ImagesNathan Cleverly, left, will defend his light heavyweight title against Germany's Robin Krasniqi.
When light heavyweight titlist Nathan Cleverly of Wales came to Los Angeles and stopped Shawn Hawk in the eighth round of a one-sided title defense on a Nov. 10 Golden Boy Promotions undercard, it was supposed to be an audition for a possible fight with former champ Bernard Hopkins.
However, when Hopkins passed on Cleverly (25-0, 12 KOs) to instead take a likely March 9 fight against titlist Tavoris Cloud, it left Cleverly in a position where he had to make a mandatory defense against Germany's Robin Krasniqi (39-2, 15 KOs) after the WBO ordered a purse bid -- minimum offer $300,000.
Frank Warren, Cleverly's promoter, won the recent purse bid with an offer of $500,000, beating Ulf Steinforth of SES Boxing, Krasniqi's promoter, who bid $431,650 at the ceremony in Budapest, Hungary.
Warren said the date of the fight would be March 16 in either London or Liverpool, England, or in Cardiff, Wales.
Cleverly, 25, will be making his fifth title defense. Krasniqi, 25, lost two of his first three pro bouts -- both four-round decisions -- but has been perfect since. He wil be taking a significant step up in competition against Cleverly.