Dan Rafael:

Rocky Martinez
April, 10, 2014
Apr 10
6:07
PM ET
Chris Farina/Top RankRay Beltran is hoping a victory over Arash Usmanee on Saturday can lift him to another title shot.
LAS VEGAS -- On Thursday afternoon inside the Manny Pacquiao-Timothy Bradley II media center at the MGM Grand, there was a ceremony for newly crowned lightweight titlist Terence Crawford, who received the world title belt he won March 1 against Ricky Burns by unanimous decision on Burns' home turf in Scotland.
Lightweight contender Raymundo Beltran was in the building but not in the media center and was happy he missed the ceremony. It's not that Beltran has anything against Crawford; it's just that Beltran, along with many others, believes that Crawford's belt should be his.
In the fight before Burns lost to Crawford, Burns defended the title against Beltran in Scotland in September. Beltran broke Burns' jaw in the second round, dropped him in the eighth round and basically ran over him for most of the fight. But when the scores were announced, Burns retained the title on a hometown draw.
Beltran was crushed, and rightfully so. He hoped for an immediate rematch, but Crawford was waiting as the mandatory challenger, got the next shot and dethroned Burns.
Beltran (28-6-1, 17 KOs), known to many for his work as one of Pacquiao's top sparring partners in recent years, will fight for the first time since the draw when he faces late substitute Arash Usmanee (20-1-1, 10 KOs) in the co-feature on the Pacquiao-Bradley II card Saturday night. Usmanee accepted the fight last weekend when former junior lightweight titlist Rocky Martinez dropped out due to illness.
"I should be defending my title," Beltran said of Saturday's fight. "But only God knows why it happened. I just focus and try to stay positive. I've been through a lot in boxing. I think me and my team got here from our hard work. Nobody put us here."
Beltran said he heard from many fight fans after the robbery against Burns and it made him feel good, even if it didn't make up for not having the title.
"I focus on the positive, and it made me feel good because if the fans know who you are that really gives you the strength," said Beltran, who is from Mexico and lives in Los Angeles. "Without the fans you are nothing. The fans saw what happened and they want to see me victorious."
Beltran has not even been able to watch a video of the entire fight with Burns.
"It still hurts. It pisses me off," he said. "It puts me in a bad mood, so I just leave it alone."
With a victory against Usmanee, Beltran likely will get another shot at the title in Crawford's first defense.
"I think Beltran got screwed when he fought Burns in Scotland and easily won that fight and came away with a draw, and I feel really bad on that," Top Rank promoter Bob Arum said. "He wanted to get an immediate rematch with Burns but Crawford was waiting as the mandatory, so I see no reason why that wouldn't be a terrific fight with Crawford and Beltran."
Arum's plan is to put the fight on HBO June 28 or July 12 and do it in Council Bluffs, Iowa, right over the border from Omaha, Neb., which is Crawford's hometown.
"Three minutes from Omaha over the bridge is Council Bluffs, where they have all the casinos and more hotels, and we'd do it," Arum said. "I'd insist on a judging panel that has to be approved by both fighters."
It sounds like a good plan to Beltran.
"Once I beat Usmanee, I should be fighting for a title [against] Crawford or anybody," he said. "Even without Usmanee, I should be fighting for a title. But hopefully we beat Usmanee and then, no question, I should fight for a title. I'll fight Crawford. I would like to fight Crawford. He's a champion. I just want to fight the best."
November, 25, 2013
11/25/13
1:46
PM ET
Fresh from a dominant eighth-round knockout of Rocky Martinez on Nov. 9 to win a junior lightweight world title, Mikey Garcia's first defense is on the drawing board.

Garcia, whose only problem with Martinez was getting dropped in the second round, is expected back on Jan. 25 to headline an HBO card, possibly at the Theater at Madison Square Garden in New York, Top Rank promoter Bob Arum told ESPN.com.

As for who Garcia (33-0, 28 KOs), 25, of Oxnard, Calif., will fight, Arum and HBO are talking. HBO would like to make a fight between Garcia and interim lightweight titlist Yuriorkis Gamboa, but that's probably a pipe dream, thankfully.

Arum has no particular interest in making it, and I was glad to hear that. Gamboa is not a draw, his style has become very boring, he looked bad in his last fight against Darleys Perez, he has twice been arrested for domestic abuse of his ex-wife (including earlier this month) and the Miami resident was implicated in the Biogenesis performance-enhancing drug scandal.

Add all that baggage to the fact that Gamboa has never been a ticket seller or a ratings draw but still commanded large purses and it makes no sense.

Arum's take: "He is not deserving of fighting Garcia, who has a great image. Who needs a guy who has a second (arrest) for domestic abuse?"

Arum said the opponent he is looking at is contender Juan Carlos Burgos (30-1-2, 20 KOs), 25, of Mexico.

In January at the MSG Theater, Burgos got ripped off in a draw against Martinez and was denied of the title on the undercard of the show on which Garcia beat Orlando Salido in the main event to win a featherweight belt.

"Burgos is one of the names we've talked about and he's a difficult opponent," Cameron Dunkin, Garcia's manager, told ESPN.com. "I even talked to Alex Camponovo (of Burgos co-promoter Thompson Boxing) about the fight and they're interested. But HBO wants to explore other things, Gamboa, of course. They've even got a couple of other guys they want to explore. I told (Top Rank vice president) Carl Moretti to go ahead and explore whatever you want."

Dunkin said that once Mikey Garcia and his brother and trainer, Robert Garcia, are settled after their trip home from Macau, China (where they were for the Manny Pacquiao-Brandon Rios fight) that the three of them would get on the phone and discuss what Mikey wants to do.

"We'll try to put something together but Jan. 25 is great," Dunkin said. "We're ready to go."
September, 6, 2013
9/06/13
1:51
PM ET
• Finalizing the mandatory fight between junior lightweight titlist Rocky Martinez and former featherweight titlist Mikey Garcia is more or less a formality. Top Rank promoter Bob Arum has said he is down to haggling over the final few dollars with the Martinez camp while Garcia is already on board. But now the WBO, which is sanctioning the bout, has added a time frame for the deal to get done for the proposed Nov. 9 HBO main event. It has set Oct. 3 as the deadline for the deal to be completed or it will order a purse bid, which would be silly for Martinez to force because Arum promotes both fighters. Arum has a stake in the fight and backing from HBO, which means he almost certainly would be offering more money to Martinez than anyone else could. It is highly unlikely another promoter would offer a big enough figure at a purse bid that would give Martinez more than whatever Arum is offering, especially since that promoter has no vested interest in either fighter and would not have HBO's backing. In any event, if the fight does wind up at a purse bid, the minimum offer is $150,000.

• Juan Carlos Sanchez (16-1-1, 8 KOs) of Mexico, stripped of his junior bantamweight title before a June title defense against Roberto Sosa for failing to make weight, can earn a chance to win back the belt. The IBF has ordered Sanchez, who wound up outpointing Sosa but was not eligible to win the title, to face South Africa's Zolani Tete in a final eliminator. If Sanchez-Tete comes off, the winner will be the mandatory challenger for Japan's Daiki Kameda, who outpointed former titlist Rodrigo Guerrero on Tuesday to win the title left vacant by Sanchez's weight issues. The sides have until Monday to advise the organization of their availability for the fight, otherwise the IBF will go down its ratings to find the next willing contender. Sanchez has accepted the fight. Assuming Tete does also, the target date for the bout is Oct. 26 in Mexico.

• New Yorker Junior Younan, a 17-year-old standout amateur fighter, is going pro. Younan, 90-5 in the unpaid ranks, turns 18 on Oct. 14 and will make his professional debut, probably as a light heavyweight (fighting closer to cruiserweight as an amateur), in late October or November after signing with promoter Lou DiBella and managers James Prince and Josh Dubin.

"It's a real honor being signed by DiBella Entertainment," Younan said. "Growing up in New York and being at all the shows, it's really humbling to know that I'm being recognized as one of the best prospects right now by Lou. I plan on showing everyone what I have in me and bringing that spark back to boxing."

Said DiBella, "Anytime that you are able to add the type of caliber fighter that 'Sugar Boy' is to your stable, it's special. I have been following him since he has been a child and he has been viewed as a New York gym prodigy. Still a teenager, I expect huge things from 'Sugar Boy' Younan."
August, 8, 2013
8/08/13
2:43
PM ET
A few notes from the world of boxing:

• When former super middleweight titlist Lucian Bute suffered a left hand injury and needed subsequent surgery to remove bone fragments, his showdown with former light heavyweight champ Jean Pascal scheduled for May 25 at the Bell Centre in Montreal, where they are both stars, was postponed.

Then came the announcement that it would be delayed for quite some time -- either until Dec. 7 or Jan. 25, depending on the schedules of HBO and the venue. Now it looks like the fight is going to take place in January, according to Pascal promoter Yvon Michel.

"Most likely it will be in January as there are no longer Saturdays available at Bell Centre in December because of the Canadiens of the NHL," Michel told ESPN.com.

Pascal (27-2-1, 16 KOs) has not fought since easily outpointing Aleksy Kuziemski in a 10-round fight on Dec. 14, and it will have been 13 months since his last fight by the time he faces Bute. Bute (31-1, 24 KOs) lost his title by fifth-round knockout to Carl Froch in May 2012 and has fought just once since, struggling to a decision win against Denis Grachev in November. He will have gone 14 months between fights.

• Michel also said that he is expecting to receive a signed agreement in the coming days from former light heavyweight titlist Tavoris Cloud and his promoter, Don King, which would finalize a deal for Cloud to challenge champion Adonis Stevenson on Sept. 28 (HBO) at the Bell Centre. Stevenson won the title with a sensational 76-second knockout of Chad Dawson on June 8. Cloud lost his version of the 175-pound title in his last fight, losing a clear unanimous decision to Bernard Hopkins on March 9.

• Julio Cesar Chavez Jr. faces Bryan Vera in a super middleweight fight and Demetrius Andrade and Vanes Martirosyan square off for a vacant junior middleweight belt in the featured bouts Sept. 7 (HBO) at the Staples Center in Los Angeles, but Top Rank is putting a number of its best fighters on the untelevised undercard (although, fortunately, most of them will be streamed live on Top Rank's website). According to Top Rank vice president Carl Moretti, the card will also include bouts involving blue-chip junior lightweight prospect Oscar Valdez, middleweight rising contender Matvey Korobov, newly signed junior welterweight contender Karim Mayfield, junior lightweight contender Diego Magdaleno (in his first bout since losing a split decision to world titleholder Rocky Martinez in April) and junior lightweight Jose Felix.
July, 22, 2013
7/22/13
4:58
PM ET
Featherweight Gary Russell Jr., the 2011 ESPN.com prospect of the year, will be back Aug. 9, according to Golden Boy promoter Richard Schaefer.

Russell will face an opponent to be announced, which is par for the course when it comes to announcing Russell fights. He was supposed to box on the July 13 Bernard Hopkins-Karo Murat undercard -- against an opponent to be announced -- but that card was canceled due to Murat's visa problem. So Russell (22-0, 13 KOs) has been moved to the card headlined by heavyweight prospect Deontay Wilder facing former titlist Sergei Liakhovich at the Fantasy Springs Resort Casino in Indio, Calif.

Golden Boy had hoped to line up Russell against former featherweight titlist Daniel Ponce De Leon this summer. Ponce De Leon accepted the fight, but Russell turned it down.

Russell, a 2008 U.S. Olympian, has been beset by injuries and has been incredibly picky about whom he will fight. He will be boxing for the first time since suffering a fractured left hand in a 10-round decision win against Russia's Vyacheslav Gusev on March 2. Russell also missed significant time in 2012 because of an ankle injury.

• Former junior lightweight title challenger Diego Magdaleno (23-1, 9 KOs), who lost a split decision challenging Rocky Martinez on April 6 in Macau, will make his return Sept. 7, according to manager Frank Espinoza. Magdaleno's bout will be scheduled for eight rounds -- no opponent yet -- and will take place on the undercard of the Julio Cesar Chavez Jr.-Brian Vera fight at the Staples Center in Los Angeles.
July, 15, 2013
7/15/13
12:08
PM ET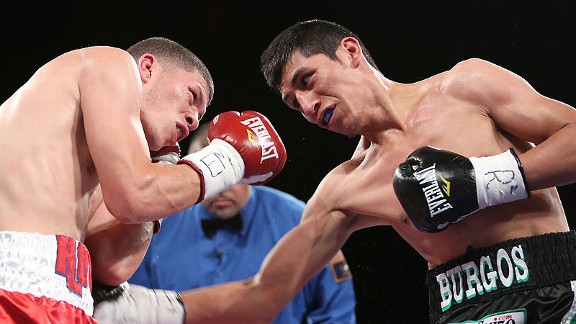 Joel Colon/PRBBPJuan Carlos Burgos could set up another title shot with a win over new opponent Yakubu Amidu.
After junior lightweight contender Juan Carlos Burgos lost his opponent -- Daulis Prescott, due to a case of kidney stones -- last week, the hunt was on for a new opponent for his July 26 fight (ESPN2 and ESPN Deportes) at Thunder Valley Casino Resort in Sacramento, Calif.
After co-promoters Artie Pelullo of Banner Promotions and Thompson Boxing discussed various names with ESPN, the opponent they came to an agreement on was Yakubu Amidu (20-4-1, 18 KOs), who accepted the fight.
Amidu, 28, a native of Ghana based in Los Angeles, has lost two fights in a row, both 10-round decisions at lightweight, to fringe contender Ji-Hoon Kim and Haskell Rhodes.
In 2008, Amidu suffered the only knockout loss of his career, a seventh-round stoppage in Scotland to future lightweight titleholder Ricky Burns.
Burgos (30-1-1, 20 KOs) fought to a disputed draw with 130-pound titleholder Rocky Martinez in January, and a win against Amidu will probably put him in position to challenge for the same belt against the winner of a proposed title fight between Martinez and former featherweight titlist Mikey Garcia.
Other names that were discussed as possible Burgos opponent included Alexei Collado, Marcos Leonardo Jimenez, Hylon Williams, Jr. and Daniel Ruiz.
June, 19, 2013
6/19/13
3:11
PM ET
A few notes from around the boxing world:

• Super middleweight champion Andre Ward is seeking to end his promotional contract with career-long promoter Dan Goossen for unspecified reasons. Ward (26-0, 14 KOs) recently asked the California State Athletic Commission for an arbitration hearing on the matter. Word through the boxing industry is that Ward, who has not fought since September and is out until the fall because of a shoulder injury and subsequent surgery, wants to sign with Top Rank to ensure a money fight with former middleweight titlist Julio Cesar Chavez Jr. Goossen declined comment to ESPN.com and Ward did not respond to a message.

• Junior lightweight contender Diego Magdaleno of Las Vegas has hired trainer Joel Diaz, who also serves as the head trainer for welterweight titlist Timothy Bradley Jr. Magdaleno will train with Diaz in the Palm Springs, Calif., area. After losing a split decision challenging titleholder Rocky Martinez on April 6 in Macau, Magdaleno parted ways with career-long trainer and manager Pat Barry, who still trains and manages younger brother Jessie Magdaleno (14-0, 10 KOs), a top junior featherweight prospect. Diego Magdaleno (23-1, 9 KOs), 26, replaced Barry on the management end with Frank Espinoza last month before getting together with Diaz on the training end.

• Although welterweight contender Kell Brook (29-0, 19 KOs) of England made several remarks this week about how everything is going well in his preparation for a rematch against Oklahoma City's Carson Jones (35-9-3, 25 KOs) on July 13 in Hull, England, Brook promoter Eddie Hearn acknowledged that he asked the Jones camp to amend the contract weight for the fight from 150 pounds to 152 because of weight issues. They are related to the fact Brook was limited in his workouts early in training camp because he was still recovering from a stress fracture in his right foot. The injury is what caused Brook to withdraw from a May 18 mandatory shot at welterweight titlist Devon Alexander. "I don't want to put too much pressure on him to make the weight and he was restricted early in camp because of [his] foot," Hearn said. "Can see a move to 154 soon." Jones manager Bobby Dobbs said their side rejected the push for the heavier weight.

• Light heavyweight titlist Bernard Hopkins, no longer training for his canceled July 13 mandatory defense against Karo Murat, will fill in some of his free time by serving as the guest commentator Saturday on Showtime's telecast (9 p.m. ET) headlined by the Paulie Malignaggi-Adrien Broner welterweight title bout at the Barclays Center in Brooklyn, N.Y. Hopkins will be filling in for Malignaggi, the regular Showtime expert commentator.

• Mercito Gesta suffered a rib injury in a sparring session and withdrew from a July 19 ESPN2 "Friday Night Fights" main event against junior welterweight contender Olusegun Ajose (31-1, 14 KOs). Ajose will still headline, but promoter Lou DiBella said he and ESPN are still working on a replacement opponent. Gesta (21-1-1, 14 KOs) was moving up to junior welterweight in the wake of a lopsided loss to lightweight titlist Miguel Vazquez in December.
April, 10, 2013
4/10/13
11:23
AM ET
Here's the lowdown on a bunch of fights that are either set, in the works or falling apart:

• Middleweight titlist Gennady Golovkin (26-0, 23 KOs) of Kazakhstan and former title challenger Matthew Macklin (29-4, 20 KOs) of Great Britain have a deal in principle to fight June 29 in the main event of an HBO tripleheader, according to both camps. The fight likely will be finalized in the coming days and could be announced as soon as Saturday at a news conference in New York, where many boxing writers will be covering the Nonito Donaire-Guillermo Rigondeaux junior featherweight unification bout. No site is set yet, but the Foxwoods resort in Mashantucket, Conn., is the front-runner to host.

The co-feature will pit South African super middleweight Thomas Oosthuizen (21-0-1, 13 KOs) against Sacramento's Brandon Gonzalez (17-0, 10 KOs). The fight has been agreed to but isn't yet signed. The opener will feature Cleveland junior middleweight Willie Nelson (20-1-1, 12 KOs), although promoter Lou DiBella and HBO have been arguing over an opponent for days.

• Fresh off his junior lightweight title defense against Diego Magdaleno in Macau, China, last Saturday, Roman "Rocky" Martinez (27-1-2, 16 KOs) is looking toward his next defense. It could come against former featherweight titlist Orlando Salido (39-12-2, 27 KOs) in September in Martinez's native Puerto Rico, according to Salido's manager, Sean Gibbons. Salido, who lost his featherweight belt to Mikey Garcia in January, will fight June 1 in Mexico or June 15 in Puerto Rico before the possible bout with Martinez.

• Light heavyweights Tony Bellew (19-1-1, 12 KOs) of England and Isaac Chilemba (20-1-2, 9 KOs) of South Africa will meet in a rematch May 25 in London on the undercard of the Mikkel Kessler-Carl Froch super middleweight title rematch, according to Chilemba's promoter, Lou DiBella, who said he made a deal with Bellew promoter Eddie Hearn. Once again, Bellew and Chilemba will fight for the right to become champion Chad Dawson's mandatory challenger. Bellew and Chilemba met on March 30 in Bellew's hometown of Liverpool, England, and fought to a draw.

• The third fight between cruiserweight titlist Marco Huck (35-2-1, 25 KOs) and interim titlist Ola Afolabi (19-2-4, 9 KOs) is scheduled for May 11 in Germany, and both fighter camps say their man is training. However, promoter Don King, who doesn't handle either fighter yet won the purse bid for a whopping $1.5 million, still doesn't have a specific site or a television deal, leading both sides to believe the fight won't come off as scheduled. According to the Afolabi camp, the WBO, which is sanctioning the bout, has given King a Wednesday deadline to produce signed contracts for the fight or he will forfeit his right to promote the bout.

• Lightweight Ameth Diaz (31-11, 22 KOs) of Panama will travel to Martin Gethin's hometown of Walsall, England, for a lightweight title eliminator on May 24. Diaz was supposed to face Marvin Quintero in the eliminator on April 5 in Santa Ynez, Calif., but Quintero suffered a broken nose, needed surgery and withdrew from the fight. Since Quintero was unavailable, Gethin (24-3-1, 11 KOs) was the next available contender in the IBF's rankings for the eliminator. The Diaz-Gethin winner will become the mandatory challenger for Miguel Vazquez.

• Featherweight titlist Evgeny Gradovich (16-0, 8 KOs) of Russia will make his first defense against mandatory challenger Mauricio Munoz (26-3, 12 KOs) of Argentina. An April 16 purse bid was canceled after the sides made a deal. Top Rank, Gradovich's promoter, plans to put the fight on in June or July, probably on the undercard of featherweight titlist Mikey Garcia's first defense.

• The promoters for junior lightweights Rances Barthelemy (18-0, 11 KOs), a Miami-based Cuba native, and Thailand's Fahsi Sakkreerin (39-3-1, 21 KOs) reached an agreement for their title elimination bout. Warriors Boxing promoter Leon Margules told ESPN.com that the sides have agreed on the terms and that the fight will be promoted in the United States this summer. The Barthelemy-Sakkreerin winner will become the mandatory challenger for 130-pound titlist Argenis Mendez.
February, 28, 2013
2/28/13
6:11
PM ET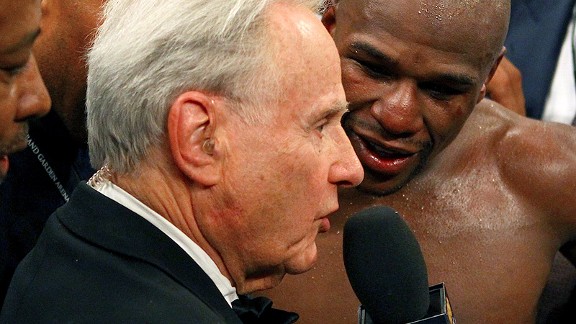 Al Bello/Getty ImagesFormer HBO analyst Larry Merchant will reunite with George Foreman for an April card in Macau.
Hall of Fame broadcaster Larry Merchant, a ringside staple of HBO broadcasts since the 1970s, retired at the end of 2012. Former heavyweight champ George Foreman was one of his longtime broadcast partners on HBO before leaving the network several years ago.
When they worked together, their chemistry and often heated on-air disagreements -- seemingly refereed by blow-by-blow man Jim Lampley -- made "World Championship Boxing" a must-see show regardless of who was fighting in the ring.
Well, Merchant, perhaps like many of the fighters he has covered, is coming out of retirement for at least one fight card and will team with Foreman to call Top Rank's excellent slate of fights that will take place on April 6 in Macau.
Top Rank is producing the show and responsible for hiring the on-air talent, but it made a deal with HBO to carry the card in the United States on its HBO2 service beginning at 2 p.m. ET/PT (on about a 4½-hour delay in the East and 7½-hour delay in the West), meaning Merchant and Foreman -- whose call will also serve as the English-language international broadcast -- will be reunited on HBO. Tim Ryan, who called fights for many years on CBS, will serve as the blow-by-blow man on the broadcast.
It will be something of a reunion between Merchant and Ryan, too. Merchant told me that the first fight card he ever called, on NBC in 1976 in Paris, was with Ryan as his partner. It featured a middleweight title fight between Rodrigo Valdez and Nessim Max Cohen and a heavyweight fight between Earnie Shavers and Henry Clark.
"Larry and George are like Abbot and Costello, they work so well together," Top Rank president Todd duBoef said. "You include Tim and there is nobody better to represent our boxing brand in the biggest, fastest growing market in the world."
The Macau card, which will take place at Cotai Arena at The Venetian Macao, is a good one. The HBO2 broadcast will include junior flyweight Zou Shiming, the three-time Chinese Olympic medalist (and two-time gold winner), making his professional debut in the four-round main event against Mexico's Eleazar Valenzuela (2-1-2, 1 KO). He is a major star in China and his pro debut is a big deal there, which is why he is in the main event position.
But the broadcast will also include the two world title fights on the card: junior lightweight titlist Roman "Rocky" Martinez (26-1-2, 16 KOs) of Puerto Rico defending against Diego Magdaleno (23-0, 9 KOs) of Las Vegas and unified flyweight titlist Brian Viloria (32-3, 19 KOs), a Filipino from Hawaii, defending against Mexico's Juan Francisco Estrada (22-2, 17 KOs).
"We are delighted that HBO recognizes, as we do, the historic nature of the Macau event and is making it available on a same-day basis to its subscribers on HBO2," Top Rank chairman Bob Arum said.
Although HBO is paying a small license fee for the card -- "Their fee is not even covering my announcer expenses," duBoef said -- he wanted the HBO brand name behind the show more than money, as well as Merchant, Foreman and Ryan, who he called "iconic brand names."
"When introducing a new product to the biggest market in the world, we are thrilled that the biggest brands associated with boxing joins us," duBoef said. "HBO is the gold standard for the sport and we are honored to have their support and commitment to expanding the boxing brand.
"Big George coming to China to do the show is a big deal. Having Larry Merchant and Tim Ryan on is a big deal. They'll do interviews, the people there will see them and know this is a big event."
The two other featured bouts on the card include former junior featherweight titlist Wilfredo Vazquez Jr. (22-2-1, 19 KOs) of Puerto Rico against Japan's Yasutako Ishimoto (20-6, 4 KOs) and junior middleweight contender Vanes Martirosyan (32-0-1, 20 KOs) of Glendale, Calif. against Javier Francisco Maciel (24-2, 17 KOs) of Argentina.
Those bouts won't be on HBO2, but Vazquez-Ishimoto will air on same-day tape on UniMas' "Solo Boxeo Tecate" with Martirosyan-Maciel also part of the broadcast, time permitting.
January, 17, 2013
1/17/13
1:39
PM ET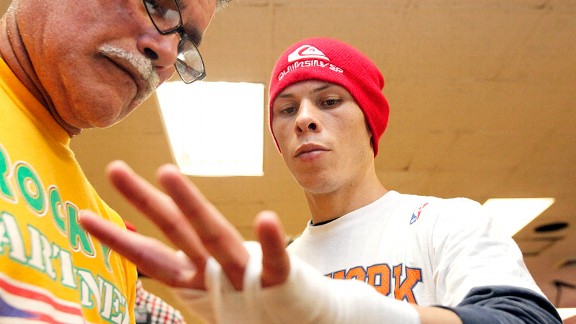 Chris Farina/Top RankRocky Martinez and Saturday's opponent, Juan Carlos Burgos, are a pair of crowd-pleasers.
On paper, at least, HBO has put together an excellent tripleheader to kick off its year of boxing coverage. In my view, all three fights -- which are being put on in a joint promotion by Top Rank and K2 Promotions -- should produce action.
The main event on Saturday night (HBO, 9:45 ET/PT) at the Madison Square Garden Theater in New York will pit featherweight titlist Orlando Salido against Mikey Garcia. The co-feature will match middleweight titlist Gennady Golovkin (one of the most crowd-pleasing fighters in boxing) against Gabriel Rosado.
As interesting as those two fights are -- and they are both very compelling -- I think that the opener, which will match junior lightweight titlist Roman "Rocky" Martinez (26-1-1, 16 KOs) and mandatory challenger Juan Carlos Burgos (30-1, 20 KOs), has a chance to steal the show.
The fight, a classic matchup of Puerto Rico (Martinez) versus Mexico (Burgos), is the least-publicized of the three bouts, but it could wind up being the best.
Martinez has been in some very good fights. When he lost his junior lightweight belt via decision to Ricky Burns in Scotland in 2010, it was a tremendous battle. And when Martinez reclaimed his old belt (which Burns had vacated) in September in a bloody split-decision slugfest with Miguel Beltran Jr., it was a legit candidate for the fight of the year. In fact, aside from the epic 12th round of the Sergio Martinez-Julio Cesar Chavez Jr. main event, that Martinez-Beltran fight basically stole the show.
Martinez said he will be even better for this fight than he was in the tough fight with Beltran.
"We have been working hard for this fight against Burgos because we know he is a good fighter and slick," Martinez said. "But I'm better than for the fight against Miguel Beltran. We have a plan for this fight, but we are ready for all Burgos brings.
"I learned a lot in my last fight against Beltran. After that fight, I went right back to the gym and haven't stopped training since."
Burgos (30-1, 20 KOs) is on a nice run and has also been in crowd-pleasing fights. In his past three bouts, Burgos bumped off undefeated Puerto Rican Luis Cruz in what many considered an upset; he clearly outpointed former featherweight titlist Cristobal Cruz; and in July, Burgos destroyed undefeated Cesar Vazquez in the third round.
Burgos is a mandatory challenger who actually deserves his title shot because of his results, not just good connections. Also, his only loss -- a decision -- came at the hands of Hozumi Hasegawa in a 2010 vacant featherweight world title fight in Japan. Hasegawa won the fight, and deservedly so, but it was a very, very good scrap.
Now Burgos is getting his second title shot, and he doesn't plan to let it go by the wayside.
"I don't want to let this opportunity get away from me," he said. "I have been in this position before when I faced Hasegawa and I know I could've done much better that night. It could have been a life-changing victory for me, but I let that one get away. Not this time. I have grown mentally and physically, and I am prepared for a fight like this and I know it will be exciting.
"Not only do I want to get the victory and be a champion, but I want to please the crowd and make sure that the fans get their money's worth."