Dan Rafael:

Roy Jones Jr.
March, 11, 2014
Mar 11
10:06
AM ET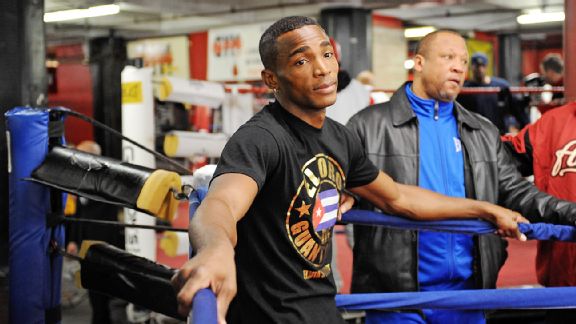 Maddie Meyer/Getty ImagesJunior middleweight contender Erislandy Lara wants a shot at Canelo Alvarez.
It's one of the oldest tricks in the book for a desperate boxer looking to land a big fight: Go to the star's press conference and call him out. Demand that he fight you. Sometimes it even works.
It did for Antonio Tarver years ago when he made a scene at the press conference after Roy Jones Jr. had just beaten John Ruiz to win a heavyweight world title.
In his next fight, Jones returned to light heavyweight and gave Tarver a shot, outpointing him in a championship fight that turned out to be the first bout of their trilogy (which Tarver won 2-1).
The latest to pull the stunt was Houston's Erislandy Lara, the skillful Cuban defector who crashed Canelo Alvarez's post-fight news conference following his dominant 10th-round knockout of Alfredo Angulo on Saturday night at the MGM Grand in Las Vegas.
Lara, a southpaw, has been looking for a major fight. He was upset that even though he survived two knockdowns and stopped Angulo in the 10th round to win a vacant interim junior middleweight title in June that it was Angulo who got the money fight with Alvarez instead of him.
Lara (19-1-2, 12 KOs), who, like Alvarez, is promoted by Golden Boy, took to the podium at the press conference and, with Alvarez standing right next to him, said, "Everyone wants to see the fight. When can you and I fight?"
It was only Lara's latest attempt to lure Alvarez (43-1-1, 31 KOs) into facing him. Calm and cool, the Mexican star didn't miss a beat.
"Everyone wants to see it? Who wants to see the fight," Alvarez asked the crowd inside the media center at the MGM Grand in Las Vegas.
One person raised his hand – Luis DeCubas Jr., Lara's manager.
"Isn't that that your manager," Alvarez asked Lara in a mocking fashion that drew laughter from the crowd. "This is not how you make fights, so you'll have to wait."
Alvarez is due back in the ring on July 26, according to the plan Golden Boy chief executive Richard Schaefer laid out a few months ago calling for Alvarez to have three Showtime PPV fights in 2014.
Alvarez does not have an opponent, so Lara conceivably could get his wish, although there will be other candidates for Alvarez to pick from.
Lara, meanwhile, will have other business to attend to first. Schaefer said Lara is likely to defend his belt in Las Vegas on May 2 – on the eve of Floyd Mayweather's welterweight unification fight with Marcos Maidana – against former titlist Ishe Smith of Las Vegas.
Smith (25-6, 11 KOs), thanks to being promoted by Mayweather, would be getting the interim title bout despite coming off losing his world title to Carlos Molina in September on the Mayweather-Alvarez undercard.
June, 18, 2013
6/18/13
8:38
PM ET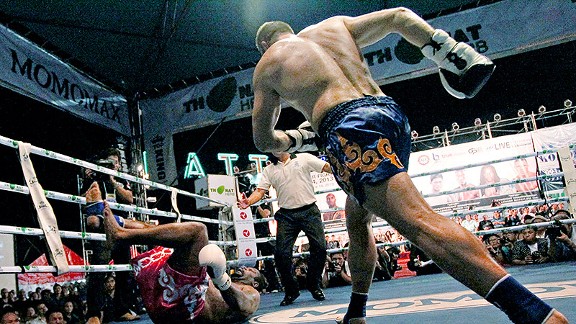 AP Photo/Apichart WeerawongFormer heavyweight boxing champ Riddick Bowe continued his fall in a one-sided Muay Thai match.
Fighters carrying on past their primes is nothing new. It's a time-honored, albeit sad, tradition. It has happened with more fighters than I care to count.
Of recent vintage, Roy Jones Jr., Evander Holyfield and James Toney, to name just three, have stuck around too long. They were once among boxing's elite and rate as all-time great champions, but they didn't know when to hang up their gloves.
Still, as rough as it might be to watch them now, or any other older fighter trying to recapture past glory that is never coming back, what I saw over the weekend was about as bad as it gets. It was downright disturbing.
I watched a YouTube video of former heavyweight champion Riddick Bowe in a Muay Thai fight in Thailand, where that kickboxing discipline is an immensely popular sport.
Bowe has to be one of the saddest cases in boxing history. He was once the undisputed heavyweight champion. He was charismatic, kicked butt and earned obscene sums of money. His famed trilogy with Holyfield will go down as one of the greatest rivalries the sport has known.
But that was a long, long time ago.
Bowe has been swamped with legal, personal and financial problems for years, and even did jail time for a domestic incident in which he held his family against their will. As far as boxing goes, he began showing signs of brain trauma, slurring his words, after his second brutal disqualification win against Andrew Golota in 1996. (His lawyer even used brain damage as part of the defense to fight the kidnapping charges.)
Injury or not, Bowe made a comeback and fought once in 2004 and once in 2005, both times against nobodies. He won the first bout by easy knockout and struggled to a 10-round decision in the second. Then he fought again in 2008, looking horrible in an eight-round decision win against another nobody.
All the while, Bowe would boast about how he was training seriously (although, obviously, he wasn't; his weights for his three most recent bouts were 263, 280 and 271) and wanted a shot at one of the Klitschko brothers, which would have been a laugh-out-loud-joke if he wasn't so delusionally serious.
Although Bowe hasn't boxed since that 2008 travesty, he took part in the Muay Thai fight over the weekend and got embarrassed in two rounds by 30-year-old Russian Levgen Golovin.
Bowe is now 45. He weighed 300 pounds against Golovin. He could barely move. He didn't throw a single legitimate punch or kick in the entire fight. And he got the stuffing kicked out him for a reported purse of $150,000 -- good money, I guess, for a guy who is in financial difficulty.
The entire thing was gross by every definition, from the fact that a promoter paid him to get into a ring at all, that it was sanctioned, that people actually showed up to watch and that Bowe would so demean himself.
I'll admit that I watched the fight in the same way somebody might look at the car wreck on the side of the road. Anyone who watched Bowe saw an old man with no remaining discernible skills -- one who looked like he hadn't trained for five minutes -- get dropped multiple times with kicks to the shins. Honestly, I lost count of how many times he went down, but the Associated Press report on the bout said it was five.
The report also said that the sweltering-hot venue had no dressing rooms, so Bowe and the other fighters changed in open-air tents beside the stage. That's a long way from the glitz and glamour of Caesars Palace.
When the fight was over, I felt like I needed to take a shower. Yet Bowe incredibly said he would try it again.
The whole thing was reminiscent of -- but worse than -- the movie "The Wrestler," in which Mickey Rourke played broken-down, past-his-prime pro wrestler Randy "The Ram" Robinson. Robinson would perform on small, out-of-the-way club shows, trading on his once-great name and nothing more.
Bowe is doing precisely the same thing, except this isn't a movie. This is real life, and that just makes it even sadder.
November, 15, 2012
11/15/12
1:16
PM ET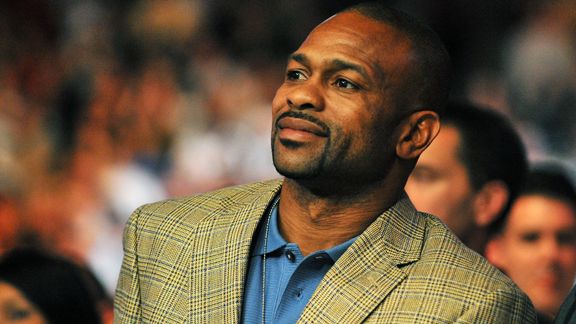 Jon Kopaloff/Getty ImagesRoy Jones Jr. will assume the late Emanuel Steward's role on HBO cards for the rest of 2012.
The decision was one that nobody at HBO wanted to have to make, but it was necessary in the wake of Emanuel Steward's death last month.
Besides training fighters, Steward worked as an analyst on HBO telecasts for about a decade, calling fights on the network's top series, "World Championship Boxing", and its pay-per-view telecasts.
With Steward's passing -- several of his friends from HBO Sports attended his memorial service in Detroit on Tuesday -- HBO made official on Thursday the move most thought would be made. The network announced that Roy Jones Jr., the "Boxing After Dark" expert commentator, will assume Steward's role on "WCB" and PPV cards for the rest of 2012, including Saturday night's Antonio DeMarco-Adrien Broner card in Atlantic City, N.J.
Jones began filling in for Steward in September, when he was too ill to work and had to miss the Andre Ward-Chad Dawson and Sergio Martinez-Julio Cesar Chavez Jr. broadcasts.
As for what the network will do next year, HBO spokesman Ray Stallone said that "2013 will be addressed at the start of the new year."