Dan Rafael:

Saul "Canelo" Alvarez
May, 8, 2013
5/08/13
2:17
PM ET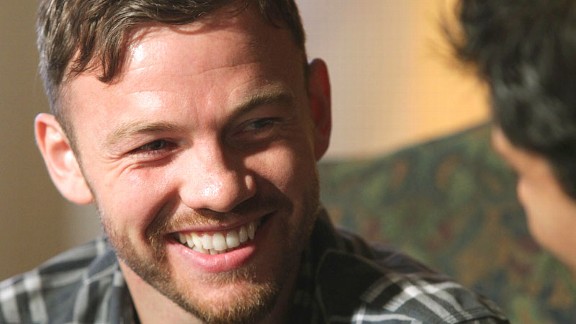 Chris Farina/Top RankAndy Lee is looking for his second straight victory after losing to Julio Cesar Chavez Jr.
A little of this and a little of that from the boxing world:
• Middleweight contender Andy Lee (29-2, 20 KOs), 28, of Ireland, gets back in action May 15 on promoter Lou DiBella's Broadway Boxing card at B.B. King Blues Club in New York. Lee will be seeking his second win in a row following his seventh-round knockout loss to then-titleholder Julio Cesar Chavez Jr. in June. Lee will face Darryl Cunningham (28-4, 11 KOs) in a scheduled 10-round bout. It will be Lee's second fight since the untimely death of longtime trainer and close friend Emanuel Steward. Lee has since moved his base from Steward's hometown of Detroit back to the United Kingdom to train with Adam Booth.
"I'm very much looking forward to this fight," Lee said. "Having lived in New York for two years, I know firsthand what a great fight town it is. The New York fight fans are a very knowledgeable crowd, and I intend on putting on a first-class performance for them. I want to thank my promoter Lou DiBella for giving me this chance to showcase my skills as I look to rebuild myself into title contention."
• When featherweight titlist Miguel Angel "Mikey" Garcia makes his first defense against Juan Manuel Lopez on June 15 in Dallas, the HBO co-feature will feature Terence Crawford in a lightweight fight against Alejandro Sanabria (34-1-1, 25 KOs) of Mexico, according to Top Rank vice president Carl Moretti. Crawford (20-0, 15 KOs), 25, of Omaha, Neb., had his coming-out party March 30 when he filled in as a late substitute to face junior welterweight Breidis Prescott on the HBO-televised co-feature of the Mike Alvarado-Brandon Rios rematch. Crawford dominated, but when he faces Sanabria, he will drop down to his more natural lightweight division, Moretti said.
• Welterweight champion Floyd Mayweather Jr.'s lopsided decision win against interim titlist Robert Guerrero in Saturday's Showtime PPV main event at the MGM Grand in Las Vegas will be replayed on Saturday night (Showtime, 9 ET/PT). The telecast will open with a replay of Abner Mares' ninth-round knockout of Daniel Ponce De Leon to win a featherweight world title, the third weight class in the past three years that Mares has won a championship in.
• The hunt for an opponent for Cleveland junior middleweight contender Willie Nelson (20-1-1, 12 KOs) is, at last, over. After weeks of back-and-forth between DiBella, Nelson's promoter, and HBO, they finally settled on Argentina native Luciano Cuello (32-2, 16 KOs), who will face Nelson on June 29 in the opening bout of an HBO tripleheader at Foxwoods Resort Casino in Mashantucket, Conn. Middleweight titlist Gennady Golovkin (26-0, 23 KOs) defends against Matthew Macklin (29-4, 20 KOs) in the main event with super middleweights Thomas Oosthuizen (21-0-1, 13 KOs) and Brandon Gonzalez (17-0, 10 KOs) meeting in the co-feature. Cuello's only two losses came against well-known Mexican stars before they won their world titles -- a unanimous 10-round decision to Julio Cesar Chavez Jr. in 2009 and a sixth-round knockout against Saul "Canelo" Alvarez in 2010.
• Junior welterweight titlist Khabib Allakhverdiev (18-0, 8 KOs) will make his first defense, a mandatory, against former titlist Souleymane M'baye (40-4-1, 22 KOs) on July 13 in Monte Carlo, Monaco. Allakhverdiev was supposed to defend his title for the first time against Prescott on March 30 on HBO on the Alvarado-Rios II undercard, but he injured his right elbow and withdrew. The fight will be on the same card as the final of the Monaco Million Dollar Super Four final between Denis Grachev (13-1-1, 8 KOs) and Edwin Rodriguez (23-0, 15 KOs), who will meet at a catchweight of 171½ pounds because Grachev is a light heavyweight and Rodriguez is a super middleweight. In the March 30 semifinals in Monte Carlo, Grachev advanced with a decision win against former light heavyweight titlist Zsolt Erdei and Rodriguez outpointed Ezequiel Osvaldo Maderna.
• Covina, Calif., lightweight John Molina (25-2, 20 KOs) is on the comeback trail seeking his second win in a row following his 44-second knockout loss to Antonio DeMarco in a September world title fight. Molina, who rebounded for a fourth-round knockout win against Dannie Williams in January, will face Andrey Klimov (15-0, 8 KOs) of Russia in a scheduled 10-rounder on June 7 at the Little Creek Casino and Resort in Kamilche, Wash., in the main event of ESPN2's "Friday Night Fights," promoter Dan Goossen announced. In the super middleweight co-feature, Farah Ennis (20-1, 12 KOs) of Philadelphia meets Anthony Hanshaw (23-2-2, 14 KOs) of High Point, N.C.
April, 9, 2013
4/09/13
11:34
AM ET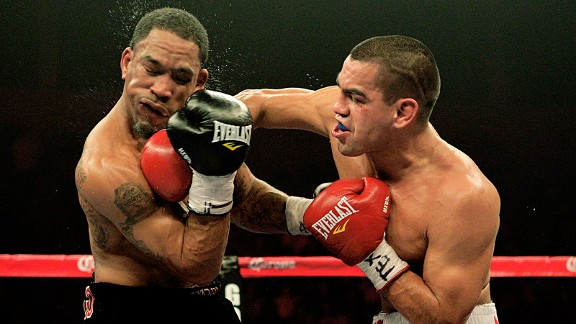 Bob Levey/Getty ImagesCarlos Molina, right, will have his first world title opportunity against Ishe Smith.
Junior middleweight contender Carlos Molina, a guy nobody really wants to fight, is the reason why mandatory challengers exist. If a sanctioning organization did not make him a mandatory challenger, it is very likely he would never get a title shot because he's too much risk for too little reward.
But Chicago's Molina (21-5-2, 6 KOs) now has a deal in place for his first world title opportunity. He won a lopsided decision against former titleholder Cory Spinks on Feb. 1 in a title eliminator to become the IBF's mandatory challenger and, according to Warriors Boxing promoter Leon Margules, Molina's promoter, a deal has been reached for Molina to get his shot against titleholder Ishe Smith.
Smith (25-5, 11 KOs), the first native of Las Vegas to win a world title, claimed a 154-pound belt via decision against Cornelius "K9" Bundrage on Feb. 23 and is obligated to make his first defense against Molina.
Margules said he worked out a deal with Mayweather Promotions CEO Leonard Ellerbe for the fight, so a scheduled April 16 purse bid was called off. Margules said the terms of their agreement call for the bout to take place on or before July 27 at a site to be determined.
"We made an agreement to let [Mayweather Promotions] promote the fight," Margules said. "We made a deal on the money, on the airline tickets, on the parameters of the fight. I went back and forth with Leonard and we worked it out."
Now the sides have two weeks to send signed contracts to the IBF.
Nobody handed Molina the shot. He actually earned it following a return to the ring in 2011 after a nearly two-year layoff caused by a promotional battle with Don King.
Upon his return, Molina got a draw in a fight he deserved to win against top contender Erislandy Lara, knocked out Allen Conyers, rolled past former welterweight titlist Kermit Cintron and then dominated James Kirkland before being wrongly disqualified in the 10th round. Two more wins followed, a shutout of Damian Frias and then the easy win over Spinks.
"I think Molina can beat anybody in the division, whether it's Ishe Smith, Canelo Alvarez, Austin Trout, anybody," Margules said. "He's hell for anybody, so we're excited to get a shot at the title."
March, 1, 2013
3/01/13
11:24
AM ET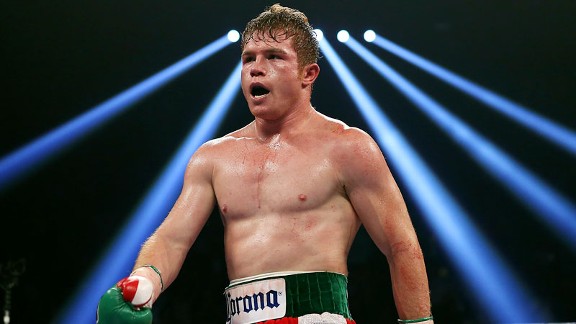 Josh Hedges/Getty ImagesJunior middleweight titlist Saul "Canelo" Alvarez said Floyd Mayweather does not want to fight him.
Junior middleweight titlist Saul "Canelo" Alvarez campaigned hard -- against the wishes of some his handlers -- for a unification fight against Austin "No Doubt" Trout.
All along the hang up in announcing the fight was not Alvarez's unwillingness to fight Trout. He wanted the fight badly and Trout wanted to fight Alvarez too. The issue was the date.
It finally got made on Wednesday with Golden Boy promoter Richard Schaefer announcing that it would take place on April 20 at the Alamodome in San Antonio and headline a Showtime-televised card.
"

Mayweather has no word to support what he says. The contract was already within the terms and just was missing the signature He said yes, but nothing happened at the end. Floyd never signed anything.

"

-- Saul Alvarez on Floyd Mayweather Jr.
"I am very happy with my fight," Alvarez told ESPN.com. "Austin Trout is a great fighter and I will give what people want -- a great battle and a great night for all."
It's a great fight, one of the most interesting of the year. But it was supposed to be the co-feature on the May 4 Floyd Mayweather Jr.-Robert Guerrero Showtime PPV card.
That didn't happen only because, according to Golden Boy, Mayweather refused to sign a contract agreeing to fight Alvarez in his next fight, as long as they both won on May 4.
Mayweather-Alvarez is a mega fight if it happens. Having them both on the same May 4 card against excellent opponents with the specter of a fall showdown would have made the card enormous.
Mayweather-Guerrero will be a big pay-per-view even without Alvarez but you know what? With him on the card, had it been against Trout (26-0, 14 KOs) or somebody else, would have made it gigantic, as in hundreds of thousands of buys over 1 million, in my opinion.
But Mayweather (43-0, 26 KOs) wouldn't agree to fight Alvarez (41-0-1, 30 KOs), at least contractually before May 4. Mayweather supposedly said he would but wouldn't put his signature to it. Alvarez rightfully felt that without a written guarantee there was no reason for him to lend his name, star power and economic muscle to Mayweather's pay-per-view. Alvarez-Trout will get its own multi-million dollar license fee from Showtime and do its own seven-figure gate. It is better than an undercard fight.
Don't get me wrong -- had Alvarez-Trout been on May 4, I'd have been as happy as anyone. It would have been great for boxing fans to get that caliber fight on an undercard of a $70 pay-per-view.
But I never really thought it would happen. Too good to be true because I never thought Mayweather would agree to fight Alvarez at this point.
Maybe Mayweather will beat Guerrero (31-1-1, 18 KOs) and maybe Alvarez will beat Trout (both are legitimately tough fights on paper) and they will still fight in the fall. But without that guarantee, Alvarez basically said to hell with Mayweather and I don't blame him.
Why should he just take Mayweather's word that he will fight him next? Why, with all those guaranteed fights on his new six-fight deal with Showtime PPV, would Mayweather fight perhaps the toughest opponent in the second fight of the deal and possibly mess up the rest of those huge money guarantees?
Anyone who knows anything about network multi-fight deals knows that typically the biggest money fight -- when there is usually the most risk involved -– comes at the end of the deal after as much money has been sucked out of the deal as can be sucked.
Besides, we've already seen how Mayweather moved the goal posts in his drawn out talks for a Manny Pacquiao fight. First it was drug testing (which he still harps on in interviews even though Pacquiao long agreed to it). When that got solved it was a date or venue that didn't work for Mayweather. Then he refused a percentage split, only wanting to pay Pacquiao a set fee, which he knew was a non-starter. It was always going to be something and probably will with Alvarez too if he beats Trout.
Alvarez, the 22-year-old Mexican star, always preferred being on his own show anyway but was willing to go on Mayweather's undercard as long as he knew he had him next. He didn't get that guarantee and so he will move on with his own card.
"Mayweather has no word to support what he says. The contract was already within the terms and just was missing the signature," Alvarez said. "He said yes, but nothing happened at the end. Floyd never signed anything. But in spite of all that I am happy with my fight and my own date. This is what I wanted from the beginning.
"I have no need for Mayweather to impose conditions because I can have my own fans, my own event and my own history. I'm tired of being accessible to fight him, since he never was real in what he was talking. The truth is he does not want to fight me. I will continue doing my own history."
October, 2, 2012
10/02/12
7:12
PM ET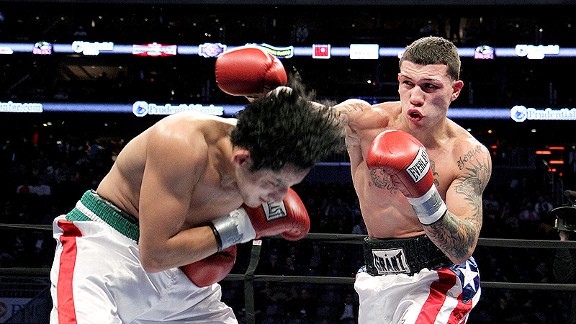 AP Photo/Gregory PayanGabriel Rosado, right, is ready to make a name for himself in the junior middleweight division.
Junior middleweight contender Gabriel Rosado, one of the hottest contenders around, will get a mandatory title shot but he is hoping for an even bigger fight.
Rosado hammered Charles Whittaker into a 10th-round knockout on Sept. 21 in the main event of a "Fight Night" card on NBC Sports Net in a title eliminator to become the mandatory challenger for Cornelius "K9" Bundrage.
But like every other fighter at 154 pounds, he'd love a shot at division money man and titleholder Saul "Canelo" Alvarez.
"I think it's funny because Canelo is the champion and they are taking care of him, protecting him," Rosado said of Golden Boy, Alvarez's promoter. "You shouldn't protect the champion. I think once you are the champion you should just fight the best competition out there. It's kind of like a joke, being the junior middleweight champ and then you're fighting lightweights (as Alvarez did against Josesito Lopez on Sept. 15). I think Canelo is a fighter. I think personally if it were up to Canelo he would take the fight. At the end of the day it is a business. He is the hot ticket at 154 so they want to keep that ball rolling, so obviously facing a guy like me is a big threat to them."
It has been quite a recent run for the 26-year-old Rosado (21-5, 13 KOs), who had only 11 amateur fights before turning pro in 2006. A lot of his pro career has been on-the-job learning, which is why his record is dotted with a few losses.
But he has earned his title shot by beating credible opponents and doing it in impressive fashion. He has come into his own during a seven-fight winning streak that began in December 2010. During the streak, Philadelphia's Rosado has had three consecutive strong performances on "Fight Night."
He knocked out the usually durable Jesus Soto Karass in the fifth round in January, followed up with a ninth-round knockout of longtime contender Sechew Powell in June and then rolled past Whittaker last month.
The mandatory with Bundrage is due by March, although Bundrage has been linked to other potential fights that would take place before the mandatory defense. So Rosado likely will fight again before March just to remain sharp.
But the fact that Rosado can even be discussed as a serious title challenger or in the same sentence as a possible future opponent for Alvarez, or even Miguel Cotto, is a sign of just how far he has come.
"I think to expect that Canelo or Cotto or one of those guys was going to say three, four , five months ago, even after the Sechew Powell fight, 'Yeah we'll fight Gabby,' I think that was a little unrealistic," promoter Russell Peltz said. "I think now, even though a lot of people pooh-poohed Whittaker before the fight, they saw him cracking Gabby with some good left hooks after knockdowns, and the fact that Whittaker was actually a world class fighter despite the fact that he hadn't been seen much on American TV, I think now Gabby is definitely in the mix with everybody, whereas six months ago it was just wishful thinking -- not ability-wise, but I think marketing-wise."
Peltz said there were talks for a possible Alvarez-Rosado bout before the Alvarez camp picked Lopez, a career lightweight and junior welterweight who had pulled off a big upset of Victor Ortiz in June at welterweight before being offered the fight with Alvarez at an even heavier weight. (Alvarez wiped him out, scoring three knockdowns en route a fifth-round knockout.)
"I spoke to Stephen Espinoza at Showtime, but I guess they wanted to keep it in-house. We think Canelo should come out and play with guys his own size," Peltz said.
Rosado, of course, will be happy to challenge Bundrage for his belt – or whomever might hold it by March – but Alvarez is the guy he keeps coming back to.
"I think people are just starting to know who I am. I think it's a fight that would sell because you have two young fighters. I'm Puerto Rican, he's Mexican and at the end of the day we all know that the biggest rivalry in boxing is Puerto Rico and Mexico," said Rosado, who is trained by Billy Briscoe. "I think that can sell. And then he can fight and I can fight. We both have knockout power, so I think the fight is a fight that can sell."