Dan Rafael:

Sergei Liakhovich
August, 16, 2013
8/16/13
3:27
PM ET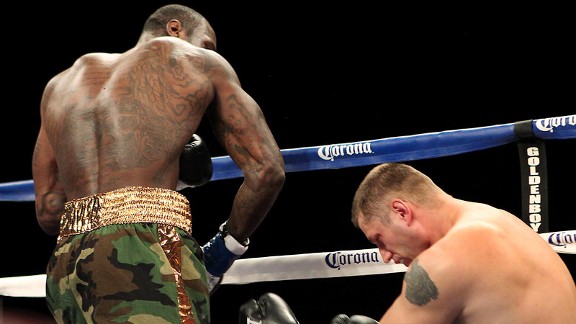 Courtesy of Tom Casino/ShowtimeSergei Liakhovich claims the knockout punch delivered by Deontay Wilder was an illegal one.
Anyone who watched heavyweight prospect Deontay Wilder's stoppage of Sergei Liakhovich last week saw the former titlist get drilled. Knocked out. Smashed. Obliterated.
The first-round knockout Liakhovich suffered as a result of two brutal right hands from Wilder was so destructive that they left Liakhovich literally convulsing on the mat, his arms and legs flopping around uncontrollably.
It was not all that unexpected of a result, given that Liakhovich is far past his best days, which were in 2006, when he briefly held a piece of the title. My prediction was that Wilder would knock him out in the second round. OK, so I was off by a round.
Wilder blitzed him with absolute ease and undoubtedly will move on to a bigger and, hopefully, more competitive fight while it seemed obvious to almost everyone else that Liakhovich, a brave fighter for so many years, was done. With his third decisive knockout loss in a row, he would be best served by retirement.
But Liakhovich is like many fighters who don't know when enough is enough. There is nothing to be ashamed of when a fighter gets knocked out by the bigger, better, younger, fresher foe, as Liakhovich did in 1 minute, 43 seconds. What there is to be ashamed of is what Liakhovich did on Thursday, which is to whine the sourest grapes of all by saying he would protest the knockout loss because of illegal punches.
If Wilder's punches were illegal then boxing shouldn't exist. If Wilder's punches were illegal than I guess so was the shot that Juan Manuel Marquez knocked out Manny Pacquiao with or the blow that Pacquiao knocked out Ricky Hatton with or the punch that Thomas Hearns stopped Roberto Duran with or the punch that Mike Tyson stopped Michael Spinks with or the shot that George Foreman drilled Michael Moorer with. I think you get my point.
Simply, Wilder's shots were clean, legal and ferocious.
Liakhovich, however, can't deal with the reality. Nobody should ridicule him for losing, but for his preposterous protest he deserves it after announcing Thursday that he would file a protest over the fight result with the California State Athletic Commission.
Anthony Cardinale, Liakhovich's attorney, will file the paperwork seeking the outcome of the bout be changed to a no contest. It's a waste of time, but probably will amount to some nice billable hours.
As if the notion of the protest is not hilarious enough, try to read Liakhovich's statement with a straight face.
"My goal for going public is to expose Wilder and show people what really happened because it was difficult to clearly see his illegal punches on television due to the camera placement and how quickly it happened," Liakhovich said. "I also feel that I disappointed a lot of people who believed in me and I feel it's important to explain what happened to them. Wilder's people are sending out press releases to hype him up even more, so it's very important for me to expose him for what he is and how he fights."
What Wilder is? A massive puncher, especially with his right hand. That is why he is 29-0 with 29 knockouts. How he fights? Like a bad man.
Apparently, Liakhovich thinks this is a problem.
"If he had hit me in the face, fair and square, I would have kept my mouth shut and said he was the better man," Liakhovich said.
Actually, Wilder is the better man, but Liakhovich claims that was he was hit with an illegal punch over the ear (which is not illegal) followed by a right "behind" his head.
"Everybody's going around saying nobody can stand up to his power, 29 knockouts in 29 fights, but any heavyweight would go down from a punch behind the head," Liakhovich rationalized. "That's why it's an illegal punch. There's nothing you can do when you get hit with a punch like that; your body just goes wobbly with no balance at all."
It's called getting knocked out, but Liakhovich's delusion knows no bounds. He said he had an MRI after the fight, that he's fine and plans to keep fighting.
"My career will not end on a fight like this that ended because of illegal punches," he said. "I will be back in the gym next week and plan to be fighting again in a few months."
Golden Boy chief executive Richard Schaefer, who promotes Wilder, had some other advice for Liakhovich, which is hard to disagree with, telling ESPN.com, "Now I am really worried that he might have a concussion to think that the result of this fight should get overturned.
"He is a crybaby. He should take his loss as a man and probably look for a different form of employment."
July, 31, 2013
7/31/13
12:46
PM ET
A few notes from the boxing world:

• Fans who like watching the biggest pay-per-view fights at a movie theater can do so again for the year's biggest bout, the Sept. 14 junior middleweight unification bout between pound-for-pound king Floyd Mayweather Jr. and Canelo Alvarez. NCM Fathom Events and Golden Boy Promotions have partnered in recent years to bring fights to the big screen and they are doing so again to make "The One" pay-per-view card available at nearly 550 movie theaters across the country. The HD presentation will be the same as the home Showtime pay-per-view telecast, including the much-anticipated junior welterweight championship fight between Danny Garcia and Lucas Matthysse. To find the theater closest to you and for ticket prices (which vary by theater but are far cheaper than the pay-per-view price tag) check out NCM Fathom's website at www.FathomEvents.com for the list.

"I love that so many of my fights have been shown in movie theaters," said Mayweather, who has had all of his fights since 2009 shown in theaters. "It's something that I wanted to bring to the fans for a long time. It's my job to give the fans the best entertainment possible."

• In his return from a fractured hand, featherweight Gary Russell Jr. (22-0, 13 KOs), the 2011 ESPN.com Prospect of the Year, will face Juan Ruiz (23-11, 7 KOs), according to Golden Boy. The fight is due to take place Aug. 9 on the untelevised portion of the Showtime "ShoBox" card headlined by heavyweight prospect Deontay Wilder against former titlist Sergei Liakhovich at the Fantasy Springs Resort Casino in Indio, Calif. As usual, Russell and his team are not looking to take any chances whatsoever as he faces yet another woefully weak opponent. Ruiz has lost six fights in a row and nine of his last 10.

• Former junior welterweight titlist Amir Khan, who likely will challenge Devon Alexander for a welterweight belt in December, announced that he has parted ways with longtime business manager Asif Vali, who was at his side for years. Khan announced the separation was by "mutual agreement." Other than Khan's family members, Vali was the most trusted member of Khan's inner circle. "I would like to sincerely thank Asif for all his hard work and wish him the very best for the future," Khan said. Said Vali, "I would like to wish Amir and his family the very best for the future. I have enjoyed my time working with them and plan to remain in boxing as I explore new exciting ventures."

July, 11, 2013
7/11/13
1:07
PM ET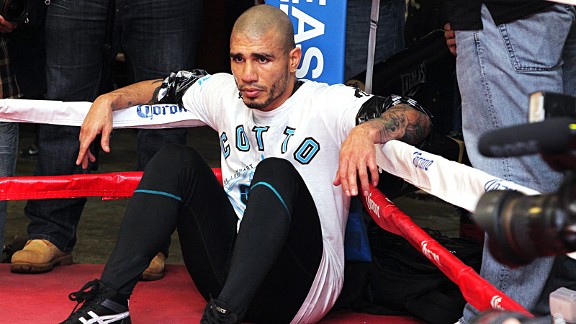 Tom Casino/ShowtimeMiguel Cotto's return to the ring on Oct. 5 will likely take place in Orlando, Fla., at the Amway Center.
The paperwork is being finalized to bring the Miguel Cotto fight on Oct. 5 (HBO) to the Amway Center in Orlando, Fla., Top Rank chairman Bob Arum told ESPN.com on Wednesday.
Arum had also been considering staging the fight at Marlins Stadium in Miami. Arum said either place would have been a good site, but he likes Orlando, where there is a sizable Puerto Rican population. It's also where Cotto has trained. Cotto's opponent for the junior middleweight fight isn't yet signed, but it likely will be two-time world title challenger Delvin Rodriguez.
The fight would be the most significant in that region since February 2007, when Chad Dawson won a light heavyweight world title for the first time by outpointing Tomasz Adamek at the Silver Spurs Arena in the Orlando suburb of Kissimmee. That card also featured two other world title bouts: Julio Diaz winning a lightweight belt against Jesus Chavez and Cory Spinks defending a junior middleweight title against Rodney Jones.
• The formal announcement of the world title doubleheader at the StubHub Center in Carson, Calif. on Aug. 24 (Showtime) was scheduled for Thursday at a Mexican restaurant in Los Angeles. Featherweight titlist Abner Mares will defend against former two-division titlist Jhonny Gonzalez in the main event, and junior featherweight titlist Victor Terrazas will face mandatory challenger (and former bantamweight titleholder) Leo Santa Cruz in the co-feature.
• Two televised undercard bouts for Showtime's Aug. 9 tripleheader at the Fantasy Springs resort in Indio, Calif., are set, according to Golden Boy matchmaker Eric Gomez: junior middleweight Jermall Charlo (14-0, 10 KOs) will take on Antwone Smith (23-4-1, 12 KO) and junior lightweight Francisco Vargas (16-0-1, 13 KOs) will meet Brandon Bennett (15-0, 7 KOs). Heavyweight prospect Deontay Wilder (28-0, 28 KOs), a 2008 U.S. Olympic bronze medalist, will headline against faded former titleholder Sergei Liakhovich (25-5, 16 KOs).
July, 5, 2013
7/05/13
1:06
PM ET
A few notes from my recent conversation with Golden Boy chief executive Richard Schaefer:

• Golden Boy is trying to wrap up the junior welterweight showdown between unified titlist Danny Garcia and interim titleholder Lucas Matthysse, which is one of the best fights in boxing. Although the main focus has been on finalizing it as a Sept. 7 Showtime main event, Schaefer said there is a possibility that it could land on the Sept. 14 Floyd Mayweather Jr.-Canelo Alvarez card as the co-feature. If that happens, the show would rank as one of the best pay-per-view cards ever.

• Former welterweight titlist Victor Ortiz, who competed on "Dancing with the Stars" while recovering from his broken jaw, is ready to return to action. Schaefer said he likely will be back in September, possibly on a Sept. 7 card or on the Mayweather-Alvarez undercard. He has no opponent yet.

• Now that Karo Murat has his visa and has been reinstated as light heavyweight titleholder Bernard Hopkins' mandatory challenger, Golden Boy is trying to reschedule the fight. "I'm looking at dates in late September or October," Schaefer said. The fight was originally scheduled for July 13, but it was canceled when Germany's Murat couldn't get a visa and it looked like it would take several months. Only after the show was canceled did Murat get the paperwork squared away, but by that time it was too late to proceed with July 13.

• When heavyweight prospect Deontay Wilder faces former titlist Sergei Liakhovich on Aug. 9 on Showtime, the initial idea was to stage the fight somewhere in Alabama, where Wilder is from. However, that didn't work out, and Schaefer said the card will instead take place at the Fantasy Springs Resort in Indio, Calif.

• Golden Boy is planning a card for Sept. 13 at The Cosmopolitan in Las Vegas as part of the Mayweather-Alvarez fight week festivities.