September, 18, 2014
Sep 18
12:37
PM ET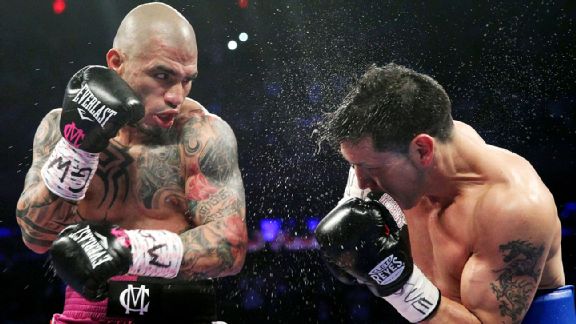 Chris Farina/Top RankSergio Martinez, right, will have his future decided by an orthopedic surgeon in New York.
Former middleweight champion Sergio Martinez was in New York on Tuesday to visit Dr. Answorth Allen, the orthopedic surgeon for the New York Knicks, and have his balky right knee examined.
"Sergio saw the doctor and got some initial thoughts and had some basic tests done," promoter Lou DiBella told ESPN.com. "They need to review his whole history. They have current films and older films that they want to compare against each other. They want to review the changes and see what's going on.
"Sergio had some tests [including an MRI] and did some exercises to check his mobility, but it will be a few days or a week before there is a specific recommendation or a plan of action. When we know what the doctor is recommending and what he's going to do we will announce it."
Martinez, who would like to continue to fight, wanted to get an opinion from the doctor on whether his knee would hold up if he elected to keep boxing.
The knee has been a major problem for Martinez since he first injured it when he was knocked down in the 12th round of a lopsided decision win against Julio Cesar Chavez Jr. in September 2012 and had subsequent surgery.
Martinez hurt it again in his next fight, a decision win against Martin Murray, in April 2013 and again needed surgery.
Martinez returned on June 7 and lost his title by 10th-round knockout to Miguel Cotto in a one-sided fight in which Martinez got knocked down four times.
Although Martinez (51-3-2, 28 KOs), 39, said he did not specifically injure the knee again against Cotto, it never looked as though Martinez had his legs under him in the fight.
Martinez told ESPN.com last week what he wanted to hear from the doctor.
"The first thing I want to hear from the doctor is that my leg is going to be good enough that I can live a normal life and that I can have a normal leg like a normal person," he said. "I still have some pain I feel in my right leg. But if the doctor says I'm 100 percent or I will be 100 percent then I will continue [boxing]. If he doesn't say that then I won't fight anymore. I don't need to fight because my health is very important to me."