February, 5, 2015
Feb 5
10:30
PM ET
A few notes from around the boxing world:

• Although there have been no announcements yet on the broadcast team for Spike TV's telecasts of Al Haymon's "Premier Boxing Champions" series, the host of the monthly cards will be Dana Jacobson, according to multiple sources with knowledge of her hiring. Female broadcasters in high-profile positions in boxing are rare. But Jacobson is an experienced broadcaster. She spent 10 years at ESPN working as a "SportsCenter" anchor and co-host of "First Take." Jacobson currently works at CBS Sports Network on college football, basketball and the NFL and also worked the NFL playoffs for CBS.

Spike TV's first boxing card is March 13 at the Citizens Business Bank Arena in Ontario, California. The welterweight doubleheader will feature former titlist Andre Berto (29-3, 22 KOs) against Josesito Lopez (33-6, 19 KOs) in the main event with former titleholder Shawn Porter (24-1-1, 15 KOs) facing Roberto Garcia (36-3, 23 KOs) in the co-feature.

• Heralded junior middleweight prospect Erickson Lubin (8-0, 6 KOs) of Orlando, Florida, was slated to face Rodolfo Quintanilla (14-4-3, 11 KOs) of Mexico in the eight-round co-feature on this week's "Friday Night Fights" (ESPN2, ESPN Deportes, 9 ET) until Quintanilla was ruled out of the fight on Thursday when he failed his blood test. According to a source, he tested positive for hepatitis. The new plan is for Lubin to face Michael Finney (12-1-1, 10 KOs), who agreed to the fight and was on his way to the site, although he had not yet signed a contract. Finney had been training for another fight in a few weeks. To accommodate Finney taking the fight on short notice the weight limit was adjusted to 157 pounds. Middleweight contender Sergio Mora (27-3-2, 9 KOs) faces Abie Han (23-1, 14 KOs) in the main event.

• Although nothing came of it, middleweight champion Miguel Cotto recently engaged in talks with Jay Z's Roc Nation Sports about a possible deal, according to multiple sources. Cotto, although proclaiming loyalty to Top Rank, is a promotional free agent and a sought-after one as well given his stature in the sport. Cotto (39-4, 32 KOs) knocked out Sergio Martinez in the 10th round to win the middleweight title last June and has not fought since. His next move is unclear, but a proposed May fight with Canelo Alvarez fell apart. Cotto has also been prominently discussed as a possible Floyd Mayweather Jr. opponent in a rematch should the talks for a Mayweather-Manny Pacquiao fight in May fall apart yet again.

January, 21, 2015
Jan 21
4:45
PM ET
A few notes from around the boxing world:

• The deal is not done yet but former junior middleweight titlist Sergio Mora (27-3-2, 9 KOs) likely will face Abie Han (23-1, 14 KOs) in a middleweight fight that will headline ESPN2's "Friday Night Fights" on Feb. 6 at the Beau Rivage Resort & Casino in Biloxi, Mississippi. Mora was supposed to challenge world titleholder Jermain Taylor, but the fight was canceled after Taylor suffered a broken rib late last week and was subsequently arrested on a litany of charges stemming from an incident on Monday in which he allegedly discharged a gun and pointed it at people during a Martin Luther King Day parade in his native Little Rock, Arkansas. Han has won four fights in a row since his only defeat, an eighth-round knockout to Glen Tapia in a terrific fight in July 2013.

• Middleweight titlist Gennady Golovkin (31-0, 28 KOs) and challenger Martin Murray (29-1-1, 12 KOs) both were inside the acceptable limit for their 30-day weigh-in on Wednesday. Golovkin weighed 172 pounds at his training camp in Big Bear Lake, California, and Murray was 169 at his camp in Johannesburg, South Africa. They need to get down to 160 for their fight on Feb. 21 (HBO) in Monte Carlo. They had to be no heavier than 176 pounds at the weight check.

• British heavyweight David Price (18-2, 15 KOs), a 2008 Olympic bronze medalist and 2012 ESPN.com prospect of the year, will face Brazil's Irineu Beato Costa Junior (16-2, 14 KOs) on Feb. 21 at the O2 World arena in Berlin on the undercard of the rematch between super middleweight titlist Arthur Abraham (41-4, 28 KOs) and Paul Smith (35-4, 20 KOs). Price, 31, has been out since June after suffering a small tear in his left biceps, which forced him out of a Dec. 6 fight.

"I can't wait to get back in the ring and remind everybody what I'm all about," said Price, who has won three fights in a row being stopped by American Tony Thompson in back-to-back upset losses in 2013. "Costa Junior is exactly the type of opponent I wanted. He's got a decent record, similar to my own. Last year, he went 12 rounds with Christian Hammer, so we know he's no mug. It will be another step up, but I think he will bring out the best in me. I'm confident I will get the win.''

• Cruiserweight titlist Denis Lebedev (26-2, 20 KOs), 35, of Russia, and interim titlist Youri Kalenga (21-1, 14 KOs), 26, a native of Congo based in France, have been ordered to meet in their mandatory fight. They have 30 days to negotiate a deal. If there is no agreement by Feb. 20, the WBA will call for a purse bid.
October, 31, 2014
10/31/14
5:00
PM ET
The Goossen Promotions fight card on Dec. 11 on ESPN2 -- in honor of company founder Dan Goossen, who died at age 64 on Sept. 29 -- will include several name fighters.
I wrote about
Austin Trout (27-2-0, 14 KOs) meeting Luis Grajeda (17-3-2, 13 KOs) in a junior middleweight main event the other day, along with the fact heavyweight contender Chris Arreola (35-4, 31 KOs), whose opponent is not set yet but could be Joe Hanks (21-2, 14 KOs), would also be on the card, as will be former light heavyweight champ Antonio Tarver in a heavyweight bout.
Tarver (30-6, 21 KOs) probably will face Johnathon Banks (29-2-1, 19 KOs), but the final details are still being ironed out, according to Goossen Promotions' Tom Brown. Tarver and Banks were due to meet Sept. 29 but the fight was postponed after Tarver fractured his thumb training.
But on Friday more fighters -- all in the vast stable of manager Al Haymon but not signed to Goossen Promotions -- were announced for the card, which will take place at the Pechanga Resort & Casino in Temecula, California.
Colombia's Oscar Escandon (23-1, 16 KOs) will face Haiti's Tyson Cave (22-2, 6 KOs) for a vacant interim junior featherweight title.
Also appearing against opponents to be announced will be former junior middleweight titlist Sergio Mora (26-3-2, 9 KOs) in a middleweight bout; light heavyweight Edwin Rodriguez (25-1, 16 KOs), who is making a quick return from an Oct. 18 victory that came after a year off; former junior featherweight titlist Rico Ramos (23-4, 12 KOs); light heavyweight prospect Marcus Browne (12-0, 9 KOs), a 2012 U.S. Olympian; and light heavyweight prospect Ahmed Elbiali (7-0, 7 KOs).
ESPN2 will televise three hours' worth of fights from the card beginning at 10 p.m. ET. Some of the non-televised fights likely will stream live on ESPN3 before the telecast.
September, 13, 2014
9/13/14
12:51
PM ET
A few notes from around the boxing world:

• Middleweight titlist Gennady Golovkin's West Coast debut is already a hit. Due to overwhelming ticket demand, K2 Promotions is putting $27 standing room only tickets on sale for Golovkin's defense Oct. 8 (HBO) at the StubHub Center in Carson, California.

"In the first two weeks, we've sold over 75 percent of the available tickets to [the card dubbed] 'Mexican Style,' which truly validates the popularity of Gennady on the West Coast," Tom Loeffler of K2 Promotions said. "This speaks to Gennady's growing global brand, as he is willing to fight in locations around the world unlike many champions who only fight in one city or one state. We're happy to announce the unprecedented addition of standing room only tickets in order to meet the demand from boxing fans for this event."

• Former junior middleweight titlist Sergio Mora announced on his Twitter page that he has signed with adviser Al Haymon. Mora (26-3-2, 9 KOs), 33, of East Los Angeles, has won three fights in a row, including his past two by knockout. His signing with Haymon harkens back to Haymon's start in boxing. His first client was the late Vernon Forrest, whom Mora outpointed to win a junior middleweight belt in 2008. Three months later, Forrest outpointed Mora in the rematch to reclaim the title in what was Forrest's final fight, as 10 months later, he was murdered. Mora and Haymon were on opposite sides then, and now they are together. Mora will continue to be promoted by Lou DiBella, who has a longstanding business relationship with Haymon.

• Bantamweight titlist Shinsuke Yamanaka (21-0-2, 16 KOs) of Japan will face mandatory challenger (and former junior bantamweight titlist) Suriyan Sor Rungvisai (37-5-1, 16 KOs) of Thailand on Oct. 22 in Tokyo. Yamanaka, a southpaw, will be making his seventh defense. A lightweight undercard bout will pit former featherweight and junior lightweight titlist Takahiro Ao (26-3-1, 12 KOs) of Japan, and former junior lightweight titlist Juan Carlos Salgado (26-3-1, 16 KOs) of Mexico.
October, 25, 2013
10/25/13
5:37
PM ET
Former lightweight title challenger John Molina, super middleweight Brandon Gonzalez and former junior middleweight titlist Sergio Mora will appear in separate bouts on the undercard of super middleweight champion Andre Ward's return, promoter Dan Goossen announced this week.

Ward (26-0, 14 KOs), returning from a 14-month layoff because of a shoulder injury, is the main attraction as he defends his title against top contender Edwin Rodriguez (24-0, 16 KOs) on Nov. 16 (HBO) at the Citizens Business Bank Arena in Ontario, Calif., in the main event. Molina and Gonzalez highlight the undercard, although HBO will carry only the main event.

Molina (26-3, 21 KOs), who will face an opponent to be named in an eight-round bout, is just 2-2 in his past four bouts, but usually brings some drama to his fights. He got knocked out in 44 seconds by then-lightweight titlist Antonio DeMarco in September 2012 on Ward's last undercard but returned for an impressive fourth-round knockout of Dannie Williams in January. Then came a tight majority decision loss to Andrey Klimov. But Molina got back on track again in July with a dramatic come-from-behind 10th-round knockout of Mickey Bey in the final minute of the fight.

Gonzalez (17-0-1, 10 KOs), who shares trainer Virgil Hunter with Ward, is due to face Jonathan Nelson (19-0, 9 KOs), who beat Gonzalez in a 2006 amateur meeting. Gonzalez is coming off his biggest fight, a disappointing 10-round draw with Thomas Oosthuizen on HBO in June.

Mora is on the card because his new promoter, Lou DiBella, also promotes Rodriguez and got a slot for a fight on the card as part of the deal. Mora (24-3-2, 7 KOs), who faces Colombia's Milton Nunez (26-8-1, 24 KOs) in an eight-round middleweight fight, is 3-3-1 in his past six bouts but is coming off a solid win against former European champion Grzegorz Proksa in June.

In another undercard fight, 2012 Mexican Olympian Oscar Molina (6-0, 5 KOs and no relation to John) takes on Carlos Sanchez (6-4, 2 KOs) in a six-rounder.
July, 30, 2013
7/30/13
6:09
PM ET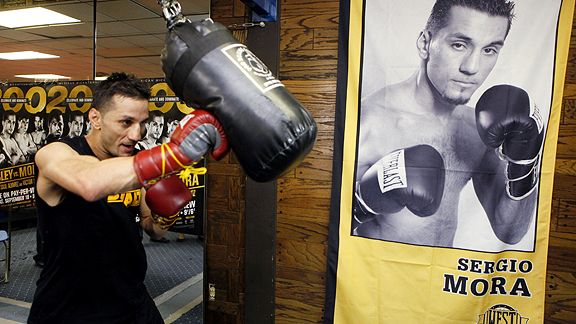 AP Photo/Damian DovarganesSergio Mora will get another opportunity after signing with DiBella Entertainment.
Middleweight Sergio Mora, a former junior middleweight titlist and first-season winner of "The Contender" reality series, signed Tuesday with promoter Lou DiBella.
"I have always respected Lou for his bold ways and honesty," Mora, known as "The Latin Snake," said. "Lou is very knowledgeable and experienced and he is passionate and really cares about his fighters and the sport as a whole. Having the opportunity to work with someone like Lou is a blessing and an honor.
"I want to fight the top 160-pounders in the world, and the best is Sergio Martinez, who just happens to also be promoted by Lou."
DiBella is heavily involved in the middleweight division. Besides promoting Martinez, the champion, he also works with contenders Matthew Macklin and Andy Lee, so having another solid middleweight on his roster made sense.
"It was a no-brainer of a signing," DiBella said.
Mora (24-3-2, 7 KOs), 32, of Los Angeles, is just 2-2 in his past four fights, but both losses were debatable decisions to Brian Vera. Mora also won his last fight, looking very good in a decision win against former European champion Grzegorz Proksa on June 28.
The rap on Mora for years is that he is anything but a crowd-pleasing fighter, but as he has gotten a little older he has slowed down a touch and also come to realize that if he wants to get another significant fight he is going to have to be a bit more entertaining. His recent fights have been more crowd-pleasing than earlier in his career.
"Sergio is going to get another good fight," DiBella said. "And I think he's become a more pleasing fighter. I thought he fought a great fight against Proksa and the fights with Vera were both pleasing and I thought he won at least one of them and neither of them were boring."
DiBella does not have a fight set for Mora yet but said he would fight in the fall.
"Say what you want, but Mora is, and has been for many years, one of the most skilled middleweights in the world," DiBella said.
In 2008, Mora outpointed the late Vernon Forrest to win a 154-pound world title, but he lost a unanimous decision and the belt in the immediate rematch later that year. Two fights later, Mora held the heavily favored Shane Mosley to a draw in September 2009. Mora won "The Contender" tournament and the $1 million grand prize in 2005.
February, 19, 2013
2/19/13
1:25
AM ET
Junior welterweight prospect Omar Figueroa and former junior middleweight titlist Sergio Mora both will be in action on a couple of recently announced fight cards:

• The all-action Figueroa (19-0-1, 15 KOs), of Weslaco, Texas, will headline a March 2 card (Fox Sports Net/Fox Deportes) at Our Lady of the Lake University Wellness & Activities Center in San Antonio. Figueroa will face Henry Aurad (14-6-1, 11 KOs) of Colombia in a scheduled eight-rounder. Also on the card will be Houston junior middleweight prospect Jermall Charlo (11-0, 7 KOs), the twin brother of fellow prospect Jermell Charlo, in an eight-rounder; and Dallas welterweight prospect Errol Spence Jr. (3-0, 3 KOs), a 2012 U.S. Olympian, in a four-rounder. Their opponents are not set.

• Mora (23-3-2, 7 KOs), a former winner of "The Contender" reality series who later won a 154-pound world title, will travel to the Phoenix area (venue to be announced) to face hometown fighter Jesus Gonzalez in a middleweight bout on April 19. Mora will be looking to rebound from his majority decision loss to Brian Vera in their rematch last August. Gonzalez (27-2, 14 KOs) will be fighting for the first time since last February, when Adonis Stevenson knocked him out cold in the first round of a super middleweight title eliminator in Montreal.

"Jesus had a rough night against Stevenson in Canada, but he has been preparing for this return and is ready to make an impact at middleweight," said Ralph Velez Jr. of FanBase Promotions. "The power he brings to the middleweight division makes him an instant title contender."

The fight could wind up on ESPN2, which is considering picking up the card for that date.
June, 16, 2012
6/16/12
10:45
PM ET
Former junior middleweight titlist Sergio Mora (23-2-2, 7 KOs), who won the first season of "The Contender" reality series, lost a 10-round upset split decision in February 2011 against Brian Vera (20-6, 12 KOs), who participated in a later season of "The Contender." Mora has one win since but few options because his un-fan-friendly style has turned off the premium networks. So he'll take on Vera in a rematch on "Solo Boxeo Tecate" looking to even the score. They meet in a scheduled 10-rounder on Aug. 11 at the Illusions Theater at the Alamodome in San Antonio.