Dan Rafael:

Sugar Ray Leonard
June, 6, 2014
Jun 6
5:32
PM ET

NEW YORK -- There is plenty of opinion on who will win the fight between middleweight champ Sergio Martinez and Miguel Cotto on Saturday night (HBO PPV, 9 ET) at Madison Square Garden. How about some celebrity and athlete picks?


Mike Tyson: "This will be a defining moment for Cotto. If he gives his absolute best and uses everything he has learned from his experience in boxing, he will give a great account of himself. I would like to see him do well because he has gotten some bad breaks in his career. He is going to have to cut Martinez off in the ring because he is a great mover. He's like a tango mover when he boxes. My personal opinion, I think this is going to be one of the greatest fights of the year. I am looking forward to taking my wife on a great date night to celebrate our fifth anniversary."

Felix Trinidad: "It is an interesting fight for the boxing world and also for Team Cotto. Cotto should win by decision."

Sugar Ray Leonard: "I've met both of these incredible fighters with such a wonderful demeanor outside the ring, and the question is who has the most boxing ingredients left at this point in their career? Sergio always will have that power, which never leaves a boxer even past his prime, and Cotto will always have that knowledge to break down an opponent during the fight. A slight edge to Cotto, but don't bet the house. Good luck to two great fighters and decent men!"

Rosie Perez: "Both are excellent fighters. And most have Martinez winning this match. And no disrespect to Sergio, who I love. But are you kidding me? How can I not root for my fellow Boricua? I'd be run outta town! Win, lose or draw, Miguel Cotto!"

Brandon Jacobs: "I am a big Cotto fan. I think he's outmatched in this fight. He's the smaller guy, plus his hand speed isn't faster. I'd love for Cotto to beat this guy, but I don't think it's going to happen."

Micky Ward: "Sergio by close decision. He must use his smarts or Cotto will take it."

Reggie Miller: "Martinez will take it. He's bigger, stronger and more physical."
December, 27, 2013
12/27/13
11:54
AM ET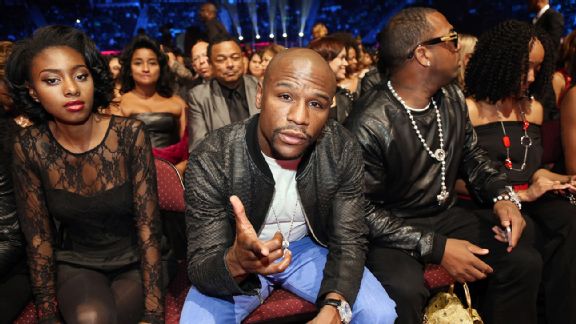 Johnny Nunez/BET/Getty ImagesWill Floyd Mayweather Jr. budge from his demands to make a megafight with Manny Pacquiao?
In the spirit of the holidays, ESPN is celebrating the season with our own "12 Days" wish list of the fights we want to see most, regardless of promotional or other entanglements. Keep checking back in the coming days to see new fights revealed, discuss our choices or even suggest some of your own in the comments section or via Twitter using #ESPN12Days.
When Muhammad Ali and Joe Frazier were the best heavyweights in the world, both undefeated and both with a claim to the title, they eventually fought. Because the public demanded it, because each could make his biggest payday and because they dared to be great.
It became one of the most storied rivalries in sports history and produced boxing's most famous trilogy.
Showdowns between all-time greats do happen, but it's rare when they take place with fighters at the peak of their powers. It happened when Sugar Ray Leonard and Thomas Hearns met to unify the welterweight title more than 30 years ago, a fight still talked about today.
In more recent years, the one fight that transcended boxing, one that even casual sports fans were interested in, was a showdown between Manny Pacquiao and Floyd Mayweather Jr. It has yet to happen, and its prospects look bleak.
Filipino icon Pacquiao is the humble spirit and whirlwind power puncher who has won world titles in a record eight weight divisions, has been named fighter of the year three times and was the 2000's fighter of the decade. Mayweather is the brash, technical wizard who is undefeated and has won world titles in five weight divisions. He also has a fighter of the year award to his credit.
For a few years, Pacquiao and Mayweather were regarded as the two best fighters in the world, pound for pound. However they ranked, they were always 1-2 (or 1A and 1B, for that matter) -- and nobody else was seriously in the conversation. And, oh yeah, they were both welterweights and beating many of the same opponents, including big names such as Oscar De La Hoya, Ricky Hatton, Juan Manuel Marquez, Shane Mosley and Miguel Cotto.
As all fight fans know by now, unless you've been on Mars or under a rock, the sides have tried to negotiate the fight multiple times, including, most notably, the first try in late 2009 for an early 2010 fight. In my estimation, it would have generated more than 3 million pay-per-view buys and left the record in the dust. I think the fight would have easily shattered every single boxing revenue record known to mankind.
It was a fight the world was begging to see. It was the ultimate showdown between boxing's best, two men with opposite personalities and contrasting styles.
The camps had worked out every single issue -- from purse split (50-50) to a date and location -- with one exception. Mayweather demanded that both fighters undergo random drug testing -- blood and urine -- leading up to the fight. At the time, Pacquiao objected to blood testing so close to the bout, and the deal cratered.
A second negotiation, one the Mayweather camp still has never admitted even took place (even though Pacquiao's side and HBO, which was involved, said it did), went nowhere. By this time, Pacquiao was OK with random blood testing (which he underwent for his Nov. 23 fight with Brandon Rios), but Mayweather had other ideas and wanted a lot more than half the money. When he and Pacquiao spoke directly on the telephone about a possible fight, Mayweather offered only a flat fee to Pacquiao rather than a rightful percentage of a promotion that might be worth in excess of $200 million.
The rancorous issues between Pacquiao promoter Top Rank and Mayweather adviser Al Haymon and Golden Boy, Mayweather's de facto promoter, were also huge roadblocks to making the fight.
While Mayweather has remained on top and is now the clear pound-for-pound king, Pacquiao suffered a pair of losses -- a bogus split decision to Timothy Bradley Jr. and a rough knockout to Marquez in their fourth showdown. Those results cooled excitement for the fight. But after Pacquiao rebounded with such a dominant win against Rios, the fight is on people's minds again.
And although it will never, ever be what it should have been -- the two best facing off at their best in 2010 -- it's still the biggest fight boxing has to offer, by far.
But that hasn't made a difference for the past several years and, sadly, doesn't appear to mean anything now, either, as both fighters remain as far apart as ever.
Pacquiao is due to fight April 12 and Mayweather on May 3. Neither has formally announced his opponent, but one thing you can take to the bank: They won't be fighting each other. And for all of boxing, that is a shame.
November, 21, 2013
11/21/13
1:23
PM ET

With the Manny Pacquiao-Brandon Rios welterweight fight taking place Saturday night in Macau (HBO PPV, 9 ET), Top Rank promoter Bob Arum and HBO have set up a quasi-media center at the Venetian in Las Vegas and brought in more than a dozen radio shows to broadcast there Thursday and Friday in an effort to keep the fight on the minds of American sports fans.

In addition, they have brought in several fighters to do interviews on those radio programs and also to talk to other media. Among the fighters involved are Hall of Famers George Foreman and Sugar Ray Leonard, presumptive Hall of Famer Marco Antonio Barrera (who lost twice to Pacquiao) and reigning welterweight titlist Timothy Bradley Jr., who owns a controversial 2012 win against Pacquiao.

The four offered their thoughts on the Pacquiao-Rios fight:

• Foreman: I think it's going to be a 12-round decision and I give Pacquiao the hometown decision. How about a home-region decision.

• Leonard: I think Pacquiao will win although I give Rios a shot, a big shot. It's not going to be an easy fight. I'm picking Manny because he is Manny Pacquiao.

• Barrera: I think it is a complicated fight for both of them. You have Brandon Rios, who comes straight forward and will apply the pressure on Manny. Then you have Manny, who moves around the ring very well and picks and chooses his spots, and comes at different angles and is a very strong fighter with a lot of speed. It's just going to be a tough fight for both of them.

• Bradley: I've got Manny Pacquiao by a mid- to late-round KO. Eight rounds.
February, 27, 2013
2/27/13
8:20
PM ET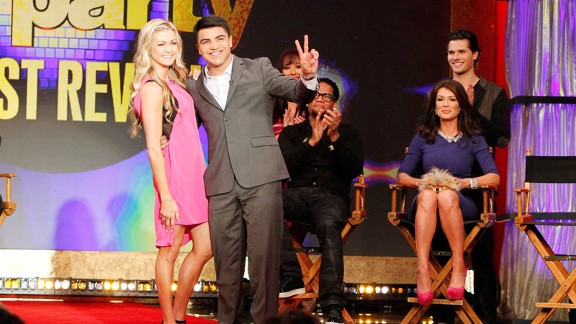 Rick Rowell/ABC via Getty ImagesFormer welterweight champ Victor Ortiz will be the fifth boxer to compete on "Dancing With the Stars."
Former welterweight titleholder Victor Ortiz is exchanging his boxing gloves for dancing shoes, at least for a little while.
The new lineup for the hit show "Dancing with the Stars" was announced this week and Ortiz will be one of the contestants to compete for the Mirror Ball Trophy on the 16th season of the series, which debuts March 18 (ABC, 8 p.m. ET/PT).
Ortiz was enthusiastic about being part of one of the most popular shows in the country when we spoke about it on Wednesday.
"I'm gonna have a blast doing this," Ortiz said.
"

I've never danced in my life. Just random social dancing, like a night club or something, but not actual proper posture or co-ordination. This is very different.

"

-- Victor Ortiz on being part of "Dancing With the Stars."
He will be paired with pro dancer Lindsay Arnold, who will be on the show for the first time. They began practicing this week.
"She pushes me to my limits," Ortiz said.
Like many of the celebrities who join the show, Ortiz is a novice dancer -- using his fists far more than his feet in his line of work.
"I've never danced in my life," Ortiz said. "Just random social dancing, like a night club or something, but not actual proper posture or co-ordination. This is very different."
Ortiz, who has been a casual fan of the show, counts Hollywood star and onetime "Dancing" runner-up Mario Lopez as a pal. He said they're going to have lunch this week and he'll ask him about what to expect from the show.
"Mario has been on the show and is a great friend of mine," Ortiz said. "Mario and I go back a good eight years. So why not pick his brain about it."
He will be the fifth boxer to compete on the show. The others were Evander Holyfield (fifth in the first season), Laila Ali (third in the fourth season), Floyd Mayweather Jr. (ninth in the fifth season) and Sugar Ray Leonard (ninth in the 12th season).
"I think it's a cool thing and bringing this kind of attention to the world of boxing is a good thing for the sport," Ortiz said.
Ortiz, of course, lost his world title to Mayweather by controversial fourth-round knockout in 2011.
Maybe Ortiz can do better than Mayweather did on the show?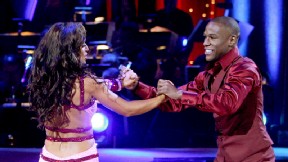 Carol Kaelson/ABC/Getty ImagesFloyd Mayweather Jr. finished ninth in the fifth season of "Dancing With the Stars."
"I didn't even know Floyd did it (until recently). That's cool," Ortiz said. "I'm just having a good time. Thankfully, I got paired with a great person, Lindsay."
Ortiz returned from the loss to Mayweather last June and suffered a severely broken jaw against Josesito Lopez, forcing him to retire on his stool after the ninth round for his second loss in a row.
He said his jaw feels OK now, but it locks up from time to time. Although it has healed well, he said his doctors recommended that he hold off on fighting for the time being until it gets stronger.
"I went to a specialist before making any decisions," Ortiz said. "The specialist said seven or eight months after having my jaw broken that it would not be smart to go back in the ring just yet. He said my bones are still a little too vulnerable. So I said, 'Let's go for it, 'Dancing With the Stars.' I'm taking this very seriously, like training camp. We'll have a blast."
Ortiz (29-4-2, 22 KOs) figures since he isn't going to fight in the first half of this year, doing "Dancing" is a great way to stay busy, have some fun and raise his profile outside of the boxing world.
"I've put my mind on being recognized in boxing, but I also want to be a household name all around," Ortiz said, adding that he also has "some movie deals going on."
"I am very happy for Victor," said Golden Boy's Richard Schaefer, Ortiz's promoter. "This is tremendous exposure for him and it's always great to see that a fighter crosses over into mainstream. It obviously means that Victor has done something right. He has created a brand and was approached by the producer. How do you create a brand in boxing? It is what Victor does best -- always deliver exciting fights.
Victor is a tremendous competitor and as of us at Golden Boy wish him well. Go and knock 'em out Victor."
Once his "Dancing" season is over -- it would go into late May if he advances to the end -- Ortiz said he will turn his attention back to boxing and has every intention of fighting before the year is over. He has split from trainer Danny Garcia but has not yet hired a new trainer, although he has spent some time working with Freddie Roach.
"I'm taking this (healing process) as a positive," Ortiz said. "When I come back, my jaw will be healed and there will be no questions. If I get punched I'll have no doubt in my mind that the jaw is OK. I don't know exactly when I'll be back, but this year. I have to. I've been missing the ring."
Also on the new 'Dancing" season will be comedian D.L Hughley, Super Bowl winner Jacoby Jones of the Baltimore Ravens, comedian/actor Andy Dick, General Hospital soap opera star Ingo Rademacher, Olympic gold medal-winning gymnast Aly Raisman, country singer Kellie Pickler, county music legend Wynonna Judd, Disney actress Zendaya Coleman, legendary figure skater Dorothy Hamill and "Real Housewives of Beverly Hills" star Lisa Vanderpump.
August, 5, 2012
8/05/12
2:18
PM ET
With the Olympics in full swing in London, the memories of past Olympians have come flooding back. I checked in with a few boxing Olympians to see what sorts of memories they had from their experience at the Games.

Sugar Ray Leonard (1976 Montreal, gold medalist)

"What was really memorable was, of course, winning the gold medal, but really it was the overall experience of making the team, having that group of guys -- Leon and Michael [Spinks], Howard Davis -- and the transition from being from the ghetto and now I am in this huge arena and behind these majestic gates [at the opening ceremonies]. Once those gates open up, there are thousands of fans and tourists and you are somebody. I cherish that.

"I was 20 years old, so just the experience of being on the team in the Olympics and fighting for the gold medal, it just took my breath away. Looking at the Games now on television, I relate to the nerves, the anticipation, the butterflies that these young men and women have. There is nothing like it. People can say, 'I was world champion' as a professional, but very few people on this planet can say, 'I was on the Olympic team.'

"I have my Olympic gold medal downstairs in my trophy case. Every Olympics, I clean it up and think about the wonderful memories of being at the Olympics. I had some tough fights at the Olympics, but they were precious, priceless memories. I've been a gold medalist and a [professional] world champion. They each hold their own significance, but I have to look at where it all started -- the Olympics. That's No. 1 for me."

Wladimir Klitschko (1996 Atlanta, gold medalist)

"There are two things I can mention. I was fighting from almost the first day of the Games, and I finished on the last day, so it was the longest tournament in my amateur career. So in between the fights to relax, I went to the disco [in the Olympic] park where some of the bands played. My teammates and I left before midnight, due to my sleeping schedule. The next morning, we got the news of bombing in the same place where we were. We were lucky that we didn't stay longer. The other thing was, the night before the finals I had a dream that I lost the fight for gold. In the morning, I couldn't believe that I had such a bad dream, but luckily things turned differently, as you know!"

Brian Viloria (2000 Sydney)

"Walking in the stadium for the opening ceremony with the rest of the U.S. Olympians [was most memorable]. I stopped and did a 360 to take in the whole experience. There were so many flashes from the cameras from the press and spectators, it seemed so surreal. And when we were lining up for the parade of nations, I chatted with [basketball player] Gary Payton, and he called Kevin Garnett over and introduced me to him, saying, 'This is the Hawaiian Punch. He'll knock you out KG!' Garnett looked at me and said, 'Who, this little guy?' We all laughed and took pictures together."

Andre Ward (2004 Athens, gold medalist)

"Outside of winning the gold medal, I think the thing that really jumps out to me in my memories was the opening ceremonies. I was told I wouldn't be able to walk with the team because I was supposed to fight the following night and I needed to get my rest. Long story short, the coaches came back to me later and told me I had gotten a bye, so I was able to walk in with the American team. In that stadium, on that stage, goose bumps and chills. I had all these memories of my father [Frank, who died in 2002] and all the work he put in to getting me ready for this moment and him not being there and the reality of the stage I was on -- it all just hit me. I was infused with energy.

"I had a good time at the Olympics and really enjoyed it even though I was totally focused on winning the gold medal. I was the last gold medal that the United States won [during the 2004 Games], so I couldn't go to the closing ceremonies. I couldn't get there in time. But during the Olympics, it was very mundane. They were exciting, but I had a job to do. My life consisted of resting, training and taking a short ride to the cafeteria and people-watching. A good way to describe my Olympic experience is that it was a blur. I was just so focused on winning that I didn't do much besides my routine. I didn't want to have an excuse for not winning. I really wanted to win a gold medal, and we accomplished that. I'd like to go back to the Olympics [as a spectator] because I didn't get a chance to do that in Athens."
July, 31, 2012
7/31/12
2:41
PM ET
When Hall of Fame trainer Angelo Dundee died in February at age 90, he left behind a wealth of memorabilia that he had collected during his storied career, mainly items from the careers of his two most famous fighters: Muhammad Ali and Sugar Ray Leonard.

Now Jim Dundee, Angelo's son, is putting the items up for sale through SCP Auctions. Jim said he plans to donate a portion of the auction's proceeds to the Muhammad Ali Foundation.

"Through the sale of this collection, I look forward to fulfilling my father's wish that necessary medical care be provided and funded for my sister, who suffers from multiple sclerosis," he said.

Some of the most significant items will be on display this week at the National Sports Collectors Convention in Baltimore. Because I don't live too far from there and I was planning to hit the show anyway, I'm hoping to get a good look at the pieces in the Dundee collection, which hit the auction block from Nov. 9 through Dec. 1 at www.scpauctions.com.

There are hundreds of items from Dundee's career in the auction, and some are really incredible. I can only imagine the huge money this auction will bring.

Items include the fight-worn gloves of Ali (then Cassius Clay) when he won the heavyweight championship for the first time, from Sonny Liston in 1964, and Ali's fight-worn gloves from his first legendary bout against Joe Frazier in 1971.

(So who wants to hook me up with several thousand dollars -- maybe millions -- so that I can buy them? I swear I'd wear the gloves and try to type one of my columns.)

"These gloves represent boxing's crown jewels and rank among the most significant sports memorabilia artifacts ever offered publicly," SCP Auctions managing director Dan Imler said in a statement announcing the auction. "Muhammad Ali is a cultural icon beloved throughout the world. These are the ultimate tools of Ali's trade from his most legendary bouts, used by him to forge his undisputed status as 'The Greatest of All Time.'"

Also in the auction:

• Ali's fight-worn gloves from several other bouts, including against Johnny Logan, George Chuvalo, Oscar Bonavena and Floyd Patterson.

• Leonard's fight-worn gloves from the 1980 "No Mas" fight against Roberto Duran.

• Various Ali training and fight-worn robes.

• Ali's 1963 boxing license.

• Ali's mouthpiece molds and fight-worn mouthpiece from his final fight, against Trevor Berbick.
February, 2, 2012
2/02/12
12:46
AM ET

I was very saddened to hear the news Wednesday night of the passing of Hall of Fame trainer Angelo Dundee at age 90.

He wasn't just one of the nicest guys I've ever met in boxing, he was one of the nicest people I've ever met in life.

He had so much enthusiasm for everything, especially boxing. Sure, he is best known for his work in the corner of Muhammad Ali, Sugar Ray Leonard, George Foreman (in the second act of his career) and Carmen Basilio, but he also worked with more than a dozen champions overall and made his Miami gym one of the most famous in boxing history.

I knew him not so much as an active trainer, but just as a wonderful person who loved to talk boxing all the time and had more stories than he could possibly tell -- although he sure tried.

I had never met Angelo before I first started covering boxing in 2000. Maybe a month after I had started covering the beat for USA Today and had only a few articles appear in the paper, I received a hand-written letter from him at the office.

He introduced himself (as if I didn't already know who he was!) and wrote that he really enjoyed seeing the beefed-up coverage in the paper, liked the stories I had written and especially enjoyed the first edition of the monthly divisional rankings we had unveiled a couple of weeks earlier.

Angelo wasn't pushing one of his fighters or projects on me, wasn't looking for a story. Instead, he spent about three pages writing about how much he loved boxing, how happy he was to see coverage in a major newspaper and told me that if I ever needed anything to please give him a call, and he included his telephone number.

Over the years, I would call on him for his views of certain fights and fighters for stories I was working on. He was always very giving of his time, always had something interesting to say and a story to tell.

I had a chance to see him from time to time at fights he would attend. He was a joy to be around. Even into his late 80s he was still traveling around to fights, still working on one boxing-related project or another.

One of the most fun fights I ever covered was when Manny Pacquiao faced Oscar De La Hoya in December 2008. The reason was because Golden Boy Promotions had brought Angelo into the promotion as a "special consultant" to De La Hoya.

He was supposed to visit De La Hoya's training camp in Big Bear, Calif., and offer tips for the fight to De La Hoya and his trainer, Hall of Famer Nacho Beristain. Angelo was also supposed to watch tapes and assist in the strategy for the fight.

In reality, Angelo's main purpose in the promotion was to generate publicity, which he did. With the way he could talk and the stories he could tell -- and the reverence people in the business had for him -- it was a genius move. We all knew it was a publicity stunt, but so what? It was terrific to have him around during the promotion, especially as he held court daily in the MGM Grand media center.

Several years ago, Angelo was honored for his service to boxing at an ESPN2 card in Miami. My pal Jay Seidman produced a special program for the event. My job was to ghostwrite a piece by Foreman on what Dundee had meant to him. I met Foreman in a conference room at Caesars in Atlantic City, N.J., one evening after he had gone through his production meeting for the HBO fight that he would call the next night.

I sat with Foreman for about a half hour as he told me how much Angelo had meant to him when Foreman hired him to work in his corner and help him plot strategy for his fights -- including for his improbable victory against Michael Moorer to regain the heavyweight championship in 1994. He said without Angelo in his corner, he never would have regained the title.

Foreman got choked up at one point talking about Angelo; that's how much he had meant to him.

I'm sure Foreman will get choked up again now that Angelo is gone -- just like so many others who also knew him and loved the man.