December, 26, 2013
12/26/13
5:11
PM ET
Light heavyweight titlist Beibut Shumenov had just polished off previously unbeaten Tamas Kovacs in the third round to retain his belt for the fifth time on Dec. 14 at the Alamodome in San Antonio when fellow titleholder Bernard Hopkins joined him in the ring during his Showtime post-fight interview.

Shumenov said he hoped to fight Hopkins to unify their 175-pound belts and Hopkins said the same thing, both showing respect for each other.

With the other top light heavyweights -- namely champion Adonis Stevenson and titlist Sergey Kovalev on HBO -- unavailable to make fights with because of the network and promotional politics of boxing, Hopkins-Shumenov makes the most sense for both fighters while Stevenson and Kovalev are on their own path to fight each other.

Hopkins (54-6-2, 32 KOs), a partner in Golden Boy Promotions, even said a week earlier that one of the key reasons the company signed Shumenov (14-1, 9 KOs) before the Dec 14 fight was so Hopkins -- who turns 49 on Jan. 15 -- would have a unification fight that could easily be made.

Shumenov, 30, a 2004 Olympian from Kazakhstan now living in Las Vegas, is pressing hard for the fight with Hopkins to be made.

"My goal has always been to unify and Golden Boy and Showtime are going to give me that opportunity," Shumenov said. "We tried to make a couple of unifications and different fights that for one reason or another fell through. We tried to made unification fights with [Nathan] Cleverly and [Chad] Dawson when they held belts, but they weren't interested in fighting me. I tried to unify with a scheduled fight against [then-titleholder Juergen] Braehmer but he ran out of town three days before our fight."

After Braehmer split town, Shumenov fought late replacement former middleweight titlist William Joppy instead and easily disposed of him.

Hopkins, still fighting at a high level and coming off a rousing decision win against mandatory challenger Karo Murat on Oct. 26, should pose a far more difficult test for Shumenov than any opponent he has previously faced.

"Bernard Hopkins is a legendary fighter and it would be an honor to fight him," Shumenov said. "He said he wants to fight me, I want to fight him. If I had my choice of unifying against any of the other world champions in the 175-pound division, I would pick Bernard Hopkins because he's headed to the Hall of Fame. Hopkins already proved that age isn't an issue and maybe he isn't human. The other two world champions, Stevenson and Kovalev, only became world champions this year and they haven't beaten opponents at their peaks like Hopkins has so many times. Stevenson beat Dawson after [Andre] Ward destroyed him and [Tavoris] Cloud wasn't the same after Hopkins fought him. Kovalev won his title from Cleverly, who I had been trying to fight for a few years because he had been built up and had never fought a top guy."

Hopkins-Shumenov likely will be made and take place in the spring. Showtime Sports boss Stephen Espinoza told ESPN.com on Thursday that it is a fight he wants to get done.

"It's a fight we are interested in," he said. "That's a fight that (Golden Boy chief executive) Richard [Schaefer] and I will work on after the holidays."
December, 18, 2013
12/18/13
1:06
PM ET
The absurdity of the WBA knows no bounds. I've harped on the organizations and their sheer madness and audacity for years -- not to mention putrid rankings, multiple titles and not following their own rules -- but things are just way out of hand now with this particular alphabet soup body.

It's bad enough that the WBA will sanction as many as four titleholders in the same weight class (for a small sanctioning fee, of course). It has super, regular, unified and interim titleholders. Take your pick. It is just pathetic.

But where it really is ridiculous is when two of its so-called titleholders perform on the same night rather than fighting each other.

On Saturday, light heavyweight titlist Beibut Shumenov, inactive for 18 months (yet allowed to keep his belt) was "elevated" to "super" titleholder and defended the belt against Tamas Kovacs on the big card in San Antonio.

On the very same day in Germany, Juergen Braehmer outpointed Marcus Oliveira -- a massive joke to be fighting for a world title given his woeful résumé -- to win the vacant "regular" title.

Here you had Shumenov and Braehmer, both quality top-10 175-pounders, fighting for belts in the same organization on the same day rather than facing each other.

As bad as that was, it gets even worse on Feb. 1 in Monte Carlo. That is where Gennady Golovkin, also recently "elevated" (which really means another title that the greedy organization can charge another sanctioning fee for) to "super" titleholder, will defend against Osumanu Adama.

On the very same card, England's Martin Murray (26-1-1, 11 KOs), the interim titlist, will face Australia's Jarrod Fletcher (17-1, 10 KOs) for the now-vacant "regular" title when Murray really should be facing Golovkin, for whom he was the mandatory. But the WBA didn't order the fight. Instead, it is content to collect another fee and pass off this fight as a title bout.

It's insanity, yet the Murray camp made Wednesday's announcement of the fight with Fletcher -- knocked out in the second round the only time he ever faced a decent opponent in Billy Joe Saunders last year -- out to be some huge deal.

"Martin Murray will look to fulfill his dream of becoming St Helens' first-ever world champion in Monte Carlo on February 1," the Hatton Promotions press release read.

The winner of that fight won't be a real world champion. He'll have a gaudy belt but no credibility as a serious champion. How can the winner be a real world champion when Golovkin (28-0, 25 KOs), in the main event, is active and already holds a title in the same organization?

I can't blame Murray. Is he supposed to turn down the opportunity? Of course not. He's already had two other title shots, a draw with Felix Sturm and a tight loss to Sergio Martinez (the real, honest-to-goodness middleweight champ of the world). So from Murray's point of view, the fight with Fletcher is meaningful, even if to most others it is pointless as far as being a title fight.

"Jarrod Fletcher is a good kid. I've not seen too much of him, but we'll be working on that now we've got a date," Murray said. "He's got a good pedigree, and he beat [2008 British Olympic gold medalist] James DeGale in the amateurs, which isn't easy and proves he's a good fighter.

"He's going to be well up for this, but I think I'll be the favorite and rightly so, given who I've fought before and how I've done against them. It's going to be interesting for both of us, but I want everyone to know that there's no way I'm coming home to St Helens without that world title."

Indeed, Murray said "that" world title. Just not a legitimate one, thanks to the WBA's continuing joke of having multiple belts in the same division.
November, 26, 2013
11/26/13
5:10
PM ET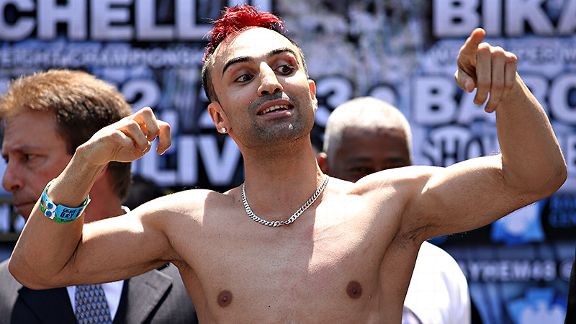 Nick Laham/Getty ImagesPaul Malignaggi could get another title opportunity ... if he defeat Zab Judah on Dec. 7.
Several fighters are training over Thanksgiving for their Showtime fights on Dec. 7 at the Barclays Center in Brooklyn, N.Y., and Dec. 14 at the Alamodome in San Antonio.
But while they won't get stuff themselves with turkey on Thursday, they're still thankful for what they have. Golden Boy's media relations team asked the featured fighters on the two shows what they are thankful for year.
Dec. 7 fighters
Paulie Malignaggi (training in Brooklyn):
"[I am thankful for] My family and my true friends, especially those that have stuck with me from the start."
Zab Judah (training in Las Vegas):
"I am thankful for this time and that I get to be together with my family."
Devon Alexander (training in St. Louis):
"I am very thankful just to be living and in the position I'm in to help a lot of kids and inspire them too. I'm really thankful for so many things in my life, but I can't mention them all because then the list would go on and on."
Shawn Porter (training in Las Vegas):
"I am most thankful for family because they are the most important thing to me."
Erislandy Lara (training in Houston):
"I am most thankful for being in the United State of America and for the freedom I have been given."
Austin Trout (training in Houston):
"First and foremost I am most thankful for God, the Son of Jesus. Also, I am thankful for the love from my family, friends and fans. I have so much that I am grateful for including my health and career that allows me to provide for family."
Sakio Bika (training in St. Louis):
"I am most grateful to have my family. Also, I am thankful that I have my health and a roof over my head because in this world there are a lot of disabled and homeless people."
Anthony Dirrell (training in Del Rey, Fla.):
"I am most thankful for my family and getting this (super middleweight) world championship title opportunity. What I have been through has been amazing with the cancer (Non-Hodgkin lymphoma) and the motorcycle accident. Having the opportunity to recover and fight for the title means a lot to me."
---
Dec. 14 fighters
Adrien Broner (training in Colorado Springs, Colo.):
"I am thankful to God for giving me the ability to take care of family, friends and children."
Marcos Maidana (training in Oxnard, Calif.):
"I'm thankful for this opportunity that Golden Boy Promotions is giving me. I'm really excited about this fight because of the many more opportunities that will come my way if I win. I'm also grateful to the fans, all the Mexican fans that are showing me their support."
Keith Thurman (training in Clearwater, Fla.):
"I am most thankful for my career in boxing. Boxing is the only job that I have ever had and the only job I have ever wanted and I am truly grateful for that."
Jesus Soto Karass (training in Los Angeles):
"I am most thankful for my life and my family. I am grateful to have the love of my wife, kids, parents and siblings. I have the best in life with them. I am also grateful for my health."
Leo Santa Cruz (training in Los Angeles):
"I am most thankful for my family, especially my brother. He still suffers from his illness [lupus], but he is doing much better."
Cesar Seda (training in Salinas, Puerto Rico):
"I am thankful to God for my health and all of the good things in life that have happened to me and my beautiful family. I know that this Thanksgiving I won't be able to be with my wife, kids, mother or my grandparents and the rest of my family, but they understand the sacrifice that I am making for their good. This Thanksgiving I pray that God blesses the whole world and that he brings a lot of peace. I am so grateful for the new opportunity he gave me to fight for a world title again."
Beibut Shumenov (training in Las Vegas):
"As the Thanksgiving holiday approaches, I am most thankful for my family. My father and mother raised me to be the person I am today and the continuous love and support from my brother, Chingis."
Tamas Kovacs (training in Budapest, Hungary):
"I am very thankful for my family and feel very grateful every day to see my kids and my wife. When I am preparing for a fight my family is always on my mind and in my heart. In my career I am very grateful for the opportunity that I can fight for the WBA title."
October, 31, 2013
10/31/13
4:58
PM ET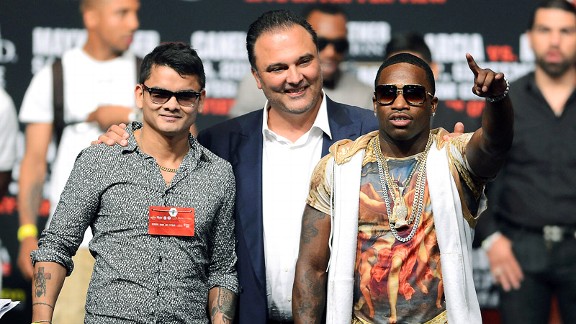 Ethan Miller/Getty ImagesMarcos Maidana and Adrien Broner headline a stacked card from the Alamodome in San Antonio.
The stacked Adrien Broner-Marcos Maidana card will close out the year for the American premium cable schedule on Dec. 14 (Showtime) at the Alamodome in San Antonio, where those involved gathered on Thursday for the kickoff news conference.
Broner (27-0, 22 KOs) is making the first defense of his welterweight title against mandatory challenger Maidana (34-3, 31 KOs) in the main event. Interim welterweight titlist Keith Thurman (21-0, 19 KOs) will face Jesus Soto Karass (28-8-3, 18 KOs) in the co-feature.
There are also two other world title bouts on the card as junior featherweight titleholder Leo Santa Cruz (25-0-1, 15 KOs) makes his first defense when he faces Cesar Seda (25-1, 17 KOs) and light heavyweight titlist Beibut Shumenov (13-1, 8 KOs) meets Tamas Kovacs (23-0, 14 KOs).
The card will also feature the return of former welterweight titleholder Victor Ortiz (29-4-2, 22 KOs) from an 18-month layoff because of a broken jaw. He was supposed to fight Alfonso Gomez, but now is in need of an opponent after Gomez suffered a hand injury this week and withdrew.
Here's what the fighters had to say about the card, which Golden Boy Promotions is calling "Danger Zone," even thought it already used the same name a few years ago for Oscar De La Hoya's pay-per-view fight against Ricardo Mayorga.
•
Broner:
"Maidana is one-dimensional and not in my league. I'm a Ferrari and he's a go-kart and my fans will see that in my return to Texas. It's been over four years since I've fought [in Texas] and I'm going to put on a show. Watch me light Maidana up like a Christmas tree on Dec. 14."
•
Maidana:
"Everyone knows that Broner has a big mouth, but that doesn't bother me, because his mouth can't fight for him. Whether he has the guts to stand in front of me or if he runs I'll definitely go for the KO and, either way, I'm leaving the ring with the belt."
•
Thurman:
"Soto Karass is a tough guy, there's no question about that, and I respect him a lot. But his style is tailor-made for me and I expect to defend my title and win by knockout."
•
Soto Karass:
"Thurman is a young, talented fighter with good power, but as I proved in my fight with Andre Berto, when I'm on top of my game, no one can beat me. I will become a world champion on Dec. 14."
•
Santa Cruz:
"I'm looking forward to getting back in the ring and making my debut in Texas against Cesar Seda. Seda is a quality fighter and a top contender, but I'm not ready to give up my belt to him or anyone."
•
Seda:
"I admire Santa Cruz for his talent and his accomplishments, but styles make fights, and I have the style to beat him and bring the world championship back to Puerto Rico."
•
Shumenov:
"I am excited to be back in the ring and to compete on such an amazing event. It's been a long time [18 months] for me, and I'm hungry to beat Kovacs in impressive style and retain my title."
•
Kovacs:
"It has been my dream to fight in the United States against the best in the world, and on Dec. 14 I finally get my chance. Shumenov is a great champion, but I am confident in my ability to take his title."