December, 19, 2012
12/19/12
6:03
PM ET

After ducking heavyweight champion Wladimir Klitschko since 2008, Alexander Povetkin is now apparently ready to face him. It took him long enough.

Sauerland Event, which promotes second-tier titlist Povetkin, said on Wednesday that it hopes to make the fight, claiming that the WBA, which recognizes Klitschko as its "super champion" and Povetkin as the "regular" titlist, has ordered negotiations to begin between the two camps.

According to Sauerland Event, the WBA wrote the various camps before Klitschko spanked David Haye in July 2011 to make it clear that the Klitschko-Haye winner would have to face the Povetkin-Ruslan Chagaev winner within 18 months of that Aug. 27, 2011 bout.

Sauerland Event claims that Klitschko-Povetkin is due by Feb. 26, 2013 -- 18 months after Povetkin beat Chagaev.

"We are very excited that Povetkin will be Wladimir Klitschko's next opponent," promoter Kalle Sauerland said. "We consider Wladimir Klitschko to be a great champion but we also consider Alexander Povetkin to be a very serious challenger. A fight between two Olympic heavyweight champions is always something special and one that will turn out to be a real treat for boxing fans all over the world."

Chris Meyer, the managing director of Sauerland Event said, "We have a four-week period to negotiate terms on the fight and will be in contact with the Klitschko management. We worked together for many fights as co-promoters of the Klitschkos. Therefore, I am convinced that we will have a professional dialogue. However, if we should not be able to reach a voluntary agreement we are prepared to enter a purse bid."

The Klitschko camp does not agree with Sauerland's assessment of the situation.

Bernd Boente, Klitschko's manager, told ESPN.com that the WBA told them that they had 24 months from the Klitschko-Haye fight to make the mandatory defense, which would mean a Klitschko-Povetkin bout wouldn't be due until early July.

"The WBA has told (K2 Promotions managing director) Tom (Loeffler), (adviser) Shelly (Finkel) and myself that we have 24 months from the Wladimir-Haye fight, so we will ask them," Boente said.

Boente said Klitschko (59-3, 51 KOs) plans to fight in early April in what would be his 14th title defense, but did not commit him to facing Povetkin (25-0, 17 KOs), although he didn't seem particularly concerned about the fight possibly being mandated next.

"We will ask the WBA about this issue and then see," Boente said.

Klitschko ought to be licking his chops to finally get Povetkin into the ring, because he probably would hammer him.

Since Povetkin, the 2004 Russian Olympic super heavyweight gold medalist (Klitschko won gold for Ukraine in 1996), beat Eddie Chambers in a January 2008 title eliminator to become Klitschko's mandatory for the first time, he's gotten worse, not better.

Povetkin had a huge struggle with Chagaev to win the vacant "regular" belt and also got a gift decision against cruiserweight titlist Marco Huck, who moved up in weight, in a horrible performance in February.

But you have to love the tough talk from Sauerland Event, considering that Povetkin has run from Klitschko since 2008. Klitschko's camp has already won two purse bids for the fight, but Povetkin failed to show for the bout either time.

They were supposed to fight in December 2008, but Povetkin injured his foot when he tripped over a tree root while doing a run in preparation for the bout. However, when Povetkin came back, he went in another direction.

In 2010, there was another purse bid for the fight and K2 won it again. Povetkin would have made a career-high payday of more than $2 million, but Teddy Atlas, then his trainer, convinced him not to take the September fight, and Povetkin failed to show up at a news conference announcing the bout. Klitschko fought Samuel Peter in a rematch and knocked him out instead.
August, 27, 2012
8/27/12
11:43
AM ET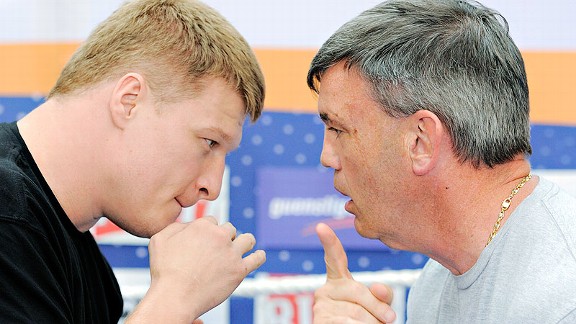 AP Photo/Jens MeyerWith Alexander Povetkin and Teddy Atlas no longer seeing eye to eye, he has a new trainer in Hall of Famer Kostya Tszyu.
For the third time in three fights, there will be a new voice in the corner of heavyweight titlist Alexander Povetkin.
Kostya Tszyu, the Hall of Fame former undisputed junior welterweight champion, is training Povetkin for the third defense of his second-tier title against mandatory challenger and former world champion Hasim Rahman on Sept. 29 (Epix and EpixHD.com) in Hamburg, Germany.
Povetkin spent a few years with Teddy Atlas -- also ESPN2's "Friday Night Fights" ringside analyst -- as his head trainer, and together they won a vacant belt via unanimous decision against former titleholder Ruslan Chagaev in August 2011. Atlas' impassioned words between rounds helped drive Povetkin through a very tough fight.
Atlas was with Povetkin for his first defense, a walkover eighth-round knockout of overmatched Cedric Boswell in December in Finland, but then came their split. It was caused by a disagreement over where Povetkin should train. Povetkin, or rather his handlers, wanted to remain in his native Russia. Atlas, who wanted him to train in the United States, said their agreement was that Povetkin would train in the U.S. during Atlas' "Friday Night Fights" season, and that Atlas would go to Russia if there was a fight during the show's offseason.
When Povetkin (24-0, 16 KOs) wouldn't come to the U.S., that was it for their relationship, and Atlas was replaced by Russian trainer Alexander Zimin on somewhat short notice. With Zimin in the corner, Povetkin struggled to a controversial decision win Feb. 25 against cruiserweight titlist Marco Huck, who had moved up for the shot.
And now Zimin is out and Tszyu is in to train Povetkin for the fight with Rahman (50-7-2, 41 KOs), which was supposed to have taken place July 14 but was postponed because Rahman had to have a cyst removed from his wrist.
"I am very happy with my new coach," Povetkin said. "We have a great relationship. I can learn a lot from Kostya Tszyu. I have already improved my stamina while training under his supervision in my hometown of Chekhov. I am feeling really good.
"I promise you that I will be in great shape and will deliver an amazing fight in Hamburg. I am not going to let anyone down. But you should never underestimate a mandatory challenger. Rahman wants to win, but so do I."