Dan Rafael:

Terence Crawford
December, 15, 2014
Dec 15
4:07
PM ET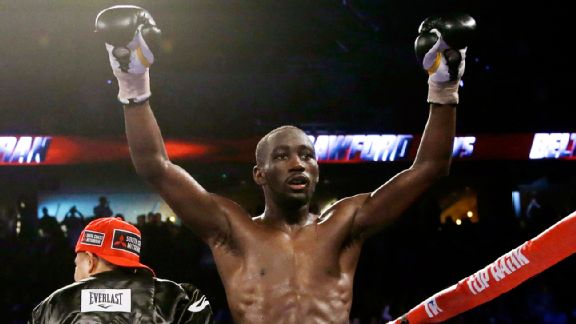 AP Photo/Nati HarnikTerence Crawford is one of the candidates to become the 2014 WBAA Fighter of the Year.
As if last week wasn't busy enough in Las Vegas, where I shuttled between the Cosmopolitan and MGM Grand on Thursday, Friday and Saturday for coverage of both big shows – I hit both press conferences and weigh-ins and watched the early MGM bouts before going to the Cosmo – there was also a Boxing Writers Association of America meeting on Saturday morning at the MGM.
A few weeks ago in Atlantic City there was also a BWAA meeting for those folks in the organization on the East Coast. At that meeting we did the preliminary ballot for the 2014 awards, which will be handed out at the annual banquet in the spring a night or two before a major fight.
On Saturday we finalized the ballot and here is what the full members will be voting on in the coming weeks. The nominees are:
Sugar Ray Robinson Fighter of the Year:
Terence Crawford, Sergey Kovalev, Manny Pacquiao, Miguel Cotto, Gennady Golovkin.
Muhammad Ali-Joe Frazier Fight of the Year:
Francisco Rodriguez Jr.-Katsunari Takayama (incredible action-packed strawweight unification), Orlando Salido-Terdsak Kokietgym (interim junior lightweight title bout featuring blazing action and seven combined knockdowns), Lucas Matthysse-John Molina (a back and forth junior welterweight battle featuring five combined knockdowns), Tommy Coyle-Daniel Brizuela (dramatic lightweight slugfest that featured eight combined knockdowns); Terence Crawford-Yuriorkis Gamboa (lightweight title fight that was dramatic and exciting in front of a wild Crawford crowd).
Eddie Futch Trainer of the Year:
Abel Sanchez, Freddie Roach, John David Jackson, Naazim Richardson, Floyd Mayweather Sr.
Cus D'Amato Manager of the Year:
Egis Klimas, Vadim Kornilov, Al Haymon, Pat Lynch, No award
Sam Taub broadcast award:
Marc Payton (retired longtime director of HBO's boxing broadcasts), Lou DiBella (promoter who spent many years buying the fights for HBO and the creator of "Boxing After Dark"), Seth Abraham (former longtime president of HBO Sports who teamed with DiBella to make HBO into a powerhouse boxing network), Brian Kweder (boxing programmer for ESPN), No award
Bill Crawford award for courage in overcoming adversity:
Magomed Abdusalamov, Steve and Livvy Cunningham, Vitali Klitschko, Anthony Dirrell, Kathy Duva
Barney Nagler Long and Meritorious Service award:
Michael Buffer (legendary ring announcer), Bob Canobbio (CompuBox founder), Lou DiBella (promoter, former HBO executive), Dr. Margaret Goodman (head of the Voluntary Anti-Doping Association and former Nevada ringside physician), Jack Hirsch (outgoing longtime BWAA president)
Marvin Kohn Good Guy award:
Dan Goossen (promoter, posthumous), Andrey Ryabinsky (Russian promoter who paid for most of Magomed Abdusalamov's medical expenses), Ken Condon (longtime casino executive in Atlantic City), Don Turner (trainer), Tami Cotel (HBO boxing production coordinator).
December, 1, 2014
Dec 1
1:04
PM ET

It came as little surprise that lightweight titlist Terence Crawford, the best 135-pounder in the world, announced following his near-shutout decision against top contender Raymundo Beltran on Saturday night that he is moving up to junior welterweight.

Crawford (25-0, 17 KOs) has been fighting as a lightweight for his entire career with the exception of a few fights at junior welterweight, and it's time to move up. There is no big fight awaiting him at lightweight, not even an interesting unification fight to pursue. One lightweight belt is vacant, and there is nobody, and I mean nobody, banging down any doors to see Crawford fight titleholders Mickey Bey and Richar Abril. If anything, they might be banging down doors not to see those terrible matchups.

Top Rank and HBO hope to have Crawford back in the ring in March or April, but whom will Omaha's favorite son fight in his 140 debut? Top Rank envisions him as a future opponent for Manny Pacquiao, a small welterweight titleholder who very well could be returning to junior welterweight if a fight with Floyd Mayweather Jr. continues to go unmade. But even if Pacquiao does drop down in weight, a Crawford fight won't be next.

While there is a lot of talent in the 140-pound division, there are also some fights that are unlikely because of the political climate. Crawford is unlikely to face anyone in adviser Al Haymon's stable, so as interesting as the fights would be, you can probably cross champion Danny Garcia, titlist Lamont Peterson, Adrien Broner and Lucas Matthysse off the list.

You can probably also cross off Viktor Postol, as he is in a mandatory position for one of the belts and unlikely to give that up, especially since Postol is not a big name and, therefore, unlikely to be worth huge money to fight Crawford.

So who's left? Here are a few fights I think are possible, in no particular order:

• Jessie Vargas: Vargas owns a secondary world title, shares promoter Top Rank with Crawford and looked good in an exciting win against Antonio DeMarco on Nov. 22 on the Pacquiao-Chris Algieri HBO PPV undercard. Vargas and Crawford share manager Cameron Dunkin, so that might be an issue given his reluctance to match his fighters. But for the right deal, I'd guess it's possible. It would probably also be an entertaining fight.

• Mauricio Herrera-Jose Benavidez Jr. winner: Herrera will defend his interim belt against Benavidez on Dec. 13 on HBO, and the winner would be a logical opponent. Benavidez is also with Top Rank, and although Herrera is with Golden Boy, the two companies are at peace now and were easily able to make the fight with Benavidez. A lot will depend on how the fight goes Dec. 13. I think a Crawford fight would be more likely if the veteran Herrera wins rather than the younger, less experienced Benavidez.

• Algieri: He got schooled by Pacquiao on Nov. 22, but his promoter, Joe DeGuardia, is appealing to the WBO for stripping him of his junior welterweight belt before he challenged for Pacquiao's welterweight title. While I don't think the WBO is going to reinstate Algieri as its 140 titleholder, it could make him the mandatory for the vacant belt. Crawford, as the WBO's 135 titlist, is entitled to challenge for the organization's vacant 140 title if he seeks the mandatory position. I could see this fight as a good first step for Crawford to be uncaged at junior welterweight and a fight Algieri, knowing his competitive spirit, accepting.

• Ruslan Provodnikov: He lost his title to Algieri in a controversial split decision in June and returned Friday to smash the corpse of Jose Luis Castillo in Moscow. Provodnikov's next fight will be in the United States, and one with Crawford would be a big HBO fight and potentially could be for the vacant belt, given Provodnikov's WBO ranking (No. 2 as of Nov. 15).

• Matthysse: I know I said forget about Crawford fighting a Haymon boxer, but this one might be possible even if I view it as a huge long shot. Matthysse is No. 1 in the WBO rankings. If Algieri is not reinstated as titlist and not made No. 1 contender, it seems the fight the WBO would order for the vacant title is Matthysse-Crawford. Under a purse bid scenario, it would not be entirely out of the question they could fight as other Haymon fighters and Top Rank fighters have done in the recent past under similar circumstances, such as Vasyl Lomachenko-Gary Russell Jr. and Erislandy Lara-Vanes Martirosyan.
November, 29, 2014
Nov 29
4:29
PM ET
Lightweight contender Raymundo Beltran has been a pro for 15 years. He will get his second world title shot when he challenges Terence Crawford (24-0, 17 KOs) on Saturday night (HBO, 10 ET/PT) at the CenturyLink Center in Crawford's hometown of Omaha, Nebraska.

Just like when he traveled to Ricky Burns' turf in Glasgow, Scotland, to challenge him for his 135-pound world title in September 2013 -- and got saddled with a controversial draw -- Beltran is the underdog against Crawford. Beltran has been the underdog his entire career.

But one of the reasons, Beltran said, that he is still around and has been able claw his way to becoming a serious contender is because of the great Manny Pacquiao.

Beltran (29-6-1, 17 KOs) spent years as one of Pacquiao's top sparring partners, helping him get ready for big fight after big fight. All of that time spent working with Pacquiao was also spent learning from him, Beltran said.

"I think all of that time with him definitely made me a better fighter," Beltran said. "I was working with the best."

Beltran has sparred dozens and dozens of rounds with Pacquiao and said he worked in around 10 or 12 of his training camps, although not for any of Pacquiao's last three fights. He said the last time he was in camp with Pacquiao was before his fourth fight with Juan Manuel Marquez in December 2012.

"It has been a while but I was in a lot of camps with Manny," Beltran said. "I sparred with him a lot. Every time I sparred I tried to do my job, but I was not there to be a punching bag for Manny. I always tried to beat him. It was very intense, hard training and it made me better."

Despite some intense sparring with the Filipino legend, Beltran said he loves Pacquiao.

"Manny is my boy," he said. "He is the best guy I have ever met in boxing. He is a real guy, the real deal. He's a really humble guy, not a big shot. He always takes care of his people. If you spar with him, he tries to take care of you. He definitely helped me get better, mentally and physically in this tough sport."

November, 28, 2014
Nov 28
3:25
PM ET

Lightweight titlist Terence Crawford is set to face Raymundo Beltran, the deserving mandatory challenger, on Saturday night (HBO, 10 ET/PT) at the CenturyLink Center in Crawford's hometown of Omaha, Nebraska. It will probably be his final fight at 135 pounds.

Crawford, 27, has fought primarily as a lightweight for his entire seven-year career, although he has had a few fights at junior welterweight. The time for the full-time move up is seemingly at hand.

"My thought about that is I have been at this weight for a long time, and I feel like it's best that I move up," Crawford told ESPN.com. "Me and my team talked about it and said, 'Let's go for it.' There are a lot of great fights at 140 and names to choose from. It's a stacked weight class, all the way to 147, so it shouldn't be a problem getting fights with bigger names at 140 and eventually at 147. I want to make a run toward that greatness and the pound-for-pound list."

Crawford (24-0, 17 KOs) said that while he wants to move up after Saturday's fight, it's not set in stone.

"You never know," he said. "It's all about what my team wants for me, my managers, my coaches, my promoter. Everything goes good Saturday and they say, 'Let's move up,' that's the decision. As far as me wanting to move up, I do. But it's not only my decision. It's a team effort."

Top Rank, Crawford's promoter, envisions him as an eventual opponent for Manny Pacquiao, who defended his welterweight title last week against Chris Algieri at a catchweight of 144 pounds. Pacquiao and trainer Freddie Roach have said they are interested in Pacquiao moving back down to junior welterweight unless a fight with Floyd Mayweather Jr. can be made next.

Crawford has heard his name mentioned in the Pacquiao sweepstakes but has tried to ignore it.

"It's just talk right now, but I'm up for whatever," Crawford said. "Give me a date and a time and we can make any fight happen. It's just talk right now, so I don't feed too much into it, and I got other things to worry about, like Beltran on Saturday. If they're serious, though, we'll go from there."

Crawford said it is a great compliment to be mentioned for a fight with Pacquiao.

"It makes me feel good," Crawford said. "I wasn't talked about for a long time, and now that I'm getting some kind of recognition I think my hard work is paying off."

Top Rank vice president Carl Moretti said it makes a lot of sense for Crawford to move up after the fight with Beltran (29-6-1, 17 KOs).

"You move up for two reasons," Moretti said. "One, you can't make the weight and, two, marketability. Crawford isn't going to get a unification fight. Fights with Richar Abril and Mickey Bey are nonstarters for many reasons. And we'd get arrested if we put him in with [former titlist] Omar Figueroa.

"So you'd like to move him to 140 and eventually to 147. He wants big fights and bigger names, and they reside at 140 and 147. As for fighting Pacquiao down the road? Crawford is reaching his prime and won't be intimidated. It's an interesting fight."

October, 3, 2014
Oct 3
10:31
PM ET
A few notes from around the boxing world:

• Well that was quick. The rematch between cruiserweights Nathan Cleverly and Tony Bellew sold out in less than 48 hours, Matchroom Boxing promoter Eddie Hearn announced. The fight takes place Nov. 22 at the Echo Arena in Liverpool, England, Bellew's hometown. "Cleverly versus Bellew is 48-hour box office sell out, making it the fastest selling sporting event in the Echo Arena's history," Hearn said. "We had a little taste of the action this week and with same major announcements coming next week, those lucky enough to have grabbed a ticket and those watching at home are in for a wonderful night of British boxing. The atmosphere in the Echo Arena on Nov. 22 will be breathtaking."

• While Cleverly-Bellew II sold out in two days, tickets for lightweight titleholder Terence Crawford's defense against Raymundo Beltran on Nov. 29 (HBO) at the CenturyLink Center in Crawford's hometown of Omaha, Nebraska are also hot. "In just the four hours of being on sale, we are close to selling out the ringside seats and the next highest priced tier tickets sales are not too far behind that," Top Rank promoter Bob Arum said of the tickets, which went on sale Friday morning. "Terence's fans are taking no chances on missing the opportunity of seeing their world champion defend his title live. The atmosphere on fight night is going to be even more electric than his last fight."

• Representatives for Manny Pacquiao-promoted Michael Farenas (39-4-4, 31 KOs) of the Philippines and Puerto Rico's Jose Pedraza (18-0, 12 KOs), who is promoted by Gary Shaw, Lou DiBella and Javier Bustillo, have made a deal for the junior lightweight title eliminator and avoided a purse bid. The fight will take place Nov. 14 in San Juan, they announced. Contracts are due back to the IBF offices by Oct. 17.

• Dynasty Boxing promoter Dino Duva announced the signing of Fanlong Meng, a Chinese light heavyweight amateur standout, who was a Chinese national champion from 2008 to 2013 and idolized Roy Jones Jr. growing up. "Fanlong is one of the best boxers in China," Duva said. "I've had the honor and pleasure of knowing him for five years. He is a terrific boxer-puncher and will fight professionally in a very hot weight class. I believe he has as much pro potential as any boxer in China and I'm extremely excited about his signing." Dynasty Boxing also promotes Chinese heavyweight Zhang Zhilei, a 2008 Olympic silver medalist, who turned pro in August.

• Welterweight prospect Dusty Hernandez-Harrison (23-0, 12 KOs), who was scheduled to fight Hector Munoz (23-13-1, 15 KOs) on Sept. 27 in his hometown of Washington, D.C., but had to postpone the fight because of an ankle injury, has a new date: Nov. 1. The card will still take place at Constitution Hall in Washington although he likely will face a new opponent.

July, 29, 2014
Jul 29
7:38
PM ET
Caught up with Top Rank promoter Bob Arum on Tuesday and here a couple of interesting tidbits:
[+] Enlarge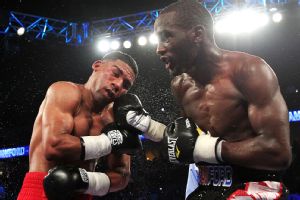 Chris Farina/Top Rank Lightweight titleholder Terence Crawford's second title defense is set for Nov. 29 in his hometown of Omaha, Nebraska.
• Lightweight titleholder Terence Crawford's second defense is penciled in for Nov. 29 (HBO) at the CenturyLink Center in his hometown of Omaha, Nebraska, likely against top contender Raymundo Beltran (29-6-1, 17 KOs) of Mexico. That is the same arena where Crawford (24-0, 17 KOs) put on a dazzling performance in his first defense on June 28 by knocking out previously unbeaten Yuriorkis Gamboa.
"It's Thanksgiving weekend and we have the building on hold," Arum said. "HBO loves the fight."
Crawford won the title by unanimous decision from Scotland's Ricky Burns, beating him on his home turf on March 1.
In his previous fight, Burns was the recipient of a gift draw against Beltran, who also traveled to Scotland, dropped Burns, broke his jaw and pounded on him only to be robbed of the decision. Beltran is a very deserving challenger.
• Arum also said Chinese flyweight star Zou Shiming's fight on the Manny Pacquiao-Chris Algieri undercard on Nov. 22 (HBO PPV) in Macau, China, will be his first scheduled 12-round bout, perhaps a title eliminator. With a victory, Arum said they would pursue a title shot for Zou (5-0, 1 KO), the two-time Chinese Olympic gold medalist, in the fight after that against the winner of the Sept. 14 fight between Thai titleholder Amnat Ruenroeng (13-0, 5 KOs) and Puerto Rican mandatory challenger McWilliams Arroyo (15-1, 13 KOs).
Ruenroeng, a 2008 Olympian, who faced Zou multiple times in the amateurs, was ringside for Zou's fight in February in anticipation of a possible showdown.
The Pacquiao-Algieri televised undercard is also likely to include a bout involving welterweight contender Luis Carlos Abregu (36-1, 29 KOs) of Argentina.
• Arum said the media tour to promote the Pacquiao-Algieri fight will begin Aug. 25 in Macau with two stops in Asia -- Shanghai, China and Taipei, Taiwan -- before they come to the United States for stops in Los Angeles, San Francisco (big Filipino population) and New York, with a stop in Las Vegas also possible.
July, 2, 2014
Jul 2
12:27
PM ET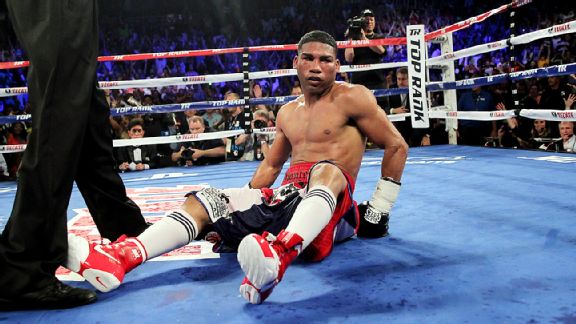 Chris Farina/Top RankAfter his knockout loss to Terence Crawford, Yuriorkis Gamboa will move down to junior lightweight.
Yuriorkis Gamboa just wasn't big enough to hang with a top lightweight. That means he is headed back to junior lightweight.
That was the decision made by Gamboa, adviser Tony Gonzalez and promoter Curtis "50 Cent" Jackson following Gamboa's ninth-round knockout loss to lightweight titleholder Terence Crawford on Saturday night in Crawford's hometown of Omaha, Nebraska.
Crawford didn't just stop Gamboa, who got off to a strong start and was leading after four rounds. The bigger and longer Crawford scored four knockdowns en route to the harsh knockout victory. It was enough to make Gamboa (23-1, 16 KOs), fighting for only the second time as a lightweight, and his team realize he would be better served in the smaller weight class.
"50 and I spoke about what his immediate future plan would be with him and from the onset the consensus is to go back to 130 pounds," Gonzalez told ESPN.com. "We still feel he can do a good campaign at 135 and he asked about a rematch with Terence because he wants another crack. He is uber competitive and when I got into the ring after the fight he kept saying, 'Why'd they stop the fight? They should have counted to 10.' I told him it was a good stoppage. So, yes, he wants another crack at Crawford and we know he could beat other lightweights, but we talked about going back to 130.
"There was a little resistance but at 130, 126, those were his better days. He has the power advantage. So he agreed but he is not completely discarding coming back to 135 at some point. So that's where we stand."
Gonzalez said Gamboa, a former unified featherweight titleholder, would not drop all the way back to the 126-pound division.
"He feels comfortable at 130 and he came in weighing 146 on the night of the fight with Crawford, so going back to 126, he's not going to do that. I don't think he could do that," Gonzalez said.
Gonzalez said the aim is to have Gamboa, who came off a year layoff to face Crawford, back in the ring in October or November and said he believes there are some interesting fights at 130, including a title fight with Mikey Garcia or a showdown with fellow former featherweight titlist Juan Manuel Lopez.
Gamboa, a 2004 Cuban Olympic gold medalist, was supposed to have been facing Garcia rather than Crawford, but Garcia pulled out of the talks when he sued promoter Top Rank to get out of his contract. If they work things out, perhaps Garcia-Gamboa can be made for later this year.
As for Lopez, he has a fight against Francisco Vargas on July 12, so a showdown with Gamboa is not his priority.
In 2010 and 2011, the prospect of Lopez-Gamboa was one of the most anticipated fights in boxing after they appeared on multiple cards together. But Top Rank promoter Bob Arum said he wanted to "let it marinate" and refused to make the fight. Then Lopez got knocked out twice by Orlando Salido and the demand for the fight evaporated. Even if the fight is eventually made, it won't be nearly as anticipated as it once was.
Crawford (24-0, 17 KOs), who was making his first title defense, said that he also thought Gamboa would be better off moving down in weight.
"To say he don't have any power, that would be an understatement. But to be more effective with one-punch knockout power he might want to go back down to 130 or 126," Crawford told ESPN.com. "His speed wasn't really a factor. I felt like I was just as fast. I was working on timing and slowing him down to the body."
July, 1, 2014
Jul 1
12:42
PM ET
Lightweight titleholder Terence Crawford's exciting ninth-round knockout of Yuriorkis Gamboa in his first defense on Saturday night was a fight of the year candidate. It was also the second-most viewed fight of the year so far on American television, according to Nielsen Media Research, further enhancing Crawford's emerging star status.

Not only did Crawford draw a raucous crowd of 10,943 (and an approximate $500,000 live gate), the fight, Crawford's first pro fight in his hometown of Omaha, Nebraska (and the first world title fight there in 42 years), attracted an average audience of 1.208 million viewers to HBO for the live, first-time airing. The fight peaked at 1.286 million viewers.

By comparison, Crawford-Gamboa nearly doubled the audience of the previous week's Showtime main event between Robert Guerrero and Yoshihiro Kamegai, another all-action fight, which averaged 614,000 viewers.

The only fight this year to have had more viewers than Crawford-Gamboa was the super middleweight rematch between Julio Cesar Chavez Jr. and Bryan Vera, which averaged 1.39 million viewers for their HBO fight on March 1 in San Antonio. HBO has televised the top eight most-viewed fights this year. Crawford was fighting on HBO for the third time, but in his first main event.

The less-than-compelling co-feature between middleweights Matt Korobov and Jose Uzcategui, both in their first HBO fights, averaged 929,000 viewers and peaked at 1.066 million.

Also of note, even though there was a free HBO preview this past weekend, those viewers do not count in Nielsen's viewership figures, which means even more people surely saw the fight.
May, 23, 2014
May 23
9:17
PM ET
Understandably, middleweight contender Matthew Macklin is disappointed. That is because he was supposed to fight former titleholder Daniel Geale on Saturday in Corpus Christi, Texas on HBO.

The fight was scheduled to be the co-feature on the card headlined by the heavyweight elimination bout between Mike Perez and Bryant Jennings, but when Perez suffered a shoulder injury two weeks ago the card was canceled. Poof, there went Macklin's fight and low six-figure payday.

But not long after that, HBO was interested to have him face Matt Korobov on June 28 on the Terence Crawford-Yuriorkis Gamboa undercard. While Macklin would make a little less money for the fight, he would at least not have let his training go to waste, would still be on HBO and also in a winnable fight.

But Macklin did not respond in a timely enough fashion about whether he would accept the fight, so HBO and Top Rank moved on and Korobov will face Jose Uzcategui instead.

Now Macklin, upset with promoter Lou DiBella over the situation, has declared himself a free agent even though DiBella said he has one more fight with him, and certainly Macklin believed that also given that he had accepted the Geale offer from DiBella.

Macklin has said that the Perez injury was fishy, believing that the card was called off as a way to get Geale a July shot at the K2-promoted Gennady Golovkin because right after the card was canceled Golovkin-Geale was being negotiated. Perez is also with K2.

"I think something's fishy there myself, but HBO did come back and offer Matthew a Korobov fight," DiBella said. "He was offered the fight in writing. He never got back to me. The next day HBO called me and they needed to know if we will accept the fight or not. Matthew said he needed a day to decide and, besides, it was his birthday and he didn't want to think about boxing. I got Top Rank and HBO to wait one more day. And as of the middle of the next day his adviser (Anthony Catanzaro) said he couldn't reach him. The following day still no response and Anthony sent me a text message saying he hadn't heard from Matt and to tell them if they have to move on they should move on."

DiBella said Macklin is not a free agent and is upset that Macklin is seemingly blaming DiBella for what happened.

"It's totally disrespectful. I also had a fighter retire on me by text message," DiBella said of Yuri Foreman, who announced his retirement two weeks before he was to fight June 7 on the Sergio Martinez-Miguel Cotto HBO PPV undercard. "The job I've done with Macklin after not getting the decision against Felix Sturm, he should be thrilled."

After that robbery, DiBella got Macklin a shot at middleweight champ Martinez (Macklin was knocked out), got him on the Martinez-Julio Cesar Chavez Jr. HBO PPV card and then a shot at Golovkin (Macklin was knocked out). And then Macklin found himself back on HBO against the unknown Lamar Russ because DiBella negotiated a comeback fight in the Golovkin contract.

"I got him on HBO against Lamar Russ after he knocked out early (third round) by Golovkin. I did my job," DiBella said. "Matthew has turned down fights and also been injured. How can he argue I don't have a fight left? It was his choice not to fight Korobov, but he can't say he doesn't have a fight left.

"I have fought for this kid non-stop. I questioned with what happened with Geale. It's not fair but there's nothing I can do about it so he shouldn't blame me and he's the one who turned down Korobov. Matthew is sick of the politics of boxing but so am I, and part of it's the fighters who take advantage of the people who work hard for them and don't honor their contracts. I literally feel hurt. I respected him and considered him a friend, so I am hurt and upset. He is wrong."
May, 12, 2014
May 12
5:21
PM ET
A proposed fight between lightweight contender Raymundo Beltran and former unified titleholder Juan Diaz has been scrapped, Top Rank vice president Carl Moretti told ESPN.com.

The bout was supposed to serve as the opener of the HBO-televised fight between lightweight titleholder Terence Crawford (23-0, 16 KOs) and former featherweight titleholder Yuriorkis Gamboa (23-0, 16 KOs) on June 28 at the CenturyLink Center in Omaha, Neb., Crawford's hometown.

In addition to being a probable action fight, the winner of the fight would have put himself in prime position to challenge the winner of the main event.

However, Moretti said that Beltran dropped out of the fight, saying he would not be ready in time. One of the reasons, perhaps, is because Beltran (29-6-1, 17 KOs) recently parted ways with manager Steve Fedor and is now working with attorney David Garcia, Moretti said.

Moretti said that Diaz (39-4, 19 KOs) likely would remain on the card in an untelevised bout.

Top Rank and HBO are talking about various fights to take the place of Beltran-Diaz as the co-feature.
December, 3, 2013
12/03/13
5:22
PM ET
The WBO has scheduled two purse bids for a pair of world title bouts -- the rubber match between super middleweight titlist Robert Stieglitz and Arthur Abraham and lightweight titleholder Ricky Burns' mandatory defense against Terence Crawford.

The sides could make deals for the fights before the purse bid, but in the event that they don't -- and they probably won't -- Stieglitz-Abraham III goes up for auction on Sunday at a purse bid in Budapest, Hungary. Minimum bid is $300,000.

The auction for the promotional rights to Burns-Crawford will take place Monday at the WBO offices in San Juan. The minimum offer for that fight is $150,000.

November, 11, 2013
11/11/13
12:00
PM ET
In one of the worst decisions of the year -- and of the past few years -- lightweight titlist Ricky Burns got the ultimate hometown nod in Scotland, retaining his belt on a split draw against hard-luck Mexican Raymundo Beltran on Sept. 7.

Even some of Burns' most ardent supporters took to social media to say they believed that Beltran had been robbed, which he was. Beltran broke Burns' jaw in the second round, dropped him in the eighth round, outmuscled him throughout the fight and clearly should have gotten the decision. So it seemed like a logical bet that the WBO, whose belt Burns holds, would order an immediate rematch. But, alas, it did not. Instead, the organization announced that it has ordered Burns promoter Eddie Hearn of Matchroom Sport to begin negotiations with Top Rank for his mandatory defense against Terence Crawford, leaving Beltran high and dry.

The Burns and Crawford camps have until early December to reach a deal, otherwise a purse bid will be ordered. The minimum bid is $150,000, and if either side wants, it can call for an immediate purse bid and stop negotiating.

The order puts Top Rank in a delicate position because it promotes Crawford and Beltran. However, the fight HBO wants is Burns-Crawford, so if Burns' jaw is healed and he's going to fight in early 2014, it looks as though he will be facing Crawford, possibly in the United States if the network comes up with enough money to entice him to come stateside.

The organization also ordered the third fight between super middleweight titlist Robert Stieglitz and mandatory challenger (and former titlist) Arthur Abraham. Stieglitz promoter Ulf Steinforth of SES Sports and Chris Meyer of Sauerland Event are in discussions, but if they can't make a deal, a purse bid will be ordered. Minimum bid is $300,000.

Abraham edged Stieglitz to win the belt in their first fight in August 2012 but then got routed in a fourth-round knockout in the March rematch. Ridiculously, Abraham was appointed as the mandatory challenger and has looked terrible in a pair of decision wins against lesser opponents since the loss.

The rubber match is expected to take place in early 2014 -- before the start of the Winter Olympics in February -- but the big question is which German television network will broadcast the fight, as Stieglitz has an exclusive deal with SAT.1 while Sauerland has a deal for all of its fights to be on ARD.
October, 3, 2013
10/03/13
5:49
PM ET
ORLANDO, Fla. -- Lightweight contender Terence Crawford of Omaha, Neb., returns to action with a lot at stake.

The 26-year-old Crawford (21-0, 16 KOs) faces Andrey Klimov (16-0, 8 KOs), 31, of Russia, in a scheduled 10-rounder on Saturday night (HBO, 9:45 ET/PT), on the Miguel Cotto-Delvin Rodriguez undercard at the Amway Center, knowing that a victory probably is the last hurdle to a world title shot.

If all goes well for Crawford, who is a mandatory challenger for titleholder Ricky Burns, he should be facing him early next year.

Top Rank, Crawford's promoter, is hoping to make a deal with Matchroom Sport promoter Eddie Hearn to bring Burns from Scotland to New York to face Crawford on an HBO card in early 2014.

"I'm ready [for a title shot] but I am not looking past Klimov," Crawford said. "I will look to go in there Saturday night and handle my business and after the fight we can see what's next. But I don't think about [a title fight]. My focus is on Klimov. I'm not worried about who I might fight after him because I have to handle my business and then I can think about fighting someone else."

When pressed, Crawford did admit he has at least let the prospect of fighting for a world title cross his mind.

"I've had the thought of it, but I try to block it out and not get too excited about it because anything can happen in boxing," he said. "But it's good to know that it's there. I felt like I should have been at this pinnacle a long time ago. I have the skills and ability to be word champion. I was being patient and waiting for my chance for a big fight and when I got my chance with [Breidis] Prescott [in March], I showed the world what I could do and I did what I said I could do."

Crawford, taking the fight on short notice when Prescott's original opponent dropped out, schooled the longtime contender in a lopsided 10-round decision win that impressed many, including the HBO executives. They liked him so much that they brought him back in June, when he stopped Alejandro Sanabria in the sixth round, and hope to make him a major part of their boxing stable.

Klimov, however, stands in the way of Crawford's title fight. Klimov scored a majority decision win against fringe contender John Molina in June, a fight Crawford said he watched live on ESPN's "Friday Night Fights."

"I watched the fight with Molina and my coaches," Crawford said. "They have looked at the fight and came up with a game plan."

If there is one thing that might throw a wrench into any title plans for Crawford -- besides a loss -- it could be Burns' highly controversial draw against Raymundo Beltran on Sept. 7. That was a fight in Burns' native Scotland in which Beltran dominated long stretches, scored a knockdown, broke Burns' jaw and appeared to have won -- but was saddled with a draw.

The WBO might order a rematch between Burns and Beltran, which would put Crawford's shot off at least another fight.

Burns had a titanium plate put in his jaw, which is supposed to be removed soon. He is expected to be able to fight again in early 2014, but if he can't, it would not be a surprise if Beltran and Crawford (as long as he wins Saturday) were ordered to meet for an interim title with the winner to face Burns when he is healthy.

Whatever happens, Crawford is in a great spot as long as he handles his business with Klimov.