Dan Rafael:

Timothy Bradley
November, 21, 2013
Nov 21
1:23
PM ET

With the Manny Pacquiao-Brandon Rios welterweight fight taking place Saturday night in Macau (HBO PPV, 9 ET), Top Rank promoter Bob Arum and HBO have set up a quasi-media center at the Venetian in Las Vegas and brought in more than a dozen radio shows to broadcast there Thursday and Friday in an effort to keep the fight on the minds of American sports fans.

In addition, they have brought in several fighters to do interviews on those radio programs and also to talk to other media. Among the fighters involved are Hall of Famers George Foreman and Sugar Ray Leonard, presumptive Hall of Famer Marco Antonio Barrera (who lost twice to Pacquiao) and reigning welterweight titlist Timothy Bradley Jr., who owns a controversial 2012 win against Pacquiao.

The four offered their thoughts on the Pacquiao-Rios fight:

• Foreman: I think it's going to be a 12-round decision and I give Pacquiao the hometown decision. How about a home-region decision.

• Leonard: I think Pacquiao will win although I give Rios a shot, a big shot. It's not going to be an easy fight. I'm picking Manny because he is Manny Pacquiao.

• Barrera: I think it is a complicated fight for both of them. You have Brandon Rios, who comes straight forward and will apply the pressure on Manny. Then you have Manny, who moves around the ring very well and picks and chooses his spots, and comes at different angles and is a very strong fighter with a lot of speed. It's just going to be a tough fight for both of them.

• Bradley: I've got Manny Pacquiao by a mid- to late-round KO. Eight rounds.
November, 21, 2013
Nov 21
1:12
PM ET

If there is anyone who knows what to expect from Manny Pacquiao, it's welterweight titlist Timothy Bradley Jr.

In June 2012, junior welterweight titlist Bradley moved up to the welterweight division to challenge Pacquiao for his belt and came away with a split decision, one of the most controversial in boxing history.

But regardless of the outrage over the decision, Bradley knows what it's like to go 12 rounds with Pacquiao and he learned a lot about his style when they met.

So with Pacquiao (54-5-2, 38 KOs) getting back into the ring after nearly a year off (and coming off a brutal knockout to Juan Manuel Marquez in December) to face Brandon Rios (31-1-1, 22 KOs) in a scheduled 12-round welterweight fight on Saturday night (HBO PPV, 9 ET) at CotaiArena at the Venetian Macao in Macau, Bradley offered his view on what Rios should expect to see.

"First of all, he should expect to see Manny Pacquiao being very quick and very elusive and lots of feints in this fight," said Bradley, who outpointed Marquez in defense of his title on Oct. 12 and could wind up in a rematch with Pacquiao if he wins Saturday.

"Manny Pacquiao dropped a lot of feints on me and it kept me off balance. He is very difficult to hit at times, too, because he is always angling out. He's coming in, he's out, he's angling out to the right or to the left. That's what Brandon Rios should expect. He shouldn't expect Pacquiao to come right at him.

"He is going to have to expect a lot of angles in this fight. Rios, if he is going to have a chance to beat Pacquiao, he is going to have to close the distance. He is going to have to get close, stay close and punch. Pacquiao has a tendency to stay on the ropes with his hands high and stay in position to allow opponents to punch him at times, and that will work in Rios' favor.

"Rios likes to bring the pressure and throw uppercuts and body shots and I think that's how he's going to be effective in this fight. If he's out too far, he's doomed. If he can close the distance, he'll be OK. And expect Pacquiao to come right back too. [Rios] has to have really good defense after he punches. And if he does that, he'll be successful. But if he allows Pacquiao to move on him and find angles, Manny has power in both hands. He can hurt you. I know Rios can take a punch but this is not Mike Alvarado. He is facing Manny Pacquiao, who has speed and power."

Bradley emphasized that Pacquiao's feints could be a huge problem for Rios and that when he fought Pacquiao, all of the feints tired him out.

"I came into the Pacquiao fight in the best shape of my life. I trained extremely hard for that fight. I remember it being around the fourth round -- I was exhausted. After four rounds," Bradley said. "I am in the best shape of my life and I am exhausted. Pacquiao drops so many feints on you and he keeps you so tense. He hits hard with both hands [so] you always have to be alert and it drains you as a fighter.

"With that being said, I hope that Rios is ready for that because Pacquiao will make it seem like he's coming in and he's not."
June, 19, 2013
Jun 19
3:11
PM ET
A few notes from around the boxing world:

• Super middleweight champion Andre Ward is seeking to end his promotional contract with career-long promoter Dan Goossen for unspecified reasons. Ward (26-0, 14 KOs) recently asked the California State Athletic Commission for an arbitration hearing on the matter. Word through the boxing industry is that Ward, who has not fought since September and is out until the fall because of a shoulder injury and subsequent surgery, wants to sign with Top Rank to ensure a money fight with former middleweight titlist Julio Cesar Chavez Jr. Goossen declined comment to ESPN.com and Ward did not respond to a message.

• Junior lightweight contender Diego Magdaleno of Las Vegas has hired trainer Joel Diaz, who also serves as the head trainer for welterweight titlist Timothy Bradley Jr. Magdaleno will train with Diaz in the Palm Springs, Calif., area. After losing a split decision challenging titleholder Rocky Martinez on April 6 in Macau, Magdaleno parted ways with career-long trainer and manager Pat Barry, who still trains and manages younger brother Jessie Magdaleno (14-0, 10 KOs), a top junior featherweight prospect. Diego Magdaleno (23-1, 9 KOs), 26, replaced Barry on the management end with Frank Espinoza last month before getting together with Diaz on the training end.

• Although welterweight contender Kell Brook (29-0, 19 KOs) of England made several remarks this week about how everything is going well in his preparation for a rematch against Oklahoma City's Carson Jones (35-9-3, 25 KOs) on July 13 in Hull, England, Brook promoter Eddie Hearn acknowledged that he asked the Jones camp to amend the contract weight for the fight from 150 pounds to 152 because of weight issues. They are related to the fact Brook was limited in his workouts early in training camp because he was still recovering from a stress fracture in his right foot. The injury is what caused Brook to withdraw from a May 18 mandatory shot at welterweight titlist Devon Alexander. "I don't want to put too much pressure on him to make the weight and he was restricted early in camp because of [his] foot," Hearn said. "Can see a move to 154 soon." Jones manager Bobby Dobbs said their side rejected the push for the heavier weight.

• Light heavyweight titlist Bernard Hopkins, no longer training for his canceled July 13 mandatory defense against Karo Murat, will fill in some of his free time by serving as the guest commentator Saturday on Showtime's telecast (9 p.m. ET) headlined by the Paulie Malignaggi-Adrien Broner welterweight title bout at the Barclays Center in Brooklyn, N.Y. Hopkins will be filling in for Malignaggi, the regular Showtime expert commentator.

• Mercito Gesta suffered a rib injury in a sparring session and withdrew from a July 19 ESPN2 "Friday Night Fights" main event against junior welterweight contender Olusegun Ajose (31-1, 14 KOs). Ajose will still headline, but promoter Lou DiBella said he and ESPN are still working on a replacement opponent. Gesta (21-1-1, 14 KOs) was moving up to junior welterweight in the wake of a lopsided loss to lightweight titlist Miguel Vazquez in December.
January, 2, 2013
Jan 2
3:41
PM ET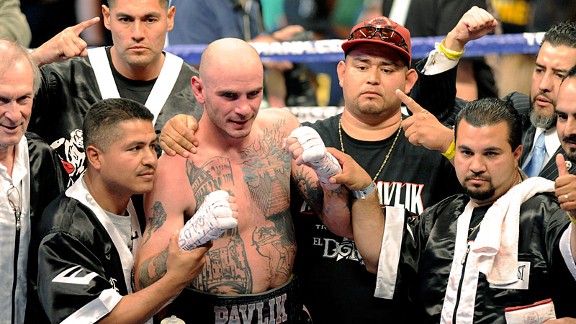 AP Photo/Cal Sport MediaFormer middleweight champ Kelly Pavlik is one of trainer Robert Garcia's latest reclamation projects.
Yes, 2012 is in the books, but beyond last week's daily annual awards for fighter, knockout, round, prospect and fight of the year, here is part 1 of some additional awards:
Trainer of the year:
This was a slam dunk: Robert Garcia had a huge year as head trainer for fighter of the year Nonito Donaire, who moved up in weight, won two junior featherweight belts and went 4-0 against four quality opponents. But Garcia had more going for him than just Donaire. He also trains Brandon Rios, who was in tremendous shape for his ultra-exciting knockout win against Mike Alvarado in the fight of the year runner-up (after being massively weight drained for a gift decision against Richard Abril in April), and younger brother Mikey Garcia, who stayed undefeated and will challenge for a featherweight world title against Orlando Salido on HBO on Jan. 19. Garcia also took over as trainer for former junior welterweight titlist Marcos Maidana, who is 2-0 with Garcia after a switching to him after a loss, and continues to work with former middleweight champ Kelly Pavlik, who won his three 2012 fights, albeit against lesser opposition.
Manager of the year:
I'm calling a tie between Cameron Dunkin and Frank Espinoza, who compete for talent and even used to work closely with each other. Both did extremely well in 2012, moving their fighters and generating career paydays for them without the benefits the networks give Al Haymon because of his relationship with Floyd Mayweather Jr.
Dunkin is a candidate year in and year out, but had a particularly strong 2012. He was a major factor in getting fighter of the year Donaire on HBO four times for the biggest purses of his career. Although Timothy Bradley Jr. fought only once, Dunkin was a big part of getting him a fight with Manny Pacquiao for a career-high payday of $5 million. Dunkin also guides the careers of Rios, Garcia and Pavlik, among others. One thing about Dunkin: He'll fight for his clients with the same passion that they do in the ring.
Espinoza guided Abner Mares to a junior featherweight world title (after he moved up from bantamweight) and Daniel Ponce De Leon to a featherweight title. He also got Carlos Molina, a decent lightweight prospect, a career payday against Amir Khan and signed talented two-time Mexican Olympian Oscar Valdez to a stable that also includes other prospects.
Upset of the year:
There were several surprising results but I thought Sonny Boy Jaro's sixth-round destruction of future Hall of Famer Pongsaklek Wonjongkam on the road in Thailand to win a flyweight title was as shocking as any outcome in recent years. Wonjongkam was not what he was at his best during his first reign (2001 to 2007, with a division-record 17 defenses) but he had reclaimed the title and had made four defenses before meeting Jaro, a journeyman from the Philippines. Jaro dropped him in the first and fourth rounds and twice more in the sixth to take the title and hand Wonjongkam only his second loss since 1996.
[+] Enlarge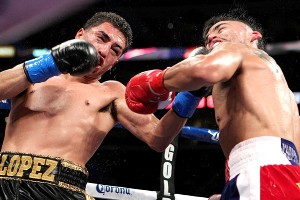 Tom Casino/ShowtimeJosesito Lopez broke Victor Ortiz's jaw in a great and surprising fight this past year.
There were a slew of other upsets too, including: Josesito Lopez, in his "Rocky moment," breaking Victor Ortiz's jaw and stopping him after nine rounds; Mario Rodriguez's knockout of Nkosinathi Joyi in the seventh round to claim a strawweight title; Austin Trout outpointing Miguel Cotto in his house at Madison Square Garden to retain a junior middleweight belt; heavyweight Johnathon Banks drilling Seth Mitchell in the second round; journeyman Gamaliel Diaz outpointing Takahiro Ao in Japan to win a junior lightweight belt; Danny Garcia rallying for a fourth-round knockout of Amir Khan to unify junior welterweight belts; Carl Froch's fifth-round knockout of then undefeated Lucian Bute to win a super middleweight title; Paulie Malignaggi going to Ukraine and not only handing Vyacheslav Senchenko his first loss, but doing so by TKO to win a welterweight belt; light heavyweight Denis Grachev's stunning eighth-round rally to knock out heavily touted Ismayl Sillakh.
Worst stoppage of the year:
If you follow boxing you know that former cruiserweight titlist Enzo Maccarinelli has a glass chin. But his second-round stoppage loss to Ovill McKenzie in a Commonwealth light heavyweight title bout in November had nothing to do with his chin and everything to do with incompetent referee Ian John-Lewis, who stopped the fight because of, well, absolutely nothing.
Robbery of the year:
Hands down, Pacquiao-Bradley. Judges Duane Ford and C.J. Ross were on another planet with their scores that gave Bradley a spit decision. Then Ford made himself look even more foolish when he told HBO's Jim Lampley that Bradley had given Pacquiao a "boxing lesson." Somebody should give him a judging lesson.
Worst fights of the year:
1. As I fully expected, lightweight titlist Miguel Vazquez's defense against Mercito Gesta was putrid and stunk up the Marquez-Pacquiao undercard. 2. Devon Alexander's welterweight title win against Randall Bailey also stunk out loud. How bad? CompuBox has tracked punch statistics for 27 years covering thousands of fights. Bailey landed just 45 of 198 punches, the fewest ever landed in a 12-round fight that CompuBox has tracked. 3. The fight between Sergiy Dzinziruk and Jonathan Gonzalez (who showed up nine pounds overweight for what was supposed to be a junior middleweight fight) was agony. It was ruled a draw. Nobody won, not either fighter and certainly not the HBO viewers.
[+] Enlarge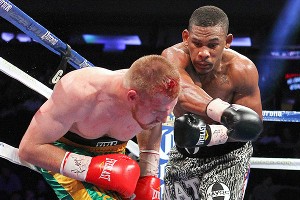 Ed Mulholland/US PresswireReturning to boxing after beating cancer was a great accomplishment for middleweight contender Daniel Jacobs.
Comeback of the year I:
Middleweight Daniel Jacobs, the 2009 ESPN.com prospect of the year, made a triumphant return in October after being idle for 19 months because of a battle with cancer that nearly killed him. Forget about boxing, Jacobs was lucky to be alive, so when he fought in his hometown of Brooklyn, N.Y., and knocked out Josh Luteran in the first round it was quite emotional.
Comeback of the year II:
Yeah, Ricky Hatton got knocked out by Senchenko but how can you not be impressed by what Hatton did? The former junior welterweight champ came back 3½ years after being severely knocked out by Pacquiao and a descent into depression, drug and alcohol abuse, significant weight gain and multiple suicide attempts. But he got his life together, got in great shape mentally and physically and was winning before getting caught by a ninth-round body shot. Hatton retired again, but fought well and looked like he could still contend if he wanted to fight on.
May, 14, 2012
5/14/12
9:26
AM ET

When Floyd Mayweather Jr. was facing Miguel Cotto on May 5 in Las Vegas, Manny Pacquiao – who boxing fans around the world want to see Mayweather fight – was arriving in Los Angeles on his flight from the Philippines with trainer Freddie Roach to begin the second part of his training camp.

Pacquiao (54-3-2, 38 KOs) returned to Roach's Wild Card Boxing Club on Monday to continue training for his title defense against junior welterweight titlist Timothy Bradley Jr. (28-0, 12 KOs) on June 9 (HBO PPV) at Las Vegas' MGM Grand, which also hosted Mayweather-Cotto.

After Mayweather outpointed Cotto to win a junior middleweight belt, Mayweather, who is headed to jail for an 87-day sentence on June 1, talked about a possible retirement.

Few believe Mayweather will retire and, given how much money he makes with each fight and the fact that he remains at the top of his game, it is unlikely that he will. But Pacquiao, at least, said he has no intention of retiring at this point.

"I saw the Mayweather-Cotto fight," said Pacquiao, who must have seen it on a DVR or DVD. "It was a good fight and everyone [the fans] was happy. I have no opinion on Mayweather's plans to retire. That's his decision. A very personal decision.

"I'm glad to be back at Freddie's gym. I have no plans to retire. I still love what I'm doing. Freddie and I had a good camp in the Philippines and we are ready to work very hard in preparation for Timothy Bradley. Bradley is strong, undefeated and young. I have a great deal of respect for his talents and his accomplishments."

Pacquiao, boxing's only eight-division champion, wasted no time getting back into the training groove. He began his first day of training in Hollywood with a 6:45 a.m. run from Griffith Park up the Hollywood Hills to the landmark Hollywood sign. According to publicist Fred Sternburg, Pacquiao shaved a minute off his personal-best time, running the 3.5-mile course in 22 minutes.

Then Pacquiao worked out for three hours with Roach at Wild Card, going 10 rounds on the mitts followed by two hours of conditioning and hitting the bags.

"We are on a steady pace to get Manny to where he will peak on June 9," Roach said. "We built a good base to build on in our training in the Philippines. Now it's time for the hard work and the strategy."

Roach, who badly wants to see Pacquiao and Mayweather face each other, said he did not see Mayweather-Cotto. Roach continues to believe Mayweather is ducking Pacquiao.

"I did not see the Mayweather-Cotto fight but I do know that Floyd's slippery defense is now better outside the ring than inside the ring. But that is the path he has chosen," Roach said.

"Would Manny beat Floyd? You bet. The way to beat Floyd is to outwork him every minute of every round. Manny is the only fighter capable of executing that game plan. Activity kills Mayweather. You need to stay busy against him and not let him dictate the pace by slowing down the fight. Southpaws are his other weakness. Manny is just a bad combination for Floyd to fight. If it would bring Floyd into the ring, I'd agree to have Manny fight him right-handed."