November, 13, 2013
11/13/13
11:45
AM ET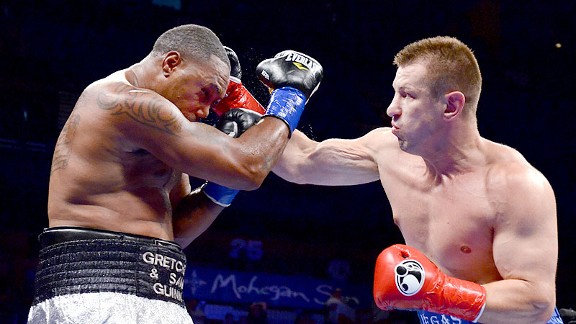 George Jimenez/MSportsimages.comTomasz Adamek, right, needs to defeat Vyacheslav Glazkov to get another title opportunity.
The first time contender Tomasz Adamek fought for a heavyweight world title, Vitali Klitschko battered him into a 10th-round knockout in 2010. Adamek has five consecutive wins since and closing in on another title shot.
Vyacheslav "Czar" Glazkov, a 2008 Ukrainian Olympic bronze medalist, is still a heavyweight on the rise and looking for his first shot and first victory against a big-name opponent.
"

Glazkov knows that sparring with me is totally different than fighting me. I know he wants to replace me, but I worked too hard. It will not happen.

"

-- Tomasz Adamek
So it's veteran contender against up-and-comer with a lot on the line when Adamek, 36, and Glazkov, 29, meet in a scheduled 12-round elimination bout as boxing returns to network television on Saturday (NBC, 2:30 p.m.) at the Turning Stone Resort Casino in Verona, NY.
The winner will climb to No. 2 in one of the sanctioning body ratings and be in an ideal position for a title opportunity against champion Wladimir Klitschko.
When Poland's Adamek (49-2, 29 KOs), who lives in Jersey City, N.J., and Glazkov square off it will not, however, be the first time they have been in the ring with each other.
When Adamek was training for an Aug. 3 fight against Tony Grano -- who got injured, dropped out and was replaced by Dominick Guinn -- Glazkov served as Adamek's main sparring partner. Glazkov (15-0-1, 11 KOs) was training for his own fight on the undercard, which was ultimately a second-round knockout of Byron Polley. Adamek easily outpointed Guinn in the main event.
Adamek and Glazkov sparred regularly for six weeks leading up to their fights, according to Main Events matchmaker Jolene Mizzone.
When Grano dropped out, Mizzone said that Glazkov lobbied her to let him replace him against Adamek.
"When Grano pulled out Glazkov really wanted to fight Adamek," Mizzone said. "It just didn't work out and I got Guinn. But that kind of caught my eye -- that Glazkov wanted to fight Adamek. It's not that Adamek turned him down, it's just that it didn't make sense at that time. Glazkov was coming off the draw with Malik Scott and Adamek had been off since December.
"But when Glazkov said he would fight Adamek, that always stuck in my head. They saw something in Adamek (in the sparring sessions) that they won't reveal. For him to want to step in on two weeks' notice that was something."
The other reason Glazkov didn't get the fight in August was because the card was on NBC Sports Net, whereas Saturday's show is a lot higher profile as it will be in front of much larger audience on NBC.
Adamek brushed off their sparring sessionsm saying they will have no impact on Saturday's fight.
"We became friends with Glazkov but it stopped when we were in the ring during my training camp before Guinn fight," Adamek said. "He's very aggressive and strong, likes to pressure when he fights. I don't think he learned enough from me. He did not see me fighting for real.
"Glazkov knows that sparring with me is totally different than fighting me. I know he wants to replace me, but I worked too hard. It will not happen."
Glazkov, who also gained experience in a recent training camp with Wladimir Klitschko, is happy to have gotten the fight with Adamek, even though he would have preferred it in August after Grano's injury.
"I had a very good camp boxing with Klitschko, as I helped him prepare for his (Oct. 5) fight with (Alexander) Povetkin," Glazkov said. "Adamek is a very good fighter with a big name. He is big and strong and comes forward during the fight. This is good for me. I think I can win this fight. It will help put my name on the list of the best heavyweight fighters.
"It won't be easy because Adamek is a very skillful and tough veteran. As an up and coming prospect I will do whatever it takes and fight until the end to win this fight. I understand this win would open a gate for me into deep waters of the heavyweight division. This is important and I don't intend to waste this opportunity."
June, 28, 2013
6/28/13
2:37
PM ET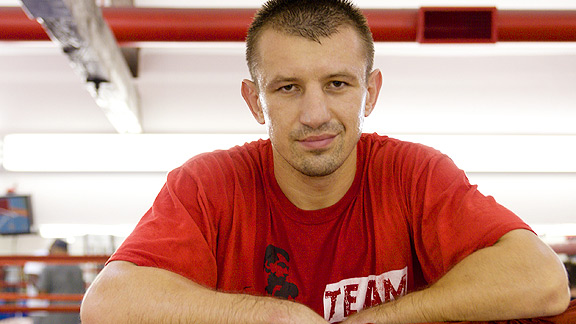 Marty Rosengarten for Ringsidephotos.comAfter taking time off to rest, heavyweight Tomasz Adamek is once again ready to fight for a title.
Tomasz Adamek has thrived on staying busy. He has, for the past few years, been one of the busiest heavyweight contenders.
In 2010 and 2012 he fought four times apiece, which is considered a lot in this era. Each year from 2007 to 2012 he fought at least three times except in 2011, when he fought twice because it was the year he challenged heavyweight titlist Vitali Klitschko and when those big fights happen it is not unusual for a fighter to limit his activity while the logistics are worked out.
Adamek was stopped in the 10th round by Klitschko, but it did not slow down his schedule last year, although two of his wins were somewhat controversial in 2012 -- decisions against Eddie Chambers and Steve Cunningham.
After the Cunningham fight in December, it was clear that Adamek, a former cruiserweight and light heavyweight titleholder, needed a break. Now he and his team say he is re-charged and ready to go again when he faces brawler Tony Grano (20-3-1, 16 KOs) in a scheduled 10-rounder on Aug. 3 (NBC Sports Net) at the Mohegan Sun resort in Uncasville, Conn.
"After a busy last year, there was time for a rest," Adamek said on Thursday at a news conference in Garfield, N.J. "I was resting for a couple of months, but I came back to the gym with [trainer] Roger [Bloodworth] and we've spent over 10 weeks in the gym [already]. I'm fresh and ready for a comeback.
"I'm sure Tony Grano is a good fighter. He is a puncher, but I'm not afraid. I'm not a chicken. I want to beat him. He brings everything into the ring, but I'm ready for everything. I respect every opponent, but I want to win this fight and I'm looking for title fights again. That is my goal."
Said Bloodworth, "Tomasz has been off for a while, but he has not been idle. We've been working on a lot of things. It's been a good camp so far. I anticipate a good fight. This Tony Grano comes to fight, and Tomasz comes to fight. So I'm expecting a great fight."
During his time off, Adamek (48-2, 29 KOs), whose contract with Main Events had expired, went shopping for a new deal. The grass was not greener on the other side and he re-signed with Main Events, which has promoted him since 2008.
"We are going to see Tomasz Adamek perform again, and we all know what that means," Main Events chief executive Kathy Duva said. "Excitement, action, fun, thrills. He's going to be fighting a hometown fighter. Tony Grano comes from Connecticut. So for a change, there's going to be people on both sides cheering."
Adamek's bout is part of the "Fight Night" tripleheader. Middleweight Curtis Stevens (24-3, 17 KOs) will face Saul Roman (37-9, 31 KOs) in the main event and Eddie Chambers (36-3, 18 KOs), the longtime heavyweight contender who is moving down to cruiserweight, will square off with Thabiso Mchunu (13-1, 10 KOs).
May, 30, 2012
5/30/12
2:30
PM ET
Promoter Don King doesn't put on many boxing cards these days, and his stable is barren of fighters who interest the premium cable networks (with the exception of light heavyweight titlist Tavoris Cloud). But King, 80, announced one of his rare shows Wednesday, a June 23 card at the Seminole Hard Rock Hotel & Casino in Hollywood, Fla.

There are some faded names on the card (which has no television outlet), along with some local fighters, which pales in comparison to the megashows filled with world title fights that the High-Haired One put on in the past. The main event features a heavyweight fight between Tony Grano (19-2-2, 15 KOs) and DaVarryl Williamson (27-6, 23 KOs), who are both good punchers.

Also of note is the return of former heavyweight titlist Samuel Peter (34-5, 27 KOs), who scored one of his most significant victories in the same arena in 2007 when he easily outpointed James Toney. Peter, who doesn't have an opponent yet, is a shell of what he once was and is coming off two brutal knockout losses in a row -- a 10th-round destruction by Wladimir Klitschko in a world championship fight in September 2010, followed by an equally brutal ninth-round knockout by Robert Helenius in April 2011.

Also on the card will be lightweight prospect Angelo Santana (12-0, 9 KOs), a Cuban fighting out of Miami, against Justin Savi (26-1, 18 KOs) of Benin; popular South Florida draw Joey Hernandez (21-1-1, 12 KOs) in a junior middleweight bout against Brandon Baue (12-6, 10 KOs); and Ukrainian heavyweight Oleg Platov (29-1, 23 KOs), who hasn't fought since June 2010, facing an opponent to be determined.