Dan Rafael:

Toshiaki Nishioka
September, 20, 2014
Sep 20
6:36
PM ET
Top Rank made official on Friday what has been known for weeks -- that featherweight titleholder Nonito Donaire and secondary titlist Nicholas Walters will fight.

They're set to meet Oct. 18 at the StubHub Center in Carson, California, and open a top-notch HBO doubleheader headlined by middleweight titlist Gennady Golovkin taking on interim titleholder Marco Antonio Rubio in Golovkin's West Coast debut.

What's nice about a card like this is that Top Rank is working with Golovkin promoter K2 Promotions to put on the doubleheader. It's nice when promoters work together and the fans wind up with a quality card.

With Friday's announcement also came a couple of quotes from the fighters.

"I am very excited for this fight. We are doing everything we can to be ready for everything Walters brings on Oct. 18," Donaire said.

Walters, who will be making his HBO debut, said, "This is my dream fight. It's now the time to show everyone who is the best 126-pound world champion in the entire world."

The fight will be Donaire's third at the StubHub Center. He fought there twice during his 2012 fighter of the year campaign, unifying junior featherweight belts by outpointing Jeffrey Mathebula in a dominant performance and then knocking out former titleholder Toshiaki Nishioka in the ninth round of another dominant fight.

Donaire (33-2, 21 KOs) and Walters (24-0, 20 KOs) are both coming off victories on the same card on May 31 in Macau, China.

Donaire won his title by dropping Simpiwe Vetyeka in the fourth round and claiming a fifth-round technical decision when the referee ruled that Donaire was unable to continue due to a cut caused by an accidental head-butt. The fight was sent to the scorecards and Donaire was ahead 49-46 on all three of them.

By beating Vetyeka, Donaire -- "The Filipino Flash" -- claimed a world title in his fourth weight class (fifth, if you count interim belts) and won his second fight in a row since losing his junior featherweight title in a unification fight to Guillermo Rigondeaux in April 2013.

On the undercard, Walters, known as "The Axe Man," scored a dominant fifth-round knockout of aging former two-division titlist Vic Darchinyan, who had previously been twice knocked out by Donaire. Walters, who has defended his belt twice, has scored knockouts in 10 of his past 11 fights.
October, 13, 2012
10/13/12
1:30
PM ET
MANHATTAN BEACH, Calif. -- Here are the purses, according to the California State Athletic Commission, for the four fighters on the Nonito Donaire-Toshiaki Nishioka card Saturday night (HBO, 10 ET/PT) at the Home Depot Center in Carson:
• Unified junior featherweight titlist Donaire: $750,000.
• Former titlist Nishioka: $100,000, although his total compensation will be much greater because of the money he will receive from Japanese television rights.
• Former lightweight titlist Brandon Rios: $500,000.
• Junior welterweight contender Mike Alvarado: $250,000.
August, 31, 2012
8/31/12
3:34
PM ET

Unified junior featherweight titlist Nonito Donaire is one of the pound-for-pound stars of boxing and now a regular on HBO, making high six-figure purses. His next fight headlines an Oct. 13 HBO card against former titlist Toshiaki Nishioka.

But then there is Glenn Donaire (19-4-1, 10 KOs), Nonito's older brother, who at 32 is still plugging away trying to reach the promised land of a championship.

A pro since 2000, he has had his opportunities and lost a few fights along the way. Early in his career, he dropped a six-round decision to fellow prospect Gabriel Elizondo. In 2005, fellow Filipino Z Gorres knocked him out in the first round. Yet Donaire wound up getting two world title fights but could not capitalize. He lost a six-round technical decision challenging Vic Darchinyan for a flyweight title (which Darchinyan eventually lost by one-punch knockout to Nonito in 2007). And in 2008, Glenn Donaire lost a shutout decision to junior flyweight titlist Ulises "Archie" Solis.

After that loss, Donaire retired for 3½ years. But since his return he has won two fights in a row, both televised by Telemundo, and looked pretty good both times. He stopped faded former strawweight titleholder Alex "Nene" Sanchez in December and won a competitive 12-round decision against former junior flyweight title challenger Omar Salado in March.

Donaire hooked up with manager Vinny Scolpino -- who has guided fighters such as Joshua Clottey and Joseph Agbeko -- to help him with his comeback, which will continue Sept. 14 (Telemundo) in Tampa against Omar Soto (22-9-2, 15 KOs), a former flyweight and junior flyweight title challenger. They're meeting for a regional flyweight title that will help the winner move up one of the sanctioning body rankings and closer to a bigger title shot.

Scolpino has been encouraged by what he has seen in Donaire's two return fights.

"I picked him up two fights ago. He was down in the dumps. I started managing him, got him two wins and he is back in the gym training hard," Scolpino said. "He looked really good in Mexico City (in March in the Salado fight). I was a little worried because of the altitude, but he did a great job and now he's going in with Soto, who is a tough opponent."

With his name and an apparent rededication to boxing, Donaire might just be able to move into position for a title shot.

"We're hoping after this fight we'll get one," Scolpino said. "We'll take anybody. Glenn said, 'I don't care who they put in front of me, I just want to fight for a title and win a title.'"
August, 30, 2012
8/30/12
10:40
AM ET
If you listen to the folks at Top Rank and on Nonito Donaire's team, Jorge Arce priced himself out of challenging for Donaire's junior featherweight belts on HBO on Oct. 13.

Although Arce most likely could have enjoyed a career payday in mid-six figures for what looked to be a fun fight -- but ultimately a loss for the Mexican brawler -- he went shooting for the moon and was, from what I was told, asking for an absurd $850,000. That's more than Donaire's contract minimum for title defenses and probably more than double Arce's best purse.

When a fighter asks for an amount of money that isn't close to reality, what it really means is he doesn't want the fight. So Donaire moved on and instead will face respected former titlist Toshiaki Nishioka of Japan at the Home Depot Center in Carson, Calif.

I've been a fan of Arce's for many years. He always fights his heart out and has been in tons of great scraps. But I believe strongly that Donaire-Nishioka is a far more competitive fight than Donaire-Arce would have been.

And now look at what's going on: Arce settles on a run-of-the-mill fight in his hometown of Los Mochis, Mexico, on Sept. 22 against the long-faded Mauricio Martinez (36-12-1, 24 KOs) of Panama, who held a bantamweight title from 2000 to 2002. Arce turned down a big payday and a title shot for this?

Arce (60-6-2, 46 KOs), who has held titles in four weight classes (plus an interim belt in another) from 108 to 122 pounds, probably will make a decent payday to fight Martinez but nothing remotely close to what he would have made against Donaire. And the Martinez fight will barely register with those outside of Mexico.

Also on the card, junior bantamweight titlist Juan Carlos Sanchez (14-1-1, 7 KOs) -- who is also from Los Mochis -- will make his second title defense against an opponent to be determined.
August, 14, 2012
8/14/12
1:20
PM ET
Since the moment Top Rank announced a terrific Oct. 13 doubleheader at the Home Depot Center in Carson, Calif., last week, I have been inundated with people tweeting and asking for ticket information.
The Fight Freaks' wish is my command.

Tickets for the HBO card, which will feature unified junior featherweight titlist Nonito Donaire in a defense against former titleholder Toshiaki Nishioka and junior welterweight contender Mike Alvarado against former lightweight titlist Brandon Rios in what most expect to be an exceptional brawl, go on sale Thursday at 1 p.m. ET/10 a.m. PT.

The tickets are priced at $150, $75 and $35 and be can be purchased online at AXS.com, by phone at 888-929-7849 and at the Home Depot Center box office (Monday through Friday).

The fight will be the second in a row for Donaire (29-1, 18 KOs) at the Home Depot Center. On July 7, he unified 122-pound belts when he dropped Jeffrey Mathebula and broke his jaw en route to a unanimous decision.

Japan's Nishioka (39-4-3, 24 KOs) hasn't lost a fight since 2004 and is on a 16-fight winning streak, despite having given up his 122-pound world title. He will be fighting in the United States for the second time in a row and for the fourth time overall.

On paper, Alvarado (33-0, 23 KOs) and Rios (30-0-1, 21 KOs) has "fight of the year" written all over it.
August, 8, 2012
8/08/12
3:44
PM ET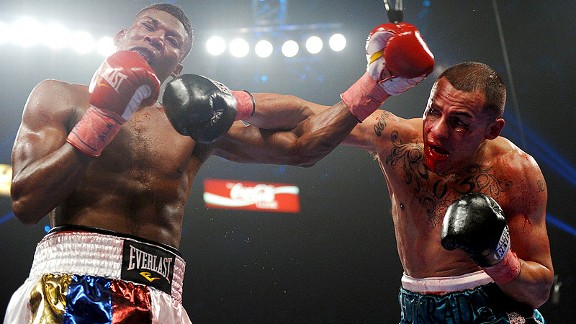 Harry How/Getty ImagesWhen he climbs into the ring, Mike Alvarado, right, always seems to find himself in a bloody slugfest.
It's one thing to hear about a great card in the works. Happens all the time. But often disappointment follows because one fight or another isn't finalized, for whatever reason.
So for the past couple weeks, when I was hearing a lot of discussion about a brewing Top Rank "Boxing After Dark" doubleheader on HBO that would include unified junior featherweight titlist Nonito Donaire against former titlist Toshiaki Nishioka of Japan -- who isn't well-known in the United States but is an outstanding fighter in the 122-pound division -- and junior welterweight brawlers Mike Alvarado and Brandon Rios possibly squaring off, I was excited. But I also figured it was too good to be true and that at least one of the fights wouldn't come to fruition.
So it was a nice way to wake up on Wednesday with Top Rank making the formal announcement that indeed the doubleheader was signed, sealed and delivered for Oct. 13 at the Home Depot Center in Carson, Calif.
That is a fantastic card, and Top Rank and HBO deserve props for getting it done. I'll be the first to crush a promoter or network for serving viewers overpriced, dreck mismatches, but I will also give credit when it's due, and this is a tremendous card.
Donaire (29-1, 18 KOs) was originally supposed to face Jorge Arce, a much bigger name than Nishioka and one of my all-time favorite action fighters.
Competitively, however, I figured it would be a mismatch, with Donaire winning easily. So when Arce priced himself out of the fight and Nishioka, who had been in the mix all along, got the call, I couldn't have been more pleased. He's a little older (36), but he can fight.
Nishioka (39-4-3, 24 KOs) hasn't lost in eight years. He has won 16 fights in a row and faced several excellent opponents. When he held his junior featherweight title, he made seven defenses -- and the only reason he doesn't still have the belt is because he was forced to give it up when he took some time off. He'll end a one-year layoff when he faces Donaire, which isn't too much time off for a top fighter. So the main event is a really interesting, likely competitive fight between two of the world's best junior featherweights.
As interesting as that fight is, I believe Alvarado-Rios could be the fight of the year. It has slugfest/bloodbath/epic violence written all over it. For those at ringside, some advice: Bring a raincoat. The blood might be flying.
Alvarado (33-0, 23 KOs) and Rios (30-0-1, 21 KOs) have skills, but they mostly can't help but to get themselves into brawls. Alvarado's two most recent fights, on pay-per-view undercards, stole the shows. There was a bloody, come-from-behind 10th-round knockout of Breidis Prescott in November and an all-out slugfest with Mauricio Herrera in April that is a leading fight of the year candidate in its own right (and aired on a Rios undercard).
Rios has made his own share of fun fights -- Urbano Antillon, John Murray and Miguel Acosta, to name three. Yes, he has had his problems making weight, missing 135 pounds in two consecutive fights and losing his world title at the scales in December. I also thought Richard Abril whipped him in their April fight. But I'm quite confident that at 140 pounds, Rios will be in much better condition and stronger.
When the bell rings, these guys are going to meet in the center of the ring and the punches will fly. I know it's sacrilege to some, but I couldn't help but think of the Arturo Gatti-Micky Ward and Diego Corrales-Jose Luis Castillo fights when I heard Alvarado-Rios was set. That's how good it could be.
I spoke to HBO's Kery Davis on Wednesday about the show, and he was practically giddy to have such a high-quality doubleheader set. His statement in the news releases announcing the fight was also dead on:
"Fight fans everywhere will be marking their calendars for Oct. 13 to see this superb, all-action doubleheader on our late-night franchise," he said.
Consider my calendar marked. Now I just need to check into flights to California.
July, 31, 2012
7/31/12
10:15
AM ET
Maybe Jorge Arce will fight Nonito Donaire in the fall and maybe he won't. But whatever the Mexican star decides to do, it no longer will include his possessing a bantamweight belt.

Arce (60-6-2, 46 KOs) has given up his 118-pound title. He had claimed a junior featherweight belt in May 2011 (with a big upset knockout of Wilfredo Vazquez Jr.) and made one defense before giving up the title and dropping down to bantamweight.

In November, Arce rolled past Angky Angkota in a rematch to win a lopsided decision and a vacant title at bantamweight. But Arce never defended it. Instead, he took a pair of junior featherweight bouts and now plans to remain in the division, which is why he vacated the bantamweight title.

Top Rank and Zanfer Promotions, who promote Arce, planned for the fighter to challenge unified titleholder Nonito Donaire in October or November in an HBO main event. But the fight could be sidetracked, according to Cameron Dunkin, Donaire's manager.

"I think [Arce's team is] getting cold feet," Dunkin told me on Monday. "[Top Rank president] Todd [duBoef] said they're hemming and hawing and asking for a lot more money now, and that things are changing. I just don't have a good feeling."

If Arce winds up declining the fight against Donaire -- who moved up from bantamweight to win the 122-pound belt Arce vacated -- there is an alternative plan.

All along, Top Rank, which also promotes Donaire, has also talked about former titlist Toshiaki Nishioka of Japan as a possible opponent. Frankly, although Arce is a much more famous name and more exciting fighter, Nishioka (39-4-3, 24 KOs) probably poses a bigger risk.

Dunkin said Donaire, who unified two junior featherweight belts on July 7 with a decision against Jeffrey Mathebula, is on vacation in his native Philippines and that he'll discuss the situation with the fighter when he returns. Dunkin said he will also be meeting with duBoef to talk about the plan in the coming days.

The Donaire-Arce fight has been talked about on and off for a few years. But as recently as June 8, when Arce fought on the undercard of Timothy Bradley Jr.'s fight with Manny Pacquiao, Dunkin said everything seemed to be fine.

Dunkin manages Bradley and said he talked to Arce at the card at the MGM Grand in Las Vegas.

"Arce came up to me after the fight he had with [Jesus] Rojas," Dunkin said. "Arce speaks broken English, but you can talk to him, and he said, 'I fight, I fight Nonito.' He said he was definitely fighting him, no problem. He said, 'I fight him, I fight him.' I said, 'Well, let's finally get it done.' Over and over again we've wanted to make this fight, and [the Arce side] says it's the next fight and they never show up."

Top Rank's Carl Moretti said the company remains hopeful of wrapping up the deal.

"We're trying to put it together, but it's not done yet," he said, adding that he is still going over dates with HBO.

Whomever Donaire (29-1, 18 KOs) fights in the fall, you can count on seeing featherweight titlist Orlando Salido (39-11-2, 27 KOs) -- who came through a tuneup fight on Saturday night with ease -- facing Miguel Angel "Mikey" Garcia (28-0, 24 KOs) in the co-feature. That is a terrific matchup.

Dunkin, who manages Garcia, said that fight is in the process of being finalized, which is also what Salido's manager, Sean Gibbons, told me following Salido's tuneup win.

Incidentally, to fill the vacancy left by Arce's relinquishing of the title, the Philippines A.J. Banal (28-1-1, 20 KOs) is slated to meet Pungluang Sor Singyu (42-1, 27 KOs) of Thailand on Oct. 20 in the Philippines.