September, 22, 2014
Sep 22
4:48
PM ET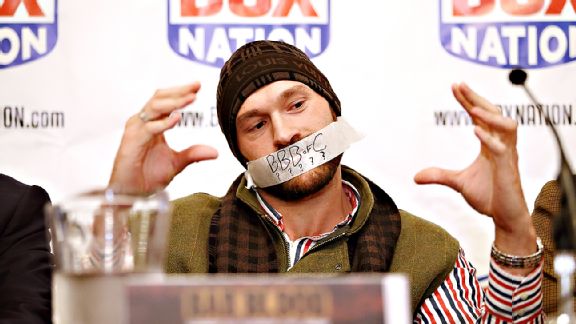 Jordan Mansfield/Getty ImagesHeavyweight contender Tyson Fury found a way to not be fined for obscene language.
Here we go again. On Monday, the promotion for the rescheduled (yet again) rematch between British heavyweight contenders Tyson Fury and Dereck Chisora kicked off. Again.
But it appears that the fighters won't be doing nearly as much smack-talking as they have been doing.
Fury was so off the rails at the original news conference for the July fight that the British Boxing Board of Control -- the agency that oversees boxing in England -- fined him 15,000 pounds. So when the boxers met again on Monday at the news conference to restart the promotion, Chisora was more restrained than usual and Fury was -- amazingly! -- silent.
Fury showed up at the news conference with his mouth taped closed, with "BBB of C ?????" written across the tape in reference to his fine. He vowed to remain silent until the fight.
Undoubtedly, British bookmakers will be taking action on whether he can keep quiet for that long.
The fight will take place Nov. 29 at the ExCel Arena in London, the third date for the fight. It was originally scheduled for July 26 in Manchester, England, but it was postponed until Nov. 22 after Chisora fractured his left hand during his final sparring session eight days before the fight. Then it was moved to a week later to get out of the way of a big soccer match.
If you are at all familiar with these guys, you know they like to talk. And talk. And talk. And generally say nasty things about one another. And make outlandish predictions about what they will do when they get their hands on each other.
They did plenty of talking in the months leading up to the July date before it was canceled, and they continued even after it was postponed.
But with Fury promising to remain silent, his uncle and trainer, Peter Fury, did the talking Monday.
"The board wanted us to tone it down, so here's Tyson -- the board dummy," Peter Fury said.
All Fury did was gesture that he'd knock out Chisora in two rounds.
Chisora was also calmer than usual.
"I will knock out him, plain and simple," he said. "I'm not saying what round. All I'm saying is he's going to be knocked out. Bring on Nov. 29. I'll show everyone what I would have done to him in July. I'll be in fantastic shape come fight night, and he's looking in good shape himself, so the better man will win and that will be me."
Chisora's European heavyweight title is at stake, as is the vacant British title. The winner will become a mandatory challenger for world champion Wladimir Klitschko.
Fury (22-0, 16 KOs), 26, and Chisora (20-4, 13 KOs), 30, first met in July 2011 in a much-hyped showdown and engaged in an exciting fight, although Fury pounded his way to a clear decision win against an obviously out-of-shape Chisora -- who suffered his first loss -- to win the British and Commonwealth titles.