Dan Rafael:

Vic Darchinyan
January, 20, 2015
Jan 20
4:38
PM ET
Featherweight titlist Nicholas Walters received a big honor when he was recently named Jamaican Sportsman of the Year at the 54th RJR Sports Foundation National Awards.

Walters (25-0, 21 KOs), 29, of Jamaica, fashioned a big 2014 in which he knocked out former titleholder Vic Darchinyan in the fifth round in May and then scored a big knockout of Nonito Donaire in their October showdown.

"Getting sportsman of the year is like getting sportsman of the world," Walters told reporters at a gala held in his honor.

"We are very proud to be part of Team Walters," said Warriors Boxing promoter Leon Margules, who co-promotes Walters with Top Rank. "He is a superstar fighter who had his breakout year last year."

Walters' next fight is not scheduled yet but the plan that has been discussed if for him to defend his title in the first half of the year and then meet Vasyl Lomachenko in a unification fight later in 2015.
January, 6, 2015
Jan 6
5:09
PM ET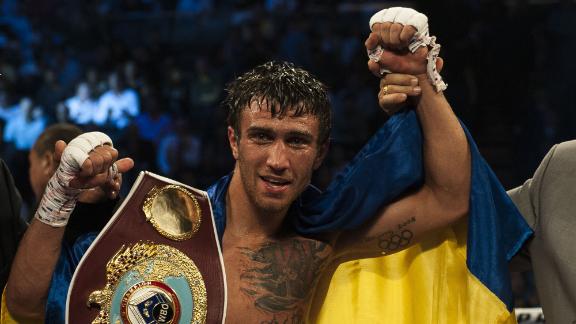 Former four-division titleholder Nonito Donaire had some success as a featherweight, knocking out Vic Darchinyan for the second time in 2013 and then winning a world title by fifth-round technical decision against Simpiwe Vetyeka in May.
But the 2012 fighter of the year also suffered a rough sixth-round knockout loss to Nicholas Walters on Oct. 18, who dropped him twice and took his world title.
But now Donaire (33-3, 21 KOs), who has won world titles at flyweight, bantamweight, junior featherweight and featherweight (plus an interim belt at junior bantamweight) is thinking about his return to the ring. Manager Cameron Dunkin told ESPN.com on Monday night that Donaire will return to junior featherweight for his comeback, which likely will take place in May on one of Top Rank's cards in Macau.
Dunkin said he has talked to Top Rank's Bob Arum and Rachel Donaire, Nonito's wife, who is closely involved in his career, about the plan.
"That's what we are trying to do and he's going to fight at 122," Dunkin said. "We've talked about it but don't know who we are going to fight yet. But Nonito wants to fight and we'll get him fighting again. He knows he can't fight at that weight [126 pounds]. He can beat a lot of featherweights, don't get me wrong. But he's used to beating everyone and being the best. He's going back to 122 where he can do that."
The 32-year-old "Filipino Flash" had some success against Walters, including nearly dropping him with a huge left hook late in the second round. It was the kind of punch Donaire used to knock smaller out opponents with. Walters, however, is a big, strong featherweight and took the shot.
"Nonito was one punch away from winning that fight in the second round," Dunkin said. "We had talked about it before the fight for a long time about moving up in weight all the time. I was against it. Those guys are so big, but he said, 'Don't worry. I'll take care of it.' And he did. He won some fights at 126, but he didn't look like the Nonito we were used to. After [the Walters fight] was over, he said, 'You're right, I can't fight these guys at 126. They're just too big.' So he'll go back down to 122 and become a champion again. He's not done and he has a lot of pride."
April, 4, 2014
4/04/14
6:14
PM ET
Former two-division titleholder Vic Darchinyan, who gave Nonito Donaire fits before being stopped in his last fight, performed well enough in defeat that it probably will land him a shot at a featherweight title.

Darchinyan likely will challenge 126-pound titlist Nicholas Walters on May 31 at the CotaiArena at Venetian Macao in Macau, China, on the undercard of Donaire's shot at a different version of the title in the main event against Simpiwe Vetyeka.

Walters (23-0, 19 KOs), 28, of Jamaica, was originally slated to make his second title defense against Alejandro Perez, but Perez took a tune-up bout against journeyman Juan Carlos Martinez and lost a split decision in disappointing performance last week.

That opened the door for the 38-year-old Darchinyan (39-6-1, 28 KOs), who held titles at flyweight and unified belts junior bantamweight, to get the offer for the fight.

Asked if they were going to make a deal, Frank Espinoza, Darchinyan's manager, told ESPN.com, "Yes, it looks that way. This is a great opportunity for Vic to show the world that he still has what it take to be a world champion. Vic is hungry and ready for war. In China, a new champion will be crowned and Vic will make history."

Donaire and Darchinyan both were making their featherweight debuts when they met in a rematch of Donaire's knockout victory to win a flyweight title in 2007. In the November rematch, Darchinyan was ahead on two scorecards and even on the third as they headed for the ninth round of a fight in which Darchinyan fractured Donaire's orbit bone. But Donaire rallied and stopped the Armenian-born Darchinyan in the ninth round.

"Darchinyan clearly showed that he is far from done with his performance against Donaire," Top Rank vice president Carl Moretti told ESPN.com. "He was ahead on two of the three scorecards, he has a great name, he's been a great champion. It's an interesting fight, and it's a good test for Walters. Vic would be the best opponents Walters has faced. Walters is not as experienced as Darchinyan, but he's younger and strong."

Espinoza also gave an update on two of his others fighters:

• Junior lightweight contender Diego Magdaleno (25-1, 10 KOs) will return on the Juan Manuel Marquez-Mike Alvarado undercard on May 17 at the Forum in Inglewood, Calif. He has no opponent yet.

• Excellent featherweight prospect Oscar Valdez (9-0, 9 KOs), a 2012 Mexican Olympian, will appear in an eight-rounder against Adrian Perez (10-4-1, 1 KO) on the undercard of next Saturday's Manny Pacquiao-Timothy Bradley rematch at the MGM Grand in Las Vegas.
November, 12, 2013
11/12/13
1:16
PM ET
Nonito Donaire's move up to featherweight on Saturday night in Corpus Christi, Texas resulted in a ninth-round knockout of Vic Darchinyan in a rematch of Donaire's much more dominant fifth-round knockout in their 2007 flyweight title fight.

Donaire, coming off a decision loss to Guillermo Rigondeaux in their April junior featherweight unification fight, didn't look like the fast and explosive fighter we have all become used to seeing. In fact, before the knockout, Donaire was trailing on two scorecards and was even on the third.

One of the reasons, perhaps, for his lackluster performance was an injury -- a possible cheek fracture -- suffered early in the bout.

Donaire is due to have an MRI on the injury on Tuesday afternoon in Las Vegas, manager Cameron Dunkin told ESPN.com.

Dunkin said that Donaire went to the hospital to be examined after the fight and got an X-ray "that showed maybe a hairline fracture, but not a significant one. We think it will heal, as opposed to Nonito needing surgery. So it may be fine. We're thinking it will be fine. But he'll have the MRI on Tuesday to be sure what is wrong."

During his postfight interview with HBO's Max Kellerman, Donaire (32-2, 21 KOs) said he thought he suffered a broken cheek during the fight.

"After the fight, he said he was not in any real pain, but he was uncomfortable," Dunkin said. "It happened when he got hit with a looping overhand left in the third or fourth round."

If Donaire's cheek is OK, he could be back in action as soon as Jan. 25 on an HBO card in New York, possibly to challenge featherweight titlist Nicholas Walters (23-0, 19 KOs), who recorded his first title defense on the undercard by knocking out Alberto Garza in the fourth round.
November, 8, 2013
11/08/13
3:57
PM ET

Nonito Donaire has grown into one of the best fighters in the world. He claimed 2012 Fighter of the Year honors and has won world titles in three weight classes, plus an interim belt in another.

The person most responsible for the development of the skills that led to those achievements is Nonito Donaire Sr., his father, who trained the younger Donaire until an acrimonious falling-out several years ago. They had been estranged since then until their recent reconciliation brought on by the birth of Nonito Jr.'s son.

Rachel Donaire, the fighter's wife, gave birth in July to their first child, a baby boy named Jarel -- an unusual name derived from the first letters in each word of the phrase "Junior and Rachel's everlasting love."

After the birth, Nonito Jr. began thinking about his father. He said he even had dreams about him. Rachel, whose frosty relationship with her father-in-law was part of the reason for the split between father and son, noticed. She had tried at various times to help them patch things up.

Then, in September, she finally took matters into her own hands and brought Nonito Sr. -- a Filipino immigrant who settled in San Leandro, Calif., where Nonito Jr. was raised -- to Las Vegas, where they now live. She hoped father and son would reconnect, and also wanted Nonito Sr. to meet his grandson.

Rachel's efforts paid off, and not long after the smooth reunion, Nonito Jr. asked his father to return to his corner as part of his training team. It was something the boxer especially needed after losing his most recent fight, in April, when Guillermo Rigondeaux outpointed him to unify junior featherweight titles in an upset that came in Donaire's first bout after receiving his Fighter of the Year award. Up to that point, Donaire (31-2, 20 KOs) hadn't lost since his second professional fight in 2001.

Now Donaire is set to return against 37-year-old, former two-division titleholder Vic Darchinyan (39-5-1, 28 KOs) -- the brawling power puncher who is a native of Armenia and who lives in Australia -- on Saturday night (HBO, 9:30 ET/PT) at the American Bank Center in Corpus Christi, Texas.

"Things happen for a reason, and when we had our baby, I realized my dad was always there, so I wanted to reach out," Donaire said. "Coincidentally, it was the Darchinyan fight and we got it settled and it just worked out. I thought, 'Why don't we just make it happen?' and I'm glad that things happened the way they did."

Donaire-Darchinyan is a rematch of the 2007 fight that put Donaire on the map -- a fight for which his father was his head trainer. That night, Donaire pulverized Darchinyan with a one-punch fifth-round knockout to win a flyweight world title. A rematch was talked about on and off, and now it's finally on as both men are moving up to the featherweight division.

Although Robert Garcia remains Donaire's head trainer, he said he welcomed Nonito Sr. to their training camp.

"His dad is the one that made him and was there when he won his first title, so I was very happy when I heard that his dad was back in the training camp," said Garcia, a former junior lightweight titleholder who was trained by his own father, Eduardo Garcia. "We had a great camp and it will show on Saturday night.

"When he first became world champion, his father was his only trainer and his father was doing all the work. Like all families, they had differences, but now that he is back, I think Nonito is better prepared mentally; he is happier and enjoying training camp, and that's what matters to me. They are father and son, and I'm glad they are back together and they are happy."

Donaire, 30, is also happy to have his father back in his corner. Besides having his family together again, he believes his dad's presence will help him return to the ways that made him so good in the first place, after admitting that he was complacent going into the Rigondeaux fight and hadn't trained as hard as usual, perhaps caught up in all of the hype surrounding his stellar Fighter of the Year campaign.

"He doesn't have a title in the corner," Donaire said of his father's role. "He holds the mitts for me in the gym and he is involved with everyone putting the game plan together. He is just a guy that is in the corner.

"[But] it has been great having my father around. I am getting back to the old me -- a smarter me -- not just someone getting ready to brawl. And that is something we are trying to get back."

July, 10, 2013
7/10/13
12:16
PM ET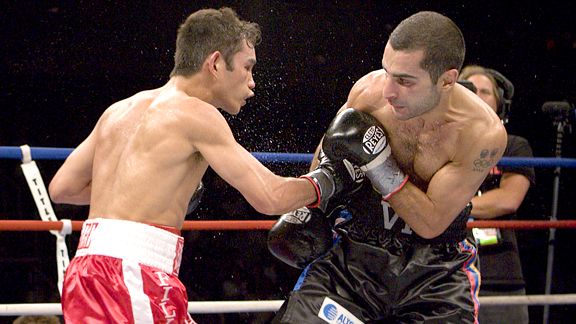 Courtesy Marty Rosengarten for Ringsidephotos.com Nonito Donaire could be headed toward a rematch of his 2007 knockout win against Vic Darchinyan.
After talking with Top Rank chairman Bob Arum on Tuesday about the
Orlando Salido-Orlando Cruz vacant featherweight title bout
that will be on the Timothy Bradley Jr.-Juan Manuel Marquez HBO PPV undercard Oct. 12, we discussed several other fights he has in the works. Here's an update:
• Former junior featherweight titlist Nonito Donaire (31-2, 20 KOs), who lost his belt by decision to Guillermo Rigondeaux in an April 13 unification bout, will be back in November.
"HBO is giving him a date in November and we're talking about a rematch with [Vic] Darchinyan," Arum said. "That's the fight Darchinyan wants and that's the fight that [Donaire manager] Cameron [Dunkin] wants."
Arum said the bout would be at junior featherweight, even though Donaire talked about moving up to featherweight after the April loss. In 2007, Darchinyan (39-5-1, 28 KOs) was a big favorite when he faced Donaire in defense of his flyweight title, but Donaire scored a ferocious fifth-round knockout to win the title and there has been on and off talk about a rematch since.
• Although Rigondeaux (12-0, 8 KOs) defeated Donaire, Arum said HBO has shown no interest in his next fight. "Every time I mention him, they throw up," Arum said. Rigondeaux, while immensely talented does not make for exciting fights.
"So I have to figure out who I could put him in with," said Arum, adding that he didn't think it was right that HBO pushed for him to match Donaire with Rigondeaux and now has turned its back on the winner.
• The date for interim junior welterweight titlist Mike Alvarado's return is Oct. 19 (HBO) in a fight that would take place in his hometown of Denver. Arum said he's close to finalizing a deal with Artie Pelullo of Banner Promotions for Alvarado (34-1, 23 KOs) to face Ruslan Provodnikov (22-2, 15 KOs), who gave Bradley such a tough fight in March only to lose a close decision, despite nearly knocking Bradley out at least three different times in the action-packed fight.
• Arum said that even though HBO said it isn't interested in the vacant junior middleweight title bout between Vanes Martirosyan, who is with Arum, and Demetrius Andrade, who is co-promoted by Pelullo and Joe DeGuardia, he's talking to Pelullo about a deal. "If I have to do it myself without HBO, so be it. The fight will happen before the end of the year," Arum said. "I owe it to Vanes." The fight is a match of undefeated former American Olympians. Martirosyan (33-0-1, 21 KOs) was on the 2004 team and Andrade (19-0, 13 KOs) was on the 2008 squad.
• If two-time Chinese Olympic gold medalist Zou Shiming wins his second pro fight against Jesus Ortega, a six-round flyweight bout July 27 (HBO2) in Macau, China, Arum said Zou would advance to an eight-rounder for his third pro bout, which would take place on the Manny Pacquiao-Brandon Rios HBO PPV card in Macau on Nov. 23.
• With Top Rank having reunited with Miguel Cotto for his Oct. 5 bout -- opponent not set, but likely to be Delvin Rodriguez -- Arum plans to put rising lightweight contender Terence Crawford (21-0, 16 KOs) on in the HBO co-feature. There is no opponent yet, but Arum said, "I'd like to make him with [interim titlist Yuriorkis] Gamboa." He said he is talking to Gamboa promoter Curtis "50 Cent" Jackson about the fight. Arum said Jackson is interested, but it remains to be seen if Gamboa is.
• Arum said he has met with super middleweight contender James DeGale (16-1, 11 KOs), a 2008 British Olympic gold medalist, and is interested in signing him. "He's a very nice guy and he wants to sign with us," Arum said. "I'm interested but I'm not interested in buying a lawsuit." Arum said he is still doing his due diligence to see if DeGale is still under contract to British promoter Mick Hennessy but that if he is a free agent, he'd like to sign him. "He's a very good fighter, but I know he's not the most exciting guy in the world. He'd certainly be a good opponent for [champion] Andre Ward. There's a lot you can do with him."
• Former featherweight titlist Mikey Garcia (32-0, 27 KOs) could return on the same November HBO card with Donaire, Arum said. Garcia, who knocked out Juan Manuel Lopez on June 15 but was stripped of his featherweight belt for not making weight, likely would move up to challenge junior lightweight titlist Rocky Martinez, Arum said. However, Arum said he's hopeful he can work something out with HBO to have Donaire and Garcia each headline their own show. If that happens, Arum said he would use the televised undercard slots to feature featherweight titlist Evgeny Gradovich and heavyweight prospect Andy Ruiz if they both look good in their bouts in Macau on July 27 (HBO2).
May, 31, 2013
5/31/13
10:32
AM ET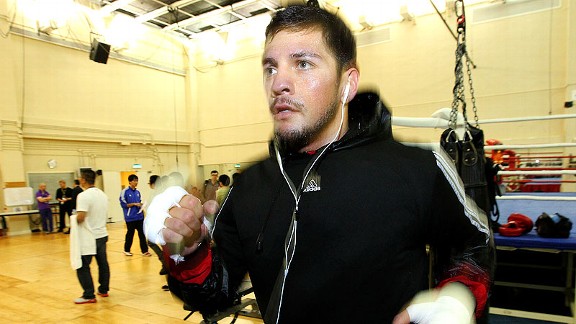 Chris Farina/Top Rank After suffering the first loss of his career, Diego Magdaleno is ready to start over.
Las Vegas junior lightweight contender Diego Magdaleno has hit the reset button on his career in the wake of his first career defeat.
About a month after Magdaleno lost a split decision (and was knocked down) in challenging 130-pound world titleholder Roman "Rocky" Martinez on April 6 in Macau, he ended his working relationship with career-long manager and trainer Pat Barry, who still trains his 21-year-old kid brother, top-notch junior featherweight prospect Jessie Magdaleno (14-0, 10 KOs).
On Thursday, Diego Magdaleno took the next step in his makeover, signing with manager Frank Espinoza, one of the best in the business.
"Now it's time to look for a coach, line up whatever's next and get back into the mix of things," Magdaleno told ESPN.com. "I learned a lot from that fight with Martinez, my first loss. It's making me a lot stronger. I'm looking forward to bigger and better things with my new management and a coach who will push me to that next level. It's time to cross that final line and become a world champion."
Among the notable fighters in Espinoza's stable are featherweight titlist Abner Mares, former titleholders Daniel Ponce De Leon and Vic Darchinyan, two-time Mexican Olympian and top prospect Oscar Valdez and junior welterweight prospect Antonio Orozco. Espinoza was pleased to add Magdaleno to his crew.
"I've been following parts of his career and I really believe in his talent," Espinoza said. "I'm really excited to work with him. I think we'll make a great team. I didn't really know him, but I did hear that he was no longer with his former manager, so I reached out to him. We sat down and we got along really well and made a good decision."
Espinoza said he would soon meet with officials from Top Rank, Magdaleno's promoter, to plot his return. Top Rank vice president Carl Moretti told ESPN.com that Magdaleno (23-1, 9 KOs), 26, would likely be back in action in the fall.
With his manager in place, Magdaleno, a southpaw, said they'll begin looking at trainers and hope to settle on one in the next few weeks.
"We are talking about the trainer thing with Frank," Magdaleno said. "He mentioned a few coaches, Joel Diaz [who trains welterweight titlist Timothy Bradley Jr.] being one of them. I've known Joel for a while. I also hear good things about Abel Sanchez [who trains middleweight titlist Gennady Golovkin]. We'll be looking to [work out] with different trainers and see who can take me to the next level."
May, 14, 2013
5/14/13
7:58
PM ET
So much for Top Rank promoter Bob Arum's plans to match newly crowned junior featherweight titlist Victor Terrazas with either Vic Darchinyan on the Aug. 3 Julio Cesar Chavez Jr. undercard in Mexico City, or with former titleholder Nonito Donaire in his fall comeback fight following a loss to Guillermo Rigondeaux in their unification bout last month.

Mexico's Terrazas (37-2-1, 21 KOs), who won a vacant title by outpointing former junior bantamweight champ and countryman Cristian Mijares by split decision on April 20, is going to be tied up with a tough, tough fight beforehand. He likely won't be available on Aug. 3, and there's a good chance he will no longer have his title in the fall.

Terrazas has been ordered to make a mandatory defense against former bantamweight titlist Leo Santa Cruz (24-0-1, 14 KOs), who gave up his 118-pound belt and made the successful move to 122 on May 4 when he blitzed former junior bantamweight titleholder Alexander Munoz for a fifth-round knockout in a one-sided fight on the Floyd Mayweather Jr.-Robert Guerrero undercard.

Although Santa Cruz has made just one fight at junior featherweight, he was given the mandatory position by the WBC as a former titleholder in the weight class below.

"We got the notification that Santa Cruz is the mandatory and the WBC has ordered the fight," Golden Boy promoter Richard Schaefer, who represents Santa Cruz, told ESPN.com.

Schaefer said Golden Boy matchmaker Eric Gomez has reached out to Fernando Beltran, Terrazas' promoter -- and Arum's close associate -- to begin negotiating the fight.

Don't count on the camps making a deal given the bad blood that exists between Golden Boy and Top Rank.

Schaefer said the camps have been given until June 7 to negotiate a deal. If they don't make one by then, there will be a purse bid that day.

"We'll see if we can make a deal with Beltran, but if we don't, fine, we will go to a purse bid," Schaefer said. "If we win the purse bid, we will promote the fight. It's a good fight and we have plenty of spots to put it on. We're happy that Leo Santa Cruz has this opportunity and we are anxious to put on the fight."
August, 31, 2012
8/31/12
3:34
PM ET

Unified junior featherweight titlist Nonito Donaire is one of the pound-for-pound stars of boxing and now a regular on HBO, making high six-figure purses. His next fight headlines an Oct. 13 HBO card against former titlist Toshiaki Nishioka.

But then there is Glenn Donaire (19-4-1, 10 KOs), Nonito's older brother, who at 32 is still plugging away trying to reach the promised land of a championship.

A pro since 2000, he has had his opportunities and lost a few fights along the way. Early in his career, he dropped a six-round decision to fellow prospect Gabriel Elizondo. In 2005, fellow Filipino Z Gorres knocked him out in the first round. Yet Donaire wound up getting two world title fights but could not capitalize. He lost a six-round technical decision challenging Vic Darchinyan for a flyweight title (which Darchinyan eventually lost by one-punch knockout to Nonito in 2007). And in 2008, Glenn Donaire lost a shutout decision to junior flyweight titlist Ulises "Archie" Solis.

After that loss, Donaire retired for 3½ years. But since his return he has won two fights in a row, both televised by Telemundo, and looked pretty good both times. He stopped faded former strawweight titleholder Alex "Nene" Sanchez in December and won a competitive 12-round decision against former junior flyweight title challenger Omar Salado in March.

Donaire hooked up with manager Vinny Scolpino -- who has guided fighters such as Joshua Clottey and Joseph Agbeko -- to help him with his comeback, which will continue Sept. 14 (Telemundo) in Tampa against Omar Soto (22-9-2, 15 KOs), a former flyweight and junior flyweight title challenger. They're meeting for a regional flyweight title that will help the winner move up one of the sanctioning body rankings and closer to a bigger title shot.

Scolpino has been encouraged by what he has seen in Donaire's two return fights.

"I picked him up two fights ago. He was down in the dumps. I started managing him, got him two wins and he is back in the gym training hard," Scolpino said. "He looked really good in Mexico City (in March in the Salado fight). I was a little worried because of the altitude, but he did a great job and now he's going in with Soto, who is a tough opponent."

With his name and an apparent rededication to boxing, Donaire might just be able to move into position for a title shot.

"We're hoping after this fight we'll get one," Scolpino said. "We'll take anybody. Glenn said, 'I don't care who they put in front of me, I just want to fight for a title and win a title.'"
April, 12, 2012
4/12/12
11:40
AM ET
Your random thoughts ...
• I like the fact that Juan Manuel Marquez, one of today's best fighters, isn't just sitting around waiting for another big fight. He desperately wants a fourth fight with Manny Pacquiao, which could come near the end of the year, but there is certainly no guarantee. So Marquez will stay busy by facing Sergey Fedchenko on Saturday night in Mexico City in the main event of the Top Rank split-site pay-per-view card (9 ET, $44.95). More fighters should do what Marquez is doing, which is stay active and sharp (even if not for a mega-payday) for when the big fight does come. Sure, it's a risk. But boxing is all about risks.
• You think Yuriorkis Gamboa will be ordering the Marquez-Fedchenko/Brandon Rios-Richard Abril pay-per-view on Saturday night? Maybe he'll order it then just cancel at the last minute? Gamboa, of course, should have been fighting Rios for a seven-figure payday, but he bailed on the day of the announcement news conference because he is obviously listening to very poor advice from somebody. All Gamboa has now is a lot of free time, a breach of contract lawsuit on his hands from Top Rank (which costs money to defend), the ire of boxing fans and HBO and no fight scheduled.
• I don't love the Floyd Mayweather Jr.-Miguel Cotto HBO PPV undercard that was announced this week. From what I have heard from readers and tweeters, it has generated a big shrug. In other words, it's OK -- but certainly nothing to get excited about. Canelo Alvarez-Shane Mosley, the co-feature, was announced ages ago. That's a showcase for Alvarez against a once-great fighter. Does anyone seriously think Mosley has a chance after his terrible (and very boring) recent performances? The other two TV bouts were announced this week -- welterweight prospect Jessie Vargas against Alfonso Gomez and junior middleweights Denadre Latimore and Carlos Quintana squaring off -- and are decent. I don't know who will win either fight, but then again I don't find either bout to be all that intriguing because I don't consider any of the four to be top-tier fighters. So the undercard is decent, but shouldn't it be better when the PPV costs $59.95 (and more in HD)? By the way, I don't blame promoter of record Golden Boy, either. This is Mayweather's call, as he controls what goes on the card and he wanted Vargas and Latimore -- his fighters -- on the PPV.
• So Julio Cesar Chavez Jr.'s middleweight defense against Andy Lee on June 16 will take place at the Sun Bowl in El Paso, Texas. Two requests for the Texas boxing regulators: Don't "forget" the drug-testing kits as you did in February for Chavez's most recent fight in your state, and please, please, please, don't let Gale Van Hoy anywhere near a judging stool or assign Jon Schorle to referee.
• I was happy to hear Lee got the shot against Chavez. He has worked hard to get it and deserves it. And I think it will be an entertaining fight. Ideally, the winner will face Sergio Martinez, the real middleweight champion, in September. Of course, I'll believe that when I see it.
• Junior lightweight titlist Adrien Broner is scheduled to fight on an HBO undercard May 19 and still doesn't have an opponent. He never had an opponent, but HBO gave him a slot, anyway. That's one of the many problems with boxing. I like Broner as much as anyone, but why should he blindly be handed a slot? Making matters worse is that Broner fights in one of boxing's worst divisions, and the one interesting and doable fight -- a match with fellow Golden Boy fighter Vicente Escobedo -- wasn't really considered for May 19 because that match is being planned for Broner's HBO headliner date later in the summer. So when I hear that Monty Meza Clay is being considered for Broner's May bout, it's a real downer. That's maybe a two-round fight -- and a non-competitive two rounds at that.
• For all the talent Jorge Linares has, I think it's pretty clear that he's never going to be the star champion many (although not I) predicted he would become. His recent second-round TKO loss to Sergio Thompson was an utter disaster, as he blew a lightweight title rematch with Antonio DeMarco that was set for July 7 on Showtime by losing in bad fashion to an obscure opponent with a puffed-up record. I just don't think Linares, now a loser of two in a row by knockout, is ever going to hack it at the very top of the sport. He simply can't take a punch and he cuts sooooo easily. I wish him luck and hope he proves me wrong.
• Vic Darchinyan had a helluva run as a two-division champ at flyweight and junior bantamweight. He made some terrific fights, scored a lot of great knockouts, talked a lot of trash and got way more U.S. television exposure on Showtime than most little guys (and even many bigger guys) could ever dream of. But Darchinyan is 36 now, still extraordinarily one-dimensional and coming off yet another loss in a bantamweight title bout. He dropped to 0-3 in 118-pound title fights with his loss to Shinsuke Yamanaka in Japan last weekend. Darchinyan, at this point, looks just about done.
• I have no idea what Michael Katsidis has left after so many brutal fights, but he's moving up to junior welterweight for his "Friday Night Fights" main event this week against Albert Mensah, and I'm curious to see what he does have left.
• Isn't it about time cruiserweight contender
Denis Lebedev
fights an opponent with a pulse? In his past three fights, he has faced two 40-something has-beens (
James Toney
and
Roy Jones Jr.
) and one never-was/never-will-be (
Shawn Cox
).
• Just three weeks until light heavyweight champ Bernard Hopkins faces Chad Dawson in a rematch. I don't ever recall Hopkins being this quiet before a fight.
• Paging Beibut Shumenov.
• Gross title fight of the spring: Dmitry Pirog defending his middleweight belt against Nobuhiro Ishida on May 1. That would be the same Ishida who lost every minute of every round to Paul Williams a few weeks ago. So Ishida lost a complete route and landed a title shot? Pathetic.
• I hope new junior welterweight titlist Danny Garcia and Golden Boy don't try to weasel out of the mandatory defense against Ajose Olusegun. The fight is due, and Olusegun is a legit opponent who deserves his chance.
•
DVD pick of the week:
One of the most iconic fights in boxing history was back in the news because of its recent 25th anniversary. So it made sense to break out that all-time classic:
Sugar Ray Leonard
's remarkable decision victory against
Marvelous Marvin Hagler
to shockingly win the middleweight title on April 6, 1987, at Caesars Palace in Las Vegas. Leonard, the former welterweight champ, was coming out of a three-year retirement to face Hagler in a fight for which fans (and Hagler) had been pining for years. Many thought Leonard, the smaller man and coming off a very long layoff, would be destroyed. Instead, Leonard scored an upset for the ages by fighting an incredibly disciplined bout and, to be honest, breaking Hagler mentally. The split decision for Leonard -- 118-110, 115-113, with one judge going 115-113 for Hagler -- still stirs debate. Personally, I thought Leonard deserved the decision. He won the first four rounds and stole at least three more to properly win.