Dan Rafael:

Vyacheslav Senchenko
October, 23, 2013
10/23/13
1:56
PM ET
Welterweight contender Kell Brook has been here before, needing one more win to get a world title shot.

He got that win last October by knocking out Hector Saldivia in the third round of a final eliminator. That set Brook up for a mandatory world title shot against Devon Alexander, and they were due to meet in May in Atlantic City, N.J. However, about a month before the fight, Brook withdrew because of a stress fracture in his foot.

It was the third time the fight had been derailed by injuries to either Brook or Alexander, and this time it was canceled altogether.

Bye-bye, world title shot.

Alexander went on to fight somebody else -- Brook's stablemate Lee Purdy -- and when Brook was healed, he returned in July, stopping Carson Jones in the eighth round of a rematch of their fierce 2012 fight.

Now Brook again finds himself in a similar position when he faces former welterweight titlist Vyacheslav Senchenko of Ukraine on Saturday (AWE, 3 p.m. ET) at the Motorpoint Arena in Sheffield, England, Brook's hometown. A win will put Brook back into the mandatory position to fight the Nov. 30 winner between Alexander and challenger Shawn Porter.

In the 36-year-old Senchenko (34-1, 23 KOs), Brook is facing a tough opponent who came to England two fights ago, last November, and knocked out British star Ricky Hatton in the ninth round, derailing Hatton's comeback from a 3½-year retirement.

But Brook (30-0, 20 KOs), 27, is aiming not only to beat Senchenko, but to do it in the kind of style that will get people pumped for him to challenge for a world title.

"I want to do a demolition job on him, put on a great performance and really have fun in my hometown," Brook said. "He's been over to promote the fight, and that shows he's confident. He's coming here to win and to get a second shot at a world title. It's always good to get a look at your opponent ahead of a fight, get a feel of what his chin might be like.

"He seemed confident and his team are used to winning. He's got a good amateur background and he almost had a bit of a swagger about him when I saw him at the press conference, and like he did when he beat Ricky Hatton. But it's a whole different story going in there with me, and he's going to realize that really quickly on Saturday. The public know that this is a real fight and that's why it's going to be buzzing in the arena when I walk into the ring."

Senchenko's only defeat came when he lost his belt at home in Ukraine to Paulie Malignaggi via ninth-round, cut-induced stoppage in April 2012.

"I need to make a statement," Brook said. "He's a world-class fighter, and he only lost his title on a cut. They don't give world titles out for nothing. He's proved he deserves to be at the top.

"I've put the miles in on the road and taken myself out of my comfort zone. I left my partner and my little girl at home, so I've trained very hard and we've taken this very, very seriously. As long as we get the end result, a win and one in style, all the hard work is more than worth it."
October, 17, 2013
10/17/13
9:11
AM ET
If anybody knows how effective former welterweight titlist Vyacheslav Senchenko of Ukraine can be, it's Ricky Hatton, the retired British star and two-division titleholder.

After getting brutally knocked out by Manny Pacquiao in the second round in 2009, Hatton retired but made a comeback last November to face Senchenko.

Senchenko, who had lost his world title to Paulie Malignaggi via ninth-round, cut-induced knockout in April 2012 in Ukraine, went to Hatton's hometown of Manchester and Hatton looked pretty good early. He was winning through eight rounds, but then Senchenko cut down Hatton with a left hand to the body in the ninth round. Knocked out for the second consecutive fight, Hatton announced his retirement again after the fight.

Now Senchenko (34-1, 23 KOs) is headed back to England to take on welterweight contender Kell Brook (30-0, 20 KOs) on Oct. 26 at the Motorpoint Arena in Sheffield, Brook's hometown. Hatton has a little advice for Brook.

"He's a lot tougher than he looks," Hatton said of Senchenko. "He's a tall boxer-type but he's not a skilful boxer. Kell is a really good boxer and Paulie showed that Vyacheslav can be outboxed. So if Kell chooses to box him rather than go to war with him, like I did, and picks his moments when to put it to him, I think he will do the business."

The card also includes England's Brian Rose (24-1-1, 7 KOs) facing Argentina's Javier Maciel (27-2, 20 KOs) in a junior middleweight final elimination bout and 2012 British Olympic super heavyweight gold medalist Anthony Joshua (1-0, 1 KO) in second professional fight.
January, 25, 2013
1/25/13
1:21
PM ET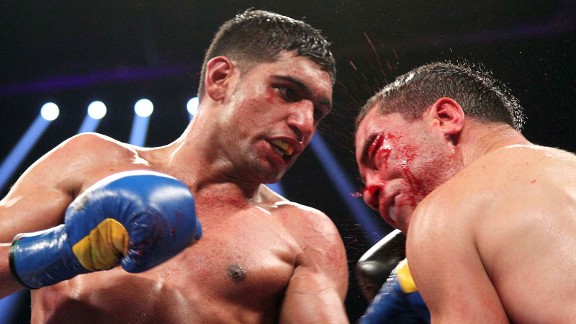 Tom Casino/ShowtimeAmir Khan battered Carlos Molina in December to rebound from dispiriting back-to-back losses.
Former junior welterweight titlist Amir Khan of England is ticketed to return to action April 20 on Showtime, Golden Boy promoter Richard Schaefer told me on Thursday.
Who will Khan fight and where will it take place? Schaefer said those questions haven't been answered yet.
"We have earmarked April 20 for Amir, but I can't say whether it will be from the U.S. or the U.K.," Schaefer said. "If it's up to Amir, he wouldn't mind doing a fight from the U.K. It's important to keep the U.K. tie. As for the opponent, I have been on the phone with [Showtime Sports boss] Stephen [Espinoza] and we're talking about it."
Khan has a multi-fight contract with Showtime, which will have substantial influence in the fight location and opponent.
"Showtime is open to doing a fight from England, but the question then will be the license fee and the opponent," Schaefer said. "When Amir entered into the multi-fight deal, it was tied to some pretty big names. But if you are fighting in the U.K., it doesn't make sense for the big names because of the time difference [meaning an afternoon fight in the U.S., which means less money from the network]. The license fee for an overseas fight will be less, so we are talking about it."
Khan (27-3, 19 KOs) lost two title fights in a row -- a controversial split decision loss to Lamont Peterson in December 2011 followed by a fourth-round knockout against Danny Garcia in July -- but returned with a win in December in a lopsided 10th-round knockout of Carlos Molina.
Schaefer said that if Khan fights in America, Josesito Lopez -- who stopped Victor Ortiz and then was wiped out by junior middleweight titlist Canelo Alvarez -- is a potential opponent.
Schaefer said he would like to make a Garcia-Khan rematch later in the year because the timing doesn't work for that match to be their next fight. Garcia fights Zab Judah on Feb. 9 and Khan is fighting in April -- too soon to make a Garcia rematch if Garcia beats Judah.
Khan is tied to April because he wants to fight before his wedding in May. And then comes the Muslim holiday of Ramadan, which means Khan won't be back until the fall.
Three names are being discussed, from what I'm told, if Khan fights in England -- although Schaefer didn't want to discuss the list. Nonetheless, those potential opponents are former lightweight titlist Humberto Soto, former interim junior welterweight titlist Pablo Cesar Cano (who lost a debatable decision in October versus welterweight titlist Paulie Malignaggi) and former welterweight titlist Vyacheslav Senchenko, who knocked out Ricky Hatton in the ninth round in November in Hatton's comeback bout.
Schaefer did say that if Khan fights in England, British middleweight Anthony Ogogo, the 2012 Olympic bronze medalist who recently signed with Golden Boy, would make his pro debut on the undercard.
October, 29, 2012
10/29/12
1:24
PM ET
Although former junior welterweight champ Ricky Hatton is set to emerge from a 3½-year retirement to face former welterweight titleholder Vyacheslav Senchenko on Nov. 24 in his hometown of Manchester, England, he hasn't forgotten about his promotional endeavors.

Hatton owns Hatton Promotions, which has put on many cards throughout the United Kingdom since the fighter's retirement, but now he is branching out.

Hatton announced on Monday that he is expanding his promotional arm by launching Hatton Promotions Asia Pacific, with which he plans to promote boxing events in Asia.

He announced that the first card will take place Dec. 11 at the Hong Kong Convention and Exhibition Centre.

The card will be headlined by a scheduled 10-round heavyweight fight between Australia's Lucas Browne (13-0, 12 KOs) and England's Richard Towers (14-0, 11 KOs), who are pals and both promoted by Hatton. The fighters became friendly earlier this year when they sparred together in Sheffield, England, Towers' hometown.

Browne-Towers is slated to be an eliminator for the right to face Commonwealth champion David Price.

"What a fight to start our new promotional company, and how much more could be at stake?" Hatton said in making the announcement. "Lucas and Richard are both punchers and hungry for success, and it will show on the night."
October, 26, 2012
10/26/12
3:19
PM ET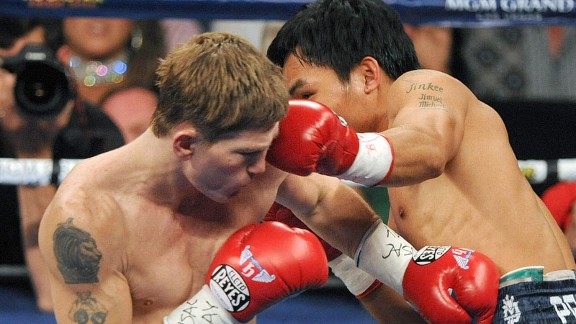 Mark Ralston/Getty ImagesRicky Hatton hasn't fought since a second round defeat to Manny Pacquiao in 2009.
The biggest win of Ricky Hatton's career -- when he thrilled the hometown Manchester, England crowd by stopping Kostya Tszyu in the 11th round to win the junior welterweight championship in 2005 -- was televised in the United States on Showtime.
Two fights later, Hatton signed a multi-fight contract with rival HBO and fought six of his next seven fights either on HBO or HBO PPV before retiring in 2009 following a brutal second-round knockout loss to Manny Pacquiao.
Well now, as we all know, the 34-year-old Hatton (45-2, 32 KOs) is coming out of a 3½-year retirement on Nov. 24 to fight former welterweight titlist Vyacheslav Senchenko (32-1, 30 KOs), who lost his belt to Paulie Malignaggi in his last fight in April. The fight will also serve as Hatton's return to Showtime, which announced on Friday that it has bought the American rights to the fight, which also drew serious interest from Epix.
Showtime will carry the scheduled 10-round fight from Manchester Arena live at 5 p.m. ET (although it will air at 5 p.m. on tape on the West Coast) on a special edition of "Showtime Championship Boxing." There will also be a replay that night at 8 ET/PT on Showtime Extreme.
"This is a very dangerous opponent for a so-called comeback fight," said Showtime Sports general manager Stephen Espinoza. "Ricky is showing us that he wants to challenge himself and immediately put himself back in the mix with the top 147 pounders. There are a number of exciting matchups in this division, and with a win Ricky will be right back in upper echelon of the division."
Hatton is as popular as ever in England, where the bout will air on Primetime pay-per-view. Before the opponent was even announced, the 18,000-seat arena sold out.
Hatton, also a former welterweight titlist, battled depression, suicidal thoughts, drugs and ballooning weight after retiring. He says he is doing well now and gotten in shape for his comeback.
"People ask if I should come back, will I win, can I be world champ again. They don't get it." Hatton said. "I've already won. I'm here. I saved myself. The end of the 'Ricky Hatton Story' was not being knocked out by Pacquiao. I'm looking forward to getting back in the ring and showing what I can do. I want to get back in the title mix, but you can't do that by taking easy fights. That's why I'm taking on this guy."
The fight will mark Hatton's 10th appearance on Showtime (which includes three fights that aired on "ShoBox: The New Generation").
If Hatton defeats Senchenko, it is likely that he will challenge welterweight titlist Paulie Malignaggi, who won a debatable split decision against Pablo Cesar Cano on Showtime last week. In a November 2008 lineal junior welterweight title defense, Hatton stopped Malignaggi in the 11th round of a one-sided fight.
February, 14, 2012
2/14/12
3:55
PM ET
Although former junior welterweight titleholder Paulie Malignaggi is the mandatory challenger for welterweight titlist Vyacheslav Senchenko, he has passed on the opportunity and instead turned his attention to Robert Guerrero, whom he has had fun trash-talking about a potential fight.

Some might question why Malignaggi would reject a title shot, especially with no other big fight sitting there for him. But I can see where he's coming from.

Malignaggi would have made $250,002.50 for the title fight -- his 25 percent share of the $1,000,010 winning purse bid made by Senchenko's promoter, Union Boxing Promotions -- and would also have had to travel to Senchenko's home country of Ukraine for the bout.

But he didn't want to do that. And although $250,000 is a lot of money to most people, Malignaggi is steadfast about the fact that he has done well with the money he has earned -- and remember, he has had some pretty big fights, against Ricky Hatton, Amir Khan and Miguel Cotto, and has appeared numerous times on HBO and Showtime.

When I spoke with Malignaggi the other day, he didn't sound the least bit upset about declining the title opportunity.

"If I don't get something to my liking, I won't fight; it's pretty simple," he said. "I love to compete and want to fight, but business is business. It has to be the right deal or I won't fight. I'm lucky. I don't have to fight if I don't want to."

Golden Boy, Malignaggi's promoter, bid only $250,000 on the fight with Senchenko (32-0, 21 KOs), but Malignaggi (30-4, 6 KOs) wasn't upset by the low bid.

"Golden Boy made the effort, and I can't fault them," he said. "They couldn't get a TV date for the fight. It's not their fault, and I appreciate their efforts."

He said Senchenko's camp originally offered Golden Boy $275,000 for the fight and that Golden Boy told him it thought it could negotiate the sum up to $300,000. But Malignaggi didn't want to be stuck paying taxes in Ukraine, and he wanted first-class air travel and for Union Boxing to cover the sanctioning fees.

But Malignaggi said Union wouldn't budge, although to help make the fight, he said Golden Boy would have let him keep its percentage.

"I wasn't going to fly 10 hours in coach the week of the fight. I didn't think that was right," Malignaggi said. "And there were some other things I wanted. The Senchenko people said no, so I said we should take our chances in the purse bid. So you saw what the purse bid was. I didn't turn down [what could have been] $300,000 to take $250,000 and still be stuck paying Ukrainian taxes, be stuck in coach and not get anything for training expenses. So it is what it is.

"I have no hard feelings to anyone. It's whatever. At the end of the day, I didn't anticipate a deal to be made. I wanted $500,000, so I wasn't going to take $250,000. If we could have worked out those few things, I would have taken the fight for $300,000, but we didn't. This was [Union Boxing's] chance to get the biggest name on Senchenko's résumé. They had their chance to take me to Ukraine and rob me of the fight on a decision. I prefer to fight because I love the rush of boxing at the high level, but I won't take a deal that I don't like. I'm done with that."

Malignaggi, who said he is running three days a week to stay in shape, hopes Golden Boy can line up something that is to his liking.

With the Senchenko fight off the table, Malignaggi and fellow Golden Boy fighter Guerrero, who is recovering from shoulder surgery (and has called out just about everyone in recent weeks other than Wladimir Klitschko), have engaged in some trash talk.

They dogged each other on Twitter and traded press releases to try to drum up interest in a fight. (I have to say, as much as I like both guys, I don't have much interest in that match. I'd like to see them fight, but against different opponents.)

"For the past three months, you and your team have attempted to trick the media and boxing public into believing that you were on a short list to fight the best fighter in the world, Floyd Mayweather," Malignaggi said in his release. "You also called out every Golden Boy Promotions boxer you could between 135 to 147 pounds, proclaiming your health after shoulder surgery and your readiness to step into the ring in a big fight on May 5. Every time you had a big bowel movement, your publicist sent an email blast about it."

Malignaggi went on to say that Golden Boy had offered them the chance to fight on May 5 on the Mayweather-Miguel Cotto pay-per-view undercard and that he immediately accepted.

"Robert, I accepted the challenge to fight you within two hours of being offered the fight," Malignaggi said in his missive. "But I have been informed by our promoter that you have categorically refused to fight me. This news was absolutely shocking to me because I have seen you transform yourself from a cute, soft-spoken, California kid to, well, someone like me. I give you props for trying to wake up the old boxing farts with sound bites like telling Mayweather to 'Step up, punk' or telling Victor Ortiz that 'If you're really a true warrior, you'll step in the ring with me.'

"But take it from an older and wiser 'Magic Man' that has never needed to hide behind a publicist and has always backed up his words by stepping into the ring with the best fighters in the world -- if you start talking the way you have been talking, you better be ready to accept whatever challenges come your way."

Malignaggi went on to further torch Guerrero over his competition level and the low-rent credibility of his various belts -- a series of interim titles.

"If you think you deserve to fight the elite boxers in this world, you need to earn it with more than just a trigger-happy publicist," Malignaggi said. "You are a paper champion that has never fought anyone in the top 100 of boxing. Beating a geriatric Joel Casamayor or the Australian punching bag that is Michael Katsidis does not earn you the right to call out Floyd Mayweather, Amir Khan and Victor Ortiz. Beating me on May 5 might get you one step closer to that honor. So come on, Robert. Don't become a big joke. Listen to your own words and step up, punk. If you're really a true warrior, and not just some Internet loudmouth, you'll step in the ring with me on May 5. What are you afraid of?"

Guerrero's email-happy publicist fired back this response on Guerrero's behalf: "Look at the facts, Paulie, why did I turn you down? You're a tremendous puncher? No! You make for fan-friendly fights? No! You are an HBO- or Showtime-approved fighter? No! Fact is, Eric Gomez at Golden Boy said you wouldn't be approved to fight on a date that isn't a pay-per-view. So if our promoter can convince a network that you are worthy enough to be on your own date, then let's rumble."

Can't say I'm disappointed that the fight won't take place, but the press release banter was a fun diversion.