December, 11, 2013
12/11/13
10:00
AM ET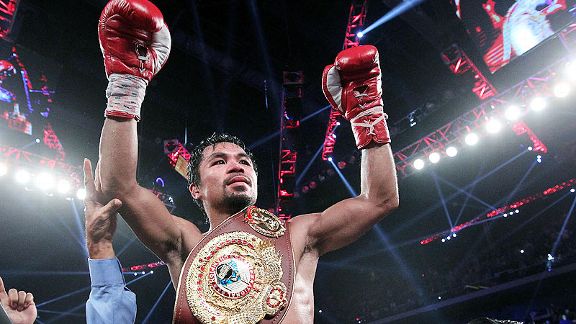 Chris Farina/Top Rank After his domination of Brandon Rios, Manny Pacquiao is ranked at No. 1 at welterweight by the WBC.
When the WBC released its December rankings last week, suddenly my Twitter timeline lit up about it for one simple reason.
The organization had ranked Manny Pacquiao, who came off a one-year layoff to dominate Brandon Rios on Nov. 23, No. 1 at welterweight. As it happens, Floyd Mayweather Jr. holds that organization's title, meaning that Pacquiao will be named Mayweather's mandatory challenger.
The questions poured in on the topic and they all went something like this: "Now that Pacquiao is going to be the mandatory, does that mean they will finally fight?" I am here to crush and destroy all of your hopes and dreams.
The answer is unequivocally no.
If Mayweather and Pacquiao do someday fight -- and I am as skeptical as anyone after all the nonsense that has gone on over the past few years as this wretched soap opera has dragged on -- it will have nothing whatsoever to do with a belt.
If they fight, it will be because they all have come to their senses and made the fight. But nobody is going to force either side into it, least of all the WBC.
In normal boxing, when a titleholder is ordered to make a mandatory defense, the camps negotiate and make a deal. If they can't make a deal, the organization orders a purse bid and the promoter that bids the most at the auction wins the promotional rights to the fight. The purse amount offered is then split between the titleholder and the challenger, usually on a 70-30 split, as in the case of the WBC. The organization also has the latitude to change the split depending on other factors, such as the name value of the challenger.
But don't worry about that in relation to a Mayweather-Pacquiao mandatory. It won't matter.
Neither fighter is going to be forced into the fight by a sanctioning body. Do you think for one minute that Mayweather would even participate in a purse bid and risk losing control of the fight? Zero chance.
Nobody is going to tell Mayweather whom he has to fight. As he says, he's his own boss. He picks his opponents. Pacquiao does the same thing.
If Mayweather is ordered to fight the mandatory, it will mean nothing because, you can bet he'd dump the title. He doesn't need it whatsoever (and, by the way, he still holds two others at junior middleweight).
Nobody buys a Mayweather fight because he has a title. And if Mayweather drops the title, he actually would save money because there would be no sanctioning fee to pay.
Ditto for Pacquiao, who, like Mayweather, already has a closet full of belts. If he ever faces Mayweather, it's not going to be because some organization ordered him to do so.
If Mayweather and Pacquiao haven't listened to the fans begging them to fight for all of these years, what makes anyone think they'll listen to the WBC?
They won't, which is why Pacquiao's No. 1 challenger ranking is nothing but symbolic.
November, 6, 2013
11/06/13
1:42
PM ET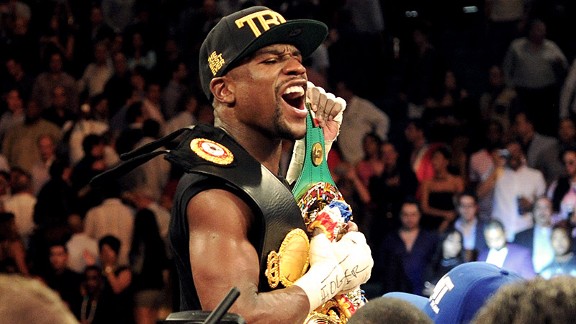 Jayne Kamin-Oncea/USA TODAY SportsFloyd Mayweather has to decide soon on an opponent for his next fight.
As much as I rail against the WBC's rule-breaking and divisional rankings, those rankings affect the mandatory fights that are made for the organization's belt. So that makes its annual convention notable in that many of those mandatory situations are clarified.
This year's convention is going on this week in Bangkok, where organization officials, promoters and managers gathered to argue and debate the rankings and mandatory fights that are not yet set.
Here's a look at some of the key rulings related to mandatory fights made Wednesday:
•
Heavyweight:
The situation with titleholder Vitali Klitschko is up in the air. He is running for president of Ukraine in 2015 and has made no decision about his boxing career, even though his mandatory defense against Bermane Stiverne is way overdue. Klitschko addressed the crowd at its opening, but not about his boxing plans. Stiverne, however, was still traveling to Thailand on Wednesday, so the debate was put off until at least Thursday.
•
Super middleweight:
Titleholder Sakio Bika must make two mandatory defenses. The first is against Anthony Dirrell on Dec. 7. The winner of the fight was approved for one optional defense. Marco Antonio Periban and James DeGale were ordered to meet in a semifinal eliminator with the winner ordered to meet Julio Cesar Chavez Jr. to determine the second mandatory challenger. Keep in mind that these orders are the WBC's wishes and that often what it lays out does not wind up happening because either a fighter decides to go in another direction or, as often happens, the WBC ignores its own ruling.
•
Middleweight:
If champion Sergio Martinez, sidelined with a knee injury, can't make his mandatory defense against Marco Antonio Rubio, Rubio will be ordered to face Domenico Spada for the interim belt. This will be interesting because Martinez has no interest in Rubio and instead hopes for a June pay-per-view megafight with Miguel Cotto. It seems that Martinez, who has been very loyal to the WBC, will be allowed to face Cotto upon his return from injury with Rubio settling for the interim title bout for the time being.
•
Junior middleweight and welterweight:
Floyd Mayweather Jr. holds the WBC title in both divisions, as well as another alphabet junior middleweight title. Holding titles in multiple weight classes is against sanctioning organization rules, but that hasn't stopped the WBC from allowing Mayweather to get away with it for 1½ years. Finally, the WBC ruled that Mayweather must decide which division title he wants to keep by Dec. 15. If Mayweather doesn't notify the WBC, however, I won't believe it would strip him of the title until I see it happen. He is one of the WBC's favorite sons in that he fills the coffers with enormous sanctioning fees.
•
Junior welterweight:
Danny Garcia's last fight in September was his mandatory against Lucas Matthysse, but a final eliminator to determine the next mandatory was approved between Viktor Postal and Selcuk Aydin.
•
Lightweight:
Adrien Broner has the title, but he also won another organization's belt this year -- in the welterweight division -- and has been allowed to keep both since the summer, which is against the rules. Broner is never going to see 135 pounds again -- did you see how he looked on Showtime on Oct. 26? -- but his request to wait to make a decision until after his Dec. 14 welterweight defense was approved. Daniel Estrada is the mandatory challenger. What should have happened is that Broner should have been forced to pick, and if he picked the welterweight belt (which he obviously would do), interim titlist Omar Figueroa should have immediately been elevated. But that would be too easy.
•
Junior featherweight:
A final eliminator between Hugo Cazares and Andres Gutierrez was approved to determine Leo Santa Cruz's mandatory.
•
Bantamweight:
An eliminator was approved for Stephane Jamoye to face Julio Ceja, with the winner to fight Suriyan Sor Rungvisai in a final eliminator to determine Shinsuke Yamanaka's mandatory.
•
Junior flyweight:
Adrian Hernandez's mandatory will be the winner of an eliminator between Javier Mendoza and Yodmongkil Wor Saengthep.
•
Strawweight:
A final eliminator was approved between Wanheng Menayothin and Osvaldo Novoa to determine Xiong Zhao Zhong's mandatory challenger.