May, 9, 2013
5/09/13
4:38
PM ET
Middleweight titlist "Kid Chocolate" Peter Quillin has looked quite impressive in his recent fights.

In his last three bouts combined, decisions against Winky Wright and Hassan N'Dam (to win a belt) and a seventh-round knockout of Fernando Guerrero on April 27, Quillin (29-0, 21 KOs) has scored 11 knockdowns. He dropped Wright once, N'Dam six times and Guerrero four times.

Now Quillin wants to unify the titles, even though it won't be easy for those fights to be made.

"I want to fight one of the other champions," Quillin said. "Sergio Martinez would be my first choice, but he's injured and out for the rest of the year. [Daniel] Geale is the IBF champion, and that, right now, looks like the easiest unification fight to make."

Gennady Golovkin, who defends against Matthew Macklin on June 29, also holds a belt. But the reason that unification fight is unlikely is simple: Quillin is with Golden Boy Promotions, which has all its notable fights on Showtime at the moment. Martinez and Golovkin are HBO fighters, which makes either of those bouts nearly impossible to make. Geale, who is with promoter Gary Shaw, has no network allegiance in the United States. However, Shaw is close to HBO, and Showtime is doing business with Golden Boy only these days.

Still, Quillin wants people to know that he is ready, willing and able to unify 160-pound belts.

"We'll fight anybody in a unification or major fight," said John Seip, who co-manages Quillin with Jim McDevitt. "Peter was awesome in his last fight. He really hurts his opponents with both hands. He connected on 50 percent of his power punches against Guerrero, and that's an astronomical number. Nobody in this division can handle him. It's a numbers game now. The promoters and networks have to put egos aside and give fans what they want with Peter in a major fight.

"You don't make big money winning the world title belt; you do retaining it, and now it's time for Peter to reap the fruit of his labor. The biggest market in boxing is in America, and a unification fight belongs here. Martinez is out with injuries, [Julio Cesar] Chavez [Jr.] won't fight us, Golovkin has a fight at the end of June, but Geale interests us."
June, 19, 2012
6/19/12
8:53
AM ET
I've always believed that the live gate for a fight card should remotely reflect how much a network pays for a fight. When Arturo Gatti was selling out Boardwalk Hall in Atlantic City, N.J., the gates were around $1.2 million, give or take, depending on the bout. HBO, meanwhile, was paying around $2 million for his fights under his multifight contract with the network. Those numbers are in the same ballpark.

And then you have what happened with the June 2 Showtime card at the Home Depot Center in Carson, Calif. The network paid about $2 million for the quadrupleheader headlined by Antonio Tarver's draw with Lateef Kayode in a cruiserweight fight.

There were three other bouts on the broadcast, which was promoted by Tarver's company (AT Entertainment), Golden Boy and others who had fighters on the card: middleweight Peter Quillin retiring Winky Wright, junior middleweight titlist Austin Trout outpointing Delvin Rodriguez in a snoozer and Leo Santa Cruz throwing about a billion punches to outpoint Vusi Malinga for a vacant bantamweight belt. And for good measure, Showtime Extreme aired a fifth fight from the card, super middleweight contender Sakio Bika's knockout of Dyah Davis.

The promoters paid $1.76 million in purses for the five TV bouts, but the card generated a weak live gate of just $84,676.25, according to the California State Athletic Commission. That is stunningly bad when compared to the TV rights fee.

From day one, I believed the card was set up in the wrong location. It made zero sense to hold it in Southern California when the card's two name fighters, Tarver and Wright, hail from the Tampa, Fla., area. The result: The Home Depot Center drew 7,010 fans, which is a great number for that card. But then look a little closer. According to the California commission, only 1,200 tickets were actually sold, while 5,810 were given away for free. That's just bad business.

Now check out the purses, which were totally out of whack with the public's apparent interest in buying tickets: Tarver earned $1 million, Kayode $130,000, Wright $200,000, Quillin $130,000, Trout $100,000, Rodriguez $75,000, Malinga $50,000, Santa Cruz $35,000, Bika $35,000 and Davis $12,000.

Then again, this isn't the first time there has been such a wicked disparity in a card's rights fee compared to its gate. For example, in 2010, Andre Berto defended a welterweight title against Carlos Quintana in Sunrise, Fla., not far from Berto's hometown. HBO paid $2.15 million for that televised doubleheader, which sold just 972 tickets for a gate of $105,759.52 at the BankAtlantic Center, a massive arena that is home to the Florida Panthers in the NHL.
April, 24, 2012
4/24/12
3:02
PM ET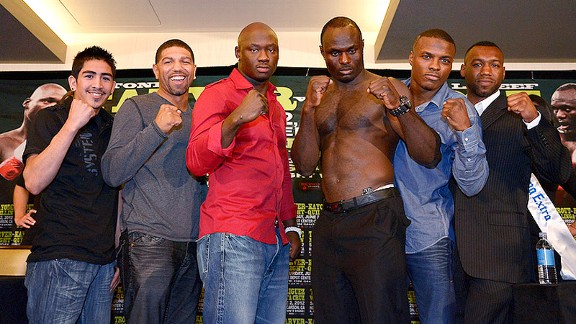 Gene Blevins/Hoganphotos/Golden Boy PromotionsAmong Showtime cards featuring at least four televised fights, the June 2 show may rival them all.
New Showtime Sports chief Stephen Espinoza, a boxing fan since childhood, is now in a position to program the network's boxing events. And he's serving up a rare -- and interesting -- four-fight card June 2 at the Home Depot Center in Carson, Calif. It looks like there's a little bit for everyone:
• Former light heavyweight champ (and current Showtime analyst) Antonio Tarver (29-6, 20 KOs) will face Nigerian slugger Lateef Kayode (18-0, 14 KOs) in a cruiserweight bout.
• Former undisputed junior middleweight champ Winky Wright (51-5-1, 25 KOs), coming off a three-year layoff, will meet "Kid Chocolate" Peter Quillin (26-0, 20 KOs) at middleweight.
• Junior middleweight titlist Austin Trout (24-0,14 KOs) will defend against Delvin Rodriguez (26-5-3, 14 KOs).
• Bantamweights Leo Santa Cruz (19-0-1, 11 KOs) and Vusi Malinga (20-3, 12 KOs), of South Africa, will meet for a vacant title.
Amazingly, Showtime was able to get six promoters to collaborate on the card: Golden Boy, Gary Shaw, A.T. Entertainment (Tarver's company), Greg Cohen, Joe DeGuardia and Branco Milenkovic. And not only are these four solid matchups, an hour of preliminary bouts will be aired on Showtime Extreme.
It's only the third time that Showtime, which has been doing fights since 1986, has put on a card with at least four TV bouts, but the June 2 card is superior to the others, in my view.
In 1997, Don King promoted a five-fight telecast in Nashville that featured four world title fights (mostly mismatches) -- Terry Norris-Nick Rupa, Felix Trinidad-Kevin Lueshing, Henry Akinwande-Scott Welch and Khalid Rahilou-Frankie Randall -- plus Dierdre Gogarty-Debra Stroman in a women's bout.
In 2001, Main Events did a four-fight show at Mohegan Sun in Uncasville, Conn., featuring Zab Judah-Reggie Green in a junior welterweight title bout, plus three prospects in four- or six-rounders: Juan Diaz, Rocky Juarez and Francisco Bojado.
"We are very proud to bring this unique night of boxing to Showtime -- eight world-class fighters, four fights, two world title fights," Espinoza said. "We have legends, rising stars, youth versus experience and world title fights. There are no easy fights on this card."
Everybody assembled Monday at the JW Marriott L.A. Live in downtown Los Angeles to formally announce the card. Here's what some involved (Rodriguez and Malinga were not present) had to say:
Tarver
"When you try to constructively critique someone [Tarver has served as color commentator for Kayode fights], you hope they go back to the gym and get better. I wasn't on his bandwagon. I saw loopholes in his game, and it was my job to tell him that. He didn't want to take heed to that, and now I need to show him. I'm telling Lateef that his dream is going to come crumbling down.
"I'm standing here today to tell Lateef Kayode and everybody he's got coming to support him on June 2 that his dreams are going to come tumbling down. It's a big difference when you are in that ring by yourself and facing the heat and fire I'm going to bring, and all [trainer] Freddie Roach can do is give you water. It's a whole new ballgame. Welcome to the big time, brother."
Kayode
"I will knock you out. I will beat the crap out of you. I want to be a world champion and I want to fight world champions. I want to prove to all of you that I am better than him, that I am stronger than him. When Tarver commented on me on Showtime, he never said anything good. I never disrespected him, and I said, 'Champ, what have I done to you?' I'm going to prove myself and prove that I am ready for this man, that I am ready for the best. He has the name, but he doesn't have the heart. He doesn't have the power. The way he fights, I can get this guy.
"He doesn't have crap. Tarver is done. I never disrespected anyone in my life, but on June 2, this guy is done."
Wright
"I'm not coming back for the money. I've got money and I've got friends who have money, so it's good there. The reason I'm coming back is to make a statement. I could have fought a tuneup, but boxing is about accomplishments, and to me, that means winning another world championship.
"My last fight was a bad one for me. I probably should have taken a fight before it, but I was never retired. I could have come back a year and a half ago, but the kind of deal and opportunity we were looking for just wasn't there. It is now.
"This guy [Quillin] is hungry and he wants to win a championship. I love his enthusiasm, so I'm looking forward to fighting him. If he thinks I'm making a mistake fighting him after being off, if he thinks I'm not what I used to be, now's his chance to show it. Let's do it. I'm ready for a fight."
Quillin
"I'm just getting started. I'm still climbing the ladder, so there's no way I overlook any opponent, especially a fighter that is going to wind up in the Hall of Fame. I'm going to win this fight. I'm in fighting shape. I'm fired up. I'm ready right now to take advantage of this great opportunity.
"I don't fight for my family. I don't fight for my friends. Kid Chocolate fights for himself. If you've never been to the planet Pluto, I'm going to take you there. Pluto is where all the stars are, so if you want to go to Pluto, come out and support me."
Trout
"I'm super excited and I know my fight with Delvin will be great. Trust me, Delvin comes to fight, so this is going to be a good, hard fight for a while, but I'm working in the gym on making it easier.
"I know I'm not a household name in boxing. That's why I'm so appreciative of this opportunity and looking forward to taking full advantage of it. I'm looking to fight any of the other titleholders or the biggest names out there."
Santa Cruz
"I'm from Lincoln Heights [Calif.], so for me to be fighting in my own backyard in my very first world title fight is beyond my wildest dreams. I've been waiting for something like this, and now my opportunity of a lifetime is here.
"I know Malinga is an aggressive fighter who's waited a long time to fight for the IBF title, but I've waited my whole life. I can't wait for June 2 to show what I can do on the biggest stage at the Home Depot on Showtime."
April, 11, 2012
4/11/12
1:07
PM ET
We've known for a couple of weeks that cruiserweight Antonio Tarver (the former light heavyweight champ) would face powerful Lateef Kayode, with middleweights Winky Wright and "Kid Chocolate" Peter Quillin squaring off in the co-feature on an edition of "Showtime Championship Boxing."

The card had been set for May 26, but organizers were still searching for a site. Well, they have one now -- as well as a new date and an expanded telecast.

According to Golden Boy Promotions CEO Richard Schaefer, who promotes Wright and Quillin, the card will move to June 2 and take place at the outdoor tennis arena at the Home Depot Center in Carson, Calif. The stadium, which seats roughly 8,000 and is truly one of boxing's best venues, has hosted a number of fights over the years, including epic first and third chapters of the four-fight Rafael Marquez-Israel Vazquez series.

Schaefer said he, Al Haymon (adviser to Tarver and Quillin) and Kayode's promoter, Gary Shaw, had all agreed to the deal and that Showtime approved moving the date.

In addition, Schaefer said, Showtime boxing boss Stephen Espinoza has given the green light for the telecast to include four live bouts -- the two top fights as well as two others that Schaefer didn't want to disclose because they aren't finalized.

"Four big fights in one night. It will be like a pay-per-view, but without the pay-per-view price," Schaefer told ESPN.com by phone on his drive into the office Wednesday morning. "We are currently working on the other fights and hope to have them wrapped by the end of the week. But this will be real fights."

As for the site, Schaefer said he finalized a deal with arena owner AEG (which owns arenas around the world, including Staples Center in Los Angeles, and which also owns a minority stake in Golden Boy) for the card on Tuesday night.

"They are going to put their promotional muscle behind this show at the Home Depot Center," he said. "They want to make it the biggest boxing night in their facility's history."