August, 15, 2014
Aug 15
4:16
PM ET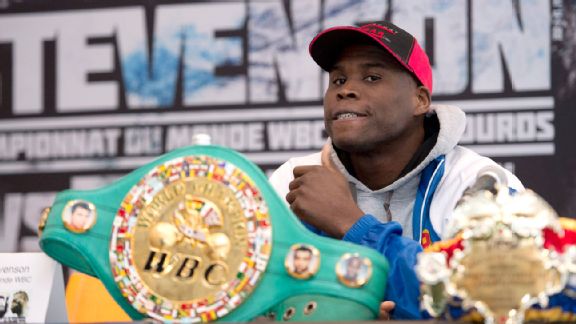 AP Photo/The Canadian Press, Jacques BoissinotAdonis Stevenson has a light heavyweight belt, but can't find a top opponent to defend it against.
Light heavyweight champion Adonis Stevenson could've faced titleholder Sergey Kovalev in a much-anticipated unification fight on HBO in the fall. But Stevenson ran for cover to Showtime, where he struggled to a decision win against Andrzej Fonfara on May 24 in a fight that was instead supposed to set up a fall unification fight with Bernard Hopkins.
However, Hopkins could not wait for the Stevenson camp, which was dragging its feet, to close the deal. So Hopkins took his belts and went back to HBO and made a deal to unify his titles with Kovalev, which is a big-time fight.
Stevenson was due to return to headline a Showtime card Sept. 27, but with Kovalev and Hopkins out of the picture for the fall -- and a fight with former champion Jean Pascal also now off the table -- his date has been postponed until October or November, according to French Canadian sports website RDS.
Once Hopkins paired off with Kovalev, the obvious opponent for Stevenson was Pascal, a fellow Montreal fighter. But Yvon Michel, Stevenson's promoter, told the website that Stevenson-Pascal would not happen this year.
Pascal, a bigger name and bigger draw than Stevenson is in Quebec, was seeking a 50-50 deal, which seemed appropriate. However, the Stevenson camp turned that down, leaving Stevenson with no fight.
So instead of an A-level match with Kovalev or Hopkins, or even a B+ match with Pascal, Stevenson is down to discussion of second-rate opponents for his next fight: former titlist Gabriel Campillo (24-6-1, 11 KOs), who upset Thomas Williams Jr. in a fifth-round knockout win on Aug. 1, and Humberto Savigne (13-1, 10 KOs), who polished off the remnants of former super middleweight titlist Jeff Lacy in two rounds on July 10.
May, 25, 2014
May 25
6:44
PM ET

Main Events chief executive Kathy Duva watched with interest as light heavyweight champion Adonis Stevenson, looking anything like his "Superman" nickname would suggest, struggled mightily over the last quarter of the fight with Andrzej Fonfara on Saturday night at the Bell Centre in Montreal.

Although Stevenson won a unanimous decision, scoring knockdowns in the first and fifth rounds and retaining his title for the third time, he also was dropped in the ninth round and looked pretty bad the last few rounds as he faded badly. If 15-round fights still existed we might be talking about a new champion today.

Duva watched with interest because she promotes light heavyweight titlist Sergey Kovalev, whom many believe Stevenson straight ducked by bolting from HBO to go to Showtime for the Fonfara fight (which HBO had agreed to put on) and a probable fall fight with unified titlist Bernard Hopkins, rather than remaining at HBO to face Kovalev in the fall.

Main Events is suing Stevenson, promoter Yvon Michel, Showtime, Al Haymon (Stevenson's adviser) and Hopkins promoter Golden Boy over the situation, claiming Michel had agreed to a deal for the Kovalev fight on HBO in the fall.

Duva said she saw what happened Saturday coming, the reason why she pushed so hard to make Stevenson-Kovalev happen as quickly as possible.

"I had tried to push HBO to go straight to the Kovalev-Stevenson fight since the fall because I was certain that Stevenson would lose to, or be embarrassed by, just about anyone who could punch just a little bit," Duva said. "He sure proved me right [Saturday] night. I get the feeling that the boys at HBO thought I was delusional. Probably not so much anymore."

Stevenson and Kovalev fought on the same HBO card in November and Duva and Kovalev wanted to go right to a fight with Stevenson after that. But the Stevenson camp didn't want to, and Duva and Kovalev ultimately agreed to each take separate bouts first, with Kovalev knocking out Cedric Agnew on March 29 and Stevenson facing Fonfara.

"I won't criticize Fonfara after hanging in there the way he did. He's a nice kid. But Stevenson really made him look good," Duva said.

The first hearing in the lawsuit is scheduled for June 6 in U.S. District Court in New York.
August, 8, 2013
8/08/13
2:43
PM ET
A few notes from the world of boxing:

• When former super middleweight titlist Lucian Bute suffered a left hand injury and needed subsequent surgery to remove bone fragments, his showdown with former light heavyweight champ Jean Pascal scheduled for May 25 at the Bell Centre in Montreal, where they are both stars, was postponed.

Then came the announcement that it would be delayed for quite some time -- either until Dec. 7 or Jan. 25, depending on the schedules of HBO and the venue. Now it looks like the fight is going to take place in January, according to Pascal promoter Yvon Michel.

"Most likely it will be in January as there are no longer Saturdays available at Bell Centre in December because of the Canadiens of the NHL," Michel told ESPN.com.

Pascal (27-2-1, 16 KOs) has not fought since easily outpointing Aleksy Kuziemski in a 10-round fight on Dec. 14, and it will have been 13 months since his last fight by the time he faces Bute. Bute (31-1, 24 KOs) lost his title by fifth-round knockout to Carl Froch in May 2012 and has fought just once since, struggling to a decision win against Denis Grachev in November. He will have gone 14 months between fights.

• Michel also said that he is expecting to receive a signed agreement in the coming days from former light heavyweight titlist Tavoris Cloud and his promoter, Don King, which would finalize a deal for Cloud to challenge champion Adonis Stevenson on Sept. 28 (HBO) at the Bell Centre. Stevenson won the title with a sensational 76-second knockout of Chad Dawson on June 8. Cloud lost his version of the 175-pound title in his last fight, losing a clear unanimous decision to Bernard Hopkins on March 9.

• Julio Cesar Chavez Jr. faces Bryan Vera in a super middleweight fight and Demetrius Andrade and Vanes Martirosyan square off for a vacant junior middleweight belt in the featured bouts Sept. 7 (HBO) at the Staples Center in Los Angeles, but Top Rank is putting a number of its best fighters on the untelevised undercard (although, fortunately, most of them will be streamed live on Top Rank's website). According to Top Rank vice president Carl Moretti, the card will also include bouts involving blue-chip junior lightweight prospect Oscar Valdez, middleweight rising contender Matvey Korobov, newly signed junior welterweight contender Karim Mayfield, junior lightweight contender Diego Magdaleno (in his first bout since losing a split decision to world titleholder Rocky Martinez in April) and junior lightweight Jose Felix.
April, 18, 2013
4/18/13
3:07
PM ET
A couple of boxing notes on the Canadian fight scene:

• Former light heavyweight champ Jean Pascal (27-2-1, 16 KOs) and former super middleweight titlist Lucian Bute (31-1, 24 KOs) announced they will undergo random drug testing leading up to their much-anticipated light heavyweight showdown on May 25 (HBO) at the Bell Centre in Montreal.

In a joint statement, the fighters, along with Bute promoter InterBox and Pascal promoter Yvon Michel, announced that "all parties have agreed on all procedures and both fighters have approved the anti-doping program. The program is inspired by the highest standards in the industry and calls for unannounced testing for each boxer before, during and after the fight. At the request of the third parties involved in this effort, all procedures and intervening companies shall remain confidential. Both promoters, together with their respective boxers and team members, will not comment further on any aspect related to the program or procedures in place."

In other words, they announced the fighters will be tested but they have declined to say whether the testing involves blood and urine, and they have refused to say which testing agency -- USADA or VADA or some other company -- is overseeing the testing. Why go to the effort of announcing testing and then refuse to disclose other important details? It just makes folks want to ask even more questions.

• Super middleweight contender James DeGale (14-1, 9 KOs), who won a 2008 Olympic gold medal for Great Britain, will kick off his 2013 campaign by making his North American debut on May 17 (WealthTV) at Casino Lac-Leamy in Gatineau, Canada. His opponent has not been determined. The fight will be DeGale's first since he routed Fulgencio Zuniga for a lopsided 12-round decision in December.

February, 5, 2013
2/05/13
6:35
PM ET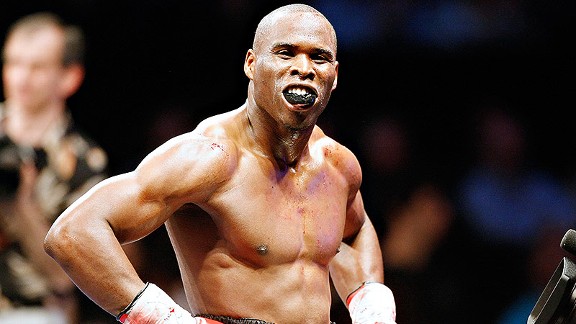 Richard Wolowicz/Getty ImagesAdonis Stevenson could finally get a chance to fight for a super middleweight title in June.
Before super middleweight titleholders Carl Froch and Mikkel Kessler could finalize that their much-anticipated rematch would be a unification bout for the sanctioning organization belts they each hold, Adonis Stevenson was in the way.
Stevenson (19-1, 16 KOs), the humongous puncher from Quebec, is the mandatory challenger for the IBF version of the title that Froch holds and the fight was due no later than April 27. Stevenson won an official title eliminator in October by stopping Donovan George in the 12th round.
However, after much wheeling and dealing -- and who really knows what went on behind the scenes -- Yvon Michel (Stevenson's promoter), the Froch and Kessler camps and the IBF worked out an agreement that will allow Kessler-Froch II to take place as a unification fight May 25 in London.
However, and it's a big however: While Kessler-Froch II will be allowed to go forward as a unification match, the winner will vacate the IBF belt after the fight, so it's a hollow unification bout. And then Stevenson will fight the IBF's leading available contender for the vacant title in June. Even if Kessler-Froch II is postponed, cancelled or ruled a draw, Froch has agreed to vacate to allow Stevenson to fight for the belt, according to Michel.
"The unification was a must for Froch-Kessler for British TV and for the prestige of their encounter," Michel told ESPN.com. "We also were in accord that this fight was great for the super middleweight division and for boxing. Their target date was May 25 to optimize the promotion and maximize the revenues. The IBF had ordered the fight to be done by April 27 and the winner had to confirm his intention of fighting the IBF mandatory contender (Stevenson) next. We knew the winner had no real intention of fighting Stevenson for now. Since the IBF does not allow interim titles (except in the case of injury) we had to find a solution to please everybody within the IBF rules.
"We proposed to the IBF to grant the unification fight on May 25. In return, Froch and Kessler have confirmed they will vacate the IBF title immediately after the unification title fight. Everybody is happy."
So Stevenson will get his title shot but doesn't want to sit and wait until June. So Michel has set up a fight for him -- a rematch with journeyman Darnell Boone (19-20-3, 8 KOs) on March 22 at the Bell Centre in Montreal. Boone has a horrendous record, but the fight still figures to generate some interest because Boone pulled a huge upset by knocking Stevenson out in the second round in April 2010.
Stevenson has won six fights in a row since the loss and might as well take this window he has to gain revenge before his title shot. Boone has fought everyone -- Stevenson, Andre Ward, Enrique Ornelas, Jean Pascal, Curtis Stevens, Brian Vera, Erislandy Lara, Sergey Kovalev (twice), Edwin Rodriguez, among them. He's a professional opponent (with three losses in a row and losses in five of his last seven fights) but he has one knockout of Stevenson, so maybe, just maybe, he can do it again (even though it's probably doubtful).
Michel re-signed Stevenson to a promotional contract in 2011 after they had a brief split. Since Stevenson re-signed, Michel said, "He has asked me one big favor -- to eventually provide him the opportunity to avenge his only loss against Darnell Boone. The timing was never good before and since I believe he will be world champion by June, the timing will be bad also after. So we have contacted Darnell Boone, who has agreed to give a rematch to Stevenson.
"Stevenson will carefully prepare for the fight and will move to Detroit next week with (trainer) Javan Hill to hold his training camp. We all know this is a risk because if he loses the fight he would be out as mandatory contender, but we believe it is a calculated risk and we are in a business of perpetual risks."
January, 8, 2013
1/08/13
10:57
AM ET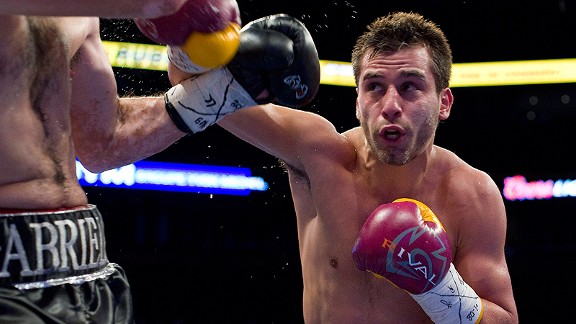 AP Photo/Graham HughesDavid Lemieux will have to rest his right hand for a few weeks before returning to the ring.
Middleweight knockout artist David Lemieux has a small fracture in his right hand and has withdrawn from his Feb. 8 main event on ESPN2's "Friday Night Fights."
Lemieux (28-2, 27 KOs) was supposed to face Colombia's Jose Miguel Torres (26-5, 23 KOs) in a scheduled 12-round bout at the Bell Centre in Montreal, Lemieux's hometown.
Promoter Yvon Michel forwarded ESPN a note on Monday from Dr. Francis Fontaine, Lemieux's doctor, confirming the injury to the fourth metacarpal on his right hand. Lemieux has previously suffered injuries to his second and third metacarpal. Lemieux will rest the hand for at least two weeks before he is re-examined.
Michel and ESPN are discussing a new main event for the card.
Lemieux, 24, has won three fights in a row by first or second-round knockout against low-level opponents to bounce back from his stunning back to back losses in 2011, a seventh-round knockout to Marco Antonio Rubio (in a fight Lemieux had been winning easily) followed by a split decision loss to faded former junior middleweight titlist Joachim Alcine.