July, 29, 2014
Jul 29
7:38
PM ET
Caught up with Top Rank promoter Bob Arum on Tuesday and here a couple of interesting tidbits:
[+] Enlarge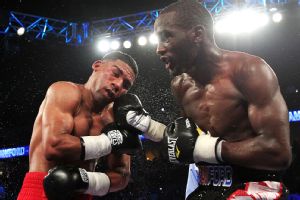 Chris Farina/Top Rank Lightweight titleholder Terence Crawford's second title defense is set for Nov. 29 in his hometown of Omaha, Nebraska.
• Lightweight titleholder Terence Crawford's second defense is penciled in for Nov. 29 (HBO) at the CenturyLink Center in his hometown of Omaha, Nebraska, likely against top contender Raymundo Beltran (29-6-1, 17 KOs) of Mexico. That is the same arena where Crawford (24-0, 17 KOs) put on a dazzling performance in his first defense on June 28 by knocking out previously unbeaten Yuriorkis Gamboa.
"It's Thanksgiving weekend and we have the building on hold," Arum said. "HBO loves the fight."
Crawford won the title by unanimous decision from Scotland's Ricky Burns, beating him on his home turf on March 1.
In his previous fight, Burns was the recipient of a gift draw against Beltran, who also traveled to Scotland, dropped Burns, broke his jaw and pounded on him only to be robbed of the decision. Beltran is a very deserving challenger.
• Arum also said Chinese flyweight star Zou Shiming's fight on the Manny Pacquiao-Chris Algieri undercard on Nov. 22 (HBO PPV) in Macau, China, will be his first scheduled 12-round bout, perhaps a title eliminator. With a victory, Arum said they would pursue a title shot for Zou (5-0, 1 KO), the two-time Chinese Olympic gold medalist, in the fight after that against the winner of the Sept. 14 fight between Thai titleholder Amnat Ruenroeng (13-0, 5 KOs) and Puerto Rican mandatory challenger McWilliams Arroyo (15-1, 13 KOs).
Ruenroeng, a 2008 Olympian, who faced Zou multiple times in the amateurs, was ringside for Zou's fight in February in anticipation of a possible showdown.
The Pacquiao-Algieri televised undercard is also likely to include a bout involving welterweight contender Luis Carlos Abregu (36-1, 29 KOs) of Argentina.
• Arum said the media tour to promote the Pacquiao-Algieri fight will begin Aug. 25 in Macau with two stops in Asia -- Shanghai, China and Taipei, Taiwan -- before they come to the United States for stops in Los Angeles, San Francisco (big Filipino population) and New York, with a stop in Las Vegas also possible.
July, 17, 2014
Jul 17
4:29
PM ET
Flyweight prospect Zou Shiming, the two-time Chinese Olympic gold medalist on the verge of fighting for a world title, is in the main event. Junior featherweight champion Guillermo Rigondeaux, one of boxing's most skillful fighters, is on the undercard in a title defense.

But the most intriguing fighter on Top Rank's card on Saturday (HBO2, 5 p.m. ET/PT) from the Venetian Macao's Cotai Arena in Macau, China, just might be Mexican super middleweight prospect Gilberto "Zurdo" Ramirez (28-0, 22 KOs), a 23-year-old southpaw with good looks and a big punch.

Ramirez opens the HBO2 telecast against Junior Talipeau (20-2-1, 7 KOs), a New Zealand native living in Australia, in a scheduled 10-round fight in which he can make a big impression and put himself in position for some big business in the 168-pound division.

Based on his past two fights, Ramirez is ready to make a jump up in class. In February, he became the first man to stop durable journeyman Don Mouton, knocking him out in the first round. In April, Ramirez made his ESPN2 debut and blew out former world title challenger Giovanni Lorenzo in a five-round domination.

Ramirez is aiming to continue his undefeated run.

"I am very excited to be making my HBO debut on this card and I want to make a good impression so I can continue fighting on HBO. This is the Zurdo Ramirez era and I want to shine," he said through a translator. "I am prepared for Junior Talipeau and I am prepared to give a good show on Saturday. I want to prove -- in the most emphatic terms -- that I am ready to challenge for a world title."

He also said he was stoked about fighting in Macau, Asia's new boxing mecca.

"This is my first time in Macau and I love it," he said. "The Venetian Macao is fabulous and the fans here are great. The climate in Macau is similar to [my hometown of] Mazatlan and I had no problem adjusting to the time-zone change. My punches land just as hard here as they do in the Western Hemisphere."

Talipeau, 30, hasn't lost since a split-decision defeat in 2011, having won three in a row since, although he hasn't faced top names. Still, he aims to end Ramirez's undefeated streak.

"I am impressed with Ramirez's accomplishments but I am not intimidated by them," he said. "I intend to attack him early and bang his body and head and stop him late in the fight.

"It's a great incentive to be the first one to blemish his perfect record and derail his world title shot plans. I did not travel to Macau to be another number in Ramirez's victory column. I came here to win. I came here to hurt."
June, 16, 2014
Jun 16
7:11
PM ET
Injured fighters having surgery? That's nothing new. But what about promoters?

On Tuesday in Phoenix, Top Rank promoter Bob Arum will have surgery on his bum right knee -- "It's been bone on bone and it's killin' me," he said -- when he undergoes a right knee replacement.

The surgery and ensuing rehabilitation means Arum will be off the road for the time being after a long stretch of travel that included fights in Macau and New York, where he hobbled around because of the bad knee.

Arum said he won't be able to make it to Omaha, Nebraska, for lightweight titlist Terence Crawford's hometown defense against Yuriorkis Gamboa on June 28. But he hopes to be able to resume his normal schedule in time to travel to Top Rank's next show in Macau, which is scheduled for July 19 with flyweight Zou Shiming in the main event and junior featherweight titlist Guillermo Rigondeaux making a defense.

Arum said he will be in the hospital for about three days and then will begin his rehab in Phoenix before going to his second home in Los Angeles to continue with his physical therapy.

"I'll do most of the rehab in L.A. and hopefully I will be well enough to travel to the Macau fight. How could I miss Rigondeaux?" Arum said with a laugh.
May, 31, 2014
May 31
4:08
PM ET
On the same day that Top Rank promoted its fifth boxing card in 13 months at the Venetian Macao in Macau -- Nonito Donaire's fifth-round technical decision to win a featherweight title against Simpiwe Vetyeka -- it also announced its latest endeavor in China on Saturday.

Top Rank, Venetian parent company Sands China Ltd. and SECA announced at a news conference that they would produce a one-hour weekly television series called "Fist Power -- Fight to Win" that will debut in July and air throughout China on regional channels in cities such as Beijing, Shanghai and Guangzhou.

The show will include fights from the massive Top Rank library (more than 25,000 fights in its 48-year history), including fights involving past greats such as Muhammad Ali, Sugar Ray Leonard, Marvelous Marvin Hagler, Thomas Hearns, Roberto Duran and Oscar De La Hoya as well as active fighters such as Manny Pacquiao, Miguel Cotto, Juan Manuel Marquez, Floyd Mayweather Jr., Timothy Bradley Jr. and Julio Cesar Chavez Jr.

Each episode will have prefight and postfight commentary, including a selection narrated by Top Rank chairman Bob Arum; behind-the-scenes lifestyle footage; fighter profiles; and weekly updates on two-time Chinese Olympic gold medalist and pro flyweight Zou Shiming's climb to a world title shot.

"Top Rank is delighted that together with our partners -- SECA and Sands China -- we are able to take this step to further popularise boxing in the great country of China," Arum said in a statement. "None of this would have been possible without the role of Ed Tracy, CEO of Sands China Ltd., who sparked this venture, and the encouragement and direction of the chairman and CEO of Las Vegas Sands Corp., the legendary Sheldon Adelson."

"Fist Power" will also air two boxing events televised live from mainland China. The cards will feature fighters from China facing international opposition. The first event is scheduled to take place in August.

"Everybody knows that winning pro boxing world tiles is my dream," Zou said. "But I have an even bigger dream -- to promote boxing in China. The launch of this boxing television program in China is a big step towards my dream, and a major milestone in the development of pro boxing in China. I will also be very actively involved in the development of this program, including giving boxing tips and an insider's view of the pro boxing scene."
February, 21, 2014
Feb 21
5:14
PM ET
Top Rank continued its 2012 Olympic signing binge this week when Bob Arum announced he had signed two-time Olympian Egidijus Kavaliauskas of Lithuania to his stable.

Kavaliauskas (4-0, 3 KOs), a 25-year-old welterweight, has fought three of his four professional fights on Top Rank cards. Now he and the company have a formal relationship.

His first bout under the deal is a scheduled six-rounder on March 29 at the Texas Station Gambling Hall in Las Vegas.

Kavaliauskas, who is trained by Robert Garcia, boxed for Lithuania in the 2008 and 2012 Olympics. He was a bronze medalist at the 2011 world championships.

Kavaliauskas is managed by Egis Klimas, who also manages featherweight super prospect Vasyl Lomachenko, the two-time Olympic medalist.

"Kavaliauskas will put his mark on the welterweight division and will bring Lithuania onto the pro boxing map," Klimas said.

If you are keeping track at home, it brings the number of 2012 Olympians that Top Rank has signed has to 10, including gold medalists Lomachenko (Ukraine), Zou Shiming (China), Ryota Murata (Japan), Egor Mekhontcev (Russia), silver medalist Esquiva Falcao (Brazil), bronze medalist Alexander Gvozdyk (Ukraine), Jose Ramirez (United States), Felix Verdejo (Puerto Rico) and Oscar Valdez (Mexico).
February, 21, 2014
Feb 21
9:17
AM ET
Flyweight Zou Shiming, the Chinese national hero and three-time Olympic medalist (two golds), is on the ultra-fast track.
If all goes well, Top Rank promoter Bob Arum said, Zou is probably looking at a world title shot before the end of the year. It could come as soon as his sixth or seventh professional fight. But he still has to win in order to get there.
The 32-year-old Zou (3-0, 0 KOs) is largely responsible for the boxing boom in Macau, and once again will headline a card at the Venetian Macao's Cotai Arena when he faces 19-year-old Yokthong Kokietgym (15-3, 11 KOs) of Thailand on Saturday (HBO2, 5 p.m. ET/PT, same-day tape). The bout will be Zou's first scheduled eight-rounder.
In the other bout HBO2 will televise, 27-year-old lightweight titlist Miguel Vazquez (33-3, 13 KOs) of Mexico will make his sixth defense when he faces mandatory challenger Denis Shafikov (33-0-1, 18 KOs), a 28-year-old southpaw from Russia.
An interested onlooker is expected to be at ringside for Zou's bout. That would be Thailand's Amnat Ruenroeng (12-0, 5 KOs), who outpointed Rocky Fuentes on Jan. 22 to win a vacant flyweight world title.
According to Arum, Ruenroeng is coming to Macau for the fight "on his own dime to get a feel for the place and, hopefully, if Zou continues to win, he will face the Thai boy for the title end of the year."
Arum said he believes Ruenroeng, 34, must really want the fight with Zou, otherwise why would he pay his own way to the fight?
"All he asked for was for two rooms for him and his manager and tickets to the fight," Arum said. "That was no problem. But he didn't ask for anything else, so you know he's serious."
After Saturday's fight, assuming Zou wins, he is expected to next fight in May, also in Macau.
"Then may be one more fight, a 10-rounder, before a title fight or maybe after the May fight he will go right into the title fight," Arum said. "But end of this year, November or December, is when we think he will fight for the title against the Thai
champeeeeen
."
Zou said he will be ready. He said he is familiar with Ruenroeng because they fought as amateurs.
[+] Enlarge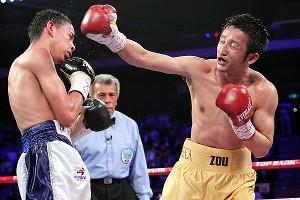 Chris Farina/Top RankThree-time Olympic medalist Zou Shiming, right, is a fast-rising star in boxing.
"We were rivals and have fought many times in the amateur setting and it will be interesting to fight at a professional level if given the chance," Zou said through a translator. "I'm hoping to be at a stage in my development where Bob and my team feel that I will be ready for a title fight at the end of the year. I'll put in the work and train with Freddie [Roach] to be ready for any opportunity."
In just three pro fights, you can already see Roach's imprint on Zou. In his previous fight, on the Manny Pacquiao-Brandon Rios undercard in Macau in November, Zou fought more professionally than he had in his first two bouts. He threw punches with more leverage, rather than slap amateurishly at his opponent.
Roach knows Zou still has a lot of improvements to make, so he isn't getting carried away with title-shot talk. At least not yet.
"We will take it one fight at a time. Shiming is a work in progress and I want to emphasize 'progress' because Shiming is progressing," Roach said. "We are not looking ahead of this fight. Shiming makes 112 [pounds] very easily. I think if there was a world title opportunity at 108 pounds, we would consider going that route. It's the same weight [at which] Shiming won his Olympic gold medals."
Although Roach isn't pressing the issue for a title shot, he did say he believes that with a good performance on Saturday, Zou would be ready to advance beyond an eight-round fight.
"If Shiming performs well on Saturday, we're on board for moving up to 10 rounds in the next fight," Roach said.
And then could come a 12-rounder -- for a world title.
February, 18, 2014
Feb 18
4:09
PM ET
Top Rank promoter Bob Arum has added yet another 2012 Olympic medalist to his company's growing stable, light heavyweight bronze winner Alexander Gvozdyk of Ukraine.

Gvozdyk will make his professional debut in the spring.

"Top Rank is delighted to have signed Alexander. We expect him to rise to the top level of his division," Arum said in announcing the signing.

Gvozdyk just missed advancing to the gold medal final, drawing 13-13 with Adilbek Niyazymbetov of Kazakhstan but losing via punch countback.

Gvozdyk wound up with Top Rank because of his ties to featherweight Vasyl Lomachenko, the two-time gold medalist from Ukraine whom Arum also signed. Gvozdyk and Lomachenko have the same manager, Egis Klimas.

"Alexander is another great addition to the light heavyweight division which is quickly becoming the hottest weight class in boxing," Klimas said.

Arum has signed several gold winners and other Olympians from around the world. As he sees it, there are many markets around the globe for him to do business in, which is what has led to his branching out beyond just signing Olympians from the United States, Mexico and Puerto Rico.

From the 2012 Olympics, Arum signed four gold medalists: Lomachenko (Ukraine), flyweight Zou Shiming (China), middleweight Ryota Murata (Japan) and light heavyweight Egor Mekhontcev (Russia). He also signed middleweight silver medalist Esquiva Falcao of Brazil, who won his pro debut on Saturday, and three other top prospects who fought in London, American junior welterweight Jose Ramirez, Puerto Rican lightweight Felix Verdejo and Mexican featherweight Oscar Valdez.

Arum met Gvozdyk a few weeks ago at his home in Los Angeles when Lomachenko paid him a visit and brought Gvozdyk along with him. Arum was impressed with him, liked his amateur credentials and eventually signed him.
November, 20, 2013
11/20/13
8:34
PM ET
While Top Rank promoter Bob Arum is in the midst of fight week for the big Manny Pacquiao-Brandon Rios welterweight showdown on Saturday night (HBO PPV, 9 ET) at the CotaiArena at the Venetian Macao in Macau, China, he is also planning his next card there.

Arum told ESPN.com that he will put on his fourth card at the CotaiArena on Feb. 22 (HBO2), a show that he is calling "Ring of Gold," which will feature three of the four 2012 Olympic gold medal winners he has signed: Russian heavyweight Egor Mekhontsev, Japanese middleweight Ryota Murata and Chinese flyweight Zou Shiming, who owns three Olympic medals (gold from 2012 and 2008 and a bronze from 2004). Zou, the face of boxing in China, has fought on the first two cards in Macau and is also scheduled to fight on Saturday's Pacquiao-Rios undercard.

In addition to the gold medalists, Arum said the Feb. 22 card might also feature the latest 2012 Olympian to sign with him, middleweight silver medalist Esquiva Falcao of Brazil, who lost a highly disputed decision to Murata in the Olympic final.

Arum said there will also be two world-title bouts on the card. One of those bouts will likely be lightweight titlist Miguel Vazquez of Mexico in a mandatory defense against Russia's Denis Shafikov, both of whom he promotes.

As for the second title bout, Arum was not sure what it would be but said one possibility is a rematch between Juan Francisco Estrada and Brian Viloria. On the first card in Macau in April, Estrada outpointed Viloria in a good fight to win the unified flyweight title.

Another possibility for the second title bout could involve junior welterweight titlist Khabib Allakhverdiev, Arum said.

"We'll figure out the exact title fights once we get back home after the Pacquiao-Rios show," Arum said.
July, 24, 2013
7/24/13
2:51
PM ET

As an amateur boxer, flyweight Zou Shiming was one of the best in history. He won three Olympic medals -- including two golds -- and became the symbol of boxing in China and one of the nation's most famous athletes.

As a pro? Well, he's still popular and famous, but let's just say he needs some more work. A lot of work.

The 32-year-old Zou was underwhelming, to put it mildly, in his professional debut in April in Macau, China. He slapped his way to a four-round decision win against Eleazar Contreras of Mexico. But whatever deficiencies Zou has as a pro, he is great for business. Without him, Top Rank promoter Bob Arum would not have been able to load up the April card with a number of other interesting bouts, including two world title fights.

Zou was the main event of that April card because, to the Chinese, he was the star of the show. Arum is using the same formula when Zou moves into a six-round bout for his second pro fight against Mexico's Jesus Ortega (3-1, 2 KOs) on Saturday (HBO2, same-day tape, 5:30 p.m. ET/PT) at the CotaiArena at the Venetian Macao-Resort-Hotel.

While Zou gets the main-event treatment, the undercard fights are really more interesting: unified flyweight titlist Juan Francisco Estrada (23-2, 17 KOs), who won his belts on the April undercard, in his first defense against Milan Melindo (28-0, 11 KOs), and featherweight Evgeny Gradovich (16-0, 8 KOs), also in his first defense, against Mauricio Munoz (26-3, 12 KOs).

Another undercard fight matches heavyweight prospects Andy Ruiz (18-0, 12 KOs) and Joe Hanks (21-0, 14 KOs). Their bout will air on tape delay on Saturday night on Spanish-language network UniMas (midnight ET/PT).

Assuming Zou wins, he is already penciled in for his third pro fight – an eight-rounder – on Nov. 23 on the Manny Pacquiao-Brandon Rios HBO PPV undercard in Macau. But will Zou improve enough to warrant Arum's drumbeat that the boxer is a future world champion, or will he continue to fight like an amateur?

Trainer Freddie Roach is trying to work his magic as Zou's pro trainer. Roach is working hard to get Zou to embrace a more professional style, mainly to sit down more on his punches to get better power and leverage.

"We are working on his footwork and his power," Roach said. "We have to be more mobile and he has to sit down more when he punches. He doesn't always want to sit down when he punches. Guys get a little nervous because they can be hit. In amateur boxing it's about touching your opponent and getting out."

It's been hard for Zou to break his old habits after such a long amateur career.

"I'm certainly improving. After so many years of amateur boxing, your body and mind think a certain way when you enter the ring," Zou said, speaking through a translator. "However, after my first fight, I have a much better idea of what to expect and I feel that I'm adapting well to the professional style."

Roach is also encountering issues because of the language barrier.

"Working through translators is very hard because they don't really understand what I'm saying," he said. "I'm talking boxing, but they don't know boxing. So if I can't get my point across, I physically show him what I want him to do, plus his English is getting a little better.

"So we have to push a little harder and I show him exactly what I want. He picks it up quickly. He's not on his heels anymore and he's not allowed to turn southpaw anymore because he was getting square and stuck in the middle of switching. In a fight, you get caught in the middle and you're in trouble. He's not allowed to do it anymore. I whack him if he does it."

Roach said he is pleased that Zou has held his own in sparring sessions against former flyweight champ Brian Viloria. But Roach wants to see Zou fight more the way he did against Viloria in the gym than in his pro debut.

"I told [Zou] I like when fights end in knockout, and I told him he can do that if he sits down on his punches," Roach said. "His managers told me we need a great performance. I'm doing my best to make that happen. If he does what I say, he'll win by knockout and it will be fun to watch.

"If he reverts to his amateur style again, it's really hard to pull him out of it because he's been doing it his own life. It's a process."

July, 10, 2013
7/10/13
12:16
PM ET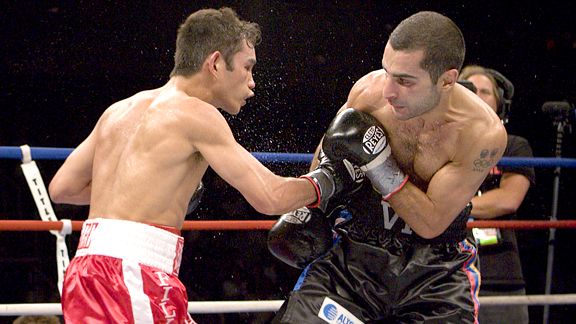 Courtesy Marty Rosengarten for Ringsidephotos.com Nonito Donaire could be headed toward a rematch of his 2007 knockout win against Vic Darchinyan.
After talking with Top Rank chairman Bob Arum on Tuesday about the
Orlando Salido-Orlando Cruz vacant featherweight title bout
that will be on the Timothy Bradley Jr.-Juan Manuel Marquez HBO PPV undercard Oct. 12, we discussed several other fights he has in the works. Here's an update:
• Former junior featherweight titlist Nonito Donaire (31-2, 20 KOs), who lost his belt by decision to Guillermo Rigondeaux in an April 13 unification bout, will be back in November.
"HBO is giving him a date in November and we're talking about a rematch with [Vic] Darchinyan," Arum said. "That's the fight Darchinyan wants and that's the fight that [Donaire manager] Cameron [Dunkin] wants."
Arum said the bout would be at junior featherweight, even though Donaire talked about moving up to featherweight after the April loss. In 2007, Darchinyan (39-5-1, 28 KOs) was a big favorite when he faced Donaire in defense of his flyweight title, but Donaire scored a ferocious fifth-round knockout to win the title and there has been on and off talk about a rematch since.
• Although Rigondeaux (12-0, 8 KOs) defeated Donaire, Arum said HBO has shown no interest in his next fight. "Every time I mention him, they throw up," Arum said. Rigondeaux, while immensely talented does not make for exciting fights.
"So I have to figure out who I could put him in with," said Arum, adding that he didn't think it was right that HBO pushed for him to match Donaire with Rigondeaux and now has turned its back on the winner.
• The date for interim junior welterweight titlist Mike Alvarado's return is Oct. 19 (HBO) in a fight that would take place in his hometown of Denver. Arum said he's close to finalizing a deal with Artie Pelullo of Banner Promotions for Alvarado (34-1, 23 KOs) to face Ruslan Provodnikov (22-2, 15 KOs), who gave Bradley such a tough fight in March only to lose a close decision, despite nearly knocking Bradley out at least three different times in the action-packed fight.
• Arum said that even though HBO said it isn't interested in the vacant junior middleweight title bout between Vanes Martirosyan, who is with Arum, and Demetrius Andrade, who is co-promoted by Pelullo and Joe DeGuardia, he's talking to Pelullo about a deal. "If I have to do it myself without HBO, so be it. The fight will happen before the end of the year," Arum said. "I owe it to Vanes." The fight is a match of undefeated former American Olympians. Martirosyan (33-0-1, 21 KOs) was on the 2004 team and Andrade (19-0, 13 KOs) was on the 2008 squad.
• If two-time Chinese Olympic gold medalist Zou Shiming wins his second pro fight against Jesus Ortega, a six-round flyweight bout July 27 (HBO2) in Macau, China, Arum said Zou would advance to an eight-rounder for his third pro bout, which would take place on the Manny Pacquiao-Brandon Rios HBO PPV card in Macau on Nov. 23.
• With Top Rank having reunited with Miguel Cotto for his Oct. 5 bout -- opponent not set, but likely to be Delvin Rodriguez -- Arum plans to put rising lightweight contender Terence Crawford (21-0, 16 KOs) on in the HBO co-feature. There is no opponent yet, but Arum said, "I'd like to make him with [interim titlist Yuriorkis] Gamboa." He said he is talking to Gamboa promoter Curtis "50 Cent" Jackson about the fight. Arum said Jackson is interested, but it remains to be seen if Gamboa is.
• Arum said he has met with super middleweight contender James DeGale (16-1, 11 KOs), a 2008 British Olympic gold medalist, and is interested in signing him. "He's a very nice guy and he wants to sign with us," Arum said. "I'm interested but I'm not interested in buying a lawsuit." Arum said he is still doing his due diligence to see if DeGale is still under contract to British promoter Mick Hennessy but that if he is a free agent, he'd like to sign him. "He's a very good fighter, but I know he's not the most exciting guy in the world. He'd certainly be a good opponent for [champion] Andre Ward. There's a lot you can do with him."
• Former featherweight titlist Mikey Garcia (32-0, 27 KOs) could return on the same November HBO card with Donaire, Arum said. Garcia, who knocked out Juan Manuel Lopez on June 15 but was stripped of his featherweight belt for not making weight, likely would move up to challenge junior lightweight titlist Rocky Martinez, Arum said. However, Arum said he's hopeful he can work something out with HBO to have Donaire and Garcia each headline their own show. If that happens, Arum said he would use the televised undercard slots to feature featherweight titlist Evgeny Gradovich and heavyweight prospect Andy Ruiz if they both look good in their bouts in Macau on July 27 (HBO2).
March, 30, 2013
3/30/13
2:10
PM ET
LAS VEGAS -- Top Rank promoter Bob Arum is leaving for Macau, China on Sunday to promote his company's card there next Saturday, which is headlined by the pro debut of Chinese national hero Zou Shiming, a two-time Olympic gold medalist. But this isn't likely to be Arum's last trip to promote a fight in Asia.

Arum told ESPN.com on Friday that Manny Pacquiao -- whomever he fights next -- will probably fight next in Asia.

"He is fighting in September," Arum said. "I don't know against who and I'm not exactly sure where, but it looks like Macau or Singapore."

The April 6 card in Macau will be put on at The Venetian resort, which also has a casino in Las Vegas and Singapore. Arum said casino officials are anxious to host a Pacquiao fight and would make the call as to which Asian property it would be held at -- the one in Macau or Singapore.

"They own both properties there, so it doesn't matter," Arum said.

Pacquiao's potential opponents come as no surprise. They are the same ones Arum has been mentioning for weeks: Juan Manuel Marquez, in a potential fifth meeting against the man who drilled him in a December shocker that was the 2012 fight of the year; welterweight titlist Timothy Bradley Jr., in a rematch of the highly controversial split decision Bradley received in June; or Brandon Rios, should he defeat Mike Alvarado in their rematch on Saturday.

"It will be one of those three guys, at 147 [pounds]," Arum said. "My idea would be if [Pacquiao] fought Marquez, we do Bradley against Rios if Rios wins."

Arum added that Pacquiao's Asian fight would take place in the morning local time in order to accommodate a live prime-time HBO PPV broadcast in the United States.

Arum also touched on a couple of other topics:

• Former middleweight titlist Julio Cesar Chavez Jr. is currently serving a nine-month suspension by the Nevada State Athletic Commission for a positive marijuana test stemming from his loss to champ Sergio Martinez on Sept. 15, but he will fight on either June 15 or June 22. The date is at issue because Arum and the commission disagree over precisely when Chavez is eligible to fight.

"There's a philosophical question -- when the nine months are up," Arum said. "Our argument is it's up June 15. They said originally it's up the 16th. But they might change that."

Arum spent time at Friday's Rios-Alvarado weigh-in huddled in deep conversation with Bill Brady, a member of the Nevada commission, discussing the issue.

Arum said the Chavez fight, which will be on HBO, will take place at the AT&T Center in San Antonio and be fought at a catchweight between middleweight and super middleweight, probably 164 pounds. Arum said the focus is on three potential opponents: Brian Vera, who won his fight Friday night and is from Austin, Texas, and two fighters from Great Britain, former title challengers Darren Barker and Matthew Macklin. However, Arum said that Macklin was offered the fight but didn't want to fight above 160 pounds.

• Mikey Garcia, who was also at Friday's weigh-in, won a featherweight title in January in dominant fashion against Orlando Salido. Garcia's first follow-up fight likely will be in July, Arum said. He said Top Rank president Todd duBoef was meeting with HBO executives on Saturday to talk about the particulars. Arum said the likely opponent will be former titleholder Juan Manuel Lopez, who will first fight on April 20.

"Mikey will fight maybe a catchweight fight against JuanMa Lopez," Arum said. Lopez has trouble making 126 pounds. His previous fight was at 128 pounds, as will be his April 20 bout.

Top Rank and HBO are talking about Garcia's fight headlining a tripleheader. Arum said the other fights that likely would be on the card are featherweight titlist Evgeny Gradovich's first defense -- a mandatory against Mauricio Munoz -- and a heavyweight fight involving prospect Andy Ruiz, possibly against fellow prospect Joe Hanks.
February, 28, 2013
2/28/13
6:11
PM ET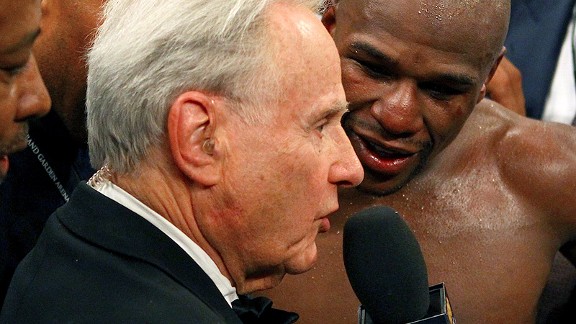 Al Bello/Getty ImagesFormer HBO analyst Larry Merchant will reunite with George Foreman for an April card in Macau.
Hall of Fame broadcaster Larry Merchant, a ringside staple of HBO broadcasts since the 1970s, retired at the end of 2012. Former heavyweight champ George Foreman was one of his longtime broadcast partners on HBO before leaving the network several years ago.
When they worked together, their chemistry and often heated on-air disagreements -- seemingly refereed by blow-by-blow man Jim Lampley -- made "World Championship Boxing" a must-see show regardless of who was fighting in the ring.
Well, Merchant, perhaps like many of the fighters he has covered, is coming out of retirement for at least one fight card and will team with Foreman to call Top Rank's excellent slate of fights that will take place on April 6 in Macau.
Top Rank is producing the show and responsible for hiring the on-air talent, but it made a deal with HBO to carry the card in the United States on its HBO2 service beginning at 2 p.m. ET/PT (on about a 4½-hour delay in the East and 7½-hour delay in the West), meaning Merchant and Foreman -- whose call will also serve as the English-language international broadcast -- will be reunited on HBO. Tim Ryan, who called fights for many years on CBS, will serve as the blow-by-blow man on the broadcast.
It will be something of a reunion between Merchant and Ryan, too. Merchant told me that the first fight card he ever called, on NBC in 1976 in Paris, was with Ryan as his partner. It featured a middleweight title fight between Rodrigo Valdez and Nessim Max Cohen and a heavyweight fight between Earnie Shavers and Henry Clark.
"Larry and George are like Abbot and Costello, they work so well together," Top Rank president Todd duBoef said. "You include Tim and there is nobody better to represent our boxing brand in the biggest, fastest growing market in the world."
The Macau card, which will take place at Cotai Arena at The Venetian Macao, is a good one. The HBO2 broadcast will include junior flyweight Zou Shiming, the three-time Chinese Olympic medalist (and two-time gold winner), making his professional debut in the four-round main event against Mexico's Eleazar Valenzuela (2-1-2, 1 KO). He is a major star in China and his pro debut is a big deal there, which is why he is in the main event position.
But the broadcast will also include the two world title fights on the card: junior lightweight titlist Roman "Rocky" Martinez (26-1-2, 16 KOs) of Puerto Rico defending against Diego Magdaleno (23-0, 9 KOs) of Las Vegas and unified flyweight titlist Brian Viloria (32-3, 19 KOs), a Filipino from Hawaii, defending against Mexico's Juan Francisco Estrada (22-2, 17 KOs).
"We are delighted that HBO recognizes, as we do, the historic nature of the Macau event and is making it available on a same-day basis to its subscribers on HBO2," Top Rank chairman Bob Arum said.
Although HBO is paying a small license fee for the card -- "Their fee is not even covering my announcer expenses," duBoef said -- he wanted the HBO brand name behind the show more than money, as well as Merchant, Foreman and Ryan, who he called "iconic brand names."
"When introducing a new product to the biggest market in the world, we are thrilled that the biggest brands associated with boxing joins us," duBoef said. "HBO is the gold standard for the sport and we are honored to have their support and commitment to expanding the boxing brand.
"Big George coming to China to do the show is a big deal. Having Larry Merchant and Tim Ryan on is a big deal. They'll do interviews, the people there will see them and know this is a big event."
The two other featured bouts on the card include former junior featherweight titlist Wilfredo Vazquez Jr. (22-2-1, 19 KOs) of Puerto Rico against Japan's Yasutako Ishimoto (20-6, 4 KOs) and junior middleweight contender Vanes Martirosyan (32-0-1, 20 KOs) of Glendale, Calif. against Javier Francisco Maciel (24-2, 17 KOs) of Argentina.
Those bouts won't be on HBO2, but Vazquez-Ishimoto will air on same-day tape on UniMas' "Solo Boxeo Tecate" with Martirosyan-Maciel also part of the broadcast, time permitting.