January, 3, 2014
1/03/14
5:26
PM ET
Whenever former light heavyweight and cruiserweight titlist Zsolt Erdei is scheduled for a fight, you should know by know what comes next -- that he most likely will pull out of the bout.

So when Erdei was scheduled to face Elvir Muriqi on Jan. 31 in an ESPN2 "Friday Night Fights" main event in East Orange, N.J., you should have expected what would happen.

On Friday, the other shoe dropped and Erdei withdrew from the scheduled 10-round light heavyweight bout. Erdei has pulled out of other fights in recent years.

His reason this time? The old standby -- "personal issues."

Promoter Lou DiBella is looking for a replacement opponent to face Muriqi and told ESPN.com that Muriqi (40-5, 24 KOs) will probably face 27-year-old Australian southpaw Blake Caparello (18-0, 6 KOs), whom DiBella said he is close to signing.

Caparello, who has never fought outside of Australia, owns a 2012 decision win against Aaron Pryor Jr. In his last fight, Caparello outpointed former contender Allan Green on Oct. 17 (the second fight in a row Green failed to make weight for).

As for Erdei (33-1, 18 KOs), 39, of Hungary, he has been very inactive, in part because he has pulled out of fights and was also in a brief retirement. He fought only once each in 2010 and 2011 and didn't fight at all in 2012. In 2013, he suffered his first loss, a split decision to Denis Grachev in the semifinals of the Monaco Super Four tournament.

"[Erdei] said he had family issues, but this [pulling out of fights] has been an issue with him," said DiBella, Erdei's promoter. "It puts his career in doubt. He's done this before, multiple times the past couple of years. I think the replacement is going to be Caparello. I'm signing him. He throws a lot of punches, gives a lot of angles and is a good boxer. He also has some solid wins."
July, 30, 2013
7/30/13
2:52
PM ET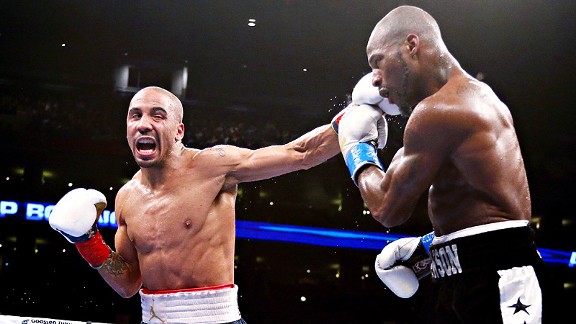 Ezra Shaw/Getty ImagesAfter cleaning out the 168-pound division, Andre Ward can't find a suitable opponent.
Super middleweight champ Andre Ward and promoter Dan Goossen, who appear to have worked out their issues following Ward's unsuccessful attempt to break their contract (although they're not discussing the issue publicly), are seemingly at loggerheads with HBO over the opponent Ward should face in his tentative Sept. 28 fight.
Ward hasn't fought since beating down then-light heavyweight champion Chad Dawson (who dropped down to super middleweight) last September because of a shoulder tear and subsequent surgery that forced a January fight with former middleweight champ Kelly Pavlik to be canceled.
HBO is resistant to spending good money for Ward to face the likes of Dimitri Sartison (a former titlist of the ultimate paper variety with zero name recognition in the United States), equally unknown interim titlist Stanyslav Kastanov, or Caleb Truax, a fun fighter to watch but not in the same league as Ward. Truax's claim to fame is a recent knockout win over Donovan George and dropping badly faded former middleweight champ Jermain Taylor in a 2012 loss.
So it's unclear who Ward will face and there does not seem to be many quality available opponents.
One of the biggest problems for Ward is that he's already cleaned out the super middleweight division. The Super Six World Boxing Classic champion has easily defeated two reigning titleholders (who picked up their belts after Ward dominated them), Carl Froch and Sakio Bika. Ward also routed former titleholders Mikkel Kessler and Arthur Abraham. Even if a Froch rematch floats your boat, like it does for some, he's unavailable, as he is scheduled to fight George Groves in the fall.
Robert Stieglitz, another titleholder, and his handlers have no interest in facing Ward. That's an almost certain loss that Stieglitz needs no part of as long as he has a fat TV contract in Germany from which he can earn plenty of money facing handpicked opponents on home turf rather than make similar money to come to the United States to give up his title.
One viable opponent is Edwin Rodriguez, who is coming off an impressive first-round knockout of Denis Grachev on July 13 in the final of the Monaco Million Dollar Super Four. However, Lou DiBella, his promoter, has said repeatedly they have no interest in fighting Ward. DiBella is a smart matchmaker. He knows that's not a good fight for his guy.
One guy who fought his way out of a possible shot at Ward is Thomas Oosthuizen, who was featured June 29 on HBO for the express purpose of seeing if he could create some buzz as a possible Ward opponent. He did the exact opposite by looking terrible in a draw against Brandon Gonzalez, who was never a serious candidate for the fight since he also didn't exactly set the world on fire but mainly because he's Ward's pal; they share the same gym and trainer, Virgil Hunter.
One guy who is calling Ward out is Zsolt Erdei (33-1, 18 KOs), a former cruiserweight and long-reigning light heavyweight titlist who suffered his only defeat by debatable split decision to Grachev in the semifinals of the Monaco tournament.
Erdei clearly didn't learn anything from Dawson's ill-advised drop down in weight because he, too, said he would drop down to 168 pounds to face Ward, who has maintained that he will eventually go to 175 but is not ready yet.
"When I decided to sign with Lou DiBella and fight in America, it was for me to face the best boxers in the world," Erdei said. "Ward is considered to be the best boxer in the world above the middleweight division and he is a great champion. I respect his skills very much, but I know that I have what it takes to get the job done and shock the world. A win over Ward makes me a superstar in America and that is my ultimate goal."
When Erdei, a 1996 and 2000 Olympian for Hungary, faced Grachev, he was coming off a nearly two-year layoff because of a retirement and then an injury.
"Everybody knows that I won my last fight and was clearly robbed of the victory," Erdei said. "For that reason, I still consider myself an undefeated two-division champion and I still want to fight the best."
DiBella also is campaigning for his man to get the shot with Ward.
"Many people who saw his fight with Grachev thought that Erdei won," DiBella said. "Regardless though, he showed that he is still one of the best 168-/175-pound fighters in the world, having performed at the level that he did after not fighting for nearly two full years."
Ward and HBO are both in tough spots here. The fighter (who also serves as an HBO broadcaster) is coming off an injury and a long layoff, so it's understandable that he and his team would want a tuneup-level fight. HBO sure doesn't want to buy an inferior product for premium money, but there are not a lot of good options.
June, 14, 2013
6/14/13
6:09
PM ET
Denis Grachev has made a career out of being an underdog who performs better than expected.

In 2011, he knocked out then-undefeated Vladine Biosse of Providence, R.I., on Biosse's New England turf. Two fights later, in 2012, Grachev was the relatively unknown opponent when he met red-hot, rising light heavyweight contender Ismayl Sillakh and guess what? Grachev took him out in the eighth round in a major upset.

Then came a fight in Montreal against former super middleweight titlist Lucian Bute, who was looking to rebound from his first defeat, a knockout loss to Carl Froch.

Although Bute outpointed Grachev, it was a life-and-death fight for Bute, who looked very shaky. It was not a loss that hurt Grachev at all. In fact, he parlayed it into a fight with former light heavyweight titlist Zsolt Erdei in the semifinals of the Million Dollar Super Four tournament in Monte Carlo in March.

The result? Grachev won a split decision, pulling another upset and handing Erdei his first professional defeat.

The victory propelled Grachev (13-1, 8 KOs), a native of Russia who lives in San Diego, into the final against Edwin Rodriguez (23-0, 15 KOs) of Worcester, Mass.

Although Grachev is a light heavyweight and Rodriguez a super middleweight, the tournament contracts call for the July 13 final, also in Monte Carlo, to take place at a catchweight of 171½ pounds (which is between super middleweight and light heavyweight). The winner gets $600,000 of the $1 million purse with the loser getting $400,000.

Grachev has been preparing for the fight with trainer Abel Sanchez in the high altitude of Big Bear Lake, Calif. The camp is loaded with talent, including middleweight titlist Gennady Golovkin, Sanchez's prized pupil, and junior middleweight titlist Zaurbek Baysangurov. They are both preparing for title defenses.

"Prior to the Erdei fight, I was only here for 10 days," Grachev said. "However, this time I'm up here for six weeks, which will put me in the best form ever. We are high in the mountains, eight of us fighters, just boxing and training. It is hard work, very intensive, with jogging in the morning and much training the rest of the day. I wasn't in my best shape last time, but this will be different."

When Grachev faces Rodriguez, he will once again be the underdog, as if that even matters anymore.

"With (Erdei's) boxing style and experience, it was my most difficult fight. It was hard to find the key to beating him," Grachev said. "I think it will be easier with Rodriguez. He is the favorite according to many boxing fans, but they are going to be disappointed. It will probably be his first loss."

In camp, Grachev has been sparring with Golovkin, who is getting ready for his June 29 defense against Matthew Macklin.

"I've had very good sparring, especially Gennady," Grachev said. "We are studying Rodriguez's style and sparring accordingly. It's been very inspiring to be up in Big Bear with world champions like Golovkin and Baysangurov and watch how they train and prepare for their world title defenses."
March, 27, 2013
3/27/13
10:49
AM ET

Middleweight titlist Gennady Golovkin, usually with a smile on his face, loves to fight and wants to stay as busy as possible.

He hopes to fight at least four times this year and got his 2013 off to a blazing start with a good old-fashioned beatdown of game Gabriel Rosado, whom he stopped in the seventh round on Jan. 19 in New York.

Although the executives at HBO love Golovkin -- and many American fans are also falling in love with him thanks to his exciting, go-for-broke style -- he doesn't want to sit around waiting for the network, which has him penciled in for a June date but couldn't accommodate him before that.

That's why Golovkin is in Monte Carlo this week.

Golovkin (25-0, 22 KOs), the 2004 Olympic silver medalist from Kazakhstan, who now trains with Abel Sanchez in Big Bear Lake, Calif., isn't in Monte Carlo to party in the glamorous gambling hot spot.

Rather, Golovkin is there on business -- to make his seventh title defense when he faces Japan's Nobuhiro Ishida (24-8-2, 9 KOs) on Saturday in the main event of a good-looking card.

Ishida isn't a top contender or the kind of opponent to get anyone all pumped up. Although a former interim junior middleweight titlist, he is living off his first-round knockout and giant upset of James Kirkland in 2011. Since then, Ishida is 1-2 with a win against a nobody followed by lopsided decision losses to Paul Williams and then-middleweight titlist Dmitry Pirog.

However, a couple of things: Ishida has never been stopped, so I want to see if Golovkin, a tremendous offensive fighter, can become the first to do it. Second, Golovkin could be fighting some hobo outside a bar and I'd want to watch. He is must-see TV. So if he is facing Ishida, a solid pro, count me in.

Besides, the rest of the PPV is interesting. It includes both 10-round semifinals in what organizers are calling the "Monaco Million Dollar Super Four" tournament. In one semifinal, super middleweight contender Edwin Rodriguez (22-0, 15 KOs) of Worcester, Mass., will face Ezequiel Osvaldo Maderna (19-0, 13 KOs), a 2008 Olympian from Argentina, and in the other semi, former light heavyweight and cruiserweight titlist Zsolt Erdei (33-0, 18 KOs) of Hungary will face San Diego-based Russian Denis Grachev (12-1-1, 8 KOs) -- who knocked out Ismayl Sillakh and pushed Lucian Bute to the limit in a tight decision loss -- in a light heavyweight fight.

The semifinal winners are scheduled to meet July 13 in Monte Carlo at a maximum of 171½ -- which is between the super middleweight and light heavyweight limits -- with the winner getting $600,000 and the loser getting $400,000 (hence the $1 million title).

Also on Saturday's card, European junior middleweight champion Sergei Rabchenko (22-0, 16 KOs) of Belarus will defend against Adriano Nicchi (20-3-2, 9 KOs) of Italy.

Ishida was given no chance to beat Kirkland, but he comes into this fight with his typical go-get-'em attitude and uncaring about the odds.

"We know that [Golovkin] is a great and powerful champion," Ishida said through a translator at Tuesday's final news conference. "He is very strong and one of the best fighters pound-for-pound in boxing, but we are here for the upset. We are prepared to do whatever we have to do to take this championship home with us."

Said Daisuke Okabe, Ishida's co-trainer: "This could be Ishida's last chance at a world title. He is like a samurai warrior and will do everything possible to win."

Golovkin is one of those fighters who will literally fight anyone. Time and again, he and K2 promoter Tom Loeffler have said Golovkin will fight anyone HBO wants him to, from junior middleweight to super middleweight. No exceptions.

"We have a lot of respect for Ishida for agreeing to fight Gennady while others have avoided him at all costs," Loeffler said. "Gennady wants to fight all over the world and it's very important for him to put on exciting fights. Our plan is to stay at 160 until a more attractive fight presents itself either at 154 or 168."

Loeffler went on to say that Golovkin would be willing to face Sergio Martinez, the division's real champion, in his home country of Argentina. He also said Golovkin would happily go down to 154 for an opportunity to face the winner of the April 20 Canelo Alvarez-Austin Trout unification fight.

Meantime, we'll see who Loeffler and HBO can line up for Golovkin in June, assuming he beats Ishida, which seems likely. Before that, however, Golovkin is, as usual, looking forward to fighting.

"I know Ishida well and I know this is going to be a difficult fight," Golovkin said. "I am ready to put on a great performance for everyone on Saturday."

Golden Gloves promoter Rodney Berman, who is the lead promoter of the card, warned Golovkin about looking ahead.

"Complacency is every boxer's biggest enemy," Berman said. "Let this be a warning to Golovkin."

Still, Golovkin reiterated his willingness to fight anyone, even with Ishida in front of him.

"It's no problem for me to fight from 154 to 168," he said. "My style means that I will never be in a boring fight."

And that's why we'll watch, no matter who is across the ring from him.
February, 26, 2013
2/26/13
10:55
AM ET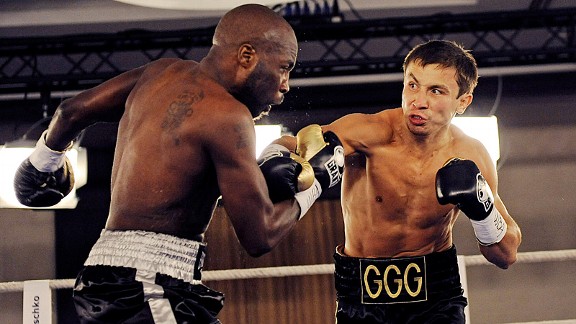 AP Photo/Martin MeissnerGennady Golovkin's middleweight title defense from Monte Carlo will be available in the U.S. on PPV.
The good-looking fight card on March 30 in Monte Carlo -- headlined by middleweight titlist Gennady Golovkin -- will be available on American pay-per-view.
Unable to work out a deal with a U.S. network, the promoters announced Monday they have struck a deal for the card to be distributed by Integrated Sports as a $24.95 pay-per-view that will air live at 3 p.m. ET on cable and satellite services.
Golovkin (25-0, 22 KOs), taking a stay-busy fight between HBO appearances, will be making his seventh title defense when he faces former title challenger Nobuhiro Ishida (24-8-2, 9KOs).
Also on the card will be top American super middleweight prospect Edwin Rodriguez (22-0, 15 KOs) against Ezequiel Osvaldo Maderna (19-0, 13 KOs) and former light heavyweight titlist Zsolt Erdei (33-0, 18 KOs) against Denis Grachev (12-1-1, 8 KOs).
The Rodriguez-Maderna and Erdei-Grachev winners are due to square off at a maximum weight of 171½ pounds (which is between the 168-pound super middleweight limit and the 175-pound light heavyweight limit) on July 13, also in Monte Carlo, in the final of the "Monaco Million Dollar Super 4." The overall winner will get $600,000 with the runner-up getting $400,000. The final is being put on as part of the celebration of Nelson Mandela's 95
th
birthday. He's a huge boxing fan and his grandson is involved in the event.
Also on the card, European junior middleweight champion Sergey Rabchenko (22-0, 16 KOs) of Belarus will face off against Italy's Adriano Nicchi (20-3-2, 9 KOs).