Denver Broncos:

New York Giants
August, 27, 2014
Aug 27
2:30
PM ET
There are plenty hills to climb in this
schedule
-- yet another trip to New England to go with a spin through the rugged NFC West. From Nov. 2 to Dec. 22 the Broncos play six of eight games on the road including three road games in a row Weeks 9-11. Those road games include '13 playoff teams in New England, Kansas City, San Diego and Cincinnati. Couple that with the early bye -- Week 4 -- and the Broncos will play 13 consecutive weeks to close out the regular season, a run that will test both their resolve and depth chart.
Complete Broncos season preview
.
January, 28, 2014
Jan 28
8:15
PM ET
By
Lyle Crouse
| ESPN.com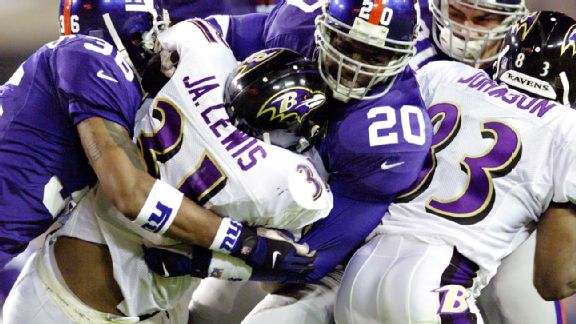 Brian Bahr/ALLSPORT Sam Garnes (20) and the Giants fell behind quickly and never recovered in Super Bowl XXXV.
NEWARK, N.J. --
Sam Garnes
is trying to help the
Denver Broncos
win a Super Bowl, yet he was asked Tuesday about his experience losing the NFL's championship game.
And the former safety didn't backpedal from the line of questioning.
"No, no," he insisted. "That's
real
."
In five trips to the Super Bowl, the
New York Giants
have lost only once. Garnes, a Bronx native, was the starting strong safety for that team, which fell 34-7 to the
Baltimore Ravens
in January 2001.
So Garnes, Denver's assistant secondary coach, imparts a clear message to the Broncos as they prepare for Super Bowl XLVIII against the
Seattle Seahawks
: You don't want to know what it feels like to lose this game.
[+] Enlarge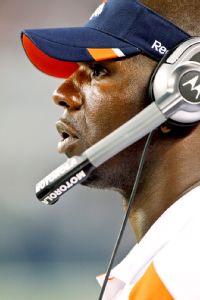 AP PhotoGarnes is in his third year on the Broncos' coaching staff.
"I tell my players, we're not interested in having fun for two weeks between the AFC Championship Game and the Super Bowl," Garnes said at Super Bowl media day. "We want to have a great time for several months [afterward]."
That approach has remained constant for Super Bowl teams through the years. Other aspects of the experience have changed, including media day.
"It's amazing. You've got fans here," he said as he surveyed the scene. "We didn't have fans in Tampa Bay's stadium [13 years ago].
"And now we're playing a cold-weather game, which at that time was unheard of."
Ah, yes, the cold-weather Super Bowl in East Rutherford, N.J. Cold, hot, whatever -- Garnes, 39, is just happy to be home.
"Selfishly, I wanted to be here when they said the Super Bowl was in New York," said Garnes, who attended DeWitt Clinton High School in the Bronx and played for both the Giants and
New York Jets
during his seven-year playing career.
"Selfishly, I wanted to be here, and I will admit that, because this is a place I love. All my players and coaches, they know much I love where I'm from."
Garnes -- who was quick to clarify that the Super Bowl is in the "Greater New York area; there's no disrespect to Jersey" -- looks forward to making the short trip to the Bronx from the Broncos' hotel in New Jersey.
"Right now we're busy," he said, "but as the week winds down, I'll have time to go over there and get me some of that good ol' Bronx pizza and get me some Chinese food."
He'll likely get a warm welcome wherever he goes. "I have a lot of family still in the area," he said. It's the perfect setting for Garnes' return to the NFL's marquee event.
"To come back to your home area and be a part of the Super Bowl," he said, "is a great feeling."
January, 26, 2014
Jan 26
7:45
PM ET
JERSEY CITY, N.J. -- As brothers who are NFL quarterbacks,
Eli Manning
and
Peyton Manning
compare notes. With older brother Peyton and the
Denver Broncos
in New Jersey this week to play the Super Bowl in the
New York Giants
' home stadium, little brother Eli has said he's trying to offer as much local-knowledge help as possible. But when the topic turns to how to beat the
Seattle Seahawks
, Peyton joked Sunday, Eli's not going to be much use to him.
"Yeah, he told me he couldn't help much with Seattle," Peyton Manning said in his news conference shortly after the Broncos arrived Sunday afternoon. "That wasn't one of the Giants' best games."
Eli Manning threw five interceptions in a 23-0 Giants loss to the Seahawks at MetLife Stadium in Week 15.
September, 16, 2013
9/16/13
6:30
AM ET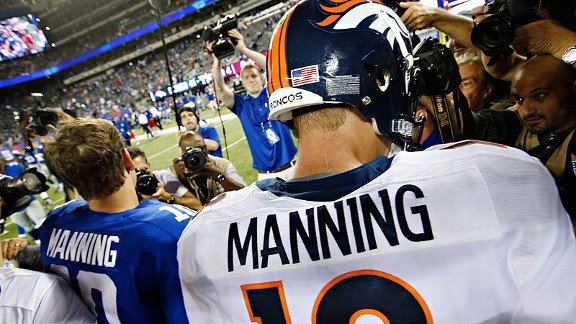 AP Photo/Kathy WillensBrothers Peyton and Eli Manning appear ready to put the Manning Bowl behind them for good.
EAST RUTHERFORD, N.J. -- When it comes to this whole brother versus brother thing,
Peyton Manning
is certain once, twice, three times are enough.
More than enough, really, and that when you get right down to it, three times were probably three times too many.
"It's strange, strange situation, strange circumstance," Peyton Manning said following Sunday's 41-23 win over the Giants, and his younger brother Eli. "A good team win, but I don't know how, it's kind of hard, it's a unique situation. Not many other players have to go through this so you can't really ask too many people for advice on it."
No, there aren't any other brothers who have each won Super Bowls as starting NFL quarterbacks to ask what it all is supposed to feel like. And everyone always seems to want to know if the older brother wants to beat the younger brother, if the younger brothers wants to beat the older brother, if there will be teasing involved and if Eli's two Super Bowl wins trump Peyton's one. In the end, Peyton looks miserable talking about it. Which makes you wonder what it would be like for the two Mannings, if by some football miracle, they ended up in a Super Bowl against each other.
But in reality after Sunday's Broncos win, that's probably it for the Brothers Bowl. Or as Peyton put it following the game:
"I think both of us are glad that it's over with. Postseason's one thing, but I don't believe I'll make it to the next regular-season one. I think this will be the end of it. I know I'll be happy about that and I think my family will (too)."
"With family it's got to be triple tough," Broncos coach John Fox said. "For Archie and Olivia, and maybe even [brother] Cooper, you don't know who to root for ... it can't be easy for a family."
The quarterback who started it all, Archie, looked just as relieved it was over following the game and had just as difficult a time summing it all up. Since the Giants made the draft-day trade in 2004 to acquire Eli, this was the third meeting. Peyton's
Indianapolis Colts
won the previous two -- in 2006 and 2010 -- to go with the Broncos' victory Sunday.
Peyton has thrown for six touchdowns combined in the three wins against his brother, while Eli has thrown six interceptions in the three games, including four Sunday. Both had their first 300-yard passing game in the three meetings on Sunday -- with Peyton going for 307 and Eli for 362 yards -- but for a family that works tirelessly to maintain its composure in the public eye, you didn't need any tea leaves to see how they felt about it.
"It's not like beating another team, it's probably not quite as enjoyable as it would be if you had beaten somebody else," Peyton said. "A good team win, Coach Fox put a lot of emphasis on being a good road team, we didn't start out well on the road last season."
Asked following the game if he thought it would be something he would hear about when all of the prying eyes were elsewhere, Eli simply said:
"I don't think so. I think this is something that we're both passionate about. What we're doing is our job."
A job where they can now, probably gratefully, move on to other things. Some day, maybe, when the gray hair comes and years go by, perhaps they will appreciate the history and significance of two brothers winning Super Bowls at the same position.
Maybe they'll remember the look across the field with their sibling looking back. Maybe someone will simply show them the math, the staggering odds of doing exactly what they have done in their vocational lives. But that's for later. Because right now they likely appreciate only one thing.
That it's over.
September, 15, 2013
9/15/13
2:30
PM ET
By
ESPN.com staff
| ESPN.com
Join our ESPN.com NFL experts as they break down the Denver Broncos' visit to the New York Giants. Contribute your thoughts and questions beginning at 4 p.m. ET. See you there.
September, 13, 2013
9/13/13
2:00
PM ET
By
ESPN.com staff
| ESPN.com
Sunday's Manning Bowl is the matchup of the weekend and a lot of folks are comparing the two decorated quarterbacks. In a head-to-head battle, most people would chose Peyton over little brother Eli based on pure talent.

But what if we gave Eli a head start? As we know, the younger Manning has two Super Bowl rings to big brother's one.
The Broncos look destined for playoff glory this season, but Peyton needs one more ring just to catch up to Eli -- who has come to be known as a clutch quarterback in the postseason. So who will finish his career with more? It's the question we asked on
Twitter Thursday night
. We chose our favorite answers and posted them below.
You can still weigh in using the hashtag #Manningvote or vote in our handy SportsNation poll.
And in case you missed it, check out some more of our coverage of the Manning Bowl:
September, 12, 2013
9/12/13
7:00
PM ET
ENGLEWOOD, Colo. – There aren't NFL personnel people lining up to talk about how they remember
Eli Manning
's workout numbers before the 2004 draft, at least the parts that didn't include throwing the ball.
And yet throughout Manning's career, he has consistently frustrated the defenses trying to chase him. He has accumulated a surprisingly significant pile of plays that includes the
David Tyree
touchdown in Super Bowl XLII when Manning escaped the Patriots pass rush to make the play. The new age of sprinters with cannon arms like
Colin Kaepernick
and
Robert Griffin
III stress pass-rushers with the threat of the run, but the younger Manning stresses with his intent to throw after the escape.
[+] Enlarge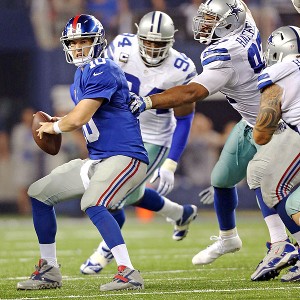 AP Photo/Layne MurdochEli Manning has learned to extend plays by being elusive in the pocket.
"He's probably deceivingly athletic, he's not like some of the quarterbacks out there that are going to win a footrace, but he's mobile enough,'' said Broncos defensive coordinator Jack Del Rio. "And obviously he's very smart, got a great live arm, got a terrific cast of characters he distributes the ball to. He buys the time he needs and does the things he needs to, including with his legs, he'll run for first downs from time to time. He's mobile enough.''
The Broncos have faced Manning twice previously, in 2005 (a 24-23 New York victory in Giants Stadium) and in 2009, a 26-6 Broncos win in Denver. In the '05 meeting, a season the Broncos won the AFC West with a 13-3 record, Manning threw a 2-yard touchdown pass to
Amani Toomer
with five seconds remaining in the game. The Giants went 83 yards in 15 plays on the game-winning drive and the Broncos did not sack Manning in the game.
In '09 -- a Thanksgiving night game -- the Broncos sacked Manning three times.
The challenge Manning presents for opposing rushers is he has taken fewer sacks recently . He was sacked just 16 times in 2010 and 19 times in 2012 as compared to 30 times in '09. Former Broncos defensive end
Elvis Dumervil
said he believed Manning was among the league's best at sensing pressure from behind and also efficiently escaped to keep himself in position to reset his feet to throw.
Del Rio has described them as quarterbacks who "escape with their eyes down the field.''
In the Giants' opener, a loss to Dallas on Sunday night, the Giants often let left tackle
Will Beatty
work in 1-on-1 situations while pushing the help and double-teams elsewhere along the offensive front. That could put
Robert Ayers
or
Shaun Phillips
in some 1-on-1 rush situations against Beatty.
In a week when the Broncos tried to, publicly at least, temper at some of the hoopla after a win that saw Peyton Manning throw seven touchdown passes, wide receiver Wes Welker joined the one-week-at-a-time parade Thursday. Asked if there could any similarities with what Peyton Manning does this season and 2007 when Welker was part of a Patriots offense that featured Tom Brady setting the NFL single-season record with 50 touchdown passes. "[You're] talking about Week 1, there's no telling at this point, it's one game,'' Welker said. "You've to do it every single game.''

Peyton Manning isn't the first Broncos quarterback to wear No. 18. In fact when Manning arrived in Denver after signing in free agency in 2012, the No. 18 was retired. The man who first wore the number for the Broncos -- the franchise's first quarterback -- was Frank Tripucka, who died Thursday after a long battle with Alzheimer's disease. Tripucka was 85. The No. 18 had been one of just three numbers the Broncos had retired, along with John Elway's No. 7 and Floyd Little's No. 44. Elway and Little are both Hall of Famers while Tripucka was put into the team's Ring of Fame in 1986. Tripucka's family, after a phone conversation with Manning shortly after Manning has signed in Denver, said they would "be proud'' for Manning to wear No. 18. Tripucka had been originally hired as a coach when the Broncos began play in 1960, but it wasn't long before the team could see he was the best option as its quarterback. He led the AFL in passing in 1960 with 3,038 yards and his 447 yards passing against the Bills in 1962 is still tied for the fifth-highest single game total in franchise history. Manning threw for 462 yards in last Thursday's season opener.

The Broncos have plans for an indoor practice facility on the drawing board, but they could have used one Thursday. With widespread flooding throughout the state after several days' worth of downpours, the Broncos took to the outdoors Thursday and practiced outside.

Center Manny Ramirez started 11 games at right guard for the Broncos last season and the team went 13-3 with an 11-game winning streak to close out the regular season. This season he is the starting center on a Super Bowl hopeful team who just got a two-year contract extension Wednesday. How is it Ramirez can do that with the Broncos, yet was released by the Lions after playing four games for an 0-16 Detroit team in 2008 and starting 12 games for the 2-14 Detroit squad in 2009? Ramirez said he was part of the equation after spending most of the 2010 season out of football. "But it (was) kind of like it put everything back in perspective as far as what you've done,'' Ramirez said. "Have you done enough? At the time I felt like it wasn't enough that I've done. I just felt like it was time to up my game or whatever my routine was, that it wasn't good enough. I've made quite a few adjustments and they've worked so far.''
September, 12, 2013
9/12/13
12:00
PM ET
For the third time in their careers, brothers
Peyton Manning
and
Eli Manning
will oppose each other as the starting quarterbacks in the same NFL game. Peyton's
Denver Broncos
travel to East Rutherford, N.J., to take on Eli's
New York Giants
at 4:25 p.m. ET on Sunday at MetLife Stadium. Both of these teams have dreams of playing in the Super Bowl in that very same building in February. But while Denver looked the part of the contender in its Week 1 rout of the defending champion Ravens, the Giants turned the ball over six times in an ugly opening-week loss in Dallas. Broncos team reporter Jeff Legwold and Giants team reporter Dan Graziano break down this week's Battle of the Brothers.
Dan Graziano:
So yeah, Jeff, I don't know if you were able to dig this up on your end, but my research does indeed confirm that the two starting quarterbacks in this game grew up in the same house with the same parents. I wonder if others will catch on and ask some questions and write some stories about that angle this week. I don't expect Eli Manning to admit that he's looking for revenge after his big brother beat him twice while he was with the Colts, but I'm sure there's some element of that going on. I have two little brothers myself, and personally I'd be pretty annoyed if I ever lost an NFL game to either one of them. Do you think this game means a little something extra to Peyton Manning?
Jeff Legwold:
Dan, I wasn't planning to ask about this ... but OK, I'm in. I've been around Peyton since my time in Nashville and his at the University of Tennessee, so I'm fairly certain Peyton isn't a big fan of this from a personal perspective. Plenty of his friends said after the Colts released Peyton they didn't even think he would go to an NFC team, let alone the Redskins (pre 2012 draft, of course) because there was far more potential to face Eli if he did. They'll talk this week, but there won't be any football on the phone. From a football standpoint Peyton is in regular-season mode, which is intense, focused and running the show. The Broncos didn't show all of their changes on offense against the Ravens last week -- they have another gear they can hit in the no-huddle they didn't use against Baltimore -- but Peyton has plenty of places to go in the passing game. How do you think the Giants' revamped defensive front will approach all of that?
DG:
Yeesh. Another gear? The rest of the league can't be excited to hear that. The most positive and effective change the Giants made on defense this offseason was at defensive tackle, where they believe they've beefed up and are better suited to stop the run than they were a year ago. But while that sounds nice and useful, the plain fact is that the Giants' defense needs a dominant pass rush from the front four in order to be effective. The linebackers are terrible, and Dallas' short-range-passing game plan Sunday night showed that it's not hard for the rest of the league to figure that out and take advantage of it. The cornerbacks are just so-so, and if
Prince Amukamara
is out with a concussion (still unknown at this time), that unit becomes a liability. The key will be
Justin Tuck
and
Jason Pierre-Paul
generating pressure on Peyton from the edge. Pierre-Paul looked rusty and didn't play a full game Sunday as he was coming off of June back surgery and missed the preseason. If he can take a big step forward this week in terms of conditioning and practice time, that would help. He's the difference-making player in their defensive front -- the one who has the ability to take over a game if he's 100 percent. They need him as close to that as possible if they're going to pressure Peyton Manning enough to limit the time he has to take advantage of all of those options.
Peyton's brother has his share of options as well. Three different Giants receivers had more than 100 yards in the opener, including big second-year wideout
Rueben Randle
. With
Victor Cruz
in the slot and Randle and
Hakeem Nicks
on the outside, how are the Broncos equipped to cover the Giants' receivers?
[+] Enlarge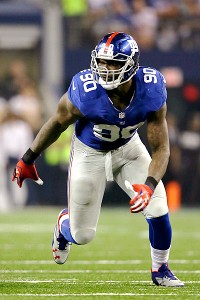 AP Photo/Tony GutierrezJason Pierre-Paul and New York's pass rush may be the key to containing Peyton Manning.
JL:
It is an issue for the Broncos, especially if
Champ Bailey
(left foot) isn't ready to go. He was jogging early in the week, but did not take part in Monday's practice. He has been in for treatment every day, including Tuesday, and still hopes to get himself back in the lineup. The Broncos signed
Dominique Rodgers-Cromartie
in the offseason because they believed he could take his game to another level and that they could help him do that. He played like the former Pro Bowl pick (2009) he was in the opener and shut down
Torrey Smith
and showed plenty of athleticism. But take Bailey out of the mix and the Broncos are small when they go into the nickel. When Bailey doesn't play, the 5-foot-10
Chris Harris
starts and the 5-foot-9
Tony Carter
then comes in for the nickel. Without Bailey that puts Harris in the slot and Carter on the outside and quarterbacks tend to go after Carter in that situation. If Bailey plays -- and he's made no secret he wants to -- that gives the Broncos better matchups. Defensive coordinator Jack Del Rio likes to mix it up overall and uses a lot of people, and if they get the right down-and-distance situations, he likes to even break out a seven-defensive back look and the rushers come from everywhere in the formation.
When Del Rio is looking at the Giants' running game, what will he see?
DG:
Oh, yes. The run game. Better known as "The Only Thing I've Been Writing About Since Sunday Night." I still think the answer to your question is second-year back
David Wilson
, though his much-publicized pair of fumbles (and his less-publicized issues in pass protection) have the Giants tweaking last week's plan to give Wilson a full starter's workload. They had a bunch of veteran backs in for workouts Tuesday and ended up signing
Brandon Jacobs
, but Wilson is still the former first-round pick and the big-play threat who's likely to get the bulk of the first-down and second-down work as long as he doesn't fumble anymore. They had planned to use
Andre Brown
as the passing-downs back and the goal-line back before Brown broke his leg in the final preseason game, and after Wilson's tough opener, it looks as though Jacobs has been brought in to fill Brown's role. But Wilson's still their best running back, and assuming they throw him right back in there, he's someone for whom the Broncos will have to account. When he does hold on to the ball, he's impressive to watch run.
One guy who obviously stood out for the Broncos in their opener was the tight end,
Julius Thomas
. The Giants had no answers for
Jason Witten
on Sunday and, as I mentioned earlier, don't have anyone in their linebacking corps to really cover tight ends. So was Thomas a one-game wonder, or is this a serious candidate for a major role in the passing game?
JL:
Dan, the Broncos and Thomas waited two years to see what folks saw last Thursday night. Since the Broncos took the former Portland State basketball player in the fourth round of the 2011 draft, he offered glimpse after glimpse on the practice field of what the potential was. But he suffered an ankle injury on his first NFL catch -- in the second game of his rookie season -- and wasn't the same after. He had surgery to repair the ankle before last season and spent much of the year simply being a game-day inactive. But coming down the stretch last season, players kept talking about what Thomas was doing in practice, and in training camp this summer he consistently ran away from defensive backs. He's great at getting the ball in a crowd and the Ravens did what most defenses figure to do, rotate coverage to the likes of
Wes Welker
and
Demaryius Thomas
, and leave Thomas with just one defender. Thomas is still raw in some of his route running -- he is in just his fourth year of football after just one season's worth in college -- and sometimes will drop one he shouldn't, but the guy is a matchup problem for defenses, especially since Peyton Manning trusts him enough to throw it to him in almost any situation.
Opposing tight ends did plenty of damage against the Broncos' defense last season with 81 receptions for 948 yards and 11 touchdowns as a position group. They've seen
Brandon Myers
plenty in previous seasons, how does he fit in an offense with so much output at wide receiver?
DG:
Yes, Myers was kind of the forgotten man Sunday night with all of the wideouts going nuts. And as long as those three wideouts are healthy and productive, I wouldn't be surprised to see that continue. Myers is the Giants' fourth different starting tight end in four years. And over the past five years, the Giants' leading tight end has averaged 40.6 catches per season.
Martellus Bennett
's 55 catches last year were the most by a Giants tight end since
Jeremy Shockey
caught 57 in 2007. So while Myers was a big receiving threat in Oakland, I doubt he'll threaten 70-80 catches this year as a Giant. They just don't use their tight end as a weapon in the receiving game the way a lot of teams do. Now, might they pick a matchup, such as this one, in which you say the team hasn't been strong against tight ends, and throw it to him more in such a game? Entirely possible. Myers looked like a significant part of the offensive game plan in training camp practices, so there are definitely some packages in which they'll throw to him. But right now, with injuries on the offensive line and the problems they're having in general with pass protection, I believe they need Myers to stay in and block more.
Speaking of protection, and getting back to what I think is one of the key points at least from the New York end, what's the state of the Denver offensive line in front of big brother Manning? Are the Giants' pass-rushers in for a challenging day?
JL:
That was THE story in the preseason for the Broncos. Two of their starting linemen -- right tackle
Orlando Franklin
and left tackle
Ryan Clady
-- had offseason surgeries and Clady didn't play in the preseason. They lost center
Dan Koppen
to a torn ACL in training camp and spent much of August signing veteran linemen to address depth issues, before finally bringing two of those signees --
John Moffitt
and
Steve Vallos
-- onto the final 53-man roster. They want the three-wide set to be their base formation on offense -- they ran their first 20 plays from scrimmage out of it against the Ravens -- but can't play it if they can't protect. Their first target in free agency, because they felt like they surrendered far too much pressure up the middle, was guard
Louis Vasquez
, who got the longest deal (four years) the Broncos gave to any player they signed in the offseason. They had some bobbles early against the Ravens, went to a two-tight end set briefly in the second quarter to reset things and kept themselves together when they went to three-wide after that. Center
Manny Ramirez
is the key; when he plays well, the Broncos can stay in that three-wide look and they can consistently pressure defenses out of it.
Rushing a Manning is something the Broncos have to consider as well. What do the Giants think of a pass rush without
Von Miller
in it for another five games?
DG:
I'm sure they wish he was coming back in time to face the Eagles in Week 4 and the Cowboys in Week 5. But as a Week 2 development, the Giants will take it. Preseason injuries shook up the Giants' line. They have rookie first-rounder
Justin Pugh
starting at right tackle, which wasn't the plan. They have left guard
Kevin Boothe
playing center and backup tackle
James Brewer
playing left guard for the first time in his life. Add in the blocking downgrade at running back, and Eli Manning's protection is one of the major issues the Giants are having right now. Like his brother, Eli has an insanely quick release, so he doesn't need a Hall of Fame line in front of him in order to be successful. But he does need some level of comfort back there, because he's not at his best when he has to move his feet.
George Selvie
and a cast of backup rushers had success against the Giants' line Sunday night and helped rattle Manning into three interceptions, so it's not as though the Broncos necessarily need Miller to get the job done. What are they doing with their pass rush to overcome that significant loss and the loss of
Elvis Dumervil
to the whims of a fax machine?
JL:
With Dumervil now in Baltimore and Miller suspended for five more games for violating the league's substance-abuse policy, the Broncos are missing 29.5 sacks from last season's defense that tied for the league lead (52) last season. The Broncos talked to plenty of veteran pass-rushers in the offseason and, after deciding
John Abraham
and
Dwight Freeney
wanted too much money, they signed
Shaun Phillips
during the draft weekend. And it's Phillips who is going to have to be the biggest part of the solution in the pass rush until Miller comes back. He was up to the challenge with 2.5 sacks and a forced fumble against the Ravens. Del Rio likes plenty of pressure packages when the Broncos get the lead and will rush players from anywhere in the formation The Broncos are particularly aggressive and creative out of their dime looks as well as the seven-defensive back look. They still have to show they can win one-on-one matchups in the rush when the game is tight, however. The rush didn't really kick in against the Ravens -- Flacco was largely untouched in the first half last Thursday -- until the Broncos had built the lead and the Ravens had to open things up some.
The Giants will be one of three NFC East teams the Broncos will play over the next four weeks, so do the Giants believe the Broncos' no-huddle look will be an kind of preview for what's to come with the Eagles?
DG:
Good question. The Cowboys showed some no-huddle Sunday, and obviously the Giants are going to have to expect it from the Eagles, so perhaps these are some good early tests for them. Makes me think it really would help if they had some better all-around instinctive playmaker types in the linebacking corps. But they don't prioritize that position, and they think if they can get to the quarterback they can make up for deficiencies there and in the secondary. We'll see. It's a lot to ask of Tuck and Pierre-Paul, but they've both been great players at times in the past.
Anyway, I think that about covers it. Should be a fun one Sunday at the Meadowlands. See you there, Jeff.