Denver Broncos:

San Diego Chargers
July, 24, 2014
Jul 24
11:00
AM ET
By
ESPN.com staff
| ESPN.com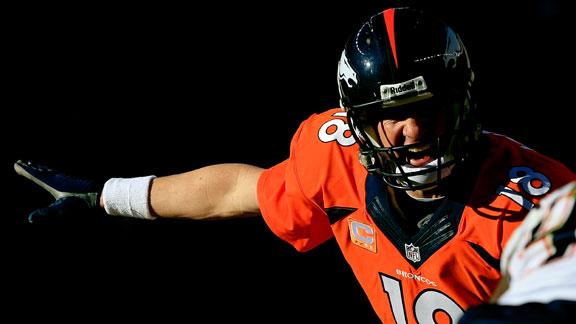 It seems like a football eon ago that then-
Denver Broncos
coach Josh McDaniels sized up the potential AFC West race and called the
San Diego Chargers
"kind of the measuring stick."
That statement came before the 2010 season as the Chargers had won the previous four division titles. It's also right about the time the winds of change began to roar in earnest in the division, when the foundation was set for what has happened since.
The
Kansas City Chiefs
won the division in '10. Broncos owner Pat Bowlen fired McDaniels after a 4-12 season marred by Spygate and hired John Elway as the Broncos' top football executive.
Since then, the Broncos have won three consecutive division titles, one featuring the national phenomenon that was a Tim Tebow-led read-option offense, and two with future Hall of Famer
Peyton Manning
. And the Broncos' crushing February Super Bowl loss notwithstanding, they are coming off a record-setting 2013 with Manning returning and a free-agency haul that included pass-rusher
DeMarcus Ware
, cornerback
Aqib Talib
, safety
T.J. Ward
and receiver
Emmanuel Sanders
. The Broncos are poised to be in the league's championship conversation again.
The Chiefs think they are ready for more, the Chargers were the only team in the division to beat the Broncos last season, and the
Oakland Raiders
, after a flurry of offseason moves, believe -- at least
LaMarr Woodley
believes -- they can be a playoff team.
NFL Nation reporters Jeff Legwold (Broncos), Eric D. Williams (Chargers), Adam Teicher (Chiefs) and Paul Gutierrez (Raiders) look at how the AFC West division race will shake out this season.

What will the Broncos' record be and why?
Jeff Legwold: Look at the Broncos' depth chart, and on paper -- yes, the dreaded "on paper" distinction -- they are better than they were when they finished 13-3 and played their way into Super Bowl XLVIII last season. After the crushing loss in the title game, they didn't go quietly into the offseason. They put together a solid draft class with two potential immediate contributors in cornerback Bradley Roby and wide receiver Cody Latimer. They were also one of the most aggressive teams in free agency, reeling in Ware, Talib, Ward and Sanders. If Ware and Talib, in particular stay healthy (Talib has never played 16 games in a season), Denver's defense will be vastly improved alongside a record-breaking offense that figures to again pile up points. The Broncos finished with five defensive starters on injured reserve last season, and many of the players who were starting on defense down the stretch will be backups this season. Their trek through the NFC West to go with road games against the Patriots, Jets and Bengals gives them a potentially brutal schedule. They could be better than they were last season and not have the record to show for it. That is why 12-4 would be a quality piece of work.
Eric D. Williams:
Denver will take a natural slide from its impressive 2013 campaign, but still come out on top of the AFC West at 11-5. Like the rest of the division, the Broncos face a much tougher schedule, with the season opener at home against Indianapolis and games at Seattle, at home against San Francisco, at New England, at St. Louis and at Cincinnati all potential losses outside the division. Though the defense should be better, free-agent additions Talib, Ware and Ward still have to mesh with the rest of that unit. Offensively, Denver's revamped line must do a better job of protecting Peyton Manning.
Adam Teicher: 12-4. It's a bit much to expect the Broncos to match their 13-3 record of last season. A schedule that includes two games against the Chiefs and Chargers and singles against all teams from the NFC West plus New England, Indianapolis and Cincinnati almost guarantees that Denver won't get to 13 wins. But a slightly diminished regular-season record doesn't mean the Broncos won't win the AFC or play in the Super Bowl again. From this vantage point, it's an upset if any team but the Broncos represents the AFC in the Super Bowl this season.
Paul Gutierrez: Sure, no one takes a Super Bowl beating like the Denver Broncos, whose five losses on Super Sunday are by a combined score of 206-58. But in the modern world of the rich getting richer, the defending AFC champs simply got better. Adding a trio of big-name free agents in Ware, Talib and Ward will only make the defense more sound. And the addition of Sanders, who will replace the departed Eric Decker, should help the Broncos' record-setting offense continue to hum along under the direction of Manning. The Broncos are primed for another division title with a 12-4 record, with tough games at Kansas City, at San Diego (the Chargers won in Denver last season), at New England (the Patriots won in OT last season) and at Seattle (remember that 43-8 pasting the Seahawks put on the Broncos in the Super Bowl?).
@Jeff_Legwold @ESPN_NFLNation 19-0

— Walden Cash (@WC_83) July 21, 2014
---

What will the Chiefs' record be and why?
Legwold: There is an air about this team; the Chiefs seem comfortable with where the roster was at the end of the 2013 season going into 2014. They were not all that active in free agency, though they took some swings at a wide receiver or two, including Emmanuel Sanders. If they are the team that went 9-0 before the bye last season, then standing pat is just fine, but if they are the group that went 2-5 down the stretch, then they are not catching the Broncos. They have shuffled the offensive line and seem likely to lean on running back Jamaal Charles again on offense, but they lack pop on the outside, especially if receiver A.J. Jenkins can't lift his game. The defense is solid in the front seven, but in a division with quarterbacks like Peyton Manning and Philip Rivers, cornerback Brandon Flowers' release might be the move that eventually stings the most, especially if young cornerback Marcus Cooper, a player Manning targeted repeatedly last season, is not up to the challenge. It all has the look of a step back from last season's 11-5 to 9-7 with the NFC West on everybody's schedule in the division.
Williams:
I predict Kansas City falling to 8-8 in 2014 for a couple reasons. The Chiefs lost two of their five starters along the offensive line in
Branden Albert
and
Geoff Schwartz
to free agency -- a position group that depends on continuity. Kansas City could struggle to protect quarterback
Alex Smith
, along with getting enough push to spring loose the talented Charles. Second, look at this season's schedule. Last season, Kansas City vaulted to a 9-0 record in part by facing backup quarterbacks like
Jeff Tuel
,
Case Keenum
and
Terrelle Pryor
. This season, four of Kansas City's first six games are on the road, including stops in Denver, Miami, San Francisco and San Diego. The Chiefs will be fortunate to be at the .500 mark after that treacherous stretch.
Teicher: 8-8. Kansas City faltered down the stretch last season, winning two of its final eight games. The Chiefs then watched several significant regulars leave through free agency. The Chiefs have holes at wide receiver and in the defensive backfield that they failed to adequately address. That doesn't mean they won't be playoff contenders. Despite the lousy record, the Chiefs quietly finished last season as one of the NFL's better offensive teams. They might be able to score enough points to overcome a shaky defense that couldn't hold a 28-point lead in last season's playoff loss against Indianapolis.
Gutierrez: Are the Kansas City Chiefs the team that made history by becoming the first in NFL modern annals to follow up a two-victory season by winning its first nine games the following season, or are they the club that lost six of its last eight, including a heartbreaking 45-44 wild-card loss to the Indianapolis Colts? Momentum being what it is, and with the Chiefs having a so-so draft coupled with departures of the likes of Albert, defensive end Tyson Jackson and receiver/returner Dexter McCluster, plus a tough schedule, they seem to be on the way back down. As in a 7-9 record. Tough stretches that include games at Denver, against New England, at San Francisco and at San Diego early, and against Seattle, at Oakland, against Denver, at Arizona and at Pittsburgh late will truly tell the Chiefs' tale, even as Charles continues his ascent as one of the game's best all-around backs.
@adamteicher 9-7 would be a great accomplishment. Schedule is nails, but if OL gels and backend D is in place, it's doable. O will score

— Lou Montagna (@LouMontagna) July 21, 2014
---

What will the Chargers' record be and why?
Legwold: In his first year as Chargers coach, Mike McCoy helped get quarterback Philip Rivers back on track -- though Rivers never really conceded to being off track -- and the Chargers were able to fight through injuries, hand the Broncos their only home loss of the season, and earn a playoff spot. McCoy figures to try to keep Rivers cocooned in a low-risk approach on offense -- their leading receivers in terms of catches last season were a tight end (Antonio Gates) and a running back (Danny Woodhead) -- with a heavy dose of starting running back Ryan Mathews if he can stay healthy. Defensively, new cornerbacks Jason Verrett and Brandon Flowers should help the secondary. As they continue their makeover in the second year of the current regime, most personnel people in the league believe the Chargers are still lacking enough athleticism, especially on defense, to make a significant push in the division race. Add up four games against the NFC West to go with New England and Baltimore and it looks like a 7-9 campaign.
Williams:
If they can stay relatively healthy, the Chargers should finish at 10-6 and return to the postseason for a second straight season. San Diego is the only team in the AFC West projected to have all 11 starters on offense return in 2014. Rivers will be given even more freedom to call plays at the line of scrimmage and run the no-huddle offense, which should result in more favorable matchups for the Chargers. But we know San Diego's offense can put points on the board. The key for the Chargers will be improved play in a revamped secondary that includes first-round selection Verrett and free agent Flowers, along with a more potent pass rush with the healthy return of
Dwight Freeney
and
Melvin Ingram
.
Teicher: 8-8. The Chargers might be the division's most interesting team. San Diego is the team most capable of catching the first-place Broncos, but also has the best chance of getting caught by the last-place Raiders. If Rivers plays as well as he did last season, it's not out of the question that San Diego wins the AFC West. Like Denver, San Diego might have a better team than it did last season. Signing Flowers filled a big need. But a tougher schedule will keep the Chargers out of the playoffs this time.
Gutierrez: San Diego, under a rookie head coach in the offensive-minded Mike McCoy, won four straight games to end the regular season and sneak into the playoffs at 9-7, and another 9-7 campaign seems to be in the works, even if the Chargers look to be better in 2014. Some of McCoy's moves did have many fans scratching their heads, but there is no debating he was instrumental in Rivers' NFL Comeback Player of the Year Award-winning season. The Chargers added bruising running back Donald Brown to join lightning-quick Ryan Mathews and are excited to see what their receiving corps, highlighted by second-year wideout Keenan Allen, can do if Malcom Floyd is healthy. No, it's not the halcyon and high-flying days of Air Coryell, but with tough games at Arizona, Oakland, Denver, Baltimore and San Francisco, and with New England coming to San Diego, the Chargers will take it.
@eric_d_williams 11-5 & make the playoffs if we stay healthy, 9-7 & miss the playoffs if we don't. And we'll beat Denver.

— Shea Duggan (@SDsportskid86) July 22, 2014
---

What will the Raiders' record be and why?
Legwold: Rookie linebacker Khalil Mack has the look of a potential foundation player in the Raiders defense. If things go as the Raiders hope, he should be in the running for Defensive Rookie of the Year because he's going to get plenty of snaps. But overall this team has put its immediate fate in the hands of veterans with far less of their career in front of them than in their past, led by quarterback Matt Schaub. Raiders coach Dennis Allen keeps saying Schaub is a top-10 passer in the league, but Schaub has always seemed to lack that kind of confidence in himself. But front-seven additions LaMarr Woodley and Justin Tuck, and running back Maurice Jones-Drew are certainly risk-reward moves the Raiders need to work. Tuck is 30, Woodley is 29 and Jones-Drew, who has missed 11 games combined in the past two seasons, just turned 29. The depth chart is still thin, particularly on defense, and an injury or two will have a ripple effect. The schedule's second half also includes two games against the Broncos, two against the Chiefs, and games against the 49ers and the Rams. It all looks like a potential 5-11.
Williams:
With the addition of several quality veteran players in free agency on both sides of the ball, Oakland has a chance to reach the .500 mark for the first time since 2011, but I have them finishing 7-9. With an emphasis on running the football led by backs Jones-Drew (who is returning home to Oakland) and
Darren McFadden
, Schaub should play better. Defensively, with the addition of first-round selection Mack and veteran defenders
Antonio Smith
(defensive line), Tuck and Woodley, the Raiders should be improved. The concern for this veteran team will be how consistently it finishes teams in the fourth quarter in order to preserve wins in close games.
Teicher: 6-10. The days of hopeless desperation are coming to an end in Oakland. The Raiders won't be the pushovers they were last season. But they are still not ready to compete with their AFC West rivals. Schaub won't be the answer at quarterback. Instead, he will be another in a long line of failures. Going to rookie quarterback Derek Carr won't solve their problems, at least not this season. By 2015, the Raiders will be a factor in the AFC West race. But despite a major free-agent spending spree, they will still drag the bottom in 2014.
Gutierrez: In the immediate aftermath of the NFL schedule being released back in April, I saw a 5-11 season for the Raiders. Now, after the draft, organized team activities and minicamps? I'll go 6-10. Doesn't sound all that impressive, I know, but it would, technically, be improvement for third-year coach Dennis Allen after consecutive 4-12 seasons. Yes, the Raiders did rebuild both lines with talent and, on the defensive side of the ball, championship pedigree. And they are going with a new quarterback in the battle-tested Schaub. Plus, the veterans Oakland brought in via free agency all have chips on their shoulders. Truly, this is the most talent Allen has had at his disposal. Still, Oakland has the toughest strength of schedule in the NFL, and until it proves differently, it's hard to imagine the Raiders winning more than six games. Where might they scratch out six victories? Let's start with home games against Houston, Miami (in London), San Diego, Arizona, Kansas City and Buffalo and go from there.
@PGutierrezESPN 8-8 because they have a tough schedule and with the talent they have will improve a bit..DA gets fired & Gruden in 2015

— AK (@AaronK510) July 21, 2014
.
June, 5, 2014
Jun 5
10:00
AM ET
By
ESPN.com staff
| ESPN.com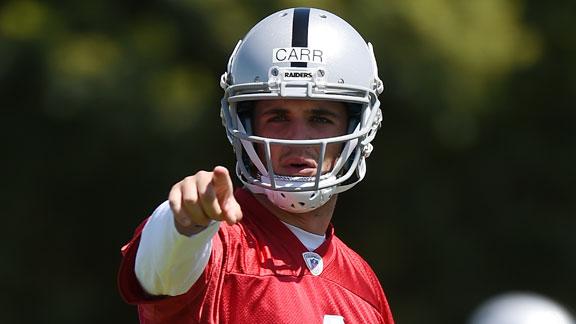 Whenever "the predictors" go to work, as
Denver Broncos
coach John Fox likes to call most anyone who tries to offer thoughts on how the NFL season will go, Fox will often point to what happened in the AFC West in 2013 to show the relative worth of preseason predictions.
"Our division was supposed to be one of the worst, people had plenty to say about that," Fox said. "But then when things finished between the white lines, three teams went to the playoffs and it was really one of the toughest divisions. Our expectation is that it will be tough and that we need to be ready to earn what we get."
Whether or not the division can duplicate its 2013 postseason trifecta remains to be seen, but the AFC West team that may have made the biggest roster splash in last month's draft was the one team in the division that didn't make the playoffs: the
Oakland Raiders
.
With the rest of the division picking in the bottom third of each round, the Raiders took full advantage of location, location, location, grabbing
Khalil Mack
at No. 5 overall, quarterback
Derek Carr
with the fourth pick of the second round and Louisiana Tech defensive tackle
Justin Ellis
with the seventh pick of the fourth round. Add in guard
Gabe Jackson
with the 17th pick of the third round and the Raiders were workmanlike in their pursuit of immediate contributors.
But did everybody complete their pre-draft missions? NFL Nation's AFC West reporters -- Jeff Legwold in Denver, Adam Teicher in Kansas City, Eric D. Williams in San Diego and Paul Gutierrez in Oakland tackle it all in 4 Downs.

John Elway's offseason mission was for the Broncos to get "faster, more athletic, across the board." Have the Broncos succeeded?
Paul Gutierrez: File this one under the heading "The rich get richer," and amend to "The conference champs get faster, more athletic across the board." So, in a word, yes. First, the Broncos added DeMarcus Ware and Aqib Talib in free agency, and while they may have lost a step not only due to age, but to the enormous chips on their respective shoulders, they were steps few others had in the first place. Then the Broncos went out and drafted a cornerback who ran a 4.39-second 40-yard dash in Ohio State's Bradley Roby to help soothe the loss of Champ Bailey, and then a big, physical receiver in Indiana's Cody Latimer to give Peyton Manning another target in the wake of Eric Decker's departure to Gotham and the New York Jets. So, yeah, I think the Broncos accomplished Elway's goal. The real trick, then, is putting it all together in the postseason in general -- the Super Bowl in particular -- because, as I've written before, no team excels at losing on Super Sunday in more spectacular fashion this side of Fran Tarkenton's Minnesota Vikings than Elway's Broncos. And to bite a rhyme for Tarkenton's old 1980s show, That's Incredible!
Jeff Legwold: They careened into free agency, checkbook in hand, and came away with DeMarcus Ware, Aqib Talib, T.J. Ward and Emmanuel Sanders. The first two players they selected in the draft were two of the fastest on the board at speed positions -- cornerback Bradley Roby and wide receiver Cody Latimer. The feeling inside the Broncos' complex this offseason is that as the injuries piled up last season, their depth chart was good enough for them to make the Super Bowl, but their team speed and athleticism suffered. As they now get into the teeth of their offseason program, it's clear that with the new additions and the return of most of those players who were injured last season, they have a far more athletic roster than they did in a 35-point loss to the Seahawks in Super Bowl XLVIII.
Adam Teicher: Picking near the bottom of every early round makes it difficult for a team to get a lot done. But it looks like the Broncos accomplished what John Elway wanted them to with their first couple of picks, at least. Not that Bradley Roby is Champ Bailey or Dominique Rodgers-Cromartie, at least not yet. But he's faster and is otherwise the athletic superior of those other guys at this point in their careers. Cody Latimer is one of those guys the Chiefs will probably regret they didn't get. With his size and speed, Latimer has what teams are looking for in a receiver. And with the Broncos, he won't have the pressure to produce big results immediately.
Eric D. Williams: On paper, Denver looks more athletic on defense in particular with the additions of DeMarcus Ware, T.J. Ward and Aqib Talib. But those three players, along with first-round selection Bradley Roby, still have to mesh and develop some chemistry with the rest of the defense, and that might lead to some growing pains early. More importantly, I'm not totally sold that the Broncos fixed the team's most glaring issue from the lopsided Super Bowl loss to Seattle -- protecting Peyton Manning. Getting back a healthy Ryan Clady will be critical for the Broncos, along with better overall performances from Orlando Franklin at left guard and Chris Clark at right tackle.
@Jeff_Legwold Yes, but...They still lose a S.B.48 rematch. The offense surrendered more pts than it generated, & must get meaner. #fourdowns

- Harry Schier (@schier_harry) May 29, 2014
---

Did the Chiefs make a mistake by not drafting a wide receiver?
Gutierrez: It would appear as such, especially with the consensus feeling out there before the draft that the Chiefs' biggest need was a receiver. Dwayne Bowe is coming off a career-low 11.8 yards per catch average, while Donnie Avery's two touchdown receptions were the fewest of his career as a starter. Both will be 30 by the end of September, and at the beginning of June, those are essentially the only wideout weapons at Alex Smith's disposal. And it's not as if the Chiefs were lighting it up in the passing game, anyway. The Chiefs had the 24th-ranked passing game in the NFL last season, and when their first pick came up at No. 23 overall, four receivers had already been taken in Sammy Watkins, Mike Evans, Odell Beckham Jr. and Brandin Cooks. So, sure, the top-rated pass-catchers may have already been gone, but Kelvin Benjamin and Marqise Lee were both still on the board when the Chiefs instead chose a defensive end in Dee Ford. Unless Bowe and Avery experience career renaissances, or someone else shows up, the Chiefs will regret passing on a receiver with that first pick, especially since they were without a second-round selection.
Legwold: Having seen what Andy Reid has done in the past in the passing game with running backs like Duce Staley and LeSean McCoy, it's likely fourth-round pick De'Anthony Thomas is going to see plenty of time lined up like a wide receiver. And if Thomas plays to his pre-draft scouting report, he should have some impact. The Chiefs were not that productive at wideout last season and seem locked in on Dwayne Bowe improving in 2014, and A.J. Jenkins will give them more as well. But if they don't like what they see in the coming weeks, they may have to sign a veteran when cuts get made around the league in August and September.
Teicher: They didn't make a mistake if they didn't like any of the available receivers when they made their picks in the first and third rounds. But it's difficult to see how the passing game will continue to flourish as it did late last season without the Chiefs getting at least some help from one of their draft picks. Their wide receivers were among the least productive in the league last season and they lost Dexter McCluster, one of their leading pass-catchers. There seems to be a lot of wishful thinking going on at the position. Maybe Dwayne Bowe will bounce back with a better season or Donnie Avery can be more consistent. Perhaps A.J. Jenkins, a former first-round draft pick with the San Francisco 49ers, can improve. It's possible CFL veteran Weston Dressler or speedy fourth-round draft pick De'Anthony Thomas can provide a boost. But from this vantage point it appears the Chiefs have a collection of players at this position who don't add up to much.
Williams: Consistent production at receiver appears to be the Achilles' heel of Kansas City's offense heading into the 2014 season. Dwayne Bowe was considered a true No. 1 receiver three years ago, but hasn't caught more than five touchdown passes in a season since 2010. Donnie Avery can serve as a vertical threat if he can stay healthy. Young players like A.J. Jenkins and Junior Hemingway have the potential to develop into regular contributors, while fourth-round selection De'Anthony Thomas could replace some of the production Kansas City lost due to Dexter McCluster signing with Tennessee in free agency. But the Chiefs do not have an outside receiver who puts fear into an opposing secondary.
@adamteicher No. Rookie wide receivers rarely revolutionize an offense. Andy's O is RB and TE driven, the impact would have been minimal.

- Townsend Keller (@Obtuse_Goose_61) May 21, 2014
---

Did the San Diego Chargers add enough talent through the draft to improve an inconsistent pass defense from last season?
Gutierrez: Well, let's see. The Chargers finished 2013 with the 29th-ranked pass defense in the NFL, last in the AFC West. Only the Dallas Cowboys, Minnesota Vikings and Philadelphia Eagles were worse overall. So San iego (see what I did there, no 'D' in the Chargers' game?) went out and used its first-round pick, No. 25 overall, on TCU's Jason Verrett, a dark horse of a cornerback if there ever was one in this draft. He was the fourth corner chosen, behind Justin Gilbert, Kyle Fuller and Darqueze Dennard, and should start for the Bolts immediately. A pass-rushing linebacker in Georgia Tech's Jeremiah Attaochu was taken in the second round and the Chargers went defensive tackle in the fifth round with Arkansas State's Ryan Carrethers. And that was it on the defensive side of the ball in the Chargers' draft. So on the surface, by taking only one player from the secondary, the answer would appear to be a healthy ... no. But if Attaochu and Carrethers can supply adequate pressure to affect the quarterback, at least more than last year, how does a healthy "maybe" grab you?
Legwold: The Chargers largely kept it in the fairway in free agency and the draft, preferring a low-key approach they believe will allow them to keep their playoff status. Grind it out will keep it close, but it won't consistently beat the Broncos. It will take explosiveness and perhaps even a turnover or two on top of that. The Chargers played the Broncos better than anyone last season, at least until the Seahawks dismantled Denver in Super Bowl XLVIII. But the Broncos filled holes and actually made their depth chart better. The Chargers look like they have made moves that will help them grow, but at first blush it doesn't look like they did enough to unseat Denver, provided the Broncos keep Peyton Manning and the bulk of their starters healthy.
Teicher: It's difficult to fault the Chargers' efforts. In going 1-2 in the draft with a cornerback, TCU's Jason Verrett, and a pass-rusher, Georgia Tech's Jeremiah Attaochu, the Chargers tried to make the necessary repairs. But Verrett is small and probably best suited to playing nickelback. If that's where he plays, he's a part-timer. As for Attaochu, it's unusual for rookie pass-rushers to come in and have a huge immediate impact, particularly those who aren't selected near the top of the draft. It's not wise for the Chargers to count on a lot from him as a rookie.
Williams: San Diego's first two picks in this year's draft, cornerback Jason Verrett and edge rusher Jeremiah Attaochu, should make an impact in their rookie seasons, upgrading a defense that finished No. 29 against the pass in 2013. Verrett is still rehabbing from surgery to repair a torn labrum and likely won't be cleared to practice until August. But San Diego plans on getting him on the field quickly and can use his tenacity and speed in the back end. Attaochu gives the Chargers much-needed speed off the edge defensively. But besides those two, San Diego's defense should improve against the pass because of a healthy Dwight Freeney and Melvin Ingram providing a more consistent pass rush in 2014.
@eric_d_williams I think if you include the return of @dwightfreeney and he can stay healthy then the answer would be yes.

- Heath Lewison (@HLewison) June 2, 2014
---

Will the Raiders' plan to take a play from the Packers -- having their QB of the future (Aaron Rodgers) sit behind the starter (Brett Favre) for a few seasons -- come to fruition, or will Derek Carr supplant Matt Schaub as Oakland's starter this season?
Gutierrez: Stop me if you've heard this before, but this was also Oakland's plan last year ... so to speak. The Raiders acquired Matt Flynn to be their franchise QB and had designs on drafting Matt Barkley before taking Tyler Wilson instead. Terrelle Pryor and Matt McGloin eventually split the gig and neither Flynn nor Wilson made it to the end of the season, while Pryor was traded away in April. This time, though, the Raiders insist they have it right, with coach Dennis Allen going so far as to say that Schaub is a top-10 quarterback in the NFL. They better be right. Because if Carr takes any significant snaps this season, that means something went terribly wrong with Schaub, a two-time Pro Bowler who passed for more than 4,000 yards three times between 2009 and 2012 but is coming off a nightmarish season with the Houston Texans. And after last year's fiasco under center, the brain trust of general manager Reggie McKenzie and Allen can ill afford another such dud. Unless, of course, Carr does supplant Schaub and is the second coming. But that would be dumb luck, and that's not Oakland's plan ... at the moment.
Legwold: Coach Dennis Allen has consistently said he believes Schaub is a top-10 quarterback. But his actions this season will show whether he really believes that or not. The Raiders certainly drafted Carr with the idea he could be the quarterback of the future. But that means the Raiders will have to have organizational discipline to live with the plan. That means avoiding a knee-jerk reaction to public sentiment if Schaub makes mistakes, and keeping Carr on the bench. If the plan is for him to watch and learn, then stick to it; let him watch and learn no matter what is going on around the team. If the Raiders have some success and Schaub can rise above the mistakes, it will be far easier to keep Carr next to a clipboard rather than behind center.
Teicher: It's best for the Raiders in the short term, at least, if Schaub is their starting quarterback for all of 2014. Starting a rookie quarterback is, in most cases, a prelude to disaster. That hasn't always been the case, but generally speaking a team needs more going for it than Oakland has to succeed with a rookie QB. So the best-case scenario for the Raiders is for Schaub to play well enough to allow him to keep his job. They don't need Dennis Allen making the panic move to save his job by switching to Carr, who may or may not be ready to play. Oakland needs Schaub to succeed to the point where you're asking the same question at this time next year.
Williams: Dennis Allen and Reggie McKenzie need to finish around .500 to save their jobs, so the more games Schaub plays and is effective, the better the chance of that happening. Carr has a strong arm and is an interesting prospect, but he's not ready to lead a team and win on a consistent basis in the NFL. The Raiders need Schaub to hop in a time-travel machine and perform like he did in 2009, when he led the league in passing yards and earned a trip to the Pro Bowl.
@PGutierrezESPN Week 7 Johnny vs Derek

- Michael Martin (@559Raider87) May 29, 2014
March, 10, 2014
Mar 10
10:00
AM ET
By
ESPN.com staff
| ESPN.com
The AFC West produced three playoff teams and the eventual AFC title winner in the
Denver Broncos
, so it should come as no surprise that many top free agents come from the division.
Oakland Raiders
reporter Paul Gutierrez, Broncos reporter Jeff Legwold,
Kansas City Chiefs
reporter Adam Teicher and
San Diego Chargers
reporter Eric D. Williams break down the top 15:
1. Branden Albert, Chiefs offensive tackle:
Kansas City won't franchise him this year. Albert will get a nice contract elsewhere.
2. Dominique Rodgers-Cromartie, Broncos cornerback:
He's not yet 30 and still a top-tier athlete.
3. Eric Decker, Broncos wide receiver:
Productive in scoring zone, will be one of the biggest wide receivers on open market, but rarely faced opponents' top cornerback in Broncos offense.
4. Lamarr Houston, Raiders defensive end:
Better suited to the left side because he's not the prototypical speed-rusher.
Moreno
5. Knowshon Moreno, Broncos running back:
Has had multiple knee surgeries, including one on a torn ACL in 2011, but he runs with passion, is solid in pass protection and a productive receiver.
6. Jared Veldheer, Raiders offensive tackle:
Didn't have a very good season in 2013 but would attract some attention as a free agent.
7. Geoff Schwartz, Chiefs guard:
Was a free-agent find for Kansas City last season. Can play right tackle if needed.
8. Jon Asamoah, Chiefs guard:
A better pass-protector than run-blocker. He will be only 26 in July.
9. Shaun Phillips, Broncos linebacker:
He'll be 33 in May but showed last season that he can still be an effective situational pass-rusher.
10. Zane Beadles, Broncos guard:
For a movement-based front, he's a smart, durable option who played in every game while with Denver.
McCluster
11. Dexter McCluster, Chiefs wide receiver/punt returner:
Hasn't had a huge impact on the offense in Kansas City, but he will be only 26 in August.
12. Robert Ayers, Broncos defensive end:
Had his best season in 2013, so maybe he's a late bloomer.
13. Tyson Jackson, Chiefs defensive end:
Like Ayers, he had his best season in 2013, so maybe he's figuring it out as well.
14. Tracy Porter, Raiders cornerback:
He's versatile enough to cover the slot receiver, and he had one of his better seasons in 2013.
15. Kendrick Lewis, Chiefs safety:
He's only 25 but was a better player earlier in his career. He hasn't been the same since a shoulder injury in 2012.
January, 12, 2014
Jan 12
10:46
PM ET
By
ESPN.com staff
| ESPN.com
January, 12, 2014
Jan 12
2:35
PM ET
By
ESPN.com staff
| ESPN.com
Join our ESPN.com NFL experts for playoff football between the San Diego Chargers and the Denver Broncos.
Contribute your thoughts and questions beginning at 4:40 p.m. ET. See you there.
November, 10, 2013
11/10/13
2:30
PM ET
By
ESPN.com staff
| ESPN.com
Join our ESPN.com NFL experts as they break down the Denver Broncos' visit to the San Diego Chargers. Contribute your thoughts and questions beginning at 4:15 p.m. ET. And, be sure to visit our
NFL Nation Blitz page
for commentary from every game, as well as fan photos and the latest buzz from Twitter. See you there.