Denver Broncos:

2014 NFL owners meetings
March, 28, 2014
Mar 28
11:00
AM ET
By
ESPN.com staff
| ESPN.com
ORLANDO, Fla. -- The NFL's owners, coaches and general managers gathered in Orlando this week for the owners meetings.
Some of the topics discussed were potential changes to the kicking game, Colts owner Jim Irsay's DUI arrest, expanded playoffs and racist/discriminatory/profane language. The league tabled any action on adjusting or eliminating PATs. No playoff teams were added. But the owners did discuss sensitivity and sportsmanship issues.
As for the Irsay situation, commissioner Roger Goodell said he'll wait for the legal process to play out before deciding what kind of punishment Irsay will face.
But don't worry, four of ESPN's NFL Nation reporters -- Michael DiRocco (Jaguars), Tania Ganguli (Texans), Jeff Legwold (Broncos) and Mike Wells (Colts) -- were at the meetings and took a run at those issues.

What should the owners do to fix the kicking game?
Michael DiRocco: I'm in favor of the decision to extend the goalposts several feet to eliminate some of the ambiguity of whether some field goal attempts are successful. Kickoff returns are among the most exciting plays in football, but they are also among the most dangerous. I don't see a realistic way to make them any safer without eliminating them completely. As for PATs, I'd be in favor of moving them back to a 40- or 45-yard attempt. That increases the difficulty. But how about adding a radical change as well by giving teams the option of a 3-point PAT by attempting a kick of 55 yards? It certainly would make game strategy more interesting.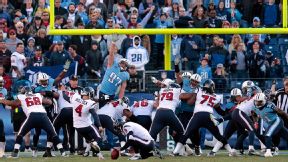 Tania Ganguli: The league tabled the discussion about moving the extra point back to the 25-yard line and will experiment by moving it to the 20 during some preseason games. I'll be interested to see the result of the trial period. I don't have a problem with the fact that extra points are so often effective. There is still strategy in deciding whether to kick it or go for two. It doesn't always play into game strategy, but it can, and that means it isn't a meaningless play. My bigger concern would be safety issues that come with kickoffs.
Jeff Legwold: Not sure I understand the rationale of removing something from the game because the players have become too proficient at it. Sure, 1,267 extra points were attempted in the 2013 season and all but five were made. Four of the extra-point attempts were blocked and only one was missed (Minnesota's Blair Walsh), but it seems misplaced to remove it simply because kickers, snappers and the rest of those lined up have become mind-numbingly good at it. That's a bad precedent. In 1970 there were no quarterbacks who threw for even 3,000 yards. In 1980, only two quarterbacks crossed the 4,000-yard barrier. In 2013 there were nine quarterback who threw for at least 4,000 yards and two -- Peyton Manning and Drew Brees -- topped 5,000 yards. So, if the league's passers get much better, they'll have to ditch the forward pass.
Mike Wells: The NFL can do away with extra points because they're pointless. There were only five unsuccessful PATs last season. Does anybody even watch teams kick extra points? That's usually the time to get an early jump to the bathroom so that you're back in time for the kickoff. Moving the PAT back to the 25-yard line doesn't provide any more excitement. Automatically give teams seven points for scoring a touchdown with an option to get another point by going for a conversion. About the only bad thing with eliminating PATs is that Indianapolis Colts punter Pat McAfee may get upset that he can't punt, kick off, kick field goals and kick PATs, something he wants to accomplish at some point in his career. But something tells me he'd get over PATs being eliminated from the game.
@ESPNdirocco Eliminate the XPT. TD's = 7. Give teams chance for 2, if miss = 6, if make = 9. FG's don't change. #fixed

- Gary Blond (@GaryBlond) March 24, 2014
---

How should the commissioner handle a misbehaving owner?
DiRocco: Owners should be held to at least the same standard as players when it comes to off-field behavior, but I'd argue that they should be held to an even higher standard because of their status -- especially when it comes to something that endangers the public, such as driving under the influence. The first thing the league must do is ensure that Jim Irsay gets the help he needs with his problem. Suspending an owner wouldn't make any impact on the field and taking away a draft pick would be too harsh. A significant fine ($500,000?) that would be donated to one of the league's various charities or a substance-abuse awareness or treatment program is the best course of action.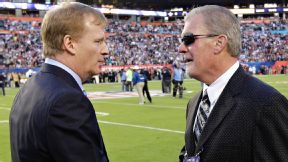 Ganguli: The commissioner could do nothing and get away with it. After all, he technically works for the owners. But maintaining credibility is important. Irsay's situation should be handled with a proportionate response to how a player's situation would be handled. It can't be the same just by virtue of the differences of their jobs. At the same time, it's important in dealing with such a situation -- with executives or players -- that the league is sensitive to what it means to have an addiction and what it takes to move past it.
Legwold: NFL commissioner Roger Goodell has made personal conduct by everyone employed by the NFL or one of its franchises a hallmark of his tenure. He has consistently said the higher the authority of the person involved, the higher the standard. By that standard he has no choice but to punish Irsay. In 2010 he fined Detroit Lions president Tom Lewand $100,000 and suspended him for 30 days after Lewand's guilty plea for driving while impaired. A franchise owner is even higher on the corporate flow chart than a team president, so Irsay's punishment should fit that if Goodell sticks to the framework he's put in place. One thing is certain: A large group of players who haven't always been supportive of Goodell's discipline standards for them is watching closely.
Wells: Late Tennessee owner Bud Adams was fined $250,000 for giving some fans the bird in 2009. Not that money is a major issue to Irsay, but Goodell should fine him at least $1 million and suspend him for at least eight regular-season games. The latter part will really hit home to Irsay because he loves the game so much. He has a serious problem and Goodell needs to send a serious message to him and the rest of the NFL that breaking policies or the law will not be taken lightly. The rest of the league, especially the players, will be paying close attention to see what actions Goodell takes. A minor slap on the wrist will not sit well with the players, especially because the rules are made for the players and front-office officials.
@MikeWellsNFL $500,000 fine and half season suspension. No contact, similar 2 Sean Peyton suspension.

- Bob Borden (@Rmb7884) March 25, 2014
---

Should the league add playoff teams?
DiRocco: Sure, and let's give every team that didn't make the playoffs a trophy at the end of the season for trying really, really hard as well. Twelve of the league's 32 teams -- roughly 38 percent -- already make the playoffs, and that's enough. The argument that good teams sometimes miss out because they play in a tough division doesn't make sense to me. The Arizona Cardinals were playing pretty well at the end of the 2013 season but didn't qualify. Too bad. They should have played better in September and October. Making the postseason is a reward for the teams that have played the best throughout the season. It should be hard.
Ganguli: The more teams with something at stake late in the season, the better. But you don't want to dilute the accomplishment of making it to the playoffs. Further, the margin for error is so small in the playoffs, the chances for upsets in the early rounds are high. I'd hate to see football's regular season diluted that much. Two more teams might be fine, but any more than that and then you get to the point where half the teams make it. The playoffs are, and should be, a reward for all the work that came in the months prior.
Legwold: This looks suspiciously like a trade-off. Goodell dislikes the look of preseason football and has floated the idea of an 18-game regular-season schedule for some time. But there has been little support for the idea of an 18-game schedule among the players. So, in terms of television revenue, which would have increased with an 18-game regular season, the next best thing is two more teams in the playoff field. The format would award just one team in each conference a first-round bye. But it's unnecessary and waters down the postseason field enough that 43.8 percent of the league's teams would make the playoffs.
Wells: Leave it alone. That's the easiest way to put it. Expanding the playoffs sets the stage for possibly having teams with a losing record making the postseason. It was embarrassing when the Seattle Seahawks made the playoffs with a 7-9 record in 2010. You'll have some teams with strong records -- New England (11-5) in 2008 and Arizona (10-6) last season -- miss the playoffs, but that doesn't happen as often as we would see teams with a losing record make it if the format were to change. Every game is important with the current playoff format; there's very little wiggle room for mistakes. Only one team in each conference would get a bye in the first weekend of the expanded playoffs compared to two in the current format. That's not being rewarded.
@Jeff_Legwold Yes, even the Cowboys need to get into the NFL tourney someday. #HTTR

- Tony Wilbert (@twilbert) March 26, 2014
---

How should the league deal with racist, discriminatory and profane language on the field?
DiRocco: For better or worse, profanity has been, and always will be, a part of football. Trying to police that would put an additional burden on the shoulders of an already overloaded group of officials. Racist or discriminatory comments, however, are more serious. Those should not be tolerated. However, most of the Jaguars players I spoke with about this topic last season said they rarely encounter that on the field. But again, how do you enforce that? Is saying the N-word worse than using a gay slur? If one black player calls another the N-word, is that less serious than if a white player does it? Bottom line: Let the players police these themselves during the game. If an official hears something from the sideline or players are screaming at each other after a play has ended, then a fine is warranted.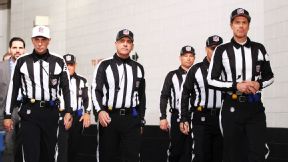 Ganguli: The competition committee made it clear Wednesday that this would be a major focus for 2014. It wants professional athletes to set a better example for younger athletes. I wouldn't necessarily include racist, discriminatory and profane language all in one category. The nature of profanity in the English language, and what exactly is considered profanity, changes constantly. Whose standard are you using? Racism and other forms of discriminatory language should be regulated with a penalty for unsportsmanlike conduct. This isn't about regulating thoughts. It's about making it absolutely clear that the NFL does not tolerate expressions of hate.
Legwold: As those on the league's competition committee pointed out last week, the rule to enforce a ban on the N-word or other discriminatory language is already on the books. And officials will be told before the season to throw the flags if they hear those words used during games. The decision has been made and officials will be "empowered" to throw the flags, as St. Louis Rams head coach Jeff Fisher, a co-chairman of the league's competition committee, has said. It has caused some to wonder why the league hasn't been nearly as aggressive with "Redskins," but it's clear the league's decision-makers want to address the N-word and other slurs based on sexual orientation and have put it in the hands of the officials to do it.
Wells: Let me get this out of the way: There's no place in the game for racist, discriminatory and profane language. But at the same time, officials already have a difficult enough time throwing flags. How many times have you watched a replay and noticed they made the wrong call or missed a call? And now you expect them to be watching the play while also listening for bad language during the game? That's asking them to do too much. Can you imagine the players informing the officials that an opposing player used inappropriate language?
@taniaganguli @McClain_on_NFL I think they should do yellow cards like soccer.no penalty. Just if you get 2 your out.

- manuel garcia (@heavybread347) March 25, 2014
March, 27, 2014
Mar 27
7:30
AM ET
ORLANDO, Fla. -- Denver's potential as a Super Bowl city might not hinge on how the league's title game went in the open-air MetLife Stadium last month, but rather in the snowstorm that hit the New York-New Jersey area the next day, stranding thousands of travelers who had come to see Super Bowl XLVIII.
At the league meeting this week NFL commissioner Roger Goodell and the gathered franchise owners did not discuss the prospect of future Super Bowls in cold-weather cities with open-air stadiums. So, any read on whether or not the league believes Denver is viable as a potential bidder for a Super Bowl in 2018, 2019 or 2020 will have to wait.
The
Seattle Seahawks
defeated the
Denver Broncos
, 43-8, in Super Bowl XLVIII in the league's first Super Bowl played in an open-air stadium in a cold-weather city. The temperature was 49 degrees at kickoff, but the following day a snowstorm affected hundreds of flights and forced scores of travelers to make alternate plans to try to get home.
[+] Enlarge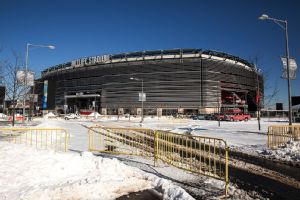 Andrew Burton/Getty ImagesMetLife Stadium in East Rutherford, N.J., on Jan. 22, 11 days before it was the site of Superbowl XLVIII.
Goodell said Wednesday the owners did not consider the pros and cons of awarding another open-air Super Bowl in a cold-weather city, but did review how things went in the New York-New Jersey area in February.
"We discussed the New York Super Bowl really in the context of what we achieved," Goodell said. "The successes that occurred, things that we can do better ... but the overall reaction was very positive."
Broncos president Joe Ellis said he believes, after speaking informally to team owners and other high-ranking executives around the league, the decision has not been made as to whether the NFL will have a repeat performance in a northern city with an open-air stadium, but that there are some hurdles that would have to be cleared.
"And it comes down to how appealing it is the league, the public, the ownership and how the fans really feel about it," Ellis said. "That game could have been played in conditions that were far worse this time, like the next day.
"And I think everybody needs to ask the question 'do you want to put the most important game of the season on in conditions people saw in New York the day after the Super Bowl?' Is that fair to fans? To players? To coaches? To the league? To the teams? Here you are showcasing the No. 1 event in the world and you're doing it in conditions that prevent you from doing it in the best way possible. I think that's something that needs to be considered, needs to be discussed before they go forward."
Ellis said beyond the weather issues, the contingency plans that came with Super Bowl XLVIII, which included playing the game on either Saturday or Monday, were expensive and difficult to schedule. That list included items like scheduling security and emergency personnel as well as the potential use of public transportation on a weekday if the game had been moved to Monday.
"There were a lot of risks taken there, and a bunch of contingency planning had to be in place that actually may have been somewhat costly and somewhat cumbersome up front before you even had to execute them," Ellis said. "It will be interesting to see how they feel about going through those exercises again."
All of that said, Broncos owner Pat Bowlen's desire to have a Super Bowl in Denver is well-known throughout the league, and if the league does open the bidding to cities like Denver with open-air stadium again, Bowlen would want to be in the mix. Cities like Boston, Chicago, Philadelphia and Seattle would likely want to make a bid as well.
"We could do it," Ellis said. "I know Denver could do it, and for all we know it would be 60 and sunny, or it could be different, but nevertheless there's no question in my mind that if the league chooses to go forward and do another game with these considerations in mind, cold-weather site and outdoor stadium, that we could do it as well as any city in the country. It's just a matter of whether or not that will be a consideration, something ownership wants to do again."
March, 26, 2014
Mar 26
4:45
PM ET
ORLANDO, Fla. --
Denver Broncos
owner Pat Bowlen was not at the league meetings this week, but by all accounts he'
s happy with the people who represented his team at the annual spring gathering and the direction they have taken the team over the last three years.
The Broncos just completed their third season with
John Elway
as the chief decision-maker on the football side with Joe Ellis as team president. A painful, somewhat embarrassing Super Bowl blowout last month aside, the results have been three consecutive AFC West titles, a favorable enough salary cap situation that allowed them to aggressively work free agency, and fan interest back where Bowlen always wants it to be.
All things, as the Broncos decision-makers adjourned from the meetings this week, have made Bowlen a happy team owner.
"He feels, we feel, the franchise is headed in the right direction," Ellis said as the meetings drew to a close. "Certainly hiring John Elway established the foundation, beginning of a trust that needed to be re-established with our fans, that was No. 1. No. 2, bringing John Fox on helped shift the culture both outside the building and inside the building. Those two hires have kind of re-established trust and re-ignited interest in the team."
Ellis said Bowlen likes the disciplined approach Elway has taken in terms of which players have gottten the long-term contracts that carry heavy salary-cap risks. In the four high-profile deals the Broncos signed with free agents this month --
Aqib Talib
,
DeMarcus Ware
,
T.J. Ward
and
Emmanuel Sanders
-- Ware's contract is the only one that carries a significant risk toward the salary cap beyond the 2014 season if Ware doesn't play how the Broncos expect him to.
Ware is also the only one of the four who is more than 28 years old. The Broncos have taken similar approaches in the previous two forays into free agency when, beyond the deal for quarterback
Peyton Manning
in 2012, the longer -- three years or more -- bonus-heavy deals have largely gone to younger players.
"John has done a very good job of bringing in players to help us win and he's done it with the short term in mind and the long term in mind," Ellis said. "He doesn't waver from that, sticks to his plan with discipline. I know Pat feels this way and so do I, we have the right team in place in football to have short- and long-term success. We've established a program that should allow -- they'll be blips in the road -- but should allow for sustained success."
Ellis added that both he and Bowlen believe the Broncos' approach has to be draft first and supplement with free agency if the team is to succeed both with Manning behind center and in the post-Manning era.
"People say we're all-in because of the players we signed, I don't see that way and John is very open and very honest in how he goes about shaping the roster," Ellis said. "He doesn't talk about this year, he talks about this year and beyond … . He and
Mike Sullivan
structure deals that make sure we're talking about this year and beyond."
"The clubs that have success, that have good performance over time, are the ones that stick to a discipline when it comes to picking players and paying players," Ellis added. "And at times in the past we may have gotten off track by signing players who were fix-it-now type players with fix-it-now type contracts and not showing any regard for financial discipline. Listen we need to spend to the cap to be competitive, we believe that, but you can't spend recklessly. Some say you're doing this through free agency, but I don't think John, and I don't want to speak for John, but the draft is equally important, if not more, to the organization."
March, 26, 2014
Mar 26
7:00
AM ET
ORLANDO, Fla. -- When
Denver Broncos
' depth chart comes together for the 2014 season, some of their homegrown players will need to germinate into homegrown starters.
The model this past season was linebacker
Danny Trevathan
. A sixth-round pick in the 2012 draft, Trevathan was the defense's most consistently impactful player last season, a 129-tackle guy that some personnel executives believe could have a chance to make a Pro Bowl someday if he takes the next step.

And even after the rather substantial checks the Broncos wrote in free agency, even with the draft just around the corner, three names in particular kept coming up this week at the NFL meetings when the Broncos' roster builders talked about what's to come.
Montee Ball
.
Kayvon Webster
.
Sylvester Williams
.
A running back, a cornerback and a defensive tackle. All Broncos draft picks last April, and all guys if the Broncos offseason plan is to work to its fullest, who have to make the jump from potential to production.
"That's the plan, that's the hope," said Broncos head coach John Fox. " ... They're young players and it's time to take the leap of faith."
"We have some young guys who will have the opportunity to play a lot of football for us," said executive vice president of football operations/general manager John Elway.
Ball
Elway said this week he would consider bringing back
Knowshon Moreno
at running back if Moreno remains unsigned in the coming weeks and if Moreno would accept what his "role" would be. The plan for that role is as a backup, because the Broncos believe Ball's 4.7 yards per carry last season mean he's ready to be the starter.
"It's a young man's game and every year you take leaps of faith with young players," Fox said. " ... He grew up as a player as far as being dependable, being accountable assignment-wise, all the things young players struggle with or have the opportunity to. We'll see what this year brings."
Fox added, "He's a tremendous young player. He improved a lot -- we needed him to a year ago. I thought he turned into a pro. He understands how to prepare. Sometimes that may take a while. It didn't take him as long. We're looking for him to make good leaps."
Webster
You may remember Webster as the guy with the target on his jersey with
San Diego Chargers
quarterback
Philip Rivers
throwing at him play after play last December. But Webster played much of that game with a fractured thumb that needed surgery to repair.
Overall, his body of work as a rookie was solid. He played with confidence, bounced back from mistakes and was willing to press receivers up close while many cornerbacks his age are uncomfortable with that task. Former Broncos cornerback
Champ Bailey
, a 12-time Pro Bowl selection, said those traits make Wesbter a starter in waiting if the kid can hold up his end of the bargain.
"He was really playing well for a young player until he broke his thumb," Fox said. "He showed good development, he earned all those reps and I've seen great growth. We kind of missed him a little bit toward the end when the thumb went bad."
Williams
And Williams struggled some on the learning curve early last season when he was a game day inactive three times in the first nine games of the season and played 19 or fewer snaps in the other six games during that stretch. But necessity dictated more playing time for Williams last season when
Kevin Vickerson
suffered a season-ending hip injury Nov. 24 against the
New England Patriots
.
He played 36 snaps on defense against the Patriots in the wake of Vickerson's injury and played as a starter down the stretch and into the postseason, topping 40 snaps in two of the final three games of the regular season.
"He grew tremendously, he earned that," Fox said. " ... I thought he had a very good rookie year ... and his track record has shown he's going to be a good player."
So, there it is, three examples why the draft will continue to be the most important roster-building exercise the Broncos do each and every year no matter how much confetti folks toss at their free-agency performance. In the end, they simply would not have been in position to spend what they did in free agency without the salary cap room created by the younger draft picks that populated most of the roster.
And their ability to move from one season to the next, with success in mind rather than trying to figure out how to escape salary cap woes, with or without
Peyton Manning
at quarterback down the road, will depend on them being right more than they are wrong on their draft picks.
On players like Ball, Webster and Williams.
March, 25, 2014
Mar 25
2:40
PM ET
ORLANDO, Fla. -- A lot has happened over the past year in the NFL to force a league that has always considered a locker room to be its own universe, subject to its many of its own laws and social morays, written or unwritten, to look at things differently.
But two significant events over the past few months have pushed those who spend their days in a locker room, or pick the players who do, to look at it as a workplace that just happens to have lockers. That it is not some vocational island away from the world, but a part of it.
[+] Enlarge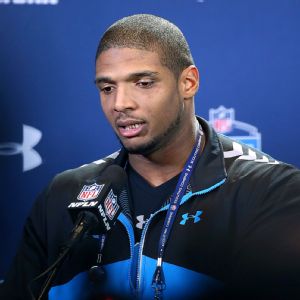 AP Photo/Ben LiebenbergWith players like Michael Sam announcing they are gay, the NFL brought in openly gay former player Wade Davis to speak about changing the locker room culture.
The Miami Dolphins' bullying scandal and Ted Wells' scathing 144-page report put the behavior of some of the league's employees under a rather large microscope. And then Michael Sam, the Southeastern Conference's co-Defensive Player of the Year and NFL draft hopeful, announced he is gay.
And at the NFL's first full gathering of franchise owners, executives, general managers and coaches since Sam's announcement, the NFL asked Wade Davis, a former NFL defensive back who is gay, to speak to all of those football decision-makers.
Davis spoke to head coaches Monday and spoke to team owners and other high-ranking team and league officials on Tuesday.
"And I thought it was the most incredible presentation I've ever seen since I've been (in the NFL) and I've been here for a long time,''
Denver Broncos
coach John Fox said. "I think it's obvious it's become a bigger part of our NFL. Like everything, we've got to learn how to motivate and deal with your locker room. It is a brotherhood, it is a family, you need diversification in everything.''
"It's got to be in the conversation,'' Fox continued. "I thought it was pretty profound, it was definitely eye-opening for me … I've probably not done as good a job with that up until now, but after Wade's presentation, it's high on my list the first time I talk to my staff when we get back and my football team.''
Davis, who is currently the executive director of the You Can Play Foundation, spoke for 45 minutes in during each presentation. Officially the talk was about "workplace conduct,'' but what Davis told those in the finely-appointed seats in front of him was they should be, need to be, ready to deal with and support, gay players in their locker rooms because those players are already there.
Davis told the groups they likely have more than one gay player on their team, that he knows because he talks to them. He spoke of the "double consciousness'' gay athletes who haven't come out publicly are forced to live, to be one person at home and another at work. How it hinders their ability to be what they can be as football players for themselves and for their teams.
"It was very well presented, very well received,'' Broncos president Joe Ellis said. "It comes down to treating all people the way you would want to be treated and respect, integrity, being truthful, being honest, simple core values, we just to remind ourselves, remind our employees, remind our coaches, remind our players, and remind our executives that we need to uphold those beliefs and those standards every day.''
Davis spoke as a former football player to football people. He relayed, as his opener, how current
St. Louis Rams
coach Jeff Fisher cut Davis twice as
Tennessee Titans
coach. Davis, who was a defensive back trying to make his way in two training camps, set the room at ease by sharing his football experiences.
"That was great,'' Fisher said. "He had everybody right there.''
Davis also told those who evaluate players and build rosters it wasn't enough to simply talk about diversity in the workplace. He said the NFL, like any employer, had to walk the walk and live up to the words, that it had to go beyond what was said and heard this week.
Davis said the NFL has to be willing to be honest and forthcoming in how it deals with gay players in the locker room. And in one of the most important items on the list, Davis told the head coaches, they had to build trust.
He said a gay player must feel like he can go to the head coach with issues, problems or simply to talk in an honest, open way. That not always something that is easy for players and coaches to do, but something that has to be done.
"It was something I needed to hear,'' Fox said. "Just eye-opening.''
"It's a competitive business, it's a very emotional business, so it's very easy to stray from those core values while searching success,'' Ellis said.
"You just have to remind yourself that you can't. In reality this shouldn't be an issue, these players are a diverse group, they are family,'' Ellis said. "They want to just come in and be part of the family, they don't want to be known as the first gay player in the National Football League or the Denver Broncos, they just want to be part of the Denver Broncos. It just shouldn't be a big deal, they want to fit in, they want to be accepted and they should be.''
March, 25, 2014
Mar 25
11:25
AM ET
ORLANDO, Fla. -- The
Denver Broncos
have some rather large items on their to-do list that will depend on how they answer one significant question about the offensive line.

Fox
They want to protect quarterback
Peyton Manning
, because, well, protecting Manning is the foundation of what needs to be done every time they snap the ball.
And the Broncos have said, from John Elway to head coach John Fox to offensive coordinator Adam Gase, they want to run the ball better -- "more efficiently," as Fox put it -- because they believe it would help them be a little better than they were last season. As in one win better than losing in the season's last game.
At least that's the goal.
But when left guard
Zane Beadles
left in free agency because he got far more from the
Jacksonville Jaguars
(five years, $30 million) than the Broncos would have put on the table, it left Denver with a decision to make on the offensive line. A decision, Fox said Tuesday at the NFL owners meetings, that won't be made without plenty of trial and error along the way.
"We're trying to get our best five on the field and there will be a lot of different formulas for that," Fox said. "Until we suit them up again and start practicing and evaluated them, they'll define it. And there will be a bunch of combinations ... we'll work a million combinations."
Fox said all the options will be considered, all of the rotations tried as the Broncos go through their offseason work in the coming weeks and months.
But as the Broncos monitor the offensive linemen in free agency and with the draft still on the docket, the two most likely moves they could make are:
Move right tackle Orlando Franklin to left guard and with Ryan Clady's return to left tackle, use that opportunity to move Chris Clark to right tackle. On Franklin, Fox said: "He was prepared to play guard last year." If the Broncos don't grab a plug-and-play interior lineman in the draft or add a potential starter in the second wave of free agency, this remains the most likely, and effective option, given how well Franklin played as a guard at the University of Miami.
Or the Broncos could sign a center or select one in the May draft, but either of those options represents a tall order for the incoming player into an offense that does plenty of work at the line of scrimmage with Manning using the freedom to change plays. But if they added a center, Fox said they could move Manny Ramirez to guard, where he played for the Broncos in the 2012 season.
"But we'll see," Fox said. "We're going to try a lot of things and guys are going to work at multiple spots. We want to be ready to do what we need to do, like I've said you only take seven guys into a game for five spots, if something happens there is about three different re-coils for that."
March, 25, 2014
Mar 25
7:00
AM ET
ORLANDO, Fla. -- The
Denver Broncos
aren't in a rush to sign any more checks in free agency.
But they do have their eyes, and minds, open when it comes to players still on the market. John Elway, the team's executive vice president of football operations and general manager, wouldn't rule out the return of some of the team's free agents. In particular, he said he would be willing to consider running back
Knowshon Moreno
and defensive end
Shaun Phillips
.
Both veterans are unsigned and would have to accept their roles with the Broncos if they came back.
[+] Enlarge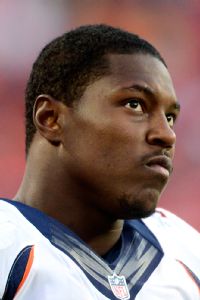 Aaron Ontiveroz/Getty ImagesWould Knowshon Moreno be willing to return to Denver in a reserve role?
"I'm still open to that," Elway said at the NFL owners meetings. "You look at the impact from a lot of different ways as in what role they would have on our team, but it is something I would consider in both those cases."
Moreno, who led the Broncos last season with 1,038 yards rushing to go with 13 total touchdowns and 60 receptions, would have the most significant adjustment in any potential return. He just finished his fifth season with the Broncos and was the team's No. 1 back.
But the Broncos have moved
Montee Ball
to the top of the depth chart as they work to improve their run game. If Moreno returns, it would be with the understanding, barring an injury, that it would be in a reserve role.
"With a guy like Knowshon, who was the starter and would have to come back in a different role, we would look at how he would handle that," Elway said.
On the other hand, the Broncos signed Phillips as a rotational option in their pass rush. He received a one-year deal during the weekend of last April's draft with the idea that he could give them some pop on pass-rush downs.
But then Phillips was forced to play far more than originally intended because of injuries and suspensions up front.
Von Miller
was suspended six games to open the season before suffering a season-ending ACL injury in December. And
Derek Wolfe
had an illness that put him on injured reserve.
Phillips played 770 snaps on defense in the regular season, or 68 percent of the team's plays. If Phillips is still on the market later in the offseason, Elway said he would want to know whether Phillips would return to the Broncos in a situational role.
"Shaun was really signed as a rotational-type guy last year, and we'd be looking to see if he would play that same role," Elway said. "The thought process with Shaun is we'll see how things go, but I'd like to have him back. But it's a matter of who's out there and what opportunities he has, too."
The Broncos have added
DeMarcus Ware
at defensive end in free agency and have 2013 draft pick
Quanterus Smith
coming off injured reserve. The Broncos will look at this year's draft class for edge rushers, too.
The Broncos have about $5.9 million in salary-cap space remaining after signing Ware,
Aqib Talib
,
T.J. Ward
,
Emmanuel Sanders
and
Andre Caldwell
. They need to leave some room for players who eventually end up on injured reserve as well as the draft class and any potential moves they want to make during the season.
"We're still in good shape with the cap, we just know it's too early," Elway said. "There's going to be bumps in the road as we go ahead, and I just want to be able to be prepared for any type of thing that would come up . ... We've got a cushion right now, and it's early to eat that cushion up."
March, 24, 2014
Mar 24
1:55
PM ET
ORLANDO, Fla. -- The
Denver Broncos
were one of the league's busiest teams when free agency opened earlier this month, with four of the high-profile signings.
So much so, that getting defensive end
DeMarcus Ware
, cornerback
Aqib Talib
, safety
T.J. Ward
and wide receiver
Emmanuel Sanders
signed, sealed and delivered kept John Elway away from some of his other appointed rounds.
And one of the biggest items that remains on the team's offseason to-do list is next in line -- talks for a contract extension for coach John Fox.
"We just haven't had the time to really get to that,'' said Elway, Broncos GM and executive VP of football operations, Monday at the NFL meetings. "That's the next thing on the agenda.''
Fox is set to enter the last year on his deal in the 2014 season. He signed a four-year deal worth an average of approximately $3 million a year when the Broncos hired him in 2011. Fox would have received a $1 million bonus had the Broncos won Super Bowl XLVIII last month, but Denver was bullied, 43-8, by the
Seattle Seahawks
.
Elway and Fox's agent, Bob LaMonte, had some preliminary talks at the NFL scouting combine last month. But the Broncos' leap into free agency kept Elway and Mike Sullivan, who handles the Broncos contracts, busy.
And as with most negotiations the two sides will try to find some common ground on the financial side. From their perspective the Broncos certainly like the three consecutive AFC West titles and Fox's 34-14 records in regular-season games in Denver. Fox also brought some stability to the coaching side after a tumultuous two-year run of Josh McDaniels
that included a videotaping scandal
.
However, the Broncos have let quality championship opportunities slip through their fingers with a double-overtime loss to the
Baltimore Ravens
to close out the 2012 season to go with last month's title-game rout.
Elway said he doesn't expect any major hurdles in the negotiations in the coming weeks.
"I wouldn't see any potential problems, bumps or anything like that,'' Elway said. "Both sides want to get something done. In the end it always comes down to the thing it always comes down to, but we'll get to work on that pretty soon.''
Elway recently signed his own contract extension that takes him through the 2017 season and team president Joe Ellis said Elway had demonstrated "great vision and leadership'' on the job.
March, 24, 2014
Mar 24
7:00
AM ET
ORLANDO, Fla. -- When
Denver Broncos
owner Pat Bowlen formally announced he had promoted Joe Ellis to team president and hired John Elway as the team's chief football decision-maker in early 2012, most with the team said it was a sign Bowlen intended to step out of the public eye.
And though Bowlen still works from his office at the team's complex when he is in Denver, he has a far lower profile than he once did in three decades worth, and counting, of ownership. When the team's officials arrived in Florida on Sunday for the league meetings, Bowlen was not with them.
Bowlen has been a fixture at the annual meetings, especially in his time on the broadcast committee when some of the most lucrative televisions contracts in league history were negotiated, so his absence was noted as team executives from across the league gathered in Florida. Ellis will represent Bowlen at the meetings and in any votes, including the "owner plus one" sessions that included the team owner and one other high-ranking team official. Elway will attend most of the sessions as well.
Bowlen has been in Hawaii in recent weeks. Elway joked after the Broncos' aggressive work in free agency, he may have some explaining to do when the owner returned to Denver.
"But the environment Pat Bowlen creates, his approach and belief that he wants to compete for the world championship every year, that's a big reason people want to play for the Denver Broncos," Elway said. "We all have a very clear expectation here that he wants to win, to do it the right way."
Since Bowlen largely turned over the business side of the franchise to Ellis and the football side to Elway, the Broncos have gone 34-14 with three consecutive AFC West titles to go with this past February's Super Bowl appearance, even as they kept their financial house in order against the salary cap.
Elway recently signed a contract extension that takes him through the 2017 season and Ellis said Elway had demonstrated "great vision and leadership" on the job. With a favorable salary cap position and enough cash flow to get the job done, the Broncos were one of the most aggressive teams in the hours after free agency opened.
The team signed defensive end
DeMarcus Ware
, cornerback
Aqib Talib
, safety
T.J. Ward
and wide receiver
Emmanuel Sanders
. The Broncos also signed defensive coordinator Jack Del Rio to an extension.
Coach John Fox has formally entered the last year of his contract with the start of the new league year and the Broncos have discussed an extension with Fox's agent Bob LaMonte in recent weeks, including a face-to-face meeting at the league's scouting combine in February in Indianapolis. Elway has repeatedly said he expected to get a deal done.
Elway has said of Fox: "He's done a nice job, I think you look at three AFC West championships, there's a lot to that, but there's also a lot to the expectations of we've got to continue what we're doing."
Offensive coordinator Adam Gase, who drew interest from the
Minnesota Vikings
and
Cleveland Browns
for their head coaching positions, is also in the final year of his deal in the 2014 season.