Denver Broncos:

Andre Johnson
March, 2, 2015
Mar 2
1:20
PM ET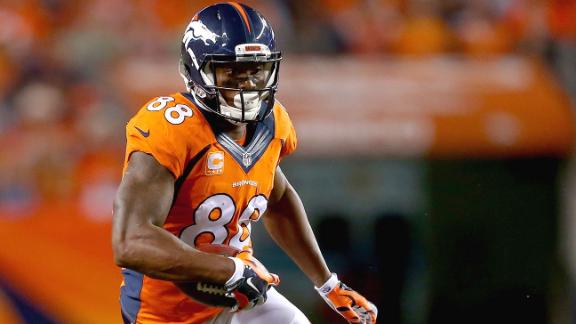 ENGLEWOOD, Colo. -- Whenever a name from the
Denver Broncos
' hefty list of prospective free agents has been tossed toward John Elway, the team's executive vice president of football operations/general manager has almost always answered the same way.
Something on the order of, "Sure, we want (insert free agent's name here) back," but then Elway added -- every time -- something about how the open market would set the price tag for the player.
He would then add something about how difficult it is to sign a player before the market value for the player has been established, and how difficult it is for a player to sign before he knows how much he can get. In short, he has characterized it as: How much you want? I don't know, how much you got? I don't know.
He has said that about every prospective Broncos' free agent except one -- wide receiver
Demaryius Thomas
.
Thomas isn't going anywhere, and the franchise player tag is proof. The Broncos know what they have in Thomas, they know what he means in their offense, and they want him to stay.
Now, they have to close the deal. The franchise player tag essentially keeps Thomas on the roster.
It's a one-year deal for $12.797 million guaranteed the moment Thomas signs it. And there is the rub.
A player, especially an elite player like Thomas, would always prefer a long-term deal with guaranteed money.
A franchise player tender is a hefty bag of change, but it's not a long-term deal. And long-term deals for a player like Thomas look like the seven-year, $113 million deal
Calvin Johnson
signed in 2012 that includes $48.8 million in guaranteed money.
Or the seven-year, $67.8 million deal that
Andre Johnson
signed in 2010, or
Mike Wallace
's five-year, $60 million deal ($30 million guaranteed) signed in 2013.
Elway has said he could easily see a scenario where the Broncos used the franchise player tag, then the sides agree to a long-term deal after free agency opens.
After free agency opens the market will dictate what the likes of
Randall Cobb
.
Jeremy Maclin
and
Michael Crabtree
receive, and those would only be handy reference points for where the Broncos will have to go on Thomas.
For Thomas, the team has tinkered with a five-year deal. So, start at the $12.787 million of the tag (UPDATE: the actual amount based on the confirmed 2015 salary cap is $12.823 million) -- the Broncos have already shown they believe Thomas is worth that -- and multiply by the years on any prospective deal, and bump it a bit.
So, the Broncos are likely looking at a deal averaging more per year than the recent deals for elite wide receivers, save for Calvin Johnson's $16 million per-year average.
Despite the temporary relief the Broncos get from the franchise player tag, at least in terms of keeping Thomas off the open market, it's still eats a little less than half their current available salary-cap space, and it's still best for all involved to get a long-term deal done.
They have spent the past few weeks outlining to quarterback
Peyton Manning
how a new offense, with a new playbook and at least some new terminology, would be of benefit to him. And they have also likely outlined what they could do if they were to get some salary-cap relief by tweaking his contract.
Thomas is Manning's No. 1 receiver, and as a quarterback who has long extolled the virtues of repetition in developing the on-field chemistry, Manning wants to throw to that No. 1 receiver -- a lot.
Thomas doesn't have to sign the franchise tender any time soon, until Week 10 of the regular season in the most extreme of cases. The Broncos have until July 15, roughly two weeks before training camp opens, to sign Thomas to a long-term deal. If that deadline passes, they'd have to wait until they've played their last regular-season game in '15 to try again.
Most players who receive the franchise tag don't sign the tender early because they want time to work on a long-term deal. And those players usually, at minimum, take a pass on the team's offseason work if no new deal is done.
That's not something Manning would be excited about; that's not something a team trying to put in a new offense should be excited about; and it's not something that would help anyone on any side of the equation. The Broncos have had success in this position before, having used the franchise tag on tackle
Ryan Clady
and kicker
Matt Prater
in previous years before signing each to long-term deals before the start of training camp.
So, it means when free agency opens, the Broncos will really need to get down to the business of signing the guy they've already shown is their top priority.
January, 19, 2015
Jan 19
5:10
PM ET
ENGLEWOOD, Colo. -- There is a familiarity in what Gary Kubiak will bring the
Denver Broncos
, it is one of the reasons he was hired by the team's executive vice president of football operations/general manager John Elway.
But it's still worth a look at Kubiak's time as an offensive coordinator and his eight seasons as
Houston Texans
head coach to see what is on the horizon.
Each of the Broncos' running backs are going to want to be the guy. From 1995, (Kubiak's first season in Denver as the offensive coordinator on Mike Shanahan's staff) to this past season as offensive coordinator with the
Baltimore Ravens
, his running backs have hit at least 1,500 yards rushing in the offense seven times, three of those seasons by Terrell Davis.
[+] Enlarge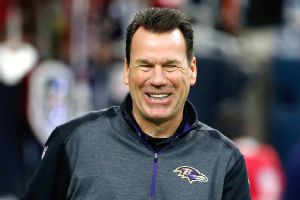 Scott Halleran/Getty ImagesGary Kubiak's offense has produced big numbers at every stop in his career, and Denver has some offensive players who fit his style.
Clinton Portis (twice), Mike Anderson and
Arian Foster
also reached that benchmark.
For the current group of Broncos backs, including C.J. Anderson,
Montee Ball
, and
Ronnie Hillman
, this is good news. The other news for them, however, is to be a one-cut runner.
No dawdling, pick-and-choose, maybe-this-maybe-that movements. Get the ball, get up the field. As former Broncos running backs coach Bobby Turner often said on the practice "unless it says Barry Sanders on the back of your jersey, get your foot in the ground and get up the field."
From a football perspective, Anderson fits the mold the best, and Hillman has shown moments of decisiveness and speed to the hole. Ball has shown glimpses of that, too. But as the Broncos' ability to win the line of scrimmage waned early on this past season, Ball was at times trying to make too much of every run, and often looked hesitant as he approached the line of scrimmage.
But the Broncos backs, a look at the game video reveals, also suffered first-contact behind the line of scrimmage on roughly 32 percent of the team's carries this season. So, the first order of business will be to smooth things out up front. But the run game is on the front burner.
Also, a big, strong, physical receiver with deep speed (like say,
Demaryius Thomas
) will live the play-action, deep-ball life. Twenty-one times in offenses where Kubiak was the coordinator or the team's head coach, a player topped 1,000 yards receiving. Rod Smith topped 1,600 yards in 2000, and
Andre Johnson
topped 1,500 yards in 2008, 2009 and 2012. Johnson also had 1,407 yards in 2013, the year Kubiak was fired 13 games into the season and the Texans were 2-11.
Look for
Cody Latimer
, a second-round pick last May, to have far bigger impact in the offense with Thomas and
Emmanuel Sanders
.
Quarterbacks have topped 4,000 yards passing four times in the offense, including three by
Matt Schaub
in the years leading up to his 2013 struggles. Jake Plummer's 4,089 yards passing was the Broncos' first 4,000-yard passing season in franchise history, and his career best.
And this past season in Kubiak's only season as Ravens offensive coordinator, quarterback
Joe Flacco
had career highs in passing yards (3,986) and touchdowns (27), and
Justin Forsett
rushed for 1,266 yards.
So the numbers have consistently been there in the offense, touchdowns have consistently been manufactured, and the rushing yards have been carved out against a variety of defensive fronts and approaches.
The question will be defense. In Kubiak's time as Texans head coach the team fielded a top-10 scoring defense just twice -- 2011 and 2012 -- with Wade Phillips as defensive coordinator and a defensive end named J.J. Watt's arrival. It's no accident those two seasons also marked Kubiak's best finishes as a head coach to this point -- 10-6 in '11 and 12-4 in '12, both AFC South titles.
December, 20, 2013
12/20/13
7:00
AM ET
ENGLEWOOD, Colo. -- When you're in your 15th NFL season and have been named to 12 Pro Bowls as a guy covering the league's best wide receivers, people will often ask you to rank players, to add some perspective to what has happened along the way.
And whenever
Denver Broncos
cornerback
Champ Bailey
has been asked to rank receivers in the league it doesn't ever take long for
Andre Johnson
's name to find a way into the conversation.
Bailey
Johnson
So while it's been strange year for both -- Johnson has 99 catches and 1,295 yards for a team that's won just two games while Bailey has played in just three games because of a left foot injury -- the two will likely find themselves matched up against each other once again Sunday.
Asked about the prospect of facing Johnson this weekend, Bailey said:
"Bring you're A-Game, first of all. He's still one of the best in the game. People don't talk about him as much because they're not winning right now. But he's one of the best, hands down. He shows up on the tape every week."
Bailey has played just one full game this season -- the Broncos Nov. 24 win over Jacksonville -- and played just 30 snaps in the team's Dec. 1 game in Kansas City before, after talking to defensive backs coach Cory Undlin, Bailey pulled himself out of the game. The Broncos dialed Bailey back some since, naming him a game day inactive in each of the last two games and limiting his participation in several practices.
But Bailey has practiced fully throughout this week, pronounced himself "ready to go'' and that likely means plenty of work when the Broncos go into the nickel and dime packages.
Chris Harris
Jr. and
Dominique Rodgers-Cromartie
are expected to play as the two cornerbacks in the base defense. And in that scenario if the Broncos wanted to match a player on Johnson it would likely be Rodgers-Cromartie on Johnson because of Rodgers-Cromartie's speed and reach.
But when the Texans go to their three-wide receiver set and the Broncos answer with more defensive backs, Bailey would be in the mix. And since the Texans move Johnson all over the formation -- he has played in an outside position as well as in the slot on both sides of the formation at different points this season -- there will be times when the two veterans are once again squared off against each other.
Bailey would likely work out of the slot at times and those matchups could take place on the inside. Though Harris has routinely been the player the Broncos play in the slot in recent seasons, Bailey has played there many times in his career, especially when the Broncos have matched him on a receiver no matter where the receiver lined up or when Bailey was asked to cover a tight end like
Antonio Gates
or
Tony Gonzalez
.
With
Matt Schaub
back in the lineup as the Texans quarterback, Johnson is expected to be busy Sunday. He has, by far, been the Texans' most targeted receiver, with 159 passes having been thrown his way in 14 games.
In Schaub's six starts earlier this season Johnson had games where he was targeted 16, 13, 12 and 10 times in those six games. Johnson had 110 yards receiving against the Seahawks' physical secondary in September and had 121 yards receiving against the Patriots earlier this month.