Denver Broncos:

Andy Reid
November, 28, 2013
11/28/13
7:00
AM ET
ENGLEWOOD, Colo. – It isn't really much of a question or mystery, not with Sunday being the second time in three weeks the
Denver Broncos
and
Kansas City Chiefs
will face each other. Not even Chiefs running back
Jamaal Charles
sees reason to believe otherwise.
"[The] key is to stop me … if you stop me, you can stop the whole team,'' Charles said.
Charles
Charles has gained 37.4 percent of the Chiefs' yards on offense in their first 11 games – 918 yards rushing and 425 yards receiving – and his 253 touches represent 34.8 percent the plays the Chiefs have run. But that's just the way first-year Chiefs coach Andy Reid wanted it. When Reid looked over the Chiefs' personnel both before and after he accepted the job, it was clear to him that Charles was just the kind of running-and-receiving threat he wanted in the offense.
"I thought he was a heck of a football player that can do a lot of things,'' Reid said. "I looked back at the 2010 season, I believe it was, and Charlie Weis was here and he kind of flexed him out and moved him around a little bit and threw him the ball. You saw him run the ball quite a bit the last couple years, and then from the backfield when Charlie was here he moved him around a bit more and still ran the ball with him. You can see his flexibility there.''
And Reid saw in Charles another in a line of multitasking running backs he's had in his version of the West Coast offense. Reid has played Charles all over the formation, including out wide as a receiver and in the slot, along with everything Charles is asked to do when lined up in the backfield.
"I've been very fortunate to have that,'' Reid said. "When I got to Philadelphia it started with Duce Staley, then [Brian] Westbrook, and [LeSean] McCoy. I've been blessed with versatile running backs.''
The Broncos kept Charles largely under wraps in the first meeting earlier this month, even flashing a 3-4 look on defense at times to do it. Charles finished with 78 yards rushing and minus-6 yards receiving. Those 72 total yards represent Charles' lowest output of the season.
The Broncos will be without defensive tackle
Kevin Vickerson
, who went on injured reserve Wednesday with a right hip injury. Vickerson was a key piece of the Broncos' run defense, and the Chiefs figure to test the middle of the formation to see if the Broncos' are up to the task with either
Mitch Unrein
or rookie
Sylvester Williams
playing in Vickerson's spot.
Vickerson, along with defensive tackle
Terrance Knighton
, kept the blockers off the Broncos linebackers, who are free to then flow to the play.
"It might put a little more on my plate, but that's OK," Knighton said. "We know Charles is the key, you can't ever let him get going."
November, 15, 2013
11/15/13
3:35
PM ET
ENGLEWOOD, Colo. -- The
Washington Redskins
made
Champ Bailey
the seventh pick of the 1999 NFL draft, the same season the
Philadelphia Eagles
named an up-and-coming Packers offensive coordinator, Andy Reid, as the team's head coach.
Fifteen seasons later, Bailey has seen plenty of what Reid's offenses have had to offer with the Eagles, and when the 12-time Pro Bowl selection has looked at what Reid has done for the 9-0
Kansas City Chiefs
this season, Reid's first with the team, Bailey sees one big difference.
Big, as in, oh, about 5-foot-11, 199 pounds.
[+] Enlarge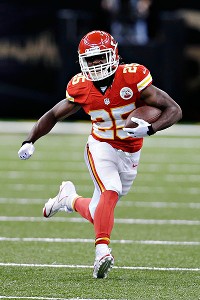 AP Photo/Gerald HerbertThe Broncos know slowing down Jamaal Charles will be the key to beating the Chiefs.
"There are some similarities there, but I think the talent is different, he has different players to deal with," Bailey said. "I think he's doing a lot of similar things that he did in Philly, but I don't think he ever had a running back as good as
Jamaal Charles
."
In many ways Reid must agree. Since looking what he had on the roster, since working through the offseason, pounding through training camp and installing his traditionally hearty playbook, Reid has elected to give Charles the ball early, late, often and anywhere in between.
After nine games, all wins, Charles is the Chiefs' leading rusher with 725 yards and is also the team's leading receiver with 47 catches, or 14 more than wide receiver
Dwayne Bowe
. Charles has accounted for 39 percent of the yardage (1,114) the Chiefs have gained on offense, and had 48 percent of the touches (217).
So it is Charles who is likely Job 1 for the "other" defense in Sunday night's affair. The matchup between the Broncos' offense, which is the league's highest scoring outfit, and the Chiefs' defense, which leads the league in both scoring defense and sacks, has taken up most of the room on the marquee in the days leading up to the game.
But those who work in the Broncos' defense, to the player, believe its time this season is coming, that with
Von Miller
back from his six-game suspension for violating the league's substance abuse policy and
Wesley Woodyard
back in the lineup after missing two games with a neck injury, the past two games are more indicative of the unit's ability than the season's first seven.
"We're getting closer," Woodyard said. "We're not where we want to be yet, but we're getting there. We just have to keep swinging."
The Broncos held Redskins quarterback
Robert Griffin III
and Chargers quarterback
Philip Rivers
to 132 and 218 yards passing, respectively, the past two games. Griffin also rushed for just seven yards against the Broncos.
But Charles presents a different kind of challenge for a defense that has struggled at times with missed tackles, and running backs and tight ends in the pass pattern. Some of the more well-seasoned Broncos will certainly remember Charles' 259-yard rushing day in the 2010 regular-season finale as a painful reminder of what Charles can do in a traditional run-first role.
"He's more dangerous (now) because he gets him the ball in space a lot more and (Reid) is using him a lot," Bailey said. "He's their leading receiver and rusher, so that says a lot right there."
"To me he's one of the top three backs in the league with his speed and his vision for finding holes to rush up through there," Woodyard said. "He's going to be a challenge, but we definitely welcome it. He's one of the guys I look forward to going to twice a year ... They get him the ball whether he's carrying the ball out of the backfield or getting the ball on passing routes, including screens, so he's a big weapon for them."
Reid has lined up Charles all over the formation -- out wide and in the slot, to go with Charles' duties in the backfield. And most defenses have struggled with the variety of linebackers and safeties in coverage in their attempts to keep Charles in check.
And to this point, no player in the league has piled up more first downs than Charles -- 62 in nine games -- 21 of those on receptions.
"He's -- in my eyes -- one of the top two backs in the league," said Broncos defensive tackle
Kevin Vickerson
. "He's explosive, he's a good back. At the same time, we just have to do what we do."
November, 14, 2013
11/14/13
12:35
PM ET
ENGLEWOOD, Colo. -- It didn't take
Demaryius Thomas
very long to see what he thinks is the biggest change in the
Kansas City Chiefs
defense.
As in, it was clear at first glance, from the first digital image that went across the screen for the
Denver Broncos
wide receiver.
[+] Enlarge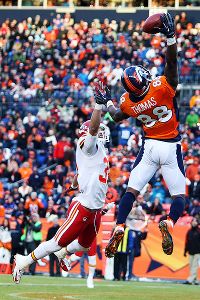 Chris Humphreys/USA TODAY SportsUnlike last season, Demaryius Thomas and the Broncos' receivers will have to contend with bigger, more physical Chiefs defenders.
"They've got a lot more size back there, a lot," Thomas said. "Last year they had two smaller guys outside. Flowers plays in the nickel a lot of the time, but look now and Sean [Smith], he goes about 220 [pounds]. They have some big guys, if you let them get their hands on you, it's a long day."
And for most defenses that have the Broncos receivers in front of them, size matters. Thomas is a 6-foot-3, 229-pound matchup dilemma with elite speed, and the Broncos also line up the 6-3, 215-pound
Eric Decker
along with
Wes Welker
in their three-wide receiver set. Toss in 6-5, 250-pound tight end
Julius Thomas
in the pattern and the Broncos are tough to handle.
Last season, in two games against the Broncos, size mattered. The Chiefs started the 5-9, 197-pound
Javier Arenas
and the 5-9, 187-pound
Brandon Flowers
in the secondary as Kansas City opened both games in the dime -- six defensive backs. The Chiefs held their ground reasonably well in a 17-9 Broncos win last November, but in the regular-season finale the Broncos overwhelmed the Chiefs secondary.
Broncos quarterback
Peyton Manning
finished that game 23-of-29 passing for 334 yards and three touchdowns. Thomas finished with 122 yards receiving and a touchdown and Decker had two touchdown catches.
"I think after that they probably wanted some bigger guys," Thomas said. "And they got them."
That they did. At 6-3, 218, Smith is one of the biggest cornerbacks in the league and the Chiefs secured him with a three-year, $18 million deal after his four seasons in Miami. Smith has started all nine games at right cornerback for the Chiefs thus far and been everything they hoped he would be.
The Chiefs then had some good fortune along the way. They claimed rookie cornerback
Marcus Cooper
(6-2, 192) off waivers just before the start of the regular season in hopes he could provide depth. Cooper, a converted wide receiver who moved to defense after his first season at Rutgers, had been a seventh-round pick by the
San Francisco 49ers
, but they waived him in the final roster cut before the regular season after their own free-agent spending spree in the secondary had limited the spots.
And Cooper has been a revelation, having started three games and consistently been in the lineup when the team goes to the nickel. Cooper is second on the league's leading defense with two interceptions, having repeatedly shown the kind of skills when the ball is in the air a receiver would have with the physical edge needed on defense. With Smith and Cooper in the outside spots and Flowers in the slot in the nickel, the Chiefs are far more able to line up one-on-one on the bigger receivers and it is at least part of the reason the team leads the league in sacks with 37.
So, while Chiefs coach Andy Reid won't say the Broncos were the tipping point in all of this, he will acknowledge it was a position of need as he and general manager John Dorsey re-made a roster that fueled a 2-14 finish last season.
"I would tell you that you're not sitting here building your team to beat the Denver Broncos, that's not what you're doing," Reid said. "There's a fine line there that you're trying to accumulate as many players as you can at all of the positions, so not only can you compete against the Denver Broncos but these other teams in the National Football League that have good players. That's really what you're doing.
"I'm just stating a fact here, if you follow kind of what John [Dorsey] has done through his career in personnel, he has always gone after big corners," Reid continued. "Sean [Smith] is different, he's a huge man, the size of a linebacker really, and there aren't many of those in the league. But he has always had big corners and has gone after that type of a player and that was before Denver was in the vision. When he builds a team, that's what he likes."
It all makes for a quality matchup Sunday night, however. The Chiefs have yet to surrender a 300-yard passing game -- the Cowboys'
Tony Romo
came the closest with 298 on Sept. 15 -- and no opposing wide receiver has caught two scoring passes in the same game against Kansas City this season.
"No question, we have our hands full," Manning said.
There is also the matter of opposing defensive backs having success with some of the rough stuff over the last four games against the Broncos' receivers. Whether it be disrupting the timing of the routes or simply frustrating the Broncos wideouts with all of the contact, some defensive coordinators believe that may be the way to go against the Broncos' high-powered attack.
Thomas was asked if he felt defenses had tried to get more physical in recent weeks.
"That's true," he said. "But I feel like that's every game sometimes, it's just something we've got to deal with, something we've got to work through ... we just can't let it happen. Don't let them put their hands on you. That's on us."
November, 14, 2013
11/14/13
10:00
AM ET
The
Denver Broncos
(8-1) are the highest-scoring team in the league, so much so that not only are they the only team in the league averaging at least 40 points a game -- 41.2 after nine games -- but they are the only team in the league averaging at least 30 points a game.
The
Kansas City Chiefs
(9-0) have the league's best record, remain the NFL's only undefeated team and lead the league in several major defensive categories, including fewest points allowed per game (12.3), sacks (36) and turnover margin (plus-15).
And after the two have feasted on many of the league's downtrodden over the season's first 10 weeks -- they are a combined 17-0 against teams that do not currently have a winning record this season -- they will finally get down to some serious AFC West business Sunday night in Sports Authority Field at Mile High. ESPN.com Chiefs team reporter Adam Teicher and Broncos team reporter Jeff Legwold break down this game.
Legwold:
Adam, let's get right to it: How do you think the Chiefs will come after
Peyton Manning
, who has been battered over the past four games?
Teicher:
I would think Kansas City would test Denver's protection and Manning's ankle right off the bat. The Chiefs still lead the league in sacks, but they've cooled off considerably. They have just one sack in their past two games. On the back end, the Chiefs feel they have the corners who can match up with Denver's big receivers. They signed 6-foot-3
Sean Smith
as a free agent from Miami in the offseason in large part so they could have a cornerback who can look
Demaryius Thomas
and
Eric Decker
in the eye. We all remember how Manning picked apart Kansas City's two 5-9 corners last season. Smith is big and physical and runs well enough to stay with either receiver. The Chiefs picked rookie
Marcus Cooper
off waivers from San Francisco at the start of the season, and he has been a real find. At 6-2, Cooper is also capable of matching up with Thomas or Decker. The Chiefs also have
Brandon Flowers
to cover
Wes Welker
in the slot. The tight end,
Julius Thomas
, could be more of a problem for the Chiefs. Strong safety
Eric Berry
has done a nice job of covering the tight end this season, but Thomas is a size mismatch.
With that in mind, how is
Chris Clark
doing at left tackle for injured
Ryan Clady
and how equipped is he to deal with the Chiefs' combination of pass-rushers that includes
Justin Houston
and
Tamba Hali
?
Legwold:
At the time, folks were looking at the winless
Jacksonville Jaguars
as one of the biggest underdogs in league history when they came to Denver last month. But it was the Jaguars who gave defenses a glimmer of hope. They were more aggressive in attacking the Broncos' protection schemes, especially when Denver was in its favored three-wide set, and got physical with the Broncos' receivers. People have followed suit as Manning has progressively taken more punishment and a long line of defensive backs have tried the rough stuff against the Broncos' wideouts. That said, the Broncos have remained in their three-wide set much of the time, which often leaves Clark or right tackle
Orlando Franklin
working the edge solo. The Broncos are far more comfortable letting Clark do that because he has quality movement skills, but he doesn't have Clady's recovery skills -- few do -- and, when a rusher gets the corner, it's often difficult for Clark to get himself back in the play. Hali would give him more trouble because Hali never really stops working back to the quarterback and has worked more effectively to the inside from time to time.
I know folks haven't really talked on a national scale about Chiefs quarterback
Alex Smith
, but what has his role been in their 9-0 start?
Teicher:
He isn't the reason the Chiefs are 9-0, but Smith hasn't messed up a good thing. One key to their defensive success this season is that the Chiefs haven't put their defense in many bad situations, and much of that has been Smith taking good care of the ball. He has only four interceptions. An underrated factor in his play has been his running ability. Sometimes through scrambling and sometimes by design or off the option, Smith has been able to run to make many big plays for Kansas City at crucial times. That said, Smith needs to play better. He's completing fewer than 60 percent of his passes, and he's capable of much better. He completed 70 percent for the 49ers last season. The Chiefs are scoring touchdowns on only 48 percent of their trips inside the red zone, and Smith deserves at least some of the blame.
The Chiefs are allowing 5 yards per carry, and, although a lot of that damage has been done by scrambling quarterbacks, they've still been vulnerable at times against the run. Do you think the Broncos will make more frequent use of their running game against Kansas City?
Legwold:
Denver offensive coordinator Adam Gase has his roots in Mike Martz's "Greatest Show on Turf" offense -- Martz tutored Gase in stints in Detroit and San Francisco -- and that offense always had a hefty run component. The Broncos would like to run more and more efficiently, if for no other reason than to protect Manning better. That said, they ran just 22 times Sunday against a Chargers team that tried to play keep-away on offense for much of the day. But the real impact of their run is when they get their play-action going. Manning was 9 of 9 passing for 187 yards and three touchdowns on play-action plays in San Diego. The Broncos have leaned on
Knowshon Moreno
more and more of late as their two young running backs --
Montee Ball
and
Ronnie Hillman
-- haven't always handled things the way the team would like them to. Denver wanted more of a rotation, but the gap in performance between Moreno and the other two backs has made Moreno the go-to guy. Ball has gotten more carries of late, but the Broncos figure to gauge the Chiefs' defense by pounding away at it a bit. But nose tackle
Dontari Poe
will be a tough matchup inside, especially when Denver runs the ball out of a three-wide set with Manning in the shotgun.
The Broncos have plenty of speed on defense, but how much do you expect the Chiefs to try to muscle up and run it at them?
Teicher:
That strategy makes sense on a lot of levels, not the least of which is that, if the Chiefs are successful running the ball, they'll burn some clock and keep Denver's offense on the sideline. But Kansas City's play calling has been puzzling at times this season. The Chiefs have attempted a lot of passes for a team that has spent a lot of time in the lead, and I don't expect Andy Reid to change his methods just because he's calling plays against the Broncos. That approach is somewhat problematic for the Chiefs, as well. They've squeezed about as much from
Jamaal Charles
as they reasonably can. He already leads the Chiefs in rushing yardage and receptions. Kansas City doesn't seem to trust either of its other backs,
Knile Davis
and
Cyrus Gray
. So, even more of the burden would go to Charles if the Chiefs rely more on their running game against the Broncos.
Everybody knows about Demaryius Thomas, Decker and Welker. But tight end Julius Thomas seems to have come out of nowhere. Is his development a surprise, or did the Broncos see it coming?
Legwold:
Many defensive coaches will say they can deal with three targets in an offense, that there are ways to double-team, or at least have help in the area, against three primary targets in the passing game if things are done right. But a fourth player who can consistently win one-on-one matchups stretches a defense thin and becomes an issue. That's what Julius Thomas has been, especially in the scoring zone. He is tied for the team lead -- with Demaryius Thomas and Welker -- with nine red zone catches and is a matchup dilemma for linebackers and for safeties because of his size and speed. The Broncos always saw flashes of this in offseason workouts -- Julius Thomas was one of the regulars at the on-your-own workouts Manning had right after he signed in 2012, so he meshed with Manning quickly -- and in training camp, but this is the first season he has been healthy enough to show it on game days. As you would expect from a player who had just one season of college football after his hoops career was over at Portland State, he has struggled at times with some of his blocking responsibilities, especially in some of his footwork. But he has worked to get better, and, in the passing game, he already is just the kind of receiver they Broncos had hoped he would be.
In the Chiefs' offense, Charles has already had so many touches in the first nine games. Can he stay healthy at this pace, and what effect would it have on the offense if he doesn't?
Teicher:
That to me is the key to Kansas City's season. Charles is the Chiefs' MVP, in my opinion. He's only about 200 pounds, so he's not built to carry the workload the Chiefs have given him. He was in for all but one offensive snap of their last game in Buffalo, for instance. They need to find ways to lighten his load because the odds are he will wear down, but the fact is no one else has stepped forward to be a consistent playmaker. The options at running back are Davis and Gray, and the Chiefs aren't comfortable with either one. Kansas City drafted Davis in the third round for this very purpose, but he's been a prolific fumbler who, at least early in the season, had trouble grasping the playbook. The coaches say he has made progress; if true, he needs to play more. He's big and fast and is one player the Chiefs can reasonably grow their offense around.
Some of the numbers suggest the Broncos are pushovers defensively. But how many of the passing yards and points they give up stem from the fact that teams are usually desperate to play catch-up against Denver?
Legwold:
Initially, at least through the first month of the season, that was certainly the case. However, the 506 yards Cowboys quarterback
Tony Romo
put up Oct. 6 came in a tight game the Broncos trailed 14-0 early on. The Broncos have had flashes of being a game-changing, speed defense, but then they will have lapses at times, and opposing quarterbacks have consistently pounced on those for big plays. Denver already has surrendered more pass plays of at least 20 yards (43) than it did all of last season (38). Certainly, the Broncos missed
Von Miller
during his six-game suspension, and
Champ Bailey
has played in just two games so far because of a foot injury, but they have not consistently pressured quarterbacks when the game is still in the balance as they did last season. Denver had several late-game sacks in 20-point wins that aren't quite as valuable as a second-quarter sack to stop a drive in a three-point game. It can potentially be far better, and, if the team wants to go deep into the postseason, the Broncos will have to reach that potential.
Overall, in all that has gone right for the Chiefs in the 9-0 start, how big an impact has Reid had on all of that?
Teicher:
This sounds simple, but Reid brought a professionalism and instilled the attitude that the players are individuals and should be treated like men. That was a huge change from the way Kansas City had been run under the previous general manager, Scott Pioli. Then, the Chiefs were run like a circus. Different people had different agendas and were pulling in different directions. Reid walked in the door with an impressive résumé and ended all of that. Players were tired of the losing and the constant paranoia and being treated like kids, and so, when Reid -- with his history of success -- arrived, they were willing to listen and follow. He got players to put aside personal goals for the greater good. It certainly helped his cause that the Chiefs haven't lost yet. If they had been losing from the start, players might have already bailed on him.
Kansas City has been solid on special teams, but Denver's return specialist looks like he's the real deal. Give us a little scouting report on
Trindon Holliday
as a punt and kickoff returner.
Legwold:
Holliday might be one of the better waiver claims the Broncos have ever had. In 20 games with the team, including a playoff game since being claimed five games into the 2012 season, Holliday has six return touchdowns: three punt returns for scores and three kickoff returns for scores. Holliday is just 5-foot-5 and graciously listed at 170 pounds, but the eight-time track All-American at LSU is a football player who just happened to have run, and been very good at, track. He has an inherent toughness about him that enabled him to play running back at LSU and a fearlessness with the ball in his hands. And then there's the speed -- Bailey called him the fastest player he has ever had as a teammate -- and Holliday was the NCAA 100 meters champion in a field that included
Jacoby Ford
. Now, he can be an adventure handling the ball at times, but he has worked hard to improve and the Broncos let him field more punts deep in their own territory this year than they did last season. Teams have taken to kicking away from him of late, but, in his short tenure with Denver, he already has changed some games.
That's a look at this week's matchup, enjoy the game.
September, 24, 2013
9/24/13
1:55
AM ET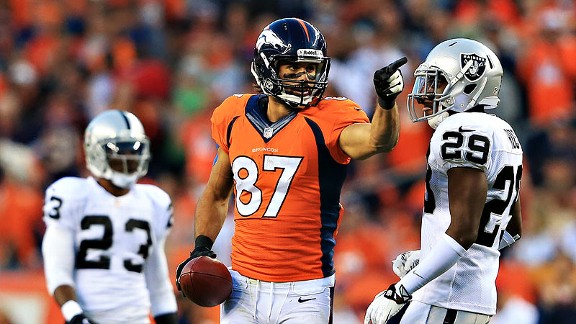 Doug Pensinger/Getty ImagesEric Decker and the Denver Broncos are heading in the right direction in the AFC West.
DENVER -- Three weeks into the season and there is one team in the NFL that has scored more than 100 points.
Actually, one team in the NFL that has scored more than 110 points. OK, one team in the NFL that scored more than 120 points.
And with their third consecutive game with at least 37 points the
Denver Broncos
formally announced their plans in the AFC West on Monday night with a nationally-televised
37-21 win
over the
Oakland Raiders
at Sports Authority Field at Mile High.
Raiders rookie tight end
Nick Kasa
, a suburban Denver native who played at the University of Colorado and has spent a lifetime discussing the Broncos with friends and relatives, may have put it the best.
"They're a devastating team," Kasa said. "That's obvious from [Monday night]."
As August drew to a close, there were plenty of folks in and around the NFL who wondered how things would look in the AFC West. After all, the Broncos, with
Peyton Manning
behind center, are surrounded by three rebuilding projects in the division.
The Raiders are in the second year of what has been the league's most extreme makeover and sported 10 different defensive starters from a year ago Monday night. In San Diego, former Broncos offensive coordinator
Mike McCoy
is in his first season as the team's head coach.
They are both 1-2 after three weeks and despite some quality moments in those three games -- small glimpses of potential -- they both look like there's plenty of work still to do before all is said and done this season.
The Chiefs are another matter. First-year coach Andy Reid has Kansas City out of the gate at 3-0 with a defense that has surrendered just 34 points. But Chiefs-Broncos matchups are for another day.
What the Broncos showed Monday was division games are important to them. Everybody talks a good game about division games, about how they're the only guaranteed road into the postseason for any team, but idle mid-week chatter is one thing, getting it done is another.
The Broncos showed the focus of a team with designs on bigger things, and that they want to leave no doubt in the division along the way.
Quarterback Peyton Manning will routinely say division games "count double," and losses in the division, especially home losses in the division, sting a little more. John Elway reeled in perhaps the greatest marquee player to hit the open market in the free-agency era. One of the reasons he wanted Manning so badly, beyond the extended and sometimes breathtaking list of quarterback stuff, was Manning's constant push for his team to be a little better tomorrow than it was today.
Elway has described it as "that uncomfortable feeling," at times.
That can be seen in how the Broncos have handled their division business of late. In 2011, or YBM (the year before Manning) when they won the division at 8-8 overall, they were just 3-3 in AFC West games. Last season, Manning's first in Denver, the Broncos were 6-0 in the division on the way to a 13-3 mark.
Or as linebacker
Wesley Woodyard
put it after Monday's victory: "It's a division opponent, and the Raiders, they always bring their best shot. I hate losing to any division guys, especially the Raiders."
The bottom line is, in a league cocooned in overreaction, with every win celebrated like a lunar landing and every loss treated with a this-team-stinks-forever approach, the good teams simply need a get-off-my-lawn guy or two to keep the heads level. They need some grumpiness to sweep up the rose petals that get tossed from time to time.
Sure, there is a line there between some kind of joyless pursuit of victory and the easily obtained misplaced ego, but a good team needs some perspective as much as touchdowns. And the Broncos showed Monday night they are good, ruthlessly good at times, with a dose of perspective.
Manning threw three touchdown passes, was as dialed in with the Broncos receivers as he has been at any point in his career -- at one point late in the first half both of his incompletions were drops -- and the Broncos put up their second 500-yard game of the season.
The defense stifled the Raiders' run game -- Oakland had averaged just more than 198 yards rushing coming in -- as Oakland finished with 49 yards on 17 carries. Yet after surrendering a touchdown in the third quarter and another in the fourth quarter, Woodyard, for one, was swatting away any compliments.
"No, I'm not pleased at all," Woodyard said. "We gave up 21 points. We've got to stop them at the end of the game. I'm not satisfied at all with that win. … We'll definitely take a win any time we can get one, but to give up 21 points, got to stop that leaky football."
Monday's win was the Broncos' first in division play this season and will also be the last time they face a division opponent until Nov. 10, at San Diego. A lot can happen between now and then, but it's pretty clear Denver has the goods and may have to wrestle with itself a bit along the way because of it.
"We have to just play our football," Broncos defensive tackle
Kevin Vickerson
said. "I say fast, physical and violent, but we can't give up garbage points, make mistakes, things like that. We just have to keep grindin', man. Win your division first, worry about week to week; do that and things will work out. And we want things to work out, so everybody knows you have to do that. We're 3-0 and moving on. That's it, look at the win and get to work."