January, 21, 2015
Jan 21
1:00
PM ET
ENGLEWOOD, Colo. -- In the middle of a career-changing losing streak, as he sought to pull the 2013
Houston Texans
out of the rut they had fallen into and find the unturned stone that would make the difference, Gary Kubiak said he tried to do too much.
That he saw his limit but went right on by.
"That was a scary time," Kubiak said this week. "... I probably ran myself into the ground a little bit. I think I learned a lot from that."
[+] Enlarge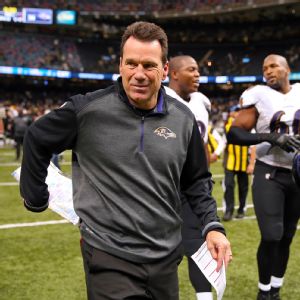 Chuck Coo/USA TODAY SportsNew Broncos head coach Gary Kubiak said he learned to delegate better in his season with the Ravens after suffering a health scare with the Texans.
The circled date will always be Nov. 3, 2013, against the
Indianapolis Colts
, when Kubiak, in his eighth season as the Texans' coach, collapsed on the field just before halftime of what would become the team's sixth consecutive loss in a streak that reached 14 by season's end.
Doctors called it a transient ischemic attack, or TIA. It happens if blood flow to the brain is briefly interrupted, often by a blood clot or narrowed blood vessels. It is often referred to as a "ministroke," because symptoms last only a few minutes or a few hours with no permanent brain damage.
TIAs can be a sign that a person is at higher risk for a stroke in the future. But just over 14 months since that episode, Kubiak said he's healthy and more than physically and mentally ready to be the 15th head coach in
Denver Broncos
history.
Kubiak returned in '13 to finish out the season but was fired after 13 games with the Texans at 2-11. He was the
Baltimore Ravens
' offensive coordinator this season.
"I'm doing great, I'm feeling fine," Kubiak said. "Hopefully I look OK. But I'm doing fine, I worked through that. I think it's like anything else, you're giving something everything you have and that was a tough season, tough situation and I was going to keep swinging. Like I said, I probably just ran myself down a little bit too much, but I've come back from it. Everybody tells me I'm doing just fine. I took a big physical this past week, so I'm ready to go. I'm good."
John Elway, the Broncos' executive vice president of football operations/general manager, said he discussed the topic of health with his new coach.
"I think Gary, we talked about it and he said it, he said it was a good lesson for him," Elway said. "I think a lot of times, obviously my dad [Jack] was a coach and he didn't take great care of himself, so we had talked about that before. And I think, as Gary said, it was a good thing for him, because now he had to be more conscious of his health and how he was treating his body and the things he was working on."
It can be part of the learning curve on the job, surrounding yourself with people you're willing to delegate to in a profession filled with hands-on, Type A personalities. It's a profession where getting fired is part of a longer path than perhaps the coaches anticipate when they first land a top job in the league. After all, the two head coaches in the Super Bowl were both fired in their first tries -- Bill Belichick by the
Cleveland Browns
and Pete Carroll by the
New England Patriots
.
Kubiak said that in retrospect, he believes he was not willing to involve the people around him with the Texans enough in his attempts to try to correct a season that was off the rails. He added that his season with the Ravens will also have a lasting impact in how he takes on the job with the Broncos.
"Then I really can't explain the value of last year for me as a coach, being around [Ravens coach] John Harbaugh, being around that organization, being around [general manager] Ozzie Newsome, watching them go about their business, how they go about being successful week in and week out," Kubiak said. "I take all that with me as I move forward, and I know I'm a lot better coach now than I was when I left. A lot more experience. It still gets back to the people you surround yourself with. I think all coaches are only as good as the players they have and coaches they've got working with them. We'll have a great crew doing that, I promise you."