Denver Broncos:

Brandon Flowers
November, 14, 2013
11/14/13
12:35
PM ET
ENGLEWOOD, Colo. -- It didn't take
Demaryius Thomas
very long to see what he thinks is the biggest change in the
Kansas City Chiefs
defense.
As in, it was clear at first glance, from the first digital image that went across the screen for the
Denver Broncos
wide receiver.
[+] Enlarge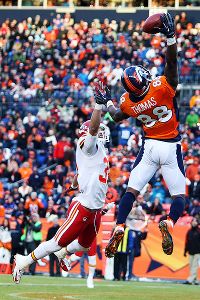 Chris Humphreys/USA TODAY SportsUnlike last season, Demaryius Thomas and the Broncos' receivers will have to contend with bigger, more physical Chiefs defenders.
"They've got a lot more size back there, a lot," Thomas said. "Last year they had two smaller guys outside. Flowers plays in the nickel a lot of the time, but look now and Sean [Smith], he goes about 220 [pounds]. They have some big guys, if you let them get their hands on you, it's a long day."
And for most defenses that have the Broncos receivers in front of them, size matters. Thomas is a 6-foot-3, 229-pound matchup dilemma with elite speed, and the Broncos also line up the 6-3, 215-pound
Eric Decker
along with
Wes Welker
in their three-wide receiver set. Toss in 6-5, 250-pound tight end
Julius Thomas
in the pattern and the Broncos are tough to handle.
Last season, in two games against the Broncos, size mattered. The Chiefs started the 5-9, 197-pound
Javier Arenas
and the 5-9, 187-pound
Brandon Flowers
in the secondary as Kansas City opened both games in the dime -- six defensive backs. The Chiefs held their ground reasonably well in a 17-9 Broncos win last November, but in the regular-season finale the Broncos overwhelmed the Chiefs secondary.
Broncos quarterback
Peyton Manning
finished that game 23-of-29 passing for 334 yards and three touchdowns. Thomas finished with 122 yards receiving and a touchdown and Decker had two touchdown catches.
"I think after that they probably wanted some bigger guys," Thomas said. "And they got them."
That they did. At 6-3, 218, Smith is one of the biggest cornerbacks in the league and the Chiefs secured him with a three-year, $18 million deal after his four seasons in Miami. Smith has started all nine games at right cornerback for the Chiefs thus far and been everything they hoped he would be.
The Chiefs then had some good fortune along the way. They claimed rookie cornerback
Marcus Cooper
(6-2, 192) off waivers just before the start of the regular season in hopes he could provide depth. Cooper, a converted wide receiver who moved to defense after his first season at Rutgers, had been a seventh-round pick by the
San Francisco 49ers
, but they waived him in the final roster cut before the regular season after their own free-agent spending spree in the secondary had limited the spots.
And Cooper has been a revelation, having started three games and consistently been in the lineup when the team goes to the nickel. Cooper is second on the league's leading defense with two interceptions, having repeatedly shown the kind of skills when the ball is in the air a receiver would have with the physical edge needed on defense. With Smith and Cooper in the outside spots and Flowers in the slot in the nickel, the Chiefs are far more able to line up one-on-one on the bigger receivers and it is at least part of the reason the team leads the league in sacks with 37.
So, while Chiefs coach Andy Reid won't say the Broncos were the tipping point in all of this, he will acknowledge it was a position of need as he and general manager John Dorsey re-made a roster that fueled a 2-14 finish last season.
"I would tell you that you're not sitting here building your team to beat the Denver Broncos, that's not what you're doing," Reid said. "There's a fine line there that you're trying to accumulate as many players as you can at all of the positions, so not only can you compete against the Denver Broncos but these other teams in the National Football League that have good players. That's really what you're doing.
"I'm just stating a fact here, if you follow kind of what John [Dorsey] has done through his career in personnel, he has always gone after big corners," Reid continued. "Sean [Smith] is different, he's a huge man, the size of a linebacker really, and there aren't many of those in the league. But he has always had big corners and has gone after that type of a player and that was before Denver was in the vision. When he builds a team, that's what he likes."
It all makes for a quality matchup Sunday night, however. The Chiefs have yet to surrender a 300-yard passing game -- the Cowboys'
Tony Romo
came the closest with 298 on Sept. 15 -- and no opposing wide receiver has caught two scoring passes in the same game against Kansas City this season.
"No question, we have our hands full," Manning said.
There is also the matter of opposing defensive backs having success with some of the rough stuff over the last four games against the Broncos' receivers. Whether it be disrupting the timing of the routes or simply frustrating the Broncos wideouts with all of the contact, some defensive coordinators believe that may be the way to go against the Broncos' high-powered attack.
Thomas was asked if he felt defenses had tried to get more physical in recent weeks.
"That's true," he said. "But I feel like that's every game sometimes, it's just something we've got to deal with, something we've got to work through ... we just can't let it happen. Don't let them put their hands on you. That's on us."
November, 14, 2013
11/14/13
10:00
AM ET
The
Denver Broncos
(8-1) are the highest-scoring team in the league, so much so that not only are they the only team in the league averaging at least 40 points a game -- 41.2 after nine games -- but they are the only team in the league averaging at least 30 points a game.
The
Kansas City Chiefs
(9-0) have the league's best record, remain the NFL's only undefeated team and lead the league in several major defensive categories, including fewest points allowed per game (12.3), sacks (36) and turnover margin (plus-15).
And after the two have feasted on many of the league's downtrodden over the season's first 10 weeks -- they are a combined 17-0 against teams that do not currently have a winning record this season -- they will finally get down to some serious AFC West business Sunday night in Sports Authority Field at Mile High. ESPN.com Chiefs team reporter Adam Teicher and Broncos team reporter Jeff Legwold break down this game.
Legwold:
Adam, let's get right to it: How do you think the Chiefs will come after
Peyton Manning
, who has been battered over the past four games?
Teicher:
I would think Kansas City would test Denver's protection and Manning's ankle right off the bat. The Chiefs still lead the league in sacks, but they've cooled off considerably. They have just one sack in their past two games. On the back end, the Chiefs feel they have the corners who can match up with Denver's big receivers. They signed 6-foot-3
Sean Smith
as a free agent from Miami in the offseason in large part so they could have a cornerback who can look
Demaryius Thomas
and
Eric Decker
in the eye. We all remember how Manning picked apart Kansas City's two 5-9 corners last season. Smith is big and physical and runs well enough to stay with either receiver. The Chiefs picked rookie
Marcus Cooper
off waivers from San Francisco at the start of the season, and he has been a real find. At 6-2, Cooper is also capable of matching up with Thomas or Decker. The Chiefs also have
Brandon Flowers
to cover
Wes Welker
in the slot. The tight end,
Julius Thomas
, could be more of a problem for the Chiefs. Strong safety
Eric Berry
has done a nice job of covering the tight end this season, but Thomas is a size mismatch.
With that in mind, how is
Chris Clark
doing at left tackle for injured
Ryan Clady
and how equipped is he to deal with the Chiefs' combination of pass-rushers that includes
Justin Houston
and
Tamba Hali
?
Legwold:
At the time, folks were looking at the winless
Jacksonville Jaguars
as one of the biggest underdogs in league history when they came to Denver last month. But it was the Jaguars who gave defenses a glimmer of hope. They were more aggressive in attacking the Broncos' protection schemes, especially when Denver was in its favored three-wide set, and got physical with the Broncos' receivers. People have followed suit as Manning has progressively taken more punishment and a long line of defensive backs have tried the rough stuff against the Broncos' wideouts. That said, the Broncos have remained in their three-wide set much of the time, which often leaves Clark or right tackle
Orlando Franklin
working the edge solo. The Broncos are far more comfortable letting Clark do that because he has quality movement skills, but he doesn't have Clady's recovery skills -- few do -- and, when a rusher gets the corner, it's often difficult for Clark to get himself back in the play. Hali would give him more trouble because Hali never really stops working back to the quarterback and has worked more effectively to the inside from time to time.
I know folks haven't really talked on a national scale about Chiefs quarterback
Alex Smith
, but what has his role been in their 9-0 start?
Teicher:
He isn't the reason the Chiefs are 9-0, but Smith hasn't messed up a good thing. One key to their defensive success this season is that the Chiefs haven't put their defense in many bad situations, and much of that has been Smith taking good care of the ball. He has only four interceptions. An underrated factor in his play has been his running ability. Sometimes through scrambling and sometimes by design or off the option, Smith has been able to run to make many big plays for Kansas City at crucial times. That said, Smith needs to play better. He's completing fewer than 60 percent of his passes, and he's capable of much better. He completed 70 percent for the 49ers last season. The Chiefs are scoring touchdowns on only 48 percent of their trips inside the red zone, and Smith deserves at least some of the blame.
The Chiefs are allowing 5 yards per carry, and, although a lot of that damage has been done by scrambling quarterbacks, they've still been vulnerable at times against the run. Do you think the Broncos will make more frequent use of their running game against Kansas City?
Legwold:
Denver offensive coordinator Adam Gase has his roots in Mike Martz's "Greatest Show on Turf" offense -- Martz tutored Gase in stints in Detroit and San Francisco -- and that offense always had a hefty run component. The Broncos would like to run more and more efficiently, if for no other reason than to protect Manning better. That said, they ran just 22 times Sunday against a Chargers team that tried to play keep-away on offense for much of the day. But the real impact of their run is when they get their play-action going. Manning was 9 of 9 passing for 187 yards and three touchdowns on play-action plays in San Diego. The Broncos have leaned on
Knowshon Moreno
more and more of late as their two young running backs --
Montee Ball
and
Ronnie Hillman
-- haven't always handled things the way the team would like them to. Denver wanted more of a rotation, but the gap in performance between Moreno and the other two backs has made Moreno the go-to guy. Ball has gotten more carries of late, but the Broncos figure to gauge the Chiefs' defense by pounding away at it a bit. But nose tackle
Dontari Poe
will be a tough matchup inside, especially when Denver runs the ball out of a three-wide set with Manning in the shotgun.
The Broncos have plenty of speed on defense, but how much do you expect the Chiefs to try to muscle up and run it at them?
Teicher:
That strategy makes sense on a lot of levels, not the least of which is that, if the Chiefs are successful running the ball, they'll burn some clock and keep Denver's offense on the sideline. But Kansas City's play calling has been puzzling at times this season. The Chiefs have attempted a lot of passes for a team that has spent a lot of time in the lead, and I don't expect Andy Reid to change his methods just because he's calling plays against the Broncos. That approach is somewhat problematic for the Chiefs, as well. They've squeezed about as much from
Jamaal Charles
as they reasonably can. He already leads the Chiefs in rushing yardage and receptions. Kansas City doesn't seem to trust either of its other backs,
Knile Davis
and
Cyrus Gray
. So, even more of the burden would go to Charles if the Chiefs rely more on their running game against the Broncos.
Everybody knows about Demaryius Thomas, Decker and Welker. But tight end Julius Thomas seems to have come out of nowhere. Is his development a surprise, or did the Broncos see it coming?
Legwold:
Many defensive coaches will say they can deal with three targets in an offense, that there are ways to double-team, or at least have help in the area, against three primary targets in the passing game if things are done right. But a fourth player who can consistently win one-on-one matchups stretches a defense thin and becomes an issue. That's what Julius Thomas has been, especially in the scoring zone. He is tied for the team lead -- with Demaryius Thomas and Welker -- with nine red zone catches and is a matchup dilemma for linebackers and for safeties because of his size and speed. The Broncos always saw flashes of this in offseason workouts -- Julius Thomas was one of the regulars at the on-your-own workouts Manning had right after he signed in 2012, so he meshed with Manning quickly -- and in training camp, but this is the first season he has been healthy enough to show it on game days. As you would expect from a player who had just one season of college football after his hoops career was over at Portland State, he has struggled at times with some of his blocking responsibilities, especially in some of his footwork. But he has worked to get better, and, in the passing game, he already is just the kind of receiver they Broncos had hoped he would be.
In the Chiefs' offense, Charles has already had so many touches in the first nine games. Can he stay healthy at this pace, and what effect would it have on the offense if he doesn't?
Teicher:
That to me is the key to Kansas City's season. Charles is the Chiefs' MVP, in my opinion. He's only about 200 pounds, so he's not built to carry the workload the Chiefs have given him. He was in for all but one offensive snap of their last game in Buffalo, for instance. They need to find ways to lighten his load because the odds are he will wear down, but the fact is no one else has stepped forward to be a consistent playmaker. The options at running back are Davis and Gray, and the Chiefs aren't comfortable with either one. Kansas City drafted Davis in the third round for this very purpose, but he's been a prolific fumbler who, at least early in the season, had trouble grasping the playbook. The coaches say he has made progress; if true, he needs to play more. He's big and fast and is one player the Chiefs can reasonably grow their offense around.
Some of the numbers suggest the Broncos are pushovers defensively. But how many of the passing yards and points they give up stem from the fact that teams are usually desperate to play catch-up against Denver?
Legwold:
Initially, at least through the first month of the season, that was certainly the case. However, the 506 yards Cowboys quarterback
Tony Romo
put up Oct. 6 came in a tight game the Broncos trailed 14-0 early on. The Broncos have had flashes of being a game-changing, speed defense, but then they will have lapses at times, and opposing quarterbacks have consistently pounced on those for big plays. Denver already has surrendered more pass plays of at least 20 yards (43) than it did all of last season (38). Certainly, the Broncos missed
Von Miller
during his six-game suspension, and
Champ Bailey
has played in just two games so far because of a foot injury, but they have not consistently pressured quarterbacks when the game is still in the balance as they did last season. Denver had several late-game sacks in 20-point wins that aren't quite as valuable as a second-quarter sack to stop a drive in a three-point game. It can potentially be far better, and, if the team wants to go deep into the postseason, the Broncos will have to reach that potential.
Overall, in all that has gone right for the Chiefs in the 9-0 start, how big an impact has Reid had on all of that?
Teicher:
This sounds simple, but Reid brought a professionalism and instilled the attitude that the players are individuals and should be treated like men. That was a huge change from the way Kansas City had been run under the previous general manager, Scott Pioli. Then, the Chiefs were run like a circus. Different people had different agendas and were pulling in different directions. Reid walked in the door with an impressive résumé and ended all of that. Players were tired of the losing and the constant paranoia and being treated like kids, and so, when Reid -- with his history of success -- arrived, they were willing to listen and follow. He got players to put aside personal goals for the greater good. It certainly helped his cause that the Chiefs haven't lost yet. If they had been losing from the start, players might have already bailed on him.
Kansas City has been solid on special teams, but Denver's return specialist looks like he's the real deal. Give us a little scouting report on
Trindon Holliday
as a punt and kickoff returner.
Legwold:
Holliday might be one of the better waiver claims the Broncos have ever had. In 20 games with the team, including a playoff game since being claimed five games into the 2012 season, Holliday has six return touchdowns: three punt returns for scores and three kickoff returns for scores. Holliday is just 5-foot-5 and graciously listed at 170 pounds, but the eight-time track All-American at LSU is a football player who just happened to have run, and been very good at, track. He has an inherent toughness about him that enabled him to play running back at LSU and a fearlessness with the ball in his hands. And then there's the speed -- Bailey called him the fastest player he has ever had as a teammate -- and Holliday was the NCAA 100 meters champion in a field that included
Jacoby Ford
. Now, he can be an adventure handling the ball at times, but he has worked hard to improve and the Broncos let him field more punts deep in their own territory this year than they did last season. Teams have taken to kicking away from him of late, but, in his short tenure with Denver, he already has changed some games.
That's a look at this week's matchup, enjoy the game.