Denver Broncos:

Brandon Stokley
August, 13, 2014
Aug 13
3:00
PM ET
ENGLEWOOD, Colo. –
Denver Broncos
quarterback
Peyton Manning
gets asked a lot about a lot of things.
He gets asked about his arm strength – he won't go there, really -- but folks ask anyway. He gets asked about his neck, wobbly passes, touchdowns, all-time records, legacy, guys on his team, guys who used to be on his team, guys on other teams, guys who used to be on other teams, his brother(s), his dad, his family, New Orleans and if he considers himself a rapper.
And he's asked about chemistry a lot. Not so much the carbon and life kind, but football. So when folks wonder where the Broncos can go on offense from the single-season record of 606 point the team set last year. The answer for Manning, at least in part, is in chemistry.
[+] Enlarge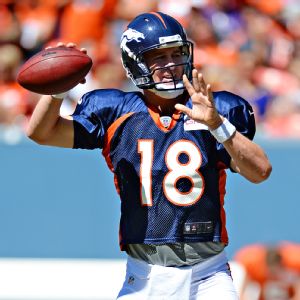 Ron Chenoy/USA TODAY SportsPeyton Manning is working on developing chemistry with the Broncos' new receivers in training camp.
"I think there is two kinds," Manning said. "I think there is after-the-snap chemistry where you're understanding where (tight end)
Julius (Thomas)
is going to be on a certain route, and then there is before the snap, being sure that everybody knows the signals, knows the code words and all the pre-snap changes that we constantly make."
Those who know him say this is why people have never really heard Manning publicly bemoan practice, criticize the time spent in an offseason workout or rarely fail to stay after practices in this, his 17
th
NFL season. Because his deal, as the Broncos continue to plow through training camp with Manning having thrown in every practice, is chemistry.
"You want to be able to make adjustments as quickly as you can, have everybody be on the same page, because your main advantage on offense is you know where you're going," Manning said. "So, it's always going to be better if everybody knows where they're going … I tell the story, but with Marvin (Harrison) we got to a point where we could change something when he came by me in motion and we could run it the way we had practiced it. That's the chemistry that makes you productive because the goal is to score touchdowns and win games."
So while many personnel executives in the league look at a Broncos offense that could be more explosive, with
Montee Ball
at running back and
Emmanuel Sanders
to go with rookie
Cody Latimer
in the rotation at wide receiver, Manning sees chemistry as what will make the difference.
It's why Latimer and Sanders have spent so much time with the quarterback after training camp practices, when most of the other players have already gone to the locker room. It's why at times Ball will find himself standing next to Manning during practice and Manning will be diagramming some part of a play with his hands slicing through the air.
The Broncos work fast on offense, don't huddle all that much and Manning has complete freedom to change plays, or parts of plays, as often as the play clock allows before the snap, often with a simple code word.
"That's the part you adjust to," Ball said. "The football part -- running, catching -- you can do that. But with Peyton, in this offense, you have to be ready to adjust and you have to be where you're supposed to be to make it work."
It's also why, at times, folks on the outside might look at who's playing and who isn't and wonder why if the football trinity of height, weight and speed are the only considerations.
"It is not an easy offense to learn if you're a receiver and for a young player or a veteran free agent, like Emmanuel here," Manning said. " … It is not easy to learn, so the more we can rep it out here in practice, I think the better it gives them chances to see … let's face it, the cerebral part of the game, to me, is just as important as the physical part of the game. If you don't know what you're doing, it is hard to put you in there."
Last season
Knowshon Moreno
went from shaky roster spot to starting running back in a matter of weeks because he knew what he was doing more consistently than the other guys. When Ball showed he too could consistently make the adjustments and be where he was supposed to be down the stretch last season, the Broncos promoted him to the starter in offseason workouts and did not attempt to sign Moreno in free agency.
When the Broncos scouted receivers for this past May's draft, they wanted size, speed and the ability to make a contested catch, but they also needed a receiver who could handle being a receiver in their offense, a player who could handle what Manning and the offense throw at him. The Broncos believe Latimer was that guy, so they took him in the second round.
"I know there is a time when their heads are swimming, I mean, mine was swimming right after I signed when I got the playbook," Manning said. "Nobody really wants to keep hearing it, but it takes time and repetition, and the payoff is having success in games. You get to see the work you did pay off and if it you didn't put in the work, put in the time, you see that, too."
Or as former Broncos wide receiver
Brandon Stokley
put it; "It's not always the fastest, the strongest, or whatever -- it's the guys who get themselves in the right place. You have to be athletic enough to play in the league, but to be everything you can be with Peyton, you have to be in the right spot every time. You do that and you'll get the ball and do things everybody in this league wants to do."
August, 6, 2014
Aug 6
7:30
AM ET
ENGLEWOOD, Colo.--– Score another one for the
Denver Broncos
' pro personnel department. Or at least get ready to score another one if defensive tackle
Marvin Austin
can keep his current training camp momentum through the preseason games to the roster cut down to 53 players.
But for a team that has made consistent work of getting quality return on one-year deals to a veteran players to fill roster gaps, Austin looks like he'll soon be added to the list. Austin signed a one-year, no-bonus, $570,000 deal with the Broncos just before the draft.
Austin
At that time John Elway said simply Austin was "a guy that really had a first-round grade on him three years ago."
But Austin's NFL career to that point had been filled with injuries, so much so the former second-round pick by the Giants had been on injured reserve as a rookie in 2011, played in just eight games in 2012 and was released by the Giants,
Miami Dolphins
and
Dallas Cowboys
in a three-month span last season. But following surgery to repair a disc problem in his back, the Broncos liked what they saw from Austin in a workout and reeled him in. Austin has done enough in training camp so far that he worked some with the starting defense in Tuesday's practice.
"I was like, 'I appreciate it.' I just go out there and perform and work every day at practice and they said that my performance thus far warranted me getting some reps with the (starters)," Austin said. "We are competing ... So I just want to come compete every day and show them I can be a player in this league. I don't want to be just a guy."
Should Austin maintain the current trajectory and keep himself on the field, he'll join a rather productive list of one-year signings the Broncos have made over the last three seasons.
Last season it was
Shaun Phillips
-- who went on to lead the team in sacks with 10 -- who signed a one-year deal. Cornerback
Dominique Rodgers-Cromartie
who signed a two-year deal on paper, but the second year was voided five days after the Super Bowl. Rodgers-Cromartie started 13 games for the Broncos last season and tied for the team lead in interceptions with three.
"You want to bring in guys that fit," Elway said. "Guys who have a chance to make your roster if they can bring what you've seen from them in the past."
The Broncos leaned on one-year players even more in 2012.
On the way to a 13-3 mark that included an 11-game win streak, the Broncos signed safety Jim Leonhard, defensive tackle
Justin Bannan
, linebacker Keith Brooking, center Dan Koppen and wide receiver
Brandon Stokley
to one-year deals. Of those players, only Leonhard got a signing bonus ($65,000).
By season's end Brooking, Bannan and Koppen were starters, while Leonhard and Stokley were key backups.
So, Austin is in good company, or will be if he keeps on the current path and makes the roster when the cuts for the regular season come.
"It feels great," Austin said. "I have been humble through my career so I know the type of opportunity that I have, so I am just grateful to be here today and grateful to be able to say I can still play football, especially at the professional level."
April, 26, 2014
Apr 26
7:30
AM ET
It really should be no surprise that former Broncos/Colts/Ravens/Giants/Seahawks wide receiver
Brandon Stokley
might have said it best, might have hit the available nail squarely on the head.
After all, Stokley spent five seasons in his highly productive career with
Peyton Manning
at quarterback. They are long-time friends, and Stokley has always been able to offer plenty of insight into what makes Peyton tick with a football in his hands.
Said Stokley: "I don't think it's an accident guys do more when they're with Peyton than they did before they played with Peyton, or what they do after they played with Peyton. If you're involved, do the work and get yourself where you need to be every time, you get the ball in a position to do something with it. It's that simple."
[+] Enlarge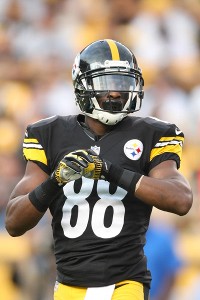 Jason Bridge/USA TODAY SportsNew Denver receiver Emmanuel Sanders is excited about catching passes from Peyton Manning.
So, the early returns for the Broncos, from Manning's recent workouts at Duke with the team's pass-catchers, are that
Emmanuel Sanders
should be poised for a bump in production if he holds up his end of the bargain in the coming offseason work. Certainly, Sanders wasn't stuck in passing purgatory before his arrival in Denver.
He has played the past four seasons with a two-time Super Bowl winner in
Ben Roethlisberger
in a Steelers' offense the team has gradually opened up for Roethlisberger. Sanders had a career-best 67 catches last season, his fourth in the league.
But the Broncos have spliced two words into conversations about potential tweaks to their high-octane offense this offseason -- efficient and explosive.
Efficient, as in get more of it in the run game. Denver was 11
th
in the league rushing attempts last season, at 28.8 per game.
So, as their attempts to pump up the run game continue this offseason, that doesn't mean adding much to the quantity of runs, but rather improving the quality. The optimism of spring and summer are always nice, but the true test will always come in the regular season against some physical defenses. The Broncos believe some adjustments, including moving
Orlando Franklin
to guard and making
Montee Ball
the full-time tailback, will help them get a little more return on those carries.
Then there is the explosive part of the equation. That is where Sanders comes in.
The Broncos set the scoring bar last season with a record 606 points as Manning set single-season records for touchdowns (55) and passing yards (5,477). They have receiver
Demaryius Thomas
and tight end
Julius Thomas
as front-line players at their respective positions, but wanted even more pop.
They want to be able to shock defenses more, attack more places on the field, do more with the ball once the completion is made. They think Sanders is the guy to help do that.
After the workouts at Duke, Manning said he likes what he has seen.
"He is explosive," Manning said of Sanders. "You can't hold the ball very long when he is running a route, I learned that. He is excited about being here. Obviously, it is fun to play with guys who are excited about being here with the
Denver Broncos
. In the studies that I kind of did on him, I saw that he led their team in tackles on kickoff team one year. That tells you the guy likes football. That is more than just being a receiver; that is being a football player ... I look forward to playing with a guy like that."
Sanders has called playing in an offense with Manning at quarterback "wide receiver heaven." And there is plenty of precedent to what Stokley is talking about.
Jerome Pathon had not one, but two 50-catch seasons with Manning throwing him the ball, and that was Manning as a rookie and a third-year quarterback. Stokley played 15 seasons in the league, but his five seasons with Manning included his single-season career bests in catches (68), receiving yards (1,077) and touchdowns (10) -- all in 2004.
Anthony Gonzalez was a 57-catch receiver in 2008 with Manning.
Sanders is replacing
Eric Decker
in the Broncos' offense after Decker had back-to-back 1,000-yard seasons following Manning's arrival. Decker had 13 touchdown catches in 2012 and 11 this past season.
So, if Sanders and perhaps a rookie to be named later in the coming draft figure out where they are supposed to be, they should reap the rewards and take care of another "e" word.
Expectations.
September, 9, 2013
9/09/13
5:30
PM ET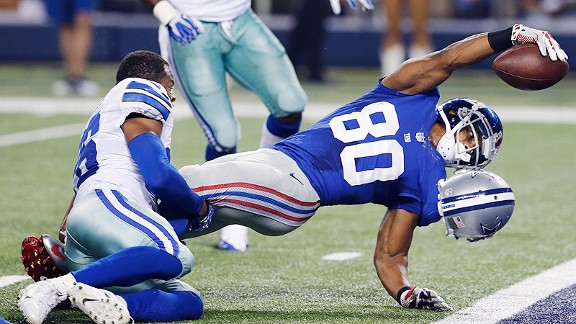 AP Photo/LM OteroThe Broncos will likely deploy more defensive backs when taking on the Giants and Victor Cruz.
ENGLEWOOD, Colo. -- Fresh off the feel-good season opener the
Denver Broncos
' secondary will get an entirely different kind of test Sunday against the
New York Giants
.
Baltimore Ravens
quarterback
Joe Flacco
had limited options on the outside -- once
Jacoby Jones
left with a knee injury on a second-quarter punt return.
Brandon Stokley
is 37 years old and was signed after training camp opened;
Dallas Clark
is 34, has struggled with injuries in recent seasons and was signed after training camp open;
Marlon Brown
is a rookie; and
Ed Dickson
struggled mightily in a receiving role last Thursday night. So, despite not having either
Champ Bailey
(left foot injury) or
Von Miller
(suspension) in the lineup, the Broncos did not surrender a pass play longer than 34 yards in the game.
The Giants, however, present a different set of troubles. In their turnover-marred loss in Dallas, New York still had three wide receivers finish with at least 100 yards in the game --
Victor Cruz
with 118 yards on five catches,
Hakeem Nicks
with 115 yards on five catches and
Rueben Randle
with 101 yards on, yes, five catches. Cruz finished with three touchdowns in the game.
"Their receivers are dynamic,'' said Broncos safety
Rahim Moore
. " … They have so many targets.''
"Honestly, Cruz is getting the bulk of the attention, but they have weapons all over the place,'' said safety
Duke Ihenacho
.
The challenge will be how the Broncos matchup with the size the Giants have on the outside, especially if Bailey isn't ready to return to the lineup this week. Randle is 6-foot-2, Nicks is 6-foot-1 and Cruz comes in at 6-0. The Broncos can counter with 6-2
Dominique Rodgers-Cromartie
and the 6-0 Bailey, if the 12-time Pro Bowl selection is ready to return to the lineup.
Cornerback
Chris Harris
, an aggressive player who consistently fends off the challenges, is 5-foot-10 and cornerback
Tony Carter
, who has routinely come in when the Broncos go to the nickel in games Bailey doesn't play and the dime when Bailey is in the lineup, is 5-foot-9 and 175 pounds. When Carter plays in the nickel, he lines up in one of the outside positions and Harris goes inside to the slot.
Flacco sought Carter out in coverage on several occasions in last January's playoff win as well as last Thursday night. This is especially true if Carter allows the receiver to get a free release off the line of scrimmage, and
Eli Manning
would likely do the same.
The Broncos will also use rookie cornerback
Kayvon Webster
at times in some of their specialty looks and if they get into some of the longer down-and-distance situations, defensive coordinator Jack Del Rio will use a seven defensive back package. The Broncos used it for two snaps against the Ravens, but figure to use it more against the Giants' attack.
Giants coach Tom Coughlin's peers in the league have long considered him one of the more aggressive coaches in the NFL, whether it be during his tenure in Jacksonville or now with the Giants. He signs players who once worked for an upcoming opponent in the days before his team plays that opponent. And if things go well for former Broncos running back Willis McGahee Tuesday, he could join the list. Per ESPN NFL Insider Adam Schefter, McGahee will be one of three backs -- Brandon Jacobs and Joe McKnight are the others, who will work out for the Giants Tuesday. The Broncos released McGahee in June after McGahee had skipped the majority of the team's offseason workouts. The running back cited "family reasons.'' McGahee will turn 32 next month and hasn't played in a game since tearing an MCL on Nov. 18 against the Chargers on a hit from now-Broncos cornerback Quentin Jammer. McGahee had two years left on his deal when the Broncos let him go with a scheduled $2.5 million base salary this season and $2 million base salary in 2014. But with the Broncos having used a third-round pick on Ronnie Hillman in the 2012 draft to go with the second-round pick they used on Montee Ball in April's draft, the combination of McGahee's injury and contract pushed the Broncos toward the young guys at the position. So much so, the Broncos were willing to take a $1 million dead money hit against the salary cap to release McGahee. The Broncos had some concern about McGahee's ability to stay healthy over the long term and after he took part in the team's mandatory minicamp in mid-June, they released him. The Giants benched running back David Wilson Sunday after two fumbles and some bobbles in pass protection.

Wide receiver/kick return Trindon Holliday (left lower leg), cornerback Omar Bolden (left shoulder) and linebacker Wesley Woodyard (right ankle) were not on the field for the Broncos' workout Monday. The practice was essentially an extra opportunity for some on-field work for the Broncos -- what coach John Fox calls "a Broncos on Broncos practice.'' Wide receiver Eric Decker, who suffered a right shoulder injury in last Thursday's game, did participate in the practice. Bailey (left foot) did not take part. Tight end Joel Dreessen, who had two arthroscopic surgeries on his left knee since May, is closing in on returning to practice on at least a limited basis. Dreessen worked with strength and conditioning coach Luke Richesson. Rookie running back C.J. Anderson also did drills alongside Dreessen, work that included some short sprints.

The final Manning tally for the season's opening week: 912 passing yards -- both finished 27-of-42 passing in their respective games -- and 11 touchdowns. Peyton Manning was 27-of-42 for 462 yards with seven touchdowns without an interception in the Broncos' 49-27 victory over the Ravens on Thursday night. Eli Manning was 27-of-42 for 450 yards with four touchdowns and three interceptions in the Giants' loss to Dallas Sunday. The two brothers will face each other Sunday at MetLife Stadium -- it's the third time they have played each other in the NFL.
September, 4, 2013
9/04/13
8:30
PM ET
It was 236 days ago when
Joe Flacco
threw that fateful, 70-yard touchdown pass to
Jacoby Jones
, leading the
Baltimore Ravens
to a double-overtime playoff win at the
Denver Broncos
. The Ravens went on to win the Super Bowl, and the Broncos were left to think of what might have been. Flacco and the Ravens return to Denver's Sports Authority Stadium on Thursday night to kick off the 2013 season in a rematch of two of the top teams in the AFC.
The stakes are different, and so are the teams. Gone are
Ray Lewis
,
Ed Reed
and
Anquan Boldin
from the Ravens. Baltimore is expected to have 10 different starters from the team that hoisted up the Lombardi trophy, and that doesn't include former Broncos defensive standout
Elvis Dumervil
, who is expected to play in passing situations.
The Broncos won't have Dumervil or
Von Miller
, who has been suspended for six games, rushing after Flacco this time. But
Peyton Manning
is back, along with the addition of
Wes Welker
to an already dangerous wide receiver group.
Broncos team reporter Jeff Legwold and Ravens team reporter Jamison Hensley discuss whether the opener will be a repeat of that memorable AFC divisional playoff game.
Hensley
: Much has been made of the 50-foot Flacco banner hanging at the Broncos' stadium. Flacco has embraced the hate, saying it's not a bad thing for opposing fans to dislike you. The Ravens' focus, as it has been all offseason, has been to move forward. It's the start of a different era in many ways for the Ravens in their first game without Lewis and Reed. But it's easier to move forward when you're the ones sitting on top of the football world. How much will the "revenge factor" play into this game for the Broncos?
Legwold
: Broncos coach John Fox, much like John Harbaugh with his "What's Important Now" mantra to leave the championship season behind, has tried to leave the past in the past. But questions about the kneel-down in the waning seconds despite Manning at quarterback and two timeouts in hand, as well as a third-and-7 running play late in the game, have trailed him all through the offseason. A lot of the Broncos players are willing to say memories of the playoff loss pushed them through the tedium of May and June. But over the past two weeks, they've stuck to the script -- that it's a new year, a new team -- but deep down they all know they let a potential Super Bowl trip, home-field advantage and a seven-point lead with less than a minute to play get away. And Dumervil's departure does add a little spice as well. How has Dumervil fit in and what kind of year do you think he'll have?
Hensley
:
Terrell Suggs
has talked about Dumervil having the right mentality to play for the Ravens, and Harbaugh commented how Dumervil is already taking a leadership role. He really is a perfect fit for the Ravens on the field, too, where they have never had an elite pass-rusher to pair with Suggs. Over the past six seasons, Suggs has had only one teammate record more than seven sacks in a season. And being a pass-rusher is Dumervil's primary role. The Ravens will use
Courtney Upshaw
on early downs to set the edge against the run, which should keep Dumervil's legs fresh in pass-rushing situations. The Ravens have a familiarity with Dumervil because inside linebackers coach Don Martindale was Denver's defensive coordinator in 2010 and was Dumervil's position coach in 2009, when the linebacker-end led the NFL with 17 sacks. Baltimore is catching a break Thursday night with Dumervil now wearing purple and Miller serving his suspension. How are the Broncos going to generate a pass rush on Flacco?
[+] Enlarge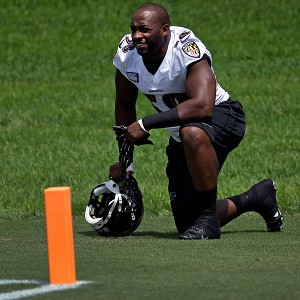 AP Photo/Patrick SemanskyPass-rusher Elvis Dumervil was one of the Ravens' high-profile offseason acquisitions, and has become a leader on the field and off for Baltimore.
Legwold
: That is the $380,687.50 question, which is how much of Miller's base salary he'll surrender during the six-game suspension. But without Miller (18.5 sacks in '12) and Dumervil (11.0 last season), the Broncos will mix and match on a variety of down-and-distances.
Derek Wolfe
is a key player, because of his ability to play inside and outside along the defensive line and still create matchup problems. Jack Del Rio believes Wolfe is ready to take an enormous step in his development, and among the defensive linemen only Dumervil played more snaps up front than Wolfe did as a rookie last year. The Broncos will ask
Shaun Phillips
, who they think has plenty left to give after 9.5 sacks for the struggling Chargers last season, to be a spot rusher. And
Robert Ayers
, who was a first-round pick in 2009, has always said he could put up the sack numbers if given the chance. He's played through four different coordinators -- Del Rio is his first to be on the job for two consecutive seasons -- but has just 6.5 career sacks. Now is his time. On Flacco, how has he dealt with all that comes with a Lombardi trophy and a nine-digit contract?
Hensley
: The money and increased notoriety haven't really affected Flacco. If anything, he's become more vocal. There was a playful trash-talking exchange during training camp between Flacco and Suggs, who told his quarterback that the defense's "swag is on a thousand million." Flacco responded: "Then what's my swag at? I get paid more than you. A lot more!" What has really changed is the wide receiver group around Flacco. This unfamiliarity led to four interceptions in six quarters of work this preseason. His top two receivers from a year ago won't be there Thursday. Boldin was traded to San Francisco, and tight end
Dennis Pitta
is out indefinitely with a dislocated hip. They accounted for 36 receptions in the postseason, which was nearly half of Flacco's completions. That being said, it was
Torrey Smith
and Jones who did the most damage in the playoff game in Denver. The Ravens are hoping wide receiver
Brandon Stokley
can move the chains on third downs and tight end
Ed Dickson
(hamstring) can contribute in the season opener. There has to be more confidence in the Broncos' passing attack with Manning and his bunch of talented receivers.
Legwold
: There is plenty of confidence in what the potential can be with Welker in the mix. The Broncos loved Stokley as a slot receiver, but Welker is younger and offers a bigger upside in terms of production. Welker will also have the best receivers to his outside shoulders in
Eric Decker
and
Demaryius Thomas
, the best combo he's had since the Patriots decided they didn't want
Randy Moss
around any longer. The 229-pound Thomas and the 214-pound Decker make the Broncos a tough matchup for any secondary. In the preseason, teams simply backed off into coverage and took their chances they could allow the catch and make the tackle before too much damage was done. The pace, especially at altitude, is a little something new as well. The Broncos ran 49 plays, excluding penalties, in the first half alone against the Rams in the preseason. They won't always go that fast, but if they get the look they want from a defense, they'll put the pedal to the floor and not allow a substitution. The key issue will be protection: Left tackle
Ryan Clady
missed plenty of the preseason after offseason surgery, and Denver has surrendered pressure in the middle of the field at times. The three-wide look is what the Broncos want their base formation to be on offense, but they can't do it if they can't protect Manning. It has to be a strange thing for a Baltimore defense that has been the franchise's signature for so long to have so many changes.
Hensley
: There were a lot of changes to the Ravens' defense, but there were necessary changes. The Ravens weren't a top-10 defense for the first time since 2002. This defense had slumped to No. 17 in the NFL. It's never easy to part ways with the likes of Lewis and Reed. But the Ravens aren't replacing two Hall of Fame players in their prime. Baltimore had to replace two aging players who weren't the same playmakers from a few years ago. The additions of Dumervil, defensive lineman
Chris Canty
, linebacker
Daryl Smith
and safety
Michael Huff
have made this a stronger and more athletic defense. The Ravens' defense is going to be significantly better in two areas: stopping the run and pressuring the quarterback. The biggest concern, especially when you're starting two new safeties, is the communication in the secondary. One mistake there and Manning will burn you for a touchdown. How is the Broncos' secondary holding up this summer?
Legwold
: The Broncos would feel better if Bailey felt better. Bailey did not practice Sunday or Monday because of a left foot injury he suffered in the preseason loss in Seattle and is still a major question mark for Thursday's game. Bailey has been on the field for practice, but has not participated in any of the drills. The end result means
Dominique Rodgers-Cromartie
would likely line up much of the time in Bailey's left cornerback spot. Rodgers-Cromartie is one of the more athletic sidekicks the Broncos have had for Bailey since Bailey arrived in 2004.
Chris Harris
and
Tony Carter
, the player who gave Jones a free release off the line of scrimmage on the game-tying bomb last January, will play in the nickel and dime as well. But overall the Broncos kept 11 defensive backs -- six corners, five safeties -- and can mix and match for almost every situation. They have flexibility and use it, so every defensive back in uniform Thursday night could see some action in the defense.