Denver Broncos:

Bruce Arians
October, 3, 2014
10/03/14
8:00
AM ET
One has been a league power broker, one wants to be.
And when the
Denver Broncos
and
Arizona Cardinals
get together Sunday afternoon in Sports Authority Field at Mile High, the Broncos (2-1) will try to knock some of the rough edges off while the Cardinals (3-0), one of just two teams to arrive to Week 5 undefeated, will try to show they are ready to be at the front of the line.
Cardinals reporter Josh Weinfuss and Broncos reporter Jeff Legwold take a look at the game.
Legwold:
At 3-0, how do the Cardinals see themselves? Upstart in NFC? Or team that believes it should have made the playoffs last year and is ready to take the next step to be in this postseason mix this time around?
Weinfuss:
If there's one thing the Cardinals don't see themselves as, it's an upstart team. That much was instilled in them by Bruce Arians last season. Especially after upsetting Seattle at home last December, this team believed it should've been in the playoffs. And with how they played in the second half of the season, it's hard to argue with them. But the Cardinals who returned this year learned a lot from last season's first half, most notably how important it is to win those early games. What they're doing now isn't a surprise to those who pay attention to this team, and a lot of it is a direct result of Arians' demeanor. His straight-shooting personality -- curse 'em out on the field but hug 'em off of it -- has rubbed off on everyone in the locker room. It has led to this team to believe it could win for the first time since Kurt Warner was here.
Speaking of learning from last year, what was the main thing the Broncos took away from last season's loss in the Super Bowl, and how have they used it in 2014?
Legwold:
The main thing GM John Elway took away was he wanted far better personnel on defense and some more receivers who could battle their way through physical play from defensive backs. The result was an offseason spending spree that reeled in
DeMarcus Ware
,
Aqib Talib
and
T.J. Ward
on defense to go with wide receiver
Emmanuel Sanders
. The Broncos also used a first-round pick in the draft on cornerback
Bradley Roby
and a second-rounder on wide receiver
Cody Latimer
. So, the 35-point loss certainly forced a roster makeover and for the holdovers it did provide plenty of incentive as they went through the offseason workouts. There is a feeling, after the overtime loss to the
Baltimore Ravens
in the divisional round of the 2012 playoffs followed by the Super Bowl blowout, of trying to finally close the deal this time around.
In terms of roster makeover, with all that has happened to the Cardinals' defense with the injuries, etc., how have they pushed themselves into the league's top five?
Weinfuss:
Nobody expected Arizona to be among the league's top five defenses this year after losing the likes of
Karlos Dansby
and
Daryl Washington
before the season and then
Darnell Dockett
during training camp and
John Abraham
in the first few weeks of the year. But credit must be given to the Cardinals' front office. The brain trust has done a good job of finding veterans who still have gas in the tank, such as linebacker
Larry Foote
and defensive lineman
Tommy Kelly
. But the biggest reason for the defense's success is defensive coordinator Todd Bowles. His single-gap scheme revitalized this defense last year and all he has been doing is adding wrinkles here and there to adjust to his personnel. For example, Arizona is running a lot of nickel and dime packages because it gets rookie safety
Deone Bucannon
on the field. For as good of an offensive mind as Arians is, Bowles is his equal on the defensive side.
Have the additions to the Broncos' defense been paying off? Or is it too early to see a difference? Do you think they'll be the difference between another ring and a consolation prize?
Legwold:
The new arrivals have all had impact in the season's early going. Ware leads the team in sacks (2.5), Talib has been every bit the No. 1 corner they hoped he would be and Ward is one of two players on defense who have played every snap in the first three games, having been used in a variety of roles. The Broncos have seen enough from Roby. They've tossed him into the deep end of the pool as the rookie and he has matched up with some of the league's front-line receivers. All of that said, however, the Broncos still haven't consistently shown the kind of play they'll need to hoist a trophy, particularly on third down. As linebacker
Von Miller
and cornerback
Chris Harris Jr.
, who both had ACL injuries last season, continue to work back to full speed, the Broncos should continue to improve. Also, linebacker
Danny Trevathan
, who was the team's leading tackler last season and who suffered a fracture on the top of his tibia in training camp, will play in his first game of the season Sunday. It will mean the Cardinals will be the first team to face the revamped defense with all of the starters in place.
Sticking to defense, Manning heads into this game with 499 career touchdown passes. Between the two of them, Cardinals' assistant head coach/offense Tom Moore and head coach Bruce Arians have seen many of those up close as former Colts assistants. To that end, with that kind of up-close-and-personal knowledge, how do you think the Cardinals will defend Manning and the Broncos' offense?
Weinfuss:
One thing the defense has stayed consistent on this week is that they don't want to tip their hand to Manning before the snap. With that being said, I think they'll blitz him constantly -- all three of his sacks this season have come off the blitz, which, I can imagine, was good news to Bowles. But they won't blitz Manning like they'll blitz other quarterbacks because he's so good at adapting so quickly. Arizona plans on giving Manning the same look every snap. But guys who have played Manning know he'll wait until the very last second to make a decision because the defense will have to show their blitz by then, but the Cardinals will try to hold their disguise as long as possible.
With Manning coming up on such a historic mark, has it been a distraction for this team in the sense of more non-football attention has descended upon them? Are they ready for Manning to pass Brett Favre so they can just get back to focusing on football?
Legwold:
One thing about this team is the swirl around them doesn't get to them very often. Last season they had Miller's suspension in training camp, John Fox's open-heart surgery during the bye week and five defensive starters on injured reserve by the time they were preparing to play in the Super Bowl. The Super Bowl loss may have been the first, and worst, time for the Broncos not to play to the level of a game's standing last season. Before the title-game blowout, they had handled everything that had come their way without losing their edge. This time around players here simply assume Manning will hit 500 and then go on and break the record through the natural course of things. The record is nice, but they want another shot at the title and, for the most part, they see whatever happens along the way as issues that must be dealt with to get that chance.
October, 2, 2014
10/02/14
6:15
PM ET
ENGLEWOOD, Colo. –
Denver Broncos
wide receiver
Emmanuel Sanders
isn't shocked, surprised or evenly mildly close to a double take when folks talk about how the
Arizona Cardinals
are "slinging the ball around" on offense.
That's because in three of Sanders' four seasons in Pittsburgh, current Cardinals head coach Bruce Arians was Sanders' offensive coordinator.

Arians
"You can see his mentality over there right now, in everything they're doing," Sanders said. "Defense is hard-nosed, blitzing everywhere … and on offense, they're just slinging the ball around, so that's definitely their mentality because that's his mentality. I knew that's how it would be because that's how he coaches."
Sanders caught 94 passes in those three seasons as the Steelers' offense featured the same kind of big-play pop Arians has tried to implement with the Cardinals. Arizona wide receiver
Michael Floyd
currently leads the league at 22.3 yards per catch and the Cardinals, according to ESPN Stats & Information, are second in the league with 11.3 passes per game thrown at least 15 yards down the field.
The Cardinals have had 13 pass plays of at least 20 yards in three games combined this season – by contrast, the Broncos have eight. And Arizona, with backup quarterback
Drew Stanton
having made two starts, have had four pass plays of at least 30 yards.
It's not just the completions -- it's the fact Arians' offense is always looking to toss aside the play-it-safe approach and put one over the top of the defense.
"[Other] teams look for it; not everybody is as aggressive actually throwing them, just getting the ball down the field, giving their receivers a chance," said Broncos defensive coordinator Jack Del Rio. " … Certainly something we're aware of."
Sanders says he just sees what he's always seen from Arians, who has called plays in power-run attacks as well as offenses that spread it out and put the quarterback in the shotgun much of the time.
Arians' 2009 offense marked the first time in the Steelers' franchise history that the team had a 4,000-yard passer, a 1,000-yard rusher and two 1,000-yard receivers.
"He's one of those guys who says if you go against the current, you'll drown, so he's going to do what he thinks it takes," Sanders said. "Now that means throwing the football and throwing it downfield, and he's good at doing it."
September, 30, 2014
9/30/14
5:35
PM ET
ENGLEWOOD, Colo. -- When the schedule is unveiled each spring what often looks difficult then can unravel into something else because of a rash of injuries or ill-timed turnovers.
And what once looked easy can turn out to be anything but because of a couple worst-to-first teams that seem to arrive on the scene in each NFL year.
But as the
Denver Broncos
have formally exited their bye week at 2-1 and continue to wade through the opening half of this year's schedule, what looked difficult last spring still looks plenty arduous right now.
[+] Enlarge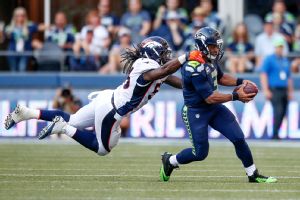 Otto Greule Jr/Getty ImagesThe Broncos' difficult early season schedule shows no letup as unbeaten Arizona comes in on Sunday.
"The last three weren't exactly cupcakes,'' Broncos coach John Fox said this week when asked about what's coming on the docket. "I think when we looked at the schedule, six out of the first eight were playoff teams from a year ago and the team coming to town [this Sunday] somehow didn't make the playoffs. Obviously it was the rules but they were 10-6, very, very good football team that's sitting at 3-0.''
The Cardinals, at 3-0 and one of just two undefeated teams in the league (with Cincinnati), will arrive in Denver this weekend as the fourth team the Broncos have faced in four games this season that won at least 10 games in 2013.
The Bronco are already the only team in the league to have faced three teams that won at least 11 games last season in the first three games.
"Every week I think we just get ready for teams' best shot,'' cornerback
Chris Harris
Jr. said. "We want to play the best because we know what kind of team we have and what kind of team we want to be.''
"Just because of the team we have, we know we have to be at our best, that we're going to get everything people have,'' defensive tackle
Terrance Knighton
said.
The Kansas City Chiefs' demolition of the
New England Patriots
on Monday night adds at least some luster to the Broncos' Week 2 win over the Chiefs as does what Colts quarterback
Andrew Luck
has done -- 11 touchdown passes, one interception -- since the Broncos' opening week win over Indianapolis.
But the Broncos' next five games will say a lot about where they are as a team and where they hope to go, starting with Sunday's visit by the Cardinals' to Sports Authority Field at Mile High.
The Cardinals are fifth in the league in total defense -- 316.3 yards allowed per game -- and No. 2 in points allowed at 15.0 per game. The Cardinals also have not one, but two, former up-close-and-personal coaches for
Peyton Manning
in current Cardinals head coach Bruce Arians, a former Colts quarterbacks coach early in Manning's career, and former longtime Colts offensive coordinator Tom Moore, who is now the Cardinals' assistant head coach/offense.
"Bruce [Arians] has done a great job with that football team,'' Fox said. "They've got very good players really in all three phases and it will be a tough, tough test here in Denver."
Following the Cardinals game, the Broncos have an early time slot game -- at least for their body clocks -- against the
New York Jets
in MetLife Stadium, and the early kickoff in the Eastern time zone has been a trouble spot from time to time through the years for the Broncos.
The Broncos then face the
San Francisco 49ers
and
San Diego Chargers
in a four-day span -- and that's with the memory of last year's Thursday night stumble against the Chargers lastr season, the Broncos' only home loss in '13 -- before a trip to face the Patriots in Foxborough, Massachusetts. And while the decline of the Patriots' dynasty was a popular topic Tuesday in the wake of the Chiefs' blowout win, the fact is the Broncos have lost their last four games in Gillette Stadium, including a playoff game to close out the 2011 season.
"We just have to go week to week, game to game, you can't look down the road or any of that,'' Knighton said. "You can lose any game you don't get ready to play. We don't want to be in a position where we look up and say we didn't get every win we could.''
November, 6, 2013
11/06/13
6:05
PM ET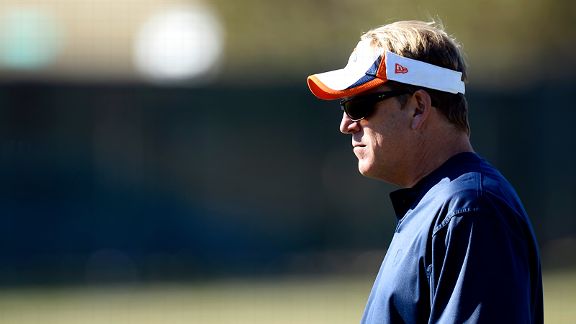 John Leyba/The Denver Post/Getty ImagesJack Del Rio aims to keep the Broncos on the same routine in John Fox's absence.
ENGLEWOOD, Colo. -- It is one man's opinion, but the man just happens to be a quarterback headed to the Hall of Fame five years after his last season in the NFL. Peyton Manning has an impact on everything and everybody inside the
Denver Broncos
' complex most days. He believes following John Fox's leave of absence due to open heart surgery, Jack Del Rio will be everything the Broncos need him to be as the team's interim coach.
And that people will see that in how the Broncos perform in the coming weeks and months as Fox recovers from surgery to replace his aortic valve.
"It's very easy to see why he's been a head coach … he's got great leadership, good command of the room," Manning said following Wednesday's practice. "Jack's a good leader, guys will answer the bell for him. He's pointed out some things he wants us to improve on, offensively and defensively, added a couple of situations to practice that he thinks we need to focus on and emphasize. I think guys will answer the bell and rally around him."
Fox's and the Broncos' season took an unexpected turn Saturday when Fox experienced dizziness and light-headedness during a round of golf in Charlotte, N.C. After multiple tests, Fox had surgery Monday and remains in ICU, Del Rio said, in a Charlotte-area hospital.
Del Rio was formally named the team's interim coach Monday morning, just before the Broncos took the practice field for the first time since Fox's health troubles. Wednesday Manning, who said he had spoken to Fox's wife Robin on Tuesday and had spoken to Fox both Saturday and Sunday, said the Broncos were ready to get to work for Del Rio.
"Coach Fox is in our thoughts and prayers, it is probably impossible to replace Coach Fox's high-energy charisma, personality," Manning said. " … All the players, everybody, has to try to step that up in that department … He wanted me to make it known after he got light-headed and sort of semi-fainted, he did chip it to two feet and made par."
Manning added; "We're following Coach Del Rio's lead."
Del Rio said he made it a point to keep the Broncos on the same schedule they've used in the team's third year under Fox. Unlike some other teams who have recently faced the prospect of an interim coach, like the
New Orleans Saints
during Sean Payton's suspension last season or the
Houston Texans
with Gary Kubiak's current leave of absence, the Broncos still have their offensive and defensive play-callers in place. And that stability should help them.
Del Rio has said he will continue to call the defensive plays on game day and the Broncos' offensive staff, led by offensive coordinator Adam Gase, will handle things on that side of the ball. Del Rio will also leave special teams coordinator Jeff Rodgers to his work as well.
Asked how much input he would have on offense, Del Rio said with a laugh; "very little." And while he will make the fourth-and-1 decisions, Del Rio said he looks to Gase and Rodgers to do what they've done all season.
"I'll do the head coach duties," Del Rio said. " … I'm not going in and tinkering on anything on special teams or offense. We have good people there, they're doing their job and again I'll be in charge of game-day decisions and that type of stuff, but beyond that, no I'm not going to go in and say 'we're going to go out this week with a brand new punt team approach, we're going to do rugby style and run all over, [that] I've had these ideas in my mind for a long time so here they come'."
As a result, though Fox's office is empty at the moment and his absence is certainly noticeable, the Broncos' actual day-to-day routine looks the same on all fronts. Del Rio has also spoken to Cardinals head coach Bruce Arians this week to see how Arians juggled play-calling duties and game-week preparations when he was the Colts' interim coach last season.
Del Rio said he's also carved out some time each day to handle the administrative things that come with filling in for Fox. Asked if he has had to change his own routine some to keep everyone else's the same, Del Rio said;
"Little bit, little bit, basically add a little time to organize head coach thoughts. Mainly staying in our routine, we've got a good routine, [we] believe in the routine, we have good people, just trust good people to do their jobs well.
" … We were very business-like," Del Rio added. " … I think, really, that's what it's about, something occurs, you've got to adjust and how do you handle it, and can you get your focus back, get back in the groove and do the things you need to do and I feel really good about the way things started this week."