Denver Broncos:

Cooper Manning
January, 19, 2014
1/19/14
10:55
PM ET
DENVER -- If Cooper Manning is to be believed, and who's to say the eldest Manning brother isn't simply reciting history, when
Peyton Manning
was 10 years old he was a 400-yard passer in total control, playing his best at the biggest moments.
That's what Cooper told his brother to be Sunday and Peyton will now play in the Super Bowl because of it.
"I just shoot him a little pregame thought and that was it,'' Cooper said in the middle of a locker room celebration after the Broncos' 26-16 victory over the
New England Patriots
in the AFC Championship Game. "It was, 'Hey, you've come this far, go ahead and pretend you're a 10-year-old playing in the front yard.' That's what it looked like.''
In the end Peyton finished 32-of-43 passing for 400 yards and two touchdowns. He completed passes to eight different receivers, and completed at least three passes to five different receivers.
On a post-card worthy, sun-splashed day with little wind, Peyton showed arm strength to all parts of the field in one of his best all-around outings since his return from a missed season in 2011.
Peyton's father Archie was emotional in the Broncos locker room following the game, talking about how he had caught passes from his son at one point -- "I wasn't moving too good'' -- and how the first family of quarterbacks dealt with the uncertainty that initially came with Peyton's recovery, especially since Cooper's own football career at Ole Miss ended because of a neck condition.
"I just didn't know, I just didn't know,'' Archie said. " … He really had a good frame of mind about working, trying it, but if it didn't work he was at peace. That was comforting, especially to me and Olivia. But he worked, he did work.''
But there were plenty of smiles to be found in the postgame conversations, spiced with plenty of hugs.
"I'm just like all the other parents of the Broncos whose child is going to the Super Bowl,'' Archie said. "I don't know besides Peyton and Wes (Welker) who's been … but it's special now, it's special … I've always admired the way Broncos fans love their team.''
September, 16, 2013
9/16/13
6:30
AM ET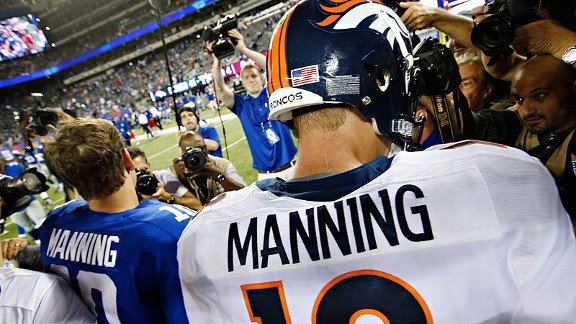 AP Photo/Kathy WillensBrothers Peyton and Eli Manning appear ready to put the Manning Bowl behind them for good.
EAST RUTHERFORD, N.J. -- When it comes to this whole brother versus brother thing,
Peyton Manning
is certain once, twice, three times are enough.
More than enough, really, and that when you get right down to it, three times were probably three times too many.
"It's strange, strange situation, strange circumstance," Peyton Manning said following Sunday's 41-23 win over the Giants, and his younger brother Eli. "A good team win, but I don't know how, it's kind of hard, it's a unique situation. Not many other players have to go through this so you can't really ask too many people for advice on it."
No, there aren't any other brothers who have each won Super Bowls as starting NFL quarterbacks to ask what it all is supposed to feel like. And everyone always seems to want to know if the older brother wants to beat the younger brother, if the younger brothers wants to beat the older brother, if there will be teasing involved and if Eli's two Super Bowl wins trump Peyton's one. In the end, Peyton looks miserable talking about it. Which makes you wonder what it would be like for the two Mannings, if by some football miracle, they ended up in a Super Bowl against each other.
But in reality after Sunday's Broncos win, that's probably it for the Brothers Bowl. Or as Peyton put it following the game:
"I think both of us are glad that it's over with. Postseason's one thing, but I don't believe I'll make it to the next regular-season one. I think this will be the end of it. I know I'll be happy about that and I think my family will (too)."
"With family it's got to be triple tough," Broncos coach John Fox said. "For Archie and Olivia, and maybe even [brother] Cooper, you don't know who to root for ... it can't be easy for a family."
The quarterback who started it all, Archie, looked just as relieved it was over following the game and had just as difficult a time summing it all up. Since the Giants made the draft-day trade in 2004 to acquire Eli, this was the third meeting. Peyton's
Indianapolis Colts
won the previous two -- in 2006 and 2010 -- to go with the Broncos' victory Sunday.
Peyton has thrown for six touchdowns combined in the three wins against his brother, while Eli has thrown six interceptions in the three games, including four Sunday. Both had their first 300-yard passing game in the three meetings on Sunday -- with Peyton going for 307 and Eli for 362 yards -- but for a family that works tirelessly to maintain its composure in the public eye, you didn't need any tea leaves to see how they felt about it.
"It's not like beating another team, it's probably not quite as enjoyable as it would be if you had beaten somebody else," Peyton said. "A good team win, Coach Fox put a lot of emphasis on being a good road team, we didn't start out well on the road last season."
Asked following the game if he thought it would be something he would hear about when all of the prying eyes were elsewhere, Eli simply said:
"I don't think so. I think this is something that we're both passionate about. What we're doing is our job."
A job where they can now, probably gratefully, move on to other things. Some day, maybe, when the gray hair comes and years go by, perhaps they will appreciate the history and significance of two brothers winning Super Bowls at the same position.
Maybe they'll remember the look across the field with their sibling looking back. Maybe someone will simply show them the math, the staggering odds of doing exactly what they have done in their vocational lives. But that's for later. Because right now they likely appreciate only one thing.
That it's over.