Denver Broncos:

Dennis Allen
January, 1, 2014
Jan 1
7:00
AM ET
ENGLEWOOD, Colo. -- The
Denver Broncos
checked an awful lot of things off the to-do list in Sunday's regular-season finale against the
Oakland Raiders
.
They set some records, including the league's single-season scoring mark at 606 points, put their 13
th
30-point game of the year in the 34-14 victory and rested some starters along the way as they had largely earned the AFC's top seed with a 31-0 halftime lead.
And after a long look at the video from Sunday's win, here are some thoughts on the team's defense and special teams:
• Jack Del Rio has made a habit of playing plenty of personnel groupings in his time as the Broncos' defensive coordinator. He says it helps players maximize whatever they can bring to the defense as well as keeps them engaged with the lure of at least some playing time always in front of them. But he has also consistently found roles for players the Broncos signed after they had been cast aside by others. Even on short notice.
The latest is former first-round pick
Michael Huff
. Huff has struggled at times in his career to live up to his lofty draft status -- seventh overall in 2006 by the Raiders -- and was released earlier this season by the
Baltimore Ravens
, who weren't exactly loaded on the defensive depth chart at that time. The Broncos signed Huff on Nov. 19 and played him for two special teams snaps on Dec. 1.
Over the last two games, Del Rio has found a place for him in the defense. Huff has played in the nickel (five defensive backs), dime (six defensive backs) and when the Broncos go to their seven defensive-back look. Del Rio has played Huff deep at safety and played him as a weak-side linebacker. He's also played Huff along the line of scrimmage in rush situations -- Huff ran down Raiders quarterback
Terrelle Pryor
on one of those snaps Sunday. Huff played 15 snaps in the Broncos' win over Houston and then followed that with 25 snaps on Sunday against the Raiders. The Broncos were moving some people out of the game in the second half with a 31-0 halftime lead, but it does show Del Rio has found a niche for the veteran safety. And with
Duke Ihenacho
expected to be under the guidelines of the league's concussion protocol for "a while',' as John Fox put it, Huff figures to be in the rotation plenty in the postseason as well.
• Raiders coach Dennis Allen was on John Fox's staff with the Broncos when the Broncos launched the read-option on the NFL world as a predominant offensive set in 2011 with
Tim Tebow
at quarterback. So, you would think Allen would have known. But since the Broncos have consistently defended others' attempts to run the offense, especially when it comes to limiting the rushing yards out of the quarterback position. Fox has routinely played something that looks far closer to a 3-4 look on defense with three down linemen and five-man fronts to hold the edges. The Broncos did so again Sunday and with the benefit of a big lead as well to mute the Raiders' attempts to run the ball. Pryor finished with 49 yards rushing in the game and the Raiders ran for 64 yards overall. In the Sept. 24 meeting Pryor rushed for 36 of the Raiders' 49 yards. Against the Redskins, the Broncos held
Robert Griffin
III to seven yards rushing on his five carries.
• Necessity has dictated the Broncos' desire for defensive end
Robert Ayers
to have a big part in the team's postseason plans after
Von Miller
. Ayers led all Broncos players with 44 snaps in Sunday's win and it was the first time all season Ayers has led the defense in playing time. During Miller's six-game suspension to open the season, the soon-to-be unrestricted free agent, played 70 snaps in the opener, 59 in Week 2 against the Giants and 42 against the Eagles in Week 4. The Broncos need Ayers to regain his early momentum when he had 4.5 sacks in the first five games. He had one after Miller returned to the lineup with Miller and
Shaun Phillips
getting the majority of the work in the rush positions. Beyond the lure of chasing a Super Bowl trip, the open market awaits Ayers at season's end, a big postseason push would certainly help his cause.
• In what was a rare turn of events for what has been a difficult season at times, the Broncos defense did not play a snap on its own side of the 50-yard line in the first half of Sunday's win. The Raiders never advanced the ball past their own 48-yard line in their six first-half possessions. The Raiders didn't have a drive longer than 28 yards until the fourth quarter. They scored of two of their three possessions in the fourth quarter against some Broncos reserves.
• The Broncos special teams continue to find themselves a little wobbly on the doorstep to the postseason. Since the Week 7 loss in Indianapolis
Trindon Holliday
has muffed the ball on six returns, losing one of those. Over that span the Broncos have also surrendered a 108-yard kickoff return for a score to the Chiefs, from running back
Knile Davis
, a 95-yard kickoff return to the Titans' Leon Washington and a 51-yard punt return to the Texans'
Keshawn Martin
. And now add the first blocked punt of
Britton Colquitt
's career to the list, on his 317th punt. Raiders' running back
Jamize Olawale
came untouched through the heart of the Broncos' formation for the first-quarter block. The Broncos defense held and the Raiders missed the field goal attempt that followed, but it was a quality design by the Raiders with an overload off the ball and it will be a surprise if an upcoming playoff opponent doesn't try something similar.
It also continues a troubling trend for the Broncos, who have been consistently solid on those units in recent seasons. While they can't add signifciant help to the roster and injuries have taken their toll on the depth chart, they still have to find the assignment discipline they showed so often early on this season.
October, 10, 2013
10/10/13
1:15
PM ET
ENGLEWOOD, Colo. -- After years of quizzing defensive coaches around the league about trying to work in an NFL world where the objective at times seems to be to build a rules book that produces as many passing yards and/or points as possible, it's clear the guys trying to stop all these quarterbacks don't really have a long list of choices.
Sure, they can dress it up by moving players around the formation or changing things out just before the snap.
Manning
But in the end they can essentially choose pressure or coverage. The resources can be sent at the quarterback in hopes the extra rushers get there before the quarterback finds the hole left behind that choice. Or they can drop six, seven, or eight players into coverage, take away throwing lanes and create irregular traffic patterns.
Which brings us all to
Denver Broncos
quarterback
Peyton Manning
. You know, the 37-year-old, surgically repaired quarterback who, according to many of those in the league who have tried to stop him on a football field over the years, has found a level of play even he had not reached before.
What to do with Peyton Manning? The sample size isn't all that big, at just five games, but after charting the games to go with some help from the fine folks at ESPN Stats & Information, it's pretty clear the Broncos' first three opponents -- the Ravens, Giants and Raiders -- rushed Manning more aggressively than the last two (Eagles, Cowboys) did.
That's probably because Manning made the first three teams pay so dearly so the Eagles and Cowboys elected to try something else. In the end, and 20 touchdowns later, not much has worked for anybody.
But the Ravens rushed five or more players at Manning on 14 or his 42 pass attempts in the opener and Manning threw for 192 yards and four touchdowns in those 14 attempts against the extra rushers. The Giants have had the most success with the extra rushers, having sent five or more rushers at Manning on 12 of his 43 attempts in Week 2. Manning threw for 70 yards and no scores on those 12 attempts.
Former Broncos defensive coordinator, and current Raiders coach, Dennis Allen has been the most aggressive against Manning. Allen and Raiders defensive coordinator Jason Tarver sent five or more rushers at Manning on 17 of Manning's 37 attempts. And ... Manning threw for 165 yards and two touchdowns on those 17 attempts.
In Weeks 4 and 5, the Eagles and the Cowboys have sent five or more rushers at Manning six times each in those two games. Manning was 6 of 6 against the Eagles on those snaps with two touchdowns and 5 of 6 against the Cowboys with a touchdown.
Most importantly, however, for the Broncos may be that Manning has not been sacked on any rush of five or more players from an opposing defense this season. So, pressure or coverage, Manning has had all of the answers so far.
September, 23, 2013
9/23/13
7:00
AM ET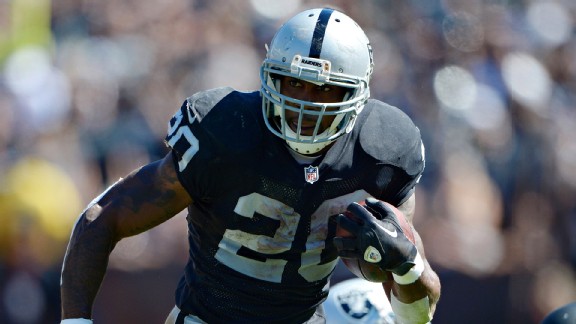 Kirby Lee/USA TODAY Sports
ENGLEWOOD, Colo. -- Preseason predictions are often a dicey affair, both for those who make them and, sometimes, for those who believe them.
The prevailing wisdom, as it were, throughout the summer was the AFC West schedule would provide little challenge to the Broncos' course of business this season. And while the tale has certainly not been told either way in the early going, Andy Reid's Chiefs have launched themselves from the gate with a 3-0 start, having surrendered just 34 points in those three games.
The Raiders are 1-1 after beating the offensively-challenged Jaguars last weekend while the Chargers are 1-2, yet having shown far more grit than some expected as they continue through their re-building project. So, that is how the table is set for the Broncos as they open their division schedule Monday night against the Raiders in Sports Authority Field at Mile High.
"Our guys understand the magnitude of division games,'' said Broncos coach John Fox. "I think our goal every year -- I'm sure, like the rest of the teams in our division -- is to win the division. Obviously, your division record is conducive to getting in the playoffs -- winning your division. It's a huge game and it's our first of the year.''
So in that light, here are some things to consider about tonight's affair:
McFadden has it McGoing. The Raiders essentially re-tooled their run game -- and fired former offensive coordinator Greg Knapp (now happily the Broncos quarterbacks coach) -- because Darren McFadden couldn't find a fit in Knapp's playbook. So, the playbook was sent packing. The Raiders are more man-on-man blocking in the run game in what is now a read-option offense much of the time. Some defensive coordinators would call it a "downhill'' attack, meaning they like to often pull linemen inside, run between the guards and pound away. They've done it well enough in two games to have averaged 198.5 yards rushing per game and McFadden has 177 rushing yards. The Raiders repeatedly pounded the ball, often pulling left tackle Khalif Barnes into the hole, at Jaguars middle linebacker Paul Posluszny. They run out of a two-back set plenty and the Broncos figure to spend more time in their base defense than they did in the first two games. During the preseason, both the 49ers and Seahawks had some success pounding away at the Broncos' base defense, which is some of the reason Wesley Woodyard was moved into the middle linebacker spot. Woodyard will need a no-nonsense, get-it-done night in this one. McFadden has always been feast or famine against the Broncos. The Broncos have held McFadden to fewer than 50 yards rushing in four career meetings, but overall in his nine career games against Denver, McFadden has rushed for 723 yards, at 5.8 yards per carry, to go with five touchdowns.

Be disciplined on D. When the Broncos dropped the read-option on the league in 2011 with Tim Tebow at quarterback, at least part of the success was the NFL mindset overall on defense. That getting up the field was Job 1, that disruptive edge rushers both get paid and pay the bills. And those running the read-option love edge players who want to only get up the field, gap control be damned. And when the Broncos ran the read-option down the stretch that year, it took several weeks for defenses to adjust and the point totals started to go down for the Broncos. It all means defensive ends Robert Ayers, Derek Wolfe and Shaun Phillips (he's questionable after missing Saturday's practice with back spasms), have to follow a John Wooden maxim -- play fast, but don't be in a hurry. The Broncos have seen what it looks like -- all the way to a division title and a playoff win in '11 -- when defenses don't handle their business against the read-option. They also know what it looks like when defenses do.

Tricks and treats. When McFadden was at the University of Arkansas, the Razorbacks coaching staff often let him line up as the quarterback in the shotgun -- the Wildcat look -- to take the direct snap and do his thing. The Raiders, in their new offensive scheme, have flashed that as well. It's another test of assignment discipline because McFadden threw seven touchdown passes in his career at Arkansas and has the ability to put the ball on target.

Twenty-somethings. The Raiders have nine sacks this season with five of them coming from defensive backs. Coach Dennis Allen and defensive coordinator Jason Tarver add players from the secondary liberally to the rush. There were several defensive snaps against the Jaguars when the Raiders had four- and five-man rush schemes and two of the players headed to the quarterback were defensive backs. Certainly there is a risk-reward in all of that. The reward, for a defense, is it's often hard to track rushers coming from that far off the ball and offensive linemen will make mistakes at times. So, often a defensive back with some up-field skill will get a clean run at a quarterback. The risk is a defense suddenly has players in the passing lane who are not really pass defenders. They are more deterrents, told to get into a specific spot to force a quarterback trained to move through progression to look elsewhere when he sees the wrong color jerseys in front of him. But for an accurate quarterback who can fit the ball into coverage, it can open up big-play possibilities. The Broncos certainly have that kind of quarterback in Peyton Manning, who routinely digests blitz packages like breath mints, especially pressure off the edge which opposing defensive coordinators say he sees better than most in his pre-snap reads. It will be intriguing to see how aggressive the Raiders are, but they may have no choice. If Allen and Tarver feel it's going to be difficult for the team's re-made secondary to hold up in coverage against Manning they may feel they have no choice other than to go after the future Hall of Famer.

Perhaps bigger? The Broncos have sported a three-wide receiver, two-tight end set at times in Fox's tenure with the team. And while that essentially tells the defense a pass is coming, the Broncos have been effective using it in the past to widen the formation a bit and push the edge rushers out, forcing them to cover a little more ground to get to the quarterback. With Joel Dreessen close to coming back -- he is the Broncos' best combination of receiver/blocker at the position and is listed as questionable for this game -- the Broncos could be inclined to break it out again against the aggressive Raiders. It would be a departure of the plan so far, given the Broncos have lined up in three-wide, with one tight end and one running back, on 72.3 percent of their offensive snaps in their two games. However, in both the season opener and last Sunday against the Giants, the Broncos snapped their offense back on track by going to a traditional two-tight end look for a selection of snaps.
September, 21, 2013
9/21/13
7:00
AM ET
ENGLEWOOD, Colo. -- With left tackle Ryan Clady on injured reserve, the Broncos certainly have some adjustments to make up front in the weeks and month ahead, beginning with Monday night's game against Oakland.
And with Clady's replacement,
Chris Clark
, now set to make his first career start at tackle -- he started six games in 2011 for the Broncos as an extra tight end when they went to a read-option look on offense -- he will find a little different look in the Raiders' defense. That's because in addition to the nine new defensive starters the team has sported this season, the Raiders have chosen to go big at what is traditionally a speed-first spot on defense.
Coach Dennis Allen, a former Broncos defensive coordinator, and Raiders defensive coordinator Jason Tarver have elected to put Colorado Springs native
Lamarr Houston
at right defensive end. And the 6-foot-3, 300-pounder doesn't fit the mold of the usual edge rusher.
Houston played the power end -- the left defensive end, who is traditionally across from the right tackle and tight end -- last season, but Allen likes Houston's combination of strength as well as quickness for a bigger player (he was an All-American prep running back). Houston is consistently good with his handwork and often keeps offensive linemen from locking on.
The Raiders also put a little smaller player -- the 6-foot-4, 270-pound
Jason Hunter
(a former Bronco) -- at the power end spot, opposite of Houston. Allen likes Hunter's consistency in holding the edge in the run game. To put Houston and Hunter in the spots where he believed their skills best fit the defense, the Raiders have put the two in positions opposite of where many would expect them to be because of their body types.
Houston looks more like a power end, and Hunter looks more like a rush end. But that's not the way the Raiders play them. What it means for Clark is he will essentially be wrestling with a player in Houston with the strength and upfield power of a defensive tackle. The 305-pound Clark won't necessarily have the size and strength advantage as he tries to anchor to keep Houston from advancing up the field.
The Broncos could give Clark some help with a tight end to that side and allow right tackle
Orlando Franklin
to work in one-on-one situations with Hunter, something the two have done many times in previous Broncos training camps and practices.
The Raiders do bring the pressure from other spots in the formation -- five of their nine sacks this season are by defensive backs (3.5 from safeties, 1.5 from cornerback
Tracy Porter
) -- so the Broncos linemen will have to play with awareness to pass off some rushers to those next to them and pick up the late arrivals. But it all starts with Houston and Hunter forcing the issue from the two end spots.
September, 20, 2013
9/20/13
12:00
PM ET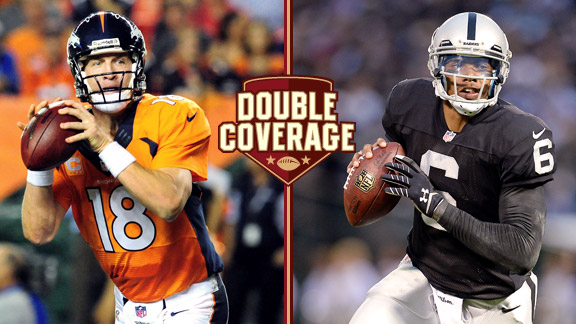 Getty Images, AP PhotoPeyton Manning and the Broncos look to improve to 3-0 as they face Terrelle Pryor and the division-rival Raiders.
The
Denver Broncos
and
Oakland Raiders
open up AFC West play with a Monday night affair at Sports Authority Field at Mile High -- an 8:40 p.m. ET kickoff with the ESPN crew on hand.
The Raiders have played hard for coach Dennis Allen and sit at 1-1 after a win over the low-octane
Jacksonville Jaguars
last weekend. The Broncos intercepted
Eli Manning
four times on the way to a win over the
New York Giants
that moved them to 2-0.
Raiders team reporter Paul Gutierrez and Broncos team reporter Jeff Legwold break down this week's edition of a long-simmering rivalry between the longtime division foes.
Legwold:
After seeing
Peyton Manning
twice last season, Dennis Allen certainly knows the kind of problems the Broncos create for defenses. He also knows Denver's first-year offensive coordinator, Adam Gase, very well. What does Allen think of the Broncos running their high-speed attack at altitude and the challenge it will be for a defense that got a big makeover in the offseason?
Gutierrez:
There is no doubt that this will be a huge test for the rebuilding Raiders in general and Dennis Allen and defensive coordinator Jason Tarver in particular. This is especially true with strong safety
Tyvon Branch
out for an indefinite amount of time with a broken leg. Not only is Branch the highest-paid Raider this season at $9.5 million, but he also started 63 of the Raiders' past 66 games and was one of just two returning starters on defense.
While Oakland is tied for the league lead with nine sacks, five of them have come from defensive backs, and we all know how adept Manning is at picking up blitzes. So the Raiders, who will be mostly in nickel packages, will have to pick their spots wisely against Manning and that pass-happy offense while trying to get their first turnover of the season. They will need to continue to build an identity of a defense that flies to the ball, mile-high air be damned. Manning looks to be better than ever, yet there's still the question of how his body is going to react to a brutal blind-side hit. Have the Broncos taken any extra measures to ensure that does not happen, or is that not even a concern for him anymore?
Legwold:
They are concerned any time Manning takes a hit. During the preseason loss in Seattle, rookie running back
Montee Ball
missed a blitz pick-up and Manning took what was one of the biggest hits of his tenure in Denver. When the Broncos go to its three-wide set, the team places on emphasis on pass-protectors in the backfield. That's a big reason why running back
Knowshon Moreno
has played most of the snaps when they have been in their three-wide look. But overall Manning is stronger this season. The receivers say his arm is stronger as well. Throw in his increased comfort level with the city, the team, the offense and his receivers, and you see why he has thrown for nine touchdowns in two games. Sticking with the quarterbacks, why do you think Allen went with
Terrelle Pryor
as the starter and what can folks in Denver expect from him?
Gutierrez:
The decision to start Pryor was made for Allen. And no, I'm not talking about owner Mark Davis meddling in football affairs, although it is known throughout Silver-and-Blackdom that the Son of Al does like Pryor's potential. A brutal preseason showing by quarterback
Matt Flynn
forced the decision for the Raiders. I might argue that Flynn is actually a better, more polished NFL quarterback at this moment than Pryor. But with the injuries on the offensive line at the end of camp, no time for Flynn to set up in the pocket and the lack of a true No. 1 receiver, Pryor and his ability to extend plays give the Raiders the best chance at success.
He almost pulled off the upset in the opener at Indianapolis, passing for 217 yards and running for a franchise quarterback record 112 yards. Still, two red-zone interceptions were too much to overcome. He was not as electric in the Raiders' home opener against Jacksonville but he did not have to be. Not with
Darren McFadden
breaking out for 129 yards on the ground. Pryor wants to be a prototypical pocket passer, and maybe that should be commended. But even his position coach, John DiFilippo, told me the Raiders want him to run. I think we'll see more of that Monday night in Denver, especially if the Broncos bite hard on the zone read-option in trying to stuff McFadden at the line. Having said that, how adept are the Broncos at dealing with the zone read? Obviously they practiced against it a few years back with
Tim Tebow
there.
Legwold:
You could argue it was the Broncos who really got the zone read-option rolling in 2011. It was a decision made in desperation, however, after watching Detroit devour Tebow in the pocket. So, against the Raiders, no less, they dropped the read option on the NFL world and rode it into the playoffs that year. The coaches have vast experience with it and have taken it apart on many levels when they were trying to predict how defenses would align themselves against it in 2011. Nobody else was using it, so they had to sort of predict how people would defend them because there was no real video to go on at that time.
They often played devil's advocate when looking at the scheme and it has enabled them to be a little ahead of the curve when preparing for someone else's version. The intriguing part will be if the Raiders keep the Broncos in base defense. Both the 49ers and Seahawks moved the ball well against the Broncos' base defense during cameo appearances by the starters in August. But the Broncos' defense also benefits from Manning's ability to put the points on the board, because offenses often end up in catch-up mode. In terms of the Raiders' offense overall, they lead the NFL in rushing, so how have they kick-started McFadden after a frustrating 2012 season for him?
Gutierrez:
McFadden, when right, is one of the most dangerous running backs in the NFL. The Broncos would be the first to attest to that fact. In nine career games against Denver, he has rushed for 723 yards, five touchdowns, and has also caught 15 passes for 120 yards and two more scores. His 5.8 yards-per-carry average against Denver is his best against any opponent in his six-year career. So what got him on track last week? Well, for one, he's healthy (remember, he' has never played in more than 13 games in a season). Two, and this would be my biggest criticism of Allen's rookie season, McFadden is no longer running behind a zone-blocking scheme. He averaged a career-low 3.3 yards behind the scheme last year. The Raiders returned to a base power-blocking scheme this year.
Still, the game plan is similar in that it calls for McFadden to run into the line for negligible gains time and again in hopes of popping a big gainer. It worked to perfection against Jacksonville, when McFadden had runs of 30, 28, 26 and 24 yards. Still he had just 21 total yards on 15 other carries. McFadden has to be patient in this system. Speaking of patience, it does not look like Manning has had to have much time in developing a chemistry with
Wes Welker
. How well is Welker fitting into the Broncos' scheme in his first year with Manning after six years with
Tom Brady
in New England?
Legwold:
They have meshed quickly, as you would expect from two guys who have done so much already in their careers. The issue for the Broncos, really, is they have to be able to consistently stay in a three-wide set to use Welker to his fullest potential. When they have had some choppiness on offense to open both games, it's because they have not consistently protected Manning while making room for the running game out of the three-wide formation. Against the Ravens and Giants, they have moved to a two-tight end look to get things going and it worked well both times. But when they move out of three-wide that takes Welker off the field. But when he's in the game there is no situation when Manning doesn't look for him. Welker did have three drops against the Giants. The Broncos, overall, will use him deeper down the field than the Patriots did at times. Looking at the passing game, with
Ryan Clady
out for the remainder of the season with a foot injury it's a good time to ask how the Raiders' defense finds itself tied for the league lead in sacks after two games?
Gutierrez:
It's a ridiculously small sample size, but the Raiders are most definitely feeling pretty good about themselves not only being tied for the league lead with nine sacks, but being on pace for 72 for the season. Their team record since it became an official NFL stat in 1982 is the 65 they had in 1985. Remember, this unit had only 25 sacks in 16 games a year ago. So why the uptick? It's not necessarily due to a better rush up front -- five of their nine sacks have come from defensive backs. So that means Tarver is dialing up a variety of blitzes, which the former Raiders owner despised. You might say Tarver and Allen have a class of player closer to the prototype they want in order to instill their brand of pass rush. Alas, the Raiders lost Branch on just that -- a blitz, when he was taken down by Jacksonville left guard
Will Rackley
while rushing
Chad Henne
. In fact, it looked as if the injury happened just after Branch crossed the lip of the baseball dirt infield into the grass. But I digress.
Pass rush is about technique, right defensive end
Lamarr Houston
told me, and it seems as though their technique is much improved … after two games. Keeping with the small sample size theme, Allen was in Denver only one year. While much was was made about Tebow, many observers say it was Allen's defense that won the division for the Broncos in 2011. Raider Nation did not take kindly to Allen's wide grin while shaking John Fox's hand after the Broncos beat down the Raiders, 37-6, last year in Denver. How respected is Allen still in the Mile High City, and does he still cast a shadow?
Legwold:
Anyone who was associated in the turnaround season that was 2011 carries a little more cache with fans. Things were so dismal in 2010, when they finished 4-12, had Spygate and fired John McDaniels. When John Fox arrived with his new staff, including Dennis, people treated it like the fresh start it turned out to be. Pitch in
Von Miller
winning defensive rookie of the year that season, Tebow's popularity and the six-game win streak that year on the way to a division title at 8-8, no less, and folks generally think 2011 started what's going on now.
In terms of Allen, people appreciated the improvement the team made, but given he was here just one season I don't think fans, or even some folks in the media believe they got to know him very well. From a football standpoint, what the defense did that year often gets lost in all of the chatter about Tebow, when in fact the team continued to win games despite the offense being in the lower third in the league in scoring after going to the read-option. There were an awful lot of games when Tebow would have never had a chance to chase some late-game glory had the defense not hung in there for the first three quarters. How have people taken to Dennis there, and do people see the 1-1 start as progress?
Gutierrez:
Allen has had a lukewarm reception. If the Raiders win, he's cool, so to speak. If they lose? Then it's all his fault for hiring Greg Knapp last year to destroy the offense. It's like any fan base, I suppose, but as I mentioned earlier, they were really upset with Allen after that picture caught him with a big smile after last year's game in Denver. I asked him about it at the time and Allen said he was simply caught off guard by a joke Fox told him during the postgame handshake. Fans were not having it. This year, though, there's more of a wait-and-see approach. Even if some fans believe Allen did not want to give Pryor a fair shot at winning the quarterback gig. That's all water under the bridge now, though, and many of the more level-headed denizens of Raider Nation believe Allen deserves at least three years to get his program up and running -- similar to a college hoops program. Unless, of course, the players quit on him this season, like they seemed to do last November before rallying late.
Legwold:
Paul, great stuff. That about covers it. It should be great divisional match-up for a Monday night audience.
September, 20, 2013
9/20/13
7:00
AM ET
ENGLEWOOD, Colo. -- Few players in the last decade have vexed the Denver Broncos' defense quite like Oakland Raiders running back
Darren McFadden
, and it is McFadden who will be the first real on-the-ground test of the season for the Broncos' base defense and, especially, middle linebacker
Wesley Woodyard
.
McFadden
It's not that McFadden crushes the Broncos spirits every time he faces them -- the Broncos have held McFadden to fewer than 50 yards rushing in four career meetings -- it's when McFadden does get it going, it is a spirit-crushing event. There was '08, when McFadden carried the ball just 10 times in a November meeting that year, for just 38 yards, yet still scored twice.
There was 2010, when McFadden rushed for 165 yards and three TDs with Denver well on the way to a deserved 4-12 finish.
Or 2011, when current Raiders coach Dennis Allen was the Broncos' defensive coordinator, when McFadden pounded out 150 yards rushing against Denver.
In his nine career games against Denver, McFadden has rushed for 723 yards, at 5.8 yards per carry, to go with five touchdowns. The Raiders wanted to see those impact plays once again, and essentially re-tooled their offense in the offseason with McFadden in mind. Allen fired former offensive coordinator (and current Broncos quarterbacks coach Greg Knapp) to move from a zone-run game to a more man-on-man look.
Knapp is a respected coach in the league, but McFadden never found a comfort level in the scheme. Asked about McFadden's resurgence over this season's first two weeks, 177 yards rushing on 4.9 yards per carry, Allen said:
"I think the biggest thing is, from his mindset, that he's comfortable in the things we're asking him to do, comfortable in the scheme. And he's had some success in doing that.''
Woodyard must consistently be the first to the ball and cannot allowed yards after contact. When McFadden, who still has top-shelf speed in space despite plenty of lower-body injuries in his career, has gotten it going against the Broncos the missed-tackle totals have been exceedingly high -- perhaps none higher than the 165-yard day in '10. Defensive tackles
Kevin Vickerson
,
Terrance Knighton
and
Sylvester Williams
have to do their parts as well and keep the Broncos' linebackers clean so the linebackers can fill the run lanes and keep McFadden out of the open field.
If they don't, McFadden will simply add another problem day to the list.
September, 19, 2013
9/19/13
6:27
PM ET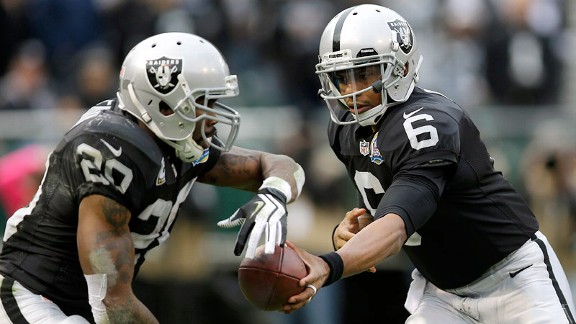 AP Photo/Marcio Jose SanchezTerrelle Pryor and Darren McFadden will bring Oakland's brand of the read-option offense to Denver.
ENGLEWOOD, Colo. -- Dennis Allen was the
Denver Broncos
defensive coordinator when the Broncos dropped the read-option offense, with
Tim Tebow
at quarterback, into the NFL's lap.
The Broncos did it, for the first time in that 2011 season, in a November game against the Raiders. Denver rushed for 299 yards in a 38-24 win where the Oakland defenders were repeatedly fooled. Allen will bring the Raiders' own version of the scheme to Denver Monday night with
Terrelle Pryor
at quarterback.
"It's probably good we've seen a lot of that type of offense,'' said Broncos cornerback
Chris Harris
. "Against that type of offense, you just have to do your job, don't get out of your spot because you're trying to do something else. You just have to keep your eyes right.''
The Raiders arrive in Denver leading the league in team rushing yards -- 198.5 yards per gam. Pryor has contributed 162 of those yards. Changes in the playbook has kick-started running back
Darren McFadden
as well, who's 177 rushing yards (4.9 yards per carry) is ranked fourth in the league.
"[McFadden] is an explosive weapon for us and we realized that was something we had to figure out how we were going to get him the ball, get him in space and get him opportunities to create some explosive plays for us,'' Allen said.
The decision to add Pryor to that mix was a bit of a surprise given the Raiders traded two draft picks (a fifth-rounder in the 2014 draft and a conditional pick in 2015) to Seattle to acquire
Matt Flynn
. At the time Allen said Flynn had the skillset of a starting quarterback and would benefit from the change of scenery where Flynn had been beaten out by then-rookie
Russell Wilson
for the job with the Seahawks.
But the Raiders went to Pryor to open the regular season and with that came the team's current approach. The Raiders will test the discipline of the Broncos' defenders, particularly defensive ends
Derek Wolfe
,
Robert Ayers
and
Shaun Phillips
.
"I always thought I would start for the
Oakland Raiders
, I just didn't know when,'' Pryor said. "I know the process, I just had to take it one day at a time and get better and keep bringing a spark to the offense.''
"It was really one of those decisions where the more you sat back and watched it, you just saw when he was in the game, he moved the offense down the field, we were able to score some points and it gave some energy to our whole football team,'' Allen said. "I just felt he was a guy … he gave us the best chance to move the team, he gave us the best chance to win some football games, it was simple as that really.''
Pryor has an intriguing take on facing Broncos' quarterback Peyton Manning. After two weeks this season Manning has nine touchdown passes and the Broncos have topped 40 points in each of their first two games. "I will say this as I watch the games, of the other quarterbacks they look like they're pressing to match Peyton Manning,'' Pryor said. "You do that, you'll come up short because Peyton's a great quarterback. It reminds me of Tiger Woods, competitors going against him they kind of fold because they press, try to press the ball, not take what the defensive is giving them. I've just got to stay away from doing that.'' Eli Manning threw four interceptions last Sunday and in the opener Raven quarterback Joe Flacco threw two interceptions.

Broncos guard Chris Kuper, who has spent a year and a half battling back from a fractured/dislocated ankle he suffered in the 2011 regular-season finale to go with an infection that followed as well as a second surgery on the joint, practiced fully Thursday. It was the first time Kuper has been listed as a full participant in a practice since during the 2012 season.

With left tackle Ryan Clady, who was one of the offensive team captains, now on injured reserve, the players re-voted Thursday morning to select another captain and chose wide receiver Wes Welker. Manning, Wesley Woodyard, Champ Bailey and David Bruton are the other captains. The coaches also picks one additional captain for each game. "I think it's one of the greatest honors you can have on a football team,'' Welker said.

Manning was asked Thursday about the impending retirement of Colorado Rockies first baseman Todd Helton -- the two are long-time friends. He highlighted Helton's longevity (17 years), toughness and his role in helping Manning return from a missed 2011 season following multiple neck surgeries. "During the lockout (in 2011), when I was in a strange injury situation, for him to get on the phone and call me and invite me out here to work out with the Rockies, in private, and use the Rockies trainers -- I'll always be indebted to him,'' Manning said. "I was kind of in a weird place, an unknown, I had really nobody to turn to medically because of the lockout. What Todd did, that really gave me some good direction, I'll always be indebted to him for that.'' Helton was a University of Tennessee quarterback as well as high-profile baseball player for the school when Manning arrived as a freshman.

Allen on trying to rush Manning; "You've got to be careful with anything you do against Peyton Manning … It's hard to get to Peyton sometimes, just on air.''
September, 19, 2013
9/19/13
1:10
PM ET
ENGLEWOOD, Colo. -- If you really want to feel what the
Denver Broncos
-
Oakland Raiders
rivalry should be, what many of those who fill the seats in each city in each football weekend expect it to be, you're going to need a few things.
Like …
Gray hair.
A good memory, as in a really, really good memory. You know, almost Mensa.
VHS.
Oh, and quarterbacks. Game-changing, rivalry-stoking quarterbacks.
[+] Enlarge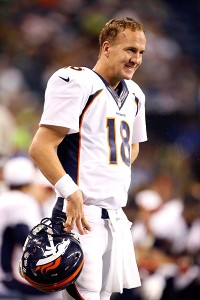 Joe Nicholson/USA TODAY SportsQB play has helped Denver dominate its rivalry with the Raiders in recent seasons.
As the Broncos and Raiders prepare to open up AFC West play for each on Monday night, these two ships will again pass in the night. The Broncos, with
Peyton Manning
at quarterback, consider themselves a Super Bowl contender, complete with plenty of eight-figure contracts and a parcel of off-the-field drama in tow.
The Raiders are in Year 2 of not just a re-build job, but they have largely scrapped the lot and elected to start from the ground up. With that the team's decision-makers, including general manager Reggie McKenzie and coach (and former Broncos defensive coordinator) Dennis Allen, have handed the offensive keys, at least for the moment, to quarterback
Terrelle Pryor
, their latest hope behind center.
The bottom line is it's been quite some time since this long-standing, annual battle between two of the AFL's original eight, has been a give-as-good-as-you-get rivalry. Even with all of the road the two have traveled together, the fact is they have rarely been good together, facing off at the peak of their powers.
One of the two has most often been up, flexing potential postseason muscle, and the other has basically been the welcome mat. There have been just five seasons when both the Raiders and Broncos made the playoffs in the same year. And since the start of the 1992 season, they have both made the playoffs in the same year just once -- in 2000 when the Raiders won the division at 12-4 and the Broncos were a wild card at 11-5. That's a long way from the zenith, the 1977 season when the two didn't just meet in the playoffs, they met in the AFC Championship with a Super Bowl trip at stake.
Or as Broncos Ring of Famer Randy Gradishar put it; "Now that's what a rivalry looks like. If people ever want to know what it looks like, what it feels like, that was it right there."
Since, however, there's also the Shanahan effect. When Mike Shanahan was hired by the Broncos, it was his second stint as an NFL head coach since his first stint had ended rather unceremoniously in Oakland four games into the 1989 season. Shanahan and the late Al Davis also had a long, well-chronicled tiff over some bonus money after the firing, adding some emotional hot sauce. So, needless to say, Shanahan liked beating Davis' team and made it an organizational priority. And Shanahan did it a lot, going 21-7 against the Raiders in his time with the Broncos.
Current coach John Fox is 3-1 against the Raiders in his two previous seasons on the Front Range. The only time since Shanahan's first season in Denver the Raiders have had an upper hand against the guy wearing the big headset for the Broncos was during Josh McDaniels' just-under-two-year tenure when the Raiders were 3-1 against the Broncos.
But like most things in the league these days, success and failure over the long haul can often be traced back to what happened at quarterback, how the draft went and just how many ill-conceived contracts were handed out to free agents who didn't perform.
While the Broncos have certainly had their draft/checkbook stumbles over the past two decades, they have had fewer than the Raiders. Even as the quarterback search in the post-Elway era has had some ups and downs in Denver -- seven different quarterbacks have started against the Raiders for the Broncos since Elway retired following the 1998 season -- it has gone far better than the mistake-filled search behind center for the Raiders.
Brian Griese,
Jay Cutler
and Peyton Manning have been named Pro Bowl quarterbacks for Denver in the post-Elway era while Gus Frerotte, Tim Tebow, Jake Plummer and Manning each started postseason games for the Broncos over the past 15 years. By contrast the Raiders have started 13 different quarterbacks against the Broncos since the start of Shanahan's first season in Denver. And Rich Gannon is the only Raiders quarterback to have started at least five consecutive meetings with the Broncos over that span.
Sure, Broncos cornerback
Champ Bailey
will often say "we don't like them and they don't like us," when the division games come rolling by, but Broncos-Raiders is really a remember-when rivalry right now, something maintained and nurtured because folks feel it's the right thing to do along the way. The bones are there, though, just waiting for both teams to cooperate and make it what all involved always seem to hope it will be.
September, 18, 2013
9/18/13
1:30
PM ET
A weekly examination of the
Denver Broncos
' quarterback play.
Rewind:
Those who know him say there is no question that
Peyton Manning
takes almost no joy in facing his younger brother, Eli, in a game and Sunday's meeting was the third time it's happened in the pair's NFL careers. And in the end Peyton's effort was a no-frills, workmanlike affair as he finished 30-of-43 passing for 307 yards and two touchdowns. He called it "strange."
Manning
Fast-forward:
Raiders coach Dennis Allen, a former Broncos defensive coordinator, has his defense tied for the league lead in sacks (nine) after two games. And while the late Al Davis was never a big fan of blitzing to get to opposing quarterbacks, half of the Raiders' sacks this season have come from defensive backs, so Manning figures to get pressure from all over the formation with backup left tackle
Chris Clark
set to start for the injured
Ryan Clady
.
Patience a virtue:
The Giants were determined to take away the big play in the passing game and consistently dropped their linebackers deep and kept at least one safety well downfield -- the Giants had just six defenders in the box on Knowshon Moreno's first touchdown run. So Manning took the short-and-sweet approach, with 18 of his completions in the game going for 10 or fewer yards. He had 11 completions of between 11 and 20 yards and just one -- a 36-yarder to
Andre Caldwell
on the Broncos' first possession -- of more than 30 yards.
Prediction:
Manning, with nine touchdowns in two games, has already proved he is willing to pick away at a defense if he has to, so Allen figures to be a little more aggressive, especially on Clark's side of the formation. So the Broncos will pick up the pace on offense and test the Raiders' ability to get everybody in the right spot.
September, 10, 2013
9/10/13
4:55
PM ET
ENGLEWOOD, Colo. -- The one thing the seemingly endless parade of defensive coordinators who marched through the Broncos' Dove Valley complex in recent years couldn't bring with them was continuity.
From Larry Coyer to Jim Bates to Bob Slowik to Mike Nolan to Don Martindale to Dennis Allen right up to Jack Del Rio, over seven consecutive seasons, everybody had a different vision of what the playbook should be and what the Broncos' players should do in it.
And while that made consistency in the draft as well as free agency anywhere from difficult to impossible to achieve because all the coaches wanted different kinds of personnel, it had another effect on things as well.
[+] Enlarge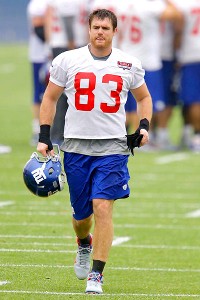 Jim O'Connor/USA TODAY SportsExpect the Giants to try to use Brandon Myers to beat the Broncos' defense.
"And I think it makes it harder to fix something,'' is how
Champ Bailey
put it. "You're so busy getting everybody used to what you expect, how you're going to do things and you can't really deal with too much of what happened before. You're getting another system in place and sometimes you can't really work through some things that happened the year before because you're kind of starting over.''
While any Broncos success could certainly put Del Rio in the head coaching mix in the next offseason, the guys in the Broncos defensive huddle at the moment are certainly glad to finally see the same face in front of them every day this time around. They also believe it could help the Broncos repair -- in a 2012 filled with good stuff on defense -- a glaring issue in their output last season.
A defense that tied for the league lead in sacks, finished second overall in fewest yards allowed and fourth overall in fewest points allowed, simply could not consistently cover opposing tight ends in the passing game. And Sunday, in the Giants'
Brandon Myers
, the Broncos begin a run through the NFC East over the next month that will include the Cowboys'
Jason Witten
and the Eagles'
Brent Celek
as well.
"That's always something you know quarterbacks are looking for,'' said Broncos linebacker
Wesley Woodyard
. "It seems like every team has a big guy who can run and make plays.''
Last season opposing tight ends finished with 81 catches for 948 yards and a staggering 11 touchdowns combined against the Broncos. That's 25 percent of the receptions the team allowed last season and 44 percent of the receiving touchdowns allowed. And in a league where 19 of the top 20 players in receiving yardage last season were wide receivers (43 of the top 50), it shows a departure from business as usual to find what opposing offenses believed was a winning match-up, especially in the scoring zone.
Last year, three of the six 100-yard receiving games surrendered by the Broncos were to tight ends –
Jermaine Gresham
,
Greg Olsen
and
Dennis Pitta
. Also, of the four players to have two receiving touchdowns in a game against the Broncos last season, three of those were tight ends --
Antonio Gates
, Olsen and Pitta.
Pitta's hip injury kept him out of the season opener against the Broncos last Thursday night, but that didn't keep Ravens quarterback
Joe Flacco
from trying to work the theme. Flacco targeted tight end
Ed Dickson
five times in the game, but Dickson, who struggled with drops in the game, made just one catch for 13 yards.
This week the Broncos must focus on Myers, who had seven receptions for 66 yards and a touchdown in the Giants' loss in Dallas -- a game in which the Giants had three wide receivers top 100 yards. The Broncos faced Myers plenty during his four seasons in Oakland. In Myers' breakout 79-catch season in 2012, the Broncos were able to limit him to one catch in each of the two meetings.
Woodyard and
Danny Trevathan
are the linebackers who most often get coverage duty on opposing tight ends and the Broncos will also use their safeties when they get into some of their specialty packages.
"We know when we're in coverage, we can't let the ball in there,'' Trevathan said. "You don't want any completions, we want to get stops and get off the field.''
"It's a match-up league, it always has been, it always will be,'' said Broncos coach John Fox. "Every team is looking for those match-ups to take advantage of. We always look at things we maybe haven't done as well as we can because we don't want bad things to happen again. The thing about mistakes is you admit them, fix them and try not to repeat them.''