Denver Broncos:

Elvis Dumervil
August, 11, 2014
8/11/14
12:00
PM ET
ENGLEWOOD, Colo. -- In their first significant tackle-for-real effort of the 2014 preseason the
Denver Broncos
scooped out plenty of vanilla on defense, but it was clear they're going to be able to rush the passer when they get down to business.
And beyond any reckless preseason sack prediction that are often are tossed out in the August sun, the Broncos have a variety in personnel and a defensive coordinator in Jack Del Rio who is apt to rotate, switch out and use as many players as he can.
"Our guys know, and I say this to them and to you, if you have a uniform on game day and you've shown us you have something to offer, you're going to play,'' Del Rio said.
[+] Enlarge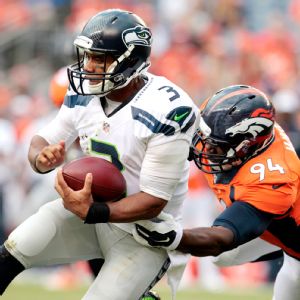 AP Photo/Joe MahoneyThe Broncos got to Russell Wilson twice in Thursday night's preseason opener.
And then Del Rio added, with his best ex-linebacker half smile; "What that means specifically will have to wait. We'll wait and see. We'll wait and see until it all shakes out and we're game-planning for our opponents. But I think we like our possibilities.''
So, while the Broncos sacked
Seattle Seahawks
quarterbacks three times Thursday night --
Russell Wilson
twice in his 24 snaps,
Tarvaris Jackson
once -- and they will likely sack the quarterbacks to come here and there over the next three preseason games. But how it's all going to look and if it really is better than what the Broncos had to offer last season, that will remain under wraps for the most part.
At least until the Colts and
Andrew Luck
shows up Sept. 7 for the regular-season opener.
"It is still training camp to where you can throw everything out there, you throw the kitchen sink out there,'' defensive end
DeMarcus Ware
said. "And then at the end once you're done with training camp we have the tool box ready for the season. Now that is what this game is about, that is what each preseason game is about ... to get better each week."
However it turns out it will be a convergence of returning players, including those who missed out on the Super Bowl because they were on injured reserve, players such as linebacker
Von Miller
, cornerback
Chris Harris
Jr., defensive end
Derek Wolfe
and defensive tackle
Kevin Vickerson
to go with those they've added. And they added three players -- Ware, cornerback
Aqib Talib
and safety
T.J. Ward
-- who have all been named to the Pro Bowl in their careers, including seven for Ware.
Former Broncos cornerback
Champ Bailey
has always said the defenses that make life the most miserable for quarterbacks essentially have three elements. They have more than one player who can consistently create pressure off the edge, they have a secondary good enough to make the quarterback hold the ball that little bit extra so the front can get there, and they can send players from all over the formation.
Again, while preseason optimism is a rite of summer to be sure, the Broncos would appear to have all three of those elements, even if Miller isn't yet full speed.
"You don't really get that chemistry until it's like third-and-7 at the beginning of the fourth quarter and you're down like three points, or you're up by three points and you need a sack or a big play,'' Miller said. "You don't really get that chemistry until you're in those types of situations. You develop that in those types of scenarios. When we get to that point, I'm confident that we'll be able to perform to the best of our abilities, and I'm looking forward to getting in those situations.''
Miller
Other than the injuries that eroded the defense as it dropped from fourth-best in points allowed per game in 2012 to 22
nd
last season, the loss of
Elvis Dumervil
in the fax fiasco rippled through the defense. Though the Broncos hit on free-agency bingo when late signee
Shaun Phillips
ended up leading the team with 10 sacks, Dumervil's presence off the edge was not replaced.
Toss in Miller's suspension and that even he admits he wasn't quite himself when he returned, heavier by design.
"We never sort of replaced Elvis … I think we're closer now to what we want to do on defense,'' Broncos coach John Fox said. " … I always say we'll get what we earn, but we like where we are.''
Where they will go will depends plenty on Ware's health -- he battled elbow and leg injuries last season as he missed the first three games of his career -- and Miller's ability to bounce back to something close to his 2012 form when he finished with 18.5 sacks. The Broncos have the kind of options Del Rio likes in the team's specialty rush packages, which at times feature a swirl of players moving all over the formation, often with just one or two in a three-point stance.
It also creates competition to get snaps. Del Rio will use as many players as are in uniform on most game days, but the battle for playing time figures to be spirited. A group that will include the high-profile guys like Miller and Ware as well as
Quanterus Smith
, who spent his rookie year on injured reserve,
Malik Jackson
and Ward having moved down from safety to linebacker in some of those looks.
"At the end of the day, everybody knows their job,'' Vickerson said. "At the end of the day, everybody knows what their responsibilities are and where they're supposed to be at on each call. With everybody doing their job and playing fast and physical and violent and doing the things on this side of the defense … that's when you get done what you need to get done.''
May, 30, 2014
5/30/14
7:30
AM ET
ENGLEWOOD, Colo. -- There is the meal and there is the parsley that simply rides along on the plate.
Whatever becomes of the 2014 season for the
Denver Broncos
, the team's offense, coming off the highest-scoring season in the league's history, will fuel much of the discussion as well as the team's fortunes along the way.
But as the Broncos get down to some of their offseason business this week, the team's defensive players have decided they don't want to just be ornamental. They want to have an impact.
"We just don't want to be that defense that does enough to get by and the offense is putting up 40 points," said Broncos defensive tackle
Terrance Knighton
. "We just want to be that defense that goes out there and dominates and be talked about."
[+] Enlarge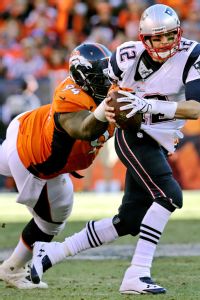 Photo by Barry Chin/The Boston Globe via Getty Images)"We just don't want to be that defense that does enough to get by and the offense is putting up 40 points," said Broncos defensive tackle Terrance Knighton.
On the way to their second 13-3 season in a row, their third consecutive AFC West title and a Super Bowl appearance, the Broncos offense scored a record 606 points and quarterback
Peyton Manning
set NFL single-season records for touchdowns (55) and passing yards (5,477). And the defense? Well, five starters finished the year on injured reserve as the unit finished 19th in the league in yards allowed per game (356.0) and 22nd in points allowed per game (24.9).
When all was said and done, 10 opponents scored at least 21 points and the Broncos surrendered 61 pass plays of at least 20 yards.
"I think last year we made a mistake of just having the guys we had thinking that was enough and not putting in the effort to be great," Knighton said. "That's something we're not talking about this year, the talent we have. We just want to go out there and put out the work. Like I said, just be a top defense and not be dominant in certain spots."
The Broncos lost three defensive starters in free agency -- linebacker
Wesley Woodyard
, cornerback
Champ Bailey
and cornerback
Dominique Rodgers-Cromartie
-- but they responded with urgency, signing cornerback
Aqib Talib
, defensive end
DeMarcus Ware
and safety
T.J. Ward
. They used a first-round pick on cornerback
Bradley Roby
. And the players themselves, the new arrivals and the holdovers, have kicked around the idea of being more than some high-profile passengers on the Broncos express.
So much so that when the Broncos' strength and conditioning coach, Luke Richesson, gave the players a day off Tuesday from the usual conditioning sessions, the defensive players all showed up for work any way.
"Everybody has that mindset," said cornerback
Chris Harris Jr
. "We thought we had better talent than how we played sometimes last season and we think we have a lot of talent this year."
"It's always exciting to start over," said defensive coordinator Jack Del Rio. "When you have a collection of guys coming back like we do -- a very talented group returning from injury, we also have a very talented group that we brought in -- free agency and draft picks. So getting all of those guys back out on the field, it's an exciting time of year."
When the Broncos sifted through what went wrong with the defense, the injuries to linebacker
Von Miller
, Harris,
Rahim Moore
,
Kevin Vickerson
and
Derek Wolfe
certainly played a part. But executive vice president of football operations/general manager John Elway has also consistently referenced a hole in last year's roster-building.
"We never really replaced Elvis [Dumervil]," Elway said.
Dumervil, who led the NFL in sacks in 2009 with 17 and had 63.5 sacks in six seasons with the Broncos, signed with the
Baltimore Ravens
last season after a fax fiasco forced the Broncos to release him to avoid paying him a bonus. It's why the Broncos were so persistent in their pursuit of Ware, who got a three-year deal worth $30 million, because they wanted the same kind of pressure package Dumervil and Miller provided when the Broncos were a top-five defense -- second in yards allowed per game and third in scoring defense.
They believe a nickel package with Ware and Miller rushing the passer -- in which offenses have to decide where and how to slide their protection plans -- with Talib, Harris and Roby at cornerback is faster and more athletic than last season's defense. The defensive players have already shown more edge as they work through the non-contact portions of the offseason program.
"The biggest way is as coaches, we provide a blueprint, we provide kind of a map for them," Del Rio said. "But then [the players] have to take it and make it their own. So the interaction they have, the time they spend lifting weights and running, different guys emerge. Guys earn the respect of their peers and I think as you play and you're here and as you show you're a guy that can be counted on, then your voice becomes a little more important. So that's how I think you kind of grow into it. Very rarely does a guy just plug himself and say, 'Hey I'm the leader.' So as coaches that's something that we encourage obviously, for guys to step up and take charge and be accountable and take responsibility for each other ... I feel good about our group."
March, 28, 2014
3/28/14
8:00
AM ET
The
Denver Broncos
' decisions on how to repair last season's defense essentially come down to a faith in healing, a calendar and a stopwatch.
Because the Broncos are certainly hoping for the best when it comes to the return of cornerback
Chris Harris Jr
. and linebacker
Von Miller
, two of the Broncos' six defensive starters who finished the 2013 season on injured reserve, from their ACL surgeries. And when they opened owner Pat Bowlen's checkbook in free agency they had a clear goal in mind.
"We were aging some," head coach John Fox said this week. "We wanted to get younger, we wanted to get faster -- you know, like you do every year. We're a much younger defense at this point. We needed to retool that side of the ball."
[+] Enlarge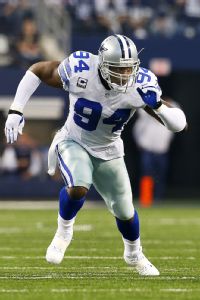 AP Photo/Kevin TerrellThe Broncos are counting on DeMarcus Ware to give them the pass-rushing presence they missed at times last season.
The Broncos took at least some salary-cap risk with
DeMarcus Ware
's three-year, $30 million deal, but he was also the only 30-something free agent they added. Cornerback
Aqib Talib
and safety
T.J. Ward
, their other high-profile signings on defense, are 28 and 27 years old, respectively.
The Broncos will also take a long look at defensive backs in the draft, and perhaps edge rushers and inside linebackers as well. Speed and youth are priorities, so their depth chart should have a decidedly younger feel when they finish training camp this season.
But Ware fills an important role in the blueprint. Broncos executive vice president of football operations/general manager John Elway put Ware in the same category as quarterback
Peyton Manning
in terms of why the team believed signing him was good business.
"I like getting Hall of Fame players with chips on their shoulders," Elway said, which was the same thing he said when the Broncos signed Manning in 2012 after the quarterback had had four neck surgeries and missed the 2011 season.
Ware missed the only three games of his career this past season when he tried to play through elbow and leg injuries. He had surgery to repair the elbow immediately following the season and pronounced himself healthy upon his arrival in Denver.
"I am ready to go," Ware said. "It was something I took care of. I'm healthy, my body feels great."
"He was the most veteran guy that we signed in free agency," Fox said. "He has a lot of skins on the wall -- one of the highest sack guys currently. I remember when he came out [of college]. He played injured. That says something about a guy. He had surgery the minute the season was over. It was something he did in training camp."
Fox also sees Ware as the solution to the question the Broncos' defense simply could not answer last season. Though
Shaun Phillips
did finish with 10 sacks after signing a one-year deal on draft weekend last April.
But it was still not everything the Broncos needed or wanted on defense after
Elvis Dumervil
was released following the fax fiasco and he elected to spurn the Broncos' attempt to re-sign him and join the
Baltimore Ravens
.
"And we put a guy in there, but we never really replaced [Dumervil], we didn't rejuvenate so to speak," Fox said.
Fox said when the Broncos evaluated Ware and took into account his elbow is now repaired, they saw potential for Ware to regain the form he has shown for much of his nine previous seasons. He had 19.5 sacks just three seasons ago and 11.5 sacks two seasons ago.
"It's hard to play this game with one arm," Fox said. " … We looked at it a little more glass half full."
Asked if he thought Ware could be an every-down player in 2014, Fox added: "I got asked that the other day. I don't try to define guys. I tell them, 'Don't let me define you. Don't let any coach define you.' A lot of that stuff is different. Each year is new whether you're an old player or a young player. He'll determine that by his performance in practice and during the evaluation process … But when we see what he's done we expect there is more of the same there."
January, 10, 2014
1/10/14
12:30
PM ET
ENGLEWOOD, Colo. -- In the end, the
Denver Broncos
and
Shaun Phillips
find themselves in a need-need situation.
Now, more than ever.
The defense continues to be a question mark, sometimes a small one, sometimes not so small, in any outside assessment of the team's Super Bowl chances. Now, the players on that side of the ball, in a season that has been filled with varying "narratives," about the team are certainly sick of that one.
But the three other teams that remain in the AFC's playoff field accounted for the Broncos' three losses this season, and they did it, in large part, by finding a way to slow the Broncos' next-level offense. And they did it by rushing for at least 118 yards in each of those games (including 177 by the Chargers on Dec. 12), and they did it with three-touchdown outings by quarterbacks
Tom Brady
(Patriots) and
Andrew Luck
(Colts).
[+] Enlarge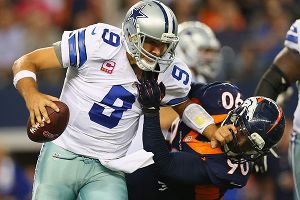 Ronald Martinez/Getty ImagesWith Von Miller out of the lineup, the Broncos need Shaun Phillips, 90, to regain the pass-rushing form he showed early in the season.
"We're just looking forward to playing good football," said Broncos defensive coordinator Jack Del Rio. "What was, and whether it was good or bad really doesn't matter going forward. We need to play well and help our football team win, that's all it comes down to."
With the list of marquee quarterbacks left in the postseason -- Brady, Luck and
Philip Rivers
in the AFC, and
Drew Brees
,
Cam Newton
,
Russell Wilson
and
Colin Kaepernick
in the NFC -- the Broncos have to find a way to make the opposing uber-thrower uncomfortable.
Enter Phillips, who led the Broncos in sacks this season after the team's original plans up front on defense took a few hits along the way. There was the fax fiasco with
Elvis Dumervil
, there was
Von Miller
's six-game suspension for violating the league's substance abuse policy to open the season, and there was Miller's season-ending right knee injury in Houston last month.
Phillips closed out the regular season with 10 sacks, the third time he has hit the double-digit mark. He certainly delivered every bit the Broncos could have hoped for when they signed him to a one-year, $1 million deal during draft weekend last April.
Phillips facing his former team, the Chargers, adds a little spice for him in the Broncos' playoff opener, and Denver needs him to regain his early season pace no matter what team is in front of him if their pass rush is going to be what they need it to be.
"For me, it doesn't matter what team it is, it just happens that it's the Chargers on the schedule," Phillips said. "But of course I'm excited -- it's your old team. You always want to play against them. And they're playing good football right now, so it's going to be a great challenge for us, and it's going to be a great challenge for them."
Phillips, with an average of 48.3 snaps per game over the season's first 10 games, had nine sacks in those games, including 2.5 in the season opener against the
Baltimore Ravens
and two in the win in Dallas. But the sacks didn't come in the stretch drive, even with Miller in the lineup some of the time.
Phillips averaged 47.8 snaps per game over the final six games, and Phillips had one sack, against Rivers Dec. 12, in those six games.
Without Miller the Broncos might have to be a little more creative in their rush schemes, add a cornerback here, a safety there as they often choose to rush out of six- and seven-defensive back looks. And they certainly need players like
Robert Ayers
(5.5 sacks for the season, 4.5 of those in the first five games) and
Malik Jackson
(6.0 sacks) to be in the mix.
But many personnel executives believe Phillips will be the key moving forward, especially if the Broncos do move on past Phillips' former team.
"Yeah, it's definitely a chip on my shoulder,'' Phillips said. "I think I've had good games both times we played them. I always want to play well every game. Again, for me, it's no hard feelings, because they're a great organization. They brought me in, they drafted me and they treated me well. So I'm not saying anything negative at all. But of course, anytime you play against your old team, you always have a little chip on your shoulder, a little extra edge to get after them. And that is what's going to happen .. It's all about who wins now, who plays better now. We're up for the challenge. We're looking forward to it."
November, 18, 2013
11/18/13
8:00
AM ET
ENGLEWOOD, Colo. – An examination for four hot issues from the
Denver Broncos
'
27-17 win
over the
Kansas City Chiefs
on Sunday.
[+] Enlarge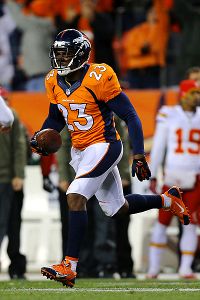 Justin Edmonds/Getty ImagesQuentin Jammer's playing time has been on the rise, and on Sunday night he recovered a fumble.
Jammer jammin':
In the first seven games of this season, Broncos cornerback
Quentin Jammer
played all of one play on defense -- one snap against the Eagles in Week 4. But interim coach/defensive coordinator Jack Del Rio has said he will try to find a place for those he believes can contribute on game day, and the Broncos like the veteran Jammer's savvy and physical play. Jammer was on the field for 19 plays against the Redskins in Week 8 and 33 plays against the Chargers last week, and he was in a regular rotation Sunday night, often appearing in the Broncos' big nickel look when they went with five defensive backs.
Decker on the spot:
With
Wes Welker
having suffered a concussion Sunday night,
Eric Decker
might need to show a little more versatility. Welker has worked almost exclusively out of the slot this season, save for an occasional snap when he has lined up out wide or in the backfield, and Decker would have to fill that role if Welker misses some time. It means Decker, who has struggled at times with drops, is going to have to be reliable in the high-traffic areas in the middle of the field. The Broncos will still want to run their three-wide-receiver set plenty, and that means Decker has to be up to the task on the inside and
Andre Caldwell
will have to produce in an outside spot.
Money well spent:
After the Broncos lost
Elvis Dumervil
in free agency following the fax disaster, there was at least some concern in the organization over whether they would be able to fill the gap. But a one-year, $1 million deal with
Shaun Phillips
signed during the weekend of the NFL draft has worked out quite nicely for all involved. Phillips leads the team with nine sacks after he recorded 1.5 Sunday night (along with 10 tackles). He has already earned a $400,000 bonus for getting eight sacks, and he has another waiting if he reaches 10.
Lucky six:
When the Broncos selected linebacker
Danny Trevathan
in the sixth round of the 2012 draft, they hoped they would have a player who could find a role in the team's speed-first defense. Trevathan, who forced a game-changing fumble in the first quarter Sunday, now leads the Broncos in tackles (81) and is tied for the team lead in interceptions (three) and forced fumbles (two). That's the kind of late-round value that draft-built playoff teams routinely enjoy, and the kind the Broncos will need to stay in the postseason hunt as they move forward under the current regime.
September, 5, 2013
9/05/13
6:30
AM ET
It's been months of waiting and hand-wringing for many in the Rocky Mountain empire, but Thursday night the
Denver Broncos
and the
Baltimore Ravens
will open the NFL's regular season.

And the Broncos will take the first step toward trying to regain all they let slip away last January when the Ravens shredded the Broncos' postseason plans and scattered them across Sports Authority Field at Mile High as if they were confetti. So, when things get down to football business this evening, here are some things to consider:
A certain right arm. Broncos receivers, right from Peyton Manning's workouts at Duke University early in the offseason, have said Manning's arm strength is noticeably better, and Manning has flashed the improvement throughout training camp and the preseason. But this will be the first under-the-bright-lights exam. There were personnel executives in the league last season who felt Denver's passing game was limited at times because Manning wasn't pushing the ball downfield. Teams usually decide coverage is the way to defend Manning -- to drop seven players and take their chances in the passing lanes -- because blitzing him is often a waste of time and a potential touchdown waiting to happen. But given the Broncos didn't always consistently protect Manning in the preseason, there is the chance the Ravens take a few risks in the pass rush, and the opportunities for Manning to put the ball up the sideline would be there. Also, the Broncos will finally show what the real plans are for Wes Welker, who will have a greater variety of routes in the Broncos' offense than he did with New England.
No Champ, no Elvis, no Von. For one reason or another the Broncos' defense will be missing 29.5 sacks from last season and 17 career Pro Bowl appearances. That's a lot of star power somewhere besides in the Broncos' defensive huddle. Champ Bailey is out with a foot injury, Von Miller is suspended for six games and Elvis Dumervil will be working for the Ravens this evening. That puts players such as Derek Wolfe, Robert Ayers and Dominique Rodgers-Cromartie under the magnifying glass. Wolfe is essential to the defensive front because of his versatility, even when Miller's in the lineup. He is all the more important now. Look for the Broncos to move him all along the line of scrimmage to find him some room to work. Ayers has consistently said he could do far more in the rush than his 6.5 career sacks in four seasons. He's never going to have a better chance to prove it than in these next six games, and he's in a contract year. The Broncos signed Rodgers-Cromartie because they believe he still possesses the skills to play like a No. 1 corner if he would commit to it and take care of the details. He will often line up in Bailey's left cornerback spot in this game, and his athleticism makes him the best matchup against Ravens wide receiver Torrey Smith.
[+] Enlarge

Ron Chenoy/USA TODAY SportsThe Broncos' defense will be without the departed Elvis Dumervil (left), the suspended Von Miller (right) and the injured Champ Bailey.

Play big. The Broncos' starting defense struggled at times in the preseason when its base formation matched up with a heavier look on offense. But the San Francisco 49ers and Seattle Seahawks plowed through the Broncos' regulars with extended scoring drives. The 49ers put together a 13-play scoring drive in the preseason opener against the Broncos starters, with nine of those plays against the Broncos' base defense. The Seahawks put together a 10-play touchdown drive against the starters, with nine of the plays against the Broncos' base defense. Granted those two figure to be among the NFC elite this season, but the Ravens can -- and have -- played out of those heavy two-tight end, two-back looks with plenty of success in the past. The Broncos are going to have to muscle up a bit at times in this one. Wesley Woodyard certainly has the skills, the savvy and the physical edge to play at middle linebacker in the Broncos' defense. But he is 233 pounds, and the Ravens figure to test him early in this one.
Mix and match. Broncos coach John Fox has said the team intends to use all hands on deck at running back, and this will be the first regular-season glimpse at the plan. They all bring a little something different to the mix: Montee Ball is a more traditional early-down back, Ronnie Hillman has speed and big-play potential and Knowshon Moreno is still more comfortable than the other two as a receiver out of the backfield and as a blocker in pass protection. But no matter who has the ball, the Broncos want more impact in the ground game and hope to stress defenses outside the numbers more than they did last season.
Rahim Moore. The safety had a far better season in 2012 than the only play anyone wants to talk about would indicate, and some of his teammates owe him plenty for taking the heat after the playoff loss when mistakes were made all over the formation that night, including Tony Carter giving Jacoby Jones a free release off the line of scrimmage on the fateful play. But some offensive coordinators believe Moore is a little too overzealous in his pursuit of the ball at times and can be reeled in with play-action. The Ravens will test him, and Moore, who had a quality preseason, will have to play with discipline.
Trindon Holliday. Say you had perhaps the greatest playoff performance of any kick returner in league history and nobody -- as in nobody -- really talks much about it. That's Holliday after he became the only player in NFL postseason annals to take a kickoff and a punt back for touchdowns in the same game last January. If the Broncos get one more first down on offense in the final minutes of regulation or make one more tackle on defense, Holliday's efforts are the stuff of remember-when discussions for decades. Instead, those efforts were forgotten in the wake of the double-overtime loss. The Ravens have had some bobbles on special teams in the preseason -- a 74-yard punt return by Ted Ginn being the biggest -- and have plenty of new faces in the units after their post-Super Bowl makeover.
September, 4, 2013
9/04/13
8:30
PM ET
It was 236 days ago when
Joe Flacco
threw that fateful, 70-yard touchdown pass to
Jacoby Jones
, leading the
Baltimore Ravens
to a double-overtime playoff win at the
Denver Broncos
. The Ravens went on to win the Super Bowl, and the Broncos were left to think of what might have been. Flacco and the Ravens return to Denver's Sports Authority Stadium on Thursday night to kick off the 2013 season in a rematch of two of the top teams in the AFC.
The stakes are different, and so are the teams. Gone are
Ray Lewis
,
Ed Reed
and
Anquan Boldin
from the Ravens. Baltimore is expected to have 10 different starters from the team that hoisted up the Lombardi trophy, and that doesn't include former Broncos defensive standout
Elvis Dumervil
, who is expected to play in passing situations.
The Broncos won't have Dumervil or
Von Miller
, who has been suspended for six games, rushing after Flacco this time. But
Peyton Manning
is back, along with the addition of
Wes Welker
to an already dangerous wide receiver group.
Broncos team reporter Jeff Legwold and Ravens team reporter Jamison Hensley discuss whether the opener will be a repeat of that memorable AFC divisional playoff game.
Hensley
: Much has been made of the 50-foot Flacco banner hanging at the Broncos' stadium. Flacco has embraced the hate, saying it's not a bad thing for opposing fans to dislike you. The Ravens' focus, as it has been all offseason, has been to move forward. It's the start of a different era in many ways for the Ravens in their first game without Lewis and Reed. But it's easier to move forward when you're the ones sitting on top of the football world. How much will the "revenge factor" play into this game for the Broncos?
Legwold
: Broncos coach John Fox, much like John Harbaugh with his "What's Important Now" mantra to leave the championship season behind, has tried to leave the past in the past. But questions about the kneel-down in the waning seconds despite Manning at quarterback and two timeouts in hand, as well as a third-and-7 running play late in the game, have trailed him all through the offseason. A lot of the Broncos players are willing to say memories of the playoff loss pushed them through the tedium of May and June. But over the past two weeks, they've stuck to the script -- that it's a new year, a new team -- but deep down they all know they let a potential Super Bowl trip, home-field advantage and a seven-point lead with less than a minute to play get away. And Dumervil's departure does add a little spice as well. How has Dumervil fit in and what kind of year do you think he'll have?
Hensley
:
Terrell Suggs
has talked about Dumervil having the right mentality to play for the Ravens, and Harbaugh commented how Dumervil is already taking a leadership role. He really is a perfect fit for the Ravens on the field, too, where they have never had an elite pass-rusher to pair with Suggs. Over the past six seasons, Suggs has had only one teammate record more than seven sacks in a season. And being a pass-rusher is Dumervil's primary role. The Ravens will use
Courtney Upshaw
on early downs to set the edge against the run, which should keep Dumervil's legs fresh in pass-rushing situations. The Ravens have a familiarity with Dumervil because inside linebackers coach Don Martindale was Denver's defensive coordinator in 2010 and was Dumervil's position coach in 2009, when the linebacker-end led the NFL with 17 sacks. Baltimore is catching a break Thursday night with Dumervil now wearing purple and Miller serving his suspension. How are the Broncos going to generate a pass rush on Flacco?
[+] Enlarge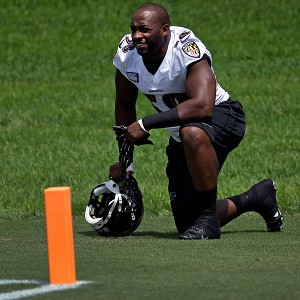 AP Photo/Patrick SemanskyPass-rusher Elvis Dumervil was one of the Ravens' high-profile offseason acquisitions, and has become a leader on the field and off for Baltimore.
Legwold
: That is the $380,687.50 question, which is how much of Miller's base salary he'll surrender during the six-game suspension. But without Miller (18.5 sacks in '12) and Dumervil (11.0 last season), the Broncos will mix and match on a variety of down-and-distances.
Derek Wolfe
is a key player, because of his ability to play inside and outside along the defensive line and still create matchup problems. Jack Del Rio believes Wolfe is ready to take an enormous step in his development, and among the defensive linemen only Dumervil played more snaps up front than Wolfe did as a rookie last year. The Broncos will ask
Shaun Phillips
, who they think has plenty left to give after 9.5 sacks for the struggling Chargers last season, to be a spot rusher. And
Robert Ayers
, who was a first-round pick in 2009, has always said he could put up the sack numbers if given the chance. He's played through four different coordinators -- Del Rio is his first to be on the job for two consecutive seasons -- but has just 6.5 career sacks. Now is his time. On Flacco, how has he dealt with all that comes with a Lombardi trophy and a nine-digit contract?
Hensley
: The money and increased notoriety haven't really affected Flacco. If anything, he's become more vocal. There was a playful trash-talking exchange during training camp between Flacco and Suggs, who told his quarterback that the defense's "swag is on a thousand million." Flacco responded: "Then what's my swag at? I get paid more than you. A lot more!" What has really changed is the wide receiver group around Flacco. This unfamiliarity led to four interceptions in six quarters of work this preseason. His top two receivers from a year ago won't be there Thursday. Boldin was traded to San Francisco, and tight end
Dennis Pitta
is out indefinitely with a dislocated hip. They accounted for 36 receptions in the postseason, which was nearly half of Flacco's completions. That being said, it was
Torrey Smith
and Jones who did the most damage in the playoff game in Denver. The Ravens are hoping wide receiver
Brandon Stokley
can move the chains on third downs and tight end
Ed Dickson
(hamstring) can contribute in the season opener. There has to be more confidence in the Broncos' passing attack with Manning and his bunch of talented receivers.
Legwold
: There is plenty of confidence in what the potential can be with Welker in the mix. The Broncos loved Stokley as a slot receiver, but Welker is younger and offers a bigger upside in terms of production. Welker will also have the best receivers to his outside shoulders in
Eric Decker
and
Demaryius Thomas
, the best combo he's had since the Patriots decided they didn't want
Randy Moss
around any longer. The 229-pound Thomas and the 214-pound Decker make the Broncos a tough matchup for any secondary. In the preseason, teams simply backed off into coverage and took their chances they could allow the catch and make the tackle before too much damage was done. The pace, especially at altitude, is a little something new as well. The Broncos ran 49 plays, excluding penalties, in the first half alone against the Rams in the preseason. They won't always go that fast, but if they get the look they want from a defense, they'll put the pedal to the floor and not allow a substitution. The key issue will be protection: Left tackle
Ryan Clady
missed plenty of the preseason after offseason surgery, and Denver has surrendered pressure in the middle of the field at times. The three-wide look is what the Broncos want their base formation to be on offense, but they can't do it if they can't protect Manning. It has to be a strange thing for a Baltimore defense that has been the franchise's signature for so long to have so many changes.
Hensley
: There were a lot of changes to the Ravens' defense, but there were necessary changes. The Ravens weren't a top-10 defense for the first time since 2002. This defense had slumped to No. 17 in the NFL. It's never easy to part ways with the likes of Lewis and Reed. But the Ravens aren't replacing two Hall of Fame players in their prime. Baltimore had to replace two aging players who weren't the same playmakers from a few years ago. The additions of Dumervil, defensive lineman
Chris Canty
, linebacker
Daryl Smith
and safety
Michael Huff
have made this a stronger and more athletic defense. The Ravens' defense is going to be significantly better in two areas: stopping the run and pressuring the quarterback. The biggest concern, especially when you're starting two new safeties, is the communication in the secondary. One mistake there and Manning will burn you for a touchdown. How is the Broncos' secondary holding up this summer?
Legwold
: The Broncos would feel better if Bailey felt better. Bailey did not practice Sunday or Monday because of a left foot injury he suffered in the preseason loss in Seattle and is still a major question mark for Thursday's game. Bailey has been on the field for practice, but has not participated in any of the drills. The end result means
Dominique Rodgers-Cromartie
would likely line up much of the time in Bailey's left cornerback spot. Rodgers-Cromartie is one of the more athletic sidekicks the Broncos have had for Bailey since Bailey arrived in 2004.
Chris Harris
and
Tony Carter
, the player who gave Jones a free release off the line of scrimmage on the game-tying bomb last January, will play in the nickel and dime as well. But overall the Broncos kept 11 defensive backs -- six corners, five safeties -- and can mix and match for almost every situation. They have flexibility and use it, so every defensive back in uniform Thursday night could see some action in the defense.
September, 4, 2013
9/04/13
6:30
AM ET
Way back in 2012, when
Derek Wolfe
was a rookie, the
Denver Broncos
gave him a pretty extensive to-do list for a first-year guy.
Or, as defensive coordinator Jack Del Rio puts it, "We're always looking to find roles in the defense for people, ways for people to use their strengths. We ask them to do what they can do, try to do whatever you can as coaches to put them in a position to succeed. Do that enough and we feel like everybody will succeed.
"If you can do a lot of things, we'll ask you to do a lot of things.''
Which is exactly what the Broncos did after Wolfe arrived last season and they quickly confirmed what was in their pre-draft reports. Wolfe could indeed create match-up problems for an offense no matter where he lined up on the defensive line, whether on the interior, at tackle or on the end.
When the dust settled on last season, Wolfe had played 903 snaps as a rookie -- 84.4 percent of the Broncos' defensive plays. Only
Elvis Dumervil
, at 922, played more on the defensive line. Now, after Dumervil's departure via free agency and with
Von Miller
suspended six games for violating the NFL's substance-abuse policy, the Broncos may need Wolfe to do even more. And he's just fine with that.
[+] Enlarge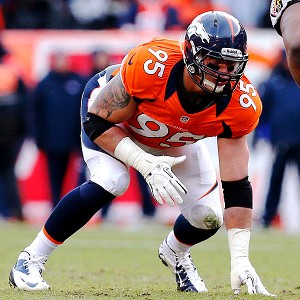 Ric Tapia/Icon SMISecond-year player Derek Wolfe will get the chance to lead Denver's defensive line with Von Miller out.
"Yeah, (last season) I just did my job,'' Wolfe said. "I made sure I did my job, because Elvis and those guys were kind of like, 'Hey, just do your job and you'll be fine.' So this year I get to take more of a leadership role, more of that guy who can make some plays.''
The Broncos did sign
Shaun Phillips
during draft weekend to add some pop to the pass rush, and Del Rio has talked of the opportunity, even need, for former first-round pick
Robert Ayers
to finally show himself to be an impact rusher (he has just 6.5 career sacks in his four seasons, spent under four different defensive coordinators). But it is Wolfe who just might be the key piece against the
Baltimore Ravens
on Thursday night and beyond as the Broncos navigate life without Miller on defense.
For a guy who pushed himself into the top 40 on draft boards around the league -- the Broncos took him 36th overall -- because he could line up at nose tackle and rush end and make things happen, this is exactly the kind of job description Wolfe said he was looking for in Year 2.
"I'm smarter,'' Wolfe said. "I'm more willing to go outside of the box and do things I'm not comfortable doing to make plays. To not be so stiff and not be like a robot. I'm more open to doing new things and trying new moves."
Even in the whirlpool of optimism that offseason workouts traditionally are, whenever Broncos coaches and players were asked about who was showing himself to be ready for something more in 2013, Wolfe's name was almost universally the first to arise. Whether it was
Kevin Vickerson
talking about Wolfe's willingness to step forward into a leadership role despite being one of the youngest players in his position group, or his coaches talking about how much better he knew the game, expectations have swirled around Wolfe for much of the spring and summer.
Asked this week if he thought Wolfe was ready for a significant leap this year, Del Rio said, "I think he expects to. We talked about that, the way he came in in camp, he was kind of on a mission. He had a very, very fine rookie year and wants to build on that and be even better.
"Look, anything is possible. I think the way he works at it, his approach, he obviously has some ability -- and I wouldn't count him out.''
For Del Rio, who typically keeps such compliments in his pocket, that is tantamount to predicting Pro Bowls. As the suggestions flew that Miller's absence could give Wolfe a breakout opportunity on a Super Bowl contender, Wolfe's response afforded a glimpse into why the Broncos like him so much.
"Sometimes that can make you better, sometimes that can make you worse,'' Wolfe said. "It just depends on how people handle the pressure.''
September, 3, 2013
9/03/13
6:05
PM ET
The
Denver Broncos
will have some folks making a regular-season debut in their new NFL jobs Thursday night against the
Baltimore Ravens
. Some of those folks include rookie running back
Montee Ball
or defensive tackle
Sylvester Williams
or even
Shaun Phillips
, now in his 10th year in the league, but in his first in Denver.
And while Adam Gase has rolled up his sleeves to steadily climb the ladder in the NFL, Thursday will mark the first time he has been his team's full-time play caller in a regular-season game. Gase was a key figure in the Broncos' transition from a traditional offense to make a read-option attack for
Tim Tebow
in 2011, and to re-work the offense again with
Peyton Manning
's arrival last season.
Gase will be on the sideline during games, instead of in the coaches' box, because he believes being at field level will save a precious second or two for the Broncos to get the plays into Manning. And while former offensive coordinator Mike McCoy let Gase call plays at times during games to prepare him for the future, Gase said being ready to make decisions at high speed has been something he has worked on in the preseason.
"Mostly the tempo -- the tempo of how you have got to call it," Gase said this week. "How quick (the play) has to come out, especially with how fast Peyton does play. He's ready for the next call, and trying to stay one step ahead. The hardest thing is probably to have two or three situations in your mind, and just be ready for when those pop up being ready to go to the call."
Gase did work with former Rams head coach Mike Martz in both Detroit and San Francisco, so there is plenty of play-calling, go-for-it aggressiveness in Gase's football DNA. The Broncos also flashed in the preseason just how fast they can go with the starters on the field. They ran 49 plays in a half against the Rams, including 30 in the first quarter, in the team's third preseason game. They also ran 40 plays in the first half against Seattle in their second preseason game.
"It's a mental thing because once you get out of breath, it's just a lot more thinking and you've got to hone in and focus," said Broncos left tackle
Ryan Clady
. "It's pretty tough, though."
• From the Broncos' perspective, one offshoot of the Ravens' post-Super Bowl makeover is Denver won't really be sure how all of the new faces will fit into the Baltimore lineup until the Broncos see for themselves. The Ravens, after all, had seven players start the Super Bowl who are no longer on the roster. Even a player they know well, like
Elvis Dumervil
who signed in free agency with the Ravens after seven seasons in Denver, is kind of a-wait-and-see affair. Asked if he believed the Ravens would use Dumervil, who has lined up at strong side outside linebacker for the Ravens after lining up on the opposite side of the formation for much of his time in Denver, Manning said; "It's hard to say, that's really somewhat of an unknown. We certainly know what a great athlete Elvis is, what a playmaker he is. ...It's hard to say exactly how they'll really use him." In the preseason, the Ravens used
Courtney Upshaw
on early downs and Dumervil in pass-rush situations at strong-side linebacker. Manning has spoken of the need to be able to adjust quickly when he and Broncos coaches see how all of the Ravens' new faces are deployed on defense.
• Cornerback
Champ Bailey
(foot) may have had his helmet on for part of the Broncos workout Tuesday, but he did not take part in the practice after the team stretch. The Broncos will have a walk-through Wednesday, their last on-field work before Thursday night's opener. They are expected to take any decision, at least publicly, with Bailey into the pre-game hours. If Bailey were to miss the game, it would be the first time he has missed a season opener in his pro career.
• Broncos coach John Fox when asked if he felt the team was ready: "We don't have much choice. We've known about this for some time. We're excited to play the game."
• With three players who have authored 1,000-yard receiving seasons at some point in their respective careers at wide receiver for the Broncos, the topic of who is getting the ball how many times a game is going to be a consistent one. And
Demaryius Thomas
,
Wes Welker
and
Eric Decker
know it. However, all three say they will live with the in-Peyton-we-trust mantra, the kind of attitude that is a must in any offense that can stress opposing defenses from so many different places. "The only thing that makes all of us happy is if we win games," Welker said. "That's goal No. 1 -- let's make sure we're going out there and winning. Whether that's blocking all day and having zero catches or whatever it is, I think we're all on the same page with just winning ball games ... I think you've seen how well (Manning) has gotten around to all the guys but really we're not worried about that. We're worried about winning ball games, executing the offense and everybody being on top of their assignments and their techniques and being ready to play on Thursday night."
September, 2, 2013
9/02/13
6:35
PM ET
No
Von Miller
. No
Elvis Dumervil
. The Broncos know their two top pass-rushers from a year ago, from 2011 too for that matter, won't be in the lineup Thursday night.
Dumervil will be across the field, in a Ravens uniform, having departed Denver after a messy fax machine fiasco that caused the Broncos to release him to avoid paying him a pile of guaranteed money ($12 million). For his part Miller will be serving the first of a six-game suspension for violating the league's substance-abuse policy.
That's a combined 29.5 sacks from last season. They face a quarterback --
Joe Flacco
-- the Broncos sacked just once in last January's playoff loss even with both Miller and Dumervil in the lineup.
"There were times when we'd say 'OK, Von will get there'," said Broncos defensive tackle
Derek Wolfe
. "Now, all of us have to get there."
And to do that the Broncos will have use a little more variety in how they go about things. Last season they made the transition from run downs to passing downs with three constants in the rush packages when it was time to get after the quarterback -- Dumervil, Miller and Wolfe.
Dumervil played 922 snaps last season, Miller 961 and Wolfe came in at 903.
Take that kind of playing time out of the mix and the Broncos will use people more situationally. Wolfe will still be a constant, but
Shaun Phillips
,
Robert Ayers
and
Malik Jackson
will be used in a variety of ways up front. To make it all work Phillips has to be what he was with his 9.5 sacks last season and perhaps even a little more. Ayers, who has just 6.5 career sacks, has to have the breakout season he's been waiting to have.
The Broncos figure to get linebacker
Wesley Woodyard
, five sacks in 2012, into the mix as well given Woodyard, too, is an every-down stalwart in the defense.
"We have to win on first and second down so we can get after it on third down," Wolfe said. " … Just like every game."
The Broncos voted for five team captains -- Peyton Manning and Ryan Clady on offense, Woodyard and Champ Bailey on defense to go with David Bruton on special teams. League rules allow six captains per game and the Broncos coaches vote for the sixth on a game-by-game basis. But of the names Clady's selection is notable. It is the first time in Clady's six seasons with the team he has been voted as a captain by his teammates, a sign of his growing statue in the locker room. "It's an honor for sure," Clady said. " … I plan on doing what I've been doing since I got in the league, just leading by example on the field. Not big on vocal leadership, but I'll do my best." Clady, who had offseason surgery to repair a torn labrum in his right shoulder, said he's ready to go physically for Thursday's opener. Clady has practiced through the week. "I feel like I'm in really good shape," Clady said. " … I'm just around 100 percent, I wouldn't say 100, but good enough to play ball."
Last season the Broncos were the best second-half team in the league, which was a good thing because they were often over-coming sluggish starts, none filled with more stumbles than a trip to San Diego when they trailed 24-0 at halftime before going on to a 35-24 victory. But by season's end no team in the league sported a bigger second-half point differential with their opponents than the Broncos -- a plus-161 points (299 second-half points scored, 138 allowed). The plus-161 was the third-highest total in the post-merger era. But in an effort to build the mindset of a quicker start, Broncos coach John Fox adjusted practice throughout training camp and the preseason and had the Broncos go right to a high-speed team, 11-on-11, practice period right after the stretch instead of individual drills. "That's one of the things we tried to do during training camp was work on coming out here and having better tempo coming out of the gates instead of waiting until that second play of the second period of practice," said offensive coordinator Adam Gase. " … We had no choice but to try to start fast."
The Broncos filled out the last spot on their practice squad Monday with linebacker Brandon Marshall. Marshall was a fifth-round pick by the Jaguars in the 2012 draft and played in five games for the team last season.
Bailey, who has not practiced since injuring his left foot on Aug. 17 in the preseason loss in Seattle, said Monday he's "very close" to being ready to play. The Broncos will balance having Bailey for the long haul with his desire to play in the opener when they make the call. He has not taken part in a team workout since the injury.
Woodyard on Dumervil being gone; "He was like a big brother to me, but just like little brothers get a chance to face their big brothers, they're ready to fight, put up a fight and get a victory."
September, 2, 2013
9/02/13
10:45
AM ET
Time to take a football vitamin, a once-a-day look through the season at a key matchup in the upcoming Broncos game.
Today's is:

Dumervil
Franklin
Ravens OLB Elvis Dumervil vs. Broncos RT Orlando Franklin.
Dumervil spent seven years as, for the most part, a weakside rusher in the Broncos defense whether he was down in a three-point stance in the years Denver played a 4-3 look in his tenure with the team or whether he stood up as an outside linebacker in the two years Josh McDaniels ran the team.
But that's Terrell Suggs' job in the Ravens defense and Suggs is a former NFL Defensive Player of the Year (2011). Suggs also has 84.5 career sacks, compared to Dumervil's 63.5, but Suggs missed eight games last season as he returned from a torn Achilles to go with a biceps injury later in the season.
The Ravens have played Dumervil as the strongside outside linebacker in their defense thus far -- where
Von Miller
usually plays for the Broncos -- and he's split time with
Courtney Upshaw
there. It's still uncertain exactly how the Ravens will use Dumervil during the regular season given he played just 36 defensive snaps in the entire preseason and the Ravens didn't show much in those 36 snaps, but he figures to be a specialist of sorts on long-yardage downs.
That would put him, if the Ravens stick with a traditional alignment in some of their pass-rush packages, against Franklin. Dumervil spent much of his practice time in Denver through the years going against Broncos left tackle
Ryan Clady
and has traditionally credited the athletic Clady with helping him reach Pro Bowl status with battles that were routinely entertaining and the highlight of 1-on-1 drills in training camp.
Franklin is a different kind of player, a power-first guy. Personnel executives around the league say he doesn't have the flexibility in his hips that Clady does so getting the proper bend and leverage point against the 5-foot-11 Dumervil will be difficult at times for him. And leverage on bigger players is Dumervil's game, it's always been his trump card in the rush.
Dumervil routinely gets the corner on bigger, stronger tackles because he dips his shoulder under the tackle and Dumervil also has a big reach and upper-tier lower-body power, so he can knock far bigger players out of their pass sets. And once he gets the wobble from the opposing tackle, he's getting to the quarterback because when he sees his chance, he closes the deal. The Broncos have seen it plenty for themselves.
And the Broncos' ability to play their preferred three-wide set, especially in longer down-and-distances, will hinge plenty on how Franklin, who dealt with a hip injury in training camp, handles his former teammate. The Broncos will have to consider leaving the tight end out of the pass pattern at times as well if they can't keep Dumervil off
Peyton Manning
's doorstep.
With
Joel Dreessen
still coming back from two arthroscopic procedures on his knee since minicamp, that could give
Virgil Green
some snaps at tight end in this one because of his power as a blocker and could force the Broncos to go a little beefier at times in a two-tight end look, with
Jacob Tamme
working as the slot receiver.
September, 1, 2013
9/01/13
5:55
PM ET
Broncos quarterback
Peyton Manning
has assembled an all-time football resume, piles of 4,000-yard seasons, four MVP awards and a Super Bowl win.
And yet, as he approaches his 16
th
season opener, he said he remains as excited as ever at what a new season might bring. Asked Sunday if he still gets butterflies before the opener, Manning said:
[+] Enlarge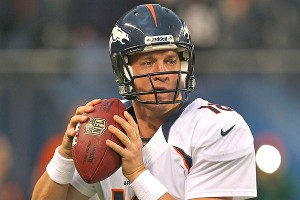 Jonathan Daniel/Getty ImagesHe might appear calm under center, but Broncos QB Peyton Manning admitted that he'll be a bit nervous before Thursday night's season opener.
"I do, I do. I think if you don't you probably ought to be doing something else. Sixteenth opening day, having played in this opening game three times. It's got a little something extra to it … Healthy butterflies, it's a good thing.''
Some things to consider as the Broncos formally kicked off their practice week Sunday for Thursday night's affair:
With a night to sleep on it, the Broncos came to the conclusion – as expected, perhaps -- that six linebackers wasn't enough on the roster after the initial cutdown to 53 players. That was especially true since one of the players they formally list at linebacker – Shaun Phillips – lines up at defensive end for the majority of his snaps. So, the Broncos claimed second-year linebacker Adrian Robinson off waivers Sunday and he's expected to practice with the team Tuesday. Robinson is a 250-pounder who made the Steelers roster last season as an undrafted rookie largely because of his special teams play. The Broncos are also his third team since Aug. 23. That's when he was traded to the Eagles, for running back Felix Jones and the Eagles then waived him Saturday. He played at inside linebacker in the Steelers' 3-4 look and the Eagles tried them there in their new 3-4 as well. The Broncos use plenty of 3-4 principles in their defense, though their base look is technically a 4-3, but if his game video is any indication Robinson will have a chance to contribute quickly on special teams. To make room for Robinson, running back Jacob Hester was released.

The Broncos have obviously had their turn-the-page meeting leading up to Thursday's season opener. Any and all questions about the crushing double-overtime loss last January, when the Broncos let the home-field advantage slip away, were met with some kind of what's past is past response. That is Gameweek 101, to be sure, but those in the seats at Sports Authority Field at Mile High may be a different matter entirely. Football fans in the region have done little else but re-hash the playoff loss, the kneel-down the Broncos took just before the end of regulation with two timeouts in hand and the Joe Flacco to Jacoby Jones touchdown to tie the game late in the fourth quarter. Should the Broncos start slowly Thursday, it will be curious to see how those on hand respond. Asked Sunday if revenge played any part in the discussion about the game, from his perspective Manning said: "If people need that as extra incentive that's fine. But I think there's plenty, just with the schedule and the timing of when we're playing.'' Some players said thinking about the loss may have helped push them through offseason workouts at times, but that Thursday's game is the fresh start for the 2013 season.

Hester's release unquestionably makes Knowshon Moreno the most accomplished back in pass protection for the Broncos. Because of that, Moreno could see plenty of work in some longer down-and-distance situations in place of rookie Montee Ball and Ronnie Hillman. Hester was signed last season, in large part, because the Broncos believed they needed help in pass protection at the position. Hester had spent most of this year's training camp and the preseason at fullback. And the Broncos will run the offense with three wide receivers or two tight ends in the formation far more than they will out of a traditional two-back look, so Hester's spot became somewhat expendable given the numbers at linebacker. Tight end Virgil Green would line up in the backfield much of the time if the Broncos wanted a lead blocker in front of the running back. It also confirms how determined the Broncos are to keeping rookie quarterback Zac Dysert on the roster at the moment.

A look at the starting lineups for the playoff game last Jan. 12 does show how change arrives in the league. Nine players who started for the Ravens in that game are not on this year's roster, including seven on defense. The Broncos weren't hit quite as hard by full-blown departures, but some things have changed. The Broncos had four starters in the game who are no longer with the team – Justin Bannan, Brandon Stokley, Keith Brooking and Elvis Dumervil. Also, Dan Koppen is now on injured reserve, Von Miller is suspended for the first six games of the season and neither Chris Kuper nor Joel Dreessen are expected to start Thursday. "Both teams have a lot of new guys,'' said wide receiver Demaryius Thomas. "They were other places for that game.''

Broncos safety Rahim Moore, when asked if he had won back the fans after last year's playoff loss: "Camp is camp, there is nothing you can really tell by just practice. You can go out there and just show your hard work, but you're judged by your games. What you're doing week in, week out is how people judge you.''

The Broncos signed seven players to their practice squad Sunday, including two draft picks from this past April they had released in tackle Vinston Painter and wide receiver Tavarres King, who were the team's sixth- and fifth-round picks, respectively. Also signed to the practice squad were wide receiver Gerell Robinson, running back Edwin Baker, defensive tackle Ben Garland, tackle Paul Cornick and defensive end John Youboty. Baker is the only player of the seven who was not in training camp with the Broncos. The 200-pound second-year back rushed for 1,201 yards as a sophomore at Michigan State in 2010.