Denver Broncos:

Gary Kubiak
December, 19, 2013
12/19/13
10:00
AM ET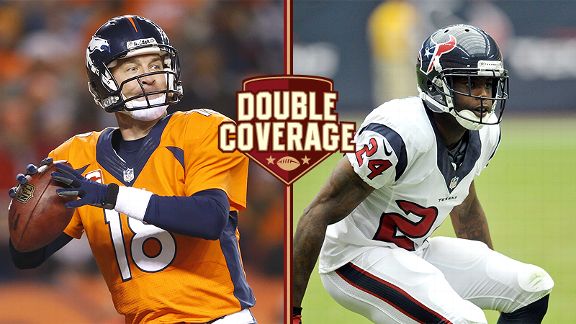 USA Today Sports, Icon SMIComing off an unexpected loss, will Peyton Manning's Broncos overlook Johnathan Joseph's Texans?
Quarterbacks tend to pull for each other. They know what it's like to shoulder so much of a team's fate, they understand the pressure better than outsiders could.
"I do think it's a unique fraternity,"
Denver Broncos
quarterback
Peyton Manning
said. "Matt's an excellent quarterback. I think he'll be fine."
This weekend Manning and his Broncos will visit the
Houston Texans
for a rematch of a game played last year under very different circumstances.
Fittingly, after a season of quarterback turmoil, the Texans are returning to the man they started with at the position. Because of an injury to
Case Keenum
,
Matt Schaub
will start Sunday at Reliant Stadium. The last time Schaub started, he entered the game to boos so hearty that the Texans had to go to a silent count on some of their plays.
On the opposite sideline will be one of the best to ever play the position. Manning has played against the Texans 19 times and lost only three times. ESPN.com Broncos reporter Jeff Legwold and Texans reporter Tania Ganguli discuss.
Ganguli:
Manning is very familiar with the Texans. Has his (soon-to-be) record-setting season been as impressive to watch up close as the stats suggest?
Legwold:
No question the numbers have been staggering, even by Manning's standards. But the intersection of Manning as a 37-year-old quarterback who was willing to sort of remake himself with a team ready to offer him the place to do that has lifted his play even more. The Broncos have constructed a playbook that is a mix of what they had on hand and what Manning has always done. They've added a warp-speed no-huddle portion and given him targets all over the formation, and Manning has played with the discipline of a veteran quarterback who understands what needs to be done. His coaches have said he forced just one pass in the team's first eight games and his accuracy has been elite for much of the season. He isn't a power thrower now, and a windy day in the postseason could derail some of what the Broncos like to do, but he is an accomplished pitcher who knows his opponents and can hit all the spots.
Gary Kubiak is still well-liked around the Broncos' complex, with many people who worked with him still in the building. What has been the reaction of players to his dismissal?
Ganguli:
Kubiak was well-liked in the Texans' building, too, especially with, but not limited to, the players. After his dismissal, you heard a lot about how well he treated people, regardless of their role on the team. He's always been known as a players' coach, and that's part of what has made Houston an attractive destination for free agents. Several players exchanged text messages with him after it happened. Some took public responsibility for it. They didn't like seeing him lose his job, but the firing wasn't a tremendous surprise given how the season had gone. The players' reaction to Kubiak's health scare after suffering a "mini-stroke" on Nov. 3 said a lot about what he meant to them.
You covered another head coach's health scare this season. How did the Broncos weather John Fox's absence?
Legwold:
There have been seasons over the past decade or so when neither the locker room nor the coaching staff would have been as equipped as this year's group was to deal with something like Fox's four-week absence following open-heart surgery. Defensive coordinator Jack Del Rio stepped in as interim coach, and players often spoke of his composure and leadership during that time. Manning,
Wesley Woodyard
,
Champ Bailey
and others helped keep everyone in the locker room pointed in the right direction, while Adam Gase and rest of the offensive staff kept things humming on that side of the ball. The team went 3-1 in that stretch, with two wins over Kansas City and one against San Diego. The loss was an overtime defeat at New England, when the Broncos let a 24-point halftime lead get away. Through it all, the Broncos showed themselves to be a stable organization, able to overcome the most serious of issues.
An awful lot of folks believed when the season began that the Texans would be in the hunt for the Super Bowl title. What are some of the major issues that have prevented that from happening?
Ganguli:
How much time do you have? It starts with the quarterback. The Texans don't have the luxury the Broncos have of one of the greatest quarterbacks ever. Their situation at the position has been tenuous all season. Schaub's costly turnovers early on put the Texans in a precarious position. He didn't play as poorly as some indicate until Week 5 against San Francisco. He just looked uncomfortable and out of sorts from start to finish, throwing three interceptions, including a pick-six on the first pass of the game. Schaub's foot and ankle injuries the following week opened the door for Kubiak to make a switch to Keenum, who spent last season on the Texans' practice squad. Keenum did well before opponents deciphered him, and since then he has struggled. I'm not ready to say he'll never be a passable quarterback in the NFL, but his play over the past eight games has been a big factor in the losses. To be clear, quarterback is not the only factor in the Texans' 12-game losing streak, but it's been a big one. Further, the handling of the quarterback situation played a part in Kubiak's firing. He benched Keenum for Schaub against Oakland and Jacksonville. That kind of uncertainty didn't help matters.
That's one question I get asked a lot. Another is this: Who will the Texans' next head coach be? I covered Del Rio for his final season and a half as the Jaguars' coach. From what you've seen in Denver, do you think he gets another shot at being a head coach?
Legwold:
I spoke with executives from around the league in recent weeks, and it seems Del Rio helped his cause with the way he conducted himself and led the Broncos during Fox's absence. If the Broncos can snap out of their current defensive funk and go deep in the playoffs, it would help his cause even more. (He interviewed with USC during the bye week, the day before Fox suffered the dizziness and light-headedness on a golf course that led to his open-heart surgery.) Del Rio would need an owner/team president to look past the offense-first mentality everyone seems to be looking for these days, and he would have to present a clear, concise picture of what he would do on offense. But if the Broncos make the Super Bowl, or even win it, and the defense makes some plays along the way, Del Rio should be on some short lists.
How has Wade Phillips handled the interim job? He's seen Manning plenty over the years, how do you think he'll have the Texans go at the Broncos' offense?
Ganguli:
It wasn't a particularly good situation to come into, as tends to happen with interim jobs. The results have been similar to Kubiak's tenure, though Phillips has been more proactive in trying to curb the Texans' penalties. He's had Big 12 officials at practice several times, and puts players in timeouts if they commit a penalty. Not a lot has changed for the better, and the injury situation has gotten worse. The Texans now have their first- and second-string running backs on injured reserve, as well as their starting tight end, starting middle linebacker and starting strong safety. Phillips' defenses have always been very aggressive -- they blitz a lot. The play calling is being done by defensive-backs coach
Vance Joseph
now, but that doesn't change a lot. Manning's statistics against the Texans are better against a four-man rush than against blitzes.
November, 4, 2013
11/04/13
5:00
PM ET
ENGLEWOOD, Colo. -- In the span of 36 hours a head coach John Elway had hired and a head coach who was a former teammate were taken to hospitals with health concerns.
Denver coach John Fox was recovering in a Charlotte, N.C., area hospital Monday afternoon following surgery to replace the aortic valve in his heart. Fox, who had hoped to have the procedure following the season, had experienced dizziness and light-headedness during a round of golf Saturday. After tests the surgery was scheduled for Monday morning.
"

When you look at the pressure in this game there is a lot of pressure on head coaches. So, I think, especially with the size of this game and growth of this game, the expectation levels have continued to grow. So thats a tough, tough spot.

"

-- John Elway, on NFL coaches dealing with stress
Texans coach Gary Kubiak, a long-time friend and teammate of Elway's, collapsed Sunday night as he walked to the locker room at halftime of the
Houston Texans
' game against the
Indianapolis Colts
. Kubiak was taken by ambulance from the stadium to a Houston hospital where he remained Monday. Doctors were running tests to see if Kubiak had a stroke.
"There's always a concern,'' Elway said. "When you look at the pressure in this game there is a lot of pressure on head coaches. So, I think, especially with the size of this game and growth of this game, the expectation levels have continued to grow. So that's a tough, tough spot.''
While Fox and Kubiak share the same profession, it isn't clear how much stress in their respective workplaces actually played in their particular issues. But from Elway's perspective, he said he looks at it all through the prism of his father's work life. Elway's father Jack, a long-time college assistant and head coach as well as an NFL personnel evaluator, died of a heart attack in 2001, at age 69.
And Elway said Monday while he recognizes the stresses involved in the profession, he believes a coach's overall health starts with the coach himself.
"I'm going to speak for my dad, they don't take very good care of themselves,'' Elway said. "And so the idea is to keep getting them to take care of themselves. I think, not that any of the John or Gary situations resembles my dad, but I was always on my dad. I'm talking just for my dad … the last person on the totem pole they take care of is themselves. So hopefully they will take better care of themselves, a lot of them do, I know that.''
Elway said like the Broncos' players, the coaches and scouting staff are also given "extensive'' physicals each year and the meals the coaches are served at the team's facility are planned by the same team nutritionist who monitors what is served to the players. Broncos defensive coordinator Jack Del Rio, a long-time friend of Fox's and now the team's interim head coach in Fox's absence, said coaches are much like many in the workforce all over the country. That eating right, getting enough exercise are not simply rules to live by for those in the football world.
"I think you do the best you can to make sure you're working out and eating properly, all of the things all of us need to be doing out there,'' Del Rio said. " … It's life, we're coaches, but we're human beings, things happen in life. You try to do the best you can to take care of yourself and the situation the best you can. I think the fact both happened in the same weekend will draw a lot of attention to it, I'm sure. But we're people, coaches are people, just like everyone, it's a slice of life.''
Asked Monday if he believed the stresses that come with coaching in the NFL are "unavoidable,'' Elway said: "No, because I think there are coaches that do take care of themselves. I'm speaking for my dad in that I wish he would have taken better care of himself … they have tunnel vision and the only thing they think about is the guys on that football team.''
Elway said Fox's return date has not been set and it's still unclear when Fox will be allowed to have contact with the Broncos about any sort of football matters in the weeks and months ahead. Elway added Fox's long-term health was the top priority in any plan for Fox's return to his duties.
"Again, it goes back to the same thing when the doctors tell us exactly what it would be and when it was going to be,'' Elway said. "I would just tell you this is a serious thing for John and it was a serious procedure.''