Denver Broncos:

Greg Knapp
November, 3, 2013
11/03/13
12:30
PM ET
ENGLEWOOD, Colo. -- Just hours after getting the stunning news coach
John Fox would have surgery
to replace a valve in his heart, the
Denver Broncos
will undoubtedly be thinking about their coach's recovery, but they'll also need to plan for what remains of their season.
[+] Enlarge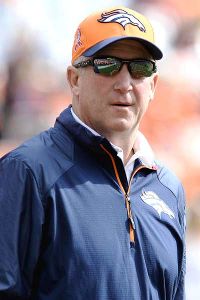 Ron Chenoy/USA TODAY SportsBroncos coach John Fox, 58, will undergo aortic valve replacement surgery early this week at a hospital in Charlotte, N.C.
The Broncos are expected to formally name defensive coordinator Jack Del Rio their interim head coach Sunday. And it would be a natural choice given Del Rio's nine seasons as
Jacksonville Jaguars
head coach. But if recent history is any guide during Fox's recovery, most everyone on the Broncos' coaching staff will likely add some things to the to-do list along the way.
Last season,
Indianapolis Colts
coach Chuck Pagano stepped away from his duties to be treated for acute promyelocytic leukemia (AML). Pagano missed three months as he went through three rounds of chemotherapy.
During his time away, Pagano named then offensive coordinator Bruce Arians as his interim coach. Arians proceeded to lead the team to a 9-3 mark in 12 games before Pagano returned to the job in the final week of the regular season and for the playoffs.
At the time, Arians said the most important parts of it all were planning, time management and the willingness to have everyone participate in whatever job was at hand.
"We had a plan, we stuck to the plan, we believed in the plan," Arians said last season. "... Initially, it's a whirlwind, you're dealing with the news, news you in no way expected, then the work part hits. But you constantly tell players we have to overcome and I think everybody involved didn't want Chuck to see us not do what we should do. So, for me it was kind of like being a young player for a week or two, things slowed down as we moved along."
Arians said there was also an element of technology involved. Pagano stayed connected with Arians, the rest of the coaching staff and the players with a smartphone, which they said Pagano was typing on throughout his recovery. Pagano's doctors encouraged him to do what he could, and what was within reason, during his recovery with the intent of him returning to the job full-time at some point.
At the time, Pagano's physician, Dr. Larry Cripe, said the goal of Pagano's treatment was "to cure the disease, that means that he's returned to a fully functional life, a life he's worked so hard to earn." Wide receiver
Reggie Wayne
, who has known Pagano since the two were together at the University of Miami, also joked during Pagano's recovery that he texted him so often "sometimes it was like being in the room with him."
Wayne said then there was an obligation to take care of business during Pagano's absence, and none of the Colts players "wanted to be the guy who had to look Chuck in the eye and explain why he didn't do what he was supposed to while Chuck was out." Arians, a cancer survivor himself after a bout with prostate cancer in 2007, said he was consistently in contact with Pagano throughout each day and would visit Pagano each Friday after the Colts had concluded their meetings.
The Broncos' coaching staff is filled with experienced hands, including several who have worked extensively with Fox through the years. Offensive line coach Dave Magazu has been on Fox's staff since 2003, when Magazu was hired as a tight ends coach in Carolina. Special teams coordinator Jeff Rodgers and wide receivers coach Tyke Tolbert were also on Fox's staff in Carolina before moving to Denver. Assistant secondary coach Sam Garnes played for Fox with the Giants during Fox's tenure as defensive coordinator there and coached one season with Fox in Carolina before joining the Broncos as well.
Broncos linebackers coach Richard Smith was a defensive coordinator in both Houston and Miami previously in his career, and running backs coach Eric Studesville was the Broncos interim head coach for the final four games of the 2010 season, after Josh McDaniels was fired. With offensive coordinator Adam Gase and quarterbacks coach Greg Knapp, a former OC in Seattle, San Francisco, Atlanta and Oakland, it will largely be business as usual for the offensive staff as it prepares game plans and works through its practice and meeting schedules.
While most teams usually carry one offensive assistant, the Broncos have two: Jim Bob Cooter and Brian Callahan. With positions generally described as "quality control coaches" through the years, the two are responsible for preparing the breakdowns of upcoming opponents several weeks in advance to aid in getting a game plan as quickly as possible to quarterback
Peyton Manning
each week.
Fox is active in monitoring, and directing, how things go all over the roster, but because his coaching background is on the defensive side of the ball, it is expected Del Rio, as well as Smith, would lead the way there during Fox's absence. A formal interim coach would also make the game-day roster decisions and in-game decisions. Del Rio already makes the defensive calls on game day, so he would have to decide whether to keep those duties moving forward.
In the end, Arians, now the Cardinals coach, said the key was "for everybody to do what they know how to do and do it like they know how to do it. This is where you want to coach and you want to do it as well as you can for the guy who hired you and the players expect, and deserve, everyone's best efforts and the organization deserves theirs."
September, 20, 2013
9/20/13
12:00
PM ET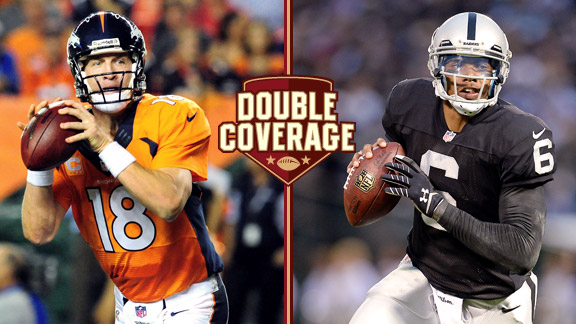 Getty Images, AP PhotoPeyton Manning and the Broncos look to improve to 3-0 as they face Terrelle Pryor and the division-rival Raiders.
The
Denver Broncos
and
Oakland Raiders
open up AFC West play with a Monday night affair at Sports Authority Field at Mile High -- an 8:40 p.m. ET kickoff with the ESPN crew on hand.
The Raiders have played hard for coach Dennis Allen and sit at 1-1 after a win over the low-octane
Jacksonville Jaguars
last weekend. The Broncos intercepted
Eli Manning
four times on the way to a win over the
New York Giants
that moved them to 2-0.
Raiders team reporter Paul Gutierrez and Broncos team reporter Jeff Legwold break down this week's edition of a long-simmering rivalry between the longtime division foes.
Legwold:
After seeing
Peyton Manning
twice last season, Dennis Allen certainly knows the kind of problems the Broncos create for defenses. He also knows Denver's first-year offensive coordinator, Adam Gase, very well. What does Allen think of the Broncos running their high-speed attack at altitude and the challenge it will be for a defense that got a big makeover in the offseason?
Gutierrez:
There is no doubt that this will be a huge test for the rebuilding Raiders in general and Dennis Allen and defensive coordinator Jason Tarver in particular. This is especially true with strong safety
Tyvon Branch
out for an indefinite amount of time with a broken leg. Not only is Branch the highest-paid Raider this season at $9.5 million, but he also started 63 of the Raiders' past 66 games and was one of just two returning starters on defense.
While Oakland is tied for the league lead with nine sacks, five of them have come from defensive backs, and we all know how adept Manning is at picking up blitzes. So the Raiders, who will be mostly in nickel packages, will have to pick their spots wisely against Manning and that pass-happy offense while trying to get their first turnover of the season. They will need to continue to build an identity of a defense that flies to the ball, mile-high air be damned. Manning looks to be better than ever, yet there's still the question of how his body is going to react to a brutal blind-side hit. Have the Broncos taken any extra measures to ensure that does not happen, or is that not even a concern for him anymore?
Legwold:
They are concerned any time Manning takes a hit. During the preseason loss in Seattle, rookie running back
Montee Ball
missed a blitz pick-up and Manning took what was one of the biggest hits of his tenure in Denver. When the Broncos go to its three-wide set, the team places on emphasis on pass-protectors in the backfield. That's a big reason why running back
Knowshon Moreno
has played most of the snaps when they have been in their three-wide look. But overall Manning is stronger this season. The receivers say his arm is stronger as well. Throw in his increased comfort level with the city, the team, the offense and his receivers, and you see why he has thrown for nine touchdowns in two games. Sticking with the quarterbacks, why do you think Allen went with
Terrelle Pryor
as the starter and what can folks in Denver expect from him?
Gutierrez:
The decision to start Pryor was made for Allen. And no, I'm not talking about owner Mark Davis meddling in football affairs, although it is known throughout Silver-and-Blackdom that the Son of Al does like Pryor's potential. A brutal preseason showing by quarterback
Matt Flynn
forced the decision for the Raiders. I might argue that Flynn is actually a better, more polished NFL quarterback at this moment than Pryor. But with the injuries on the offensive line at the end of camp, no time for Flynn to set up in the pocket and the lack of a true No. 1 receiver, Pryor and his ability to extend plays give the Raiders the best chance at success.
He almost pulled off the upset in the opener at Indianapolis, passing for 217 yards and running for a franchise quarterback record 112 yards. Still, two red-zone interceptions were too much to overcome. He was not as electric in the Raiders' home opener against Jacksonville but he did not have to be. Not with
Darren McFadden
breaking out for 129 yards on the ground. Pryor wants to be a prototypical pocket passer, and maybe that should be commended. But even his position coach, John DiFilippo, told me the Raiders want him to run. I think we'll see more of that Monday night in Denver, especially if the Broncos bite hard on the zone read-option in trying to stuff McFadden at the line. Having said that, how adept are the Broncos at dealing with the zone read? Obviously they practiced against it a few years back with
Tim Tebow
there.
Legwold:
You could argue it was the Broncos who really got the zone read-option rolling in 2011. It was a decision made in desperation, however, after watching Detroit devour Tebow in the pocket. So, against the Raiders, no less, they dropped the read option on the NFL world and rode it into the playoffs that year. The coaches have vast experience with it and have taken it apart on many levels when they were trying to predict how defenses would align themselves against it in 2011. Nobody else was using it, so they had to sort of predict how people would defend them because there was no real video to go on at that time.
They often played devil's advocate when looking at the scheme and it has enabled them to be a little ahead of the curve when preparing for someone else's version. The intriguing part will be if the Raiders keep the Broncos in base defense. Both the 49ers and Seahawks moved the ball well against the Broncos' base defense during cameo appearances by the starters in August. But the Broncos' defense also benefits from Manning's ability to put the points on the board, because offenses often end up in catch-up mode. In terms of the Raiders' offense overall, they lead the NFL in rushing, so how have they kick-started McFadden after a frustrating 2012 season for him?
Gutierrez:
McFadden, when right, is one of the most dangerous running backs in the NFL. The Broncos would be the first to attest to that fact. In nine career games against Denver, he has rushed for 723 yards, five touchdowns, and has also caught 15 passes for 120 yards and two more scores. His 5.8 yards-per-carry average against Denver is his best against any opponent in his six-year career. So what got him on track last week? Well, for one, he's healthy (remember, he' has never played in more than 13 games in a season). Two, and this would be my biggest criticism of Allen's rookie season, McFadden is no longer running behind a zone-blocking scheme. He averaged a career-low 3.3 yards behind the scheme last year. The Raiders returned to a base power-blocking scheme this year.
Still, the game plan is similar in that it calls for McFadden to run into the line for negligible gains time and again in hopes of popping a big gainer. It worked to perfection against Jacksonville, when McFadden had runs of 30, 28, 26 and 24 yards. Still he had just 21 total yards on 15 other carries. McFadden has to be patient in this system. Speaking of patience, it does not look like Manning has had to have much time in developing a chemistry with
Wes Welker
. How well is Welker fitting into the Broncos' scheme in his first year with Manning after six years with
Tom Brady
in New England?
Legwold:
They have meshed quickly, as you would expect from two guys who have done so much already in their careers. The issue for the Broncos, really, is they have to be able to consistently stay in a three-wide set to use Welker to his fullest potential. When they have had some choppiness on offense to open both games, it's because they have not consistently protected Manning while making room for the running game out of the three-wide formation. Against the Ravens and Giants, they have moved to a two-tight end look to get things going and it worked well both times. But when they move out of three-wide that takes Welker off the field. But when he's in the game there is no situation when Manning doesn't look for him. Welker did have three drops against the Giants. The Broncos, overall, will use him deeper down the field than the Patriots did at times. Looking at the passing game, with
Ryan Clady
out for the remainder of the season with a foot injury it's a good time to ask how the Raiders' defense finds itself tied for the league lead in sacks after two games?
Gutierrez:
It's a ridiculously small sample size, but the Raiders are most definitely feeling pretty good about themselves not only being tied for the league lead with nine sacks, but being on pace for 72 for the season. Their team record since it became an official NFL stat in 1982 is the 65 they had in 1985. Remember, this unit had only 25 sacks in 16 games a year ago. So why the uptick? It's not necessarily due to a better rush up front -- five of their nine sacks have come from defensive backs. So that means Tarver is dialing up a variety of blitzes, which the former Raiders owner despised. You might say Tarver and Allen have a class of player closer to the prototype they want in order to instill their brand of pass rush. Alas, the Raiders lost Branch on just that -- a blitz, when he was taken down by Jacksonville left guard
Will Rackley
while rushing
Chad Henne
. In fact, it looked as if the injury happened just after Branch crossed the lip of the baseball dirt infield into the grass. But I digress.
Pass rush is about technique, right defensive end
Lamarr Houston
told me, and it seems as though their technique is much improved … after two games. Keeping with the small sample size theme, Allen was in Denver only one year. While much was was made about Tebow, many observers say it was Allen's defense that won the division for the Broncos in 2011. Raider Nation did not take kindly to Allen's wide grin while shaking John Fox's hand after the Broncos beat down the Raiders, 37-6, last year in Denver. How respected is Allen still in the Mile High City, and does he still cast a shadow?
Legwold:
Anyone who was associated in the turnaround season that was 2011 carries a little more cache with fans. Things were so dismal in 2010, when they finished 4-12, had Spygate and fired John McDaniels. When John Fox arrived with his new staff, including Dennis, people treated it like the fresh start it turned out to be. Pitch in
Von Miller
winning defensive rookie of the year that season, Tebow's popularity and the six-game win streak that year on the way to a division title at 8-8, no less, and folks generally think 2011 started what's going on now.
In terms of Allen, people appreciated the improvement the team made, but given he was here just one season I don't think fans, or even some folks in the media believe they got to know him very well. From a football standpoint, what the defense did that year often gets lost in all of the chatter about Tebow, when in fact the team continued to win games despite the offense being in the lower third in the league in scoring after going to the read-option. There were an awful lot of games when Tebow would have never had a chance to chase some late-game glory had the defense not hung in there for the first three quarters. How have people taken to Dennis there, and do people see the 1-1 start as progress?
Gutierrez:
Allen has had a lukewarm reception. If the Raiders win, he's cool, so to speak. If they lose? Then it's all his fault for hiring Greg Knapp last year to destroy the offense. It's like any fan base, I suppose, but as I mentioned earlier, they were really upset with Allen after that picture caught him with a big smile after last year's game in Denver. I asked him about it at the time and Allen said he was simply caught off guard by a joke Fox told him during the postgame handshake. Fans were not having it. This year, though, there's more of a wait-and-see approach. Even if some fans believe Allen did not want to give Pryor a fair shot at winning the quarterback gig. That's all water under the bridge now, though, and many of the more level-headed denizens of Raider Nation believe Allen deserves at least three years to get his program up and running -- similar to a college hoops program. Unless, of course, the players quit on him this season, like they seemed to do last November before rallying late.
Legwold:
Paul, great stuff. That about covers it. It should be great divisional match-up for a Monday night audience.
September, 20, 2013
9/20/13
7:00
AM ET
ENGLEWOOD, Colo. -- Few players in the last decade have vexed the Denver Broncos' defense quite like Oakland Raiders running back
Darren McFadden
, and it is McFadden who will be the first real on-the-ground test of the season for the Broncos' base defense and, especially, middle linebacker
Wesley Woodyard
.
McFadden
It's not that McFadden crushes the Broncos spirits every time he faces them -- the Broncos have held McFadden to fewer than 50 yards rushing in four career meetings -- it's when McFadden does get it going, it is a spirit-crushing event. There was '08, when McFadden carried the ball just 10 times in a November meeting that year, for just 38 yards, yet still scored twice.
There was 2010, when McFadden rushed for 165 yards and three TDs with Denver well on the way to a deserved 4-12 finish.
Or 2011, when current Raiders coach Dennis Allen was the Broncos' defensive coordinator, when McFadden pounded out 150 yards rushing against Denver.
In his nine career games against Denver, McFadden has rushed for 723 yards, at 5.8 yards per carry, to go with five touchdowns. The Raiders wanted to see those impact plays once again, and essentially re-tooled their offense in the offseason with McFadden in mind. Allen fired former offensive coordinator (and current Broncos quarterbacks coach Greg Knapp) to move from a zone-run game to a more man-on-man look.
Knapp is a respected coach in the league, but McFadden never found a comfort level in the scheme. Asked about McFadden's resurgence over this season's first two weeks, 177 yards rushing on 4.9 yards per carry, Allen said:
"I think the biggest thing is, from his mindset, that he's comfortable in the things we're asking him to do, comfortable in the scheme. And he's had some success in doing that.''
Woodyard must consistently be the first to the ball and cannot allowed yards after contact. When McFadden, who still has top-shelf speed in space despite plenty of lower-body injuries in his career, has gotten it going against the Broncos the missed-tackle totals have been exceedingly high -- perhaps none higher than the 165-yard day in '10. Defensive tackles
Kevin Vickerson
,
Terrance Knighton
and
Sylvester Williams
have to do their parts as well and keep the Broncos' linebackers clean so the linebackers can fill the run lanes and keep McFadden out of the open field.
If they don't, McFadden will simply add another problem day to the list.