Denver Broncos:

J.D. Walton
June, 12, 2014
Jun 12
7:30
AM ET
ENGLEWOOD, Colo. -- There was a time when
Manny Ramirez
played on an NFL team that played 16 times in a regular season and lost 16 times in a regular season.
The 2008
Detroit Lions
went 0-16, the only team to hang the doughnut under the W column since the league went to a 16-game season in 1978. So, some guys talk about vocational adversity in the NFL and other guys, guys like Ramirez, have traveled one of the bumpier roads in football.
Ramirez
"I just try to keep my head down, work my butt off and be ready to go," Ramirez said. "It's gotten me this far so I like to stick to that."
And maybe that's why Ramirez doesn't get flustered when folks keep asking him if he is the
Denver Broncos
' starting center. Ramirez spent most of the offseason a year ago watching the Broncos sign any and all centers to have "options" at the position.
Then when those centers were injured -- i.e. J.D. Walton, Dan Koppen and Ryan Lilja -- the Broncos then said Ramirez was really the guy all along. Then the Broncos went out and scored a league-record 606 points with Ramirez handling all of the things a center has to handle in an offense with
Peyton Manning
at quarterback.
And just about the time folks may have been ready to move on to other questions about other guys, Ramirez sailed a snap wide of Manning on the Broncos' first offensive play of Super Bowl XLVIII. The
Seattle Seahawks
defense went on to overpower the Broncos' offense in a 35-point win and the wheel started to spin again.
The Broncos have shuffled things a bit up front with
Orlando Franklin
moving to left guard from right tackle.
They were active in free agency in their pursuit of, yes, a center. They looked at several veterans before signing
Will Montgomery
. T
here was some thought inside their complex that Montgomery was signed with the intention he could be the team's starting center. Montgomery started every game in the previous three seasons.
But as the Broncos have gone through their offseason work thus far -- including this week's mandatory minicamp -- Ramirez is still the guy in the middle and Montgomery has worked largely with the second team. However, one of the big reasons the Broncos were so aggressive in signing guard
Louis Vasquez
in free agency last year was a feeling the Broncos have been susceptible at times, too many times, to stunting defensive linemen in the middle of the field.
Or right about the center's and guards' wheelhouse. But training camp will tell the rest of the tale. A three-day visit by the
Houston Texans
in August -- with that team's defensive front -- will be a measuring stick for the Broncos in their quest to find, as coach John Fox has put it, "the best five'' up front.
But right now Ramirez remains the starter in the middle.
"When I'm in there my approach has always been it's my job to lose," Ramirez said. " … That's how you go, that's the approach."
October, 16, 2013
10/16/13
5:10
PM ET
ENGLEWOOD, Colo. – The
Denver Broncos
had linebacker
Wesley Woodyard
(neck) and defensive end
Robert Ayers
(left shoulder) back on the practice field Wednesday. After missing last weekend's game against Jacksonville, both were listed as limited in the Broncos' first injury report of the week.
Ayers
Woodyard
They are expected to play Sunday, and with
Von Miller
's return to the practice field Wednesday after a six-game suspension for violating the league's substance-abuse policy, along with
Champ Bailey
's return this past Sunday from a foot injury that kept him out for the first five games of the season, the Broncos are poised to have their actual starting defense on the field for the first time Sunday against the
Indianapolis Colts
.
"I think it will be good to have everybody together and see what kind of impact it has on the game,'' Broncos coach John Fox said.
Defensive tackle
Sylvester Williams
(neck) was also limited in the workout, as was defensive end
Shaun Phillips
(hamstring)
The only player held out of practice was right tackle
Orlando Franklin
, who suffered left knee and ankle sprains against the Jaguars. The Broncos are hoping Franklin will miss only the next two games, and are optimistic he could return to practice next week if things go well.
Center
J.D. Walton
, who is currently on the physically unable to perform list after offseason surgery to clean out an infection in the ankle he fractured last season, returned to practice for the first time this season. Per league rules, Walton can practice with the team for a period of time that began Tuesday and ends Nov. 19. After 21 days, the Broncos must either move Walton to injured reserve or add him to the 53-man roster.
Tight end
Virgil Green
(back), wide receiver
Wes Welker
(ankle), tight end
Joel Dreessen
(knee), wide receiver
Eric Decker
(shoulder), guard
Chris Kuper
(ankle) and Bailey all participated fully.
September, 12, 2013
9/12/13
6:30
AM ET
ENGLEWOOD, Colo. – There are some things that exasperate
Denver Broncos
coach John Fox from time to time.
Things like turnovers on offense, dropped interceptions by his defensive backs, questions about basic roster decisions – "We do this full-time," he likes to say – and, oh yeah, anything that even hints at the Broncos having wanted anybody but
Manny Ramirez
at center.
"I've said it like 10,000 times," Fox said earlier this week. "And I'm not sure anybody believes me, but I'll say it 10,000 more [times], Manny Ramirez is our starting center. He was our starting center in the offseason, in training camp and in the preseason, and he's our starting center now."
And the Broncos put a contract extension where their mouth was Wednesday. Ramirez signed a two-year deal, which keeps him under contract with the Broncos through the 2014 and 2015 seasons. Ramirez, with a base salary of $815,000 this season, was set to become an unrestricted free agent next March.
[+] Enlarge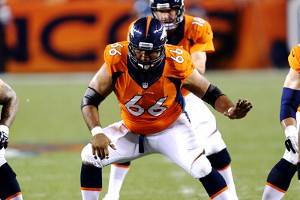 AP Photo/Paul JasienskiThe Broncos rewarded center Manny Ramirez for his patience and his play with a contract extension.
Ramirez has been an oft-discussed member of the offensive line. He had never started a regular-season game at center in his career until last Thursday night against Baltimore. And after the Broncos moved him into the middle of the offensive line during offseason workouts, when they learned
J.D. Walton
was going to need another ankle surgery and treatment for an infection in the joint, they also signed
Dan Koppen
, who had started 12 games at center last season.
Then, just after training camp opened, Koppen suffered a season-ending knee injury. And so the Broncos signed
Steve Vallos
. And then they signed
Ryan Lilja
.
Meanwhile, folks just kept asking about Ramirez, about when somebody else would be doing his job. For his part, however, as the team was set to pick its 53-man roster to open the season, this is how Ramirez handicapped the race for what he considered his position: "I'm always here for competition and put my best foot forward and if the other person beats me out, he beats me out, but I'm going to give it all I got. And right now it's my position to lose and I don't see myself letting that go, no matter what people say."
Turns out he was right, as the Broncos moved quickly to offer an extension just a few days after a 49-27 victory over the Ravens. Though the Broncos still hope Walton will be ready to return by late October or early November – he's currently designated as reserve/physically unable to perform – he has not played since fracturing his left ankle on Sept. 30, 2012, against the Raiders.
Walton's recovery may have also played a part in Ramirez' signing. Walton is also in the final year of his original four-year contract he signed as a rookie in 2010, a deal that has a $1.323 million base salary this season. Walton's recovery is still a bit of an unknown given how long it has taken guard
Chris Kuper
to recover from a similar fracture/infection over the last two years.
From a football perspective, the Broncos have shown they believe Ramirez will continue to smooth out his rough edges in pass protection at center – Ramirez started 11 games at right guard in place of Kuper last season. Personnel executives around the league say he has trouble in pass protection when he loses his base, but the Broncos like his progress in their movement-heavy zone-run game. And in man-on-man power situations, Ramirez routinely grades out well.
"I always say I just keep working, keep my head down and continue to grind it out," Ramirez said in describing his approach.
Ramirez was selected by Detroit in the fourth round (117th overall) of the 2007 NFL draft after competing as a four-year starter for Texas Tech.
"Things just didn't work out there, in Detroit, for whatever reason," Ramirez said. "But Denver has been an important part of my development, they saw something in me, they brought me here and I just want to keep proving what I can do."
August, 27, 2013
8/27/13
6:35
PM ET
ENGLEWOOD, Colo. -- The Broncos saw what they were looking for in
Derek Wolfe
Tuesday.
As in the versatile defensive lineman was back in practice and on track to play in the regular-season opener Sept. 5 against the Ravens. Wolfe was sidelined since Aug. 17 after being taken from the field by ambulance after a helmet-to-helmet collision with Seahawks fullback
Michael Robinson
during a preseason game in Seattle.
[+] Enlarge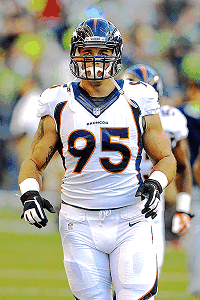 AP Photo/ Eric BakkeDenver will likely have versatile defensive lineman Derek Wolfe in the lineup for Week 1.
But the Broncos have been hopeful he would be ready for the opener.
"I was just waiting for the pain to go away,'' Wolfe said following the workout. "Zero pain, zero weakness, so that's all good.''
Wolfe may not be the first name off people's tongues when they talk about the Broncos elsewhere, but he is a key piece of the defensive game plan for defensive coordinator Jack Del Rio. That's because Wolfe is strong enough to play on the interior in the defensive line and athletic enough to play at end, as well. The Broncos list him as an end, but Del Rio has estimated that he asks Wolfe to do things defensive tackles do about "80 percent of the time.''
And while Del Rio is constantly using different sets of players for a variety of situations in games, Wolfe is one of the innings eaters as it were. He plays in them all and if he isn't in the lineup against the Ravens, it would affect how the Broncos do things.
Wolfe played 903 defensive snaps last season as a rookie -- 84.4 percent of the defensive plays -- and the only defensive lineman who played more in 2012 was
Elvis Dumervil
with 922. Wolfe is expected to play even a little higher percentage of snaps this time around if things go the way the Broncos hope they will.
Coming into the 2012 draft, Wolfe was a rarity among the defensive line prospects that year in that he won matchups all across the defensive front, including at nose tackle and at rush end. Del Rio has been quick to ask him to do many things including as a stand-up rusher when the Broncos go to a sort of whirlpool look with one player in a three-point stance and the other defenders moving around the formation.
"He can do a lot of things, so we're going to ask him to do a lot of things,'' Del Rio said.
In other Broncos news:
August, 25, 2013
8/25/13
7:45
PM ET
ENGLEWOOD, Colo. -- The
Denver Broncos
surprised no one Sunday as they took a step toward getting the roster to 75 players by Tuesday's deadline, and it was clear their decisions were influenced by who's hurt and who isn't.

The toughest choices are still to come, of course, with the deadline to get down to 53 players arriving Saturday at 4 p.m. MT. The Broncos will start the clock for the regular season sooner than most teams because they're playing in the league's kickoff game Sept. 5, and so the team will likely make the majority of their cuts this Friday -- the day after the preseason finale against Arizona -- because they will practice on the weekend in preparation for the opener against Baltimore.
Sunday's cuts put the Broncos roster at 77 players, including center
J.D. Walton
, who is on the physically unable to perform list. Walton, who had ankle surgery before training camp, is expected to be ready by late October or early November.
The Broncos can designate only one player to return from injured reserve when the cut goes to 53 players, and they have at least two candidates in Walton and linebacker
Stewart Bradley
(wrist surgery) to go with
Chris Kuper
, who is still trying to return from offseason ankle surgery and has been limited since returning to the practice field. Kuper was not in uniform for Saturday night's game against the Rams.
Among Sunday's decisions, the release of wide receiver
Greg Orton
was notable given he was pushing for the fifth receiver spot. He faced an uphill climb, with
Andre Caldwell
having worked so much with the starters as the No. 4 receiver, both in the slot and on the outside, and rookie
Tavarres King
having shown more athleticism with the ability to play in the slot or outside as well as on special teams. Undrafted rookie
Lamaar Thomas
has also caught the eye of the Broncos' coaches and is a quality candidate for the practice squad.
Orton's ill-timed ankle injury didn't help his cause. The Broncos formally waived him injured Sunday, meaning he'll have to clear waivers before moving to injured reserve, but the Broncos are expected to reach an injury settlement with him in the coming days.
Of the 11 players cut, seven did not play against the Rams, so the Broncos' DNP list provided plenty of hints about who would not make the cut.
To that end,
Jacob Tamme
's return to the field from a thigh injury that cost him several practices made tight end
Deangelo Peterson
, a late signee after camp opened, an extra player at the position and he was released. Tight end
Joel Dreessen
, who is returning from knee surgery, is expected to be ready for the opener.
Undrafted rookie wide receiver
Quincy McDuffie
flashed some special-teams ability but suffered two hamstring injuries that affected his ability to stay on the field and state his case. McDuffie was also waived/injured. Other players released were wide receiver
Kemonte' Bateman
, cornerback
Mario Butler
, tackle
Manase Foketi
, quarterback
Ryan Katz
, linebacker
Uona Kaveinga
, cornerback
Nigel Malone
, guard/center
Quentin Saulsberry
and defensive end
Lanston Tanyi
.
Saulsberry had a troubled time with the Broncos, with a suspension last season for violating the league's policy on performance-enhancing drugs while he was on the practice squad to go with an offseason drunken-driving arrest. Saulsberry served three games of a four-game suspension, and would have to sit out one more game if he were to sign with anyone for the active roster or practice squad.