Denver Broncos:

Jacob Hester
September, 1, 2013
9/01/13
5:55
PM ET
Broncos quarterback
Peyton Manning
has assembled an all-time football resume, piles of 4,000-yard seasons, four MVP awards and a Super Bowl win.
And yet, as he approaches his 16
th
season opener, he said he remains as excited as ever at what a new season might bring. Asked Sunday if he still gets butterflies before the opener, Manning said:
[+] Enlarge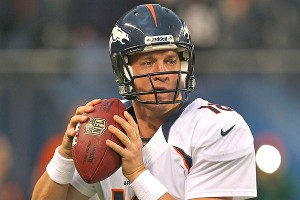 Jonathan Daniel/Getty ImagesHe might appear calm under center, but Broncos QB Peyton Manning admitted that he'll be a bit nervous before Thursday night's season opener.
"I do, I do. I think if you don't you probably ought to be doing something else. Sixteenth opening day, having played in this opening game three times. It's got a little something extra to it … Healthy butterflies, it's a good thing.''
Some things to consider as the Broncos formally kicked off their practice week Sunday for Thursday night's affair:
With a night to sleep on it, the Broncos came to the conclusion – as expected, perhaps -- that six linebackers wasn't enough on the roster after the initial cutdown to 53 players. That was especially true since one of the players they formally list at linebacker – Shaun Phillips – lines up at defensive end for the majority of his snaps. So, the Broncos claimed second-year linebacker Adrian Robinson off waivers Sunday and he's expected to practice with the team Tuesday. Robinson is a 250-pounder who made the Steelers roster last season as an undrafted rookie largely because of his special teams play. The Broncos are also his third team since Aug. 23. That's when he was traded to the Eagles, for running back Felix Jones and the Eagles then waived him Saturday. He played at inside linebacker in the Steelers' 3-4 look and the Eagles tried them there in their new 3-4 as well. The Broncos use plenty of 3-4 principles in their defense, though their base look is technically a 4-3, but if his game video is any indication Robinson will have a chance to contribute quickly on special teams. To make room for Robinson, running back Jacob Hester was released.

The Broncos have obviously had their turn-the-page meeting leading up to Thursday's season opener. Any and all questions about the crushing double-overtime loss last January, when the Broncos let the home-field advantage slip away, were met with some kind of what's past is past response. That is Gameweek 101, to be sure, but those in the seats at Sports Authority Field at Mile High may be a different matter entirely. Football fans in the region have done little else but re-hash the playoff loss, the kneel-down the Broncos took just before the end of regulation with two timeouts in hand and the Joe Flacco to Jacoby Jones touchdown to tie the game late in the fourth quarter. Should the Broncos start slowly Thursday, it will be curious to see how those on hand respond. Asked Sunday if revenge played any part in the discussion about the game, from his perspective Manning said: "If people need that as extra incentive that's fine. But I think there's plenty, just with the schedule and the timing of when we're playing.'' Some players said thinking about the loss may have helped push them through offseason workouts at times, but that Thursday's game is the fresh start for the 2013 season.

Hester's release unquestionably makes Knowshon Moreno the most accomplished back in pass protection for the Broncos. Because of that, Moreno could see plenty of work in some longer down-and-distance situations in place of rookie Montee Ball and Ronnie Hillman. Hester was signed last season, in large part, because the Broncos believed they needed help in pass protection at the position. Hester had spent most of this year's training camp and the preseason at fullback. And the Broncos will run the offense with three wide receivers or two tight ends in the formation far more than they will out of a traditional two-back look, so Hester's spot became somewhat expendable given the numbers at linebacker. Tight end Virgil Green would line up in the backfield much of the time if the Broncos wanted a lead blocker in front of the running back. It also confirms how determined the Broncos are to keeping rookie quarterback Zac Dysert on the roster at the moment.

A look at the starting lineups for the playoff game last Jan. 12 does show how change arrives in the league. Nine players who started for the Ravens in that game are not on this year's roster, including seven on defense. The Broncos weren't hit quite as hard by full-blown departures, but some things have changed. The Broncos had four starters in the game who are no longer with the team – Justin Bannan, Brandon Stokley, Keith Brooking and Elvis Dumervil. Also, Dan Koppen is now on injured reserve, Von Miller is suspended for the first six games of the season and neither Chris Kuper nor Joel Dreessen are expected to start Thursday. "Both teams have a lot of new guys,'' said wide receiver Demaryius Thomas. "They were other places for that game.''

Broncos safety Rahim Moore, when asked if he had won back the fans after last year's playoff loss: "Camp is camp, there is nothing you can really tell by just practice. You can go out there and just show your hard work, but you're judged by your games. What you're doing week in, week out is how people judge you.''

The Broncos signed seven players to their practice squad Sunday, including two draft picks from this past April they had released in tackle Vinston Painter and wide receiver Tavarres King, who were the team's sixth- and fifth-round picks, respectively. Also signed to the practice squad were wide receiver Gerell Robinson, running back Edwin Baker, defensive tackle Ben Garland, tackle Paul Cornick and defensive end John Youboty. Baker is the only player of the seven who was not in training camp with the Broncos. The 200-pound second-year back rushed for 1,201 yards as a sophomore at Michigan State in 2010.
September, 1, 2013
9/01/13
11:45
AM ET
There was a time or two during training camp when the guy behind the wheel of the John Deere pulling a mobile goal post toward a drill was none other than Broncos special-teams coordinator Jeff Rodgers.
As he'd drive from one field to the other, he'd simply say "the more you can do.''
And the phrase is a common one throughout the league, said sometimes with more than a tinge of irony about doing the task that is presently at hand. But when the Broncos rolled out their first 53-man roster of the season, there were some more-you-can-do guys in there that affected some of the other decisions they made.
[+] Enlarge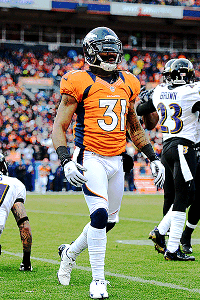 Mark J. Rebilas/USA TODAY SportsWith his versatility, Denver is expecting DB Omar Bolden to make a significant impact in 2013.
Second-year defensive back
Omar Bolden
was one. He spent his rookie season at cornerback in 2012 and the Broncos liked the way he handled his business, his mental toughness and the way he battled in man coverage. He fully expected to be at cornerback this year, especially when as the players went through check-out day last January, he promised he would compete for far more playing time on the outside.
He got it half right, at least the playing time part, anyway. Roughly two weeks ago Bolden started to show up at safety at times in practice. A snap here, a snap there and in the preseason finale Bolden started at safety against the Cardinals and finished with six tackles.
At 195 pounds he fits the mold of a coverage safety in these pass-happy times, and after watching Bolden's work on special teams the Broncos believed he was a player who can match up on a receiver or tight end down the field, but one who showed himself to be willing to stick his nose in run defense as well. The Broncos feel they could use him at either position in any of their defensive packages.
That swing job was supposed to be Quentin Jammer's when camp opened, but Jammer is now solely a corner, having never looked all that comfortable at safety, while Bolden has snagged the cornerback/safety gig and the potential playing time that will come with it.
The Broncos will likely spend almost 70 percent of their defensive snaps this season in something other than their base defense, so they will feature more than two safeties in the formation for plenty of snaps, especially in the dime.
"We're looking for flexibility at safety,'' is how executive vice president of football operations John Elway put it. "Omar was a guy that does a tremendous job on special teams, so we wanted to look at him at [safety]. And also, with Jammer going back and getting a look at corner, we felt that Quentin is better at corner than he is at safety. So we wanted to look at Omar who has flexibility and is great on fourth down, so we looked at him at safety.''
In the defensive line,
Malik Jackson
's versatility has increased his value as
Derek Wolfe
's backup in many of the defensive packages. Jackson, a fifth-round pick in 2012, can play at end on both run downs and pass-rush packages. Jackson also moved inside to defensive tackle in some of the Broncos nickel and dime looks as well.
Jackson played 113 plays on defense last season with 20 of those coming Dec. 2 against Tampa Bay, but he should up that total at least some this time around.
Kick returner
Trindon Holliday
showed enough at wide receiver in the preseason for the Broncos to go a little light at the position. They kept just five on the current roster, including Holliday. That, and an extra defensive back or two, likely cost rookie wide receiver Tavarres King, a fifth-round pick this past April, a spot. On talent alone, King was/is worthy of a slot on the Broncos roster, but he did not maintain his early momentum in camp and the team's decision-makers didn't believe he was consistent in his day-to-day work habits. King was signed to the team's practice squad Sunday, just before practice began.
And running back
Jacob Hester
, who had played in most any situation in the backfield when needed, was initially kept on the team's 53-man roster for his multi-tasking as well. He could be featured as a runner, work in the passing game, play fullback and special teams. But with just six linebackers and
Von Miller
suspended for six games, the Broncos released Hester Sunday morning and brought in linebacker
Adrian Robinson
.
"That is kind of what you live by, the more you can do,'' coach John Fox said. "This league is about adjustments and the guys who give you options are always going to be valuable to your program.''
August, 30, 2013
8/30/13
10:45
PM ET
The
Denver Broncos
' top football executive, John Elway, has consistently preached the benefits of youth, homegrown players and in the era of the seven-round draft the importance of finding an undrafted rookie or two along the way who can help his team.
And as the Broncos made moves on the way to trimming their roster to 53 players, there was a little of each of those tenets.
The Broncos did not officially file most of their Friday moves to the NFL's personnel department by the end of the day, meaning none of them are tabulated in their roster total until they do. (The only transaction they filed was an injury settlement with rookie wide receiver
Quincy McDuffie
.) But they did inform a small group of players that they were no longer with the team. Veteran running back
Lance Ball
was one of them, and
he took to Twitter
after getting the news:
Closing another chapter in my book, thanks to the Broncos Organization for the years of great memories and also the fans who supported me!

— Lance Ball (@LanceBall35) August 30, 2013
Ball was always an "a-little-of-this, a-little-of-that" player for the Broncos over the last three seasons, a solid pro who played in 41 games for the team, including 15 last season and 16 in 2011. But as a vested player heading into his fifth season, Ball's $1.323 million salary would be guaranteed if he is on the roster for the season opener. And with this move the Broncos appear to have cleared a spot on the running back depth chart for undrafted rookie
C.J. Anderson
.
At least that's what Anderson believes, given that he took to Twitter to say
"I'm a bronco."
An hour or so, later Anderson
followed
with "Lets get 2 work."
It would mean the Broncos have had at least one undrafted rookie make the opening 53-man roster in 10 consecutive seasons. It would also mean the Broncos think enough of Anderson to keep him even though he could be three weeks away from being game-ready because of a sprained MCL suffered in practice following the Broncos' first preseason game.
In that game, against the 49ers, Anderson finished with 69 yards on 15 carries. At 225 pounds, he also gives the Broncos' offense some short-yardage power, something they team has not always shown with the top three backs -–
Ronnie Hillman
,
Montee Ball
and
Knowshon Moreno
. If the Broncos also keep
Jacob Hester
(he is the only back who has lined up at fullback for the team), that makes five running backs on the depth chart, the same total the Broncos kept last season when they made the cut to 53. The Broncos kept just four backs when they exited camp in 2011.
Anderson also sent a
tweet
to Hester on Friday that read (in part), "keep helping and being that great vet."
Also released Friday, according to several team sources, were wide receivers
Gerell Robinson
and
Lamaar Thomas
, cornerback
Aaron Hester
, defensive tackle Ben Garland, defensive end John Youboty and linebacker
Damien Holmes
-- though again, none of those moves were formally filed to the league, and the Broncos could reverse field on Saturday. Of the four, Robinson would be the best candidate to land on the practice squad (that's where he was last season).
The Broncos can sign eight players to the practice squad beginning on Sunday.
The Broncos will have to make 15 more roster moves by 4 p.m. MT Saturday afternoon. They are expected to have made all of them by the time Elway is scheduled for a media gathering at 2 p.m.
August, 29, 2013
8/29/13
6:30
AM ET
The
Denver Broncos
, like the rest of the league, will tie a bow on the preseason Thursday night. Most of the team's regulars will get the night off against the visiting
Arizona Cardinals
, but decisions still need to be made at a few spots at the back end of the roster.
With that in mind, some things to keep an eye on:


One of the most difficult spots for the Broncos to make cuts ahead of Saturday's deadline to pare the roster to 53 players -- the bulk of which will come Friday -- will be in the secondary.
The Broncos kept nine defensive backs on the opening-weekend roster in 2011 and 10 last season -- five cornerbacks and five safeties. The issue this year is that Denver has two young, homegrown cornerback prospects in
Omar Bolden
and rookie
Kayvon Webster
, who have shown themselves to be worthy of the roster and would raise the overall athleticism at the position.
With
Champ Bailey
,
Dominique Rodgers-Cromartie
,
Rahim Moore
,
Duke Ihenacho
,
Chris Harris
,
David Bruton
and
Tony Carter
having worked in the top seven slots all through the preseason, that doesn't leave room for Webster, Bolden,
Mike Adams
and
Quentin Jammer
to all make it.
If the Broncos stick with nine players in the secondary, they are essentially choosing between youth and experience for those final two spots. If they keep an extra cornerback, however, it may be an indication they feel they need to open the season with some insurance for Bailey's foot injury.
Unless Denver takes the uncharacteristic step and keeps 11 defensive backs, Bolden and Webster both figure to play plenty against the Cardinals to state their cases.
Brock Osweiler is slated to get the start at quarterback behind what is largely a backup line. That has been a tough combination thus far in the preseason for Osweiler, who has been sacked eight times in the three previous games behind the reserves. It makes it difficult for the Broncos to work out of the three-wide look as much as they'd like given that they haven't consistently protected the quarterback in it -- even when the starters have been in the game -- this preseason. If things get dicey they might have to go big again, as they did last weekend against the Rams. After opening the game with three wide receivers and allowing too many rushers to get too close to Peyton Manning, the Broncos went to a two-tight-end look. They lined up in a two-tight-end look on 29 of the next 35 plays after the opening three-and-out, including all 12 in a drive that ended with a blocked field goal. The Broncos might feel like they need to give Osweiler a little more beef up front.

The last few rosters spots will be decided on special teams, and the Broncos could use a good showing there. In the past two games they have surrendered a 107-yard kickoff return for a score, a 33-yard punt return, an 81-yard punt return and seen a field goal blocked. Many of the Broncos' youngest players will have a chance to help their causes against Arizona, with Denver special-teams coach Jeff Rodgers looking for those who display speed and smarts.

[+] Enlarge

AP Photo/Eric BakkeCornerback Kayvon Webster, a third-round pick, gets a last chance tonight to show he deserves a roster spot.

The Broncos have lost five fumbles in three preseason games -- two by Osweiler, two by Ronnie Hillman and one by Julius Thomas. Hillman is not expected to play Thursday, but things need to be cleaned up. Lance Ball and Jacob Hester figure to get some work as the Broncos face some tough decisions at running back as well. Hester has not had a carry in the preseason and is the only back that has lined up at fullback thus far.

The Broncos have to sort things out in the offensive line, where they kept nine players in both 2011 and last season. After the starting five -- Ryan Clady, Zane Beadles, Manny Ramirez, Louis Vasquez and Orlando Franklin -- the Broncos need a swing tackle, likely Chris Clark, and a swing guard/center or two, with Ryan Lilja, Steve Vallos and Philip Blake in the mix. Blake, a fourth-round pick in 2012, has been headed the wrong way on the depth chart -- the Broncos didn't even work him much at center in the preseason, a position he played in college and one they originally drafted him for. Blake is decidedly on the bubble -- a long way down for a player some believed was pushing to start before a thumb injury ended his rookie season. He has regressed since that point, so he's either not getting the message about the changes in the offense or is not reacting well to the coaching he's getting. Rookie tackle Vinston Painter has shown the kind of athleticism that deserves a roster spot, but the Broncos may be in a position where they have to hope he makes it through waivers so they can sign him to their practice squad. Lilja is a tough call, too. Denver certainly likes him in the offense, but he had microfracture surgery on his knee just a few months ago and has missed significant amount of practice time of late because of the knee.

Rookie quarterback Zac Dysert will likely get his most significant work of the preseason. Dysert has shown some quality scrambling skills in practice, so he could have an entertaining down or two if he gets loose. He projects to the practice squad, but the Broncos would like to see some better accuracy from the pocket, especially in the shorter and intermediate routes.

Linebacker Lerentee McCray and wide receiver Lamaar Thomas are the undrafted rookies with the best chance to make the final 53 -- especially McCray. If the Broncos don't keep McCray, there are at least two other teams that would consider signing him. He's a big-bodied linebacker who, while not always showing good instincts, has the ability to disrupt an offense and closes to the ball with speed and intent.
August, 28, 2013
8/28/13
6:30
AM ET
ENGLEWOOD, Colo. -- Look, folks can't say they weren't warned.
But the Broncos' depth chart at running back will be a fluid affair this season, until it's not. It's going to be a tough thing to pin down, that whole who's-going-to-get-the-carries thing, and, truth be told, the Broncos kind of like it that way. This is a team which, after all, has had nine different running backs lead it in carries for at least one season since 1999.
"We don't have a guy that's going to be a 30-carry guy and we pretty much said, 'Hey, this is going to be a committee-type backfield','' said offensive coordinator Adam Gase. "And we've never shied away from that.''
Ronnie Hillman
and
Montee Ball
have gone back and forth, splitting reps with the starters on offense throughout training camp and the preseason. While Hillman had the upper hand, albeit slightly, through offseason workouts and three preseason games, two fumbles in the past two games combined -- both of which were returned for touchdowns -- have now jumbled the order a bit. Ball got some additional work with the starters this week, but neither is expected to play much, if at all, in Thursday's preseason finale against the
Arizona Cardinals
.
[+] Enlarge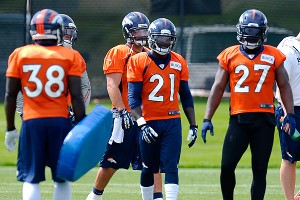 John Leyba/The Denver Post via Getty ImagesMontee Ball (38), Ronnie Hillman (21) and Knowshon Moreno (27) will all see time in Denver's backfield.
Then there is the matter of
Knowshon Moreno
. Because he is more proficient in pass protection than the other two, Moreno has gotten some premium snaps with the starters of late, including in the two-minute drill to close out the first half against the Rams on Saturday night. And that's no small item, given that Ball missed a block in Seattle that resulted in quarterback
Peyton Manning
taking one of the hardest hits in his time with the Broncos, a play Ball called the "worst feeling, seeing a future Hall of Famer get hit like that.''
All of which only makes the committee a little bigger. Toss in the fact that
Jacob Hester
can play fullback -- he's the only fullback on the roster at the moment -- and is a quality receiver out of the backfield, and things get even a little muddier.
Asked about the speculation about who will start and be the main guy, Broncos coach John Fox said, "Well, I don't even know yet, so I don't know how you all know. … We have good feelings about both (Ball and Hillman). As I mentioned … they'll both carry a big load for us this season … they're both very capable and we're pleased with both of them.''
Asked about Moreno, Fox added, "He's high up there, too. If you look over my last two years, or my tenure here, we've leaned on a lot of different guys … whoever we keep we feel good about.''
In terms of skill sets, you could make the argument that Ball, with a bigger frame, is the best first-down back in traditional run-game situations; that Hillman's versatility and speed as a runner and receiver make him a good pick on those second-down plays of mid-range down and distance; and that Moreno, because he consistently makes the right choices in pass protection as well as when to release from the backfield and go into the pass pattern, makes the most sense on third down.
And in this age of specialization in the NFL, the Broncos runners could potentially take it one step further.