Denver Broncos:

Jacoby Jones
September, 9, 2013
Sep 9
5:30
PM ET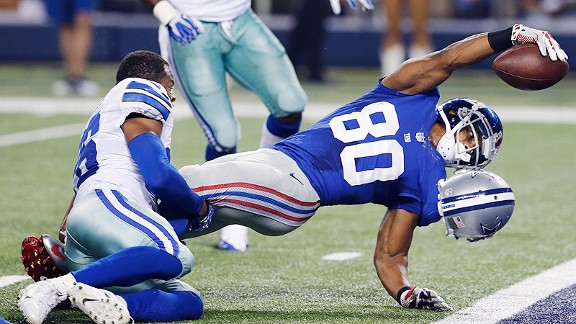 AP Photo/LM OteroThe Broncos will likely deploy more defensive backs when taking on the Giants and Victor Cruz.
ENGLEWOOD, Colo. -- Fresh off the feel-good season opener the
Denver Broncos
' secondary will get an entirely different kind of test Sunday against the
New York Giants
.
Baltimore Ravens
quarterback
Joe Flacco
had limited options on the outside -- once
Jacoby Jones
left with a knee injury on a second-quarter punt return.
Brandon Stokley
is 37 years old and was signed after training camp opened;
Dallas Clark
is 34, has struggled with injuries in recent seasons and was signed after training camp open;
Marlon Brown
is a rookie; and
Ed Dickson
struggled mightily in a receiving role last Thursday night. So, despite not having either
Champ Bailey
(left foot injury) or
Von Miller
(suspension) in the lineup, the Broncos did not surrender a pass play longer than 34 yards in the game.
The Giants, however, present a different set of troubles. In their turnover-marred loss in Dallas, New York still had three wide receivers finish with at least 100 yards in the game --
Victor Cruz
with 118 yards on five catches,
Hakeem Nicks
with 115 yards on five catches and
Rueben Randle
with 101 yards on, yes, five catches. Cruz finished with three touchdowns in the game.
"Their receivers are dynamic,'' said Broncos safety
Rahim Moore
. " … They have so many targets.''
"Honestly, Cruz is getting the bulk of the attention, but they have weapons all over the place,'' said safety
Duke Ihenacho
.
The challenge will be how the Broncos matchup with the size the Giants have on the outside, especially if Bailey isn't ready to return to the lineup this week. Randle is 6-foot-2, Nicks is 6-foot-1 and Cruz comes in at 6-0. The Broncos can counter with 6-2
Dominique Rodgers-Cromartie
and the 6-0 Bailey, if the 12-time Pro Bowl selection is ready to return to the lineup.
Cornerback
Chris Harris
, an aggressive player who consistently fends off the challenges, is 5-foot-10 and cornerback
Tony Carter
, who has routinely come in when the Broncos go to the nickel in games Bailey doesn't play and the dime when Bailey is in the lineup, is 5-foot-9 and 175 pounds. When Carter plays in the nickel, he lines up in one of the outside positions and Harris goes inside to the slot.
Flacco sought Carter out in coverage on several occasions in last January's playoff win as well as last Thursday night. This is especially true if Carter allows the receiver to get a free release off the line of scrimmage, and
Eli Manning
would likely do the same.
The Broncos will also use rookie cornerback
Kayvon Webster
at times in some of their specialty looks and if they get into some of the longer down-and-distance situations, defensive coordinator Jack Del Rio will use a seven defensive back package. The Broncos used it for two snaps against the Ravens, but figure to use it more against the Giants' attack.
Giants coach Tom Coughlin's peers in the league have long considered him one of the more aggressive coaches in the NFL, whether it be during his tenure in Jacksonville or now with the Giants. He signs players who once worked for an upcoming opponent in the days before his team plays that opponent. And if things go well for former Broncos running back Willis McGahee Tuesday, he could join the list. Per ESPN NFL Insider Adam Schefter, McGahee will be one of three backs -- Brandon Jacobs and Joe McKnight are the others, who will work out for the Giants Tuesday. The Broncos released McGahee in June after McGahee had skipped the majority of the team's offseason workouts. The running back cited "family reasons.'' McGahee will turn 32 next month and hasn't played in a game since tearing an MCL on Nov. 18 against the Chargers on a hit from now-Broncos cornerback Quentin Jammer. McGahee had two years left on his deal when the Broncos let him go with a scheduled $2.5 million base salary this season and $2 million base salary in 2014. But with the Broncos having used a third-round pick on Ronnie Hillman in the 2012 draft to go with the second-round pick they used on Montee Ball in April's draft, the combination of McGahee's injury and contract pushed the Broncos toward the young guys at the position. So much so, the Broncos were willing to take a $1 million dead money hit against the salary cap to release McGahee. The Broncos had some concern about McGahee's ability to stay healthy over the long term and after he took part in the team's mandatory minicamp in mid-June, they released him. The Giants benched running back David Wilson Sunday after two fumbles and some bobbles in pass protection.

Wide receiver/kick return Trindon Holliday (left lower leg), cornerback Omar Bolden (left shoulder) and linebacker Wesley Woodyard (right ankle) were not on the field for the Broncos' workout Monday. The practice was essentially an extra opportunity for some on-field work for the Broncos -- what coach John Fox calls "a Broncos on Broncos practice.'' Wide receiver Eric Decker, who suffered a right shoulder injury in last Thursday's game, did participate in the practice. Bailey (left foot) did not take part. Tight end Joel Dreessen, who had two arthroscopic surgeries on his left knee since May, is closing in on returning to practice on at least a limited basis. Dreessen worked with strength and conditioning coach Luke Richesson. Rookie running back C.J. Anderson also did drills alongside Dreessen, work that included some short sprints.

The final Manning tally for the season's opening week: 912 passing yards -- both finished 27-of-42 passing in their respective games -- and 11 touchdowns. Peyton Manning was 27-of-42 for 462 yards with seven touchdowns without an interception in the Broncos' 49-27 victory over the Ravens on Thursday night. Eli Manning was 27-of-42 for 450 yards with four touchdowns and three interceptions in the Giants' loss to Dallas Sunday. The two brothers will face each other Sunday at MetLife Stadium -- it's the third time they have played each other in the NFL.
September, 1, 2013
Sep 1
5:55
PM ET
Broncos quarterback
Peyton Manning
has assembled an all-time football resume, piles of 4,000-yard seasons, four MVP awards and a Super Bowl win.
And yet, as he approaches his 16
th
season opener, he said he remains as excited as ever at what a new season might bring. Asked Sunday if he still gets butterflies before the opener, Manning said:
[+] Enlarge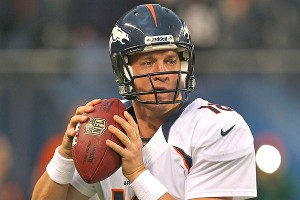 Jonathan Daniel/Getty ImagesHe might appear calm under center, but Broncos QB Peyton Manning admitted that he'll be a bit nervous before Thursday night's season opener.
"I do, I do. I think if you don't you probably ought to be doing something else. Sixteenth opening day, having played in this opening game three times. It's got a little something extra to it … Healthy butterflies, it's a good thing.''
Some things to consider as the Broncos formally kicked off their practice week Sunday for Thursday night's affair:
With a night to sleep on it, the Broncos came to the conclusion – as expected, perhaps -- that six linebackers wasn't enough on the roster after the initial cutdown to 53 players. That was especially true since one of the players they formally list at linebacker – Shaun Phillips – lines up at defensive end for the majority of his snaps. So, the Broncos claimed second-year linebacker Adrian Robinson off waivers Sunday and he's expected to practice with the team Tuesday. Robinson is a 250-pounder who made the Steelers roster last season as an undrafted rookie largely because of his special teams play. The Broncos are also his third team since Aug. 23. That's when he was traded to the Eagles, for running back Felix Jones and the Eagles then waived him Saturday. He played at inside linebacker in the Steelers' 3-4 look and the Eagles tried them there in their new 3-4 as well. The Broncos use plenty of 3-4 principles in their defense, though their base look is technically a 4-3, but if his game video is any indication Robinson will have a chance to contribute quickly on special teams. To make room for Robinson, running back Jacob Hester was released.

The Broncos have obviously had their turn-the-page meeting leading up to Thursday's season opener. Any and all questions about the crushing double-overtime loss last January, when the Broncos let the home-field advantage slip away, were met with some kind of what's past is past response. That is Gameweek 101, to be sure, but those in the seats at Sports Authority Field at Mile High may be a different matter entirely. Football fans in the region have done little else but re-hash the playoff loss, the kneel-down the Broncos took just before the end of regulation with two timeouts in hand and the Joe Flacco to Jacoby Jones touchdown to tie the game late in the fourth quarter. Should the Broncos start slowly Thursday, it will be curious to see how those on hand respond. Asked Sunday if revenge played any part in the discussion about the game, from his perspective Manning said: "If people need that as extra incentive that's fine. But I think there's plenty, just with the schedule and the timing of when we're playing.'' Some players said thinking about the loss may have helped push them through offseason workouts at times, but that Thursday's game is the fresh start for the 2013 season.

Hester's release unquestionably makes Knowshon Moreno the most accomplished back in pass protection for the Broncos. Because of that, Moreno could see plenty of work in some longer down-and-distance situations in place of rookie Montee Ball and Ronnie Hillman. Hester was signed last season, in large part, because the Broncos believed they needed help in pass protection at the position. Hester had spent most of this year's training camp and the preseason at fullback. And the Broncos will run the offense with three wide receivers or two tight ends in the formation far more than they will out of a traditional two-back look, so Hester's spot became somewhat expendable given the numbers at linebacker. Tight end Virgil Green would line up in the backfield much of the time if the Broncos wanted a lead blocker in front of the running back. It also confirms how determined the Broncos are to keeping rookie quarterback Zac Dysert on the roster at the moment.

A look at the starting lineups for the playoff game last Jan. 12 does show how change arrives in the league. Nine players who started for the Ravens in that game are not on this year's roster, including seven on defense. The Broncos weren't hit quite as hard by full-blown departures, but some things have changed. The Broncos had four starters in the game who are no longer with the team – Justin Bannan, Brandon Stokley, Keith Brooking and Elvis Dumervil. Also, Dan Koppen is now on injured reserve, Von Miller is suspended for the first six games of the season and neither Chris Kuper nor Joel Dreessen are expected to start Thursday. "Both teams have a lot of new guys,'' said wide receiver Demaryius Thomas. "They were other places for that game.''

Broncos safety Rahim Moore, when asked if he had won back the fans after last year's playoff loss: "Camp is camp, there is nothing you can really tell by just practice. You can go out there and just show your hard work, but you're judged by your games. What you're doing week in, week out is how people judge you.''

The Broncos signed seven players to their practice squad Sunday, including two draft picks from this past April they had released in tackle Vinston Painter and wide receiver Tavarres King, who were the team's sixth- and fifth-round picks, respectively. Also signed to the practice squad were wide receiver Gerell Robinson, running back Edwin Baker, defensive tackle Ben Garland, tackle Paul Cornick and defensive end John Youboty. Baker is the only player of the seven who was not in training camp with the Broncos. The 200-pound second-year back rushed for 1,201 yards as a sophomore at Michigan State in 2010.