Denver Broncos:

Khalil Mack
December, 26, 2014
Dec 26
1:30
PM ET
ENGLEWOOD, Colo. -- Whether a team is headed for the playoffs, like the
Denver Broncos
(11-4), or in the opening moves of yet another rebuilding project, like the
Oakland Raiders
(3-12), at least one thing they have in common is the need for rookies to contribute to the cause.
For the Broncos, a team coming off back-to-back 13-3 seasons that dove into free agency with a wide-open checkbook, the opportunities are limited, but some rookies need to be the homegrown players working to be future starters.
And if one such as first-round pick
Bradley Roby
breaks into the lineup, that's all the better as the best defenses against potential salary-cap purges are good drafts and youth on the roster.
[+] Enlarge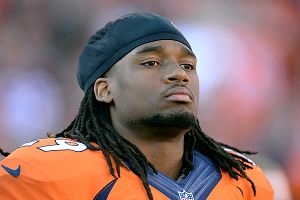 Ron Chenoy/USA TODAY SportsBradley Roby, a 2013 first-rounder, has played 75 percent of the defensive snaps this season.
"[Roby] works at it, he cares," said Broncos head coach John Fox. "A lot of people come into this league have talent, you don't get a seat in that room without having talent, but to be successful takes a lot more than just talent."
The Broncos' rookie class has had a far bigger impact on defense where Roby, having played 75 percent of the snaps this season, has put himself at least in the discussion for the league's defensive rookie of the year award. Broncos defensive coordinator Jack Del Rio has not hesitated to match Roby against front-line receivers in man coverage at times.
And while Roby has been targeted by some opposing quarterbacks for a smattering of plays, he's held up well enough.
"I've said all along I just want to make plays that help us win games," Roby said. "Compete hard and make plays ... they're going to complete some balls on you, but you have to keep playing."
Broncos linebackers
Lamin Barrow
and
Corey Nelson
have been used at times on defense and may get some snaps Sunday against the Raiders because of injuries. The two have played a steady diet of special teams. Rookie linebacker
Todd Davis
, a waiver claim by the Broncos last month, has played plenty of special teams to go with a start against the
Cincinnati Bengals
.
Offensively, the 2014 season has been a learning experience for the Broncos rookies for the most part as tackle
Michael Schofield
has been a game-ay inactive for all 15 games, Matt Paradis is on the practice squad and wide receiver
Cody Latimer
has played just 25 snaps on offense.
The Raiders will bring 11 rookies on their 53-man roster to Denver, including two of the league's most high-profile first-year players in quarterback
Derek Carr
and linebacker
Khalil Mack
. The Raiders haven't made the playoffs since 2002 and are in the middle of another rebuilding effort, having already fired head coach in Dennis Allen in September after an 0-4 start.
"We're trying to change the culture here ... just the culture of what it used to be around here, just losing all the time," Carr said. "Things haven't gone well here for a long time. This team wants to be the start of something new. This team is definitely different … definitely started to head in the right direction."
Mack, with 82 tackles and four sacks, will be one of the leading candidates for the defensive rookie of the year. "He'll be one of the top players in this league, no doubt in my mind," Carr said this week. "That guy is the absolute beast, an absolute monster. He's a guy who will win MVP awards."
The Raiders faced a decision with Carr. They could let him watch and learn or simply toss him into the mix and let him work through things. Broncos executive vice president of football operations/general manager John Elway has always said the most difficult thing for a rookie quarterback to do in his first NFL starting job is to deal with the week-to-week confidence issues that come with the job.
Carr has held up and progressed as he has thrown just two interceptions in his last six starts -- both Nov. 30 against St. Louis.
"Glad since Day 1, they've trusted me to start," Carr said. "There's nothing like playing in games ... and learning that way. To play right away was the best situation for me. If bad times happen, I don't go in the tank, feel crushed, lose confidence or anything like that ... so coaches decided the best way for me to learn was to play right away.
"But just the speed of the game in the NFL is unlike anything else you see in college, it's not even close to college, light years ahead of anything in college."
December, 26, 2014
Dec 26
8:00
AM ET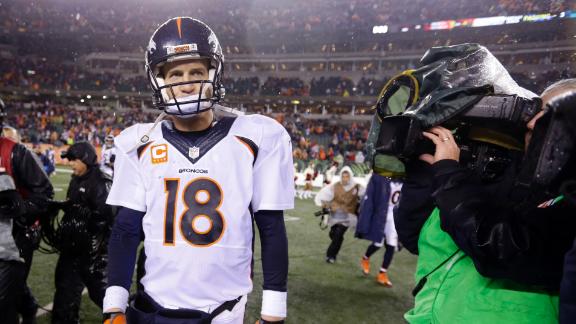 When:
4:25 p.m. ET Sunday
Where:
Sports Authority Field at Mile High, Denver
TV:
CBS
As the regular season wraps up, the
Oakland Raiders
(3-12) are poised for another coaching search as they have missed the postseason for the 12th consecutive season -- they last made it in 2002, when they closed out that season with a loss in Super Bowl XXXVII.
The
Denver Broncos
are looking to regain some momentum after Monday night's loss in Cincinnati and need a win to earn a much-needed bye for the first round of the playoffs.
ESPN NFL Nation Raiders reporter Bill Williamson and Broncos reporter Jeff Legwold look at Sunday's matchup:
Legwold:
The Raiders have shown a little grit under interim coach Tony Sparano. What is the latest on their coaching search and who do you think gets the job?
Williamson:
All the speculation is on Jim Harbaugh at this point. There has been talk that it could come down to Michigan or the Raiders once Harbaugh leaves the
San Francisco 49ers
next week. Securing Harbaugh would be a huge shot in the arm for Oakland. If Oakland owner Mark Davis can't land Harbaugh, top names on the list might include Broncos defensive coordinator Jack Del Rio and Rex Ryan, if he is fired by the Jets as expected. Sparano could also be in the mix if some pursuits don't develop.
Jeff, do you think Del Rio could be a fit for the Raiders?
Legwold:
Del Rio certainly wants to be a head coach again. He's in his third season with the Broncos since a nine-year run as
Jacksonville Jaguars
coach. In a league where the numbers on offense are climbing with each flip of a calendar page, it can be more difficult for coaches with defensive backgrounds to separate themselves from their peers to become the hot candidates. Del Rio has the head-coaching experience some owners want, but many defensive coaches around the league see a landscape where team owners are far more willing to take a chance on a coordinator with an offensive pedigree. A quality postseason run could push Del Rio more into the mix -- the Broncos are still No. 3 in total defense and No. 2 in run defense after their semi-meltdown in Cincinnati on Monday night -- but the unit needs a signature game, something like a postseason win against New England, to really push Del Rio to the forefront. He fared well as the Denver interim coach last season when John Fox missed four games after open heart surgery, and Del Rio has retained high-powered Bob LaMonte as his agent. In the end, like a lot of coaches searching for a second chance, Del Rio would have to be up front about what he would fix and how he would fix it from his last experience.
In terms of the future for the Raiders, quarterback
Derek Carr
and linebacker
Khalil Mack
look to be the kind of building-block players a franchise needs for a rebound. How would you rate their progress, and what is Carr's standing among his teammates?
Williamson:
Mack has been simply outstanding. His statistics don't jump out, but he's a coach's dream. He is always around the play, no matter the situation. I expect him to get more explosive as his career develops. Carr is revered by the entire franchise. He still has a ways to go in his development, but the game is not too big and he's delivered in some pressure situations. If he continues to learn his progressions and improve against the blitz, he should be an above-average player.
Jeff, have any young players in Denver jumped out to you on the veteran-laden roster?
Legwold:
Cornerback
Bradley Roby
was the Broncos' first-round pick this past May, and when he arrived, Del Rio simply told him the Broncos had a lot of experienced cornerbacks so he shouldn't be surprised if he didn't play much. Instead of wilting at that assessment, Roby went about the business of earning his playing time. He plays in the nickel and dime packages -- he's played in 75 percent of the defensive snaps this season -- and deserves a long look for the league's Defensive Rookie of the Year award. Roby has been competitive in coverage and physical along the line of scrimmage. Though he has been picked on a little at times, most opposing quarterbacks have not found much success doing it. Also, second-year running back
C.J. Anderson
went from shaky status in minicamp last spring to the team's leading rusher. And linebacker
Brandon Marshall
, who spent most of last season on the team's practice squad, has played at a Pro Bowl level as an every-down linebacker and is the Broncos' leading tackler with 110.
Looking at the Raiders' defense, including Mack, how do you think they will come after
Peyton Manning
this time around? Teams have made it more difficult for Manning to do what he likes to do in the passing game in recent weeks. Do you think the Raiders will use the same defensive game plan they used against Denver last month?
Williamson:
Manning has absolutely shredded Oakland in his five games against them as a Bronco. So until proven otherwise, we have to assume that he will have success again Sunday. Denver had a tough time in pass protection at Cincinnati. I'm sure Oakland will try to start its attack by trying to get some pressure with Mack,
Justin Tuck
and
Antonio Smith
. Oakland, which has struggled rushing the passer most of this season, had a solid performance against Buffalo. So I'm sure it will try to make Manning as uncomfortable as possible.
I know there is some panic over Manning among the fan base in recent weeks. Are the Broncos concerned?
Legwold:
Coach John Fox said this week that Manning is "fine" physically, and when Manning was asked after the loss in Cincinnati if he had any physical issues impacting his play, said he did not. On one hand there is plenty of hand-wringing about Manning with the Broncos' faithful, about the team's play in road games this season and in bad weather. He had his first four-interception game since 2010 this past Monday night, and has looked unsettled at times as defenses have tried to force him to throw the ball outside the numbers as much as possible. He had 11 interceptions in the Broncos' road games this season, and his 15 interceptions overall are his most since he had 17 in 2010 (following 16 picks in 2009). The Broncos are concerned, but they know from a football perspective they have to find an answer for what defenses have done largely since the team's loss in New England in early November. The teams with the personnel to do it have succeeded in limiting the crossing routes, the catch-and-run plays that are the foundation of the Broncos' offense. The Broncos don't see Manning much differently than last season, when he set a record with 55 touchdown passes. The Broncos are also fairly quick to point out that, despite all of the debate on Manning's health and play, he still leads the league in touchdown passes with 39, and the Broncos are one win away from the No. 2 seed in the AFC.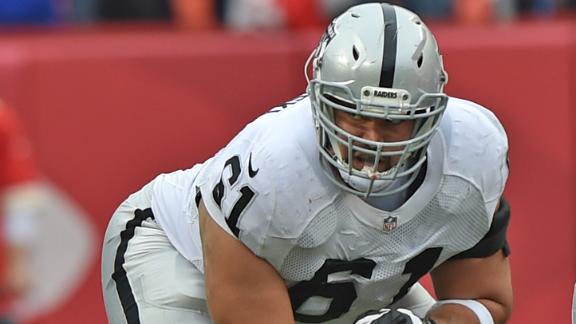 February, 24, 2014
Feb 24
3:35
PM ET
INDIANAPOLIS -- In a time when defenses believe that the rulebook and the league's decision-makers are stacked against them, defense has increasingly become a numbers game.
Or perhaps just a single number game. As in just one number. As in the number four.
In a pass-happy world gone mad, where
Denver Broncos
quarterback
Peyton Manning
led an offense that shattered the league's single-season scoring record with 606 points and tossed a never-before-seen 55 touchdowns, the best defense is as easy as 1-2-3 and, yes, 4.
"I think it's been proven, the best defenses can rush four and get to the quarterback," Broncos head coach John Fox said. "They don't always have to be the same four from the same spots, but the best defenses can do more things to inhibit offenses in a time when it's difficult, when they can consistently make a pass rush with four [players]. It might be more important than ever."
And certainly Fox, Manning, the Broncos and the rest of the league saw just how important it can be earlier this month in a 43-8 loss to the
Seattle Seahawks
in Super Bowl XLVIII. In that game the Seahawks essentially dismantled history as they stifled the Broncos' record-setting offense, repeatedly unsettled Manning in the pocket, sacked Manning once, intercepted him twice and returned one of those interceptions for a touchdown.
So dominant was the Seahawks' performance that even South Carolina defensive end
Jadeveon Clowney
got into the act. Clowney was asked at the scouting combine this past weekend why he should be the No. 1 pick of the May draft.
"The Super Bowl, defense won that game, shut them down, shut them out," Clowney said. "It takes defense to win championships, hands down. You had a great quarterback in Peyton Manning, hats off to him also, but defense wins the Super Bowl."
And with offenses trotting out more and more wide-open sets all the time, quarterbacks in the shotgun picking away at defensive formations with five, six or seven defensive backs in them, the defenses that are surviving enough to flourish are those with the best four-man rushes. The Seahawks, for example, sent an extra rusher at Manning on just six snaps in the title game.
The
St. Louis Rams
, not considered a blitz-heavy team -- as coach Jeff Fisher said, "we like to get there with four" -- have generated 105 sacks in Fisher's two seasons as head coach. And although disruptive players on the interior of a defensive line are certainly still coveted, rushing with four will push the draft's best edge rushers up the board. They may be drafted even higher than their actual grades -- and perhaps even into the No. 1 spot overall if the
Houston Texans
take the plunge.
Clowney, UCLA's
Anthony Barr
, Buffalo's
Khalil Mack
and Auburn's
Dee Ford
are among the best pass-rushers on this year's draft board. Of that top group, Clowney, who weighed in at 266 pounds at the combine and will get some attention as a possible No. 1, is both the biggest and the fastest, having run an official 4.53 clocking in the 40-yard dash Monday at Lucas Oil Stadium.
Barr, Mack and Ford, all between 251 and 255 pounds, are slightly smaller than Clowney and may get at least some looks from 3-4 defenses looking for outside linebackers. Mack is still the riser of the group.
Mack had 19 tackles for loss, 10.5 sacks, five forced fumbles and three interceptions this past season. In the season opener against Ohio State, he had nine tackles and 2.5 sacks and returned an interception for a touchdown.
"It helped with the stage, I feel like there was a lot of people watching that game," Mack said. "It helped me tremendously."
Because of Mack's play speed and power, much like the Broncos'
Von Miller
showed during an 18.5-sack season in 2012, some teams think Mack may fit more of the league's defensive schemes than any of the other top prospects at the position.
But there are players to complement that speed-first crowd, as well. Oregon State's
Scott Crichton
and Missouri's
Kony Ealy
may not have tested as well at the combine as some of the others but are productive players who have given scouts plenty to look at in their games. So much so, Ealy, a teammate of SEC co-defensive player of the year
Michael Sam
, is expected to be selected long before Sam.
Ealy has plenty of athleticism in his game, has a natural dip to his shoulder in his outside move and has plenty of upside. A player like Crichton, who is considered raw, plays with power and high effort to go with 10 forced fumbles in his career.
"You've just got to get off the ball and attack, attack the opposing player, and you've got to just play on their side of the ball," Crichton said. "Coaches always told me, whatever you do, no matter if you are wrong, you've got to play on their side of the ball, and that's what I really took pride in this year and it's worked out for me."
Nine quarterbacks topped 4,000 yards in 2013 -- Manning and
Drew Brees
had more than 5,000 yards -- and 10 quarterbacks had more than 4,000 yards in 2012 and 10 others in 2011. The need for help across the defensive front isn't set to decrease anytime soon.
Or as Broncos cornerback
Champ Bailey
has put it:
"If you can't get to the quarterback, I don't care who you have covering back there, it won't matter," Bailey said. "They want passing in this league, they want points, and with the way these quarterbacks are now, how they get the ball out, how accurate they are, if you're blitzing them all the time, they'll throw it all over you. You have to rush four and you have to get there, it's the best formula, maybe the only one now."